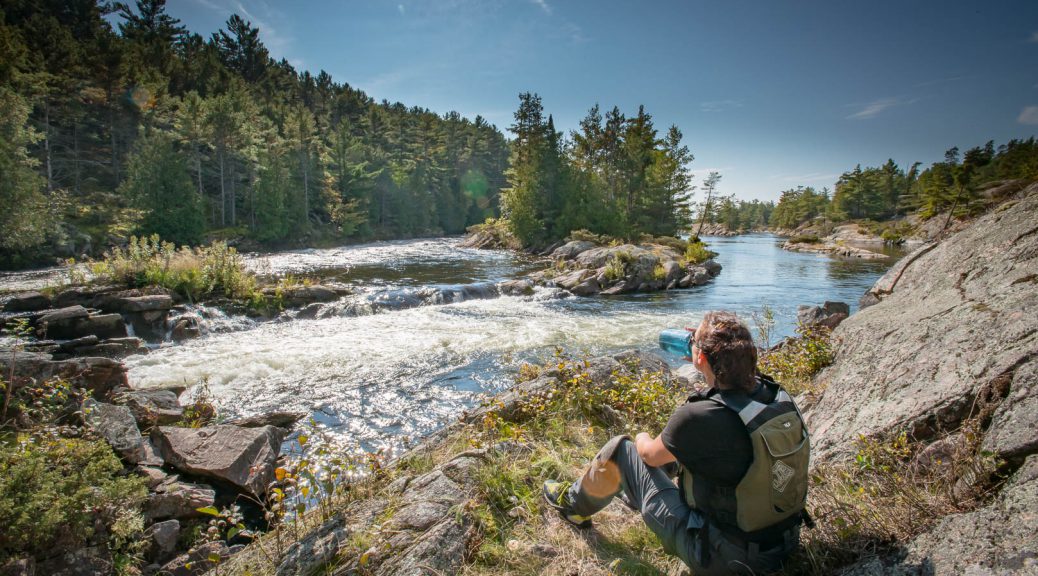 French River Eighteen Mile Island Loop
French River Eighteen Mile Island Loop
The French River is in Ontario, Canada, flowing 105 km from Lake Nipissing to Georgian Bay. As such the river is a canoe route of historic importance as it joins the waterways of the Mattawa and Ottawa rivers with the upper Great Lakes.
The French, though, is not a single-channel river. In fact, in most people's understanding of the word river, it's hardly a river at all. Toni Harting, in his book French River: Canoeing the River of the Stick Wavers encapsulates the nature of the French thus "This is much more than a single stream carrying its waters from source to mouth. It is instead an intricate collection of channels and lakes, bays and marshes, rapids and falls".
As a result of the complexity of the French River system, there are many aspects to explore and many routes you can follow. For this reason alone, you should have a decent map of the area if you are going to explore it. The common jest of "well you just get on the river and follow it downstream, don't you?", doesn't apply to the potential for disorientation here.
French River Loop Routes
While you can certainly design your own adventure on the French, there are a number of well-established loop routes that have much going for them. The Eighteen Mile Island loop is one of these. The first advantage, as with all loop routes, is that you end up back where you started. This avoids messing around with leaving a vehicle at both ends or hiring a shuttle, as you have to with linear routes.
In undertaking the Eighteen Mile Island loop, typical places to start are at Loons Landing in Dry Pine Bay at the western end of the loop, or at French River Adventures in Wolseley Bay at the eastern end of the loop.
The second advantage of the Eighteen Mile Island loop route is that it takes in the Five Mile Rapids section of the main channel (a.k.a the south channel), containing the most concentrated stretch of rapids on the whole river, as well as the highly scenic Cedar Rapids section in the north channel. Otherwise the route is relatively flat, which of course it has to be if you are going to paddle around in a circle without any great difficulty.
The French River is, like any number of rivers in the Canadian Shield, essentially a pool-and-drop river. You get a single rapid, then a flat section, then another single rapid, followed by a flat section. This is what makes this type of Canadian river so amenable to upstream as well as downstream travel and why they formed such an important part of trading networks. They are like canals with locks. The flat sections can be paddled in either direction and the rapids run, snubbed, lined or portaged when travelling downstream and, when travelling upstream, they can be tracked or portaged.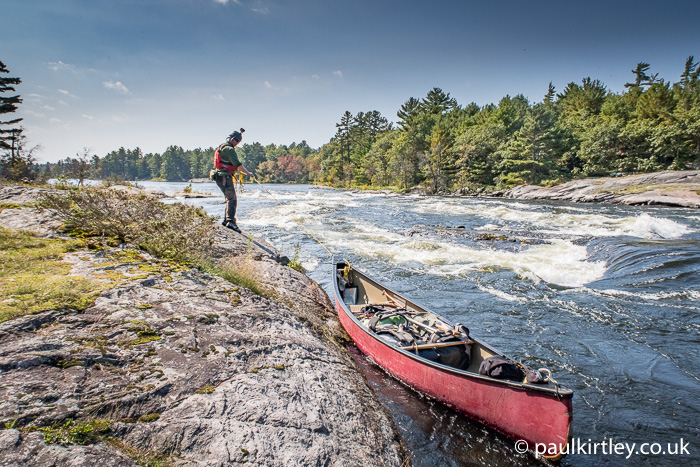 The ability to travel in both directions is what the Eighteen Mile Island loop takes advantage of. If you start at Dry Pine Bay, you'll be going upstream initially, then downstream to get back. If you start at Wolseley Bay, you'll be heading downstream first, then back upstream in the latter half of the journey.
In theory you can travel either way around the loop but in practice it seems easier and is certainly more rewarding going clockwise. This is largely down to a consideration of the Five Mile Rapids section (see the Five Mile Rapids video below) and the alternative in the north channel.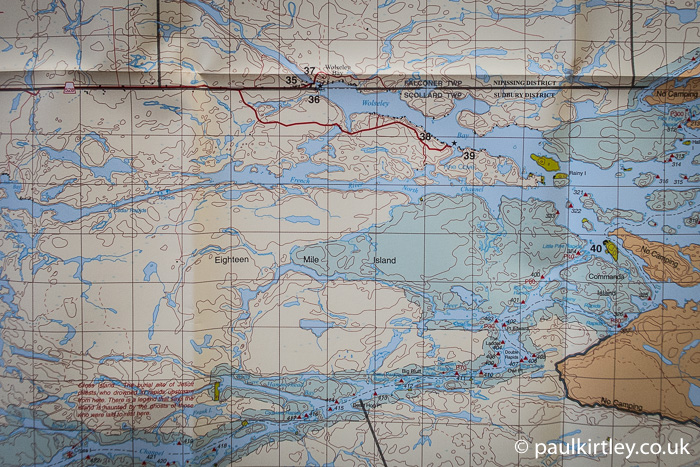 The Five Mile Rapids section is the most engaging whitewater to run on the river and this stretch, starting with Little Pine Rapids and finishing with Crooked Rapids contains 6 or 7 sets of significant rapids. In the north channel, by contrast, most of the equivalent drop in height is made by Cedar Rapids. This means you can achieve the same gain in height while travelling upstream with only one (400m) portage in the north channel, while it might take half a dozen short portages if you choose to head upstream in the main channel.
Travelling upstream in the main/south channel is an interesting exercise in technical skills if you employ tracking (running the boat upstream on two ropes) as part of your repertoire. This is something I've done with my colleague, Ray Goodwin, and it formed a nice case-study in the second edition of his book.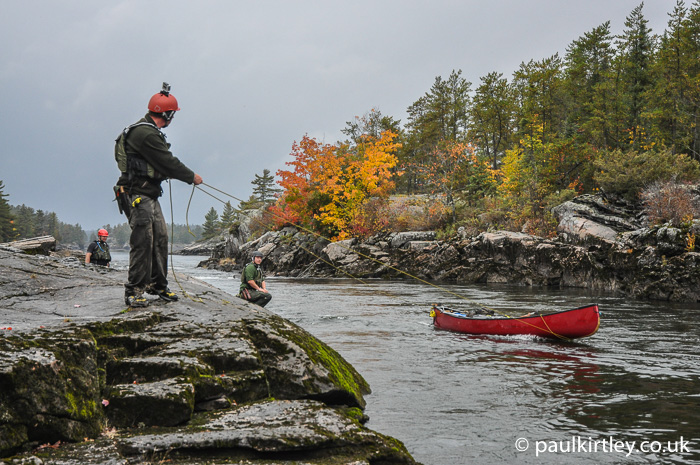 In terms of choice of clockwise or anti-clockwise, you should also note while you can track or portage the actual rapids in the Five Mile Rapids section, some of the flows below or between the main drops can be strong in higher water levels, making upstream progress difficult in some sections, which you can't portage.
In his Paddler's Guide to Killarney and the French River, Kevin Callan states "The French River is a paddler's dream come true." One of the routes featured in his book is indeed the Eighteen Mile Island Loop. Despite using Kevin's book in the past as well as having visiting the French multiple times since I first visited in 2010, I'd never undertaken this route. I'd been down into Five Mile Rapids and back up again the same way as well as dipping down into the north channel, both from the middle French. In terms of circular routes, though, I'd always taken my adventures in other directions.
The main reason I'd shunned the full circuit of Eighteen Mile Island in the past was that Dry Pine Bay and Eighteen Mile Bay are busy. There are numerous cottages and lots of motorised boats (for Canada), linked to the easy road access, just off Highway 69. Other places on the river are quieter and I'd always chosen to go to those parts, where there are likely to be fewer motor boats in particular.
September 2017, however, was going to be an exception. In more ways than one.
Exceptional Conditions
Directly prior to this visit to the French River, we'd done a two-week trip on the Missinaibi River and were a little tired when we arrived at the French. We were staying on Wolseley Bay for a few days. We spent our time here doing some light day trips in various directions on the river, as well as some short hikes in the woods near our accommodation. The weather was great. After a few days, we felt suitably recovered from our previous canoe-camping adventure and were ready for the next. The plan was to head out for four days on Friday, over the weekend and return to Wolsely Bay on Monday evening. We'd then return to Toronto on Tuesday for an overnight flight back to the UK.
I was considering a number of routes on the French for our four-day mini adventure, some of which I've completed before. I knew we had only four days and I had seen 4-5 days recommended as a suitable time for the Eighteen Mile Island loop trip from a number of sources, including Kevin's book. The route is 70km (44 miles). Looking at the map, it seemed it would be possible to complete it in fewer days. The downstream section from Wolseley Bay to Dry Pine Bay could certainly be done in a full day of paddling. But we were after a relatively relaxing tour. Despite the good fit with our schedule and the attractions of the route, I still wasn't convinced the Eighteen Mile Island route was for us, though. The busy end of the route still put me off.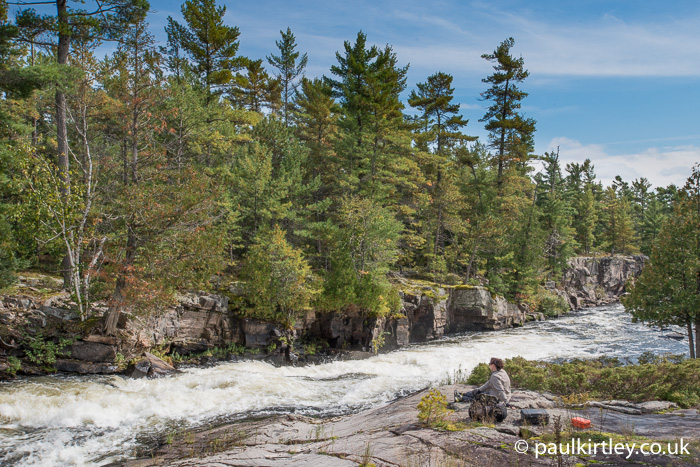 What convinced me to go for it was the water. There was a lot of it. The river was high for the time of year. In fact it looked more like spring levels. You could see this in the most non-technical way at Wolsely Bay, where we were staying. A small beach where we had launched in previous years was almost completely submerged. This would translate to a lot of water going down through both the north and south channels. This part of Canada had had a very wet summer. In Ottawa they were calling it the "year of the big wet".
Having spent a few days paddling in the area, we knew the water levels were good. Really good.
It would be a wasted opportunity not to go down the main channel.
Added to this, Atlantic storms were pushing warm weather north into Canada and temperatures were set to hit 30 degrees Celsius (86 degrees Fahrenheit) over the middle two days of our four-day trip, with high humidity making it feel even warmer. [The forecast turned out to be correct. Temperature records were broken in Toronto.]
To sum up then, we were set for spring water levels and mid-summer temperatures. In late September (i.e. not so many bugs).
And we had the time to savour it. Indeed, we wanted a relatively leisurely 4-day trip. We weren't aiming to break any speed records but we were paddle fit. We could take two days down the main channel, then two days back upstream along the north channel, starting and finishing in Wolseley Bay.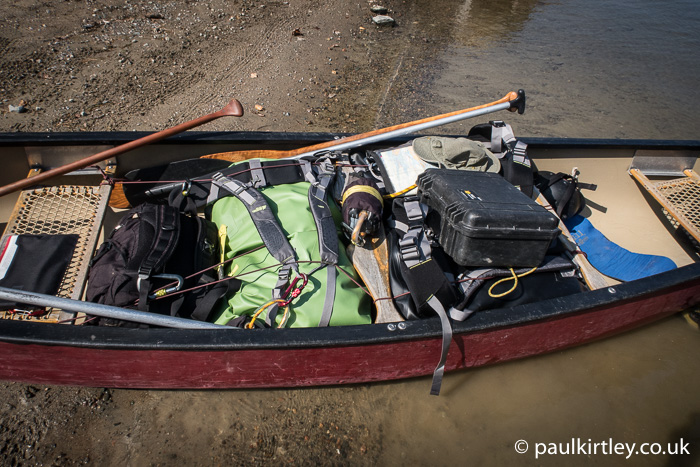 Day 1 – Rapids Of The Voyageurs
Having purchased our park permits and hired a canoe from French River Adventures at Pine Cove, we set off at 13:00. First, it was a gentle paddle along Wolseley Bay out into the middle French, past Rainy Island, cutting across the mouth of the north channel and onwards to the beginning of the main channel.
Little Pine Rapids marks the entrance to the main channel as well as the beginning of the Five Mile Rapids section of the river. Watch the video directly below for more geographical info on the river and footage of our run down this classic section of the French…
After Crooked Rapids, we pushed on a way further, stopping to camp at 18:00. It was still hot, and muggy. The humidity was high and there were cumulonimbus clouds out to the west of us.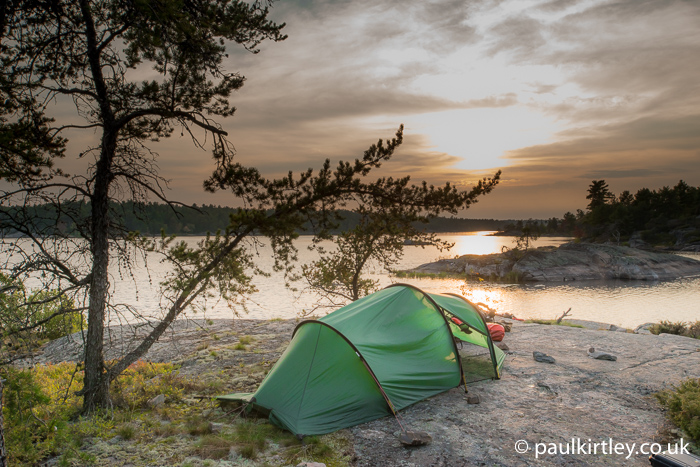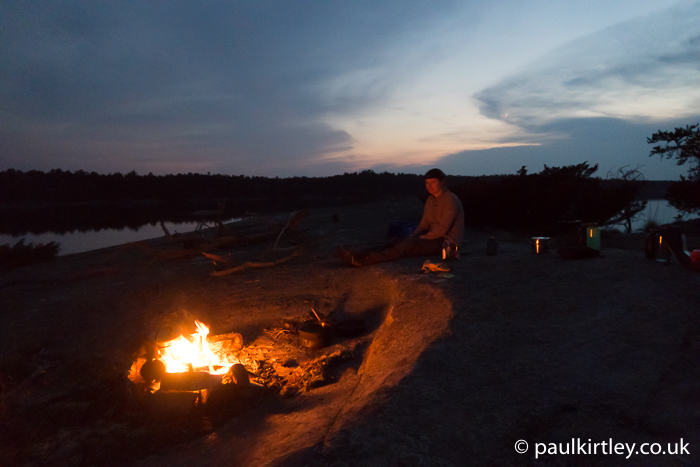 There wasn't much, if any breeze where we were camped, even up on the top of the rock mound where the fire site was located. This meant we had some mosquitoes in camp at dusk. They were making the most of the warm conditions too. It was odd to be camping in this heat, having had a good few cool nights on the Missinaibi a couple of weeks earlier, including a couple of light frosts. Tonight though, it was so warm we would be sleeping on top of sleeping bags. Reluctantly I donned my BugShirt to stop the bites that had been coming through my shirt and on my exposed arms.
After sunset, as the light faded, we could see flashes of lightning in the distance, illuminating vast areas of the massive clouds, which looked to be out over Georgian Bay.
A little bit of warm breeze did appear after dark, which dissipated the bugs a little. Then, all of a sudden, a wind started to blow from the west, causing us to grab a few lightweight items to stop them blowing away. Uh-oh, I thought, this feels like a storm coming in. About 20 minutes later it dropped to almost nothing again. The flashes of lightning continued in the distance. Cloud came in before bed and there were a handful of heavy spots of rain at bedtime. Nothing more came of any of this portent, though, and it was still and dry all night.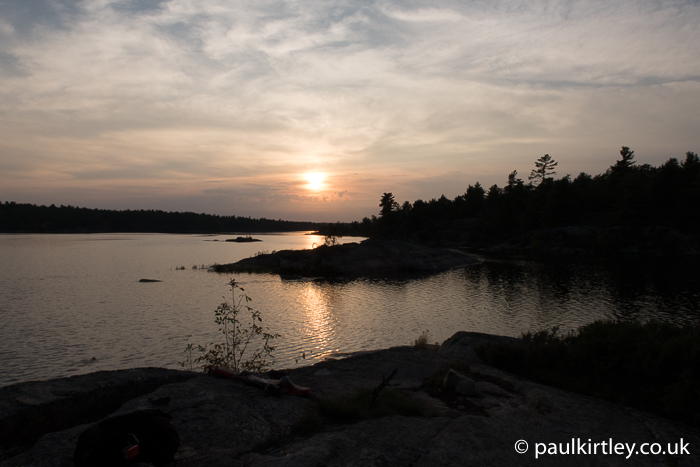 Campfire Notes – Day 1I lit our fire with a single match straight into a bundle of thin, dead twigs from jack pine, Pinus banksiana. Secondary fuel was also jack pine. Dinner was egg fried rice.
Day 2 – Hot Flats and a Headwind
We awoke to a clear blue sky and no wind. The water was like glass. There was quite a heavy dew early on but it soon evaporated away in the quickly rising air temperature and warming rays of the Sun. We were in no rush to get away. We had a about half a day's paddling of entirely flat water to where we wanted to camp next. So we had a relaxed morning, breakfast, coffee, a bit of reading, a bit of a wander in the woods behind camp and generally enjoying the sunshine and surrounds. After doing most of the packing, we had a swim and cooled off in the water. We set off at 13:00.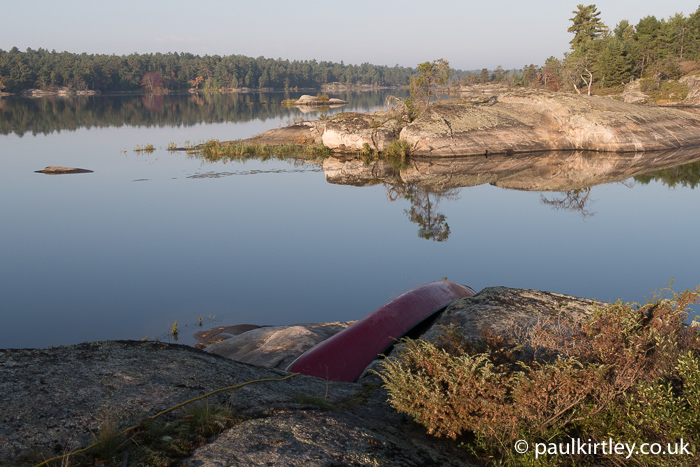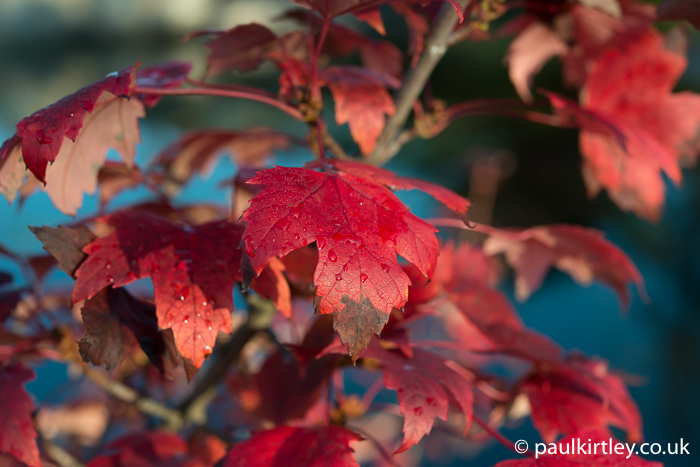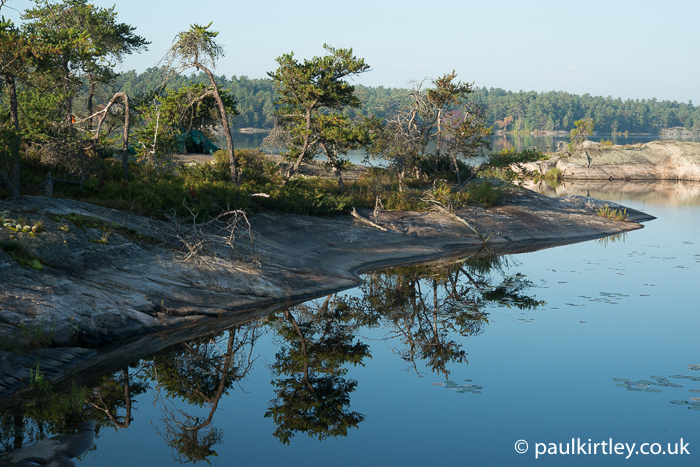 Even though this is an entirely flat-water stretch of the journey, there are a few features to look out for along the way, including the Haystack Islands (which do look like old fashioned haystacks), Cross Island and Owl Head Rock (which, from a certain angle looks like an owl's head up amongst the trees).
I've read a couple of conflicting stories about Cross Island, one of which states it was the site of the massacre of Jesuit missionaries in the 17th Century. The other story said missionaries drowned here, although this version could be confusing things with recorded drownings of missionaries downstream at Recollet Falls. Either way, there is a cross erected on the island in memory of missionaries that died on the river. Some claim the island is haunted. Kevin Callan's guide states local First Nations shun the island as they consider it cursed.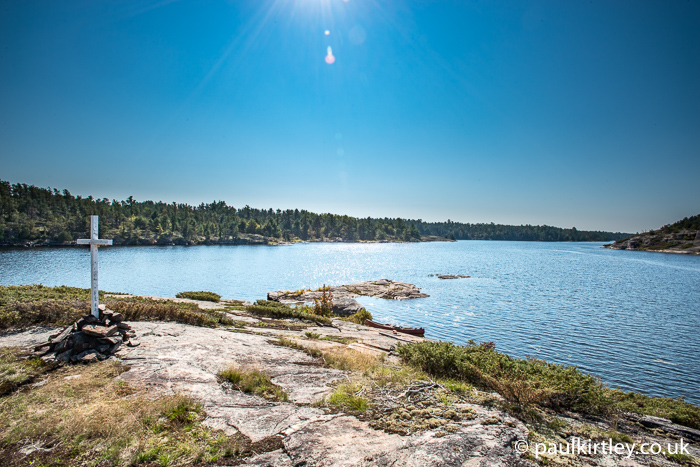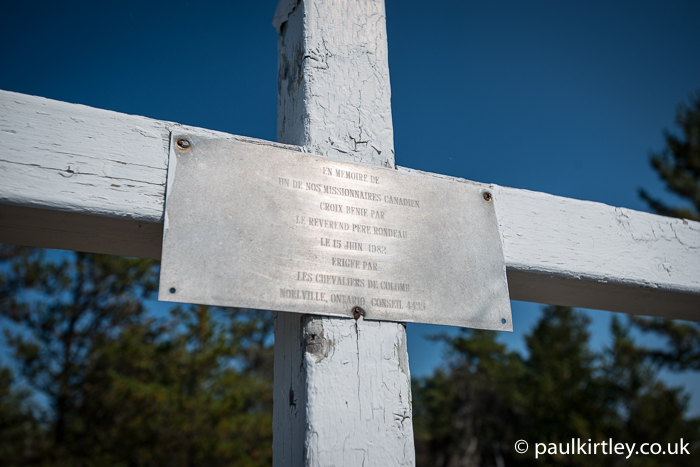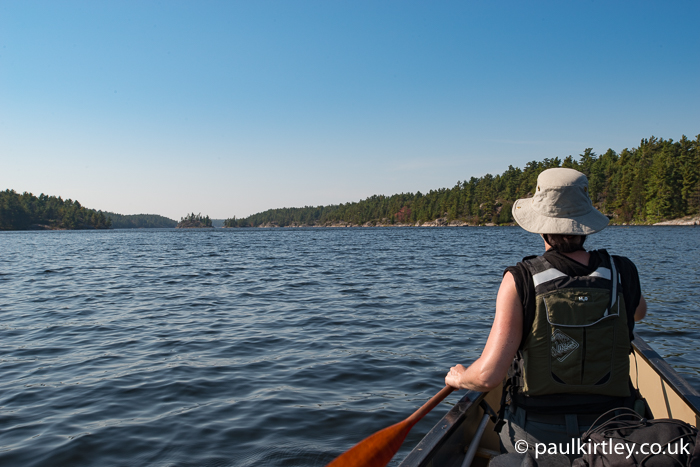 We stopped briefly for a late lunch on the shore between the Haystack Islands and Owls Head Rock. Landing on the southern shore allowed us to get out of the direct heat of the sun for a little while. Temperatures certainly felt as hot as predicted. We'd been paddling into a light breeze since we went around Cross Island. It was somewhat cooling so we welcomed it.
As we continued past the owl-shaped rock towards the unsightly hydro-electric transmission lines crossing the river near Dalton's point, we could feel the headwind increasing to something we had to work against a little harder than before. We were headed for camp 511, about 1km past the hydro line. As the river opened out beyond Dalton's point, the wind became stronger and the water a little choppy as we rounded the point to the landing for our camp, where we arrived at 17:40.
The campsite was situated nicely. The hydro line, only a short distance to the east behind us, was all but obscured the the lay of the land and the view westwards towards Lost Child Bend and Canoe Pass was lovely. It was only a few days past the September equinox, so the sunset would be almost directly in the west, down the end of the bay.
Unfortunately, the site was marred by litter and mess. There was a lot of litter, lots of small pieces scattered around, pieces of smashed plastic shot glasses, foil from baked potatoes and corn, and cigarette butts everywhere. There were the remains of split logs strewn around. In the fireplace itself were tin cans, cardboard, plastic and other packaging, all held in place by some sawn rounds of pine (see photos below).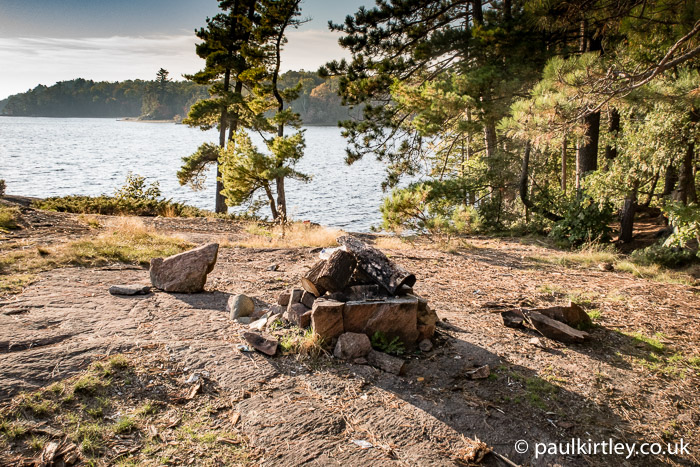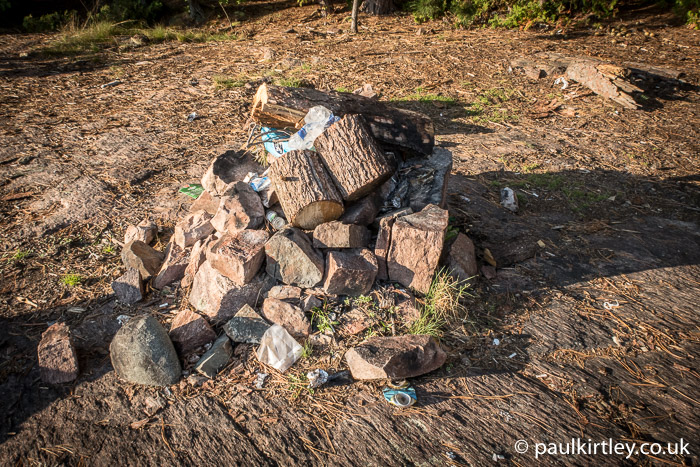 Just inside the treeline, it was clear someone had been sawing a felled pine with a chainsaw for firewood. As far as I am aware you are not supposed to take chainsaws into parks. But my point is someone had clearly had the capacity to transport a chainsaw and a splitting axe to this place but been too lazy to carry out their rubbish. Further back into the woods were various deposits of toilet paper, plus a few areas further back still containing a significant number of panty liners and tampon applicators. What is wrong with people? Burn this stuff or take it home with you for hygienic disposal.
We didn't tackle the TP or female hygiene products but we did tidy and burn everything else we found around camp. The foil and cans we packed out in our trash bag. The upside was we did find a flat, clear area amongst hemlock trees that had a very nice feel to it and that was clear of rubbish.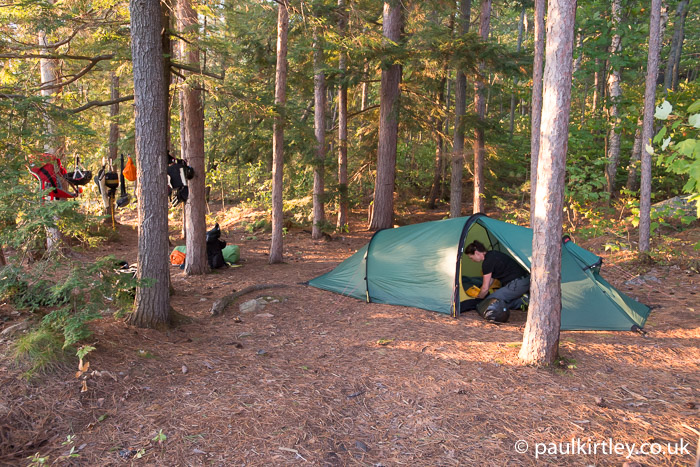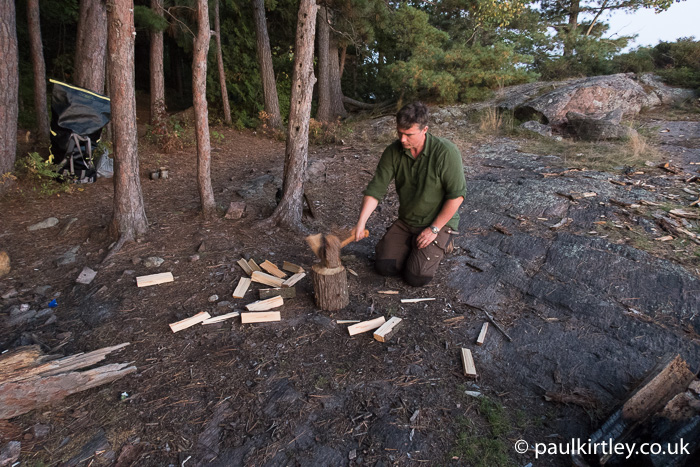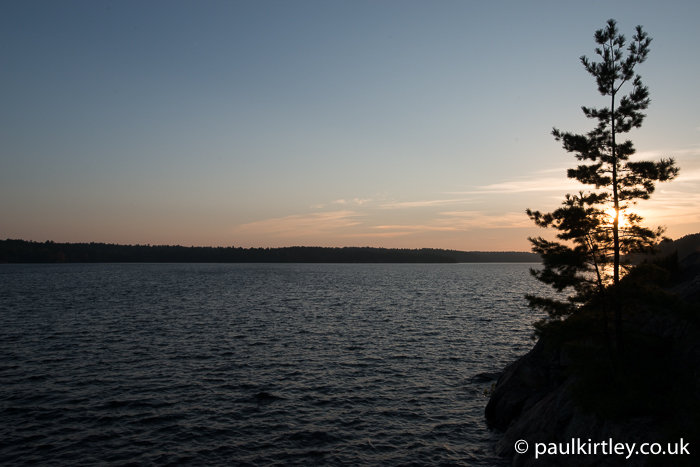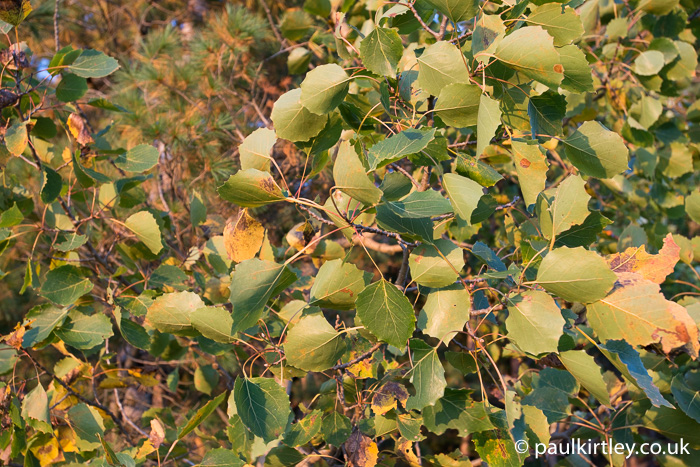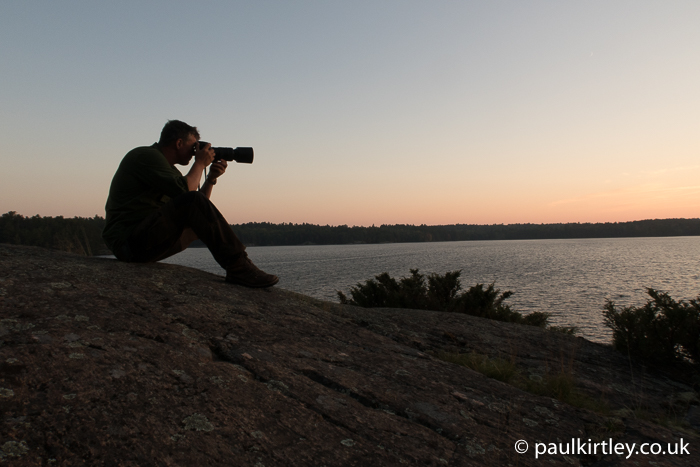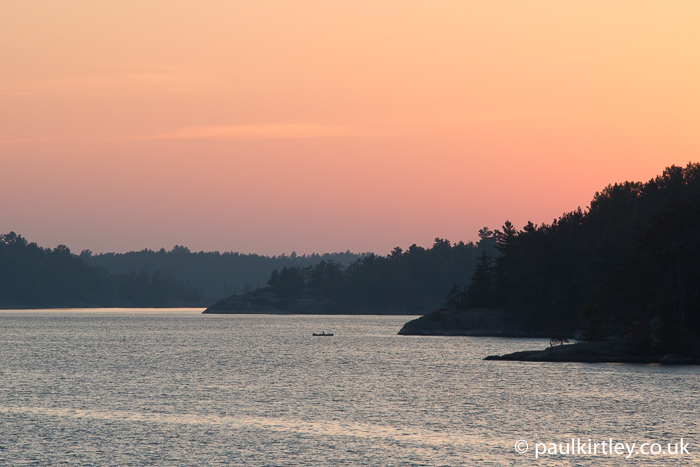 The breeze we had enjoyed, coming off the water, across the rock and through camp, keeping any insects at bay, eventually subsided after the sun went down. We were indeed treated to a lovely sunset and then the stars came out. We laid on our backs on the warm rock looking up at the Milky Way until the wind dropped and a few mosquitoes started to visit us. Time for bed…
Campfire Notes – Day 2I cooked a tuna pasta with a tomato sauce for dinner. I lit the fire with a spark from a Firesteel onto the bark of paper birch, Betula papyrifera. If you'd like to learn more about the technique, check one of my YouTube videos here. The primary fuel I used was fine, dead twigs from Eastern hemlock, Tsuga canadensis. Secondary fuel was split from some dead pine I sawed up into sections. I did also split one of the rounds of wood that had been sawn and left by the mess-makers. It was damp in the middle. The idiots couldn't even select decent firewood. I made sure we had as much water boiled as possible before the end of the evening, so we had plenty of water cold for drinking first thing in the morning and for filling bottles for the following day's journey. It was going to be another hot one.
Day 3 – Circled By Boats, Circled By Vultures
Right from the start, it was obvious the weather was set to be glorious again. There wasn't a cloud in the sky. It was already hot in sun by 09:00. Before then I'd lit the fire with a match and birch bark. I boiled up water for fresh coffee, which we had with granola for breakfast. After breakfast, I doused the fire and made sure the fire site and surrounding area was as tidy as it could be.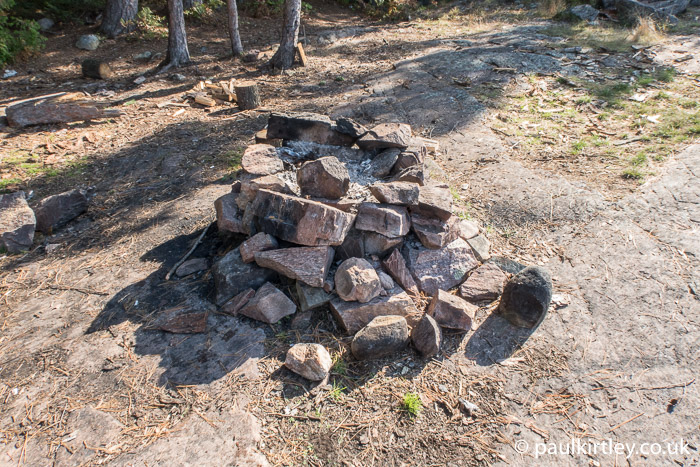 In the end we left around 10:45. This was later than I had wanted. But it was hot. We were sweating copiously just loading the boat. The air was still and with the heat already reflecting off the bare rock of the campground around the fire, it was stifling. So we took it steady and made sure we were taking water on board from early on in the day.
When we did get going, it was good to be out, away from the rocks and shelter of trees, moving on the water. There was a slight breeze and our sweat started to dry out.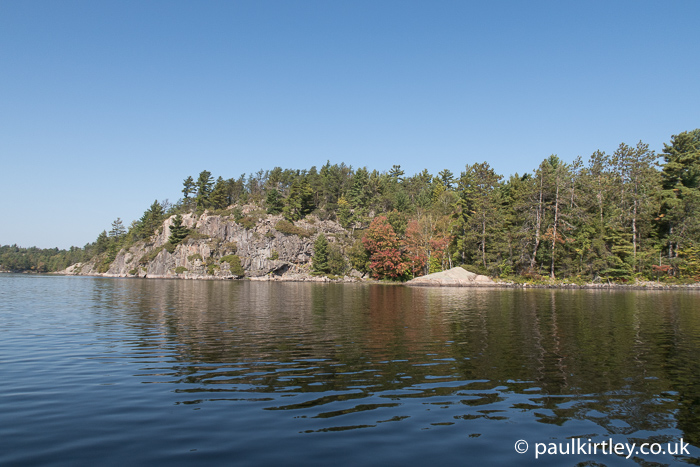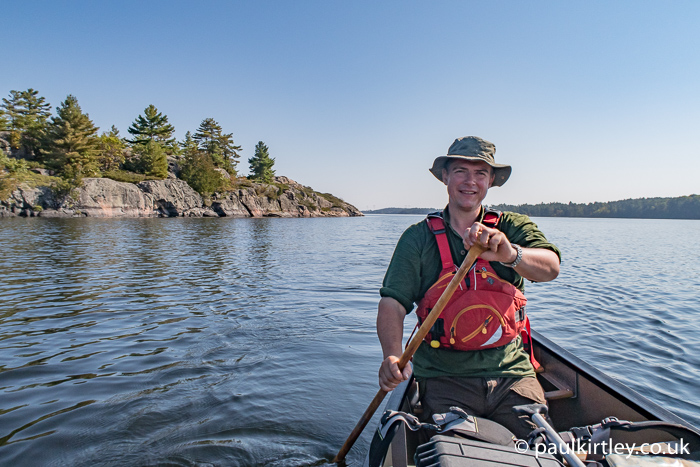 We made quick progress to Canoe Pass. While there was something of a breeze, the force of yesterday afternoon's headwind had gone. Canoe Pass is a useful cut-through, short-cutting the need to paddle around Fourmile Island.
Once through Canoe Pass, we hugged the shoreline to our right and soon made it to the outflow of Stony Falls. This is one of your options for getting from Dry Pine Bay to Eighteen Mile Bay. The other option is going via the portage at Meshaw Falls.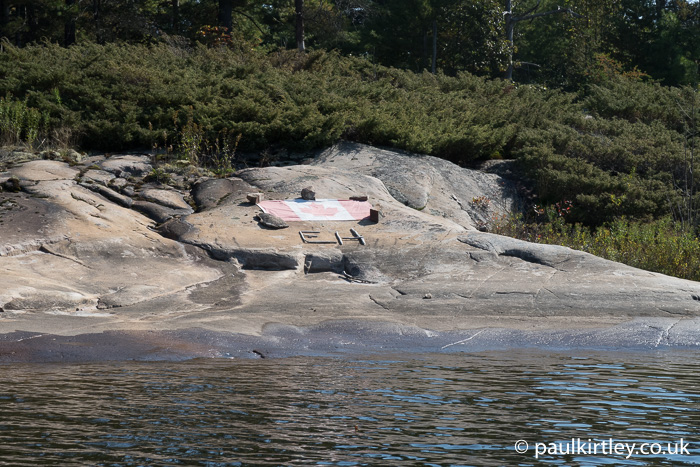 The Stony Falls portage is relatively easy. Today there were a good number of motor boats moored just below. There were guys set up with a BBQ, table, chairs and beers, cooking Frankfurters at the downstream end of the portage. They were very friendly and offered us some lunch.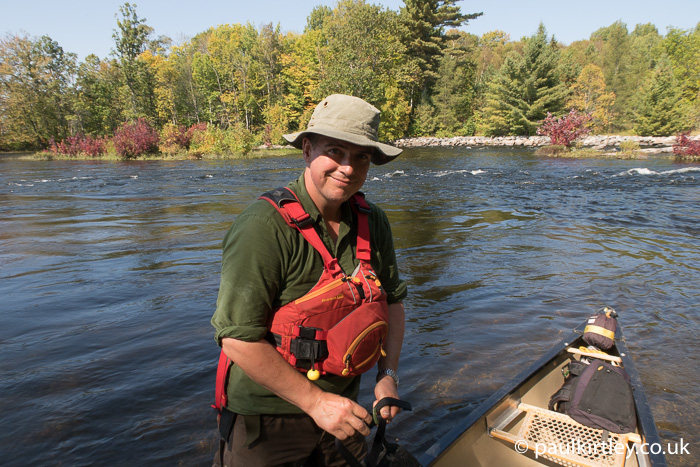 Just ahead of us on the portage were a couple of lads carrying a big inner tube. They put in close to the top of Stony Rapids and ran back down to the bottom. It looked like great fun. We had a brief chat with their mum, who was also super-friendly. This friendliness and willingness to speak to strangers is one of the things I love about this part of Canada.
If you were running downstream here, you could certainly consider running down Stony Rapids. It looked like a straighforward grade 2/class 2 piece of water. That said, the levels were decent. It could be a lot more scrapy at lower levels. Hence the name Stony Rapids, perhaps?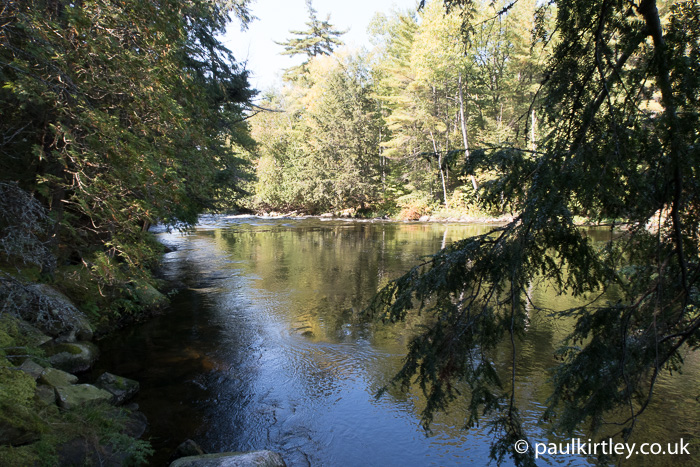 We put in the pool above the run in to the rapids. We then paddled upstream in slack water until we reached a riffle. We worked up an eddy, ferried across then continued up the next eddy on the inside of the bend. Then we had to power out of the top of the eddy into a tongue of water. We managed a diagonal route across and up, making it into an eddy on right again. Without pause, we then pushed upstream into the safety of a larger eddy. We landed and had lunch just in the woods here. It was a very pleasant, shady spot.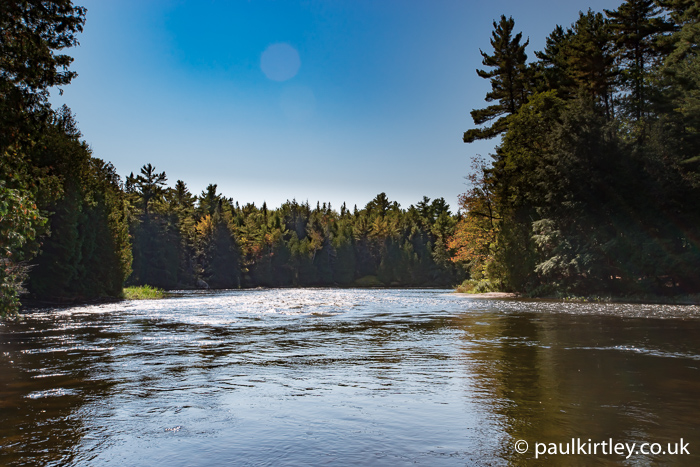 After a break of about 30 mins, we were ready to go. Just on the edge of the river, as I was about to get into the canoe, I spotted some woody nightshade, Solanum dulcamara. This is a cousin of the infamous deadly nightshade, Atropa belladona. Woody nightshade, also known as bittersweet, is not a native species of North America. It was introduced from Europe, where it is the most common species in the nightshade family. I've seen it plenty in the UK, including on the edge of waterways, but I was pleased my brain had registered first the fruit, then the leaf shape, despite it being out of the context I was used to seeing it.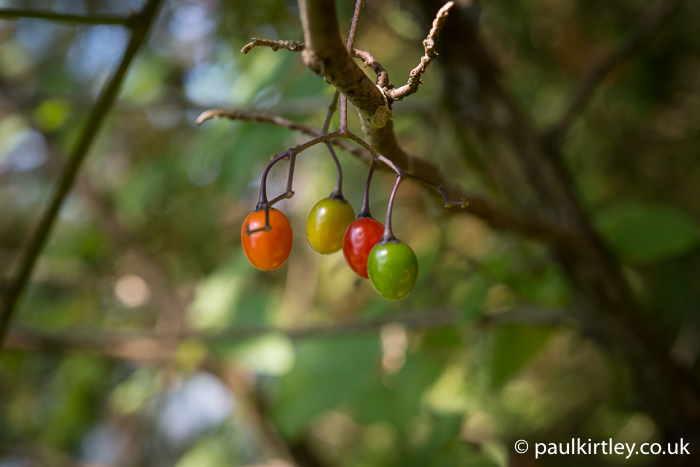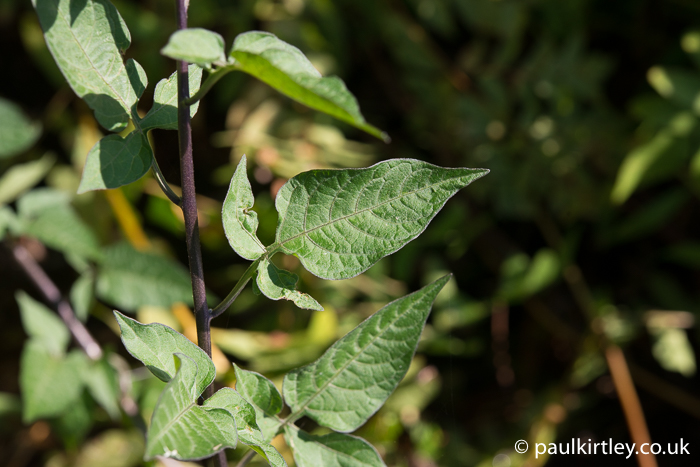 We paddled out of this short section of river above Stony Rapids and into the business of Eighteen Mile Bay. Even here there was wildlife, though. As we headed into the bay proper, magnificent great blue heron stood in the reeds, motionless yet poised, ready to strike some unsuspecting fish.
The water after this, the whole area was the busiest part of the trip. We saw a couple of day paddlers but mainly motor boats and pontoon boats. Plenty of them. I was right to expect it to be busy. The area is not unpleasant on the eye, though, and there are some memorable features, including the tall rock face on the eastern side of the bay.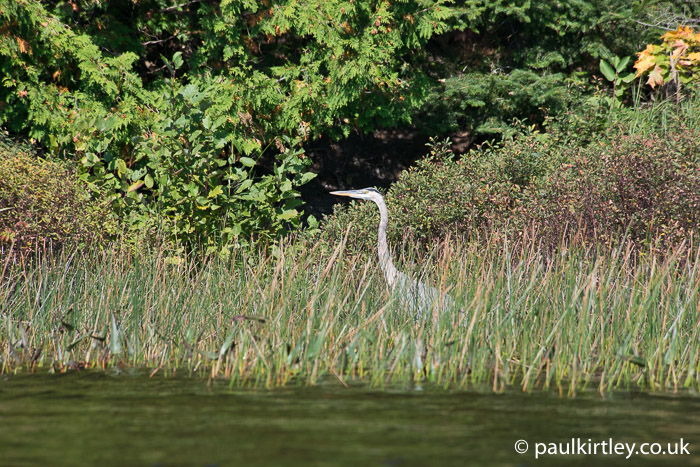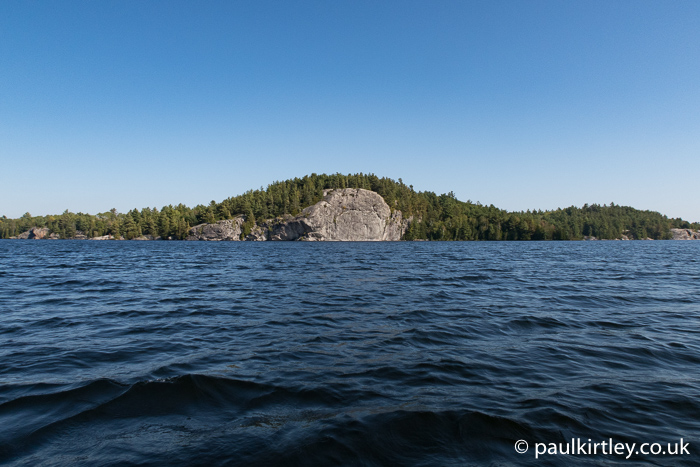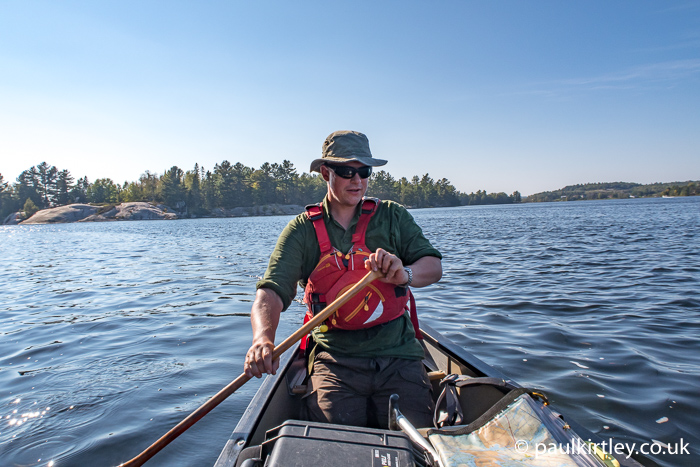 After the boat bustle of Eighteen Mile Bay, we were happy to round the north west corner of our loop route, enter the north channel and start heading back east. This was the beginning of our upstream journey proper. We passed under the electricity transmission lines by about 16:00.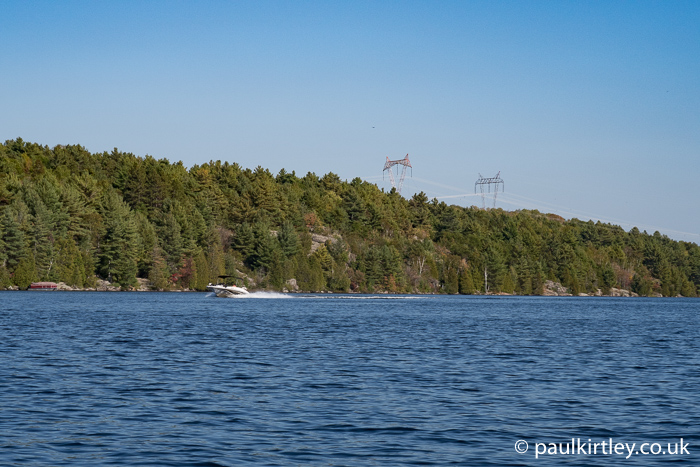 About 1,500m further upstream of the transmission lines is a rock step, creating a short rapid, not navigable by motor boats. You can portage this if you like (50 metres at most) but even at this elevated water level I was able to drag the boat upstream, wading. The coolness on my legs from the flowing water was very welcome. The temperature all day had felt like summer Mediterranean temperatures. I was starting to feel a little frazzled by the heat.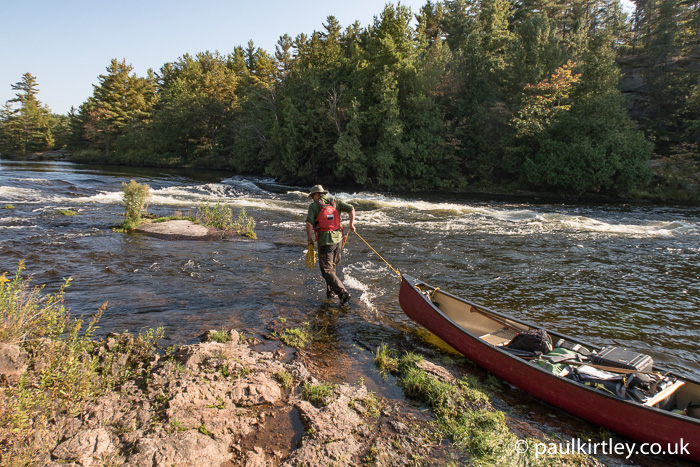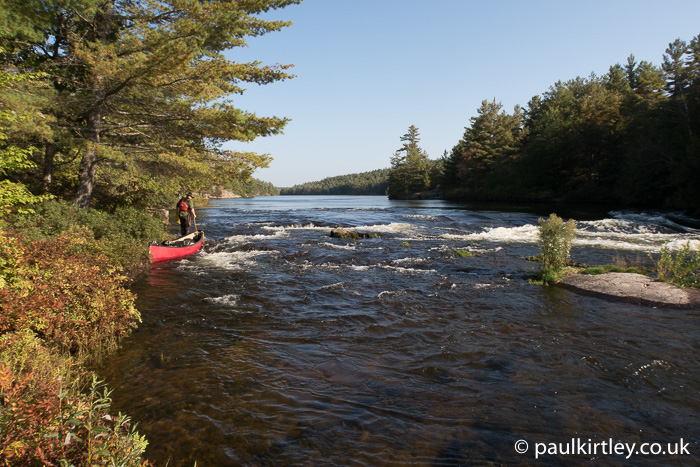 From the first rapid encountered, it's about a kilometer to a narrow constriction of the river, spanned by a bridge. This could well be the narrowest point of the north channel. The flow under the bridge is marked as "swifts". Today, the flow was deep and strong.
We worked up the eddy on the left hand side (in our upstream direction of travel), to not far behind the bridge parapet. With some momentum out of the top of the eddy, we ferried across to the right and under the bridge where there was a little bit of slack water close to the right shore. We kept the power on as we travelled under the bridge, clipping a few rocks with the plastic paddles. We set the angle of the boat not far off directly upstream and crossed the eddy line into the flow again, ferrying across to the left once more. This latter part required some hard paddling, and we just made it to slack water on the left bank above the main flow down towards the bridge. Unfortunately I neglected to turn on my GoPro to record how we tackled it. I'm assuming this would be easier at lower water levels.
From here, it was a short distance to a point that juts out, beyond which the channel opens into what is really a small lake that includes the wigwam islands. Directly south of here is a large bay, with cottages on one side an an impressive rock wall on the other shore. The spaciousness is quite spectacular, particularly after the confines of the passage under the bridge not far downstream.
As we paddled along the north shore, we were greeted by a kettle of vultures, circling and swooping above the dividing line between land and water. They seemed to be making good use of updrafts from the breeze coming off the water being deflected upwards as it hit the shore. We stopped and watched them for a good while. Round and round they went. Up. Then swooping down along the treeline, before circling back up again.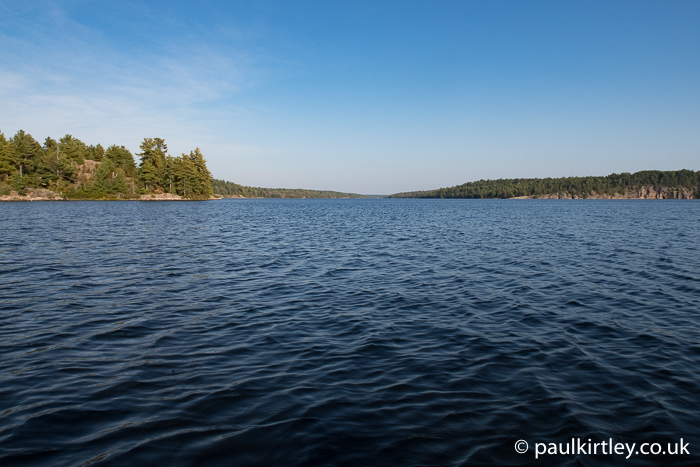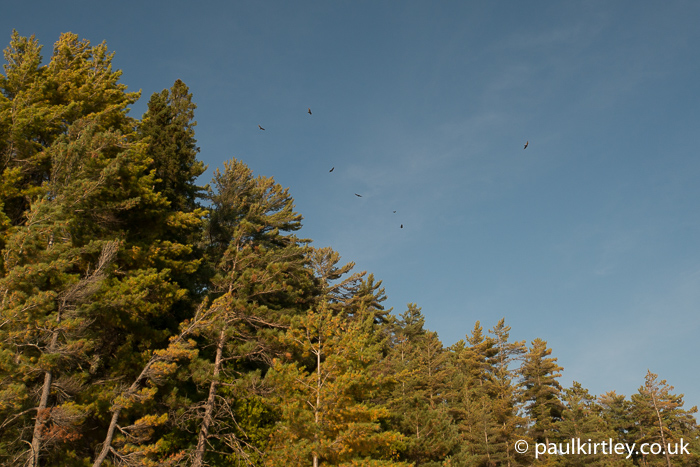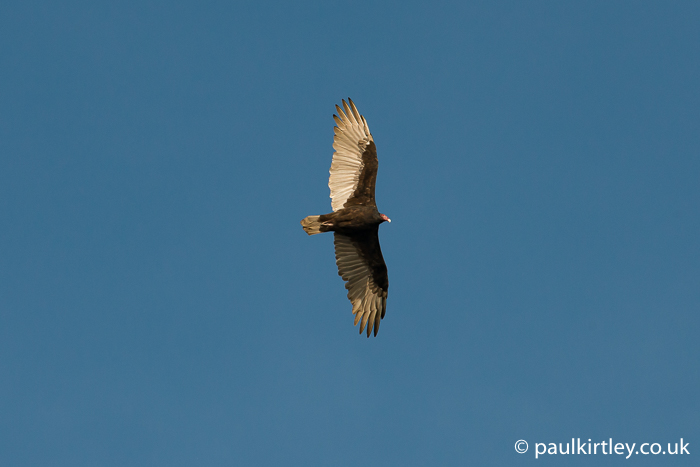 From here it was a paddle to the end of the "lake", before entering back into a narrower channel. We were keen to make progress now. The sun was getting low. Past the last cottage in this stretch, we began looking for a place to spend the night. This is all Crown Land up here. Some of the areas indicated in the guide books where there might be camping spots, yielded nothing obvious.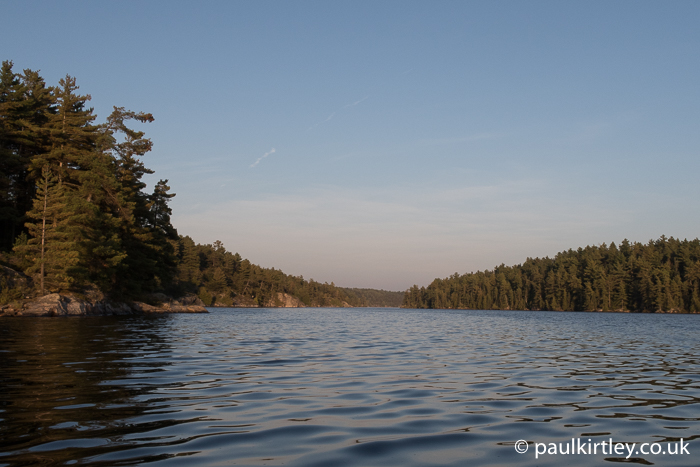 I switched to just using my observation rather than relying on trying to find a spot someone else stated was there. We landed and I checked one area of raised rock that seemed to have potential. There was no flat area for our tent on what was essentially a ridge.
The next place we landed yielded a spot for the Nallo up on the moss- and lichen-covered rock between shrubby junipers. There was and a suitable fire and cook area about 50 metres away from the tent, down near water. It had a raised area of bare rock on which I could set a fire and not endanger the roots of any of the nearby trees.
The sun was setting as we landed so Amanda set up the tent, while I quickly established the fire and boiled water. We were both feeling dehydrated. I had drunk a good few litres in the morning and 2 litres during day, while we were paddling. It was far from having been sufficient. Amanda had had similar amounts to me yet developed a headache in the late afternoon. Several pints of tea were consumed in camp in short order as a start on our rehydration efforts.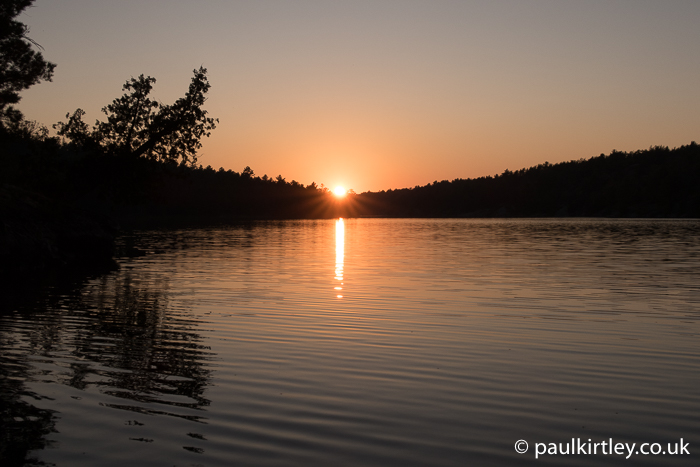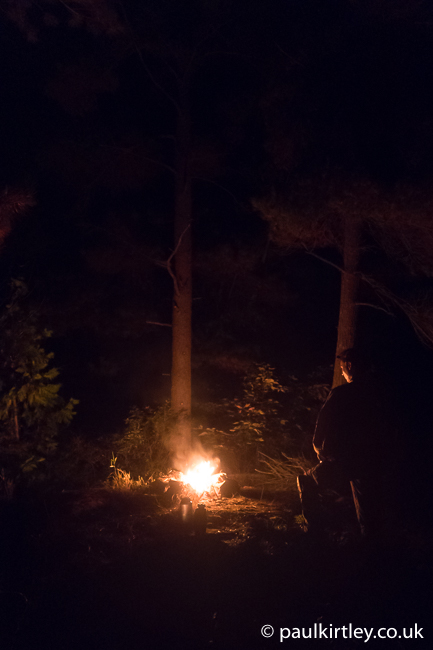 Campfire Notes – Day 3I lit the fire by taking a match directly to kindling of mainly white pine, Pinus strobus. Secondary fuel was dead branches from white pine and jack pine, P. banksiana. Dinner was a vegetable chilli. We produced litres and litres of water, some of which we drank, some of which we stored for the following day.
Day 4 – Cedar Strip and Sweat
It was muggy up in the woods where our tent was pitched. There were a surprising amount of mossies around for late September. We'd squished those we could find in our tent and then slept well. This morning was still humid and we sweated just moving our gear down to the boat.
After breakfast and leave-no-trace of our fire, we moved onto the water, hoping for some air, as we had benefited from in previous days. It felt almost as stifling on the water. The air was hazing up and it felt more humid than ever.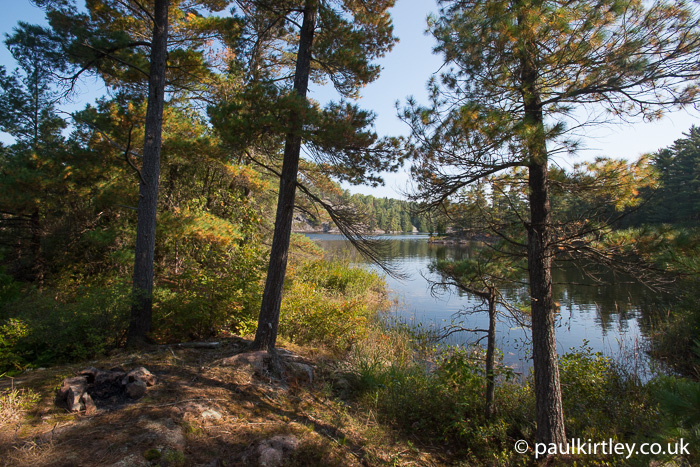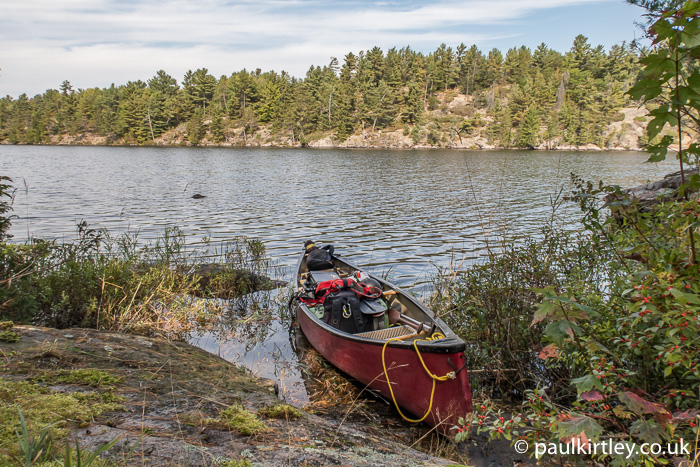 This stretch of river proved very pretty. It then widens out again near to Ash Bay, where there are more cottages, before constricting again before the run up through the strip containing Cedar Rapids. This flat water paddling was all very straightforward.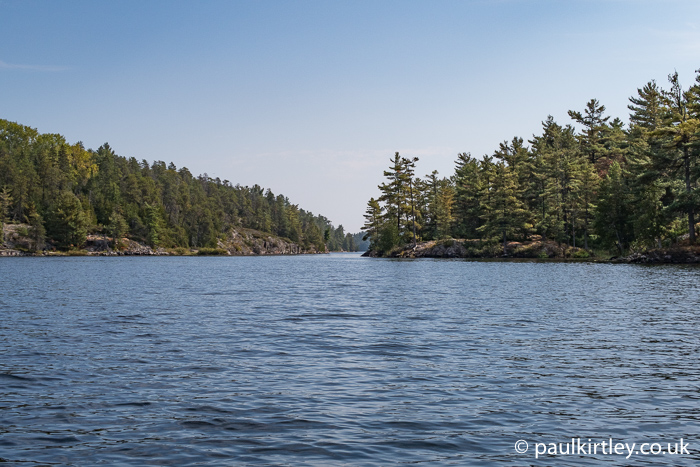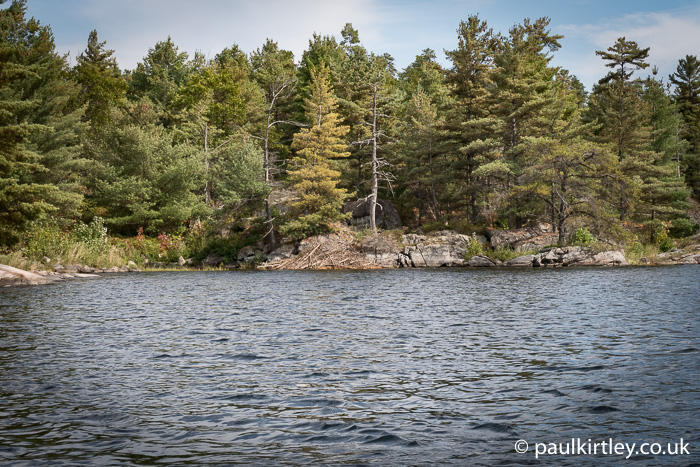 Before too long we were up to the outflow of the Cedar Rapids section. First there is a short chute, which we portaged (first portage of the trip!). Then there is a paddle up about a kilometer of flat water before the main Cedar Rapids section.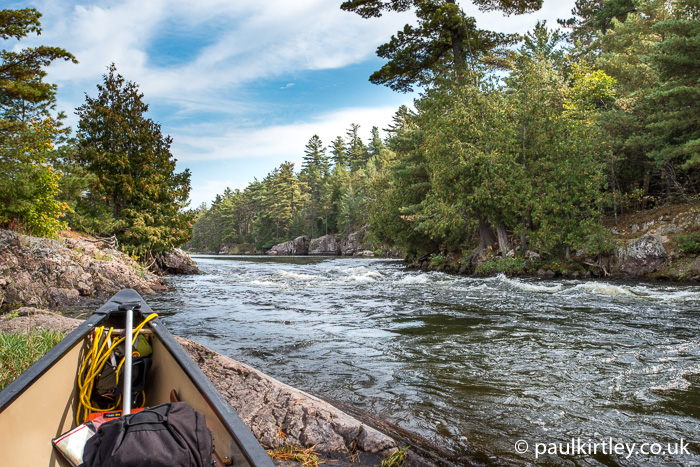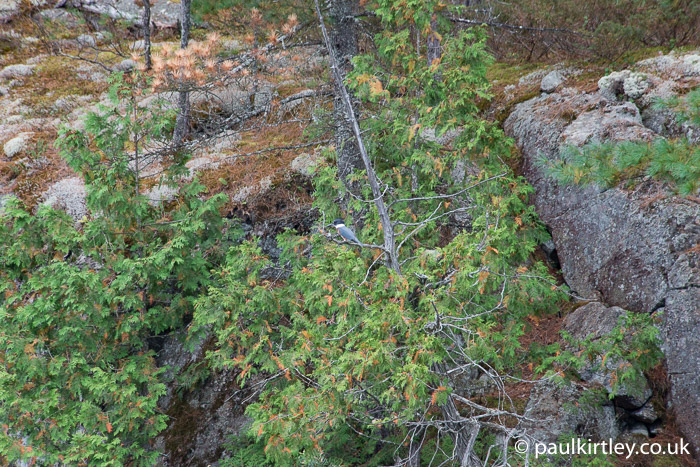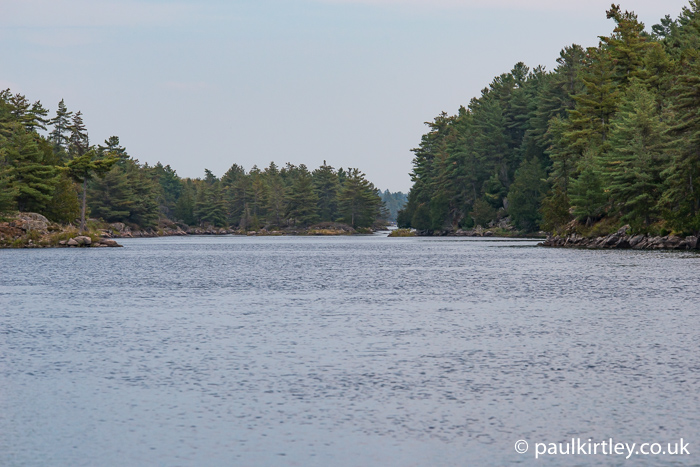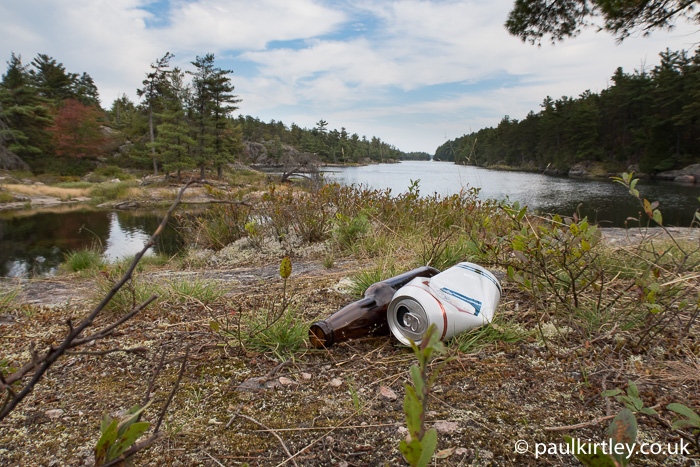 There was a good amount of water coming out of the bottom of the main Cedar Rapids area and we worked up into a landing behind a small island. Amanda walked across to the top while I waded and hauled the boat around side of the island, keeping out of the main flow.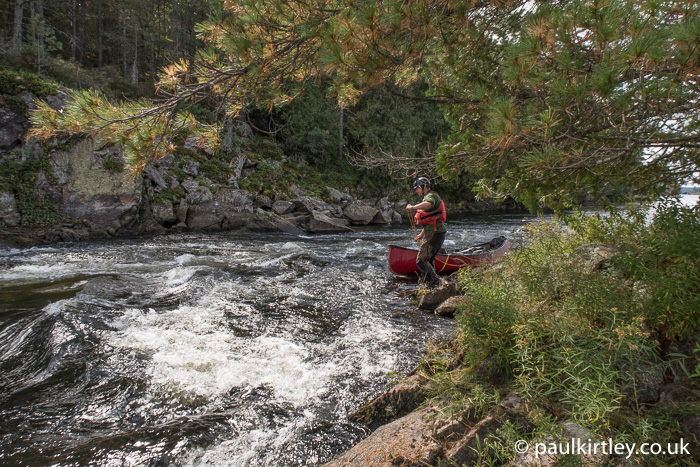 We then paddled across some pools to the bottom of where we expected the Cedar Rapids portage trail to come down to the water. There was water pouring over a rock ledge into a pool where I thought it might be. I didn't want to get in there without having a proper look though. I could see people had been up and down the rocks in various places, presumably at lower water levels, perhaps when water wasn't flowing out of the side of the main rapids as it was today.
So we went into a crack in the rock on the other side. While Amanda waited with the boat, I climbed up and located the main portage trail, then followed it back down to the end. One branch went down to a get-out/put-in which would make sense in lower water but was not sensible today. Another branch went down to where we had landed. A third branch went down to a rock shelf below which there was a narrow, slabby get-out that I could paddle the boat to, just up the side of the water flowing into the pool.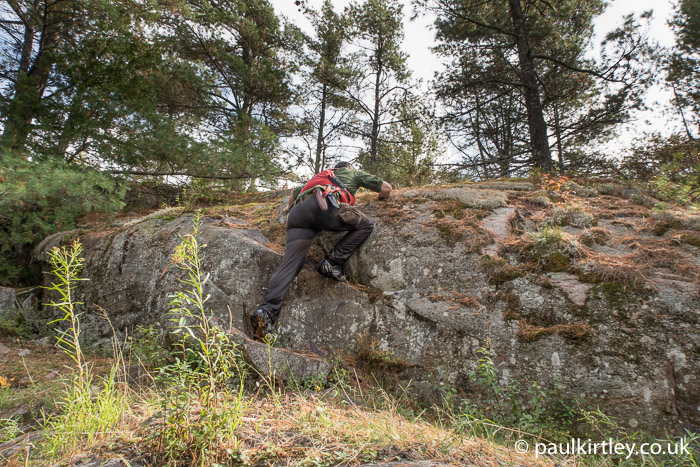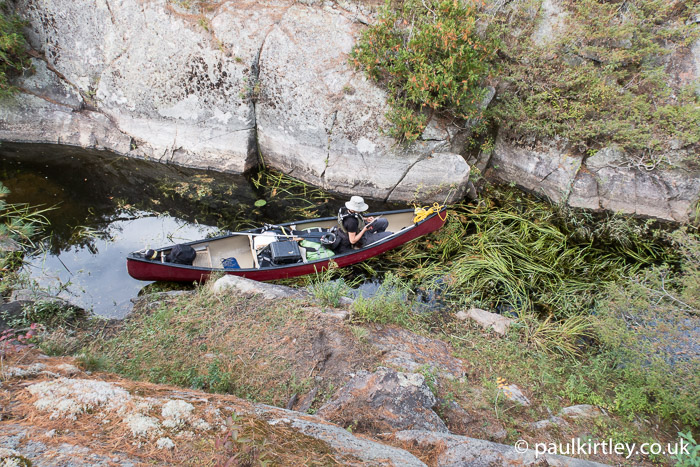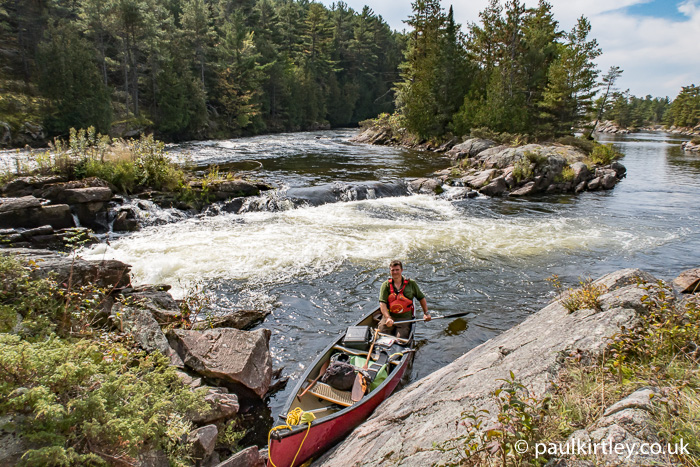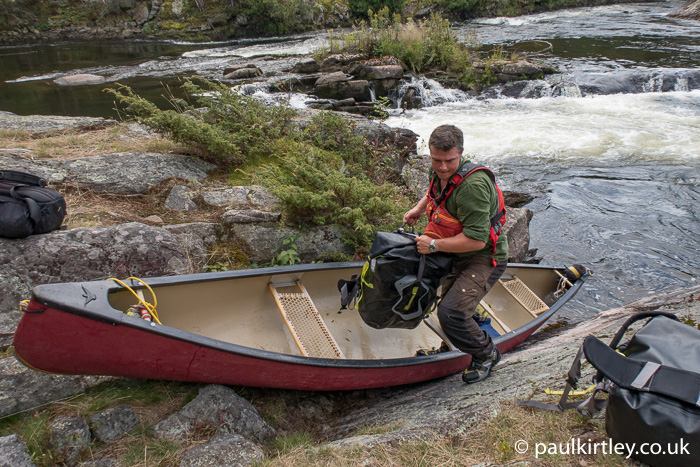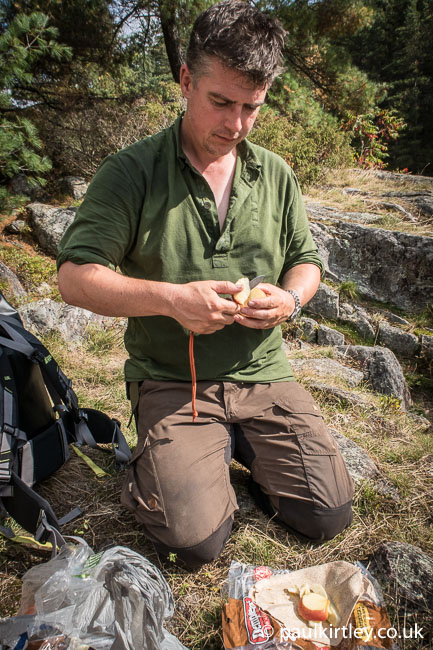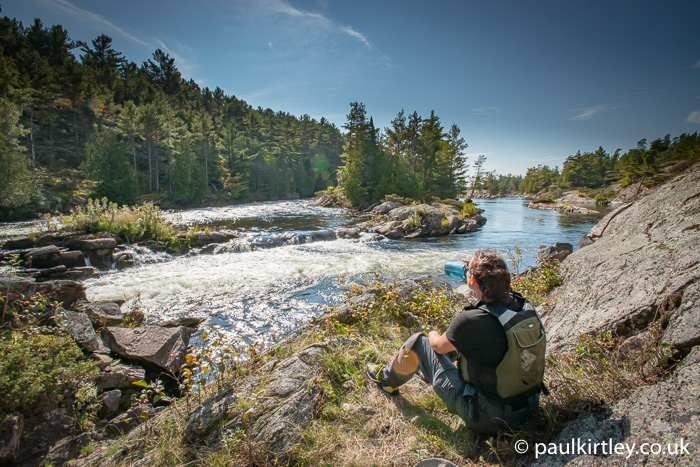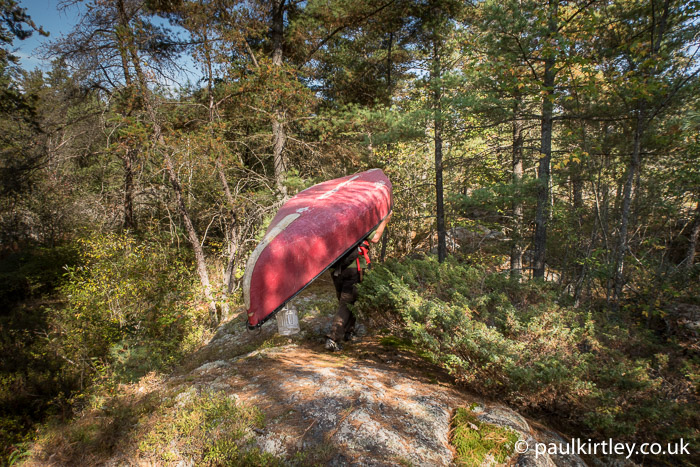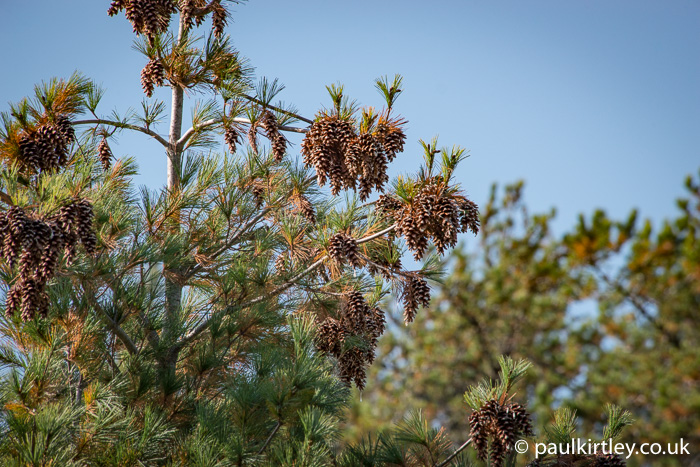 The Cedar Rapids portage was more like a proper portage, with enough distance for the boat to start digging into my shoulders. That said, after a few long portages on the Missinabi in the prior few weeks, this didn't seem all that bad. Plus we had virtually no weight of food at this point. It was pleasant to be walking, stretching our legs after kneeling in the boat for a few hours.
With the portage done, we felt we were on the home straight…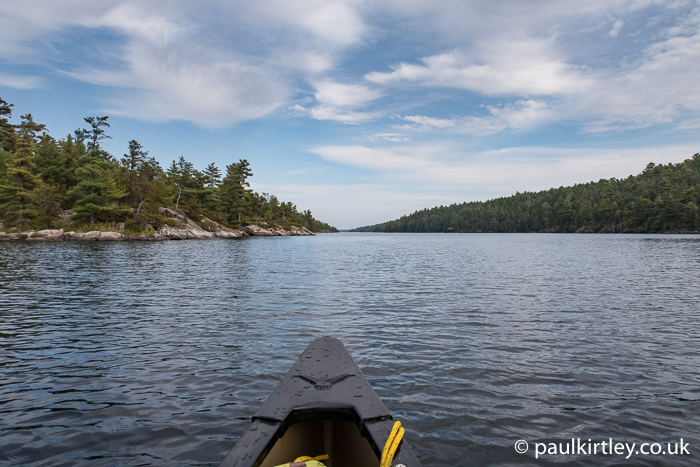 Eighteen Mile Island Loop End-Notes
We had one more short portage to do – into the back of the property where we were staying the night. After our very sweaty last day on the Eighteen Mile Island loop, we were ready for a shower. Spirits were still high though…
The trip proved very enjoyable and I was glad we made the decision to undertake the Eighteen Mile Island loop route. The Five Mile Rapids section of the river had been exhilarating at the high water levels, but I had enjoyed working up through Cedar Rapids in the north channel equally as much.
The sunshine had shown every part of the route in its best light. The busy Dry Pine Bay and Eighteen Mile Bay sections were a worthwhile sacrifice of quietude in favour of making a journey that had a sense of completeness.
Apart from the litter issues in places, we'd had some memorable camping spots. Despite my salt-encrusted garments and being in need of some rehydration at the end, I felt stronger and more rejuvenated at the end of the trip than and the beginning. This in itself says a lot about the quality of the Eighteen Mile Island loop on the French River.
Links And Additional Information
Accommodation and Canoe Rental
We stayed at The Lodge At Pine Cove while on Wolseley Bay. French River Adventures is on the same site and is operated by the owners of the lodge. Full disclosure – I am good friends with Alex, the owner of the lodge. That said, I go there because I like it very much. No other incentives are needed!French River AdventuresThe Lodge At Pine Cove
If you are starting the loop from Dry Pine Bay, then you should check out what Loon's Landing has to offer: http://loonslanding.ca/
French River Provincial Park and Ontario Crown Land Camping
If you are camping in the French River Provincial Park, you need an interior camping permit. All camp sites are numbered and marked. They are indicated on the Ontario Parks French River. As a general point, if you intend to camp on Crown Land north of the French and Mattawa rivers and are non-resident, you need a non-resident camping permit. Camping spots in Crown Land are neither marked on the map nor on the ground. See the links below for more details.Ontario Parks – French RiverCamping On Crown Land
Fishing Licences
Please check the following links to find out the current requirements in terms of fishing licences…
What you need to know before fishing in Ontario. Includes how to get a fishing licence, Outdoors Card, city fishing, camping on crown land, and eating Ontario fish: https://www.ontario.ca/page/fishing
Fishing Licence – Canadian Residents: https://www.ontario.ca/page/fishing-licence-canadian-residentsFishing Licence – Non-Residents: https://www.ontario.ca/page/fishing-licence-non-residents-canada
Join Me For A Trip On The French River
If you fancy the idea of joining me for an adventure on the French River or indeed a number of other adventures Ray Goodwin and I have planned, then leave your name and a contact email on this page and I'll email you with more details of each trip as they come up. There's usually one, sometimes two, trips per year.
Further Reading on the French River and Beyond
Camera Gear Used
My photos above were taken with my beloved Nikon D800 and a number of lenses including my stalwart Nikon Af-S 17-35/2.8D, which is still my go-to travel lens. I also carry the excellent Nikkor 60mm f2.8 AF-S Micro for close-up detail, particularly on trees and plants, as well as the versatile yet relatively compact Nikon AF-S NIKKOR 80-400mm f/4.5-5.6G ED VR, particularly for wildlife shots. This kit is all fitted into a Pelican Peli 1520 Case. My helmet cam footage is from a GoPro Hero 3 Black.
Amanda was using the diminutive but excellent Canon PowerShot G7X MkII for both photos and video.
Related Material On Paul Kirtley's Blog
Six Men, Three Boats and The Bloodvein: Canoeing A Wilderness River
James Raffan – Explorer, Scholar and Author – Interview
Canoeing The River Spey With Kevin Callan, Ray Goodwin and Justine Curgenven
The following two tabs change content below.
Paul Kirtley is an award-winning professional bushcraft instructor, qualified canoe leader and mountain leader. He is passionate about nature and wilderness travel. In addition to writing this blog Paul owns and runs
Frontier Bushcraft
, a wilderness bushcraft school, offering bushcraft courses and wilderness expeditions.