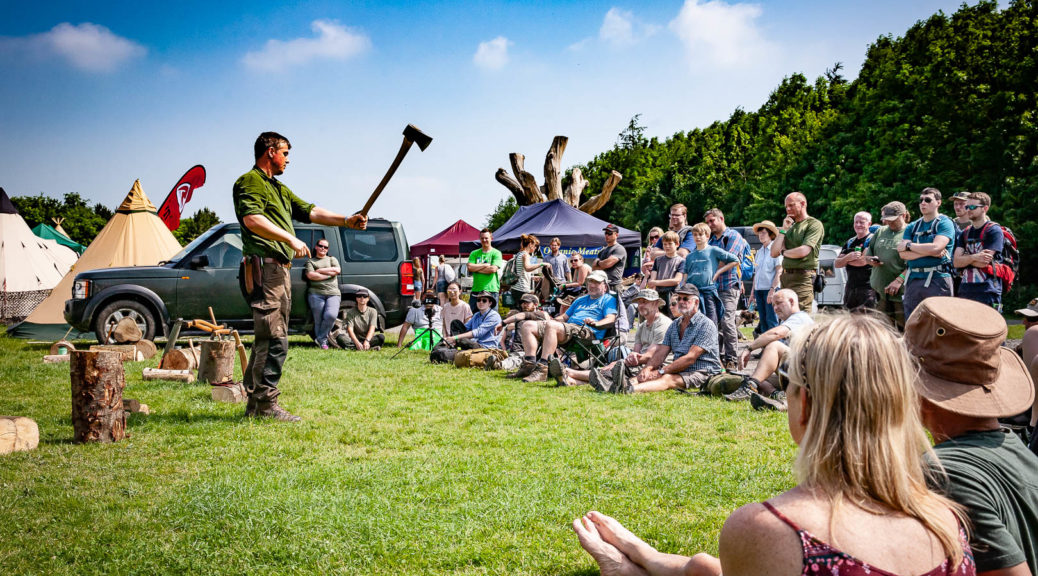 Bushcraft Show Axe Skills Demo
Bushcraft Show Axe Skills Demo
Axe techniques form an important part of a complete bushcraft skill set. I use axes while working in the woods as well as on trips – light use on canoe trips and heavy use on some boreal winter camping trips.
Further, I teach fundamental axe skills to students over the course of a week-long programme that also includes classic campcraft and campfire cookery – a lovely combination of classic woodcraft and camping techniques.
At the 2018 Bushcraft Show, like many Bushcraft Shows in previous years, I made a presentation of axes and axe skills. The aim was to introduce axe techniques that suit different sizes and styles of axes, to look at the benefits and limitations of different axes, to share some tips on how to optimise their use as well as underpin everything with solid safety considerations.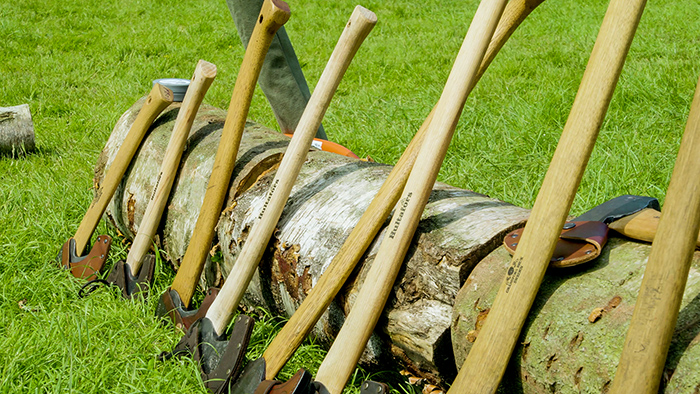 Given the nature of events such as the Bushcraft Show, the presentation of particular skills or knowledge are inevitably relatively short. I do, however, attempt to keep my axe demos balanced in the ideas they present.
Of course there is more to learn than this and learning to do is different to watching someone else and understanding what they are doing but never having done it yourself.
This is meant to be a demonstration, not a mini-course. I do hope, however, that someone having watched this demo (or the video below) will be less likely to hurt themselves with an axe when they pick one up for the first time.
At the 2018 Bushcraft Show was a young man who was recording video for a piece on his YouTube channel Expedition Jack. We'd done a short interview and he asked if he could film some of my axe demo to add into his Bushcraft Show film. I was fine with this. In the end, he filmed the whole lot and offered to edit it into a standalone video. He's done a nice job and this is what I am sharing with you below.
You can also watch this video on my YouTube channel here.
My company Frontier Bushcraft was a main sponsor of the Bushcraft Show again in 2018 and in addition to the above axe demo, I also undertook several tree and plant identification walks as well as a main stage talk.
You can get a recording of my main stage talk (titled Real World Expeditioning With Bushcraft Skills) along with a copy of my slide deck as well as a host of referenced material via this link: http://paulkirtley.co.uk/bushcraftshow2018
Let Me Know What You Learned…
In the comments section, I'd love to hear about what you learned, refreshed or gained a new perspective on from the axe skills demo. And if you liked the video, check out the other related material linked below…
Related Material on Paul Kirtley's Blog…
Accelerate Your Bushcraft Learning: Bushcraft Show 2017 Presentation
The Value Of Using Wilderness Skills Closer To Home: Bushcraft Show 2016 Presentation
Integrating Bushcraft With Modern Outdoor Life: Bushcraft Show 2014 Presentation
The Difference Between Foraging and Living Off The Land: Bushcraft Show 2013 Presentation
Tree Felling For Winter Firewood: Axe and Saw
How To Split Firewood on Snow: Key Axe Techniques
The following two tabs change content below.
Paul Kirtley is an award-winning professional bushcraft instructor, qualified canoe leader and mountain leader. He is passionate about nature and wilderness travel. In addition to writing this blog Paul owns and runs
Frontier Bushcraft
, a wilderness bushcraft school, offering bushcraft courses and wilderness expeditions.
Latest posts by Paul Kirtley (see all)