Wilderness Emergency Headlamp Competition
Wilderness Emergency Headlamp Competition
Win a Petzl e+LITE Emergency Headlamp!
Ideal for including with your first aid kit or other survival gear…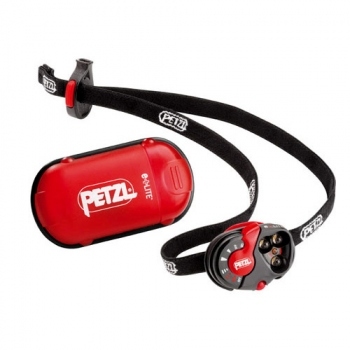 The e+LITE headlamp is ultra-lightweight, comes in a hard case and can easily be stored with its batteries in a backpack, jacket, or emergency kit for up to 10 years. It provides white or red lighting in continuous or blinking mode and can easily be attached with its elastic band and clip. For emergencies, the e+LITE is equipped with a long-range whistle that can signal one's position for rescue (the SOS Morse code illustration on the whistle).
I personally keep a Petzl e+Lite in my first aid kit and here are some more details and specifications of this great little headlamp:
Long-term dependability, even when kept for years in harsh conditions:
– works in extreme temperatures: – 30 °C to + 60 °C (-22 °F to +140 °F)
– always ready for use: can be stored with batteries for up to 10years and still be operational,
– waterproof down to -1 m
– compact and ultra-light (28 grams), so it can always with you,
– designed to prevent accidental operation with locking switch.
Performance lighting:
– two white lighting levels (maximum and economic)
– one red lighting level
– two flashing modes : white or red (for signaling)
– shines enough light to allow easy movement in the dark: shines up to 19 m,
– provides up to 4 consecutive nights of lighting (45 hours),
– easy to use
Long-range whistle for communication or rescue:
– up to 100 dB
– SOS Morse code illustration on the whistle
Very practical:
– Can be worn on the head, around the wrist or neck or attached to thin-edged objects, such as the peak of cap, with integrated clip.
– always shines in the direction you want: light source can be directed 360°
– red light beam helps preserve night vision
10-year guarantee.
---
The Competition
This competition has now ended.
Thanks for participating.
Winners and final points standings can be found here.
If you want to be among the first to know about the next competiton, make sure you join my mailing list here.