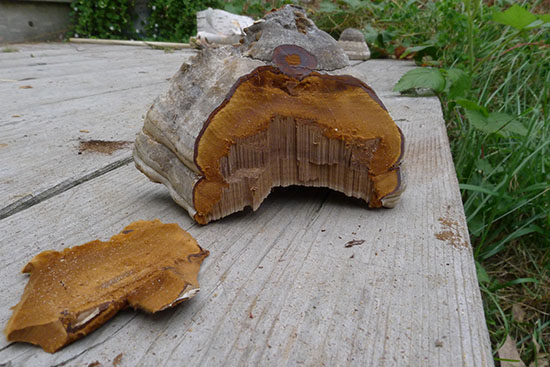 The Easy Way to Use Fomes Fomentarius as Tinder
The Easy Way to Use Fomes Fomentarius as Tinder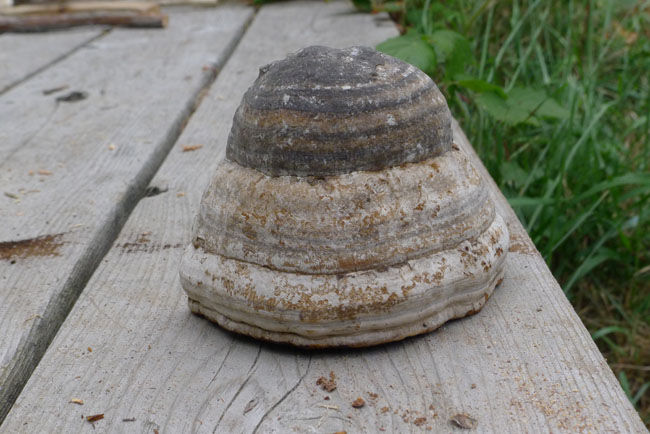 Fomes fomentarius is a bracket fungus, more commonly known as Hoof Fungus or Horse's Hoof Fungus. It is also known as the Tinder Bracket. Confusingly, Fomes Fomentarius is sometimes referred to as False Tinder Fungus. There is nothing false about the usefulness of Fomes fomentarius as tinder. In fact this fungus can be prepared into first-rate tinder. The term False Tinder Fungus is used to differentiate it from Inonotus obliquus, sometimes called True Tinder Fungus and also known variously as Chaga, Birch Conk or Clinker Polypore.
Fomes fomentarius occurs throughout much of the northern hemisphere. It grows on various species of trees. At more northerly latitudes the brackets are usually found growing on dead birch (Betula spp.) Further south the fungus is often hosted by beech (Fagus spp.) The brackets are the fruiting body of the fungus and are perennial. They grow slowly, adding a growth ring each year, and can live up to 30 years.
The use of Fomes fomentarius for tinder has been known for a millennia. Ötzi the iceman had pieces of Fomes fomentarius amongst his belongings, possibly as tinder. There are various processes for preparing or improving Fomes fomentarius as tinder, including producing amadou. Tinder produced in this way will catch and hold the small, relatively cold sparks produced by striking together flint and iron pyrites.
In concentrating on these more involved processes, it is possible to overlook the simplest and easiest preparation of Fomes fomentarius as tinder. This can be done quickly in the field and the tinder produced can be used immediately.
The bracket is the fruiting body of the fungus and its outside layer is hard, like the crust of a stale, dried-out loaf of bread. Observing the underside of the fungus you will see many pores, which are the ends of the spore tubes.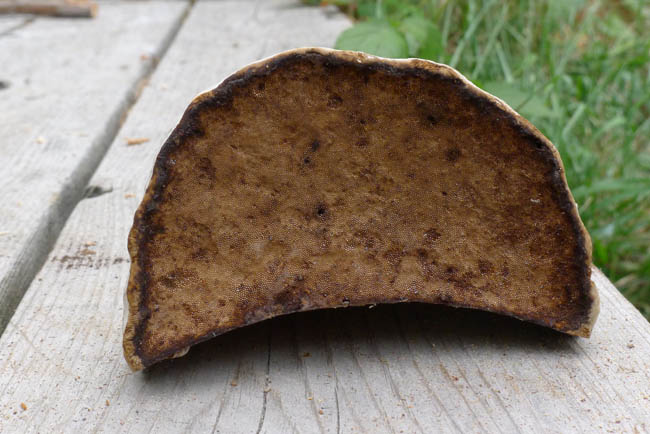 Inside the bracket, between the spore tubes and the outer layer is the trama layer or "flesh" of the fungus. The trama layer of Fomes fomentarius is quite dense, firm in consistency and has a cinnamon colour. Within the trama you will see growth rings. You can see clearly see the structure of the bracket by slicing through it.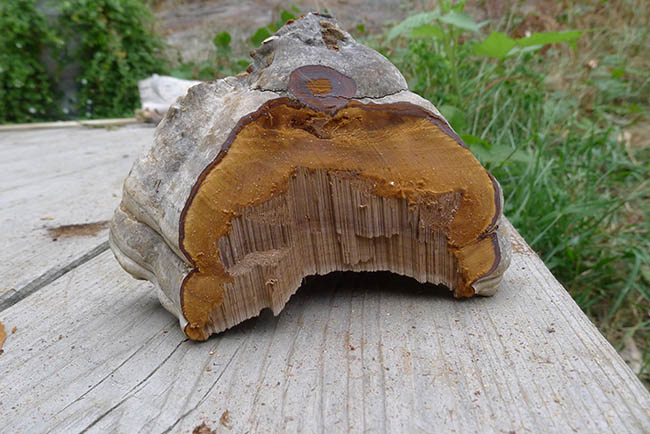 Whichever process you are using to produce tinder from Fomes fomentarius, it is the trama you need to start with. If you slice the trama thinly, you will notice that it is somewhat fibrous. This is easiest to see at the end of your slice.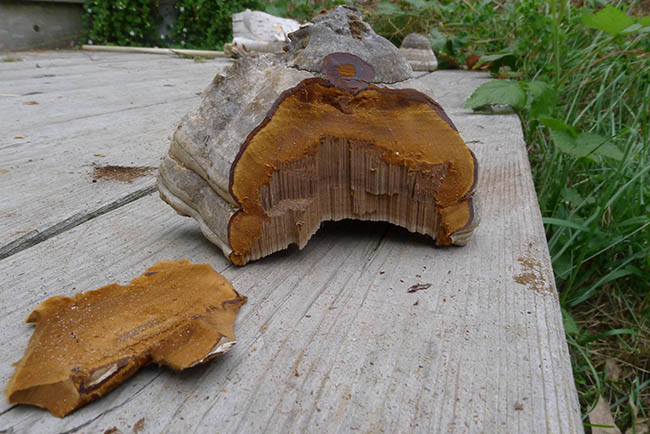 For our simple method of producing tinder from Fomes fomentarius we will make use of the fibrous nature of the trama. Slice off the surface layer of the fungus. Then slice the trama obliquely to create the largest possible slices.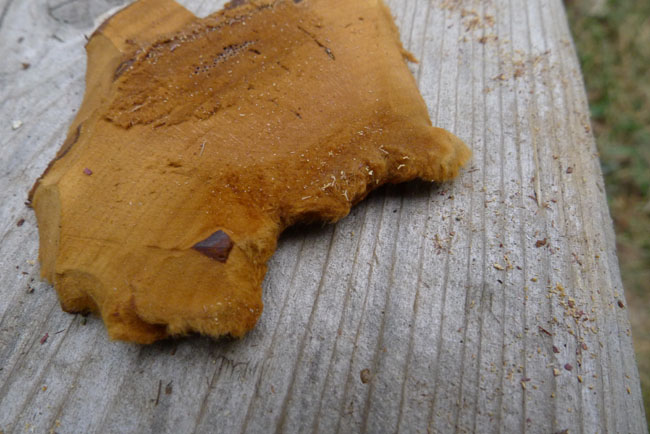 To prepare the trama as tinder, we need to scrape up the surface of the slice. Using a knife or other sharp implement is the easiest way to do this. Scrape up the surface until you have a bunch of fluffy material.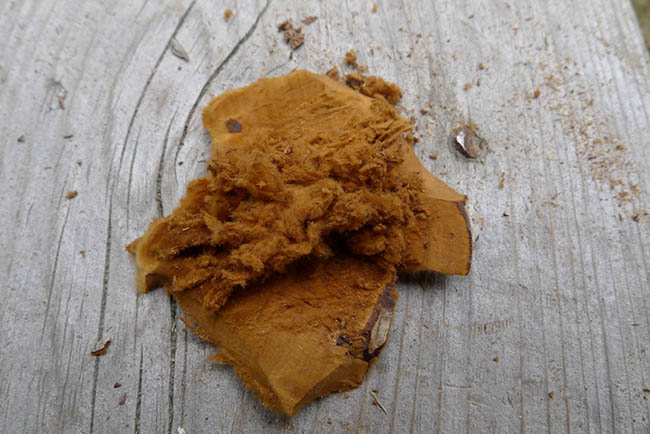 Now all you need to do is drop a spark into the fluffy material. This fluff is very good at catching a spark and once ignited will smoulder for a while.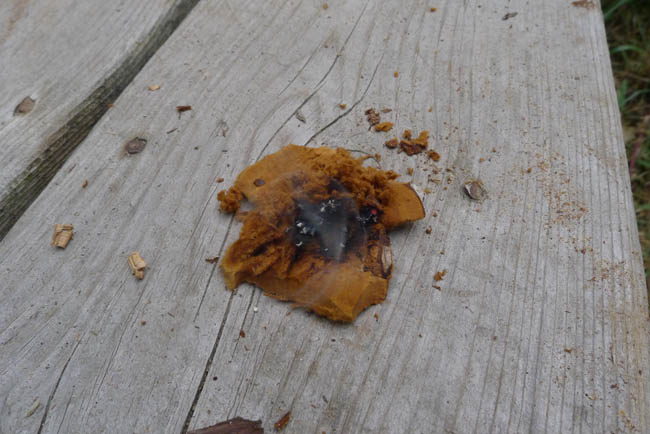 The smouldering will spread into the remainder of the slice. This will then smoulder for a long time. This combustion is remarkably hot. The material will not flame, however. Therefore to light a fire via this method you must then take your smouldering tinder to very fine kindling to produce a flame. Examples of natural materials suitable for this include dried grass, dried bracken fronds or properly prepared bark fibres.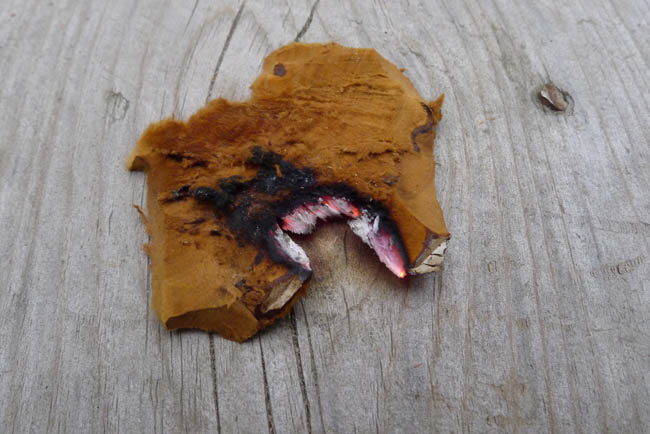 Once ignited, a larger lump of trama can smoulder for hours and can be used for carrying an ember or rekindling a fire at a later stage.
Because the fruiting bodies of Fomes fomentarius grow so slowly and can live many years, please show restraint in collecting them. Areas take a long time to recover from over-exploitation. Take only what you need.
Recommended Books for Further Reading:
The following two tabs change content below.
Paul Kirtley is an award-winning professional bushcraft instructor, qualified canoe leader and mountain leader. He is passionate about nature and wilderness travel. In addition to writing this blog Paul owns and runs
Frontier Bushcraft
, a wilderness bushcraft school, offering bushcraft courses and wilderness expeditions.