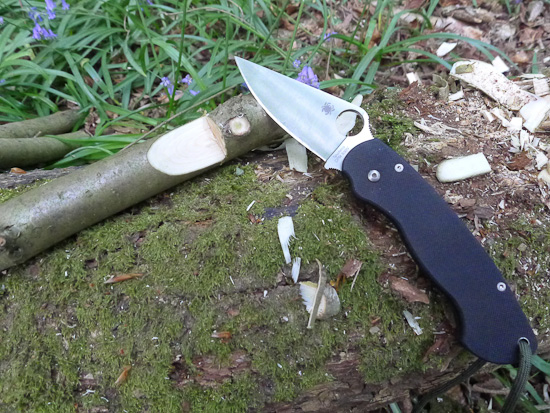 Can I Use a Lock Knife for Bushcraft?
Can I Use a Lock Knife for Bushcraft?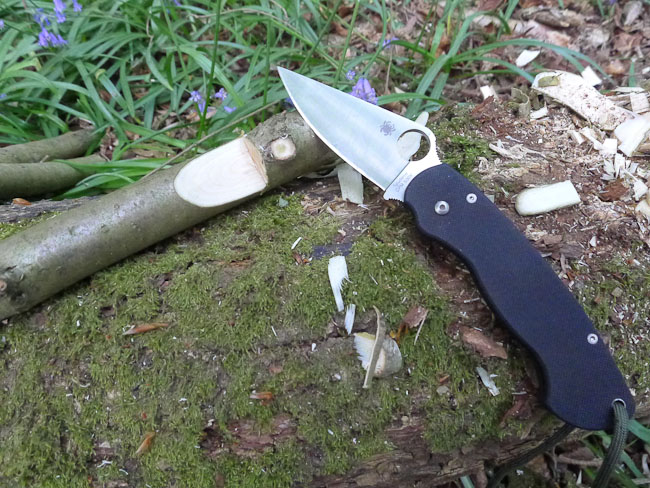 "Can I use a lock-knife for bushcraft?" is a question I've been asked many times.
The answer is "it depends".
It depends on the peculiarities of the knife and the techniques you want to employ.
A good quality knife
Just to give you some background, I've been using a lock-knife for more years than I quite remember.
At a time when I had big, cheap survival knives made out of soft steel, I saved up and bought a Winchester lock knife from my local gun shop. I think I was 13 or 14 years old. My Winchester lock-knife was the first good-quality knife I'd had.
It was certainly safer to use than anything else I'd been using. I'd had some really dodgy sheath knives, with really flimsy sheaths as well as some very cheap pen-knives (the sort of thing you'd be able to buy at the seaside or paper shop back then).
I actually used the Winchester for many years and took it with me when I started undertaking more serious hiking trips.
One of its downsides though is it's heavy. It always felt heavy in my pocket. For this article I weighed it and it's 168g. We'll come back to that a bit later on.
Folding knives have an inherent weakness
A lock-knife is still a folding knife and all folding knives have an inherent weakness at the hinge. Moreover, because they hinge there is a risk that they will close while in use. Of course this may be down to user-error but it is still a risk. It's also a risk that is removed when using a fixed-bladed knife.
A move to fixed-blade knives
When I first became interested in what we now call bushcraft, I bought a Normark knife very similar in size to what we would now call a 'bushcraft knife'. It was the nearest thing I could find to the specification laid out in Ray Mears' Outdoor Survival Handbook. It felt lighter in my hand than the Winchester lock knife I had been using. Again I've weighed it and, with sheath it's 163g – lighter than the lock-knife. Many of the Mora knives, which are now ubiquitous, are a similar weight too.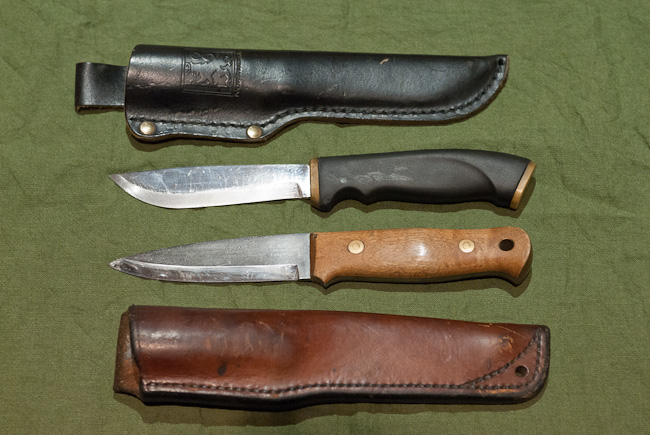 So with the availability of fixed-bladed knives that were a similar weight to my folding knife, and an increasing interest in bushcraft, I transitioned to using a small fixed-blade as my primary knife.
Then in 2001 I received an Alan Wood Woodlore knife as a present.
It wasn't until quite a few years later when Lars Fält introduced me to the Fallkniven TK4 that I considered carrying a lock-knife again. I liked it because even though the overall size was smaller, the blade size was similar to my old Winchester. It was also a damn sight lighter (the TK4 weighs a little over 50g). It also had a lanyard hole – very useful for securing the knife to your person.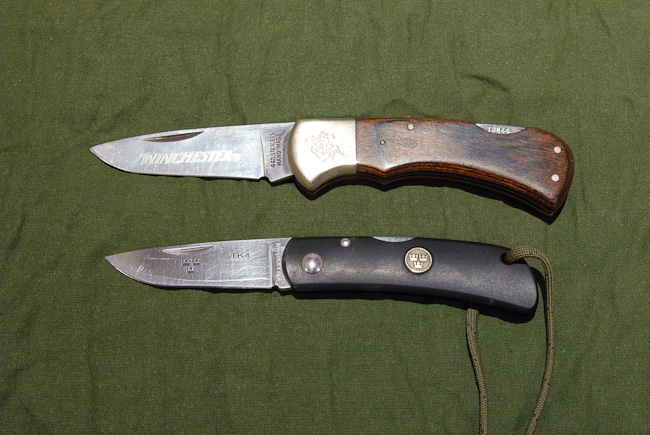 The TK4 also has an added benefit in that it works very well as a striker for a Swedish Firesteel.
This is not without peril though, as I discovered during a canoe trip in Canada. I had been scraping up some birch bark to accept a spark so had the TK4 open. I then turned the knife around and scraped the Firesteel down onto it, using the back of the knife. Somehow I depressed the release of the locking mechanism. The knife had closed hard on my right index finger. Not a great injury to sustain in the middle of nowhere when you need the use of your hands. I was concerned I might have cut a tendon but my finger seemed to be working OK despite the pain.
Now, a couple of years later I have some numbness in my finger below the cut due to some nerve damage. This accident was down to my error but it's possible it wouldn't have happened if the lock release was further back rather than in the middle of the handle. Either way, the solution isn't to shun this handy little knife but to use the back of the knife on a Firesteel when it is folded closed.
Can you really do much with a small lock-knife?
While the small handle size and secondary bevel mean you are limited in how powerfully you can cut with a small lock knife such as the TK4, you can certainly use it for larger tasks that might surprise some people. Gralloching and skinning a deer with this knife is perfectly feasible for instance.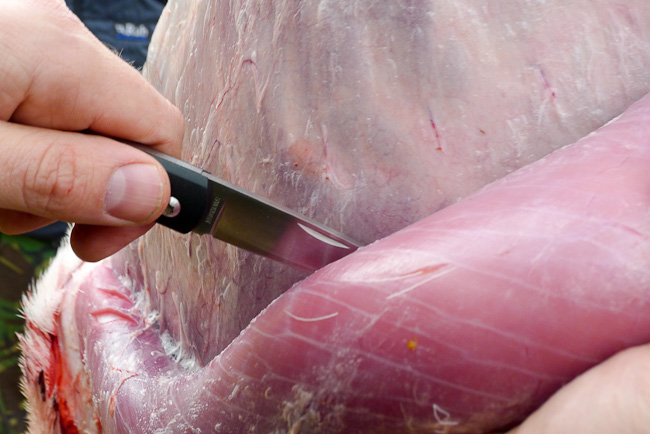 But note lock-knives can be harder to clean than fixed-blade knives. The locking mechanism and the nail nick on each side of the blade can tricky to clean and therefore be a potential harbour for bacteria.
What about carving and other woodcraft techniques?
As long as a small lock-knife is kept sharp, it will be good for light whittling or carving. But as soon as you start putting more force into it, you are increasing the risk compared to a fixed-bladed knife.
Another, slightly larger lock-knife I've been testing out is the Spyderco Paramilitary. It has an overall size similar to a Mora knife. This is a US-made Spyderco and so relatively expensive. It's well made and the blade steel is CPM S30V steel, which I find much easier to sharpen than the Fallkniven 3G steel. I liked the pocket-clip and I was attracted by the one-handed opening – handy in some circumstances. There are some other features different to the Winchester and TK4 type of lock-knife, primarily a liner-lock. In fact one of the few direct similarities is a lanyard hole.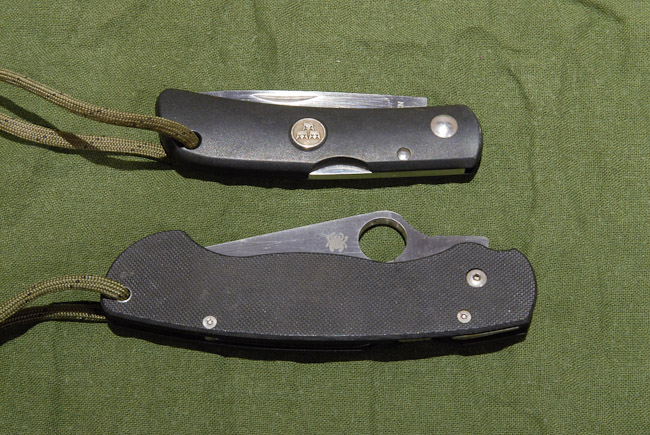 What about a knife review?
Now, I'm sorry if I offend anyone here, I don't intend to. It's more a point about terminology than anything. To me, a knife review is not videoing yourself receiving it in the mail, taking it out of the box, and talking about what you think of how it looks.
Unboxing videos in general can be informative, whether you are buying a laptop or a knife, but it's not a review of the item's function. It's a bit like reviewing a CD (remember them?) by filming yourself unwrapping the cellophane wrapper, opening the case, pulling out the booklet and leafing through it, admiring the artwork and commenting on the shine of the disc itself.
You can't review a record unless you listen to it. And you can't form an opinion of a knife (for a particular purpose) unless you have used it (for that particular purpose), preferably for an extended period of time.
I've been using this Spyderco for over a year and only now am I coming to a fully-formed view of it. But that's one of my afflictions, if you like; I'm thorough.
The steel is sweet for carving green wood such as hazel. When I first used it I knocked out some nice tarp pegs with precision in no time at all. This type of green wood carving is one of the Spyderco's consistent strengths. It's also pretty easy to keep sharp.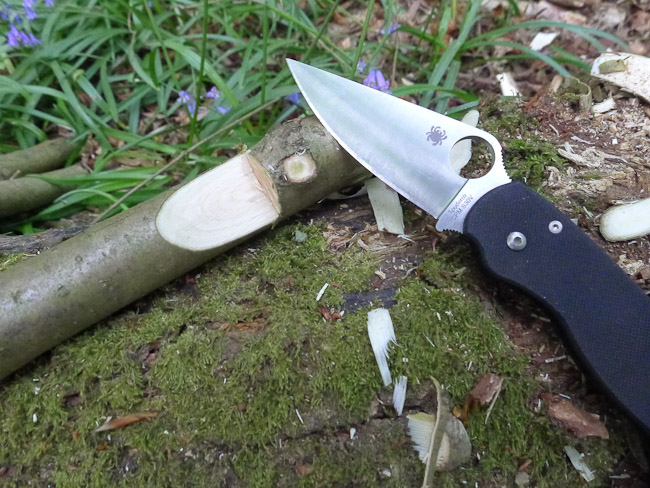 Does it work with a Firesteel? Sadly not. The CPM S30V steel is not as hard as the 3G steel which, incidentally, makes it easier to sharpen. In fact I tried quite a few times with increasing force (knife was closed) and all it really did was mark the steel on the back of the blade. But a Fireflash comes with a striker so it's not the end of the world.
So I thought I'd try some other tasks the similar sized Mora would be up to.
What about batoning? Whoops. I placed the knife on top of a round of wood, tapped it into the top. Once it was embedded, I hit the tip of the knife while pushing down on the handle (standard batoning technique). As soon as I hit the knife, the liner lock disengaged. I tried it again. Same thing. I tried it again with less force. Same thing. The first time wasn't a fluke. It did it every single time. I didn't need to tap the tip of the knife very hard at all to get the lock to fail. Here, then is the possibility of guillotining a finger (in my opinion).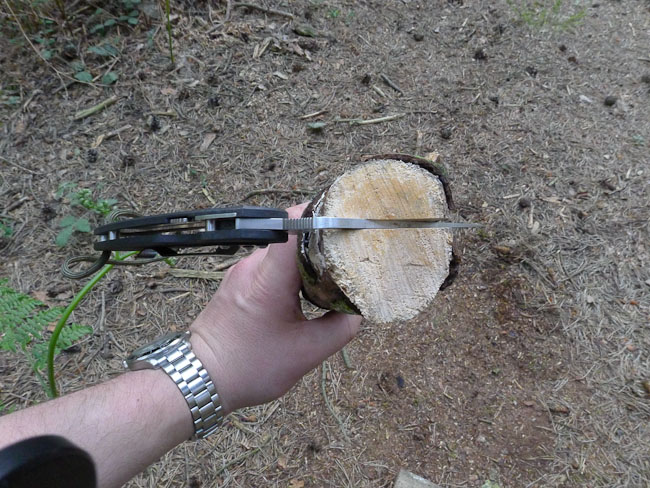 OK, so batoning doesn't work with the Spyderco. It's not something I would consider with a TK4 either because it is too small and the blade is too short. But the Spyderco is larger and the blade length is similar to a typical 'bushcraft knife'.
Assuming you can split some wood (either from smaller diameter or with an axe), what about making some feathersticks? Given the keen edge and the performance of the knife in carving small-diameter green wood, I thought the knife stood a good chance of making half-decent feathersticks.
Now one thing that should be noted is that good featherstick technique is like planing. This is aided on many so-called bushcraft knives by having a relatively broad, flat bevel. As with most folding knives, the Spyderco has a secondary bevel. In general this makes it harder to use for generating nice, even curls of a good featherstick. Even so the bevel on the Spyderco wasn't as miniscule as a Swiss Army Knife for instance. I thought it looked promising.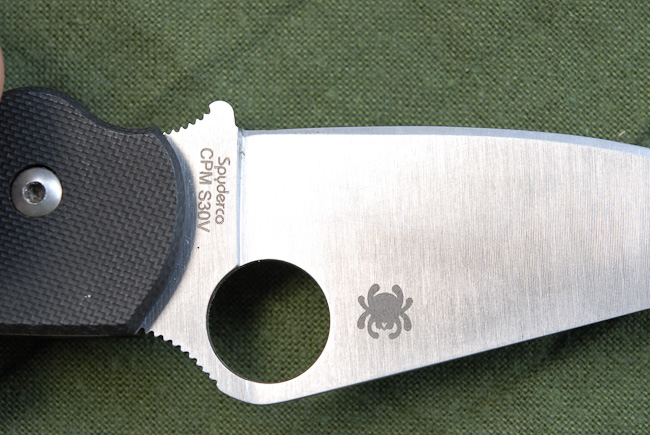 So to test out my theory, I set to work on a nice straight piece of split wood. No knots to hinder me. I did get a few half-decent curls but it was harder than normal to maintain a good angle with the Spyderco Paramilitary.
Just to make sure I wasn't having a bad day, I broke out an old Mora. On a piece of wood split from the same source as the piece on which I used the Spyderco, I created a decent featherstick in fairly short order.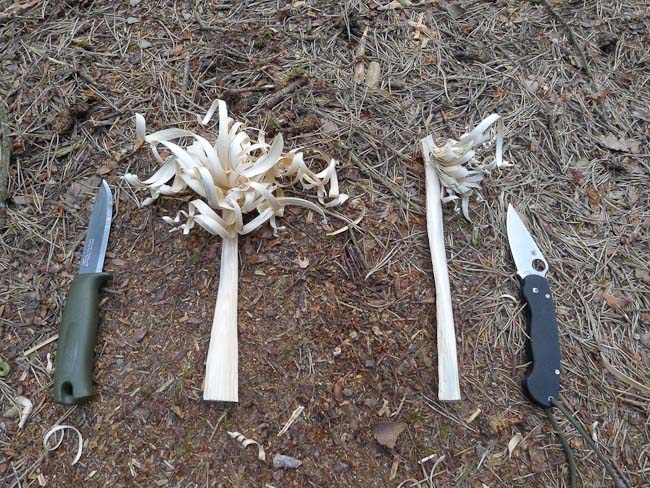 So it wasn't an off day. It was the Spyderco. Or at least, to be even-handed, my unfamiliarity with the Spyderco. But it does make passable shavings and in the absence of anything else in a scrape, I'd be relieved to have this knife on me.
A more serious issue for me is that when the knife is used for an extended period of time, the locking mechanism chews up the web of my hand. Now my hands are by no means as gnarly as some gamekeepers I've worked with, but they aren't soft and they certainly aren't weak.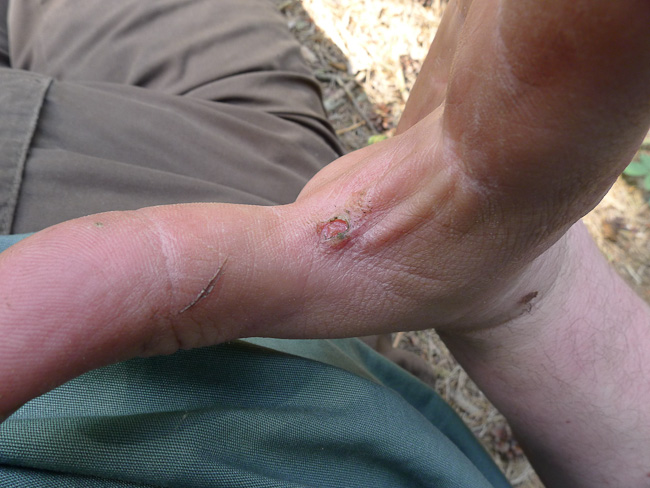 That said I'm not used to aggravating this part of my hand. Over time, this is becoming less of an issue but a collection of relatively sharp edges (in the lock and on the inside edge of the handle) will always make your hand sore eventually.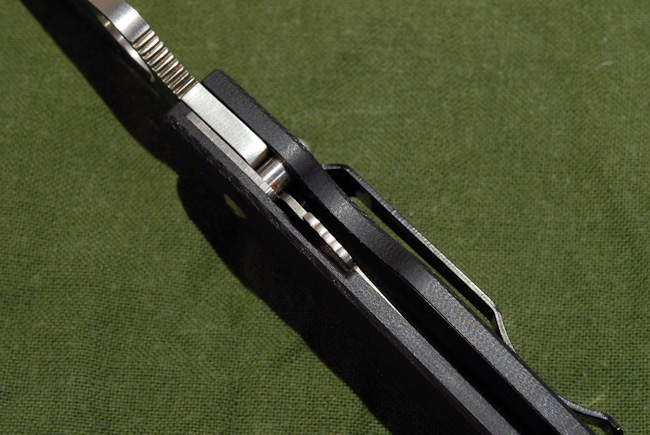 To get around this issue, you could wrap some tape (zinc oxide, duck, gaffer, hockey – whatever you have) around the knife handle if using it for a long period. This is not something I would do in day-to-day use but would certainly do in a survival situation if I needed to do anything more than point a stick.
As with the TK4's steel, the Spyderco steel is stainless. This and the synthetic handle makes it good in and around water. So the Spyderco has found a home in my buoyancy aid as a rescue knife (the downside is the very sharp point) and would be useful on shore as a back-up too.
The TK4 remains my general pocket knife. But neither the Spyderco nor the TK4 are a full alternative to a small fixed-blade knife.
So, can I use a lock-knife for bushcraft?
Lock knives provide a good back-up to a fixed-blade knife but if you want to exercise a full range of skills to the best of your ability, then use a fixed bladed knife with a comfortable handle.
Where you do use a lock-knife, be sure to remember about the relative weakness of folding knives. Plus get to know your lock knife and its specific strengths and weaknesses, then play to its strengths and avoid the weaknesses.
Let me know your thoughts… Do you use a lock-knife for bushcraft? Which model do you use and which skills do you find it good for? Or do you think there is no place for folding knives and fixed-bladed knives are the way forward for serious application of bushcraft skills? Let us know in the comments…