Lighting A Fire With Feathersticks
Lighting A Fire With Feathersticks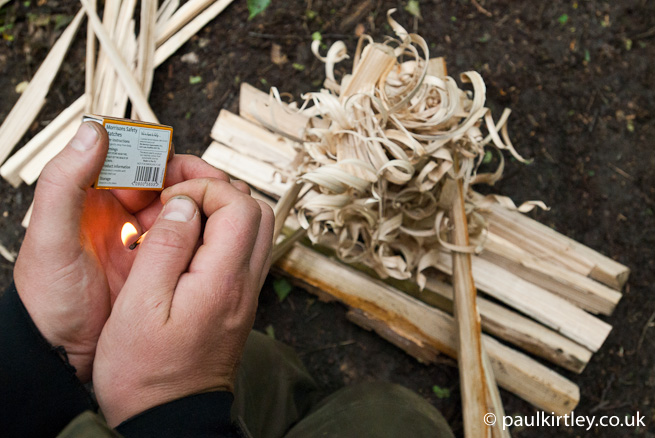 As with any fire lighting exercise, starting a fire with feathersticks can go one of two ways – it either works or it doesn't. You end up with an established fire or you don't.
Nature doesn't offer any middle grades for fire lighting. You get an A-grade or you fail. If you're fortunate, you get the chance to re-sit the exam.
As with exams, fire-lighting success is down to preparation.
More than just about any fire-lighting technique, success with feathersticks is entirely down to the quality of your preparation. From material selection to having a sharp knife to possessing good technique, it's all down to you.
Even with friction fire-lighting, if your bow-drill set preparation is not A-grade, for example, you might still just pass by putting in more effort with your drilling.
With feathersticks, success is entirely down to preparation. Make rubbish feathersticks and they won't work. Make good ones and they will.
The place to put the effort in with feathersticks is before you even try to light them. Then the rest is easy.
So, if you haven't read my article about making feathersticks, then you should. There is, however, a little more to it than just making a good feathersticks.
It's also about what you do with them…
How Many Feathersticks To Light A Fire?
Good feathersticks will form both the initial kindling and the next size of fuel up, both in one deftly made fire-lighting unit. The intention is for the whole thing to eventually catch light in one package, starting with just a small flame.
Not so well-made feathersticks will see the feathers light but the stick not taken by the flames. In this situation, unless luck is on your side, you'll end up with some charred sticks and no fire.
The key – as anyone who has been taught by my colleague James or I will be under no illusion about – is thin necks.
In dry conditions you may only need two very good feathersticks to establish a fire. N.B. very good.
In cold, somewhat damp conditions you will likely need four very good feathersticks; in very wet, rainy cold conditions or when your life depends upon it, I would recommend six very good feathersticks.
Featherstick Fire Lay
As with any fire lighting, you should choose a suitable spot, clear the ground if necessary and – particularly important in most cold/damp conditions in which you're going to need feathersticks – put down a platform on which you will create your fire lay.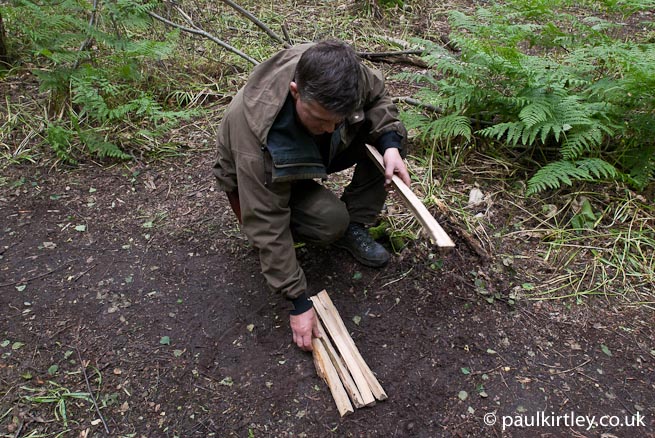 Also, remember that the circumstances under which you will need – rather than choose – to create feathersticks will often be when there is no small fuel, or at least no dry small fuel, available.
You will, therefore, likely need to make your platform from split wood. This should be no difficulty, though, once you have found materials from which you can make feathersticks and have batoned the material into the correct sizes.
Furthermore, as well as the fire platform and feathersticks, by applying the batoning technique with your knife, you can produce a range of fuel sizes, from small splints to finger-thickness and thumb-thickness fuel, right up to larger fuel – all from the same dead-standing timber.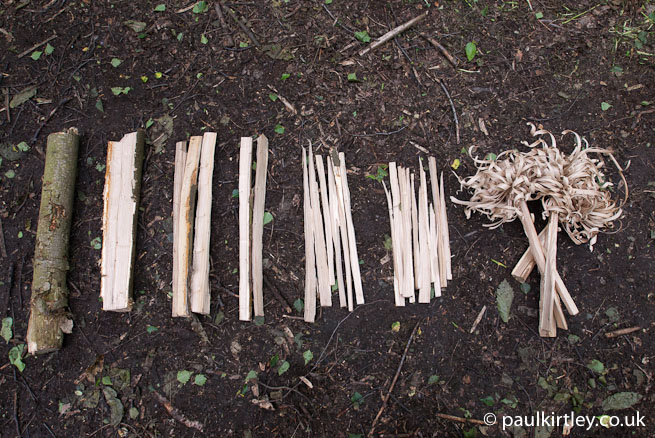 So, to light your fire, place your feathersticks on top of your platform. This should be done in a similar way to a small-stick fire lay.
First, make sure you are kneeling with your back to the wind and your knees closed. Then organise the feather sticks in a V-shaped lay with the open side of the V facing you (and therefore facing the direction the wind is coming from).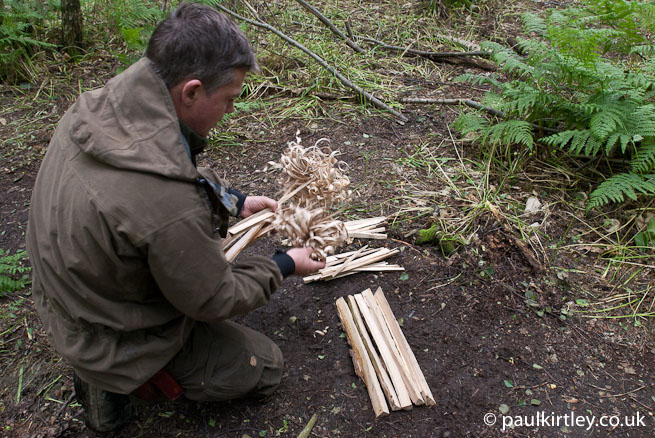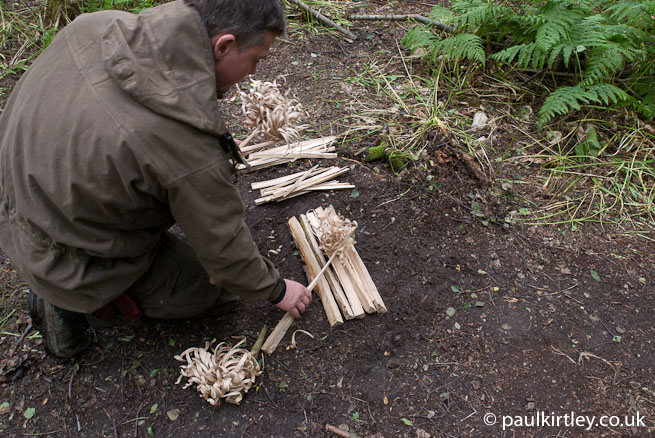 Alternating the feathersticks to the left and right of the V, with the feathers facing inwards, stack up the feathersticks to create the initial fire lay.
When you made your feathersticks, you made them with the shavings all concentrated at one end with a maximum arc of 180 degrees (not all the way around in a 360 degree).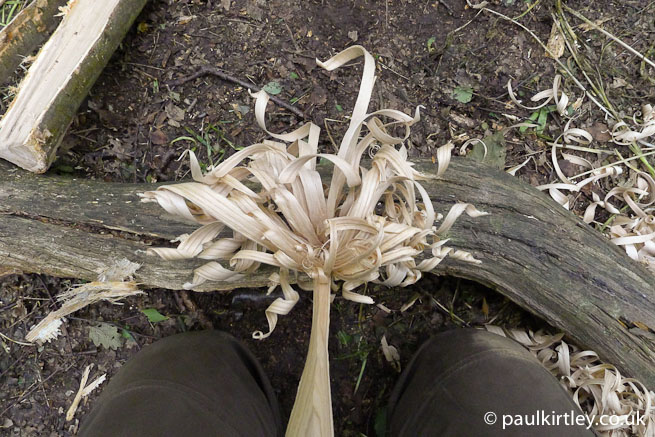 In limiting the curled shavings to one side of the stick, you can lay it on its side and have all the curls concentrated in the centre of the V, where they are needed.
You should also have your other larger fuel prepared. Before you light the feathersticks, have small splints up to medium-size fuel ready to go and close to hand.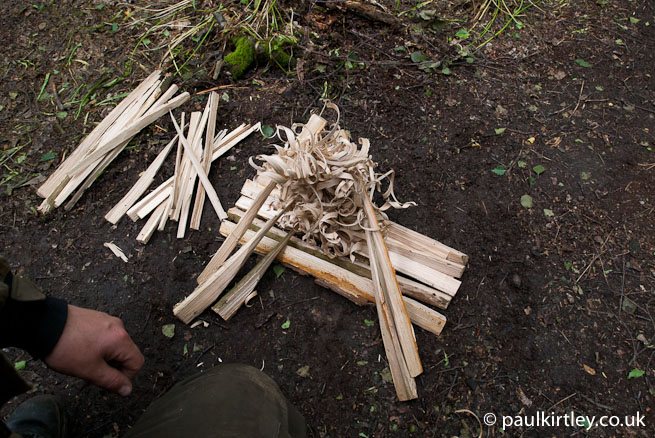 Ready To Go: Lighting Your Feathersticks
In arranging your feathersticks in the way described above they should be easily ignited with a single match. Also, any cigarette lighter or splint or other source of a small flame will easily light your feathersticks.
Introduce the flame to multiple points of the base of the tight mass of curls in the centre of the V-shaped fire. The curls should accept the flame readily, and the flames will soon be shooting up through curls.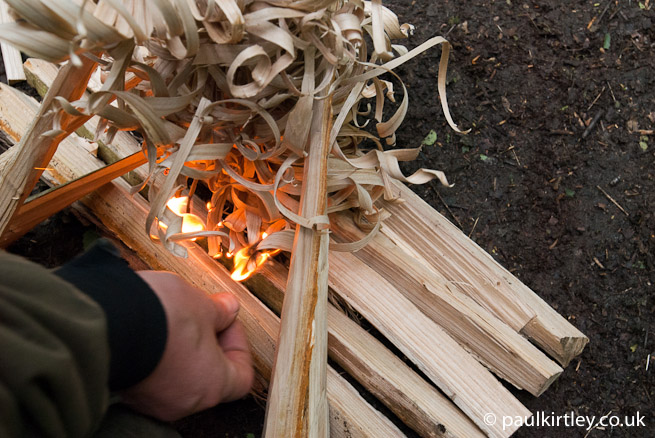 As mentioned, the flaming curls should ignite the neck of the stick but remember, because of the length of the sticks you can always manipulate them to get the flames hitting exactly where you want them.
Resist the urge to fiddle around with the fire too much. Many failures with fire are down to people messing around with them too much.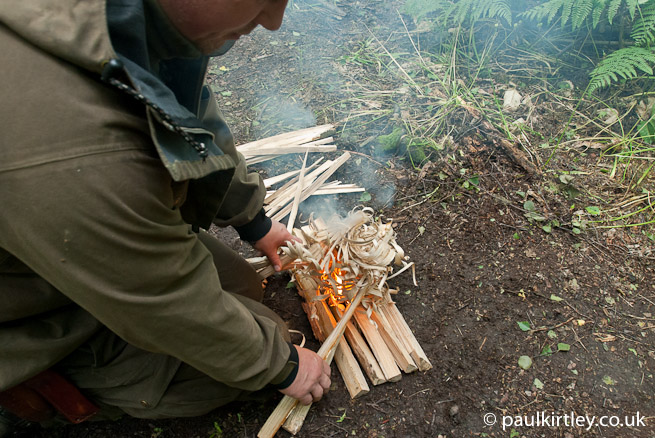 Once the flames are coming through the top of the curls, add some small splints in the same V-shape lay as the feathersticks were placed initially, again alternating the them left and right. This creates a column of fuel above the flame where they cross and the good amount of stability to the overall fire lay.
As the fire becomes established add your next size of fuel and so on.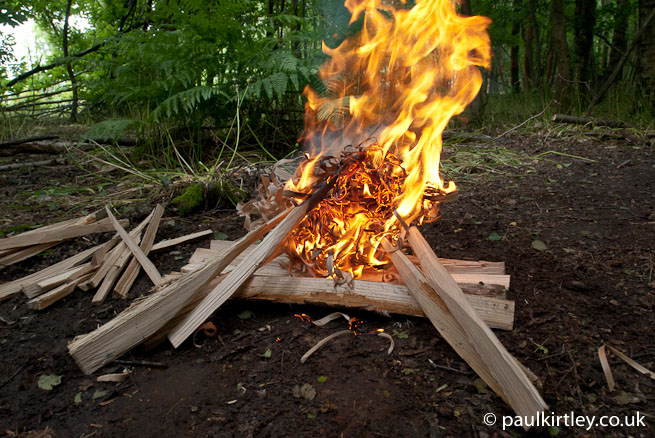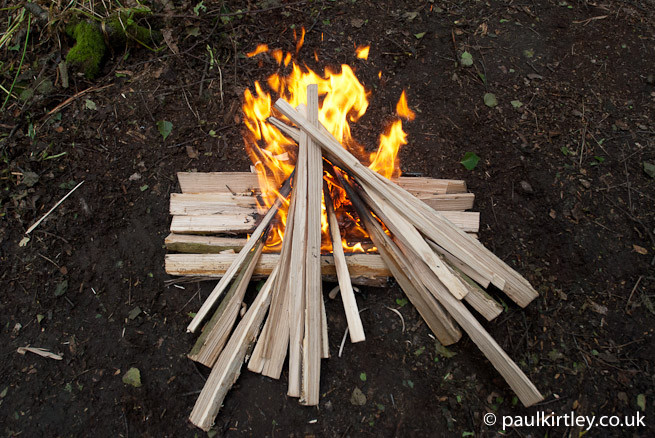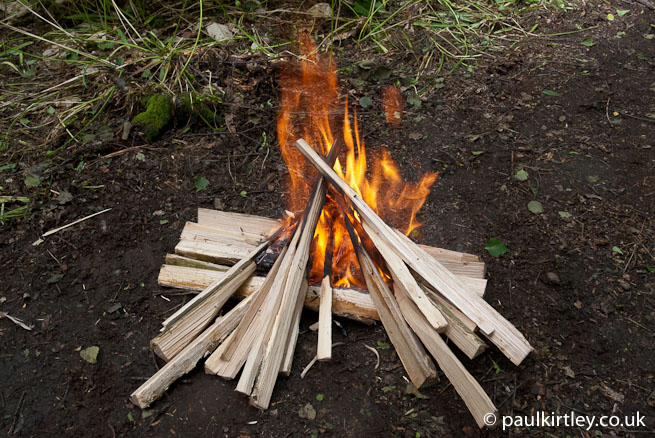 When done properly, the above process is a very reliable way of establishing a fire in what would otherwise be difficult fire lighting conditions.
**Leave a comment below to let me and other readers know about the times you've used feathersticks to light your fire or wished you had…
Related Material On Paul Kirtley's Blog:
How To Make Fantastic Feathersticks
How To Light A Campfire With One Match
How To Leave No Trace Of A Campfire