Snugpak Travelpak 3 Sleeping Bag Review
Snugpak Travelpak 3 Sleeping Bag Review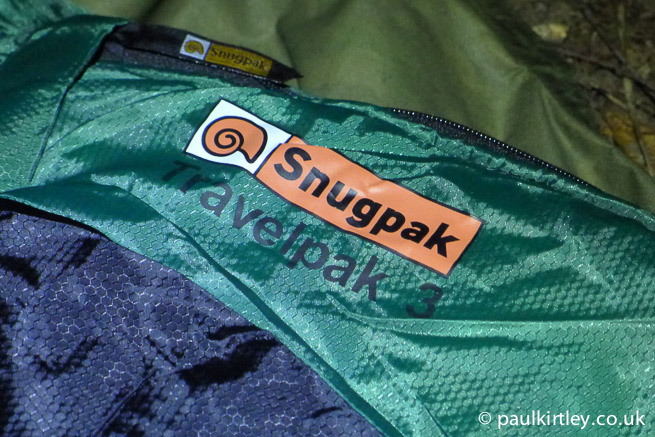 People seem to visibly cringe when they ask me about sleeping bags.
The conversation goes something along the lines of
"Paul, I'd like to buy a new sleeping bag, what do you recommend? What do you actually use yourself?"
"Well, I have half a dozen sleeping bags"
"What?!"
"Well it depends on where I'm going, what time of year and how I'm travelling".
People calm down a little at this stage as they start to understand the logic.
A Sleeping Bag For All Seasons?
There is no such thing as a sleeping bag which is suitable for all seasons. You need to choose one which fits the climate you are visiting as well as other considerations such as weight and bulk.
I have three synthetic-fill sleeping bags – 3-season, 4-season and an arctic bag (so-called 5-season). I also have three down bags, a 2/3 season, a 4-season and a heavier bag I use in the north in winter.
Down sleeping bags are lighter for the same warmth but are considerably more expensive than synthetic-fill bags. Weight savings can be extremely important on many wilderness expeditions but it depends on your mode of transport. Specifically, it depends on whether you are covering distance under your own steam and, in particular, whether that weight is on your back.
Synthetic bags are much more economical and they are easier to look after. There is an accepted wisdom that you can sleep out in a wet synthetic bag and this is preferable to sleeping out in a wet down bag. Frankly, sleeping – or trying to sleep – in any wet sleeping bag, synthetic or down, is unpleasant and cold. Keep your bag dry, regardless of whether it is synthetic or down. You don't buy a synthetic bag because you expect to get it wet. That's dumb logic pedalled by salespeople.
Why I like 3-Season Synthetic Sleeping Bags
Synthetic bags are easier to look after in that they are easier to wash. While an expensive down bag can be taken to a dry cleaner, you are taking a risk. You are better off sending the bag to a specialist bag cleaner. But it costs about £40 per time.
A 3-season synthetic bag, on the other hand, can be washed in a domestic washing machine. It's possible you can wash heavier bags too but check the maximum loading of your washing machine (normally 6 or 7kg) as a wet sleeping bag is pretty heavy!
For this reason alone, I tend to use a synthetic bag in the late Spring, Summer and into Autumn. I'm out a lot and when the bag gets dirty, I can wash it with a quick turnaround at home.
The exception to this is when I'm undertaking lightweight backpacking trips, particularly in mountainous country, where a reduction in weight on my back really makes a big difference. Otherwise, I use a synthetic and that's what I generally recommend to people.
Also, at Frontier Bushcraft, I'm often teaching people on our core courses who are relatively new to bushcraft or even camping. They need a sleeping bag that will work well within the context of a bivvy bag and a tarp. They also typically don't want to be spending lots of money on new kit.
So, I'm always interested in good value synthetic bags that I can recommend to people.
The Travelpak 3 From Snugpak
A bag which caught my attention was the Snugpak Travelpak 3. I had been contacted by Silverfox Travel & Outdoors, a Snugpak retailer, to see if I would like to review any of their products.
What I liked about the Travelpak 3 on paper was that it was relatively inexpensive at £49.99 for a 3-season bag and the performance appeared good for the price (-3 Celsius comfort rating; -7 Celsius extreme according to Snugpak). It's also not a particularly heavy bag compared to a down bag of a similar season rating – at 1,500g it's maybe 500-600 grams more than a synthetic bag which would cost £200 more.
There is only one way to test a sleeping bag, though, and that's get it out in the relevant conditions and sleep in it.
All I did was swap out my regular bag and include the Travelpak 3. A risky bet if it did not perform but I had a thermal top and hat with me, so I could always make up for it.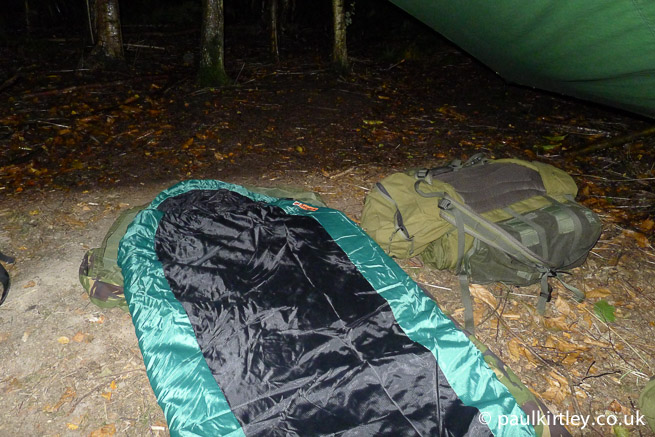 When I first unrolled this bag, I was a little concerned. It didn't seem to loft very much and the insulation seemed quite thin.
But my concerns were unwarranted.
I tested the bag in relatively cold and wet conditions for the time of year and I have to say I have slept very well in the Travelpak 3.
I used the bag in the same set up I usually use in the woods in the UK – Hilleberg tarp, MOD bivvy bag and three-quarter length Thermarest.
The bag has a nice set of features too. It has good baffles, which I've never needed to fully use within the seasons the bag is intended for use. I find it a warm bag.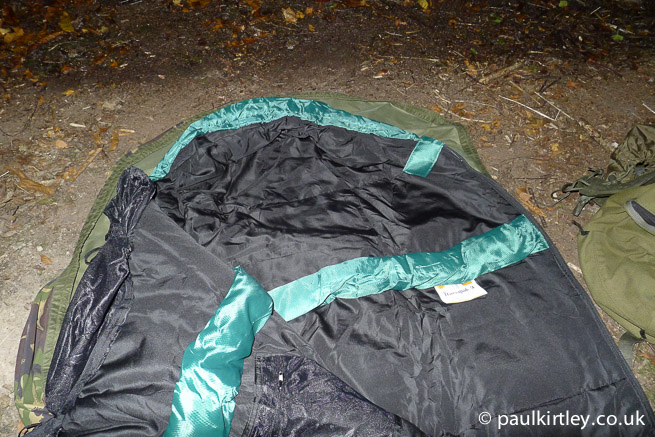 The compactness of the fill material is actually a bonus when it comes to packing as the pack size of the bag is good for a 3-season synthetic bag. The Travelpak 3 comes in a compression stuff sac, which can be used to further reduce the size of the bag in your rucksack.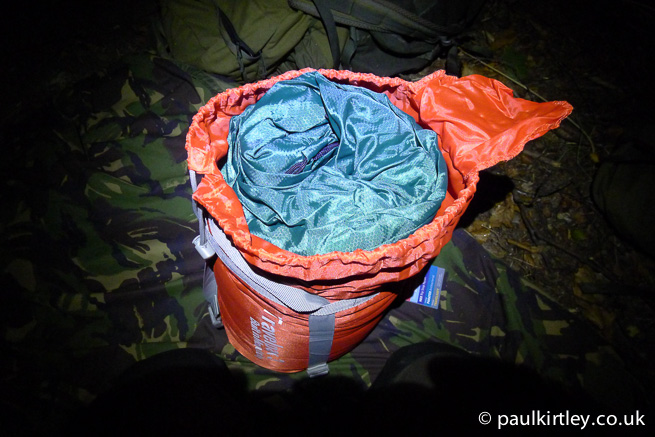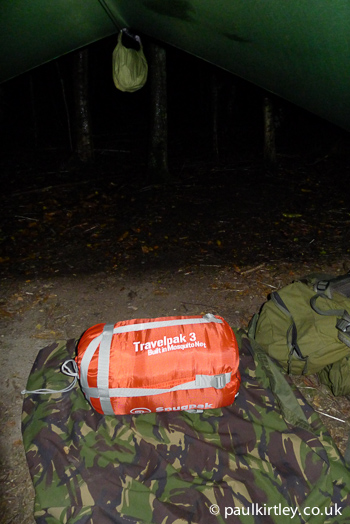 Interestingly the bag has an integral mesh mosquito net. The bag is intended for travellers (it's in the name) and given the price point I'm guessing of the young, backpacking variety. The insect net is more useful than you might imagine in the UK too. Over the past few years we've had years with lots of mosquitoes, others with an almost plague of slugs (some of which do actually bite). Being able to cover your face at these times is a useful feature even in the relatively benign woods of the UK.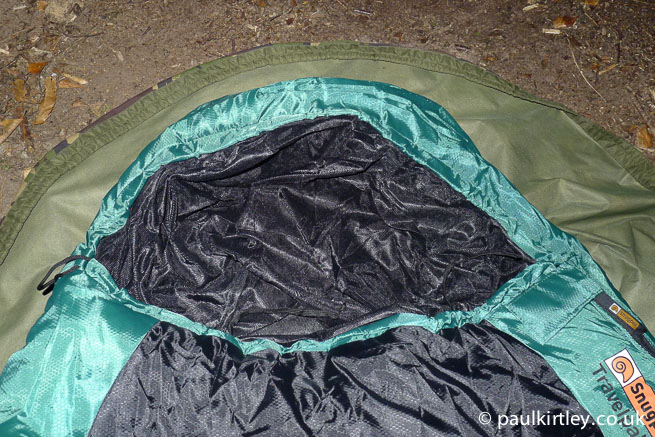 The internal material – which feels a little strange at first if you are used to shiny, silky sleeping bag materials – is an antibacterial fabric, which is designed to reduce bacteria growth and odours. This is again well thought through in a bag which is aimed at those undertaking longer term travels. It's also ideal for those who spend a good amount of time camping out nearer to home.
The texture of this fabric actually makes the bag feel warm as soon as you get into it, unlike the silky, nylon materials which are cold to the touch.
There are other nice features such as pull-tabs on zippers which helps prevent fumbling with zips, particularly when half-asleep.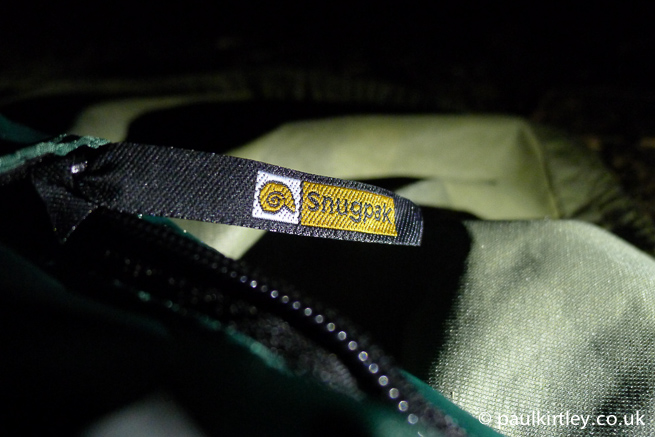 Snugpak Travelpak 3 – Conclusions
Overall I was impressed by this bag, particularly at the price point. I would recommend it to anyone who wants a good value, robust 3-season bag that lives up to its rating, whether you are headed out in the UK or further afield. Its design makes it flexible in how it can be used and the internal lining material is well suited to extended use.
Have you used this sleeping bag or others like it? Let me and other readers know your thoughts in the comments section below.
Disclaimer: The Snugpak Travelpak 3 sleeping bag was provided at no cost by Silverfox Travel & Outdoors for me to review. I have received no payment or reimbursement to write this blog and I am under no obligation to say anything other than what I honestly think about the product.