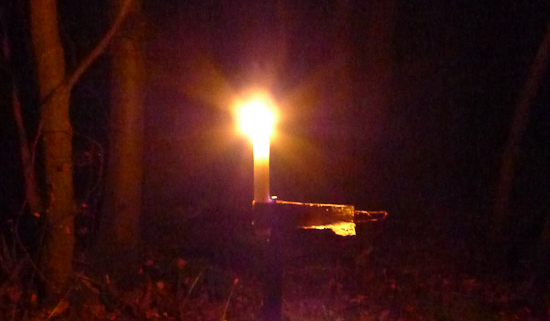 How To Make An Improvised Candle Holder
How To Make An Improvised Candle Holder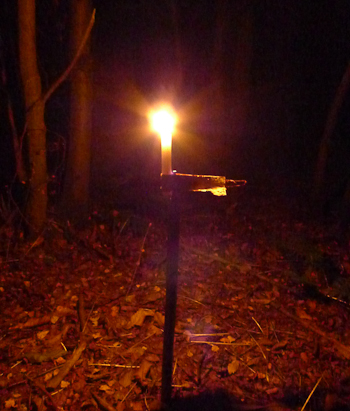 During the shorter days of the year, evenings in camp are longer and darker.
Illumination becomes more important.
Candles give off a soft, natural light and are relatively inexpensive.
To get the best out of candles, however, it's good to have them raised up off the ground.
Making a candle-holder from natural materials is relatively simple.
This style of candle-holder both holds the candle steady and raises it up off the ground.
Also, if you are looking for bushcraft projects for young people, this is a good one.
Making an improvised candle holder provides the opportunity to learn about the properties of some common natural materials as well as exercising some basic knife skills.
What You Will Need to Make a Candle Holder
a household candle
a strip of birch bark
a straight stick about 2.5cm/1 inch in diameter

The materials you will need – birch bark, candle and straight stick. Photo: Paul Kirtley.

Please note: strips of birch bark such as needed for this project should not be removed from live trees. It damages the tree (potentially killing it), leaves it open to infection and is unsightly.

Birch bark is well preserved by the oils it contains and will be in good condition on dead, fallen trees long after they have hit the ground. Take your bark from dead tree trunks lying on the ground. It's easier to collect anyway.

The choice of wood for the stick is not critical. It is better if it is green as opposed to dead as the split (see below) is easier to create. In the example in the photos I used hazel. Sweet chestnut also works well.

Carving The Stick

The length of the stick determines how high the candle will be off the ground. So, first of all it should be sawed to the required length. I typically make them around 60-70cm (24-28 inches) long. This height gives a good ambient light and a good light for reading if you are sitting on the ground.

The candle holder will be inserted into the ground, so it must have a sharp point. This is the next job. Use a knife to point the stick. The basic forehand grip and cutting strokes away from the body are all that are required.

Basic forehand knife grip and hand position. Photo: James Bath.

Create a good, strong point. Photo: Paul Kirtley.

The candle will be held at the opposite end of the stick to the point. You must shape this opposite end so that it can be split easily and accept the birch bark.

Gradually slim down the last 7-8cm (3 inches) of the stick creating a broad face. Stop short of the centre of the stick though.

Create a broad face at the top end of the candle holding stick. Photo: Paul Kirtley.

Then do the same on the opposite face, leaving about 5mm (0.25 inch) thickness remaining at the end.

Leave about 5mm (0.25 inch) thickness at the end. Photo: Paul Kirtley.

Splitting The Stick

There is a right way and a wrong way to split a stick. I'm not even going to show the wrong way lest it put ideas into your head! Below is the right (i.e. safe) way to do it. Particularly for inexperienced knife users, this is the only method which should be permitted.

Work onto a surface. Place the thinned-down end of the stick over a log. Place the tip of the knife in the centre of one of the flattened faces about 1-2cm (0.5-1.0 inches) from the end of the stick. Keep hold of the stick and make sure that pressure on the flattened end will not cause the stick (and knife) to skip towards you. Press the tip into the wood with firmness but control. This should create a controlled split in the stick. Give it a bit of a wiggle if necessary to prise the fibres in the wood apart.

Split the stick with firmness and control. Photo: James Bath.

Now the split needs to be opened out a little. Again using the tip of the knife, and working away from yourself, shave away the inner surfaces of the split along the last 2.5cm (1 inch) of the split; create an opening a little bigger than twice the thickness of the birch bark you have collected.

Use the tip of your knife to carefully shave away the inner surfaces of the split. Photo: James Bath.

Attaching The Candle

The strip of birch bark you have collected is what fastens the candle to the stick. It's a versatile yet secure way of making this attachment. It can easily be adjusted to securely hold different sizes of candle.

The first thing to do is double the bark over into a loop.

Double the bark over into a loop. Photo: Paul Kirtley.

Then feed the birch bark loop down into the widened split at the end of the stick.

Feed the birch bark into the split. Photo: Paul Kirtley.

Keep working the birch bark down into the narrower part of the split until the bark is completely within the split and the bark is held securely. Then insert the candle into the loop. All you need to do now is adjust the loop size so it holds the candle securely against the flat face at the end of the stick. Using your thumb to push against the opposite face helps pull the bark through the split.

Once the bark is fully in the split and held securely, insert the candle. Photo: Paul Kirtley.

Adjust the bark loop so it holds the candle tightly. Photo: Paul Kirtley.

Candle held securely in improvised candle holder. Photo: Paul Kirtley.

That's it. All you need to do now is push the stick into the ground and light the candle when you need it.

A candle held up off the ground provides a good ambient light. Photo: Paul Kirtley.

Related Articles on Paul Kirtley's Blog:

Bushcraft Knife Safety For Children

Can I Use a Lock Knife for Bushcraft?

The following two tabs change content below.

Paul Kirtley is an award-winning professional bushcraft instructor, qualified canoe leader and mountain leader. He is passionate about nature and wilderness travel. In addition to writing this blog Paul owns and runs

Frontier Bushcraft

, a wilderness bushcraft school, offering bushcraft courses and wilderness expeditions.

Latest posts by Paul Kirtley (see all)