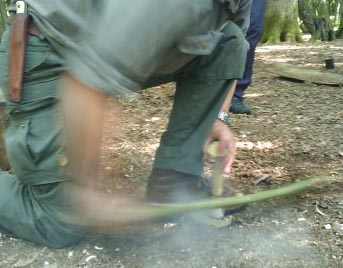 Bow-Drill – The Keys to Success
Bow-Drill – The Keys to Success
The author demonstrating the bow-drill method of friction fire-lighting.
Friction fire-lighting is one of the defining skills of bushcraft.  The 'bow and drill' or 'bow-drill' is the most widely applicable of the friction methods.  Yet many people struggle with it, particularly while learning or during practice by themselves.   
Failure is OK when you are learning, while you are getting used to the posture, accustoming your muscles to the technique, experimenting with new materials.  Failure is part of the process.  What is important is you don't give up.  It is important to stay positive.   
One of the advantages of the bow-drill method of friction fire-lighting is that you have a broad selection of woods to choose from for the friction components.  By employing a bow and a bearing block you create a great deal of mechanical advantage.  You can spin the drill with speed and continuously apply a good deal of pressure.  It is a very reliable technique.  
This piece is not a complete beginners guide to bow-drill. It assumes you are already familiar with at least the idea of how a bow-drill set works. You'll get more out of this article if you have already had a go at bow drill. Those who will get most out of this article are those who have not yet achieved consistency of application, yet are willing to put in the effort to do so.
The main aim of this article is to help you eliminate the factors that contribute to failure. 
Whether you are practicing in your back yard or stranded in the middle of nowhere, wet, lost and without matches, everything you do in preparing and using a bow-drill set is aimed at achieving success and eliminating failure.  Don't rush.  Don't cut corners.  Stay positive.
Bow Drill Material Selection
The first thing you must do is choose your materials.  Time spent on good material selection will pay dividends.  Your ability to go into nature and differentiate between suitable and unsuitable materials is a key factor in determining whether you succeed or fail.  
Practice with species you are likely to find in the wild.  Some species work well for friction fire-lighting but are scarce in the wild or not widely distributed, common only in small areas.  One example is Horse Chestnut (Aesculus hippocastanum), common to parks and roadsides where they are typically planted but, outside of their native range in northern Greece and Albania, are generally not naturalised.  Finding one in a wilderness survival situation would be unlikely.  Better to practice with woods you are likely to have use of.  Treat the temptation to practice with pieces of wood you have at home -old furniture, pallets and the like – similarly.  You won't find much of this in the wild.  Get used to using what you can find in nature.   
I recommend training with Willow (Salix), Alder (Alnus), Birch (Betula) and Maple (Acer) species.  This creates familiarity with species that are relatively common and easy to identify.  Willows especially are widespread.  Once you have good technique, adding Pine (Pinus), Spruce (Picea) and even Juniper (Juniperus) species to your repertoire means you will have familiar materials to hand at higher elevations and high latitudes, when you can no longer find other species.   
The spindle and hearth of your bow-drill set must be made from dead, dry, standing wood.  Any moisture in the wood will reduce your chance of success.  Make sure you select the driest wood available.  The driest dead wood will be upright.  Wood at an angle away from upright catches more rain.  Wood lying on ground is often damp.  
The spindle and hearth should be made from the same species of wood, preferably the same piece of wood.  It is possible to successfully combine two species but, in increasing the number of variables, you also increase the chance of failure.  Remember – keep it simple, stupid (KISS).  
The wood you choose for your spindle and hearth should be of the correct hardness.  Too hard and it will be difficult for you to generate the dust required to make up an ember.  Too soft and your set will literally disintegrate as you try to use it.  You should be able to make an impression in wood of suitable hardness (the wood itself, not the bark) with your thumbnail.  Only just, though.  But you shouldn't have to try so hard that it hurts or you bend your thumbnail.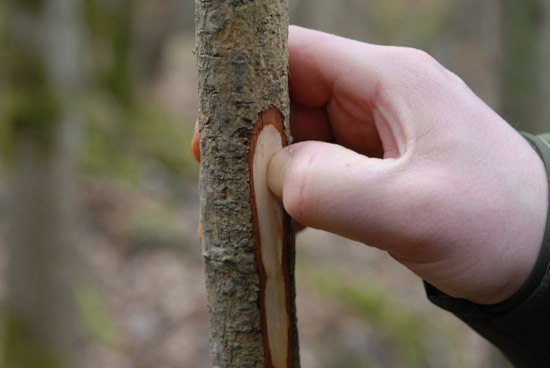 Ideally the bow should be light, stiff and strong.  The bow must be wieldy, otherwise it will be awkward to use.  The bow should be strong but if it is too heavy, you will be unable to drill with it for long enough.  The bow should be slightly curved in one plane.  It should flex only a little, otherwise the cord will slip on the drill.  Provided it is light, stiff and strong, the species of wood chosen for the bow is unimportant.  
To determine the length of your bow – put your arm straight out to your side and the length of your bow should be from your finger-tips to your sternum (breast bone).  If the bow is too long, it is unwieldy.  If it is too short, it is inefficient.  
Use the hardest wood you can find for the bearing block.  According to ethnographical accounts, some Native Americans would use a rock with a hole drilled in it for their bearing block.  You won't have this luxury when making a bow-dill set for immediate use from scratch.  Instead, use the hardest wood you can find.  
Use green wood for the bearing block.  The moisture content of the live wood will help lubricate the bearing and minimise friction where you don't want it.  
Collect more tinder than you think you need.  Preparation is a vital aspect of successful fire-lighting.  This extends to being energetic in collecting plenty of good quality tinder.  Remember, successful friction fire-lighting is more than igniting your tinder with your ember.  Success also requires you to establish a fire from your burning tinder.  In damp conditions you will be glad of having plenty of good, dry tinder to hand.  Often, with fibrous tinder, by the time you have rubbed or buffed the material you will have lost a good amount of it as dust.  Drying tinder by rubbing on dry clothing or keeping it in your trouser pocket reduces the usable material.  When you think you have enough tinder, collect some more.  
Cordage is the limiting factor.  In winter, after plants have withered, when trees are unwilling to give up their bark, and the ground is covered in snow, it may be impossible to improvise cordage.  Even when materials are available, successful bow-drilling with cordage improvised from plant fibres is difficult.  Using improvised cordage narrows the range of woods you can use successfully and your technique must be perfect.  In wilderness, you should carry some cordage that can be used for bow-drilling.  The traditional material was rawhide or leather.  A thong made of this material is durable and grips the spindle very well.  Some nylon paracord should be part of your basic equipment as it has many uses.  Keep a hank in your pocket.  By replacing lanyards, draw-strings and bootlaces with paracord, you'll always have something you can bow-drill with. 
Making Your Bow-Drill Set
When carving the spindle, be particular.  Carve a wonky drill and it will not work.  The spindle should be 8-10" (20-25 cm) long and dead straight.  It can be a bit longer than this if you find it more comfortable but it must be straight.  I use the length of my knife as a guide for the length. It should be no more than 1" (2.5 cm) in diameter.  Use the thickness of the knuckle where your thumb meets your hand as a guide.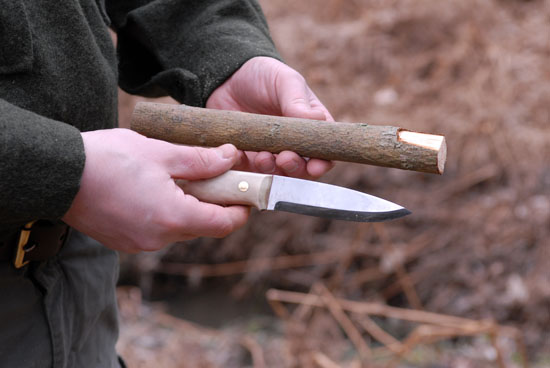 Apart from where you carve a point at its top and a blunt point at its base, your spindle should be the same diameter from one end to the other.  The spindle should be round.  An oval cross section won't rotate smoothly in the hearth board.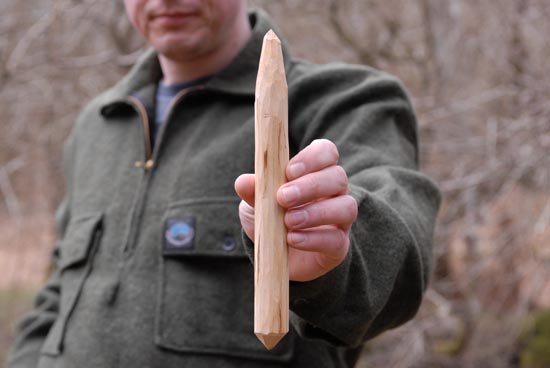 The hearth should be no thicker than the diameter of your drill.  Your hearth should be 0.75-1.0" (1.9-2.5cm) thick.  Too thin and you'll drill through it too quickly.  Too thick and you'll find it hard to create an ember as the dust cools too much before it consolidates in the notch.  
Don't labour on the hearth too much if it's not necessary.  If you plan on using the hearth repeatedly, you should fashion a nice board, like a small floorboard, so you can drill multiple depressions.  On the other hand, if you are setting out to make fire as quickly as possible, you don't need a 'floorboard' hearth.  To expedite the process all you need do is ensure the hearth sits flat and stable on the ground, then fashion one end so it is the correct thickness and you can drill on it.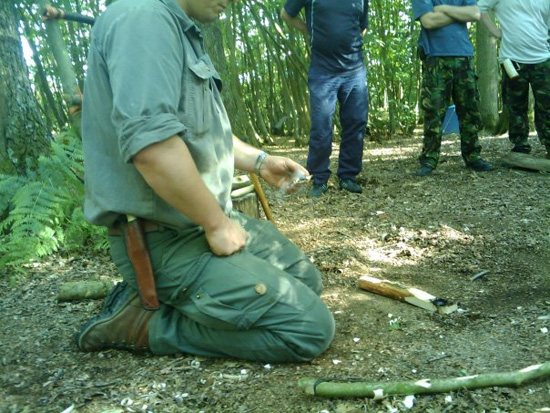 Putting It All Together
Place your spindle on the outside of the cord.  Twist your spindle into the cordage so that the spindle is on the outside of the cord, not between the cord and the bow.  This allows the full length of the cord to be utilised.  
Make sure the cord grips the spindle.  When you have twisted your spindle into your bow string, grab the spindle in one hand and your bow in the other and try to slide the spindle up and down the cord. If it slips at this point, it will slip when you are drilling. If it is slipping, remove the spindle, re-tighten the cord then try again.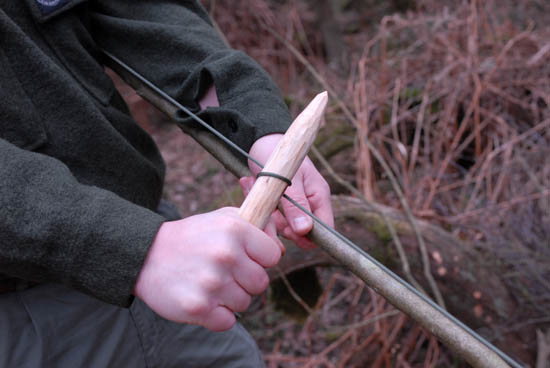 Lubricate the bearing block.  Add a small amount of green leaf material or spit into the depression in your bearing block for lubrication.  Alternatively, if your face is greasy enough, you can rub the pointed top of the spindle on your face to add extra lubrication.  The best place is on either side of your nose.  
Burn-in your set before you cut the notch.  If you cut the notch first, the drill can drift away from the notch as it beds into the hearth.  This will cause problems. Bed-in the set first then cut the notch.  
The set is burnt-in when the depression in the hearth and the whole of the bottom of the drill is black (not brown). You shouldn't need to go flat-out to burn-in the set.  Don't get too pumped at this stage.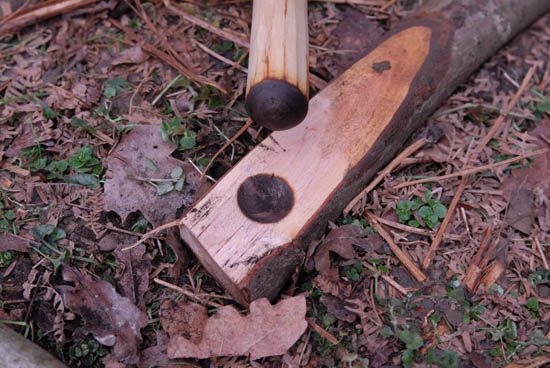 Once you start drilling, start off steadily, warming up both yourself and the bow-drill set. Make sure your rhythm is steady and you use the full length of the cord, not just the central portion.   
The bow should be kept horizontal, moving parallel to the ground.  This will keep the cord in the middle of the spindle and help prevent the spindle popping out.  The motion should come from your shoulder not the elbow.  
The notch should be one-eighth of the circle you have drilled into the hearth.  The sides of the notch should be smooth and meet at the centre of the circle.  Mathematically, you are cutting out a sector of the circle with a central angle of 45 degrees.  If the notch is too small, it can be hard to consolidate enough hot dust to form an ember.  If the notch is too big, the spindle can easily jump out of the depression.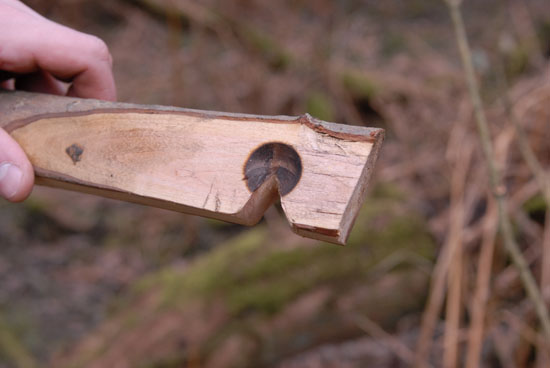 Cut the notch on the side of the hearth that is nearest to you.  This allows you to see the dust gathering in the notch.  Cut the notch facing away from you and you won't see a thing.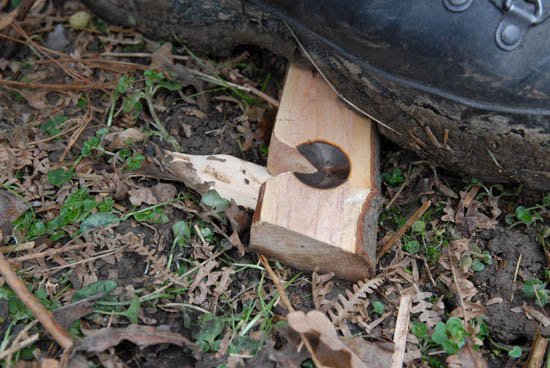 Making Fire With Your Bow-Drill Set
Now you are ready to make fire!  Remember to have the site for your fire prepared and tinder, kindling, and larger fuel ready.  Put something under your hearth to catch the dust and hold the ember.  A chip of wood or a piece of bark works well.  
Be comfortable and keep everything steady.  If your posture is not comfortable before you start drilling, you certainly won't be comfortable while drilling hard and this is likely to limit your ability to succeed.  Ensure the hearth is held fast by your foot and the forearm of the hand holding the bearing block is clamped against your leg.  Failure to keep these things steady usually ends in failure.  Again start steadily, warming up with a steady rhythm, using the full length of the cord.  You should have an idea of the pressure needed to create smoke from when you burnt-in the set.  Long, even strokes with the bow moving parallel to the ground should cause smoke to start rising from the base of your spindle before too long.  If not, press a little harder. Once you have smoke and are running smoothly, still using the full length of the cord, go up through the gears, getting faster and faster.  Once you have good smoke – thick rather than wispy – coming from the set, 10 more full strokes will be enough to guarantee an ember.  Count down from ten.  Give it a couple of extra strokes for good measure if you still have it in you.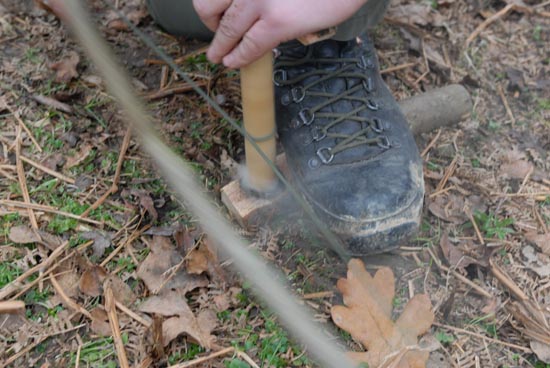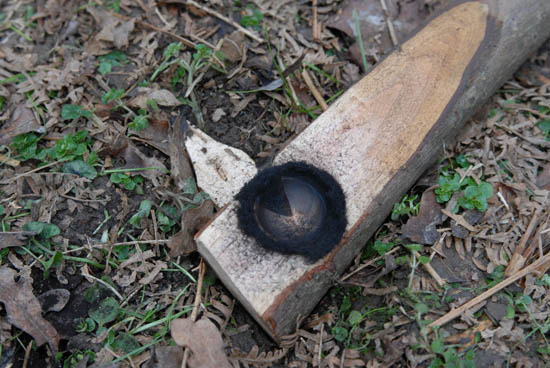 Don't destroy your ember.  Now that you have an ember, don't destroy it.  Carefully tilt the hearth away from you while holding the ember in place with a small, match-stick thin twig if necessary.  Protect the ember from drops of rain or sweat.  If you are breathing heavily after the effort of drilling, don't blow the ember away by accident!  Carefully lift the wood chip or bark on which the ember sits away from the ground, taking the ember away from the moisture of the ground and damp air closest to it.  Don't blow on the ember.  If the ember needs more oxygen, waft it gently with your free hand.  Your ember will disintegrate if you put it into your tinder too soon.  Allow the ember to consolidate and start to glow before transferring it to your tinder.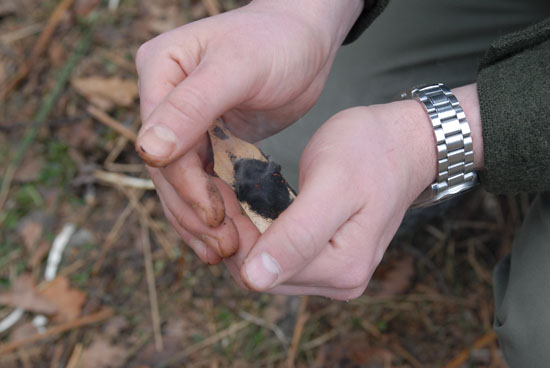 Your tinder must be dry.  It's not enough to have plenty of good tinder.  It must also be dry.  You don't get two-thirds of a fire for getting the process two-thirds right.  With fire-lighting you either get full marks or zero.  I've seen many students fail at this stage until they realise how important dry tinder is.  
Don't bury your ember in the middle of your tinder.  Place your ember about one-third of the way into your tinder bundle.  Pinch the bundle from both sides.  The aim is not to smother your ember but keep plenty of tinder in contact with the ember so the ember grows; be firm with it.  You must provide oxygen to speed up the combustion.  Blow quite firmly into the tinder bundle but not hard like you are blowing out candles.  Your mouth shouldn't be too close to the bundle when you blow as it introduces too much moisture from your breath.  About 6-8" (15-20 cm) is good. As the centre of the bundle starts to smoulder, press it all together a bit more to maintain a 'critical mass' of heat.  The smoke should be increasing.  Keep blowing.  You can swing the smoking bundle away from your face as you inhale if you want to.  Thick, almost green smoke indicates the tinder is about to burst into flames.  One more blow should then be enough.
Invert the bundle.  When your bundle bursts into flame, the flames will be going upwards (as they usually do!).  This means the bottom of your tinder bundle won't be burning.  As you place your tinder bundle down onto the site where your fire will soon be established, turn the bundle upside down so that the flames are forced to ignite the previously lower section which is now at the top.  
Success! I've seen many people succeed with bow-drill.  The key is to keep trying.  The effort will eventually pay off.  You can also take some enjoyment from being in the process of learning something that can be difficult to get the hang of.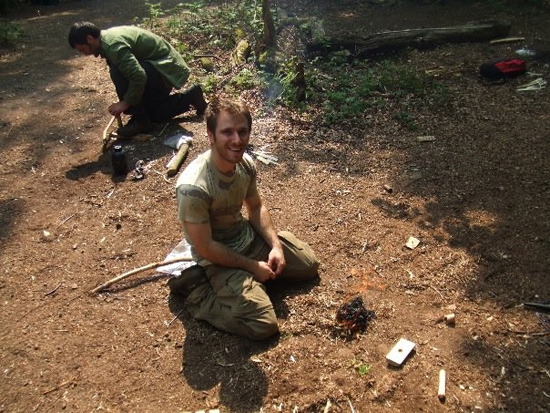 Don't Let Your Ego Get In The Way
When you have to rely on the technique, there are no points for trying.  In a survival situation there are no separate grades for effort and achievement.  This is when your training and practice really pay dividends.  If you are on your own, you have no choice but to employ bow-drill technique as an individual.  If you have someone with you, double up and use the power of two people: one on each end of the bow, both steadying the bearing block.  Even if you are with someone who has never used the technique before, you can direct them to drive the bow back and forth from the other end of the bow while you drill as per normal.  You can achieve an ember like this even when tired and hungry and you would have had difficulty on your own.  I've observed individuals on advanced courses fail while two team-mates looked on.  Not until they worked as a team did they crack it.  Don't let your ego get in the way.    
Common Reasons Why Bow-Drill Fails
Poor material selection – wrong wood; right wood but too hard or too soft;
Poor carving – spindle must be cylindrical and smooth; hearth mustn't be too thick or thin;
Bow is too heavy;
Bow is too long/short;
Allowing the hearth to move while drilling;
Not clamping the bearing-block hand firmly enough;
Not drilling for long enough;
Not enough pressure;
Cordage not tight enough;
Allowing the ember to disintegrate when placing it in tinder bundle;
Damp tinder;
Not enough tinder;
Not enough contact between ember and tinder;
Blowing too hard or too softly;
Wrong attitude!
Be Positive
As the last point in the above list suggests, the main obstacle to success with bow-drill is lack of belief.  You have to believe you can do it.  You should set out with the mindset that success is inevitable.  If not, then why try? An ember won't happen by accident.  You have to make it happen.  If you've never achieved an ember on your own, this can be difficult to believe. Then persistence is your key ally. Don't give up!  It takes a while to get everything right but it will come.  It is possible to learn this technique on your own but getting quality instruction will speed things up considerably.  I struggled with bow-drill at first but once I'd practiced and attained the right mental attitude it was as if someone had flicked a switch from 'hard' to 'easy'.  Eventually, if you practice enough, you will find bow-drill fire-lighting easy.    
It would be great to learn about your experiences with this technique.  Leave a comment and let us know your high points, low points and any tips you might have for others that are learning the technique.  Have you had to rely on this technique in a difficult situation?