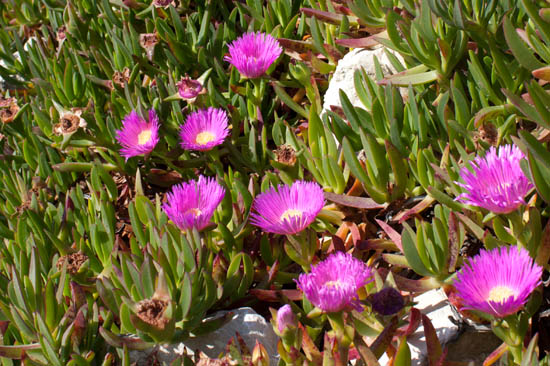 Hottentot Fig, Carpobrotus edulis
Hottentot Fig, Carpobrotus edulis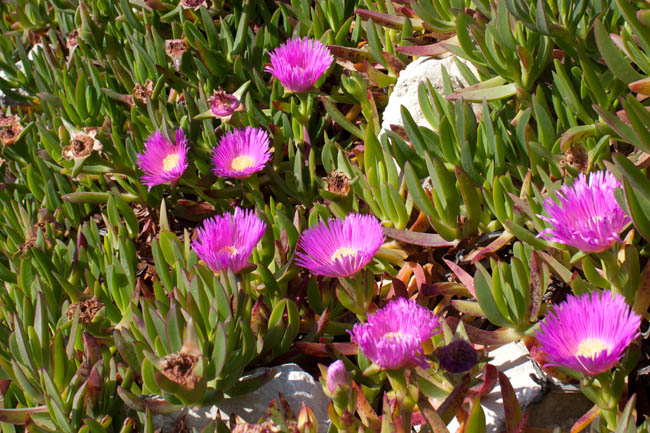 The Hottentot Fig, Carpobrotus edulis is a southern African plant. Introduced to Europe, the plant can be found entirely naturalised in some coastal habitats, particularly sea cliffs and sand-dunes. The plant tends be quite invasive, spreading and forming continuous mats over large areas. In the UK, the plant is found mainly in the south west on the coastline of counties such as Devon and Cornwall but can also be found as far north as Anglesey.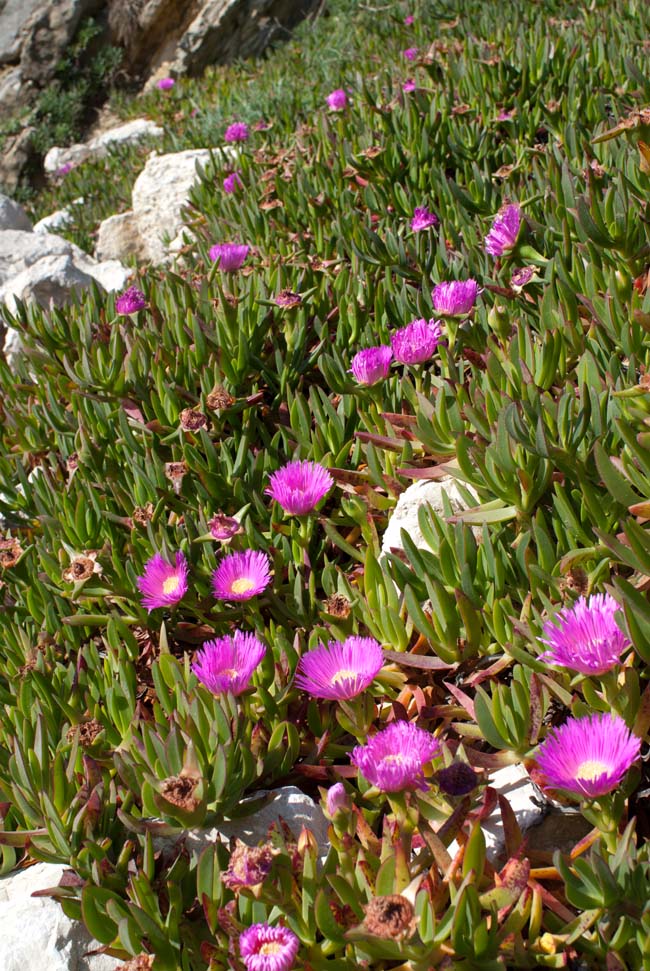 The striking flowers, which appear between May and September, resemble the composite flowers found on members of the family asteraceae such as dandelions or thistles. The pink or yellow flowers of the hottentot fig are true flowers, however, not composites. The flowers are quite large – up to 10 cm (4 inches) in diameter.
The leaves are like firm and fleshy like succulent plant species (such as aloes). They are 6-10cm (2.5-4 inches) long and 3-sided. The leaves also have a triangular cross-section.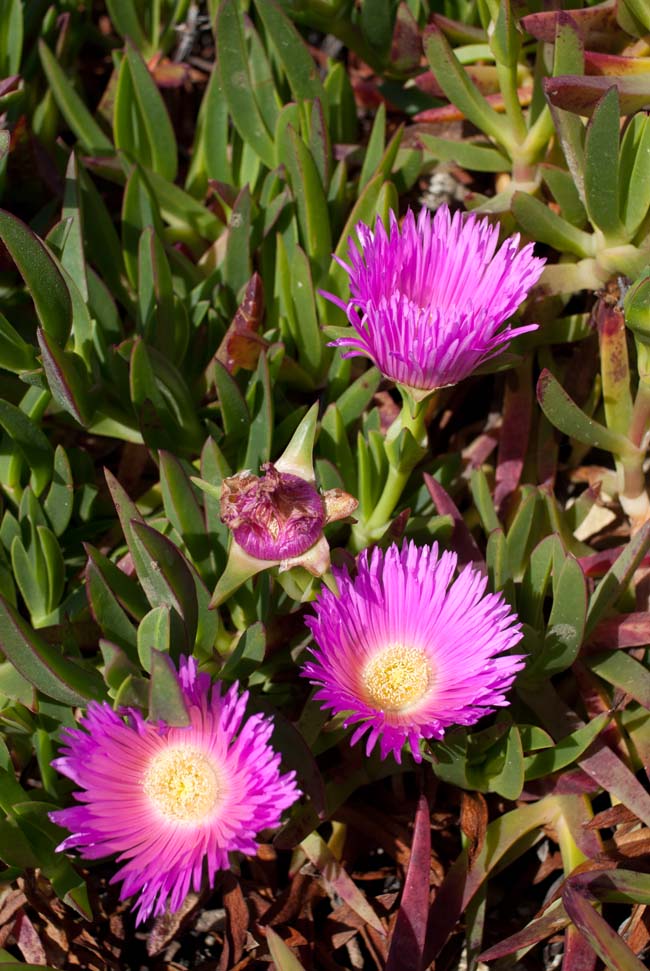 The fruits resemble figs and are edible. It is not only the outward appearance that is fig-like; inside the hottentot fig is sticky and has many seeds. When ripe the hottentot fig is a little sweet but also salty, reflecting its seaside habitat. To eat the fruit, bite or cut off the end and suck out the pulpy inner flesh.
The plant is also reported to have various medicinal properties (which I have not tried). Juice from the leaves has been used to staunch bleeding and is said to speed the healing of wounds. The juice seems to have antiseptic qualities, having been used for mouthwash and gargling for sore throats. The juice has also been employed to calm itching – from insect bites to eczema.
Best Practice while Foraging
Please read the BSBI's Code of Conduct for the Conservation and Enjoyment of Wild Plants for guidance on the best practice (and UK laws) relating to foraging for wild plant foods.
Disclaimer
This article is meant only as a guide and is largely a record of my recent forages. It is not a complete treatment of all edible plants that might be available. Nor does it provide a complete treatment of all poisonous plants that may also be present in the habitat where you find the above-mentioned plants. If you want to learn more about plant identification you should invest in some good field guides. The safest way to learn about edible wild plants is for someone who already has the knowledge to show you in person. Any foraging you do on your own is at your own risk.
The most important thing to remember when identifying wild foods is:
IF IN DOUBT, LEAVE IT OUT!
Recommended Books for Further Reading:
Related Articles on Paul Kirtley's Blog:
White Dead-nettle, Lamium album
Red Dead-nettle, Lamium purpureum
Conopodium majus: Pignuts and How to Forage for them
Brooklime, Veronica beccabunga
Primrose, Primula vulgaris: Wild food?
Common Dog-violet, Viola riviniana