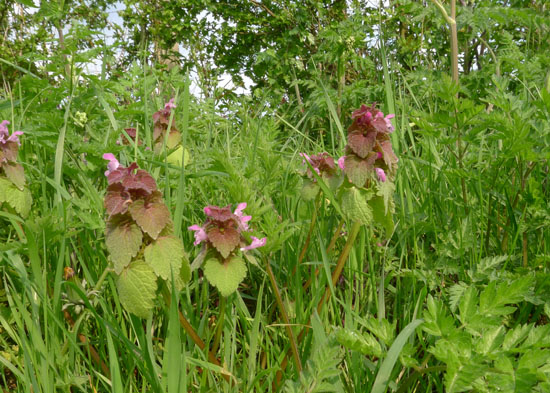 Red Dead-Nettle, Lamium purpureum
Red Dead-Nettle, Lamium purpureum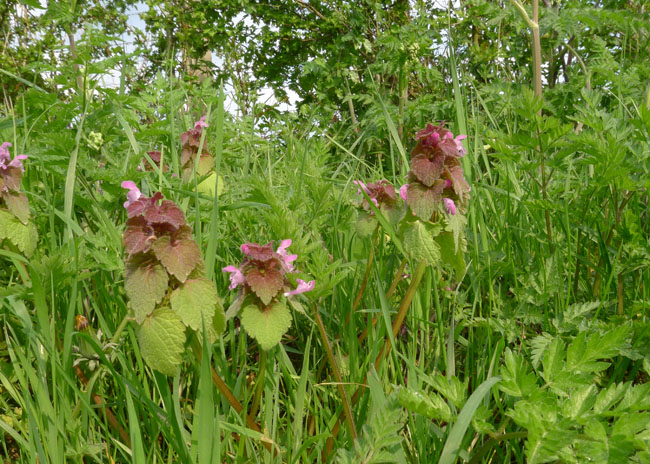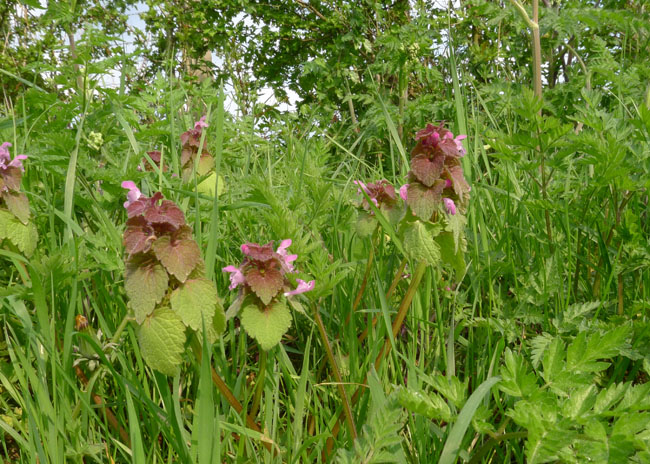 Red Dead-nettle, Lamium purpureum, is a common plant of country tracks and hedgerows. It is often found on or near farmland and sometimes described as an arable weed. Similar to other dead-nettles it has toothed, heart-shaped leaves. Red Dead-nettle, however, bears much less resemblance to its namesake Stinging Nettle, Urtica diocia, than White Dead-nettle does.
The leaves of Red Dead-nettle often have a purple-grey tinge to them. The stem has a square cross-section and the plant grows to a height of around 20-25cm. The upper-most leaves can become a deep purple-red when the plant grows in areas where it is more exposed to strong sunlight. The plant flowers from March to October and the flowers are a pink-purple colour. The flowers and leaves of the Red Dead-nettle are concentrated towards the top of the stem. Noticing this concentrated grouping helps us differentiate between Red Dead-nettle and similar species of dead-nettles. The much less common Henbit Dead-nettle, Lamium amplexicaule, has leaf/flower clusters more spaced out along its stem. The leaves of Henbit Dead-nettle are also much more rounded and clasp the stem, seeming to form a green disc around the stem. Cut-leaved Dead-nettle, Lamium hybridum, has leaves that are generally a little narrower than Red Dead-nettle and they are more deeply toothed (hence the name 'Cut-leaved').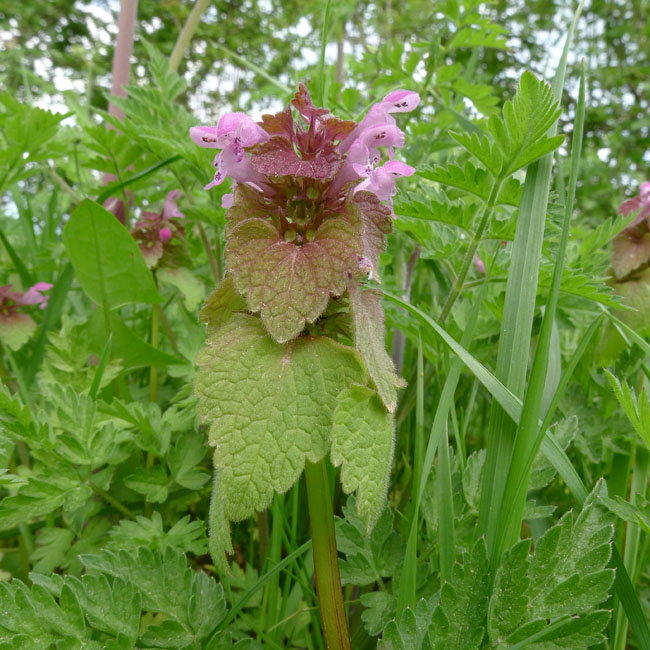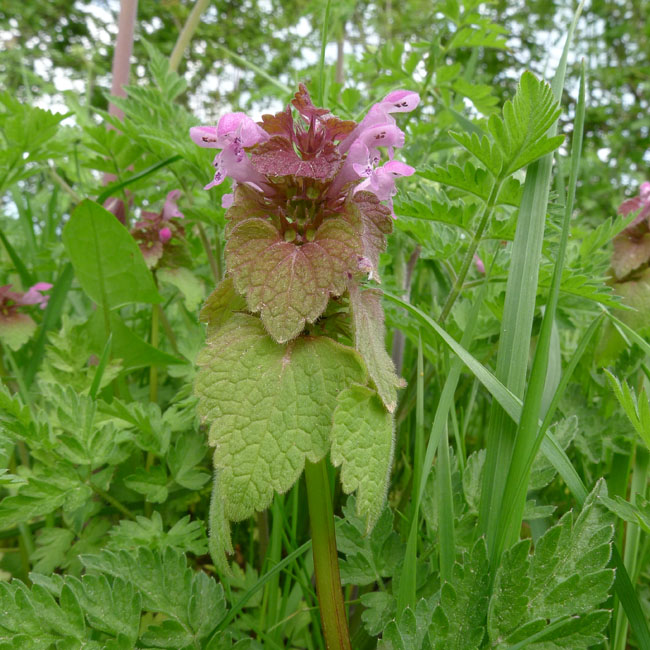 Red Dead-nettle is edible (as are the similar species mentioned above). You can use Red Dead-nettle as per White Dead-nettle, Lamium album and the leaves and flowering tops are great in salads. Unlike White Dead-nettle, there doesn't seem to be the tendency for the leaves to become bitter with age. So you can use Red Dead-nettle as a salad ingredient as long as the leaves are available.
Best Practice While Foraging
Please read the BSBI's Code of Conduct for the Conservation and Enjoyment of Wild Plants for guidance on the best practice (and UK laws) relating to foraging for wild plant foods.
Disclaimer
This article is meant only as a guide and is largely a record of my recent forages. It is not a complete treatment of all edible plants that might be available. Nor does it provide a complete treatment of all poisonous plants that may also be present in the habitat where you find the above-mentioned plants. If you want to learn more about plant identification you should invest in some good field guides. The safest way to learn about edible wild plants is for someone who already has the knowledge to show you in person. Any foraging you do on your own is at your own risk.
The most important thing to remember when identifying wild foods is:
IF IN DOUBT, LEAVE IT OUT!
Recommended Books For Further Reading
Related Articles On Paul Kirtley's Blog
White Dead-nettle, Lamium album
Brooklime, Veronica beccabunga
Primrose, Primula vulgaris: Wild food?