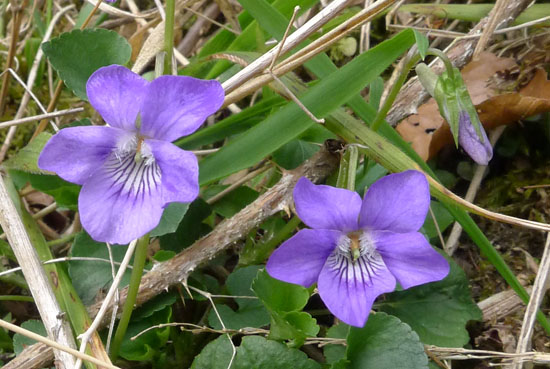 Common Dog-violet, Viola riviniana: Spring herbage
Common Dog-violet, Viola riviniana: Spring herbage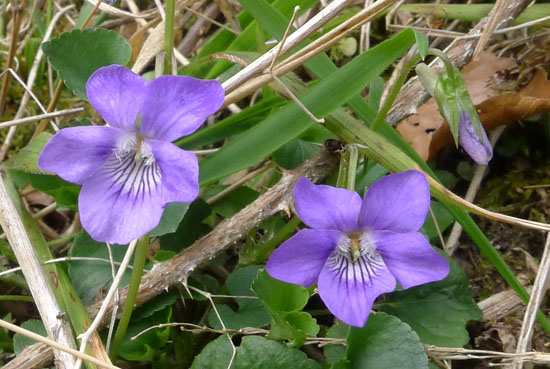 Common Dog-violet, Viola riviniana, is the most common violet in the UK and provides some useful herbage for a wild salad, particularly in the spring. It flowers March to May and is then easy to spot but a little less so at other times. The leaves and flowers are edible. The leaves are fairly bland, having a pleasant flavour with only a little bitterness, if any, making it a wild food worth picking up as you forage.
The leaves of most violets have quite a lot in common. But before we get into a tailspin about differentiating between similar violets, we should remember what Professor Gordon Hillman writes in Wild Food
"The leaves and flowers of all members of the violet family seem to be edible".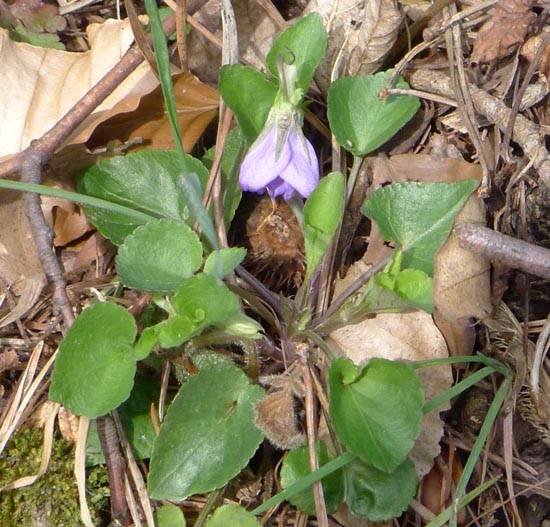 The leaves of the common dog-violet are heart-shaped, smooth, almost without hairs and with regularly-spaced indentations around the edges. The flowers are an attractive blue-violet with five petals. The lower petal or lip has prominent veins. The flower's sepals are pointed. All violets in the British Isles have a spur which sticks out behind the flower; one of the key identification features of V. riviniana is that its spur is lighter in colour than the petals and is notched at the tip.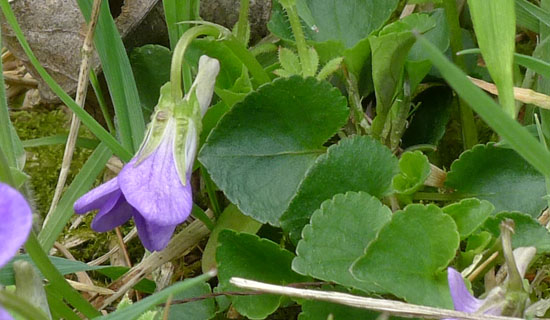 Remember to take only a few leaves from any particular plant so as not to damage it too much. Please read the BSBI's Code of Conduct for the Conservation and Enjoyment of Wild Plants for guidance on the best practice and the law.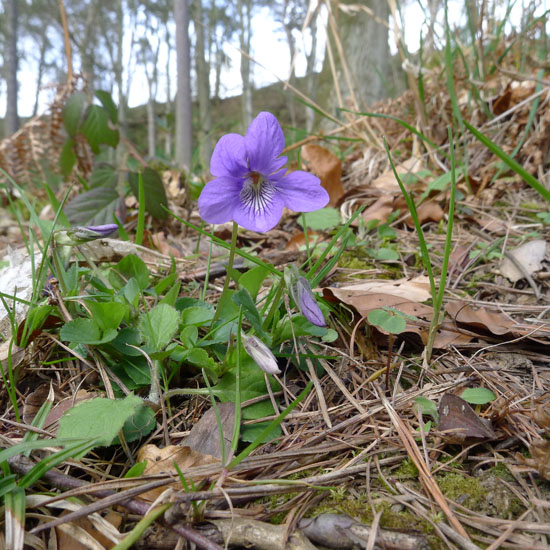 Recommended Books for Further Reading:
Related Articles on Paul Kirtley's Blog:
Foraging for Early Spring Greens: Some to Eat, Some to Avoid…
Conopodium majus: Pignuts and How to Forage for them
Brooklime, Veronica beccabunga
Primrose, Primula vulgaris: Wild food?
Disclaimer
This article is meant only as a guide and is largely a record of my recent forages. It is not a complete treatment of all edible plants that might be available. Nor does it provide a complete treatment of all poisonous plants that may also be present in the habitat where you find the above-mentioned plants. If you want to learn more about plant identification you should invest in some good field guides. The safest way to learn about edible wild plants is for someone who already has the knowledge to show you in person. Any foraging you do on your own is at your own risk.
The most important thing to remember when identifying wild foods is:
IF IN DOUBT, LEAVE IT OUT!