White Water Safety & Rescue Training Provides Useful Survival Skills
White Water Safety & Rescue Training Provides Useful Survival Skills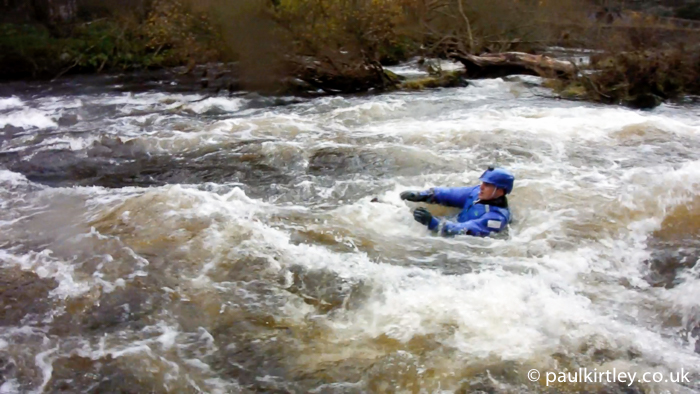 White water safety and rescue skills are essential if you spend any time on or near rivers.
These are real world survival skills.
If you examine the statistics relating what kills people outdoors, water is right up towards the top of the list.
The World Heath Organisation states "Drowning is the 3rd leading cause of unintentional injury death worldwide, accounting for 7% of all injury-related deaths."
Another big killer is hypothermia. Clearly cold water is dangerous, whether it is moving or not.
Moving water, whatever its temperature, poses specific hazards.
The Wider Value Of White Water Safety & Rescue Training
Those who are operating on or in moving water should, of course, be well versed in safety and rescue skills.
I also think they are valuable to anyone who goes near to water in any capacity, even as a walker.
I didn't learn these skills until I became a canoeist. But I had, for many years, been a hiker and in my hiking trips I have crossed many streams and rivers. Even so, you don't get the same appreciation of water from these limited crossings as you do from canoeing or kayaking.
Now being a canoeist as well as a backpacker, when on foot I feel I have a much more complete view of the landscape as a whole and how to properly negotiate terrain which contains water. I know the options and limitations. And I understand the power of water.
Moreover, I know of at least one instance of a life being saved from drowning by a paddler who was out for a walk by a river…
To this end, I encourage all the outdoor leaders and aspiring outdoor leaders who work with me to undergo this type of training, whether they are paddlers or not. Further, I think it makes sense for pretty much any outdoors person who spends time in environments that contain moving water to take a weekend to do this type of training.
At the very least, for me this training of this kind sits right alongside remote area/wilderness first aid training.
White Water Safety & Rescue Training For My Team
Recently, some of the team from Frontier Bushcraft and friends got together in Wales for a long weekend of canoeing. This is an annual gathering and if there are sufficient numbers we also like to offer a White Water Safety & Rescue course either directly before or after the long weekend.
This year Stuart, "Spoons" and Amanda attended the WWS&R course with my good friend and colleague Ray Goodwin, who has been providing this training for many years. His breadth and depth of paddling experience in canoe and kayak adds an extra quality over and above the technical syllabus.
As well as river safety and rescue techniques, this was a course aimed at open canoeists (i.e. "Canadian canoeists") so we also covered techniques specific to rescuing open boats.
I recorded a video of the safety and rescue training which demonstrates the value of these techniques. The canoe-specific rescue techniques are not included in the video as I wanted to demonstrate the universality of what was covered.
Click on the four arrows bottom right for full screen view. Click on "HD" to stream the full HD version. Toggle HD off by clicking "HD" again.
Training Applicable To A Wide Variety Of White Water Experience
Indeed, the group on this WWS&R course, though small, had quite a wide spread of experience in open canoes. Amanda has been paddling for a number of years now and has paddled with me in Algonquin Provincial Park, The French River and The Bloodvein River in Canada as well as on various trips in the UK.
Spoons has been assisting Ray and I on our Expedition Canoeing Skills courses in the Lake District for the past few years, and while this is a flat-water course it has provided him with a good foundation, which he is now rapidly extending to include moving water paddling skills with a River Spey trip under his belt and having acquired his own canoe. On the other hand, Stuart is a relative newcomer to paddling on moving water.
Regardless of this spread in experience, all were able to apply the techniques shown in the film and gained a lot from doing so. We also had a great deal of fun.
Check out the film above for some voyeuristic pleasure as we throw ourselves repeatedly into increasingly fierce water.
Here's some shots from the video to whet your appetite…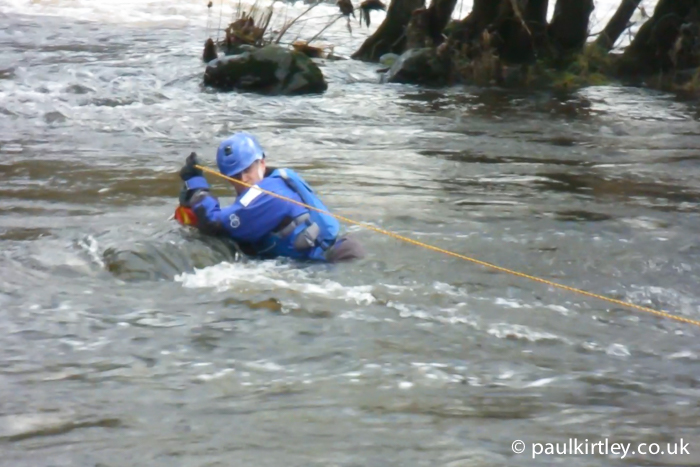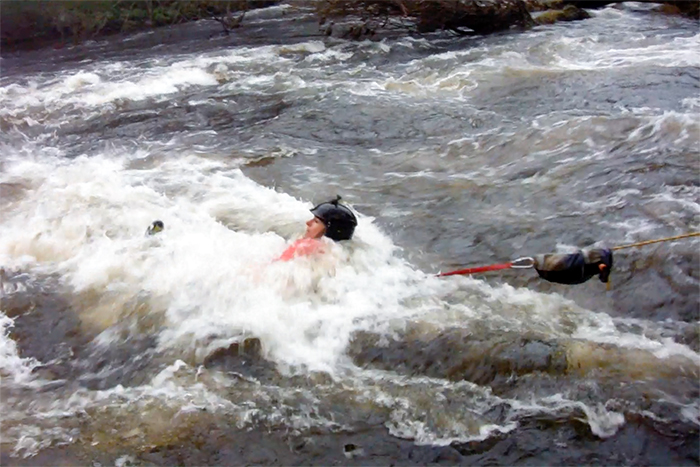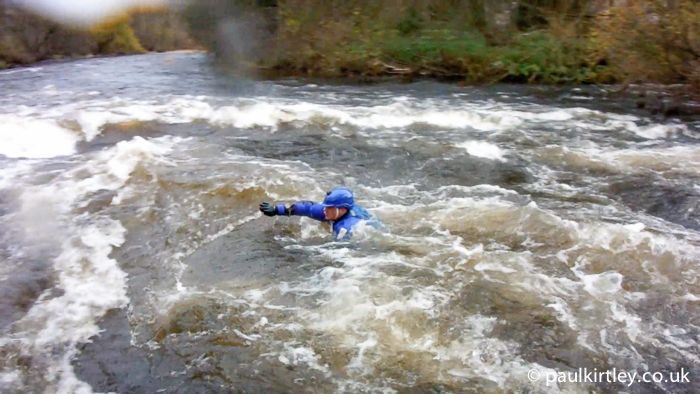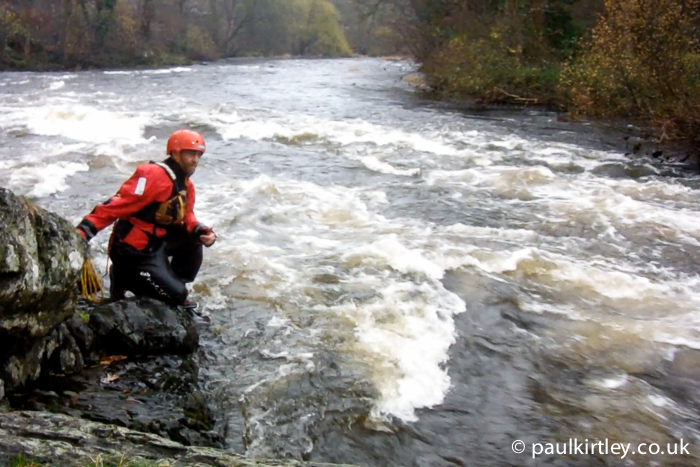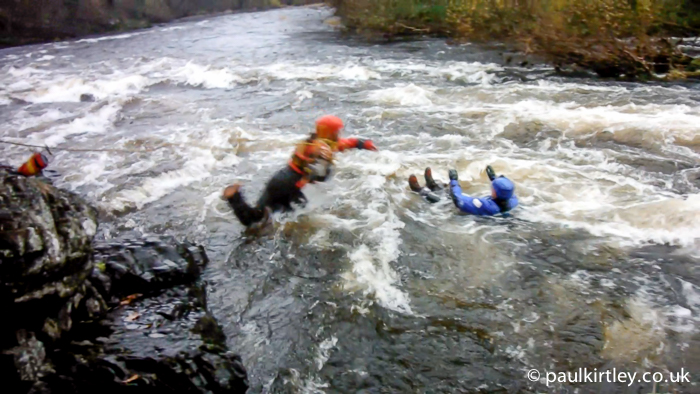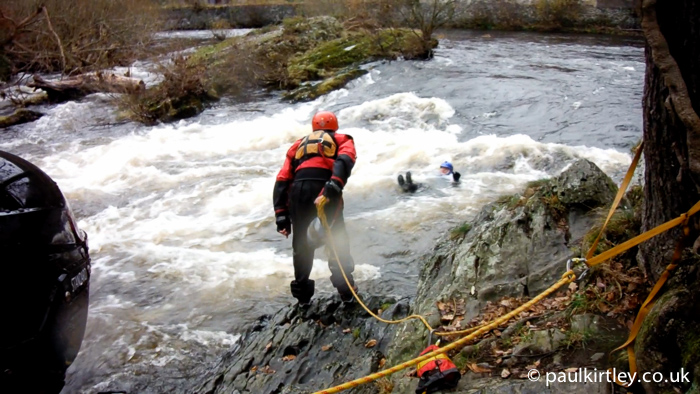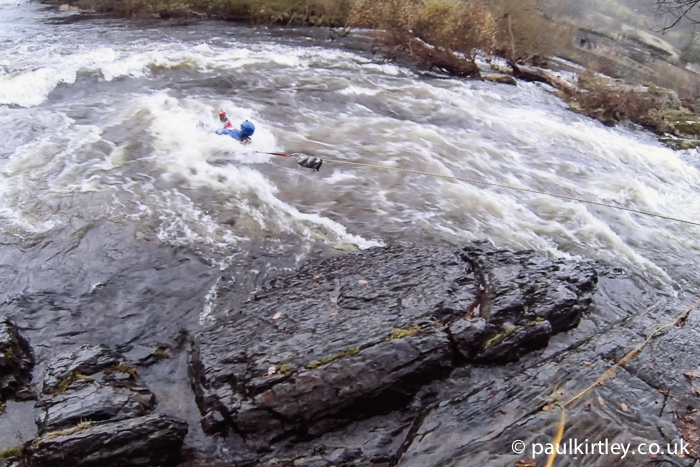 Application of White Water Safety & Rescue Skills Comes Quickly…
We followed the WWS&R training with four days of canoeing on lakes, canals and rivers, which really provided some good quality experience for all those who attended. Saturday and Sunday were the best attended days for obvious reasons but the conditions were not easy. Strong westerly winds made Ray and my life challenging, particularly on Sunday when leading the group on a section of the Dee. Then heavy rain brought rising water levels on Monday and Tuesday.
Ray's intimate knowledge of all the possible venues in his area of Wales made the weekend a success despite the conditions. The WWS&R skills also came in handy on a number of occasions. The three in the group who had just trained for first time in these skills quickly saw their value in action being applied in real world situations. One such instance is shown at the beginning of the video embedded above.
Read More About White Water Safety & Rescue Techniques
Related Material On Paul Kirtley's Blog:
Survival Psychology With Dr Sarita Robinson (Podcast Interview)
A Framework For Preparing Yourself For A Survival Situation
Ray Goodwin On Wilderness Canoeing (Podcast Interview)
Kevin Callan, The Happy Camper (Podcast Interview)
Integrating Bushcraft With Modern Outdoor Life: Bushcraft Show 2014 Presentation