Canoe Capsize Recovery – Deep Water Rescue Training
Canoe Capsize Recovery – Deep Water Rescue Training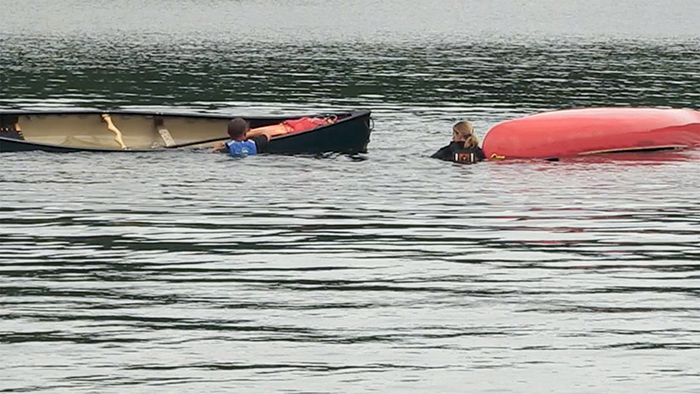 Canoe capsize recovery skills are important for any canoeist who ventures onto open water, even as part of a group.
Windermere is England's largest natural lake and the venue of the Expedition Canoeing Skills course that Ray Goodwin and I run there every summer. Part of the course programme involves learning and practising canoe capsize drills.
Under close supervision, the students take it in turns to capsize their boats and perform rescues. More experienced students have the opportunity to perform solo and all-in rescues. This provides the opportunity to train in techniques of emptying canoes of water and re-entering a boat.
This deep water rescue training also provides important psychological training as the participants subsequently have a better idea of what to expect if they do capsize a boat. Even in summer, experiencing canoe capsize training provides valuable personal data points as to how it feels to be suddenly immersed in cold water and how the body reacts.
Watch the following video to see how students on one of our courses faired with putting these canoe capsize recovery skills into practice…
To find out more about the course see the following link: Expedition Canoeing Skills Course
Related Material On Paul Kirtley's Blog:
A Trail Of Destruction: Canoeing The River Greta After The Floods…
PK Podcast 002: Ray Goodwin On Wilderness Canoeing
Six Men, Three Boats and The Bloodvein: Canoeing A Wilderness River
Enter A Virtuous Circle: Take Your Bushcraft Skills On An Adventure
The following two tabs change content below.
Paul Kirtley is an award-winning professional bushcraft instructor, qualified canoe leader and mountain leader. He is passionate about nature and wilderness travel. In addition to writing this blog Paul owns and runs
Frontier Bushcraft
, a wilderness bushcraft school, offering bushcraft courses and wilderness expeditions.