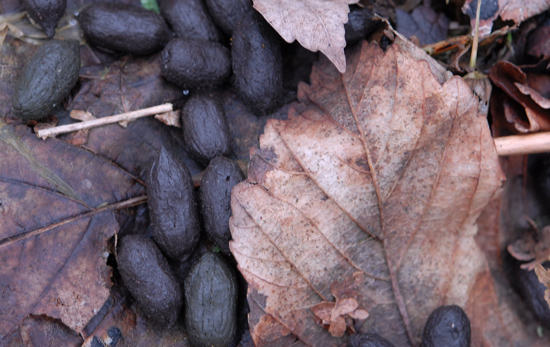 Animal Tracks and Sign – Deer, Badgers and Owls
Animal Tracks and Sign – Deer, Badgers and Owls
Tracking is a passion of mine.  One of the things I love doing, even when I'm out for a leisurely walk in the woods, is looking for tracks and sign left by animals. Even if you don't see the animal, looking at the sign they have left behind can provide a fascinating insight into their behaviour. This is the first of what will be a series of short, informal articles on animal tracks and sign that I'll post as and when I see things I think other people will find interesting.
Roe Deer
I've seen roe deer in these woods before. A few years back, while I was sitting quietly, a doe and her two almost full-grown youngsters almost walked into me. It was a wonderful experience. Today I wasn't so lucky to have even a glimpse of deer but there were signs of their presence. There was a faint deer trail through the leaves and I found some droppings on it but they weren't so fresh. Roe deer droppings are quite small, cylindrical, often with one end pointed and one end indented. When they are fresh they are black and shiny, later becoming brown and matt.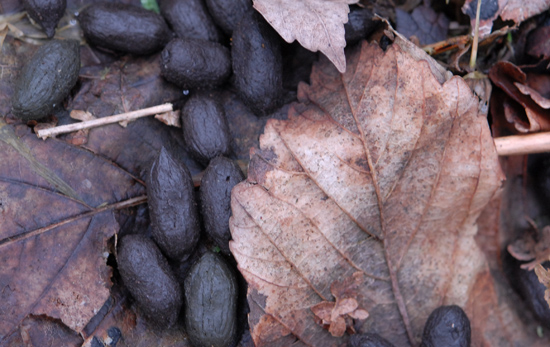 Further along I found a laying-up area where an animal had rested. Roe are a little unusual amongst deer as they tend to scrape away leaves and vegetation, preferring to lay on bare earth. The resting places of other species such as fallow are often observed as just a deer-shaped flattening of leaves or vegetation.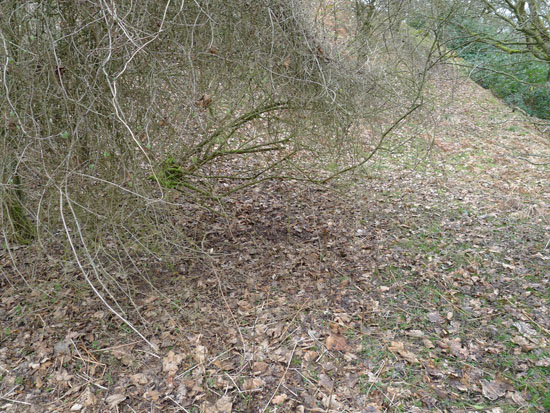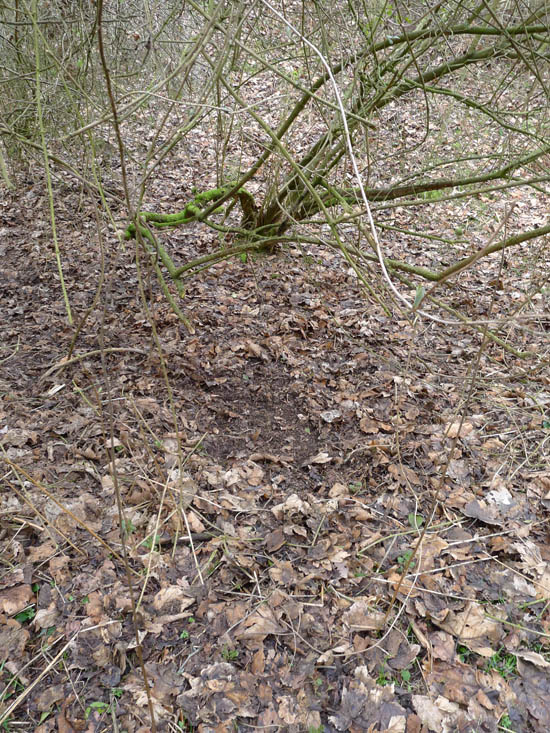 Further on still I found fresh disturbance on some steep ground which an animal had traversed and here there were also some droppings that were quite fresh. Shortly after this point, the trail disappeared into a dense thicket of rhododendron.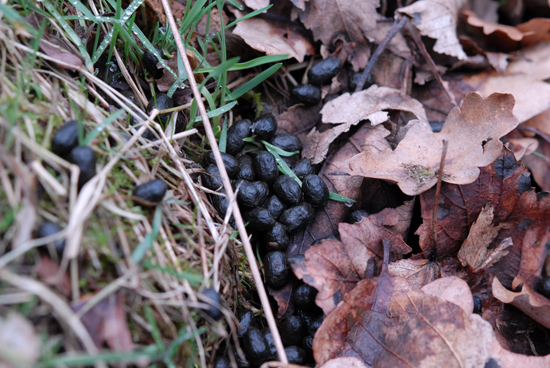 Barking
Several species of animal will take bark off trees for food, particularly in winter. When trying to work out which species of animal has removed the bark, think about what the height of the damage suggests about the size of the animal. For example a deer can reach higher than a rabbit. As well as an animal's stature, also consider abilities of various animals – for example squirrels will climb up and bark trees high up. Look for other sign of animals nearby – for example rabbit runs, deer racks, droppings, fur or hair, other feeding sign or anything else that corroborates your suspicions.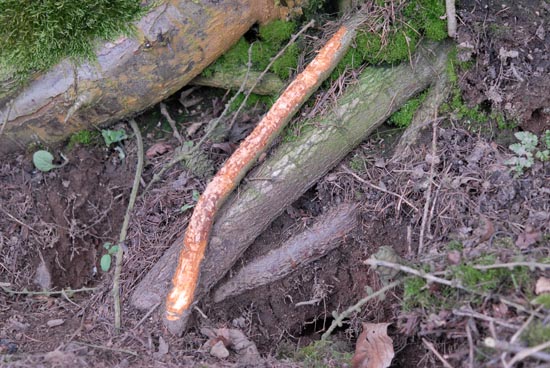 As you learn more about animal behaviour this knowledge will also help differentiate between similar damage made by different species. For example, deer and sheep are both ruminants and both have two incisor teeth at the front of their lower jaw and a hard pallet replacing their upper incisors; when deer bark trees they tend to insert their (lower) incisors and then strip the bark by running their teeth vertically up the trunk of the tree, whereas sheep tend to work more across the axis of the trunk, giving the appearance of nibbling rather than stripping.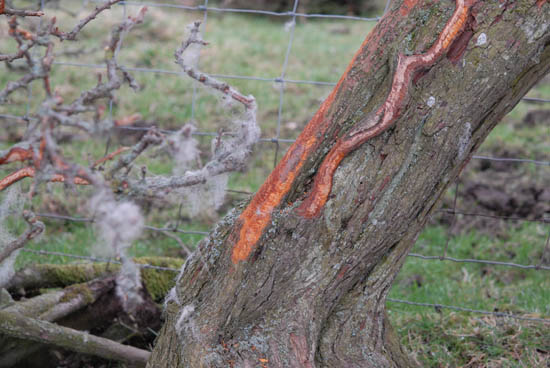 Badgers
The other day we came across a badger sett under a hawthorn hedge halfway up a hillside of moderate slope – classic positioning for a badger's home. Later on in the woods, down near a stream, we found fresh evidence of badgers feeding from a rotten tree stump. The mossy turf had been pulled back, the earth dug and the stump raided for grubs.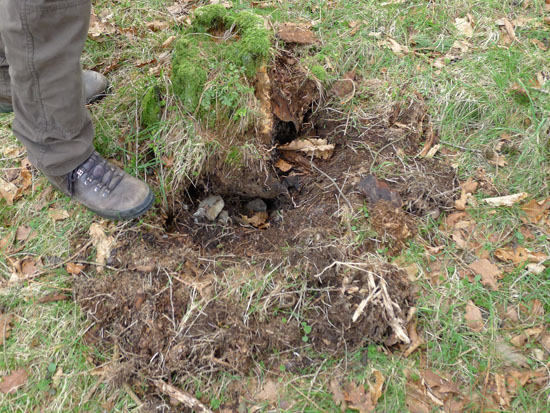 Owl Pellets
Not long before dusk we were walking through a mature conifer plantation. We came into an area populated by mature larches, lofty and well spaced with a mossy understorey. We stopped for a brew and nearby there were a couple of owl pellets. Owl pellets are a mass of regurgitated indigestible material that does not pass through the owl's gut. The contents of the pellet give you a very good idea of what the owl has been feeding on.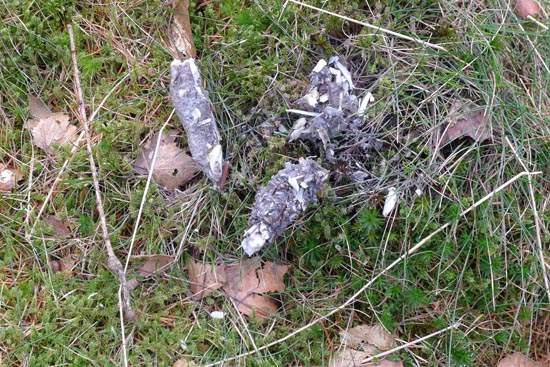 The size, shape and contents of the pellet also gives a good indication of which species of owl might have produced it. This is something I'm by no means an expert in but my deduction, based on the uneven nature of the surface of the pellet and the number of bones showing and protruding, is that these pellets were produced by a tawny owl. They were quite long though so I also considered whether they might have been produced by a long-eared owl based on descriptions in my field guide. If any ornithologist reading can shed more light on this, then I'd be most appreciative.