Way Out North: A Boreal Forest Foray
Way Out North: A Boreal Forest Foray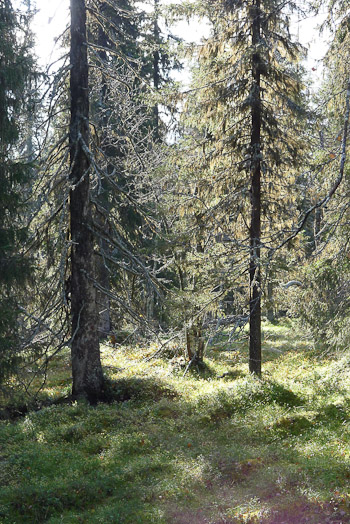 Recently a couple of the Frontier Bushcraft team and I took the opportunity to get away for a short foray in the northern wilderness.
We only had a week to spare in between teaching and guiding commitments.
Our destination area has no hiking trails and we were likely to see few people.
The idea was to explore by foot, taking some food and camping equipment with us as well as investigate the resources available to us.
We travelled to northern Sweden and stayed with friends on our arrival. After a full day of travel and a meal of elk meat, we slept very well.
The next morning we headed out and were taken up the lake by motor boat and dropped off on the shore at our chosen starting point.
It was raining hard.


Equipment
This type of environment requires tough and protective gear. The fact we were hiking required it to be as light as possible. This is always a difficult balance to strike. Overall our kit (and food) needed to be a comfortable weight so it wasn't a burden and we could be as mobile as we wanted to be. Yet our shelters and clothing needed to keep us warm and dry. My personal outfit included items of clothing and equipment that are familiar, well-used and trusted as well as some newer items I am currently testing.
We had expected poor weather and packed accordingly. It was the end of September and we were headed well inside the arctic circle. Cold, wet and breezy with the possibility of snow. This is properly into hypothermia territory. In low-lying areas it was also going to be very wet underfoot, even if it wasn't raining, so we'd have to be careful with our footwear management and foot care.
So it was on our first day that we walked all day in the rain, crossing wet ground, circumventing dangerous bogs and hopping streams. When we stopped for lunch, we quickly pitched a tarp for shelter.
In the evening we set up camp in some woodland near to a small lake. Our camp set-up was simple. Two of us had chosen tarps, the other a tent. The additional tarp I carried was to create a covered group area for cooking, eating and other communal activities.
Given the rain, we were very glad of having this tarp. It had already proved valuable at our lunch. The rain abated in the evening but we were still glad of the warm space it facilitated.
The group tarp was set so that we could have a small fire underneath for cooking, drying clothes and keeping warm.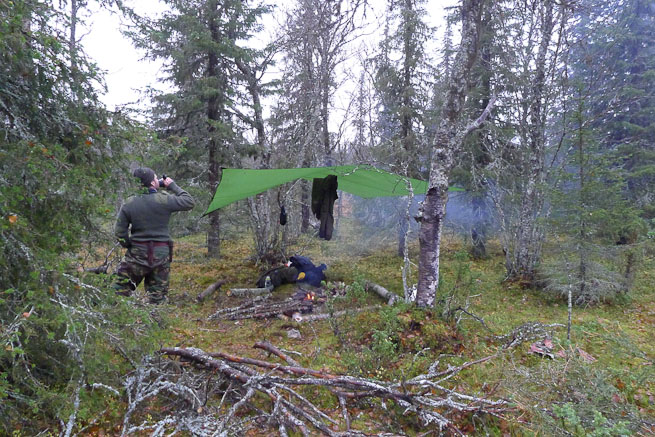 Despite the potential for cold and wet on this trip, I still wanted to sleep under a tarp, so that I could make the most of being in this incredible environment. Tents are always a few degrees warmer and you are more protected from wind and environmental moisture than under a tarp. BUT there is something special about a the feeling of being in a bivvy under a tarp, breathing fresh air and feeling the breeze on your face. As mentioned above, I chose kit that would be warm and protective yet overall kept to a reasonable weight; this extended to my sleeping kit. This environment contains a lot of water and at this time of year, it has the potential to be pretty cold at night. So it was particularly important to get the sleeping kit right (and still be able to carry it!)…
As people are always interested in the kit I use, here are the details of the sleeping kit I selected for this trip: a lightweight silicone-nylon 'Scout' tarp from MEC in Canada, a 4-season RAB down bag (model has been superseded) with Pertex Endurance outer and a Mountain Range bivi bag (no longer produced). Overall, it's a robust, warm and weather-proof combo, the weight of which is not onerous.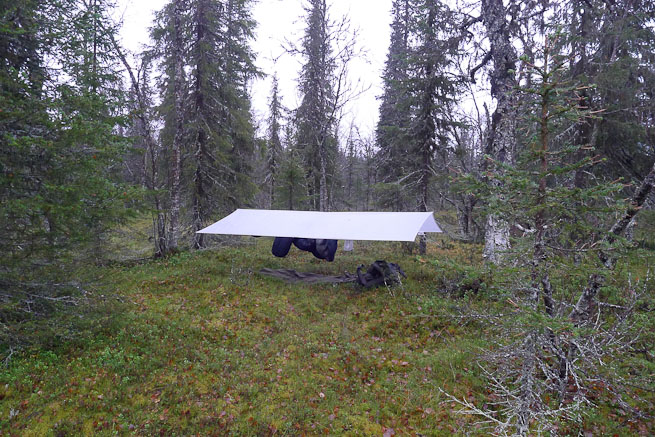 To Explore
The idea behind this trip was to explore.
If this seems a little vague then it was meant to be. There was no pre-determined route; no trails to walk; we had no pre-specified distance to cover each day; no particular peaks to scale; nothing to tick off.
Just explore. Have a look around. See what we could see.
That's exactly what we did for five days.
One of the first things I came across when heading out from our first camp was bear scat. It was full of berries and pretty sloppy looking.
I backtracked and found the bear's trail coming through long grass on the edge of a small lake.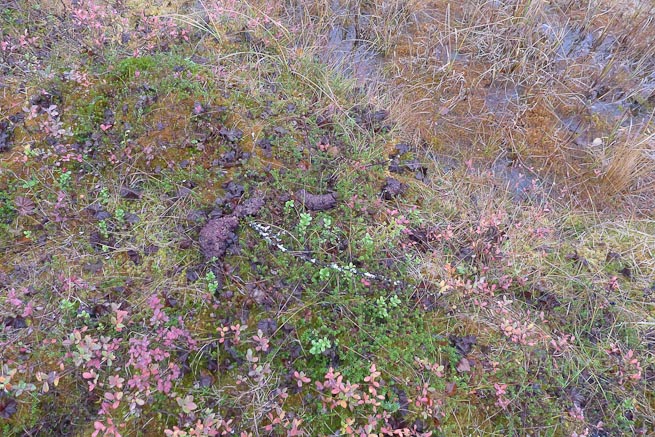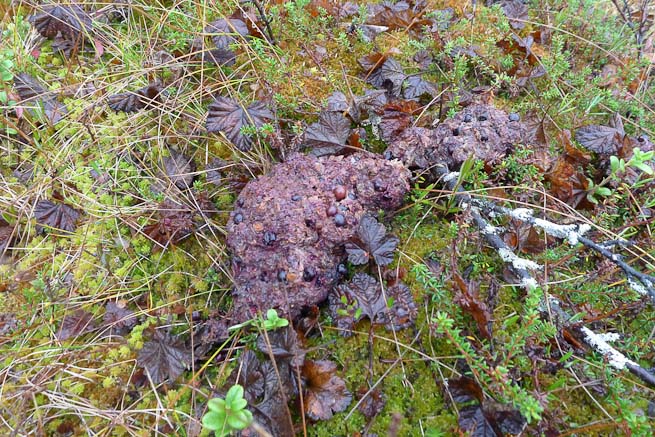 Taking On A Natural Rhythm
As adults, we become very goal oriented. We have to have goals. Things to do.
This trip was different. The goal was amorphous, if there was a goal at all.
It felt a little weird at first. But then nature's rhythm started to kick in.
And we just went with it. Wandering.
Whatever it was, we slowed down. We looked. We took notice of the little things.
We soaked up the environment. We stopped to watch treecreepers, Siberian jays and ravens.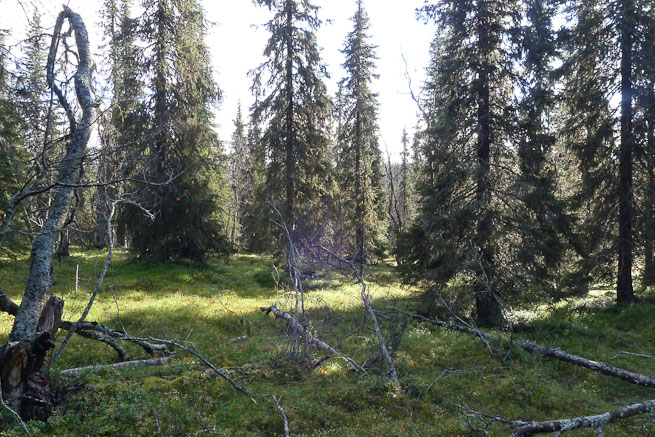 We had maps and compasses. We had a clear idea of areas on the map we'd like to have a look at. But if we didn't get there, it didn't actually matter. If we found something interesting on the way, we'd stop and experience it, rather than feeling pressured to move on.
We found elk tracks in puddles. We found many incredible wood ant nests.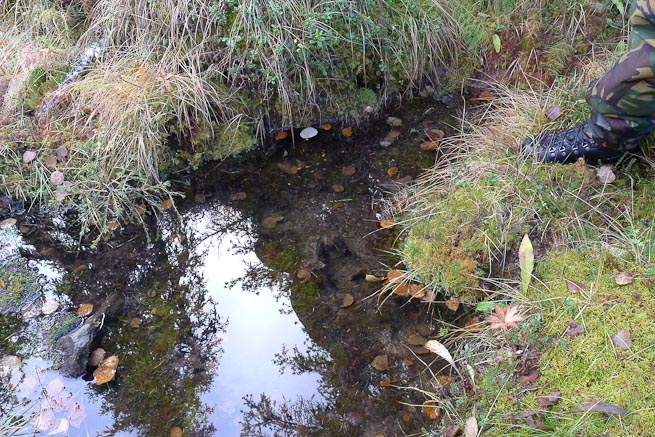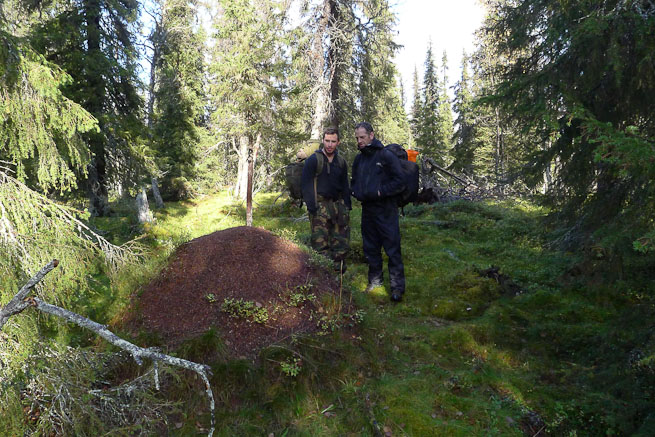 It's worth repeating we weren't on any marked trail. There aren't any in this area. We were wandering cross country and keeping track of where we were using the map.
This felt more like the forest explorations I made as a young boy.
When I was five years old, my family moved to North Wales and we lived there until I was 10. Behind our house was a mature Forestry Commission forest and I used to walk there with my family. Later when I was a bit older, I used to roam around all day with my friends. Through gradual exploration, eventually I came to know the woods like the back of my hand. I knew individual rocks, ditches, streams, footpaths, even trees. I still attribute my ability to quickly make good mental maps and stay oriented to those formative years. I never once used a map or compass there.
Back to Sweden, then. Wandering around these woods brought back the childhood feeling of roaming, not with a destination in mind but with the aim of seeing what was there. It felt very free.
We stopped for lunch in a beautiful spot. The sun was out and we appreciated the warmth after the previous day's deluge.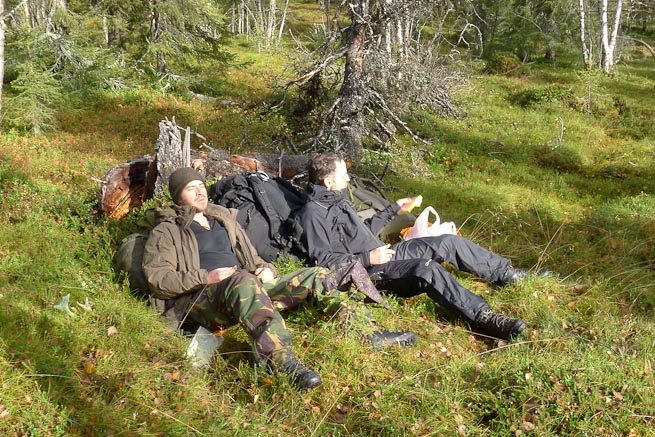 While we were sitting there, we noticed an eagle had landed on a treetop not far away. This was quite an incredible sight. It was clearly checking us out. After a little while, it flew off, taking a broad arc around us in a somewhat circumspect way but still checking us out. It's wingspan was large, larger than that of the ravens we had seen earlier.
As we finished our lunch, the temperature dropped. Shortly after the sky darkened. I knew were were in for a treat. Shortly after there came hail and sleet.
Berries. Lots of Berries.
As the bear scat suggested, there were lots of berries around.
Everywhere we went there were various different types of berries in varying proportions.
Bilberries (also known as Blaeberries) were most numerous in this area. Some were past their best but we still managed to find a good number worth sampling. There were also plenty of Cowberries (known locally as Lingon) as well as Crowberries.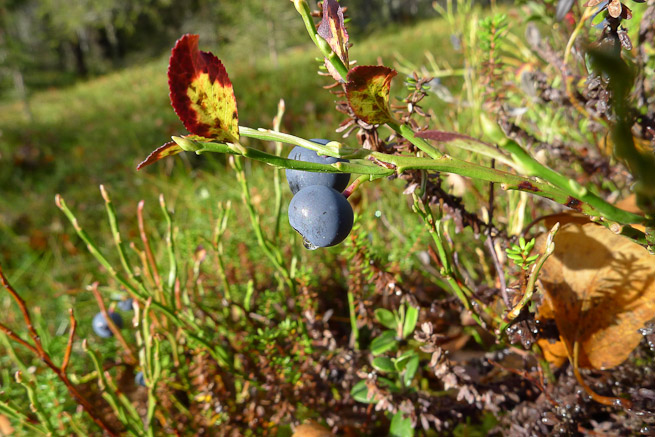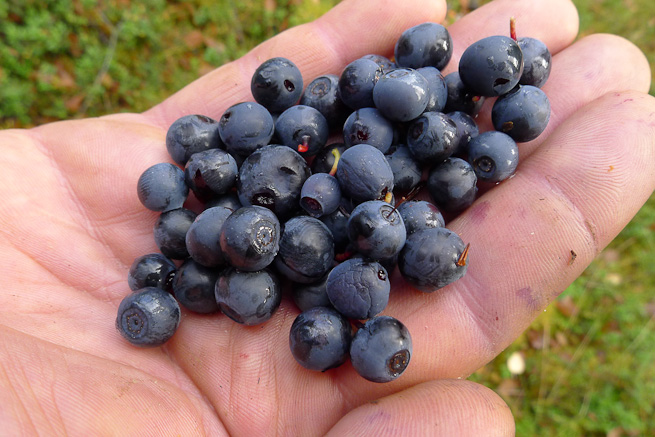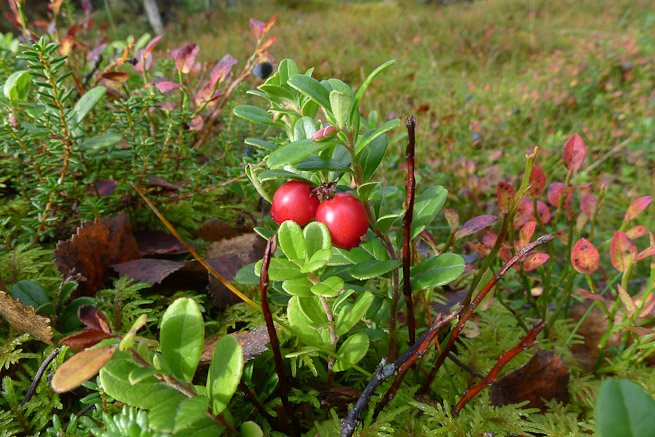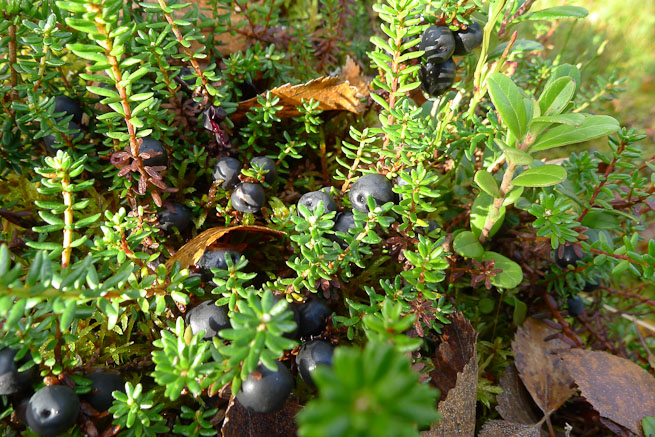 A Room With A View
We headed down towards and area where, as we could see from the map, had a river flowing out from a lake. We thought we could find a good area to camp.
Sure enough we did. Not right next to the river as we expected, however, (it was too rocky) but on a ledge halfway up the escarpment.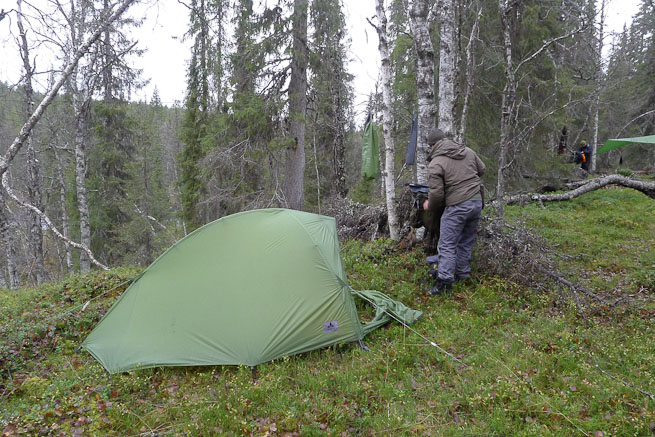 The forest here was more dense. This combined with having a steep slope behind us meant we felt less exposed to the elements. It was also a good choice from a temperature perspective, being neither at the local low point nor the local high spot.
This theory behind the choice proved valid. As the light faded, it was noticeably colder down near the river (some of this would be dampness but nevertheless the air temperature was definitely lower). As an experiment one night, I bivvied higher up, on the flat ground at the top of the slope. There was still plenty of tree cover but my tarp and some of the ground vegetation frosted over, while my buddies' camp on the ledge below was frost free.
We had to drop down a steep slope to get our water. This was no hardship, though, as the river was beautifully wild in its character. We knew it wasn't true but we felt as though we were the only people who had ever set eyes on this place, it was so pristine.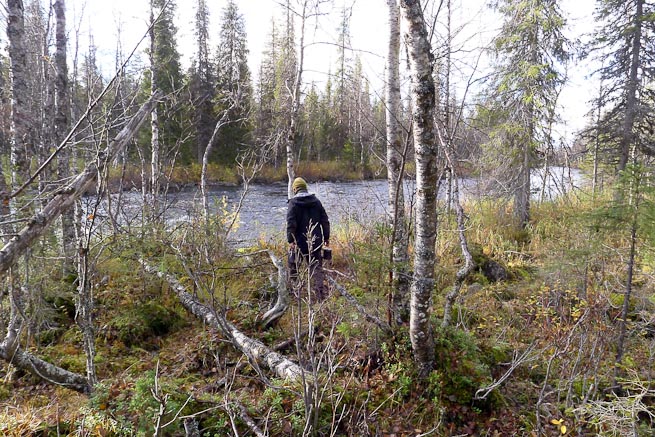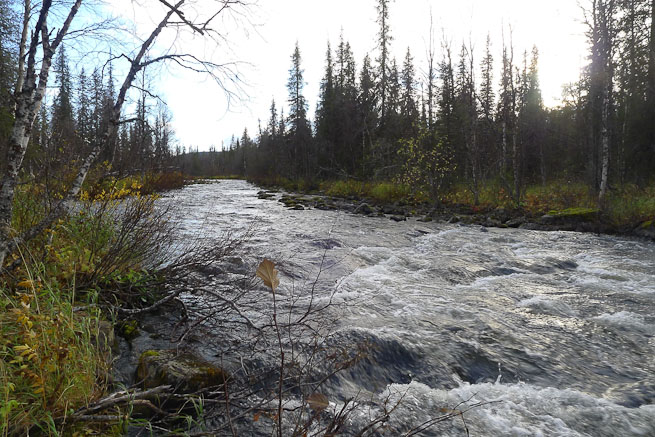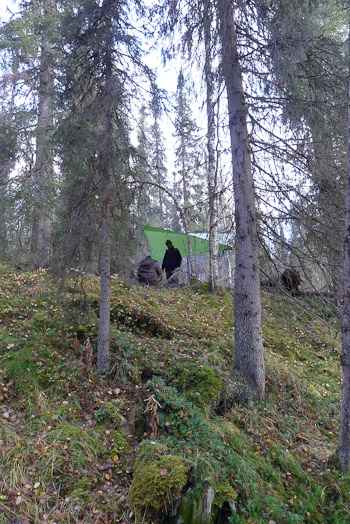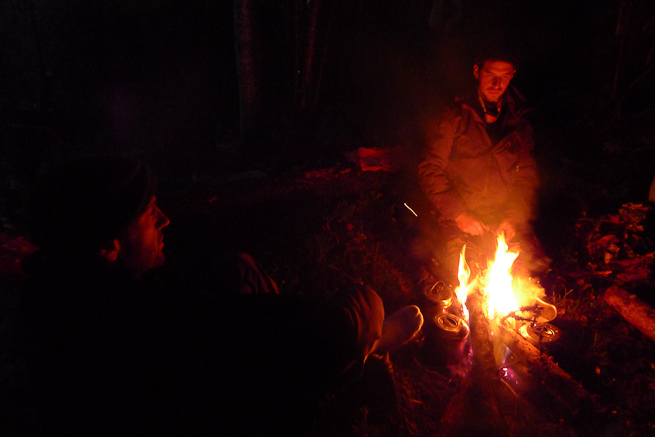 We liked the area local to our camp. There were various aspects to examine and the riverside habitat was richer than the rolling hillside forests we had been roving for the past two days. There was a greater diversity of plant life and there was the river bank and lake shore to explore. So we stayed for a couple of nights (which is how I could experiment with sleeping in different spots).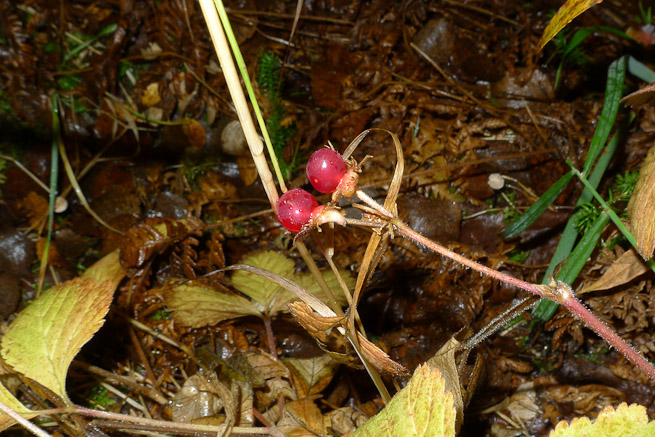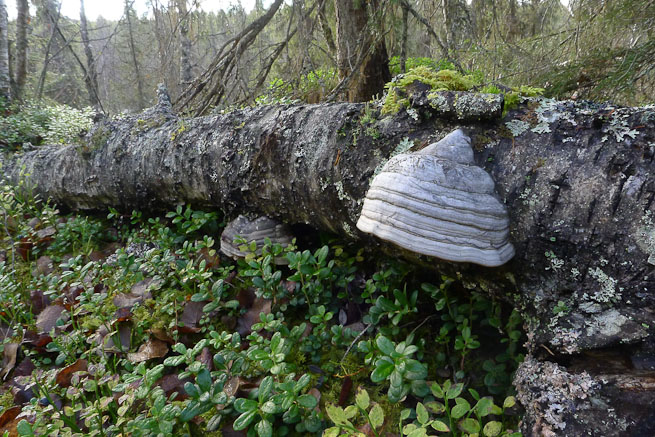 After a while in continuous forest, when all you can see are the trees up to 50 metres in front, you start to feel quite myopic. Upstream, where the river flowed out of the lake, we looked up the lake and had the first larger scale view of the landscape we'd had in several days.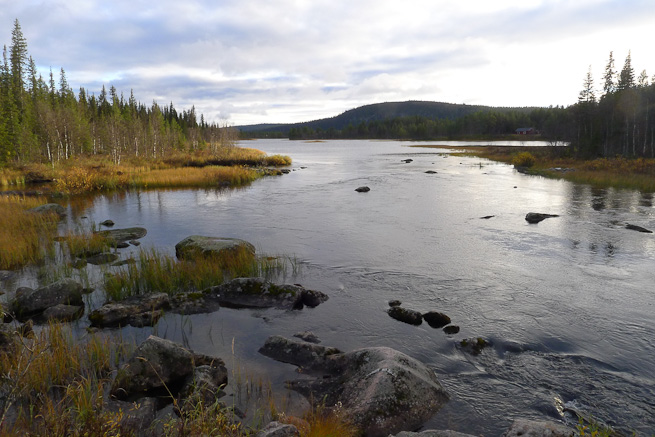 We explored the shore of the lake a little. On ground with a much a gentler gradient than the escarpment down river, the woods were more open and the mix was different. Here there was more Scots pine, with some of the trees being large. Trees grow slowly here and these were old.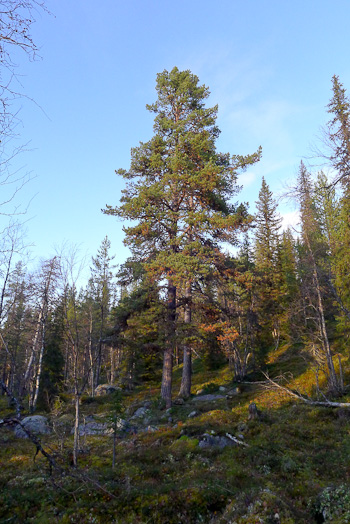 Land Of The Elk
There were lots of elk trails in this area too, with a particularly well-developed network on the plateau at the top of the escarpment.
Away from the main trails, deeper into the woods there was also plenty of elk tracks and sign. Good clear prints in the soft ground were quite common, as were droppings. We also found trees which had been barked.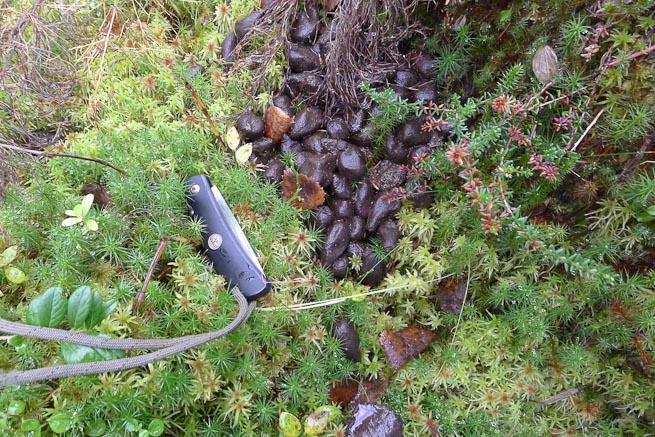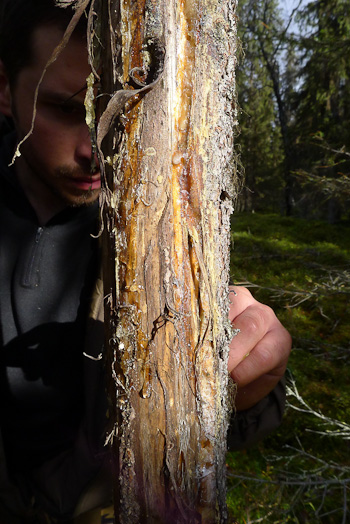 Big Landscape
While we hadn't had any particular objectives in mind, one of our local friends had recommended we visit a particular lake if it fitted with our journey. It was nestled in a hollow below the flanks of one of the nearby mountains. We were told it was very scenic.
At 700 metres (2,300ft) above sea level, the small lake was about 250 metres (820 ft) higher in elevation than the large lake we had visited upstream from our campsite.
We studied the map and worked out a route to reach the small lake.
After a good night's sleep, we broke camp and headed cross-country (it's all cross country here) towards the recommended lake, on the shores of which we planned to camp for the night.
Our route took us through some beautiful forest, sometimes dark and dense, other times with views into more open – usually boggy – areas. All of this section was very wet underfoot. At times, we clung onto trees to keep balance, stepping from tussock to tussock. Even though it had stopped raining, the week of rainfall that had extended into the first day of our trip was still running out of the hills and collecting in the already sodden low-lying areas.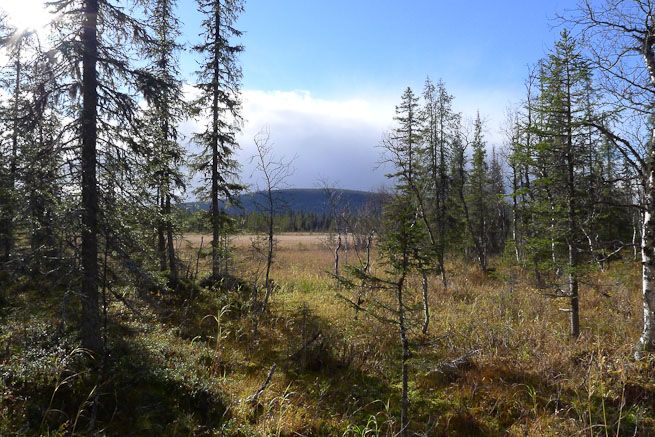 As we began to climb, the ground underfoot became much more firm. Sphagnum moss gave way to bilberries and cowberries again. We also started to get glimpses of the wider terrain. By lunchtime we'd found a spot with a good view over the surrounding land. This is big country and from our hillside lunch spot perched on a granite boulder you could start to appreciate the extent of the forest we had been within for the entirety for our journey to this point.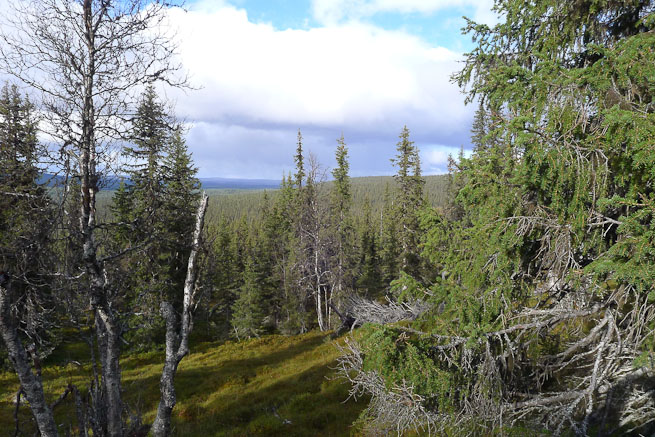 After lunch, as we climbed higher the nature of the forest changed again. All the trees were smaller but the birches in particular were stunted. The thinner forest cover allowed views to the hills beyond, the tops of which rose above the treeline.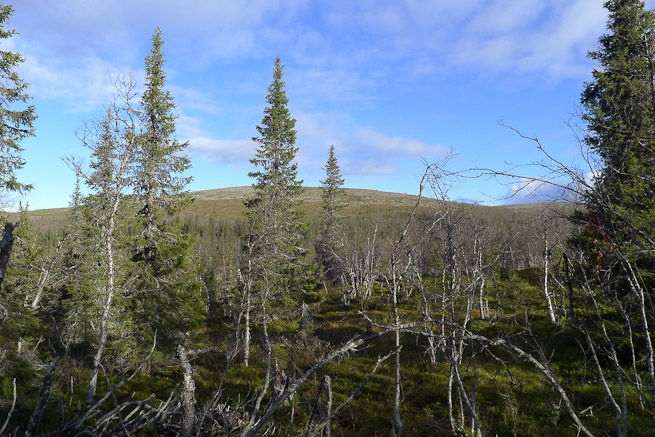 When we reached the local high point, we could look over the dwarf trees, back down to the rolling, forested landscape we'd explored in the previous couple of days.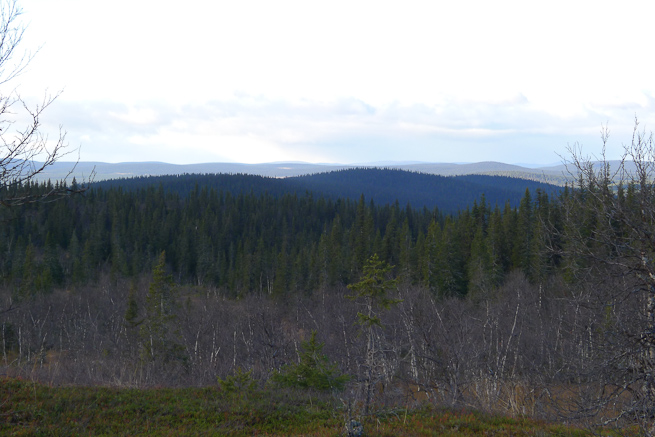 From this local high point, we had to drop again and cross a broad saddle-shaped piece of land to gain an attack point on our lake. Interestingly, though, it had started to snow and visibility was dropping. Some simple map and compass work made sure we were heading out on the correct bearing.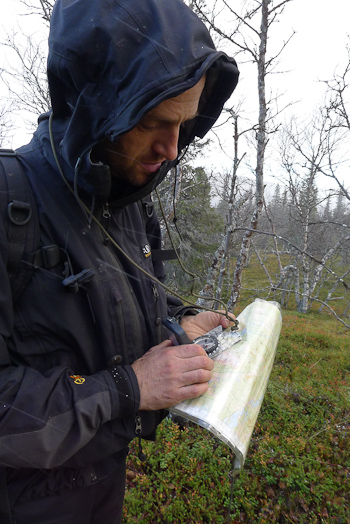 We weaved our way amongst the gnarled hilltop trees and dropped down into the saddle beyond. Just as quickly as it had started to snow, it stopped and the sun came out. But looking at the clouds in the distance, we knew we were in for more snow before too long.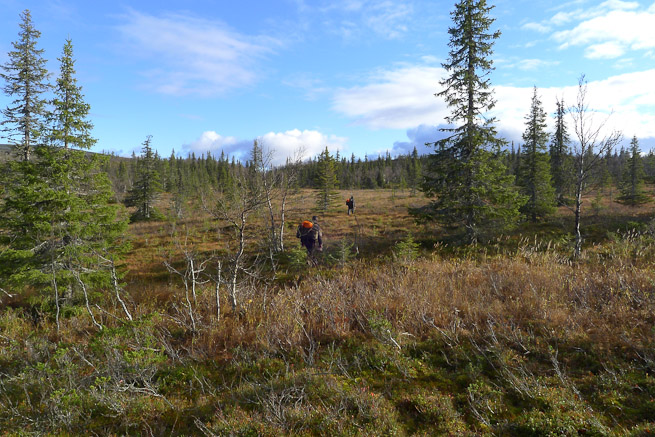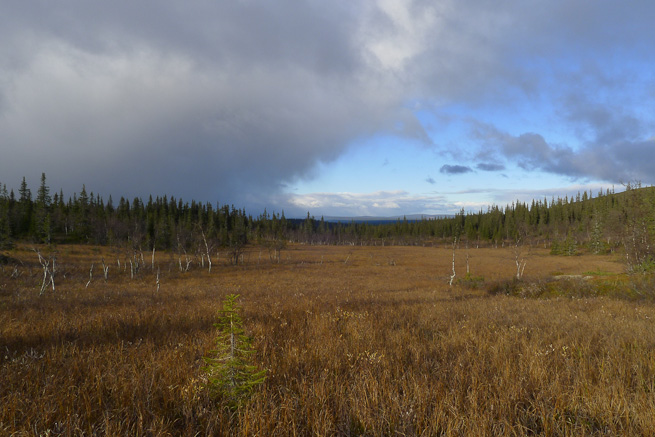 We weren't far from the little lake now. We approached the stream flowing from the small lake and crossed it.
Just here was a mountain ash tree, which had turned the most eye-catching of reds. It was the only one here in amongst all the spruce and birch.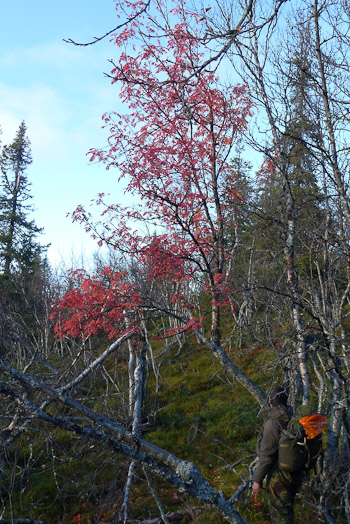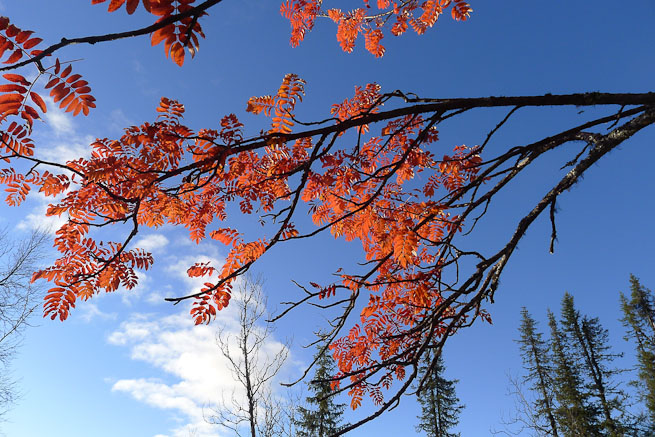 First Taste Of Winter
By now, it was late afternoon. The sky had cleared following the earlier snow flurries and the temperature was dropping. It was going to be a cold night. The Sun was casting long shadows, which harboured little patches of snow that had fallen earlier. Up here, winter seemed just around the corner.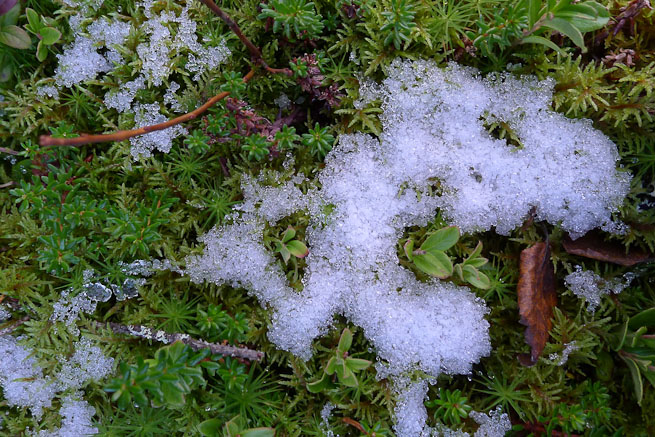 As the temperature dropped further, you could feel the effect of being 250m (820 feet) higher than our previous camp. We were more open to the sky too. Our friends hadn't exaggerated, though. The small lake was a very scenic spot.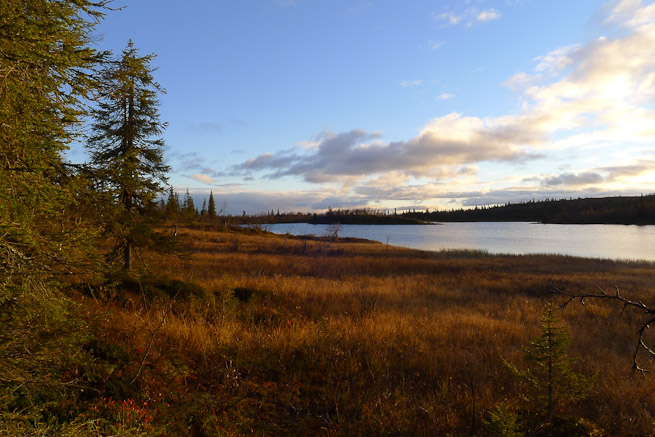 We found a spot to camp, where we could create what had become our usual central communal tarp area with satellite personal camps. We gathered a bit of firewood and established a small fire, putting on some water to heat for a hot drink. We then had a wander along the shore of the lake. Out of the trees, the breeze coming off the lake was quite biting and I certainly felt it on my hands when I held my camera. As the light became too low for photography and the lure of a warm mug in my hands increased, I headed back to camp.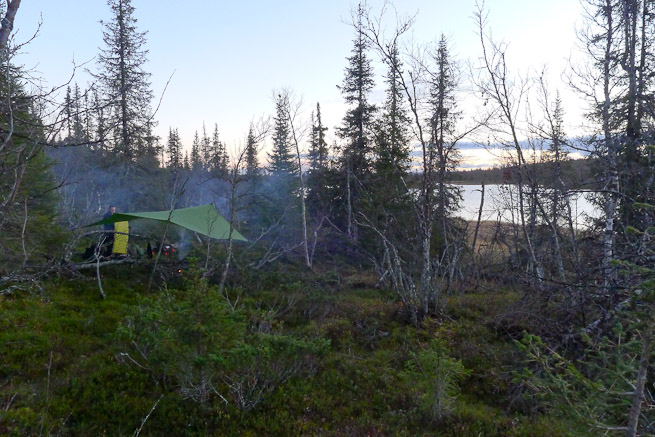 As usual, we ate well and enjoyed the warmth of the fire. We also went through the daily ritual of removing as much moisture from boot insoles and socks as possible. We sat and chatted longer than normal, not just because it was the last night in the forest but because the cold blackness away from the fire did not seem inviting. Out in the open there was a hardening frost.
The next day I awoke to a strange sensation on my face. In my half asleep state it felt like pins-and-needles. I then realised what it was. Gentle flurries of snow were blowing under my tarp. It was still pretty much dark, so I pulled the flap of my bivvy bag over my face and went back to sleep. When I awoke a couple of hours later, there was quite a dusting.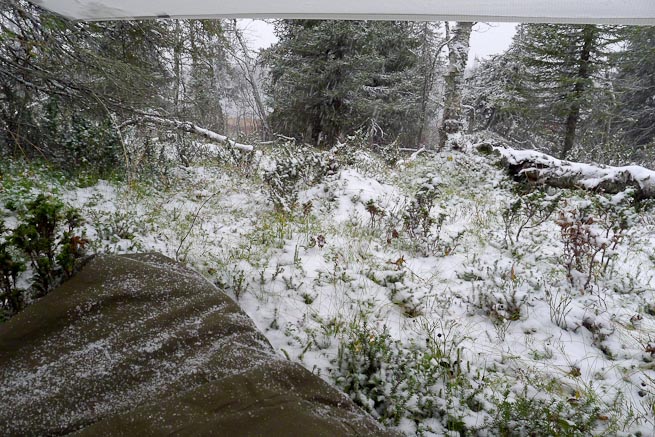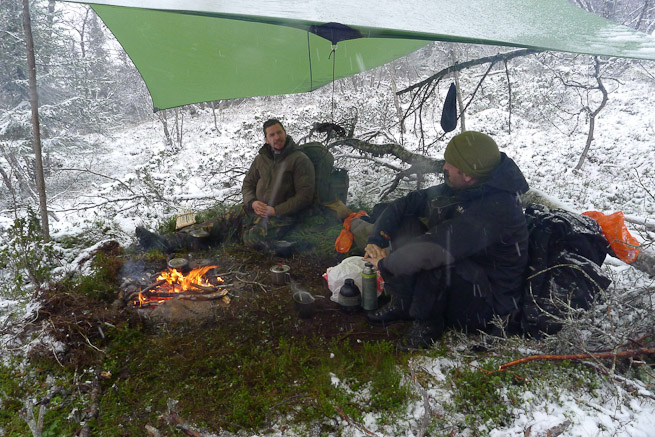 During breakfast we were again glad of the tarp and the fire, creating a warm space in which to prepare for the day, including finalising packing. The fire was extinguished, turf replaced and all traces of our presence minimised. Taking down the tarp was pretty much the last thing we did before leaving.
A Little More Distance
This was our last day. We needed to get back from our camp to our friend's cabin by nightfall. In between was the mountain on the slopes of which we had camped, followed by a hike through the forest on the far side. It was a fair distance to cover and it would take us most of the day to walk. For the last couple of kilometers we would need to pick up one of the few trails in the area, leading us through some dangerous swamps. First though, we had to get over the mountain.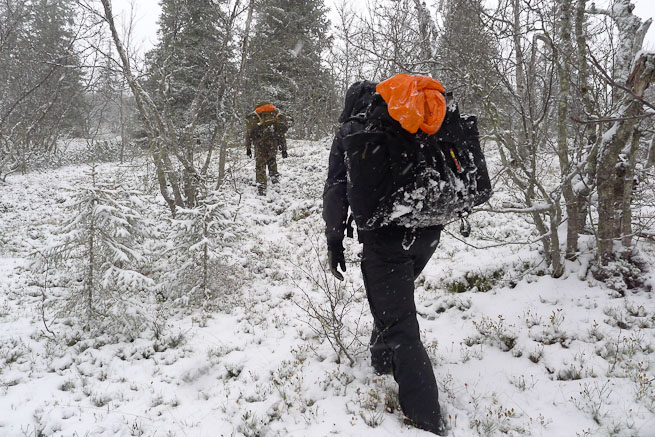 I'm a UK Mountain Leader and I've done a lot of walking in the Scottish Highlands. The terrain up here on the hill in Sweden really felt a lot like some of the places I've been in Scotland, only with trees extended further up the slopes. It made me think about what the Scottish Highlands might have looked like in the past.
I've also done a fair amount of Scottish mountain walking in winter conditions. The hill we were headed up in Sweden was big and round, with virtually no crags. While I'm always respectful of winter conditions, I was happy that the terrain was straightforward. The summit is a little over 755 metres (2,480 feet), so we didn't have much of a climb from our camp. Care would have to be taken on the descent, however, which was much further than our short climb and the map indicated it would be rocky in places. This combined with wet snow would mean we'd have to take care with our footing.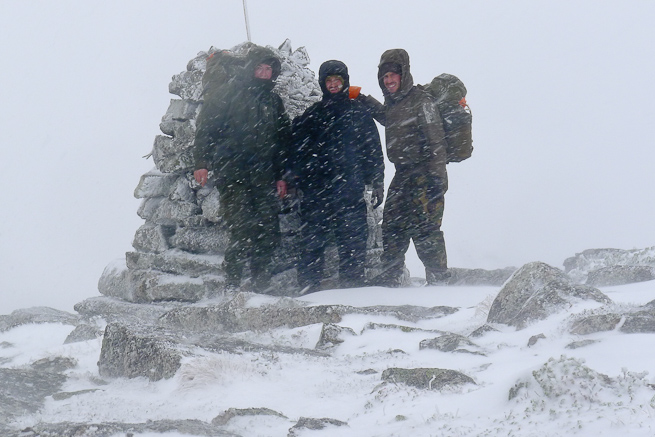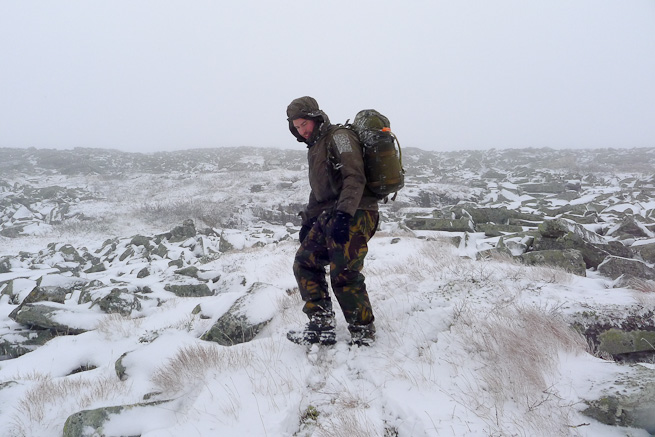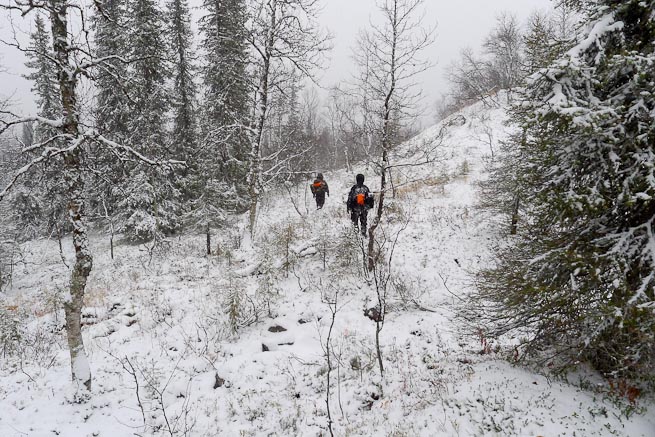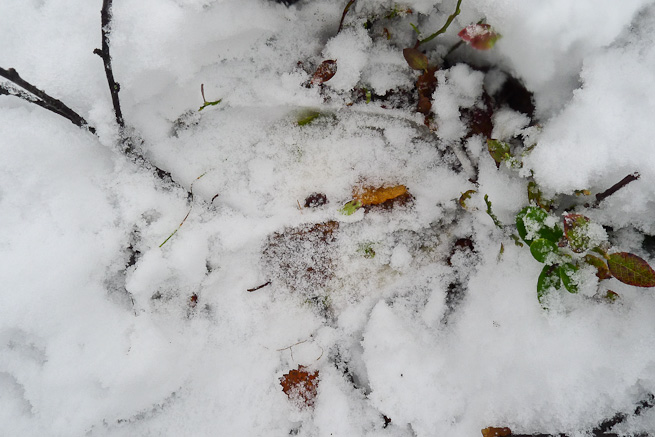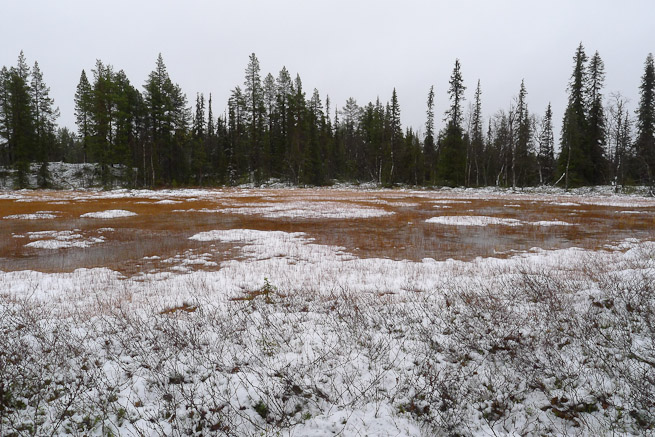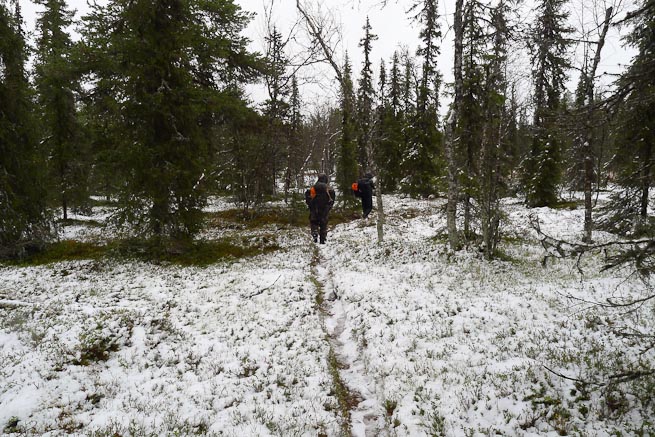 We made good time and arrived back at our friend's place 2.5 hours before nightfall. After a glorious sauna, we reflected over dinner and a couple of drinks. It had been a superb week. It had been varied, both in terrain and conditions. Yet, we'd remained well inside our comfort zone and enjoyed it all. While in many respects it felt like a holiday, we'd also been out for 5 days in conditions which would cause inexperienced or ill-prepared groups some trouble.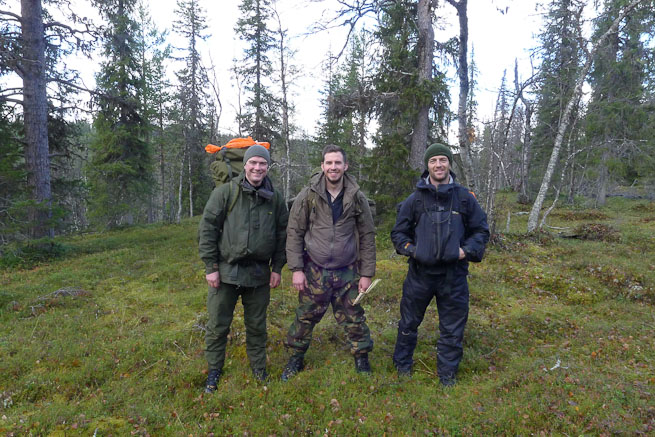 If you did find yourself in difficulty here, getting help would not be easy. Nor would you want to wait for passers by to help you. We did not see another soul from when we were dropped by boat until we walked up to the cabin 5 days later. Even though mobile phone reception is generally much better in this part of Sweden than in many rural areas in the UK, we had two days mid-week when there was no signal. Personally I was glad of this but I monitored the reception out of professional interest.
Heading out into wild places is a fantastic experience. Personally, this trip allowed me to re-charge my batteries after a busy 6 months of teaching wilderness skills courses before heading to Scotland to work with Ray Goodwin on a River Spey canoe trip.
If you are inspired by our journey in the northern wilderness, before you do something similar make sure you are fit, well prepared and, in particular, that you can navigate well. If you do all of this, you'll have a great time, just as we did. Wild places are not to be feared, they are not places to be escaped at break-neck speed, they are to be embraced and enjoyed.
Let me know in the comments your favourite place, area or type of terrain to hike; or let us know what's on your bucket list – where would you like to go? What kind of trip would you like to make?
Related Articles On Paul Kirtley's Blog
Hypothermia And How To Avoid It
Winter Magic: Return To The Northern Forest
Surviving A Winter's Night In The Northern Forest: How To Build An Arctic Lean-To