Urban Wear Fit For The Wilds? UNIQLO Ultra Light Down Gilet
Urban Wear Fit For The Wilds? UNIQLO Ultra Light Down Gilet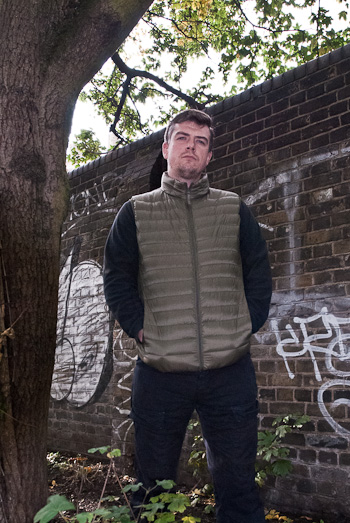 Sometimes life produces interesting coincidences.
Last month I was travelling on the London Underground – something I do only infrequently.
I noticed a poster advert for UNIQLO Ultra Light Down Jackets.
Not only did the words ultra, light and down catch my eye, but so did the price.
£59.90
The outdoor clothing industry has always placed a premium on down clothing.
The best is excellent, however, providing superb warmth-to-weight ratios.
But it's also the case that some products are packaged and marketed at higher prices in one market niche than others, particularly where the perceived value is higher.
This type of segmentation goes on all the time.
For example, I've seen fire-lighters packaged nicely and marketed in outdoor shops at ten times the price you can buy the same substance sold elsewhere for lighting BBQs.
Potential Value
For the canny consumer, these product arbitrages exist all over the place. You just need to go looking.
So, I wondered if down clothing, sold by a casual clothing company, would be any good for terrain more wild than the local high street.
I'm always looking for good value clothing and equipment recommendations and here was some potential value.
Coincidence
The coincidence came out of the blue a couple of weeks later, in the form of an email from UNIQLO asking if I'd like to try one of their Ultra Light Down (ULD) Jackets.
Had they been reading my mind?
Was I actually living inside the Matrix?
Putting these existential questions aside, I said yes.
Looking at UNIQLO's ULD range, I saw that they also produce an ULD gilet as well as ULD jackets. Moreover, the gilet is available in olive green, which fits in with the subdued natural colours I like to wear while outdoors.
You see so much more wildlife that way…
UNIQLO were happy to send me one of these to try. The gilets retail for £39.90 (or EUR49.90), which again seems like decent value on the face of it.
Regular readers will know my attitude towards the myriad so-called reviews and un-boxings that exist all over the internet.
So, by my definition, this blog isn't a review as such. I've had the gilet only two days.
Rather, it is a note of my first impressions and intentions for further testing of this ULD garment.
ULD Gilet – First Impressions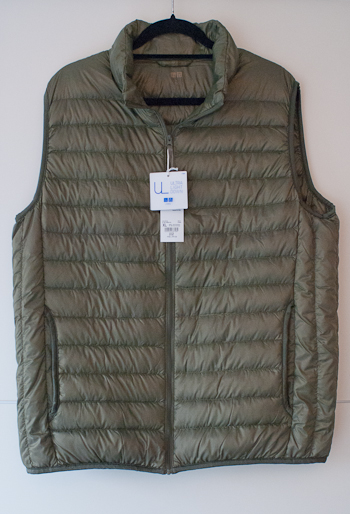 The very first thing you notice when you pick up the garment is that it's light. Very light.
I opted for XL sizing – which, as it turns out, is a bit big for me – but it's the largest this garment gets and it weighs only 175g including its neat stuff sack.
When you wear it, you actually hardly notice it except for the warmth. It's light and comfortable but it does feel noticeably warmer.
I haven't had the opportunity to wear the ULD gilet in cold conditions yet though. I'm sure with winter approaching and the prospect of some chilly evenings and frosty mornings not too far into the future, I'll be able to better assess the gilet's effectiveness as a thermal layer.
The garment fill is 90% down and 10% feathers. The shell is a lightweight nylon polyamide material. This combination allows for the gilet's light weight. The fill power is claimed as "640 or higher".
If you want to understand more about down vs feather and fill powers, have a look at this.
Also, this Ultra Light Down garment is not complicated. There are very few extras, which helps keep the weight down.
ULD Gilet – Detail
There's a simple hanging loop and the logo is printed rather than, say, embroidered which I'm guessing saves a few grams as well as reducing cost.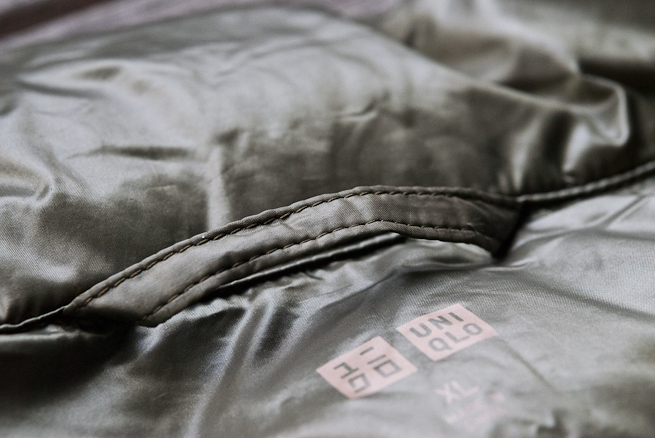 The zip is lightweight but should be decent quality as it's YKK. There is also a tape zip-pull which is a nice touch and good for days when you have cold fingers or are wearing gloves.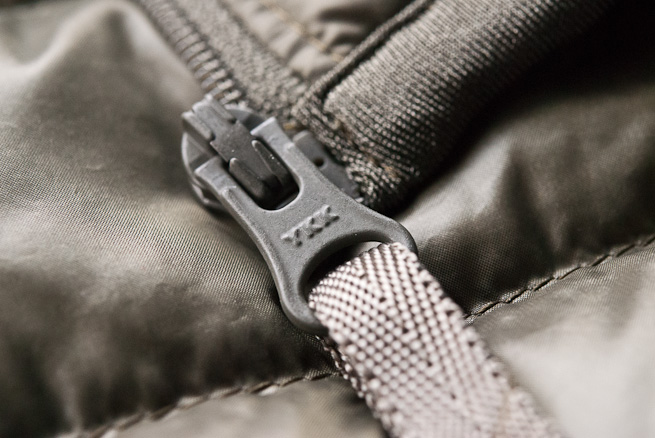 On the subject of cold fingers, there are two hand-warmer pockets. These are not zipped but the edges are finished with tape, making them pretty neat. The way the pocket lining material is stitched into the gilet effectively creates two internal pockets too.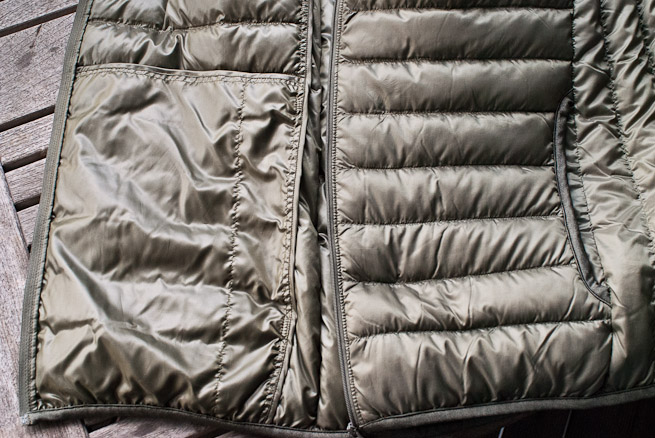 The collar is a reasonable height and covers a decent amount of the carotid area of the neck, from where you can lose a lot of heat.
Each ULD garment comes with a stuff-sack made of the same polyamide as the garment shell. This has a draw-cord closure with a decent little spring-loaded cord-lock.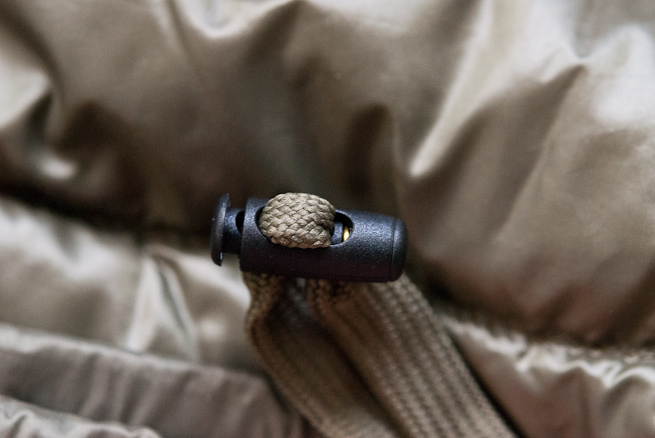 The gilet is very easy to stuff into its sack. Once in the stuff sack it is not much bigger than a 1-litre water bottle and it is by no means fully compressed when stored this way. The stuff sack will nicely conform to other more solid objects you pack it amongst. This will make it easy to pop into a day sack or other travel luggage and still find room for it. Given the light weight of the ULD gilet, you'll hardly know it's there.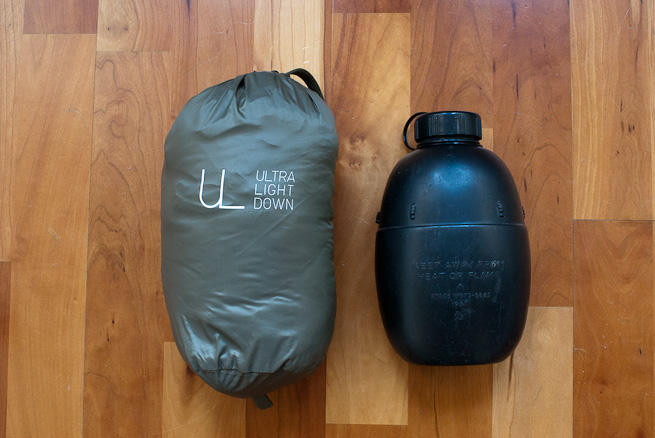 For a weight comparison too, at 205g the (empty) water bottle shown next to the stuffed gilet weights more than the garment.
ULD Gilet – The Plan
This is the plan for my gilet, then – as well as trying it out as an everyday garment, I'll throw it into my day-sack or backpack whenever I'm heading out this autumn/winter and see how useful and effective it is when I need a warmer layer.
I'll also be keen to assess the durability of this garment, particularly while in the woods. The outer shell seems quite delicate. But polyamides are often tougher than they look, so time will tell.
Amongst the swing tags which come attached to the gilet is one which states "Durable water-repellent finish delivers repellency against water, including light rain."
I have no doubt British weather will give me the opportunity to test the water-repellency!
Provided the Ultra Light Down gilet proves to be warm enough, I think this garment has real potential to be one of those garments that you pretty much always have in your bag, just in case it's colder than expected.
This is something I'll be aiming to ascertain over the coming months…
Have you tried any of the UNIQLO ULtra Light Down jackets or gilets? Let us know in the comments below…
Disclaimer: The Ultra Light Down gilet was provided at no cost by UNIQLO for me to review. I have received no payment or reimbursement to write this blog and I am under no obligation to say anything other than what I honestly think about the product.