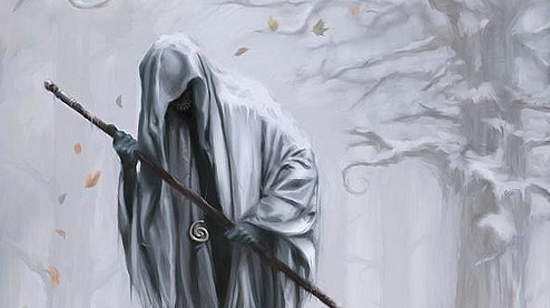 Creeping Death – Hypothermia And How To Avoid It
Creeping Death – Hypothermia And How To Avoid It
Every year people die of hypothermia or in hypothermia-related incidents. Hypothermia most commonly takes hold when people are not prepared for it.  They are often ill-equipped or dressed in inadequate clothing.  They do not understand the contributing factors; they do not recognise the signs and symptoms in themselves or their companions and they do not know how to remedy the situation before it becomes too late.  Even experienced outdoors men and women have succumbed to hypothermia.  Given hypothermia is one of the greatest hazards in the outdoors, it is essential we all make an effort to understand what brings it about and how to avoid it.
What Is Hypothermia?
When you are awake, your body needs to maintain a core temperature of approximately 37oC (98.6oF).  This is sometimes referred to as 'normothermia', i.e. your normal temperature.    
Used as a prefix, 'hypo-' means 'under' or 'below normal'.  So hypothermia means below normal temperature.    
Medically, hypothermia is defined as a body core temperature below 35oC (95oF).  This represents a 2oC (3.6oF) drop from normal body core temperature.  This allows for normal temperature fluctuations that occur through a 24 hour period, including temperature changes in your body while you sleep.  
In reality, however, if someone is awake, normally fit and healthy and has a body core temperature of 35oC (95oF) in a remote outdoors setting, they are likely to be in trouble already.  If they still have the energy they may well be shivering violently.  In the outdoors, you need to do something about a falling body core temperature before it gets to this stage.  We need to look for signs and symptoms of hypothermia in our companions.  Learning to recognise the signs and symptoms – and recognise them early – is very important. 
How Does Hypothermia Occur?
"How do you get hypothermia?" is a question I've heard quite a few times.  It's not a disease and it's not catching!  But if you are already unwell, this can contribute to your susceptibility.  More on this and other risk factors below.    
When the ambient temperature is less than 28oC (82oF), unless your body is protected, you will lose heat to the environment around you.  This means hypothermia can occur in deserts or jungles, not just in arctic or mountain environments.  In fact hypothermia can occur at pretty much any latitude.    
The maintenance of your normal body core temperature, or normothermia, depends on your ability to generate enough heat to balance the heat lost to your surroundings.     
Therefore:    
Hypothermia occurs when your body's heat loss exceeds its heat generation, causing the heat content of your body to drop.  As the heat content of your body drops, your body core temperature will start to fall.  As your body core temperature drops, your body's systems start to shut down with vital organs eventually ceasing to function.  If this process is not halted, it will lead to death.
We can see from the above that, in general terms, hypothermia can come about through increased heat loss or decreased heat generation.    
Outdoors, hypothermia comes about though exposure or immersion.    
Exposure Hypothermia
Exposure hypothermia is characterised by chronic exposure to the contributing environmental factors of wind, wet and cold.  The greatest risk of hypothermia exists when all three of these factors are present but a combination of any two of them is sufficient to provide an environment where significant heat loss is possible.  Also, if the temperature is low enough, such as in the boreal forest in winter, there can be a large enough temperature difference between you and your surroundings to create significant heat loss, even in the absence of moisture or wind chill.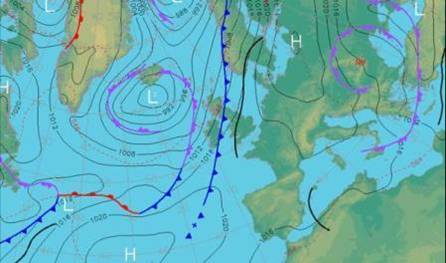 Most cases of exposure hypothermia occur when the ambient temperature is between 6oC (42.8oF) and -6oC (21.2oF).  It is within this range you are most likely to encounter wind, wet and cold all at the same time.  Many incidents involving hypothermic casualties have occurred in temperatures close to freezing, with strong to gale-force winds and wetting of the clothes, particularly due to inadequate waterproof clothing.  At higher temperatures, the cold is obviously not so much of a problem.  Even so, at temperatures as high as 10oC (50oF) if wind and wetting have been present, hypothermia has ensued in cases where the clothing worn was inadequate.  Clothing being wet-through is a common factor amongst many cases of hypothermia in wild and remote areas.  With an air temperature of 5oC (41oF) and wet clothes, your heat loss may be double the rate it would be if they were dry.    
So, how long does it take to get hypothermia? Many incidents involving hypothermia have occurred on hiking routes that would be considered straightforward during fine weather.  In these cases, signs and symptoms of hypothermia typically began within 6 hours of setting out on the journey, often within 1-2 hours of the weather deteriorating (i.e. becoming cold, wet and windy).  The time between the first signs of hypothermia and physical collapse has been recorded as little as 1-2 hours and death has come as quickly as within 2-6 hours.     
These figures should indicate to you that even as a day-hiker you should take the threat of hypothermia seriously.  Because they anticipate being home by night-fall day-hikers are often the worst prepared for poor weather, delays and the possibility of being benighted.  Hence, they carry little or no camping or emergency bivouac equipment, a very limited supply of food, no torch and few spare clothes.    
Exposure hypothermia is an insidious process.  It creeps up on you.  If you are the victim you may well be the last to notice it.  Whatever the level of your experience, you should never underestimate the risk.     
Factors Increasing The Risk Of Hypothermia
Factors that increase the risk of exposure hypothermia include:
Inadequate clothing has been implicated in many cases of hypothermia. Being wet through significantly increases your heat loss. Add to this insufficient or a complete lack of windproof clothing on a windy day and you can quickly envisage a disaster scenario.
Exertion leading to physical exhaustion is normally a factor in the more serious cases of hypothermia as it eventually leads to a decrease in heat generation either through lack of energy and/or lack of activity.    
The level of your energy reserves is vital in fending off hypothermia.  In moderately cold conditions where your body is subject to cooling over a long period, while your energy reserves remain intact, your body can work at a rate that generates enough heat to offset heat loss.  Once your energy reserves are exhausted (what athletes would call "hitting the wall"), you can't maintain your rate of work and heat supply falls.  Thus, once your energy reserves are exhausted your core temperature begins to fall and you succumb to hypothermia.  Even if you are then removed from the cold, your body finds it very difficult to generate the warmth necessary to re-warm spontaneously because your energy reserves are exhausted.  Indeed you may continue to cool.  These circumstances are sometimes referred to as 'sub-acute hypothermia' or 'exhaustion hypothermia'.    
Sub-acute or exhaustion hypothermia most commonly occurs amongst hill-walkers and climbers being exposed to moderate cold combined with windy and wet conditions.  This type of weather is common in the British hills.  Competitors in endurance activities and events such as mountain marathons are at risk all year-round, not just in winter.    
There is a seeming paradox that is critical to be aware of.  Compare the above scenario to a situation where you are exposed to more severe cold and subject to rapid cooling – such as falling into cold water – while your energy reserves are still intact.  Once removed from the cold, your body will utilise its energy reserves to re-warm quickly.    
Insufficient food decreases the fuel available for heat generation and in the short-term is closely linked to exhaustion (see above).    
In particular, hypoglyceamia (low blood sugar) has a profound effect on your ability to stave off hypothermia.  A blood sugar level below 2.5mmol/l basically shuts off shivering.  This level will mean something to you if you are a doctor or are diabetic, used to testing your blood sugar.  If you are not so familiar with blood sugar levels – a normal level before a meal would be 4 to 7mmol/l and 90 minutes after a meal a reading of less than 10mmol/l would be ideal.    
Underfeeding (taking in fewer calories than you are burning) over a period of time reduces your ability to maintain a normal temperature during exposure to cold.  This doesn't necessarily make you hypoglycaemic at any point but over time it reduces both body fat and lean muscle mass.  In turn, this reduces your body's insulation and its ability to generate heat by doing work.    
Subcutaneous fat (the fat layer under your skin) seems to have an effect on some people's ability to stay warm in cold environments.  There have been cases where otherwise fit but extremely thin individuals have succumbed to hypothermia whereas their companions have not.    
Dehydration reduces your ability to do physical work.  Physical work generates heat.  Therefore if you are dehydrated you may find it harder to stay warm.    
Injury and illness both increase susceptibility to hypothermia and complicate the case of a hypothermic casualty.  An injury may make the casualty less mobile and less able to generate warmth.  Illnesses can interfere with your body's temperature regulation.  Vomiting and diahorrhea will contribute to heat loss.    
Sleep deprivation is thought to affect the body's ability to regulate its temperature because the sleep cycle and other circadian rhythms are linked.    
Age is also a factor. The young and the old are more prone to exposure hypothermia.    
Children have a higher ratio of body surface area to body mass than adults.  That is, their bodies contain proportionately less heat and proportionately more surface area from which to lose this heat.  Therefore they get cold more easily.  If you are in charge of young people in the outdoors you must take particular note of this.     
People over 60 years old have a reduced ability to generate heat as their metabolism slows.  Also their ability to limit warm blood flow to their skin (via vasoconstriction) reduces, thus potentially increasing heat loss.    
Drugs can increase your susceptibility to the cold, either directly through effects on your body or indirectly by affecting your mental state.  Alcohol causes vasodilation – the opposite of vasoconstriction – and therefore increases heat loss by bringing warm blood near to the surface of your body.  The increase in blood near the surface of your skin is why you go red in the face when you drink.  Some prescription drugs inhibit shivering.  Alcohol or sedatives will dull mental awareness of the situation and the steps necessary to deal with it such as putting on extra clothes or seeking shelter.
Immersion Hypothermia
Immersion hypothermia is characterised by rapid cooling due to falling into cold water.  Conductive heat loss to water is 25 times faster than if you are in contact with air.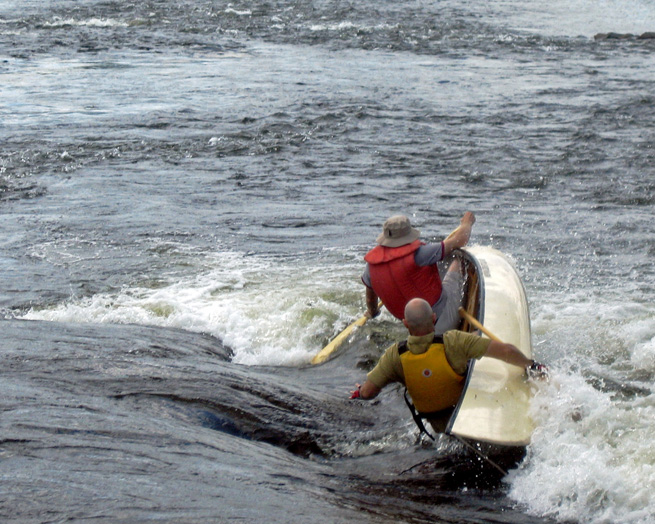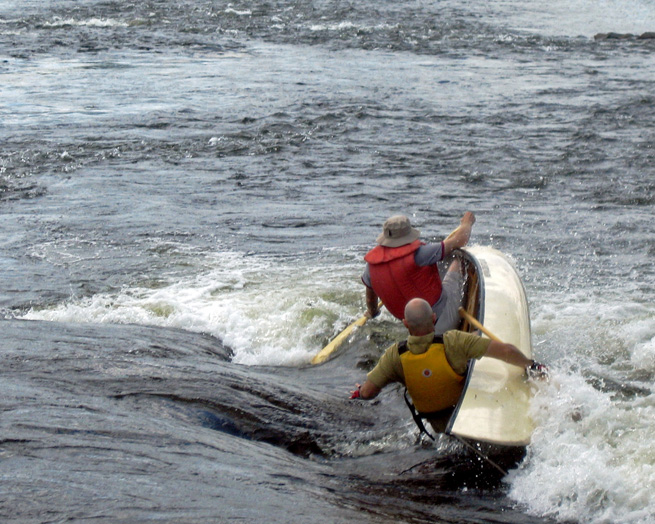 How cold does water need to be to cause hypothermia?  If the water is cooler than your skin temperature, then you will lose heat to the water.  This is a large proportion of all water you are likely to come into contact with outdoors!  The colder the water, the quicker hypothermia will occur.    
If you fall into cold water the thing that will most likely kill you, however, is the gasp reflex.  If you get past this, then hypothermia is the primary danger.    
If, after you've fallen into cold water, you move your arms and legs vigorously through the water while swimming or treading water you will lose heat even faster than if you stayed still.  It's possible that the extra exertion will generate enough heat to offset the increased heat loss but to predict this is impossible as it depends on too many factors specific to the circumstances.  What is certain is that you will use more energy.     
If someone falls into relatively warm water, only after they have become exhausted will they be unable to generate enough heat to stay warm.  After this their body starts to cool and they eventually succumb to hypothermia.     
A floatation aid increases your chance of survival.  Obviously it lessens the chance of drowning by keeping your head above water.  The less obvious benefit is that by reducing the effort of staying afloat, the added buoyancy makes exhaustion less likely, so delays the onset of hypothermia.     
What Are The Signs And Symptoms Of Hypothermia?
The signs and symptoms of hypothermia are quite variable from one person to the next, even at the same body core temperature.  Therefore, you should be as familiar as possible with all the possible signs and symptoms.  Dealing with a hypothermic casualty in remote areas is a real challenge; so the sooner you can rectify the situation, the better.  Hence, for those of us that spend a significant amount of time outdoors, recognition of the early signs and symptoms are particularly important.    
You are more likely to spot these signs and symptoms in other people than in yourself.  In your group, you must look out for each other.    
Some people like to divide up the progression of hypothermia into a series of stages and include within these stages easily recognisable signs and symptoms.    
Stages of Hypothermia
The severity of hypothermia cases have been categorised in various ways, often into 'mild', 'moderate' and 'severe' hypothermia.  One way that is often seen is a categorisation based on core temperature.  For the outdoors person, a pitfall with a categorisation based on body core temperature is that it's not possible to monitor internal body temperatures in the field (even if you are very good friends, using a rectal thermometer while on the slopes of Ben MacDui is not practical).  Further, using temperature alone as a diagnostic tool has the potential to be misleading.  A drop in core temperature will affect every part of your body's system so we must look for the signs and symptoms of these changes:     
Mild Hypothermia
An early sign of being too cold is shivering.  Shivering increases your metabolic heat production to a level between two- and six-times that of your normal, resting rate.  This has a short term warming benefit on your body but it reduces energy stores in your body.  In the long term, this energy depletion adds to your deterioration by contributing to eventual exhaustion.  When your body detects it is starting to cool down below its normal temperature, it fairly quickly starts to shiver so it is a good early indicator of potential hypothermia.  Maximal shivering is reported to occur at a body core temperature of 35oC (95.0oF).  If you or someone else is shivering, do something about it!     
Another relatively early sign can be cold, stiff and/or white hands or feet.  This is due to vasoconstriction, a reduction in blood supply to the area.  This is one of your body's reactions to cold, intended to keep heat in your core.  If your hands are white, cold or stiff it is a warning sign that your whole body is too cold.  Again, do something about it!  As hypothermia takes greater hold, there will likely be a significant reduction in manual dexterity which, if on your own, could mean you are no longer able to help yourself.      
Hypothermia progressively reduces mental function, the early signs of which are often missed.  The first signs are mood changes, irritability and/or social WITHDRAWAL.  This is really important but hard to spot in a group – you have to notice who isn't noticeable; spot the one who has disappeared amongst the group.  Weather conditions can often blunt your ability to observe your companions and you yourself may be battling to cope with the elements and keep warm.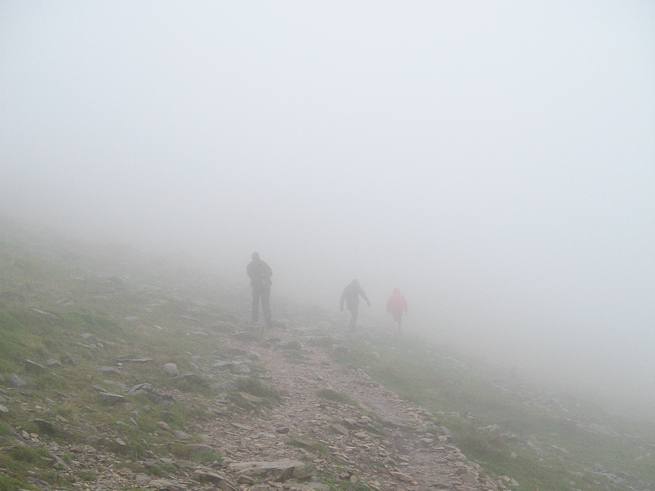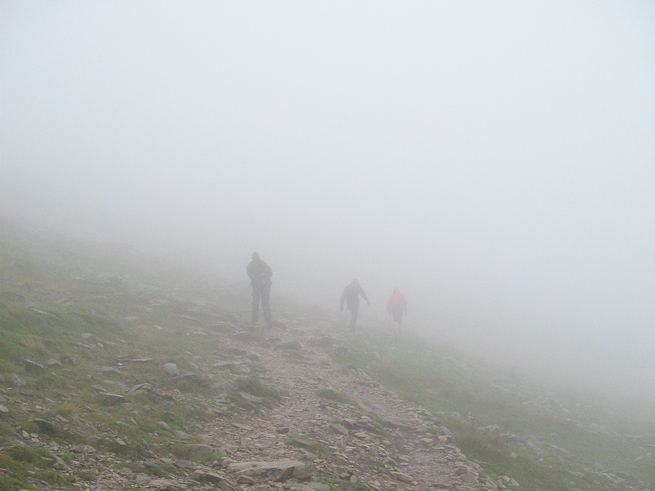 Even mild hypothermia can reduce your ability to look after yourself or your companions.  Studies have shown even mild core cooling to temperatures in the range 34oC (93oF) to 36oC (97oF) will impair mental function.  And as you get colder, things get worse; for each one degree Celsius drop in core temperature from 35oC (95oF) to 25oC (77oF) your brain metabolism drops between 6% and 10%.  Decreased mental function translates into poor decision making, indecision, irrational behaviour, confusion and forgetfulness – all dangerous failings in the great outdoors.
Heart rate and blood pressure will likely have increased at this stage.  It won't be possible to detect this in others, particularly since exertion and fear promote similar responses.  Nor is it likely that you will be able to discern this in yourself since it will be tangled up with other feelings and concerns; people often describe a "sense of anxiety" at this stage.     
Moderate Hypothermia
As the victim's body core temperature continues to drop, their mental function and physical coordination will be further reduced.  Weakness, stumbling and repeated falling are typical. They may be disorientated.  They may be forgetful or irrational.  The may appear drunk.  Their behaviour may be bizarre.     
A good way of grouping some of the increased clumsiness and uncoordinated behaviour that a hypothermia victim can go through is remembering them as "the umbles", characterised by     
Grumbles
Mumbles
Fumbles
Stumbles
Tumbles
Shivering may still be present although there have been serious cases where the victim has seemingly progressed to stumbling, repeated falling and stupor without their companions having noticed any shivering.  This could be due to lack of observation on the part of the companions or it could be related to the victim's hypothermia being precipitated by exhaustion.  Maybe they didn't have the energy to shiver?  Certainly experiments have shown that once blood sugar drops below a certain level, shivering ceases.  
Severe Hypothermia
As they continue to cool, the hypothermia victim will range from being lethargic to losing consciousness to comatose.  Their lips and possibly fingers will be blue (cyanosis).  Shivering is likely to have ceased as they will almost certainly be exhausted.  Their temperature will plummet as the heat generated from shivering ceases.  Muscles become stiff.  As their temperature drops their pulse will slow and weaken, blood pressure will drop and their breathing rate will slow.  It may be impossible to feel a pulse.
Deep Hypothermia
The casualty may appear dead and indeed they might be – cardiac arrest often occurs with a body core temperature between 28oC (82.4oF) and 25oC (77oF).     
Even if the casualty appears dead, however, it may be because vital signs are impossible to discern in the field.  The lowest recorded core temperature from which someone has been successfully resuscitated is 13.7oC (56.7oF).  There is an old adage "a person is not dead until they are warm and dead."     
Hypothermia Shows Variation.
It should be noted that fitting signs and symptoms into corresponding classifications of mild and moderate hypothermia are largely based on experiments involving the immersion of subjects into cold water, while the categorisation of the signs of severe and deep hypothermia come from individual case histories, all of which have shown some variation, not least in mortality rate.    
What you might observe in your companions on a wet and windy day in October on the slopes of Snowdon or Mount Washington, could be different to the above.  Experiments suggest maximal shivering occurs at a body core temperature of 35oC (95.0oF) but rescuers have reported no shivering in some hypothermia casualties at this temperature.  Shivering normally ceases below 31oC (88oF) but has been recorded below 29oC (84oF).  Unconsciousness normally comes between 33oC (91oF) and 27oC (80oF) but some patients have been verbally responsive at 26oC (79oF), a temperature at which others have died.    
You should also bear in mind that the signs and symptoms are, in reality, a continuum; a sliding scale between 'feeling a bit chilly' and death.  The 'stages of hypothermia' are something we humans have invented to help diagnose and relate how bad the case is.     
How To Treat Hypothermia
Prevention is far, far better than cure – hypothermia is difficult to remedy in the field.  At the end of this article is a strategy for avoiding hypothermia.    
If anyone in your party shows the slightest sign or symptom of hypothermia, ACT IMMEDIATELY.    
As with the rest of bushcraft, dealing with a hypothermic casualty is about the art of the possible.  You do not have an emergency room at your disposal.    
The primary aim in the treatment of a hypothermic casualty in the field is to    
PREVENT FURTHER HEAT LOSS     
If you always think to this maxim first, then you will generally be doing the right thing.  You must minimise the victim's heat loss to the environment by addressing the mechanisms by which this is occuring, namely conduction, convection, evaporation, radiation and respiration.     
For re-warming the casualty, the general principle to remember is the maximum rate at which the casualty should be re-warmed is the rate at which they cooled.  If they became cold quickly, you can re-warm them quickly.  If they cooled slowly, they should be re-warmed slowly, otherwise the re-warming process may kill the casualty.     
Treatment of Exposure Hypothermia
Re-warming a hypothermic casualty in the field is difficult even for mild cases and becomes virtually impossible with more severe cases.     
Field treatment of a hypothermic casualty descends into extremely difficult territory once they become unconscious.  If the casualty is unconscious then you should prioritise as per the basic life support protocols from your first aid training and the casualty must be evacuated.     
Treating Mild Hypothermia
Remember the maxim of prevent further heat loss.  Warm layers, a hat, scarf and gloves should be put on if available.  Get them out of cold/wet/windy conditions.     
If someone is mobile, alert and not exhausted, showing signs of shivering, and/or cold, white hands or feet, then activity to increase heat production should help.  You must be careful to avoid them becoming exhausted, so giving them some sugary food and a warm, sweet drink will help to avoid low blood-sugar.  A chocolate bar won't get them too far, however, so a more sustaining snack such as a flapjack or biscuits or similar should be given to them after a little while.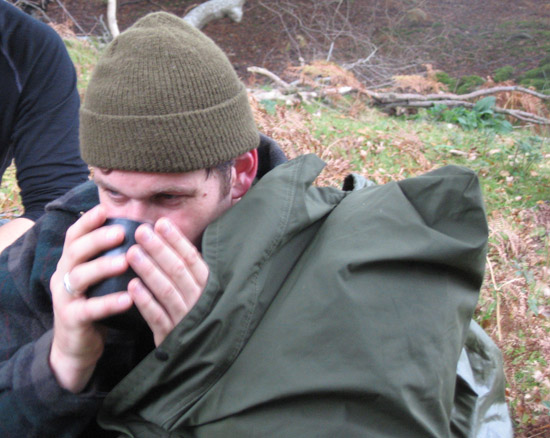 If they are not exhausted, then getting to a more sheltered spot is probably the best immediate course of action.  Stopping in an exposed place will put everyone in the group at risk of hypothermia unless a sufficiently weather-proof shelter can be erected quickly.  But the decision to move or stay put can be a difficult call.  It very much depends on your experience, your location, your bushcraft and survival skills, and the equipment/resources available to you.  The important thing is that you think about the situation and make a decision rather than just blindly ploughing on.    
If the victim is moody, irritable or withdrawn then it may be more difficult to gain their co-operation.  They will quite possibly deny they need help.  Sugary snacks and warm drinks may quickly bring them out of this.  Bear in mind, however, it is difficult to differentiate between irritability due to hypothermia and irritability due to hypoglycaemia (low blood sugar).  Dehydration complicates things further.  If they are hypoglycaemic, then activity or exercise will expend the last of their energy reserves and push them over the edge into a more serious state. A judgement of the level of hypothermia based on the level of consciousness can be very misleading.  You should always assume that a casualty who is not fully alert to the situation may be moderately to severely hypothermic.
If the casualty is anything but fully alert, then you should definitely employ spontaneous re-warming (also known as passive re-warming).  This involves laying the casualty horizontally, covering the casualty in an insulating material, providing favourable atmospheric conditions,  and minimising heat loss due to conduction, convection, evaporation, radiation and respiration.  You then allow the casualty to re-warm through their own metabolic heat production.  Most of this warmth should stay with the casualty if you have done a good job of cutting off the mechanisms of heat loss.  This has been proven to work well with casualties with mild to moderate, and in some cases even severe, hypothermia that were previously fit and healthy and have sufficient nourishment to produce heat.    
In the field, spontaneous, or passive, re-warming translates into enclosing the casualty in at least a survival bag or bothy bag.  Use any available materials for insulation – spare clothes, dead bracken, etc.  Space blankets have been shown theoretically and practically to be no better than a polythene sheet of similar thickness but they are better than nothing.  Remember the head is a major source of heat loss.  If the casualty is shivering, re-warming will be fairly quick.    
If possible, the victim should be insulated from the ground with a sleeping mat, rucksack, branches, leaves, spare clothing, anything that reduces conductive heat loss.  The casualty should be wrapped in insulating materials.  Sleeping bags in this situation are worth their weight in gold.  Windproof and waterproof protection should be provided around the insulating layers – a polythene survival bag, polythene sheet, tarp, bivvy bag, tent or snowhole – to provide a protective cocoon.  Until the casualty is in a warm, sheltered environment do not remove wet clothes.  Instead put insulating layers on top of wet clothing.  Removing the casualty's clothing outside in cold, wet or windy conditions will only make them worse!  Remember, we must prevent further heat loss. Once the casualty is in their protective cocoon, do not disturb it until they have re-warmed as you will let warmth out and cold in.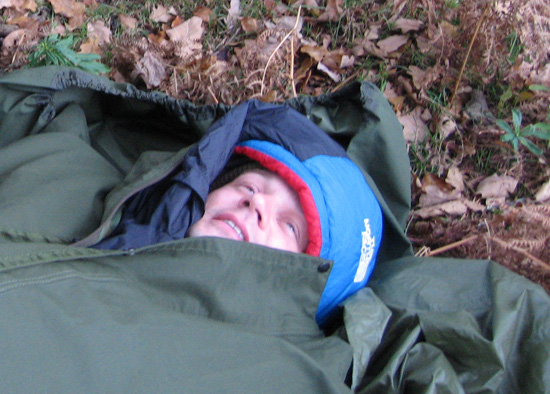 Treating Moderate Hypothermia
Here the victim is likely to be displaying what are commonly called "the umbles". They may appear drunk.  They are quite probably at or near the point of exhaustion. Exercise or activity is not the answer.  They will most likely not have the energy and it will make them worse.    
The maxim, as always, is to prevent further heat loss.     
Again spontaneous/passive re-warming should be employed.  A point to note is that the blood in the hands and feet is likely to be cold and the blood supply to them constricted.  Therefore it is best not to warm the hands and feet but to keep them cool.  This prevents cold blood being shunted back the core, which can drop core body temperature further.  It also prevents warm blood coming to the surface of the skin, drawing heat from the core.  Also, cold hands and feet act as a stimulus for the body to produce more heat.     
If the casualty is conscious and able to take warm sweet drinks, then they should be provided.  Not hot, just warm.  If the casualty is losing consciousness then food and drinks pose a risk of compromising the casualty's airway, so should not be given.    
Do not apply external warmth such as sitting the casualty close to a fire or a stove.  Again, this opens blood vessels on the surface, drawing blood from the core.  Active external warming from a fire can be lethal.     
Even if you get the casualty into a warm environment such as a cabin, keep them wrapped up.  Otherwise warm air on the skin can cause the casualty to vasodilate.  Again this can cause cold blood to be shunted to the core as well as a catastrophic drop in blood pressure.  The mortality rate for hypothermic casualities, particularly severely hypothermic casualties, introduced to warm environments is high.     
The colder the casualty, the more gently they must be handled.  The heart becomes much more sensitive to physical shocks and it is possible to easily send a severely hypothermic casualty into cardiac arrest.    
Treating Severe Hypothermia and Deep Hypothermia
Beyond mild to moderate hypothermia, there is no reliable way of rewarming a casualty in the field.     
Evacuation and emergency medical care is now the only option.    
Even if the casualty appears dead, remember they are not dead until they are warm and dead.     
Some guidelines:     
As ever, prevent further heat loss;
Do not try to provide food or drink – nil by mouth;
Minimise movement – the severely hypothermic casualty becomes very sensitive to being sent into cardiac arrest.  Even moving the casualty on a stretcher now becomes a problem;
Keep the casualty horizontal as blood pressure can be very low;
If the casualty is unconscious, ABC as per your basic life support training becomes the priority.
Treatment of Immersion Hypothermia
When the casualty is brought out of the water, they will either be conscious or unconscious.     
If they are unconscious, treat the casualty as per your first aid training basic life support.    
If the casualty is conscious then you must determine if the exposure was quick or prolonged:              
a) if exposure was quick, then re-warm quickly;    
b) if exposure was prolonged, treat as per exposure hypothermia casualty.     
If you don't know if exposure was quick or prolonged, assume it was prolonged.    
How To Avoid Hypothermia
Reduce heat loss via radiation, convection, conduction, evaporation and respiration.     
Stay dry.  Avoid getting your clothing wet-through.    
Invest in good quality clothing, particularly waterproof rain gear.     
Use your clothing properly – a large proportion of the performance of your clothing, however good it is, will come from you using it properly.  Adjusting layers, venting, donning waterproofs, using a hood, using hats, scarves and headovers all make a big difference.  The appropriate employment of all these comes with experience.    
Take appropriate shelter with you.  Day hikers often forget this.  Even a polythene survival bag can make the difference between life and death.    
Eat plenty and often, or reduce your work rate.  Hiking trips sometimes mean long, hard days and the energy requirement is high.  Cold temperatures increase your energy requirements.    
Drink plenty.  Avoid dehydration.    
Don't take excessive kit.  You do not want to become exhausted because you are carrying a house on your back.     
Be fit for the activity you are undertaking.  You will be less likely to become exhausted.     
Work within the capabilities of the group.  Go at a pace that suits the slowest in your group.  Any faster will over-exert them, introducing excessive perspiration into their clothing, and making them more prone to exhaustion.  If you are the leader, choose a route that is appropriate for the fitness level of the group.     
Good leadership and decision making.  Good route planning and execution, factoring in potential escape routes and being decisive yet flexible regarding route and weather conditions all contribute to the safety of the group.     
Look out for each other.  Check on your buddies.  The early signs of hypothermia are often easier to notice in others than in yourself.     
Spot signs and symptoms early.  Do something about it!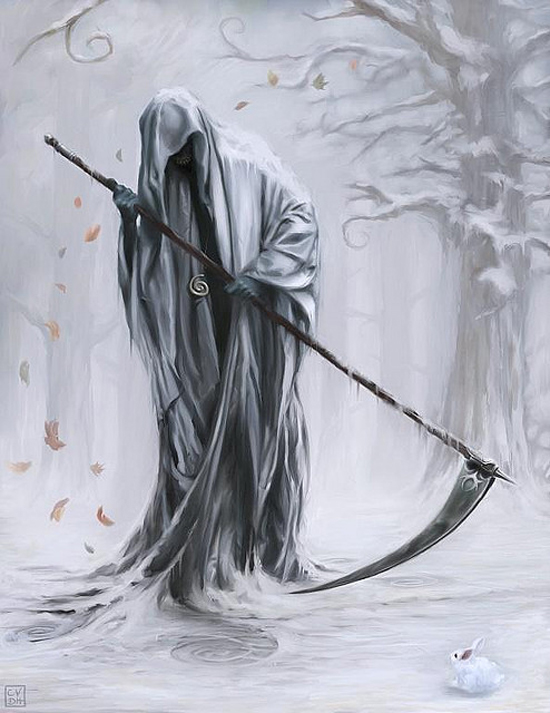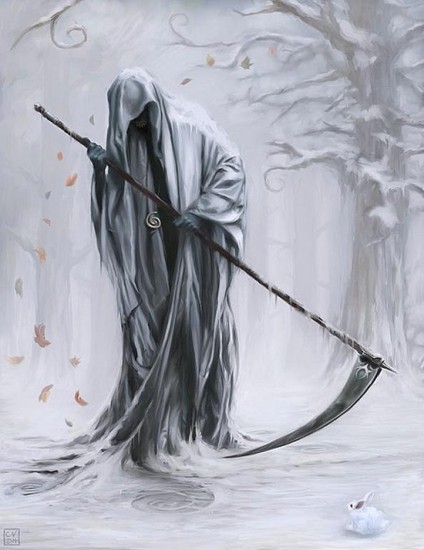 Related Articles On Paul Kirtley's Blog:
The Four Horsemen of Heat-Loss
Take Care When You Enter the Blue Zone
Winter Clothing for the Northern Wilderness part 1
A Winter Camping Trip in the Northern Forest
Recommended Books for Further Reading:
References     
Biem, J., Koehncke, N., Classen, D., Dosman, J., 2003.  Out of the cold: management of hypothermia and frostbite. CMAJ. 2003; 168 (3).    
Castellani, John W., Young, Andrew J., Ducharme, Michel B., Giesbrecht, Gordon G., Glickman, Ellen., Sallis, Robert E., 2006.  Prevention of cold Injuries during exercise.  Medicine & Science in Sports & Exercise: Volume 38 – Issue 11 – pp 2012-2029.    
Gale, E. A., Bennett, T., Green, J. H., MacDonald, I. A., 1981. Hypoglycaemia, hypothermia and shivering in man. Clin Sci (Lond). 1981 Oct;61(4):463-9    
Giesbrecht, G. G., Wilkerson, J. A., 2006.  Hypothermia, Frostbite and other Cold Injuries.  The Mountaineers Books, Seattle, WA.    
Granberg, PO., 1991.  Human physiology under cold exposure.  Arctic Med Res. 1991;50 Suppl 6:23-7.    
Hanson, P. J. V., Loughridge, L. W., Mulhall, B. P., Packenham, D. K., 1984. Hypothermia in hypoglycaemia. Brit. Med. J. 1984, vol 288, 1212-3.    
Pandolf, Kent B., Burr, Robert E., 2001. Medical Aspects of Harsh Environments, Volume 1.  Textbooks of Military Medicine. Washington, DC: Borden Institute, Office of the Surgeon General, US Army Medical Department.    
Pugh, L. G. C. E., 1966.  Accidental hypothermia in walkers, climbers, and campers: report to the medical commission on accident prevention. Brit. Med. J. 1966, 1, 123-129    
Wissler, Eugene H. 2003.  Probability of survival during accidental immersion in cold water.  Aviat Space Environ Med 2003; 74:47-55.    
Young, A. J., Castellani, J. W., O'Brien, C., Shippee, R. L., Tikuisis, P., Meyer, L. G., Blanchard, L. A., Kain, J. E., Cadarette, B. S., Sawaka, M. N., 1998.  Exertional fatigue, sleep loss, and negative energy balance increase susceptibility to hypothermia. J Appl Physiol 85:1210-1217.