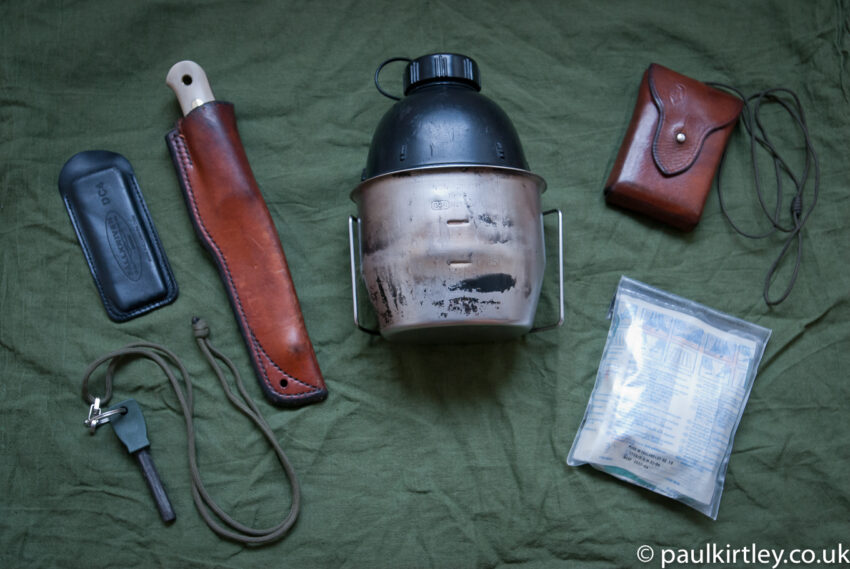 Essential Wilderness Equipment – 7 Items I Never Leave Home Without
Essential Wilderness Equipment – 7 Items I Never Leave Home Without
If you were stranded in the middle of nowhere, your chances of survival would be significantly higher if you had this equipment with you.  To me, however, these items are not just pieces of survival equipment, they are things I use everyday when I am living outdoors.  They are well-used but also well-loved.   
With the exception of the first item – a knife – the following discussion of equipment is not in any order of priority or importance.  Each item is important in its own right and could be more critical than another in a given situation or scenario.   
Knife
It shouldn't be a surprise to anyone that a bushcraft knife is at the top of my list!  Knives generate strong opinions, even amongst outdoors people.  Many have a view on which knife is 'best' and almost everyone involved in bushcraft or survival has their favourite.  I think most would agree, in general, a knife for wilderness use should be strong and safe to use, it should hold its edge well and be relatively easy to sharpen.  To me, though, what's more important than the knife itself is your skill in using it.   
In the hands of someone skilled in bushcraft, a good quality knife is an invaluable tool.  The more skilful you are, the more you can achieve in a given period of time.  If you can complete tasks and make items quickly and efficiently using your knife, then more becomes possible with only a knife.   
There is an old adage – "your knife is your life".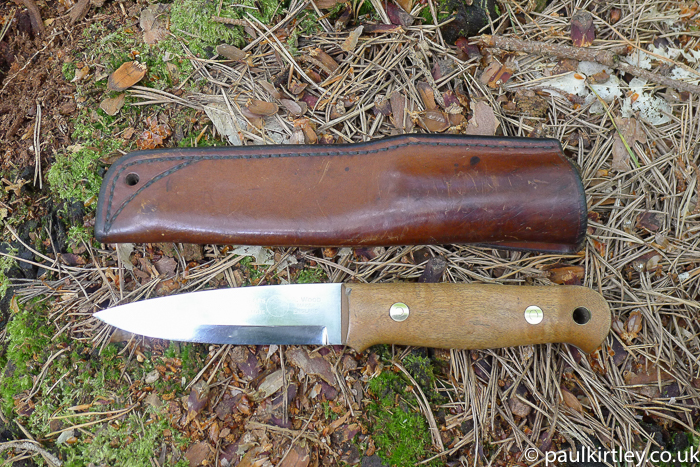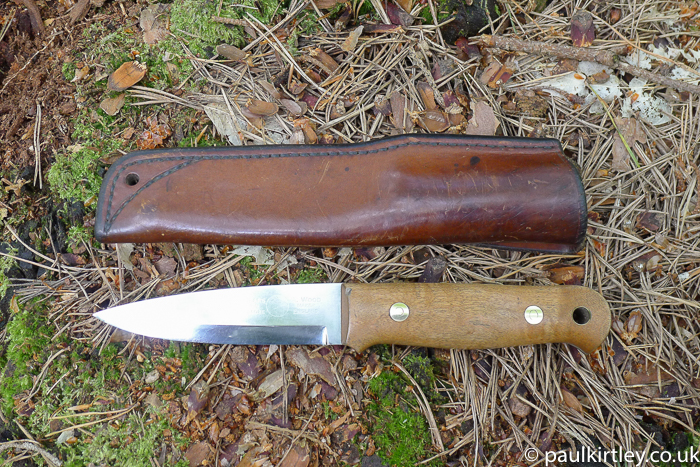 Sharpening Stone
There's another old adage – "you are only as sharp as your knife".  A portable and efficient sharpening stone allows you to easily maintain a keen edge while in the field.  A small whetstone that can be kept on your person is a good idea in case you are separated from the rest of your equipment.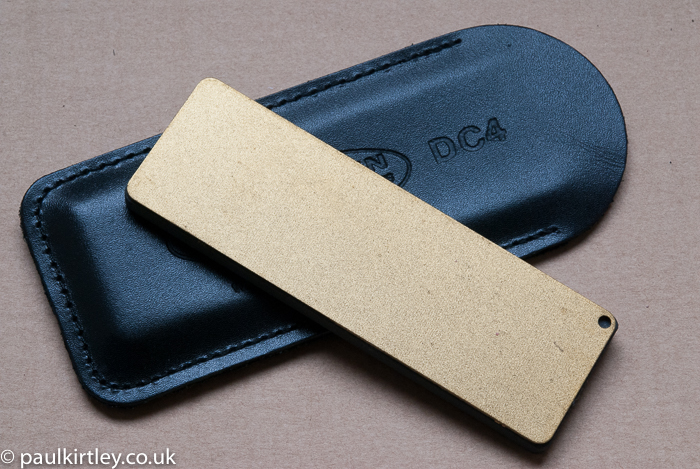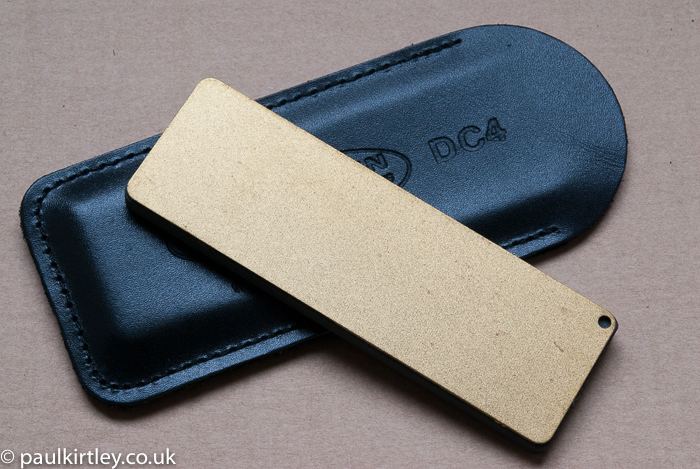 There are various options but I like to use a small combination stone that has a fine diamond powder on one side and a fine ceramic surface on the other.  Diamond is quite aggressive and takes metal off your blade quickly.  Ceramic is slow to remove metal but gives a fine, sharp edge.  At 32x100mm (1.26×3.94"), the Fallkniven DC4 whetstone easily fits into a pocket.  Unlike many sharpening stones this type of stone can be used dry.  It doesn't require oil or water while sharpening but does benefit from occasional cleaning with a little soap and water.
Firesteel or Ferro-rod
Fire-lighting is a cornerstone skill of bushcraft and fire can be of critical importance in a wilderness survival situation.  You may already be very familiar with the Swedish Firesteel, also known as a ferro-rod or fireflash, but they do take a little bit of practice to get the hang of.  I've met people who hadn't managed to get consistent results with a firesteel and concluded they were "rubbish".  So, it's still worth me highlighting the firesteel's merits as a quick explanation of why it's worth carrying one.  This simple piece of kit has to be the most dependable means of producing a spark.  Even if you are confident in lighting fire by friction, carrying a ferro-rod is prudent insurance in pretty much every environment you might find yourself.    
Unlike a box of matches or a cigarette lighter, the fireflash can literally light thousands of fires (the manufacturer reckons 12,000 strikes).  A further plus point is that there are no moving parts to break.  While it will corrode if kept damp for an extended period of time the firesteel's effectiveness is not diminished by having been wet – ideal for wilderness use.  So if the rain has soaked you through, or if you fall out of your canoe, you always have the immediate means to light a fire.
A good ferro-rod, or firesteel, produces very hot sparks.  They are much hotter than the sparks from traditional flint-and-steel sets.  You can see this in the colour of the sparks produced – the traditional sets produce orange sparks while the fireflash produces bright white sparks.  At nearly 3,000 degrees Celsius (5,500 degrees Fahrenheit), the sparks from a firesteel will light the widest range of natural and man-made tinders of any of the spark-producing gadgets.  With caution, a firesteel can also be used to light gas and multi-fuel camping stoves.   
Light My Fire and Strikefire produce the best rods as far as I am concerned. In terms of Light My Fire models, I would recommend the full-sized 'Army' model Swedish Firesteel, over the smaller 'Scout' or 'Mini' models for reasons of both longevity and ease of use.  The full-sized models weigh only about 60g (2oz).    
I carry my firesteel attached to a length or paracord by a quick-release clip.  I can wear this arrangement around my neck or secure it to my belt, keeping the firesteel in my trouser pocket.  In common with many who are interested in bushcraft, I have dispensed with the metal striker included with the firesteel and use the back of my knife instead.  Using the part of your bushcraft knife where the bevel meets the back is the best spot.  A good way of practicing getting a big spark just where you want it, is to light a candle directly with a fireflash.  Birthday parties at my house are so much fun… 
First-Aid Kit
When I pick up my knife and head outdoors, I also pick up a 'cuts kit', a small first aid kit that can deal with what must be the most common injury in bushcraft.  Some people don't bother protecting cuts but infection is a risk.  When living outdoors for an extended period it is very difficult to keep your hands as clean as you do at home.  I've also added a few other useful items to the kit including Wysi-wipes (a compressed, dehydrated wet-wipe) and painkillers (analgesics).    
The kit is not big, and I keep it in a waterproof 4.5×7" (11.43×17.78cm) Loksac. This then lives unnoticed in my right hand thigh pocket until I need it.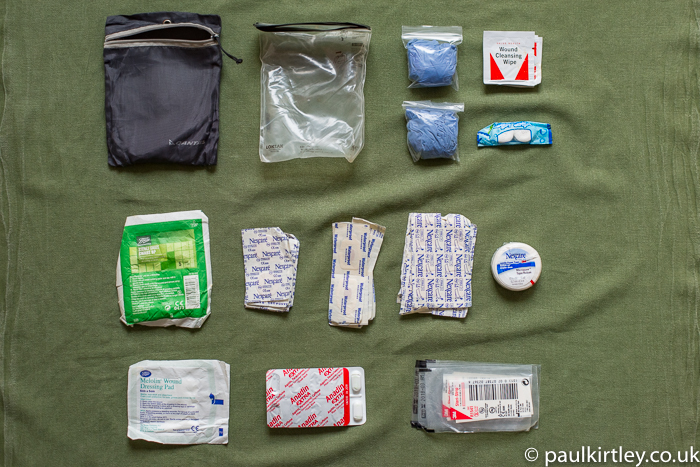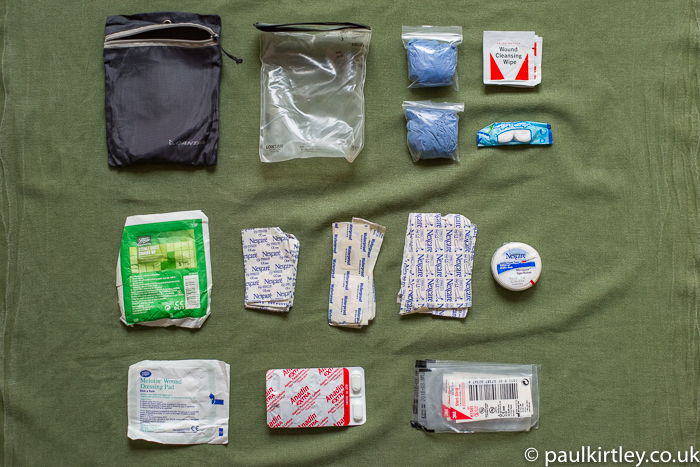 This little kit contains the following items:    
Nitrile gloves;
Gauze swabs;
Deydrated wipes/coin tissues;
Plasters, assorted;
Steri-strips/Leukostrips;
Melolin dressings, small x2;
Micropore tape;
Analgesics*.
*You should always make sure that you are not allergic or prone to any other adverse reaction to any medicines you choose to include in your first aid kit.  If in doubt, speak to a pharmacist or your doctor.  Also, any non-prescription medicines you include in your first aid kit should be for your personal use only, unless you know they are not going to cause a problem for any individual you offer them to. 
Metal Mug and Water Bottle
The simplest method of producing drinking water that is free of pathogenic organisms is to boil it.  In the wilderness, boiling water without a metal container is tricky.  So, if you always have your metal mug with you, you can easily boil water.  Yes, of course you can use a billy-can or cooking pot if you have them but you are not likely to carry these on your person.    
I prefer an uncoated, metal mug. Non-stick coatings can retain flavours, which sometimes makes for some unpleasant combinations (although some people like their tea tasting of last-night's curry…).  Coatings also make it harder to keep your mug clean – using anything abrasive will damage the coating.  You basically have three options when it comes to metal mugs – steel, aluminium or titanium. The conductivity of aluminium is higher than steel so you are more likely to burn you lips with an aluminium mug but aluminium is lighter than steel. Steel mugs tend to be more robust, however. Titanium mugs are also robust and the lightest option of the three.
If you have a metal mug or similar in which to boil water, in an emergency you can manage without a bottle, but it is not ideal (what emergency is ever ideal?). Without a storage container such as a bottle or flask, staying hydrated does become more difficult.  Having somewhere to store drinking water is an advantage, particularly if you are on the move.  Under normal circumstances you should always have at least one litre of water-carrying capacity, preferably two litres.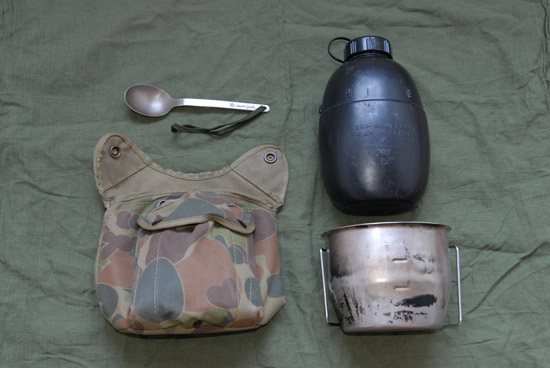 There are many mugs on the market and many designs of bottle available.  A combination that fits together well, takes up minimal room in your kit and can be carried on your person when required is a real asset.  A neat solution that I have liked for many years is a NATO flask with a BCB 'Crusader' metal mug. It's inexpensive and very durable, although not the lightest-weight option. This combination can be fitted into a belt pouch and easily carried. There are many pouches which will accept this combination. Another good combination is a Snowpeak titanium mug and a Nalgene bottle. Again, they nest very well. Whichever combo I am using, I also slot a metal spoon in here.  If the pouch also has a smaller pocket, as water-bottle pouches often do, you have the option of including water-purification tablets, coffee sachets, etc, in your kit. 
Compass
The compass is a simple yet very reliable instrument.  A compass doesn't need batteries, rarely goes wrong and should always be trusted.  A compass has many more uses than just finding north.  One of the key benefits of learning how to use a compass effectively is that it frees you to confidently navigate in unfamiliar territory.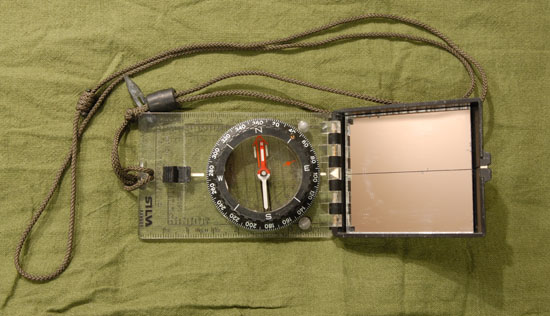 The model of compass I have been using for more than a decade is the Silva Ranger 15TDCL (Silva since changed the name to Silva Expedition 15TDCL, then changed it again to Silva Expedition S).  This compass has many features and the sighting mirror is useful for things other than navigation too.  From getting something out of your eye to signalling for help over long distances, a mirror is very valuable. I keep my compass in my shirt or jacket pocket and it is attached with a lanyard.
There are some situations, however, where the above compass is not ideal. The sighting mirror is actually a significant issue if you want to attach your compass to a thwart of your canoe for navigation on canoe trips. Reflection of the Sun in the mirror into your eyes is a significant risk. Hence, on canoe trips I use a Silva Expedition 4 compass, which was the compass I used for all navigation before I bought the model with the sighting mirror. Again, I would highly recommend the Expedition 4.
Think about what you really need…
Implicit in all of the above is that these pieces of equipment should be easily carried with you.  Your equipment mustn't hinder you.  The essential equipment you choose should be light and comfortable enough that you are never tempted to leave it behind at times when you should have it with you.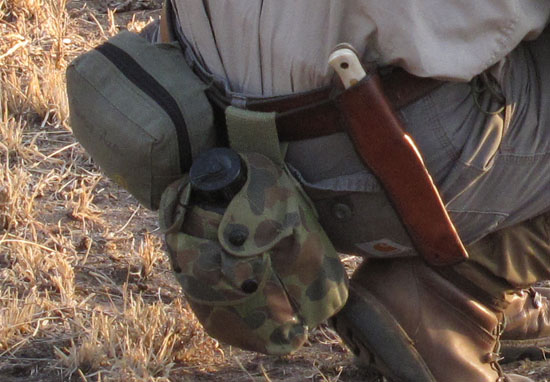 There are situations while travelling in wild places when you might not have access to your main bags or backpack, particularly in vehicles, helicopters or light planes.  Even going for a short walk away from camp, you should consider the consequences of getting lost in unfamiliar territory.   
There are numerous emergency situations you can envisage where you could lose your main equipment, such as slipping over and losing your backpack while wading across a river or in capsizing a canoe.  Then what you have on you person is critical.
Even though many of us like shiny things, bushcraft isn't about gear. At the heart of bushcraft is knowledge and skill. Some gear does make the application of your knowledge and skills a lot easier and other aspects of your trips quicker or more comfortable.
The more skillful, knowledgeable and experienced you become, the less you will need to rely on equipment and the less stressful it will be to lose some of it or have some of it break.  That's not to say you should be sloppy with your kit, though.  What it does mean is that when you are planning a trip, you get to make the choice as to what level you want to rely on equipment and how much you want to rely on your skills and natural materials.  Do you take a tarp or build a shelter?  Do you take a stove or cook over a fire? Do you use matches or carve a bow-drill set?
This is closely tied to the aims of your trip.  Maybe you are after covering distance quickly and a modern, lightweight camping outfit is what suits you best? Or, maybe you intend to spend more time in each place, so you take a few tools and employ your camp craft skills to make many of the items you need around camp? Or, maybe you plan to test yourself, living from the land, relying heavily on your bushcraft and survival skills?     
For some people reading this, the idea of spending a night or two out in the woods with only the 7 items I've highlighted would be a nightmare.  For others, this scenario will read like a holiday/vacation, as it's something they've done, perhaps many times, and enjoyed.  For others it will be an attractive challenge yet to be tried.      
Everyone has their own comfort zone and what is superfluous to one person may be essential to another.  I could manage with less but above is my list of kit that I always like to have if I have the choice.  So, what's your essential wilderness equipment?  Leave a comment and let me know if you'd have something different, in preference to these items.  Also, even if you agree with my 'top-7', let me and other readers know what would be next on your list to make up your top-10.  I'm sure it will make for an interesting discussion…
Related Articles on Paul Kirtley's Blog:
How to Build a Survival Kit on Bushcraft Principles
Creeping Death – Hypothermia and How to Avoid it
Recommended Books for Further Reading