Lightweight Tarp and Bivvy Set-Up
Lightweight Tarp and Bivvy Set-Up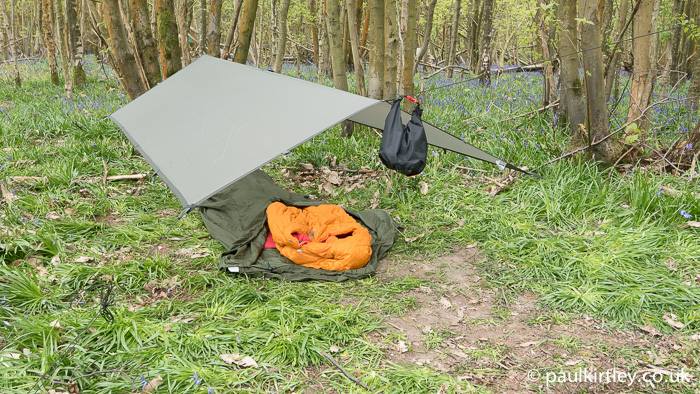 In a previous video I talked about lightening the load and, specifically spoke about reducing the weight of your sleeping kit, from gear which is too heavy, over-specified right down to a really lightweight set-up.
In the video below, I'm going to show you how the lightest of the combinations looks all set up.
Now I know a few people are going to be dubious if it's going to be protective enough compared to what they are used to, so the purpose of this video is to give a fuller account of this lightweight tarp, bivvy bag, sleeping mat and sleeping bag combination.
Lightweight Bivvy & Tarp Components
The following is a list of the sleeping equipment – tarp, bivvy bag, sleeping mat and sleeping bag – shown in the video above.
Integral Designs Siltarp 1 (222g/8oz)
Snugpak SF Bivvy Bag (340g/12oz)
Mountain Equipment Xero 200 sleeping bag (635g/22oz)
Thermarest Prolite sleeping mat 3/4-length (370g/12oz)
The total weight of this system is around 1.60 Kg/3lb 14 oz, the exact amount depending on how much cord you attach to the tarp.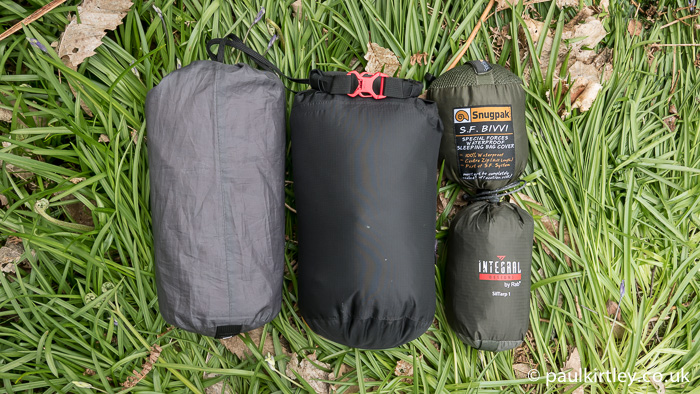 Getting Organised Under Your Tarp
The link mentioned at 06:45 in the video is as follows:
Hang 'Em High: Tips for Getting Organised Under Your Tarp
Lightweight Sleeping Kit – Understanding The Context
The article and video linked below provides more context about the selection of the equipment highlighted in this article and video.
Lightening The Load pt 1 – Tarp & Bivvy Sleep Systems
Other Related Material On Paul Kirtley's Blog:
How To Pack A Bushcraft Camping Outfit
How To Pack Enough Food For A Week In A PLCE Side Pocket