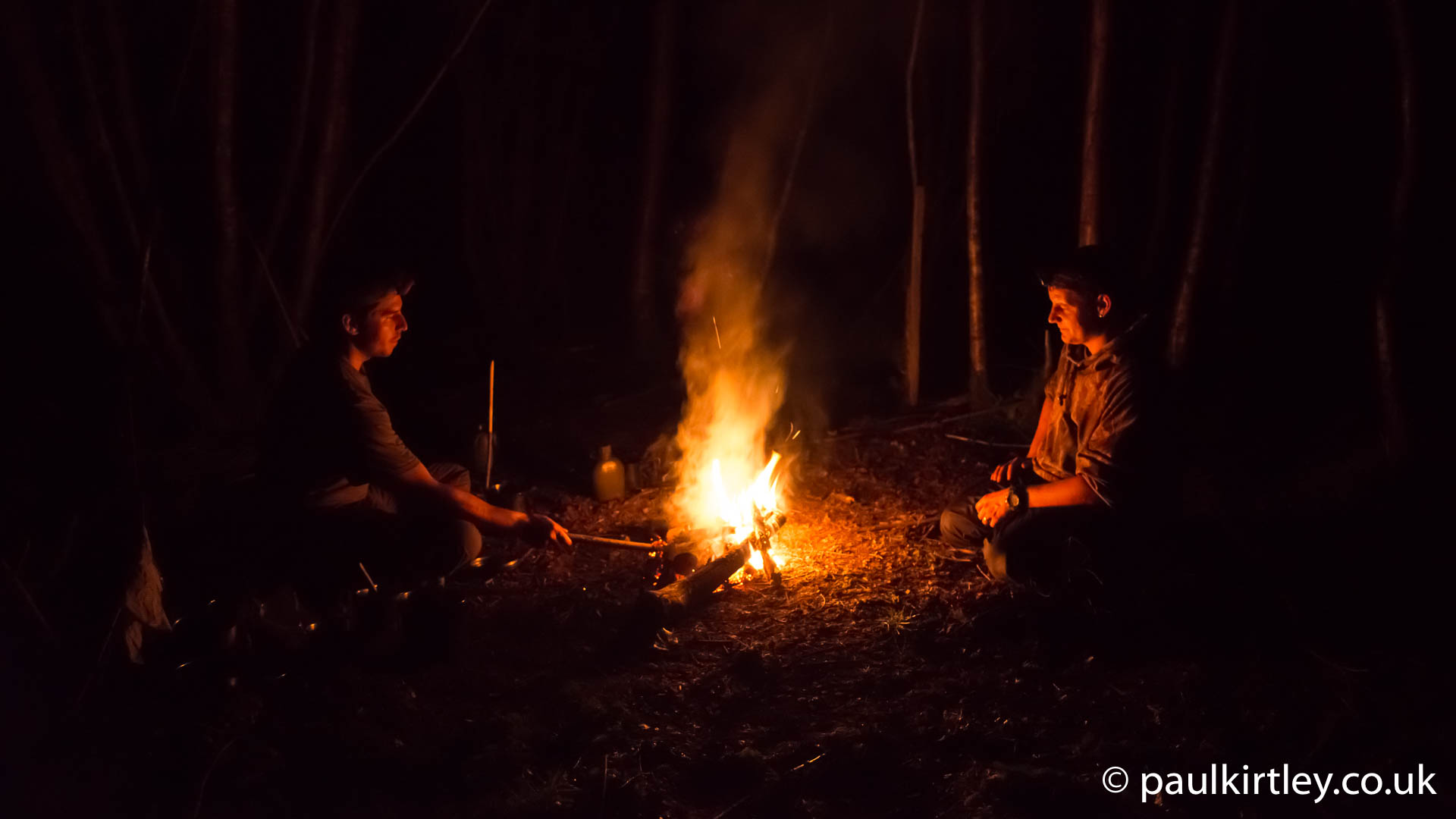 A Night In The Woods
A Night In The Woods
An "Overnighter"
I'm often asked about bushcraft skills and camp set ups for heading into the woods for a weekend.
Quite a few readers of this blog – and viewers of my YouTube channel – have asked for articles/videos regarding skills to help with getting out into the woods overnight – sometimes for the first time. It's great so many are keen to get out amongst nature…
I remember my first "overnighter". I definitely took too much gear and got things wrong. There were many things to think about and it turned out to be a real adventure.
Nowadays, heading to the woods for a night is a pure pleasure. It's fun. It's comfortable. It's too short.
Once you get your kit and your skills sorted, heading out to the woods is a great way to unwind, relax and get away from it all.
The film "A Night In The Woods" is a how-to video with a difference. It's a 50 minute fly-on-the wall documentary, filmed in in high definition. It follows two friends – Henry and Paul – as they head to the woods for the weekend.
In doing so, they utilise a range of everyday bushcraft skills, which all outdoors people would benefit from.
Watch A Night In The Woods
Click on the four arrows bottom right for full screen view. Click on "HD" to stream the full 1080p high definition version. This may be choppy unless you have a fast connection. Try it and see. If it works, it'll look awesome. If it doesn't work so well, you can always toggle it back to standard definition by clicking on "HD" again. Nothing ventured, nothing gained.
I thought about making a few YouTube "how-to" videos of me explaining a few important elements of successfully spending a night out in the woods but then my vision grew bigger. My thoughts turned to taking you out to the woods for the weekend with Henry and Paul setting an example for budding outdoorists to follow. It was fun to film and I hope you enjoy the video. Let me know what you think via the comments below.
If you know others who would enjoy watching "A Night In The Woods", or benefit from the links below, then please share this page with them. Plus it will help me out if you can post a link on your favourite social media sites. I'm proud of this film and it would be great if as many people as possible could see it. Thanks for your help!
Learn More About The Bushcraft & Camping Skills Featured In This Video:
Below are links to articles on this site, articles on my bushcraft school Frontier Bushcraft's blog and videos on my YouTube channel, all of which will help you with the various techniques and knowledge employed in the above video.
Fire-Lighting
How To Light A Campfire With One Match
How To Create Really Big Sparks With A Swedish FireSteel (YouTube)
How To Use A Knife To Remove Tree Bark (FB Blog)
How To Light Birch Bark With A Spark (YouTube)
Leave No Trace
How To Leave No Trace Of Your Campfire
Water Purification
Water Purification: The Five Contaminants You Need To Know About
How To Use A Millbank Bag: 6 Easy Steps
Does Boiling Make Water Safe To Drink? (YouTube)
Wild Foods and Foraging
A wide range of other articles on wild foods and foraging can be found by clicking here.
Tarps, Knots and Cordage
How To Tie An Evenk Hitch (YouTube)
How To Tie A Taut Tarp Hitch (YouTube)
How To Tie An Adjustible Guyline Hitch (YouTube)
Hang 'Em High: Tips For Getting Organised Under Your Tarp (FB Blog)
Gear and Packing
A Bushcraft Camping Outfit – Equipment For Living In The Woods
Bushcraft On A Budget: All The Gear You Need For Less Than £100 (FB Blog)
How To Pack Your Bushcraft Camping Outfit Into A Rucksack
How To Pack Enough Food For A Week Into A PLCE Sidepocket
Now you've watched the movie, clicked the links, read the articles and watched the YouTube videos, get out and use it! Let me and other readers know about your overnight camping experiences in the comments below…