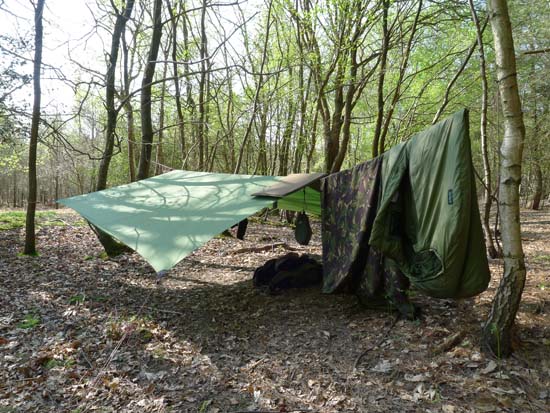 A Bushcraft Camping Outfit – Equipment for Living in the Woods
A Bushcraft Camping Outfit – Equipment for Living in the Woods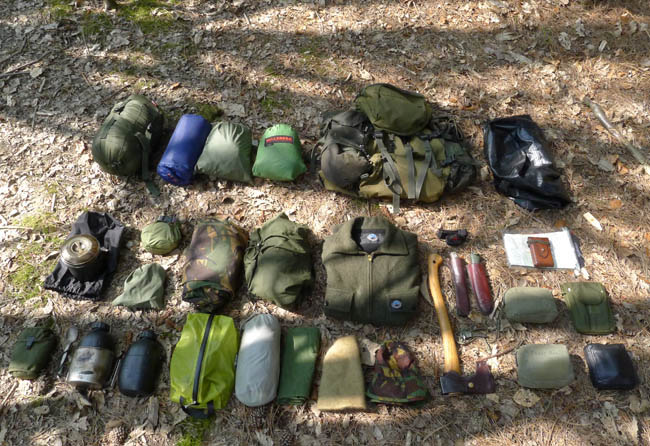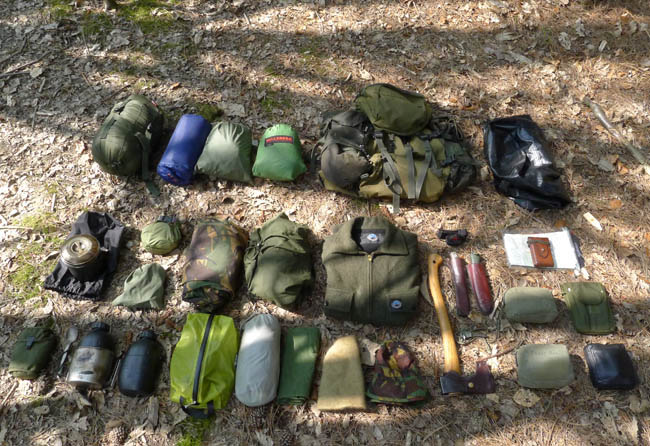 Whether you are camping in the woods for a weekend or staying out for weeks, this bushcraft camping outfit is a good base model. It forms my standard bushcraft camping kit-list.
One of the considerations for my kit is that it has to provide good durability for the cost. I don't mind paying good money for kit but it has to last well. My bushcraft equipment gets a lot of use and it needs to be able to withstand weeks and weeks of continuous use. Most of the kit featured in this article I've had for years. Much of it has been to several continents. This kit has stood the test of time. The kit that didn't live up to the job has fallen by the wayside.
A Modular Approach
As I've mentioned in other articles, I take a modular approach to my wilderness bushcraft equipment. A modular system allows everything to dovetail nicely. This system helps me to quickly pack yet ensure I have everything I need, as well as cut out excess "just in case" equipment. Applying this system to my camping outfit means my essential wilderness equipment, personal wilderness first aid kit and my bushcraft survival kit, or "possibles pouch", therefore form part of the kit below. In the field, I have a place for everything and everything in its place.
Reduction
One thing I've learnt over the years is that less is often more. Keep your wilderness equipment outfit as simple and streamlined as possible. I try to minimise the amount of kit I have while maximising its functionality. The kit below is my distillation down to an outfit that works for me. I have used this bushcraft equipment while travelling in wild places as well as running bushcraft courses for many weeks on end.
Bushcraft Camping Equipment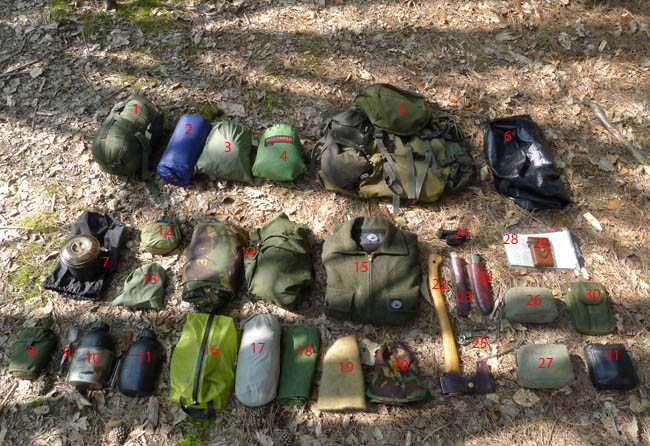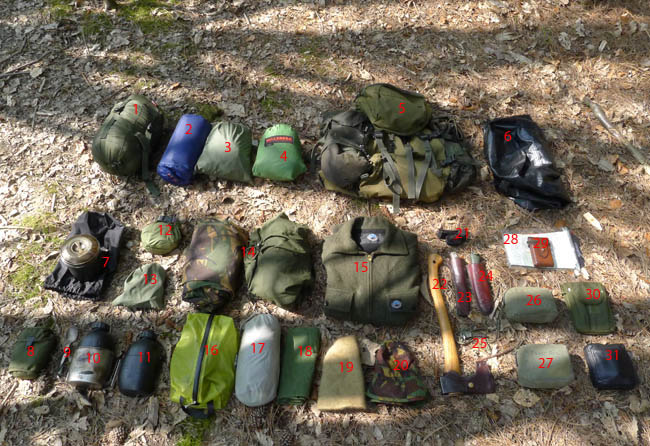 Shelter and Sleeping Kit
1. Sleeping bag. I have a number of sleeping bags and I choose one to suit the season and the activity. When weight is a critical factor, I choose a goose down bag; other times I take a synthetic bag – synthetic bags tend to be more robust, cheaper to replace and easier (and cheaper) to clean.
2. Sleeping mat. I find self-inflating mattresses more comfortable than closed-cell foam mats. I use a three-quarter length mat to save on space and weight.
3. Bivvy Bag. I have a number of different bivvy bags but the one I use most is the standard UK military bag. It is simple, durable, roomy, not too heavy and relatively inexpensive (particularly if you buy a grade 1 surplus bag). I've added a stuff sac to keep it in. A tip on folding your bivvy bag – it's better to stuff it than fold it; repeated folding of a breathable membrane such as Gore-Tex in the same place can reduce it's ability to keep water out. So just stuff your bivvy bag randomly.
4. Tarp. A decent-sized tarp creates a fantastic space under which to live, not just sleep. You get much more room than you do in a tent. For most of the year it is my favourite way of sleeping out in the woods. You wake up fresh and in the environment around you, not shut off from it. There are lots of models of tarp on the market, many of them good but my favourite these days is the Hilleberg XP10. It is around the same weight as a military hootchie/basha but gives over twice the room. Its dimensions are 3.5 x 3.0 m (11.5 x 10 ft), giving a 10 square-metre covered space. Whenever I use a tarp I also pack a length of cord that I tie to the trees from which the tarp is suspended, running the cord under the apex of the tarp. This gives me a line inside the tarp on which I can hang equipment (such as my head-torch for easy reach in the night), as well as being able to air sleeping kit, socks, etc. under the tarp without fear of it getting wet in a rain shower.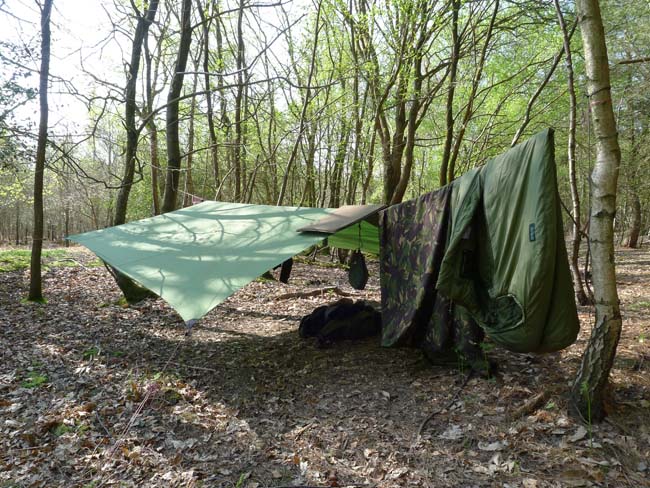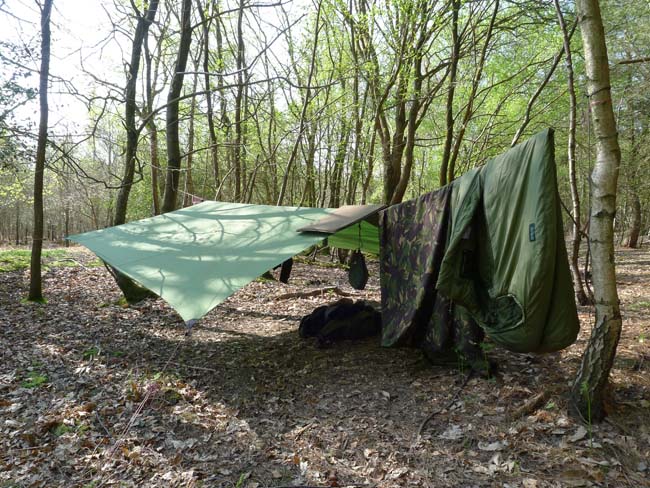 Carrying Kit
5. Rucksack. Everyone has their preferences. For this outfit, the Karrimor SF Sabre 45 works well for me. I use Arktis side pockets as I like the draw-cord closures and clip-buckle fastening (as opposed to zips). I've replaced the drawstring closures with better quality cord and removed a lot of excess webbing straps from the rucksack and side-pockets.
6. Rucksack liner. I use an Ortleib dry bag as my rucksack liner. It's not the lightest in the world but it's tough and, when fastened, it's completely submersible.
Cooking and Water
7. Billy Can. The ubiquitous Zebra Stainless Steel Billy Can. It's pretty bomb-proof and I've had mine for years. I admit they are also pretty heavy. I keep it in an old nylon stuff sack to stop the soot on the outside of the can getting all over the rest of my kit. Inside the billy I keep a collapsible wash bowl and a collapsible water bag, that I use in camp.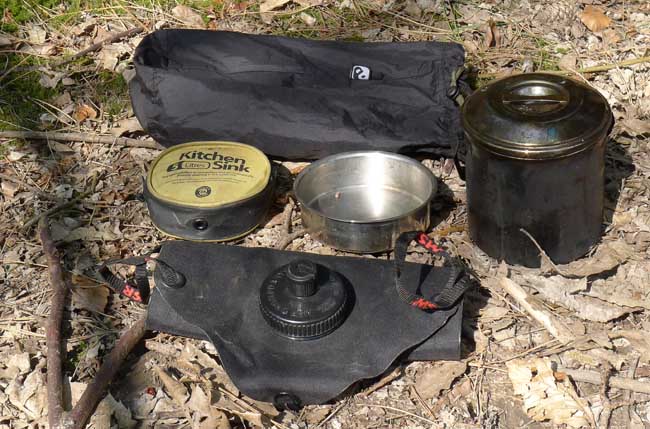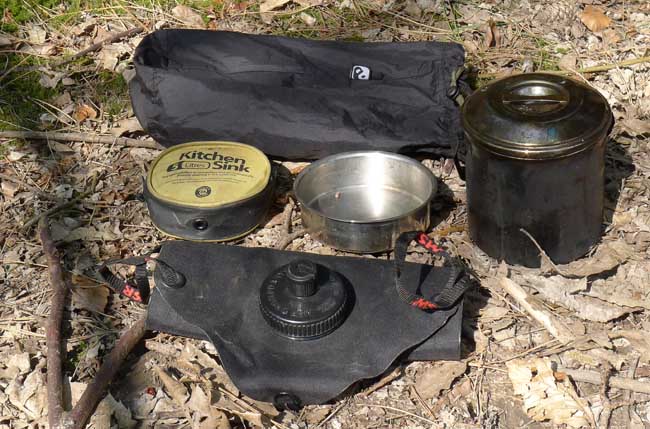 8. Water purifier. My first choice of method for making water safe to drink is boiling. A fire isn't always convenient or practical, however, particularly when you are on the move. For the occasions when I don't have a fire, I use the highly effective and easy-to-use Pre-Mac MWP.
9. Spoon. The only eating utensil I take.
10. Water bottle and metal mug. As discussed here, for me these are essential wilderness equipment.
11. Second water bottle. I like to have 2 litres water-carrying capacity as a minimum.
Personal Hygiene
12. Toilet kit. For visits to the latrine. This is an extra-small Exped dry bag containing toilet paper, wet wipes, alcohol hand-gel and a cigarette lighter.
13. Wash kit. Hygiene in the outdoors is important. Aim for a small, simple yet effective kit. My baseline kit is a toothbrush, toothpaste, soap and a razor. For a shaving mirror, I use the sighting mirror on my compass (see 29 below).
Clothing
14. Waterproof shell. There are some fantastic lightweight waterproofs on the market these days, primarily aimed at hill-walking and mountaineering. They are great for the purpose and I have my fair share in the wardrobe but they are too easily trashed in a woodland environment. For pushing through undergrowth, carry firewood on your shoulders, etc., you need something tougher. Not to mention the risks posed by fires. A high-quality and durable waterproof jacket (Norrona Recon Jacket is pictured but by no means the only choice) that will keep out the rain hour after hour, combined with a cheap yet durable and effective pair of waterproof trousers (mine were £20 from E-bay) is my preference.
15. Heavy warm layer. The classic Swandri wool shirts are great in the woods and safe near fires. They are a lot more durable than a woollen pullover.
16. Spare clothes. Spare socks, underwear and t-shirt.
17. Lightweight warm layer. An Ulfrotte 200g top – lightweight and warm – stuffed in a stuff sac. These garments can also be worn in your sleeping bag on unexpectedly cold nights. I've seen lots of these tops ruined by people wearing them as an outer layer, as a sweater. They are not made for this, they are designed to be underwear. The loop-stitching is easily pulled. Wear something over the top of it – even a light cotton shirt will protect it well. In this stuff sac I also stuff items such as 18, 19, and 20, when I'm not using them.
18. Bandana. Large cotton bandana. This has lots of uses – from a scarf to a towel to a rough water filter to an emergency triangular bandage.
19. Warm hat. A light but warm hat should always be in your kit, whatever time of year. Heat loss through your head can be considerable.
20. Sun hat. Even in the woods a hat to keep the sun off your head on hot days makes a big difference to how clearly you can think and how tired you become. A brim keeps the sun out of your eyes and stops your ears getting burnt. This type of bush hat is also good for breaking up the shape of your head and casting a shadow on your face – an advantage when you want to remain unseen by wildlife.
Equipment
21. Head-torch. A head-torch is less critical in the summer months, when the nights are short, than earlier or later in the year. That said, I always take one. The Petzl TAC Tikka Plus is a good, lightweight general purpose model.
22. Axe. You don't need an axe to go camping in the woods but if you know how to use one safely it's a fantastic tool. I've had my Gransfors Bruks Small Forest Axe for many years and it's like an old friend.
23. Bushcraft knife. The essential bushcraft tool, is discussed more in another article here.
24. Folding saw. A Bahco Laplander saw together with a bushcraft knife makes a powerful combination.
25. Swedish Firesteel. This simple piece of kit is a very dependable means of lighting a fire. I discussed the Firesteel more in an earlier article.
26. Possibles Pouch. Put as little or as much in this as you like. For ideas see my article How to Build a Survival Kit on Bushcraft Principles
27. First Aid Kit. For more details see this article A Personal Wilderness First Aid Kit.
28. Map and map case. I've used many map cases over the years (and suffered a lot of soggy maps). I find Ortleib map cases are the most effective at keeping my maps dry. If I need to carry additional maps, I keep them in a large Loksak.
29. Compass. The Silva Ranger 15TDCL (Silva have since changed the name to Silva Expedition 15TDCL) is the compass I use. See this article for more details.
30. Notebook and cover. A notebook is always useful for keeping notes of important information, keeping a diary, making sketches, etc.
31. Binoculars. For me binoculars are an essential piece of equipment. Bushcraft is ultimately not about kit (despite what you might be led to believe by the above article!) but about a study of nature. Binoculars are a key tool in your study of nature. Whether you are watching fallow deer through the woods or close-focusing on a nearby butterfly, the use of binoculars allows you to observe so much more while remaining unnoticed.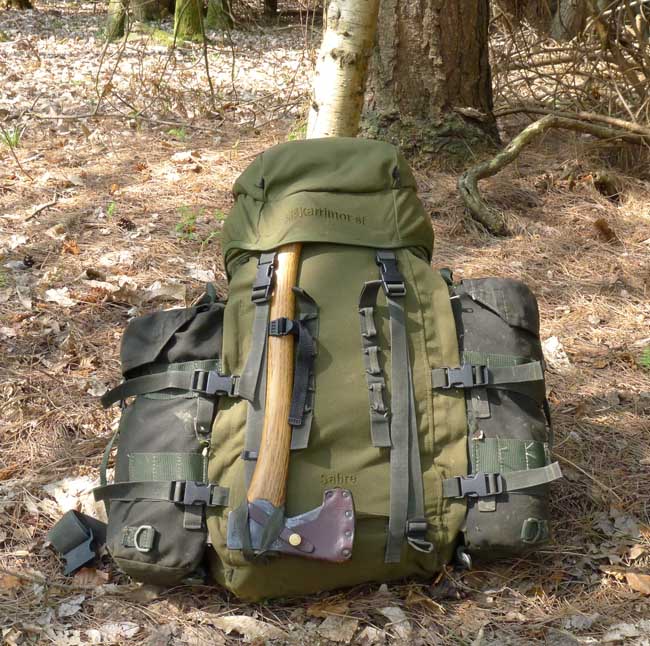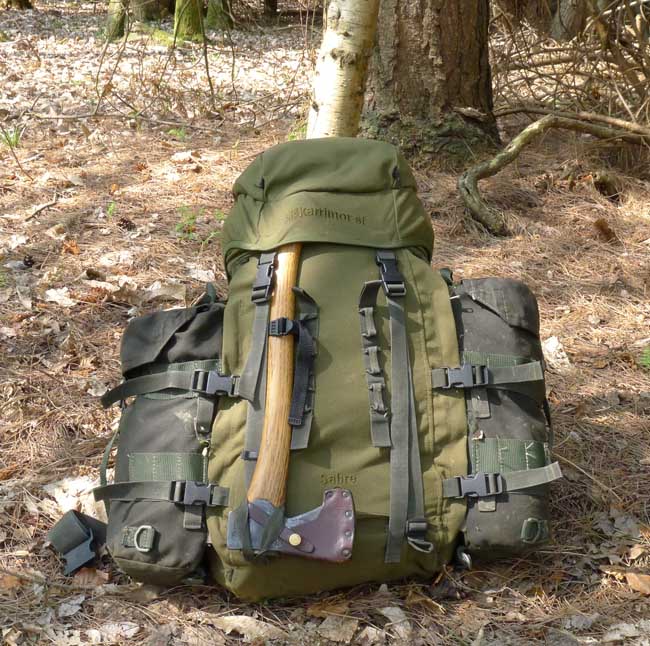 Everyone has their own personal choice of bushcraft camping equipment. The wilderness bushcraft kit above has been honed to my preferences over years of work and leisure in woodland environments. But everyone is different. What do you prefer to take when you camp in the woods? Which bushcraft kit items are indispensible to you? Let me and other readers know your thoughts in the comments section.
Related Articles on Paul Kirtley's Blog:
Essential Wilderness Equipment – 7 Items I Never Leave Home Without.
How to Build a Bushcraft Survival Kit.
A Personal Wilderness First Aid Kit: What to Include?"