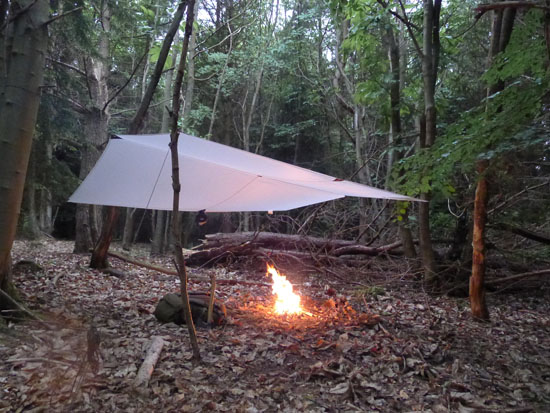 The Value of a Tarp in Your Day-Pack
The Value of a Tarp in Your Day-Pack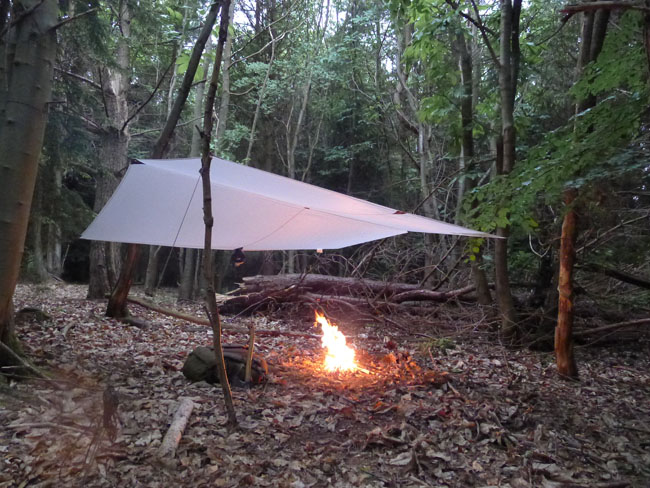 With heavy rain being a fairly regular feature here in the UK – even during the summer – I rarely, if ever, go for a day hike without taking a waterproof jacket. This is hardly an earth-shattering revelation as I'm sure this preference is almost universal amongst those heading for the great British outdoors. What's probably less common is packing a tarp.
Certainly many well-prepared hill walkers will take an orange plastic survival bag into the hills with them. Other hill goers will take a bothy-bag group shelter, particularly if they are in a group rather than solo. In reducing heat-loss and warding off hypothermia, survival bags and group shelters are potential life-savers on exposed hillsides.
While you can use survival bags to make a whole host of shelters in the woods too, this is not something you tend to do unless it's an emergency. Certainly once you have removed a survival bag from its packaging and unfolded it, they are difficult to re-pack. Moreover, if you cut them down two sides to open them out as a tarp, they no longer function as a survival bag. So you would have to buy another before the next outing to the hills.
Hence, when I'm spending the day tramping around the woods rather than above the treeline, I pack a lightweight tarp. Similar to the use of a group shelter in the hills, carrying a tarp in the woods means I have a shelter that I can use on a day-to-day basis, not just in an emergency.
A tarp that packs small and is light in weight goes unnoticed in your day pack until you need it. One that is quickly and easily stung up is a boon on otherwise wet lunch stops. If you want to stop for longer, you have a dry space in the woods for as long as you need it.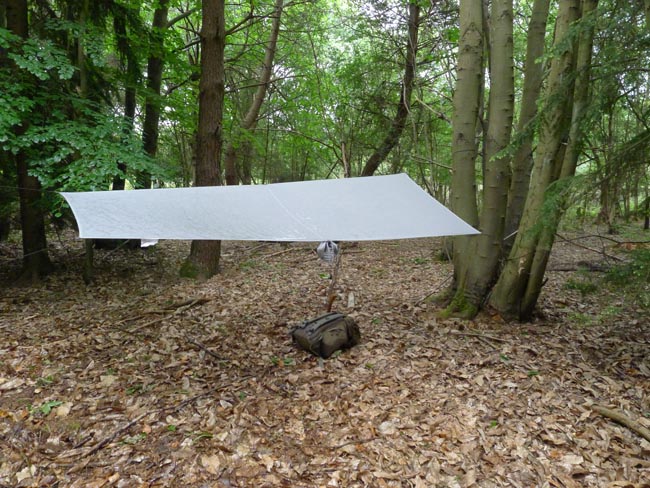 A lightweight tarp has a similar weight to a heavy-gauge polythene survival bag or a small-to medium sized group shelter. There are many good tarps on the market. The one I particularly like for my day-pack is a silicone-coated nylon 'Scout Tarp' I bought at MEC in Toronto. For CAD$60 this tarp represents really good value. It weighs only 450g (1lb) with guy lines attached and is very versatile in the ways it can be pitched. Covering an area of 2.1×2.9m, the Scout Tarp is big enough for two people to sleep under and at least a couple more to sit under. For a group, carrying a larger tarp is likely to reduce overall weight compared to everyone in the group carrying smaller, individual-sized tarps. A larger tarp also provides a communal space within which you can share stories, jokes, and talk over plans while waiting out the bad weather.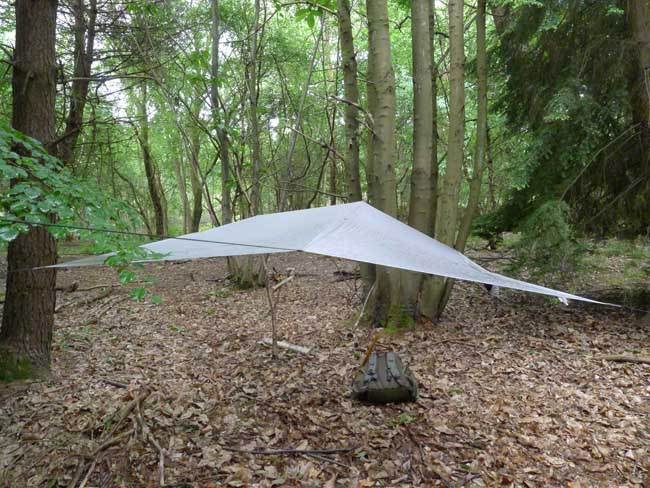 Tarps are versatile in the way you set them up and you can quickly come up with a set-up that best deals with the conditions – maybe a lean-to for protection from the prevailing breeze, for example.
Making your day out in the woods more comfortable is, for some, a debatable luxury. But a tarp could also be a lifesaver in more difficult situations, reducing heat-loss and defending against hypothermia. In cold damp conditions, the tarp obviously provides a haven from the rain. What surprises some people is that, as long as you are reasonably careful, you can light a fire directly under even a small, lightweight tarp.
With a tarp pitched in a fairly standard fashion, open on all sides, this creates a warm air space under the tarp and you get much more benefit from a relatively small fire than you do with just a fire. In heavy rain, you would need a much bigger fire to create the same warmth as you get with a tarp-and-small-fire combination. Convection currents under the tarp carry warm air back down onto you as well as getting the benefit of direct radiant heat from the fire.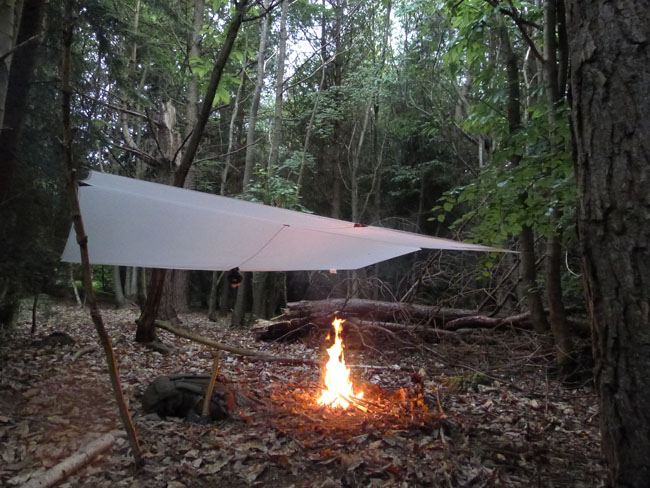 The time you have to be most careful is when you first light the fire, when small fuel is burning. This can burn fast and quite high. Once the fire is established, you can slow it down, burning larger fuel. You might feel safer establishing a fire outside of the tarp then moving it underneath. It's worth bearing in mind, however, a tarp will protect your tinder and/or kindling from rain as you ignite and establish your fire.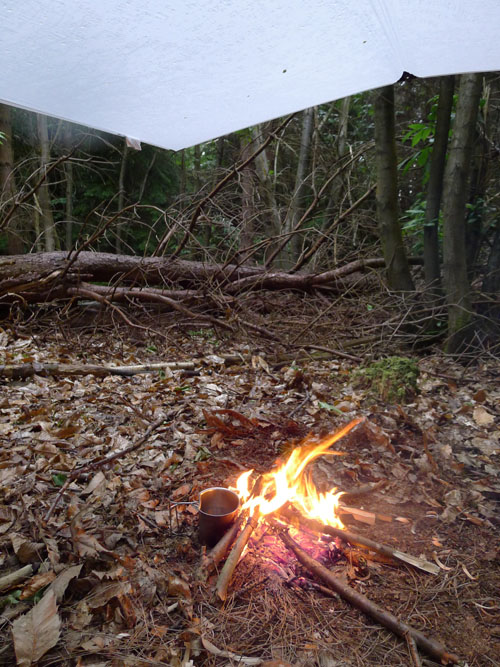 Including a tarp in your day-pack isn't limited to the UK. I think it makes sense anywhere you might have damp or cold-damp weather and you can string up a tarp and have a fire – for comfort or in an emergency.
Do you carry a tarp when you head to the woods for the day? Or do you think it's just more unnecessary gear to carry. Let us know your opinion in the comments section.