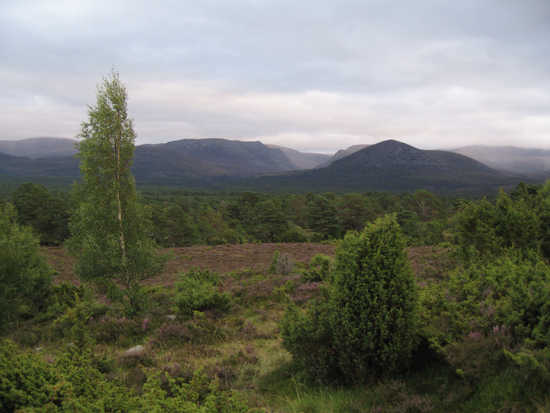 The Importance of Leaving Word Before Heading Into the Wild
The Importance of Leaving Word Before Heading Into the Wild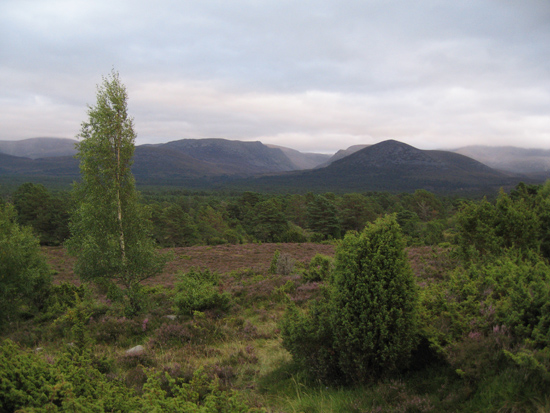 Nobody heads out into the wilds expecting to be the recipient of a search and rescue operation.  Most people think it will never happen to them.  But you only need to Google 'lost hiker' or 'missing hiker' to get a sense of how many people for whom it becomes a reality.
A famous case, recently popularised further by the film 127 Hours, is that of Aron Ralston who became trapped by his arm in a remote and claustrophobia-inducing canyon in Utah.  Nobody knew where he was.  Ultimately Ralston was able to undertake a self rescue of an extreme nature after more than 5 days in the canyon.  Watch the movie trailer below for a sense of what he put himself through…
The next time you head out into the wilds, what will happen if you don't return home when you planned to?  Will anyone miss you?  Will anyone know where you are?  How long will you have to wait before someone raises the alarm and searchers mobilise to start looking for you?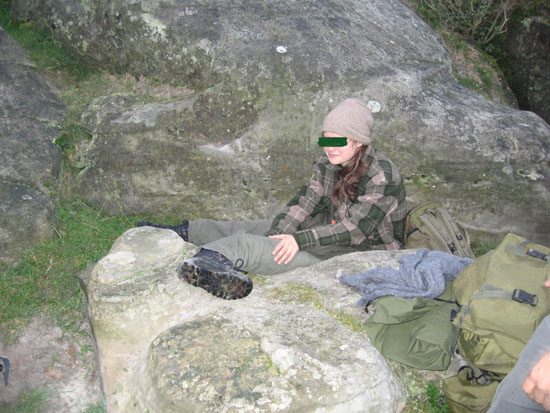 Leave word.
It's always wise to leave word with someone.  I can't think of a situation it wouldn't be.  At the very least you should be telling someone responsible where you are going and what time you expect to be back.  Beyond that you should agree with them at what time they raise the alarm (e.g. 2 hours after you are due back) to allow you some contingency for being delayed. But also, if you slipped and broke your leg at 13:00 and you know that someone is going miss you at 17:00 and going to call you in as missing at 19:00, then it gives you a good deal of comfort.  Your trusted person doesn't even have to be geographically near to your finishing point.  You can give them the details of your trip by phone or email for example and agree to call them when you return. Note that I use the words responsible and trusted to describe who you should leave details with.  Leaving word, in itself, won't get you rescued.  The person you trusted has to raise the alarm for anything to happen. 
Leave Details of Your Route.
The more details you can leave about your intended route the better.  If people searching for you only know where you started, they are potentially left with a surprisingly large area to search if you fail to return: Assuming you headed out for an overnight camping trip and walked up to 10 miles (16 km) the first day then at the end of the day you could be in anywhere in a circle of 10 mile (16 km) radius of your start point.  This is an area of 314 square miles (over 800 square km)!  Any information you can leave about your intended route, or even the location of your intended camp, will narrow down any search area and speed up your rescue.
You can go one step further and leave a route card.  A route card is a good planning aid, particularly for the relatively inexperienced.  It allows you to plan a route from a map and note down significant features, grid references, bearings and estimated timings.  The latter point is an important one: people often overestimate what they can achieve in a day; sitting down before you set out and properly calculating how far you can travel along your intended route may well just avoid you biting off more than you can chew.  This alone will make for a safer and more enjoyable trip.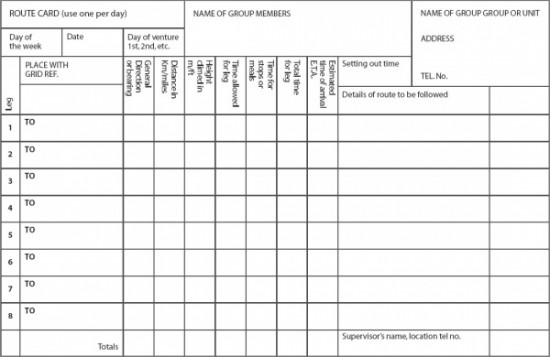 There are some criticisms of route cards.  One is that it has little value in communicating a planned journey to other people.  I disagree.  While there are more visual ways of communicating your route to another person, for example a map with the route drawn on in it, you can still piece together someone's route with route card information.  It just takes a little longer to assimilate the information.  Faced with searching for someone, with no other information, a route card could be invaluable.  But only if they have adhered to their route.  This brings us to another criticism of a route card – that it introduces a lack of flexibility into your planning.  What if things change on the ground? 
Even if you don't use your own route card, parks (Algonquin Provincial Park for example) often require you to specify which campsite you will be using or which lake you will be camping next to.  When you complete the form at the park office, you are effectively creating a high-level route card which outlines your route.  So I think the answer is a happy medium.  Particularly if you are on a multi-day trip, you can give high-level details of direction, intended route and what area you intend to spend the night.  This gives you the freedom to vary your route depending on conditions, explore off your route a little, stop short of your intended campsite or go a little further if you are feeling good.  The important thing is that someone knows broadly where you intended to be on a given day and where you were heading next.  Moreover, you should never feel so constrained by your plan that you can't roll with the punches while you are on a trip – you should have the flexibility to modify the route in view of the conditions prevailing at the time.
Plan Your Trip.
Whether or not you choose to use a route card, you should certainly plan your route.  Studying the map closely will allow you to visualise the route and identify potential obstacles or problems.  As mentioned above you should think about how far you can realistically travel in a day.  Consideration should be given to the terrain, the fitness and experience of the group, the likely conditions for the time of year and the amount of daylight available.  You should also look for and make note of potential escape routes in case you need to abort the trip early.
What Could Possibly go Wrong?
You should also think about what can go wrong and the likelihood of it happening – basically you are doing a risk assessment.  If you aren't happy with some of the potential risks, maybe you have to reconsider your route (to avoid a river crossing for example) or even the trip's objectives.  Make sure you have the equipment and training necessary to deal with emergencies.  Apart from rescue gear specific to your activity, this typically boils down to first aid kit, communication devices and signalling devices.
It's best practice to leave details of this equipment with your trusted person back at home.  Then anyone who has these details knows your capabilities and your limitations.  Knowing what type of device you are trying to signal with will potentially speed up your rescue.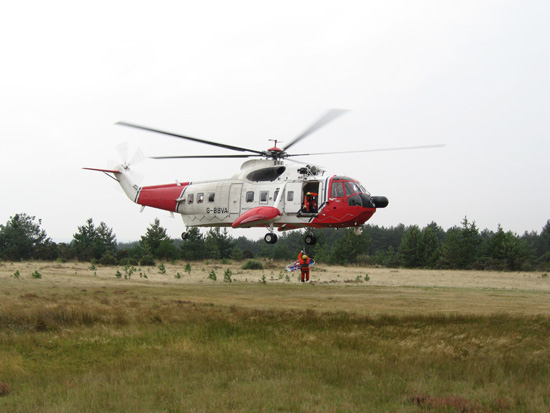 Emergency Plan.
You should have an emergency plan for the contingency that you need external assistance.  It could be as simple as calling the emergency services with your mobile phone, staying put, putting on warm clothes, getting into a survival bag, drinking warm drinks from a thermos flask and waiting.  But at least you will have thought it through.  It may even prompt you to remember to pack an extra warm layer or even a survival bag.  Leaving details of your emergency plan with your trusted person means your actions will be more predictable to any searchers – they know what you plan to do in an emergency.
Have a Kit List.
You need to have a method by which you don't forget any equipment before you head out on your trip.  A kit list is an obvious and effective way to do this.  Just tick off the items as you pack.  Not only that, a kit list is a great planning tool: Compiling a kit list forces you to be more systematic about your choice of equipment; it also makes you rationalise why you are taking something or leaving it out.  Furthermore, if you leave your kit list with your trusted person, should the worst-case scenario come about, search and rescue personnel will have a very good idea of how well equipped you are.
The Personal Outdoor Plan – Enter Chris Smart.
I first met Chris Smart while I was assisting on a tracking course in 2004.  Chris introduced himself as an RAF survival instructor.  He has an impressive CV.  Chris has taught survival skills for around 20 years now and was the chief instructor at the UK joint service survival school. He has taught survival techniques in temperate, arctic, jungle, and desert regions and has trained personnel from the UK and NATO  military as well as other forces world wide. Chris now spends a lot of his time researching new equipment, testing and evaluating it and then developing training to maximise its use.  He is part of the Survival Wisdom team who mainly prepare corporate clients, and volunteer organisations, for travel to remote areas.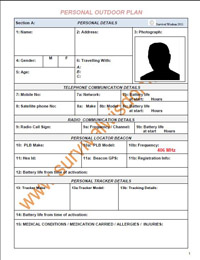 Chris has developed a document called the Personal Outdoor Plan (POP).  It captures all of what I have talked about above and more.  It is a brilliant format to record all the information you could ever want to leave with a trusted person before you head out on a trip.
I asked Chris how the POP came about: "The POP was developed with the input from lots of individuals and organisations. In Search and Rescue it's the Search phase that will use the most time.  This can be reduced by narrowing the search area. Also the more information available to rescue planners the better the chances of success and the level of risk to the rescuers is reduced."
I also asked Chris if there was value in the POP beyond just leaving trip details with a trusted person: "The POP can be used as a planning tool and will help you to anticipate and plan your actions in an emergency. The form is designed to answer as many of the [search] planner's potential questions as possible.  The POP will provide peace of mind to the survivor knowing that emergency services have been alerted, and also to the person at home knowing that their loved ones have a plan and that they have done all they can for them. The contacts list will be useful to keep everyone informed. The POP receipt was added to give people the chance to say thank you following a rescue, and also a point of contact to track progress during and incident."
I've created a page for The Personal Outdoor Plan, or POP, and from there you can download it for free.  There is an example completed form with guidance notes as well as blank POP forms in both PDF and MS Word formats.
http://paulkirtley.co.uk/resources/personal-outdoor-plan
Related Articles on Paul Kirtley's Blog:
Essential Wilderness Equipment – 7 Items I Never Leave Home Without.
How to Build a Survival Kit on Bushcraft Principles
Creeping Death – Hypothermia and How to Avoid it
Recommended Books for Further Reading:
Recommended Viewing: