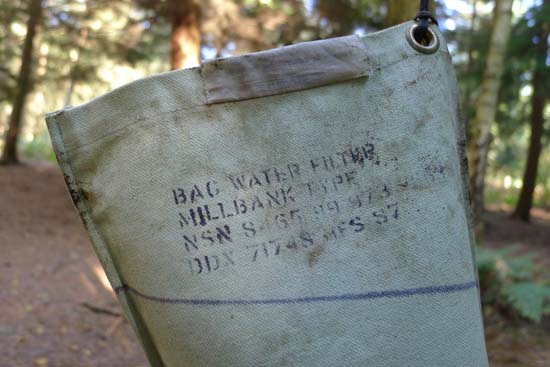 How to Use a Millbank Bag: 6 Easy Steps
How to Use a Millbank Bag: 6 Easy Steps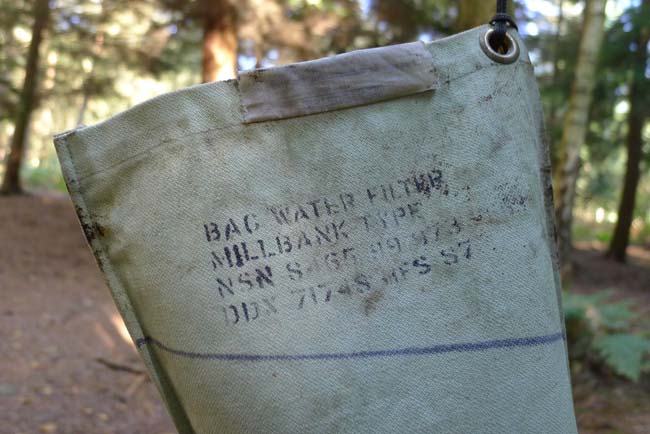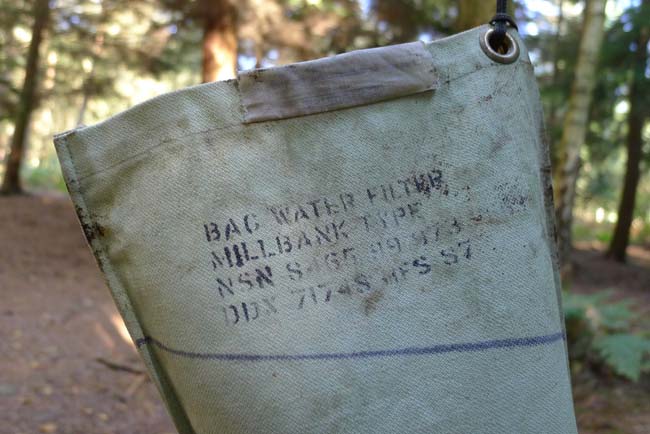 In producing drinking water, one of the contaminants we may have to deal with is turbidity.
A Millbank bag is a method of coarse filtration designed to remove sand, mud, silt or other suspended particulate matter such as decomposing organic material.
It's important to remove such suspended matter from water before you drink it. Even if there are no waterborne diseases present, turbid water can irritate your digestive system.
In addition, turbidity can reduce the effectiveness of chemical treatments in deactivating pathogenic organisms.
What a Millbank Bag Does (and Doesn't) Do
The removal of suspended particles that make water cloudy is a Millbank bag's primary purpose.
A Millbank bag will not filter out pathogenic organisms, unless those organisms remain attached to the particles of mud, silt or other suspended matter that is filtered out.
Hence, we still need to use an additional form of purification – chemical sterilisation or heat – to kill off any viruses, bacteria and protozoa that may be present.
If the water you have selected to use is clear (i.e. not turbid) then there is no advantage to putting the water through a Millbank bag.
How to Use a Millbank Bag
Many Millbank bags have instructions attached to them like a tag on the inside of a piece of clothing: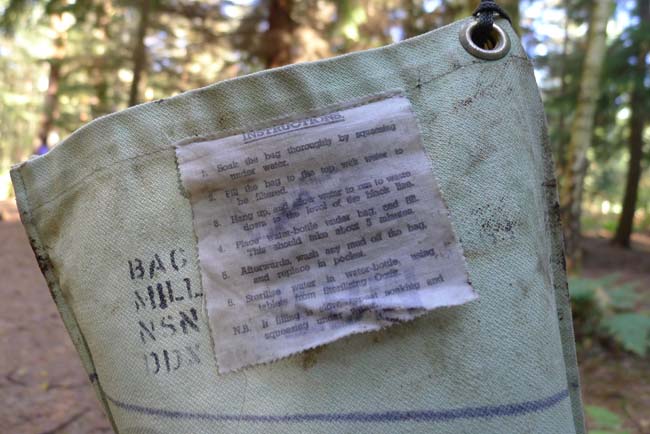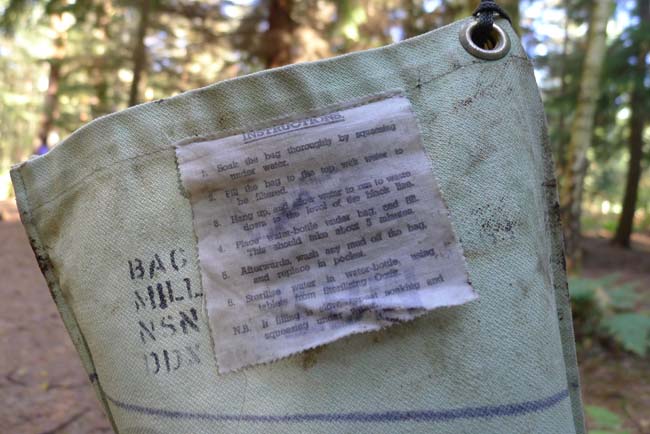 Even if the Millbank bag you are using does not have instructions attached, they are simple and easy to remember. I have repeated them below (in bold) with some additional notes for clarification/guidance:
1. Soak the bag thoroughly by squeezing under water. SOAK the bag is what it means. It is not enough to wet it. This does not have to be in clean water. You must keep it submersed and massage the bag so that the fibres become wet through. This is important. Otherwise it can take hours for a couple of litres to run through the bag.
2. Fill the bag to the top with water to be filtered.
3. Hang up, and allow water to run to waste down to the level of the black line. Let water run out of – and off – the bag onto the ground (i.e. not into a container) until it is down to the line. This is why filling to the top (step 2) is important. By the time water gets down to the line, it will only be water from inside the bag that is dripping. You can then start to collect it (step 4 below).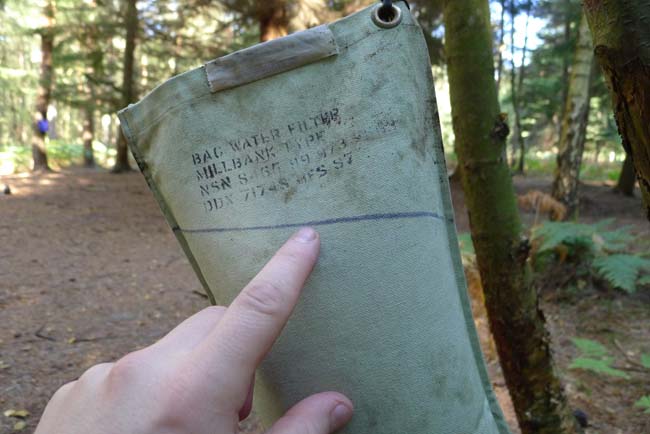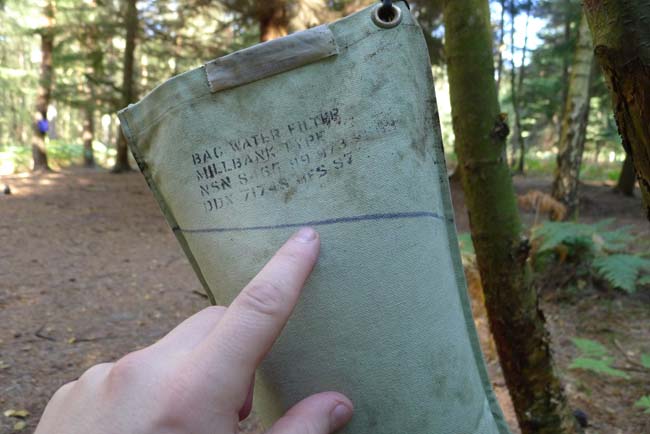 4. Place water-bottle under bag, and fill. This should take about 5 minutes. Those who have used Millbanks will be laughing at this point. 5 minutes?! In my experience, they take a bit longer than this to fill a 1-litre bottle. Maybe 20 minutes. Those who have experienced the bags taking hours will undoubtedly not have soaked the bag enough in step 1. Spend 5-10 minutes soaking the bag in the first place. It'll save you hours in the long run. If you are going to boil your water, you can drip it straight into a metal mug or pan. DO NOT drip water into your drinking bottle unless you are going to treat the water with a chemical sterilisation agent (step 6).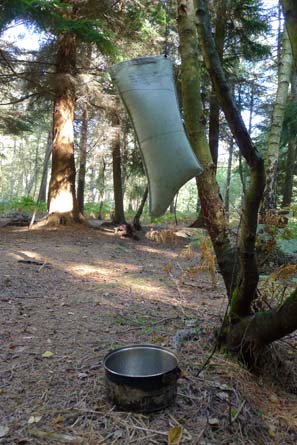 5. Afterwards, wash any mud off the bag, and replace in pocket. If you carry a small nailbrush as part of your hygiene and clothes washing kit, this is ideal for scrubbing a Millbank bag. If the water has been heavily laden with silt or similar, the inside of the bag will need cleaning from time to time, otherwise the passage of water through the bag slows significantly. Turn the bag inside out and scrub off any sediment.
6. Sterilise water in water-bottle using tablets from sterilising outfit. This obviously applies if you are using a chemical sterilisation agent (such as chlorine, iodine or chlorine dioxide). As mentioned in my notes to step 4, if you are not going to use chemicals to sterilise the water, don't drip water into your drinking bottle as you have no way of then sterilising the inside of your bottle, even if you subsequently boil the water. Drip straight into the vessel you will use for boiling if you are sterilising the water this way.
N.B. If filling is slow, repeat soaking and squeezing under water. I've already mentioned how important the initial soaking is. Here the official instructions are reminding you how important it is. If the Millbank is taking ages to empty, it is more than likely it has not been soaked enough. Empty the water and SOAK it. Re-fill and start again. You'll save time in the long-run.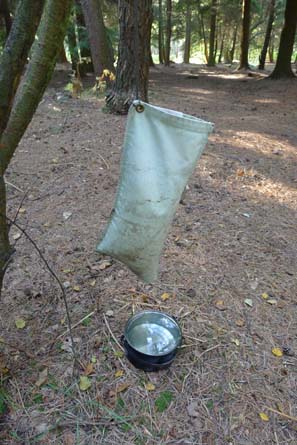 When water is really muddy, Millbank bags can be a godsend. Remember, though, that in some places water can be discoloured by peat or iron in the local rocks. This won't be removed by a Millbank bag but it's nothing to worry about.
The main thing you are trying to do with a Millbank bag is remove any cloudiness. If the water is clear (even if it is a little brown from peat, say), then you don't need to use a Millbank bag.
And if you are using your Millbank bag, remember to thoroughly SOAK it!
Related Articles On Paul Kirtley's Blog:
Water Purification: 5 Contaminants You Need to Know About.
Essential Wilderness Equipment – 7 Items I Never Leave Home Without.