The Stagger Inn: Portrait Of A Wilderness Cabin
The Stagger Inn: Portrait Of A Wilderness Cabin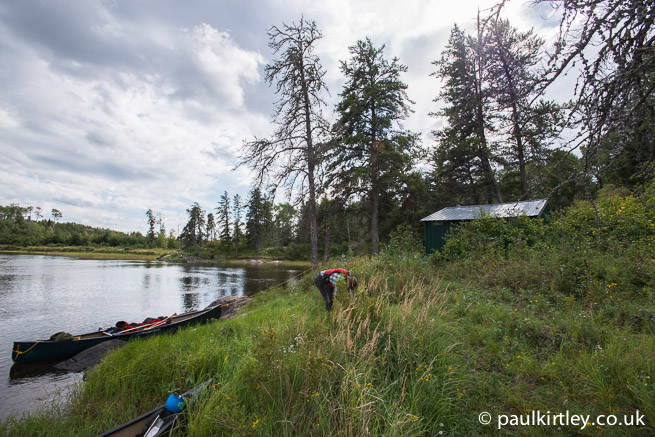 Wilderness cabins, huts, hytte, cottages, bothies – whatever your name for these footholds in the wilds – are intriguing places.
They tell you something of their owners and users.
They can also inform you about the environment in which they are placed.
In the north woods, a well outfitted cabin indicates how cold it gets in winter and what skills are important for survival there.
We came across one such cabin on the Bloodvein River.
It was called the Stagger Inn and was one of only two cabins we passed on 225km (140 mi) of river journey.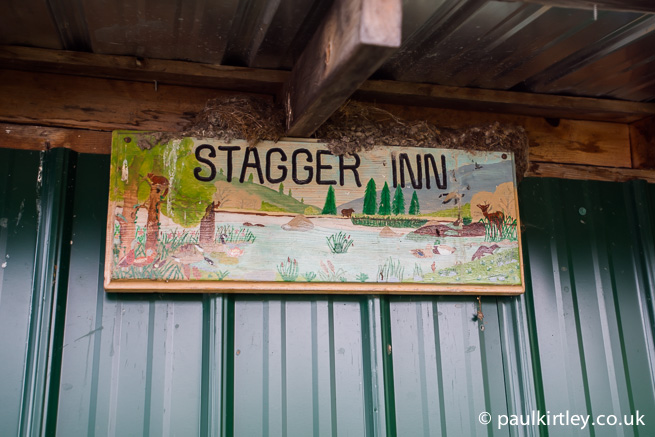 Basic yet comfy, the Stagger Inn cabin is a relatively small single-room structure but well set up for several people to spend an extended period there.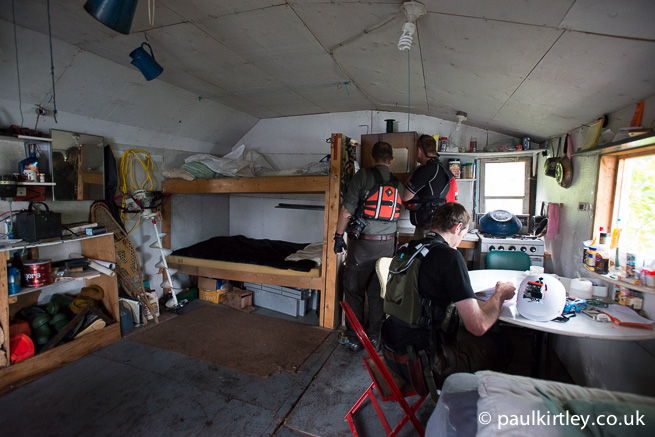 Snowshoes and an ice auger tell you it gets cold here in winter. Most telling of just how cold, however, was the size of the stove.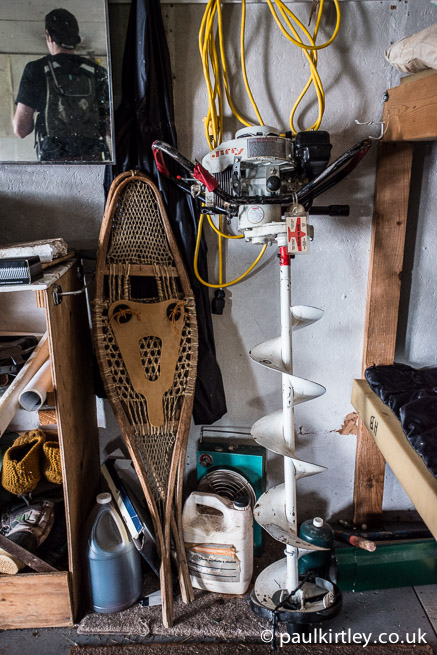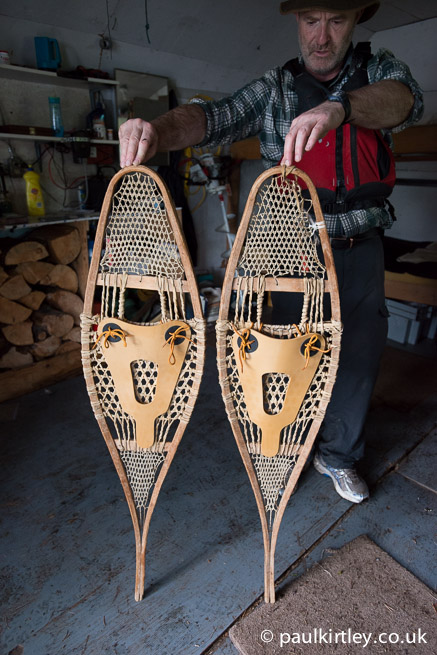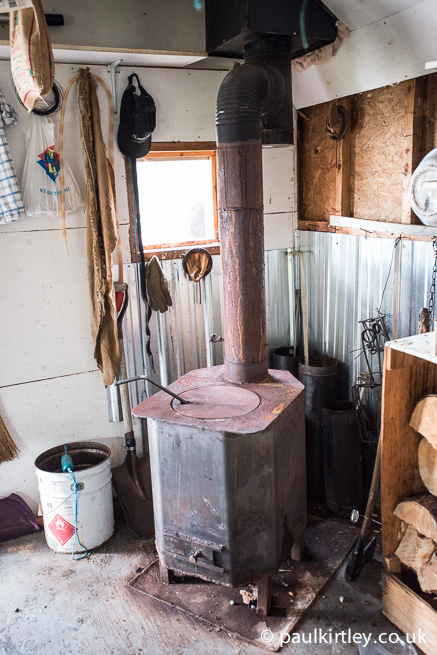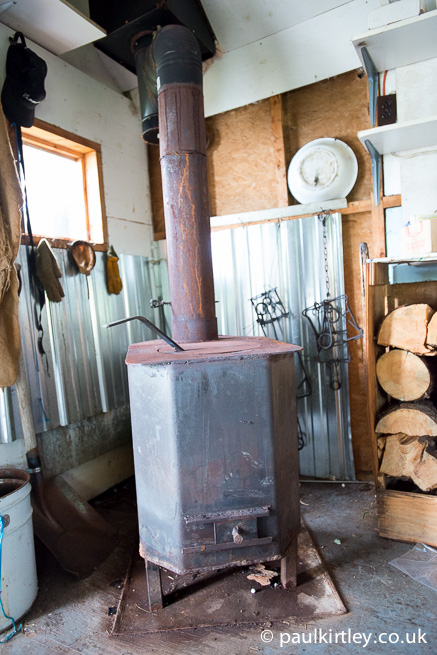 One other detail filled me with warmth.
It's a detail that might pass by many a summer visitor.
All along the main beam spanning the centre of the room, inserted at regular intervals were long nails.
I've done a fair bit of winter travel and one of the most important things is to keep your clothing and footwear free from moisture/frost, something which is very difficult unless you have access to a warm environment such as a heated tent or cabin.
This is something I noted in my How To Live In A Heated Tent article. And in a cabin, as in a hot tent, the warmest air is high up in the warm space. So it was that I smiled at the rows of nails in the beam. Today though, still in September, there were no winter garments or boots hanging up there, only an enammelled coffee pot.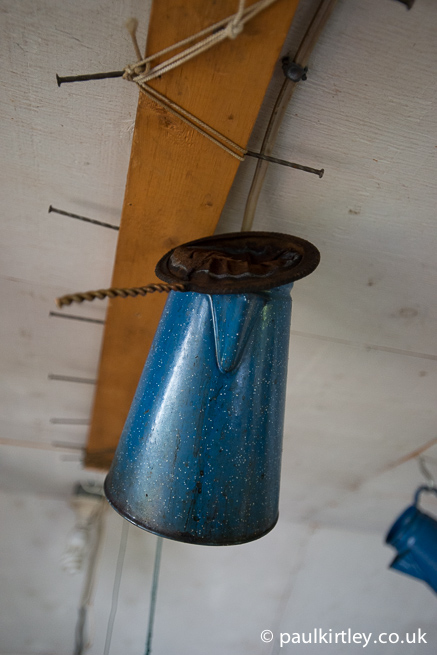 Some sizeable and well-seasoned firewood was stacked ready and alongside were a couple of hefty axes, including a specialist Chopper1 mechanical splitting axe.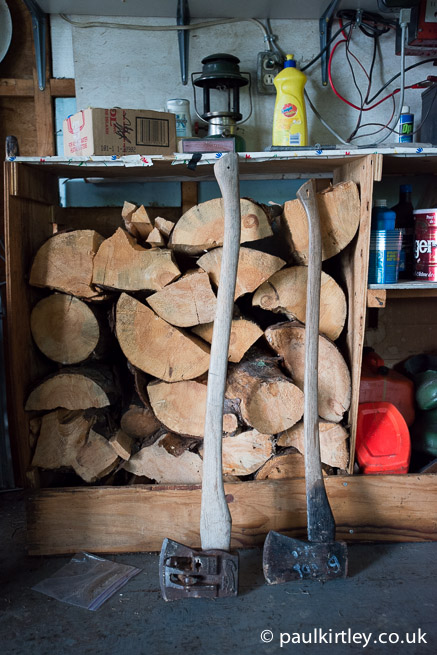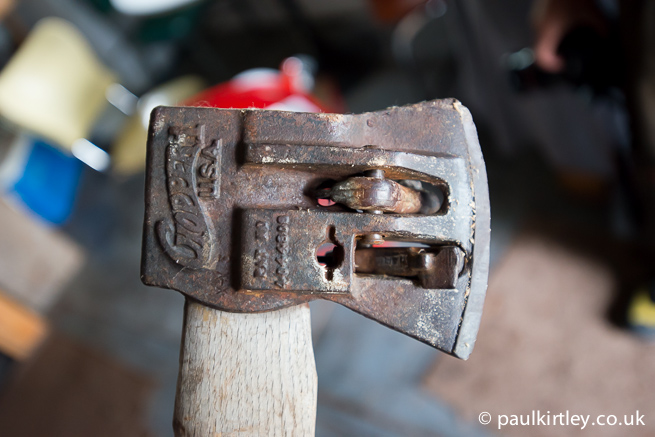 The inquisitive reader may be wondering why we came to be in the cabin, if we should have been in there looking around or even if we might have broken in!
It is known to travellers of the Bloodvein that this cabin is left unlocked – as many such cabins in the north woods are – in case anyone is in need of its shelter.
Indeed the owners encourage visitors to leave a message and sign the visitors log book, left out on the table.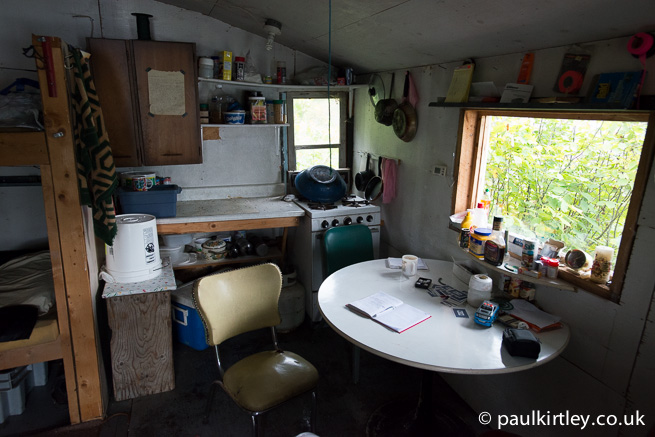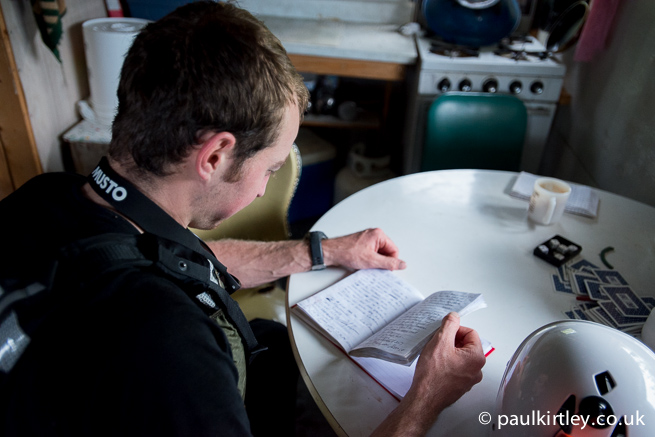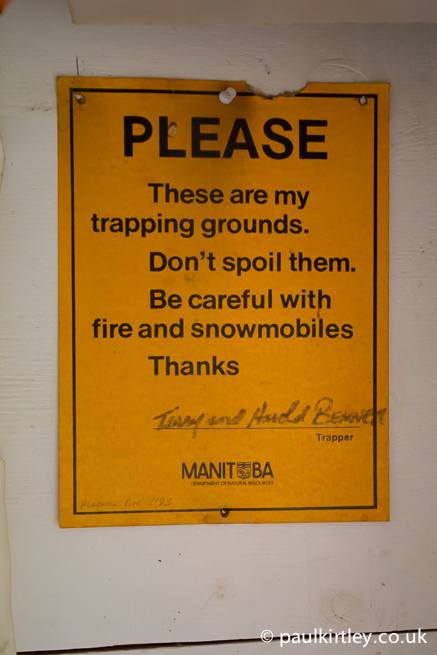 All the space around the perimeter of the room was put to efficient use. On the walls were cupboards and shelves, housing basic supplies as well as reading material. There was also a map of the local area and, on one of the cupboards was taped a hand-written note (which I've typed out below).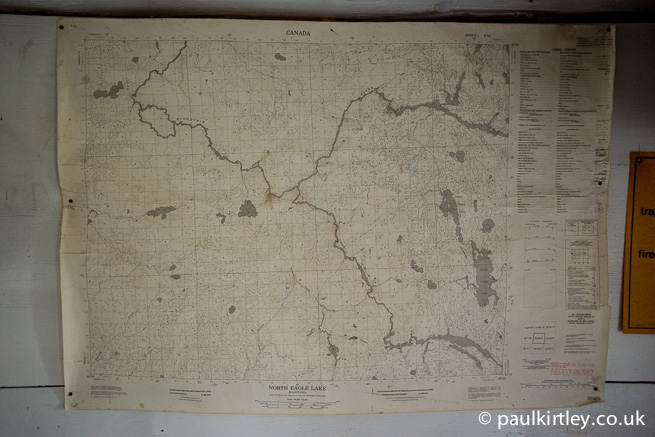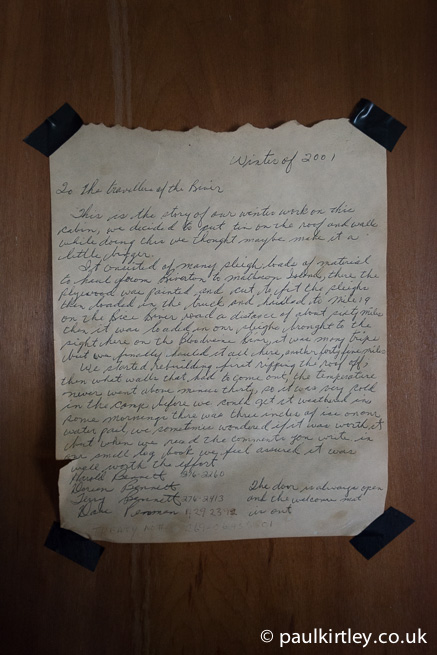 The Hand Written Note:
"Winter 2001
To the traveller of the River,
This is the story of our winter work on this cabin, we decided to put tin on the roof and walls while doing this we thought maybe make it a little bigger.
It consisted of many sleigh loads of material to haul from Riverton to Matheson Island, there the plywood was painted and cut to fit the sleighs then loaded in the truck and hauled to mile 19 on the Rice River road a distance of about sixty miles then it was loaded in our sleigh brought to the sight here on the Bloodvein River, it was many trips but we finally hauled it all here, another forty five miles.
We started rebuilding first ripping the roof off, then what walls that had to come out, the temperature never went above minus thirty, so it was very cold in the camp before we could get it weathered in, some mornings there was three inches of ice on our water pail, we sometimes wondered if it was worth it but when we read the comments you write in our small log book we feel assured it was well worth the effort.
Harold Bennett
Doreen Bennett
Jerry Bennet
Dave Persman
The door is always open and the welcome mat is out".
---
Even though we were not in need of the shelter the cabin provided, we were all very grateful for the spirit of hospitality, kindness and trust which was underpinned the unlocked door and the hand-written note. It certainly made my day. Thank you Harold, Doreeen, Jerry and Dave.
Around the cabin were signs of it being used as a trappers cabin, most notably some traps hung up behind the stove. Outside were also some traps.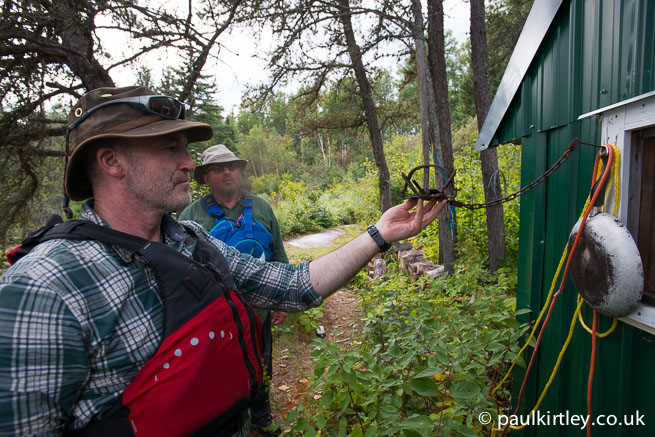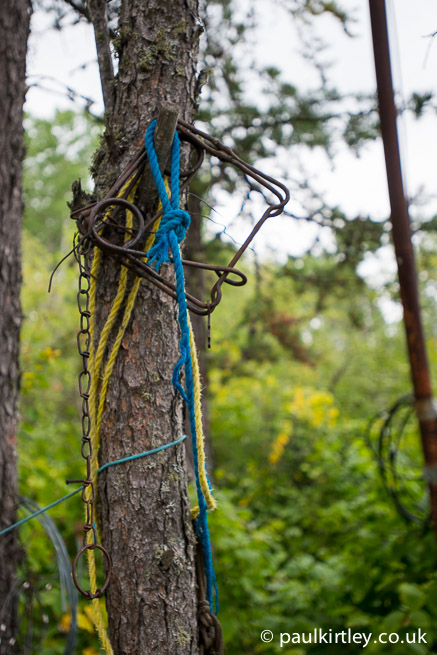 Whatever your thoughts on trapping, this cabin and the surrounding land are the survival kit of the people who come here.
We were careful to leave the cabin as we found it and, in particular, close the door properly.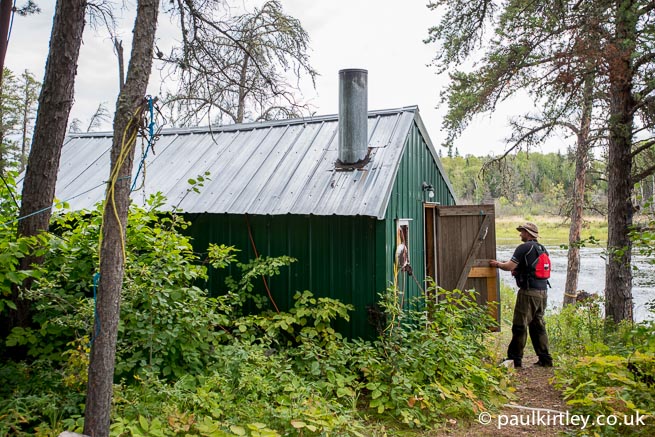 Even though it was mid-September and still relatively warm during the day, the night-time temperatures were steadily falling during our two-week trip, the geese were flying in greater numbers during each day and we knew the first snows were really not far away.
What struck you about this cabin? What did you find interesting? Let me and other readers know in the comment section below…
Related Material On Paul Kirtley's Blog:
Winter Magic: Return To The Northern Forest
Bloodvein River Trip: My Personal Gear
Six Men, Three Boats And The Bloodvein: Canoeing A Wilderness River