Six Men, Three Boats and The Bloodvein: Canoeing A Wilderness River
Six Men, Three Boats and The Bloodvein: Canoeing A Wilderness River
Rory, our pilot – about one third the age of the de Havilland DHC-2 Beaver he was flying – took the plane into a banked turn as we descended towards Artery Lake.
About 31 minutes earlier we had taken off from Red Lake. Malcolm was the other passenger. Just behind him, to the rear of the small fuselage, was our personal kit, a barrel of food and some canoe paddles. Outside, strapped to the port float struts was a 16ft canoe.
Flying at a maximum speed of just under 100 knots, the journey would take us around 90km away from the road we left behind at the float plane dock. Throughout the flight, even from an altitude of 2,000-3,000 feet, all we could see underneath us and stretching continuously to the furthest horizon in every direction was northern coniferous forest.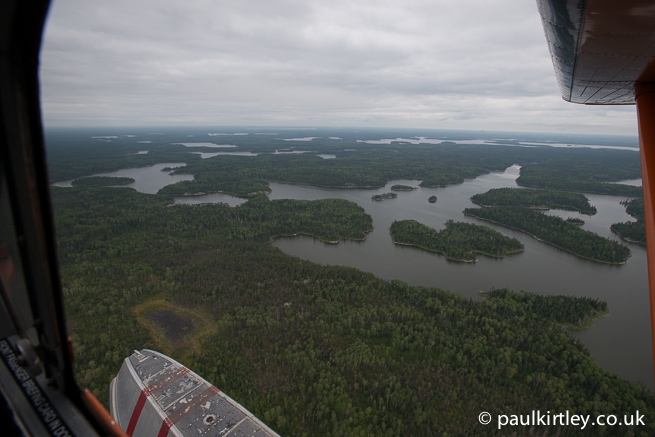 Our touchdown on the water was remarkably light, after which we rapidly slowed to taxiing speed. Rory took the plane round a low rocky headland towards a small sandy beach. A short distance out from land, he cut the engine. As the shallow gradient of the sand came up to meet the floats, we glided silently to a stop.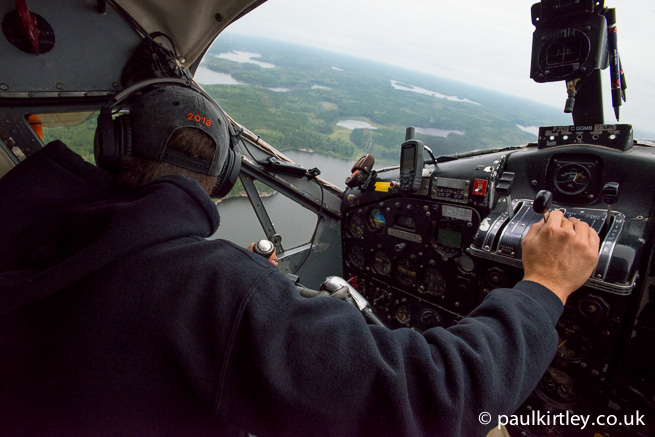 We began to unload our kit, placing it carefully ashore. By the time our boat was being untied, only a few minutes later, we heard the second plane coming in to land.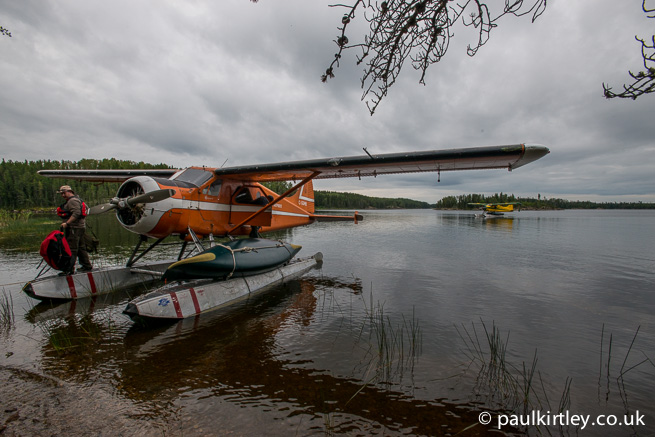 Malcolm and I were part of a six-man team undertaking the trip – consisting of Ray Goodwin, myself and four guys for whom we had arranged the trip. Ray and I work together to provide wilderness canoe trips such as this as well as trips and training courses in the UK.
We would be paddling tandem in three boats. The small load capacity of the Beaver float planes meant we needed three flights to get along with all of our food and equipment to the starting point of the trip.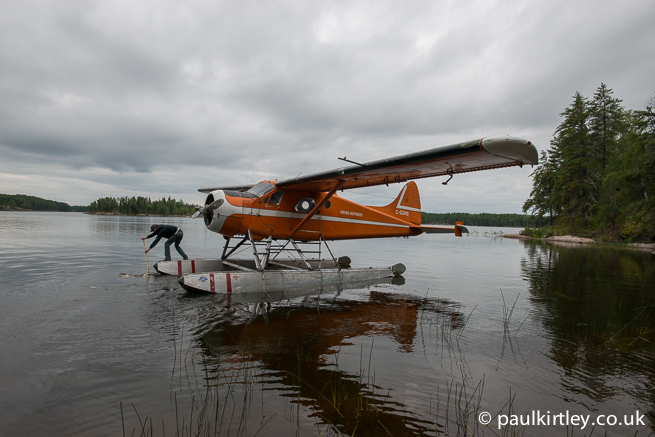 As quickly as we had landed and unloaded, the planes were being pushed back and turned around. Engines sputtered back into life then each plane took its turn to accelerate away, up and off into the distance.
As the drone of the engines subsided, we were left in the quiet of nature.
In the distance a Loon (a.k.a Great Northern Diver) called.
We had flown into the heart of a true wilderness. No roads. No railways. No trails. Only woods and water.
Our intention was to travel by canoe westwards through this great wilderness, following the flow of the Bloodvein River to Lake Winnipeg.
The Bloodvein River
The Bloodvein's headwaters are actually not far from Red Lake, where our float plane flight started. It is possible to paddle from the western end of Red Lake to Artery Lake but this is largely flat water paddling on lakes, some narrow interconnecting channels as well as plenty of portaging. This option adds around a week to the total journey time. The flow starts in a more determined fashion, however, after Artery Lake, where the Bloodvein becomes a river proper. This is where our 13-day, 225km journey would begin.
The Ontario-Manitoba border cuts through Artery Lake so we would not remain in Ontario for long, with most of the journey taking place through the Manitoban section of the Bloodvein.
The river is part of the drainage which eventually flows into Hudson's Bay by a series of waterways that take the flow first west into Lake Winnipeg, Manitoba, then north-eastwards via the Nelson river.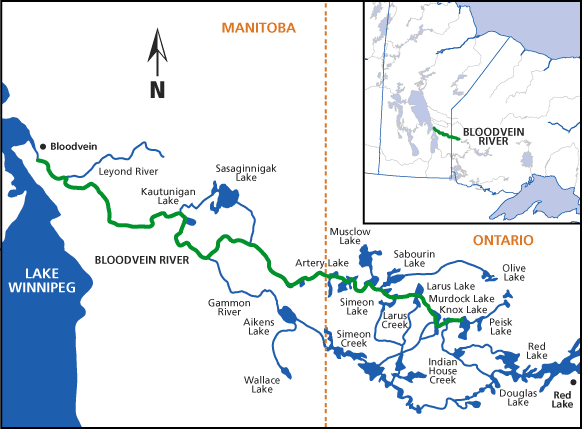 The natural history and human history of this area and the river in particular are highly significant. The whole Bloodvein has been afforded Canadian Heritage River status, with the Manitoba and Ontario sections being nominated in 1984 and 1986 respectively. This means the governments of both provinces work together to protect the entire length of the Bloodvein river corridor's heritage.
There are, at the time of writing, 42 rivers in the Canadian Heritage Rivers System (CHRS), which has the mandate to "conserve rivers with outstanding natural, cultural and recreational heritage, to give them national recognition, and to encourage the public to enjoy and appreciate them."
Moreover, the river links two sizeable and important Provincial Parks – The Woodland Caribou Provincial Park (4,500 km2) in Ontario and the Atikaki Provincial Park (3,981 km2), Manitoba's first wilderness park.
Coinciding with the unveiling of a plaque at the Red Lake Regional Heritage Centre in 2010 to commemorate the national significance of the Bloodvein River, a Parks Canada press release highlighted the following:
"The Bloodvein River provides habitat for one hundred bird species and a wide variety of plant, animals and fish, including threatened and endangered species such as wolverines, woodland caribou and spike moss. The area's natural features include outstanding representations of the Canadian Shield and the Central Boreal Upland Forest and exceptional cultural features such as undisturbed archaeological sites that provide evidence of hunter-gatherer peoples dating from 6,000 years ago, pictographs dating from between 900 and 1200 AD, and a rich history as an aboriginal and fur trade route. The river remains important to the Lac Seul and Pikangikum First Nations to this day."
Considered as a whole, the land through which the Bloodvein river flows is a region of boreal forest covering 43,000 km2 (17,000 sq mi) – over twice the area of Wales. The provincial governments of Manitoba and Ontario working in conjunction with five First Nations are proposing it be made a UNESCO world heritage site. The First Nations call this land Pimachiowin Aki (pronounced Pim–MATCH–cho–win Ahh–KEY), meaning land that gives life in Ojibwe.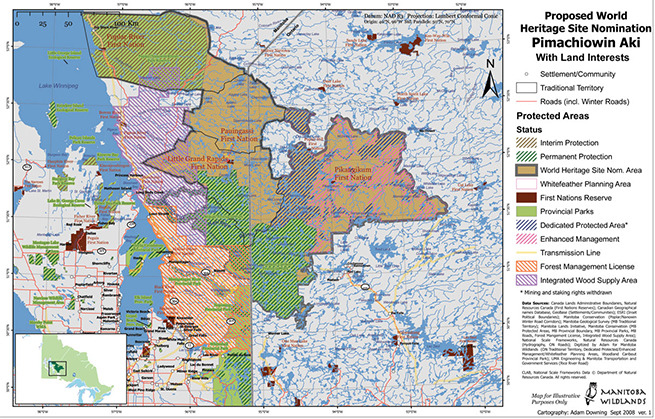 Bloodvein River Environment
The Bloodvein river flows through an area of northern coniferous forest, also known as boreal forest or taiga.
The province of Manitoba has an area of 649,947 km2. Around one third of this area, 164,000 km2, is covered by northern coniferous forest. For comparison, this area of forest is greater than the area of England (130,395 km2) or just over twice the size of Scotland (78,387 km2).
The amount of water in lakes, rivers, bogs and marshes is very high, with up to 50% of the land surface covered in parts of northern Manitoba. Poor drainage and low evaporation contribute to this.
For travelling in this northern coniferous wilderness of trees and water, canoeing and bush skills go hand-in-hand.
The Canadian Shield
Underlying the landscape of the whole region is pre-cambrian rock – granite and gneiss – commonly known as the Canadian Shield. This exposed rock is all that remains of ancient mountains, shaped and scoured by glaciers.
The last ice sheets retreated from this area only seven to eleven thousand years ago. Bare rock and sediments were left behind, with thousands of lakes, rivers and streams forming in the low points.
Top soil, where it does exist, is even now only very thin, with little having built up since the last glaciation. This, combined with poor drainage and extreme winter weather means only a few, well-adapted species of trees and plants can survive here.
Hence, only relatively few species of animals are supported.
Flora and Fauna
Until recently, humans also lived entirely from the land in this area. They were primarily hunters, subsisting on moose, woodland caribou, elk, bison, bear and smaller mammals. Fish, birds, and plant resources such as maple sap, berries and wild rice were also dietary staples.
At the top of the food chain, along with man, species present are red fox, wolf, black bear, lynx, river otters, owls, hawks and bald eagles.
Here there are also many biting insects (mosquitoes, blackfly, horse flies and deer flies), insect-eating birds, bats, small mammals, waterfowl and amphibians. Herbivores include moose, woodland caribou, rodents (such as beaver) and seed-eating birds.
Dominant vegetation in the northern forests of Manitoba consist of white spruce, black spruce, jack-pine, tamarack, white birch, alder, trembling aspen, balsam poplar, willows, berry-producing shrubs, mosses and lichens.
Climate
The number of frost-free days ranges from 80 to 110 days. That means for two-thirds of the year, it's likely to dip below freezing at least overnight.

Fire As Part Of The Natural Cycle
As well as cold being a significant factor in this environment, so is fire. Wildfires are part of the natural cycle here. Dry needles on coniferous trees as well as on the ground, along with resinous wood, make a significant contribution to this. But many trees and plants here are pioneer species and will reclaim areas lost to fire. Indeed, some are specially adapted to this cycle. Both jack-pine and black spruce drop thousands of seeds after their cones are activated by extreme heat.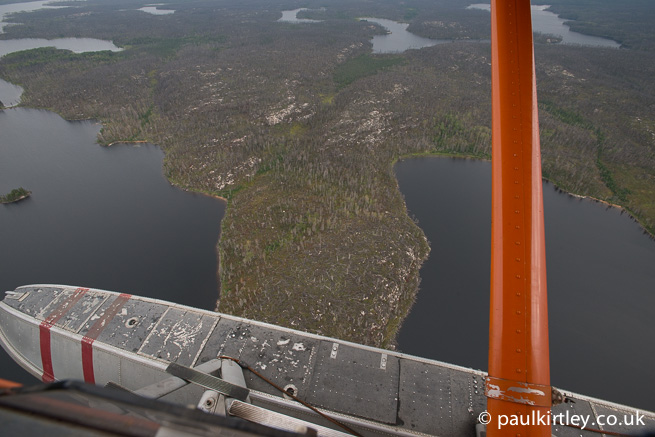 Paddling The Bloodvein River
The Bloodvein is a river system that takes in small – mainly elongated – lakes, narrow gorges, broad sweeping bends margined by swamps, reed beds and wild rice, punctuated by rock shelves, drops, falls, and large boulders.
Hap Wilson in his book Wilderness Rivers Of Manitoba describes the Bloodvein thus
"a typical pool and riffle type river where most of the current is restricted to the actual outflow of the individual rapid or fall only. This characteristic makes the river appealing for both up and downstream travel, and probably the establishing factor why the corridor was heavily used by native peoples over the last several thousand years."
That said, there are rapids from Class I to Class V along the river and Wilson cautions, compared to some other local rivers,
"the Bloodvein has a much higher flow rate which produces a greater number of technical or volume rapids greater than Class IItech, and this would appeal to the more experienced canoeist".
Between Artery Lake and Bloodvein Village (at the mouth of the river) there are 85 potentially runnable rapids, with between 43 and 63 portages depending on levels of skill and water.
The Manitoba provincial government website notes:
"Atikaki's waterways are not recommended for novice canoeists, unless in the company of a reliable, experienced wilderness traveller"
The site goes on to offer the following sensible advice about canoeing in the area:
"Wilderness travel is as demanding as it can be rewarding. Because the area is so remote and because of the risk involved in such activities, caution is advised. Essential to a successful, enjoyable trip is familiarity with wilderness travel basics and ethics: a reliable canoe and ability to carry out repairs; knowledge of map and compass techniques; proper clothing, camping gear and adequate food provisions; canoe handling skills; ability to read existing water and weather conditions; awareness of fire, wildlife and fishing regulations; good physical condition and an honest knowledge of your personal abilities and limitations. Canoe routes marked on the map are not cleared or marked in the wilderness. They may be difficult to travel in some seasons."
Pictographs At Artery Lake And Along The Bloodvein
The Bloodvein is notable for its numerous pictograph sites. Along the river are sites of rock paintings which are thought to date back over 1000 years, including one extensive site at Artery Lake which is one of the largest in the Precambrian Shield and of national importance.
Painted almost exclusively with red ochre as the pigment, these murals depict canoes, animals or animalistic figures, shamanic forms and abstract symbols, most of which have not been deciphered. It is thought that sturgeon fat, fish glue or eggs were used as the binding agent for the paint, much of which is thought to have been finger painted. Much of this paint has endured on the rock faces much longer than any modern paint has or could.
Before we began our journey downstream, we made the excursion a few kilometers from where the planes deposited us to the pictograph site on Artery. We paddled light, leaving most of our expedition gear to collect on our return. We took our day packs and camera equipment.
One of the most remarkable depictions at the site is that of a bison. It is remarkable for three main reasons; first, many animals in pictographs are not drawn in a naturalistic fashion but here the animal is one of the most realistic depictions of a bison found at any such pictograph site; second, the painting was made at least 100 miles north of where any bison herds once roamed; third, the depiction of the feet – seeming to show the shape of the sole of the foot – is unusual for North America but similar to that found in cave paintings in both Europe and in Africa. As a tracker, I find this latter point particularly interesting.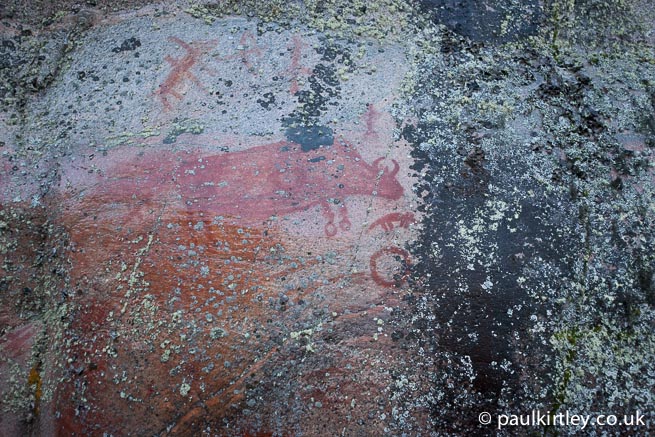 We were justifiably full of anticipation at being able to visit such a site. For me, I felt it was a real privilege to do so. We were not disappointed. Even though some of the site has been obscured by lichen, there was still much to see.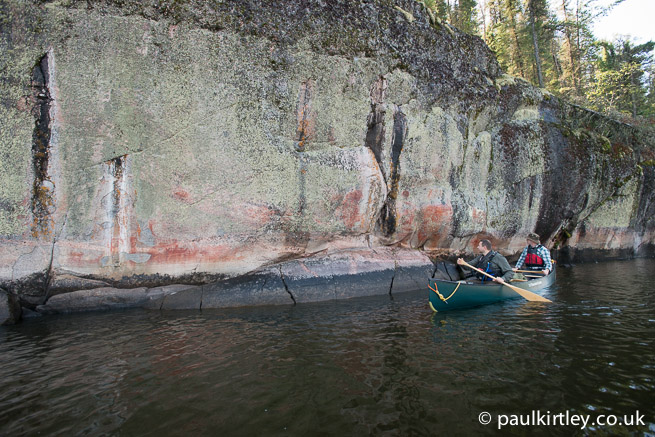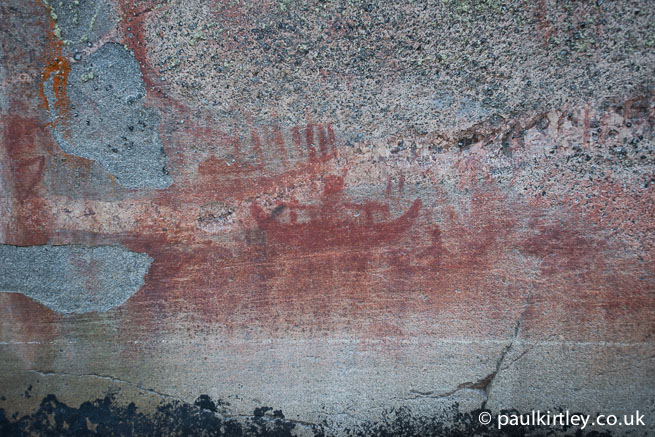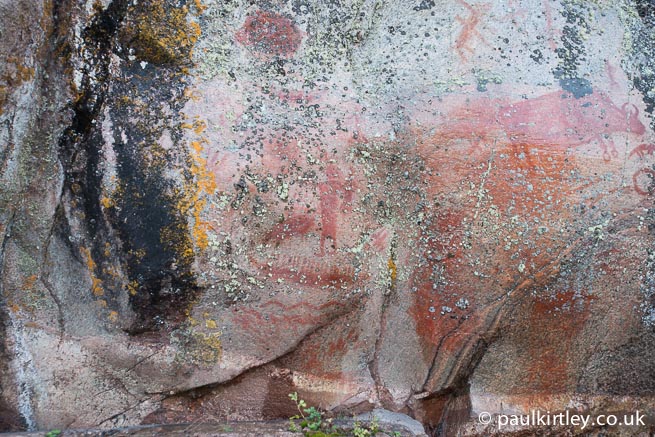 We know so much about what we do know; we are so used to our own history being recorded, interpreted and presented to us in thick books and extensive museums. It's pretty much dumbfounding when you encounter a site such as this, literally in the middle of nowhere. Nobody really knows much about it, not least why it is there at that particular place, other than the academic deduction that the Anishinaabe thought it "special".
In her book Reading Rock Art, Grace Rajnovich writes,
"The majority of researchers and the native people themselves attribute the Shield paintings to Algonkian-speaking peoples whose long history in a harsh northern world produced a reliance on "medicine", a concept of curing bound up with a deep spiritual connection with the manitous (pronounced munidoe), the spirits who inhabited every special place on the landscape. For the Algonkian Indians, every place where rock paintings occur was special."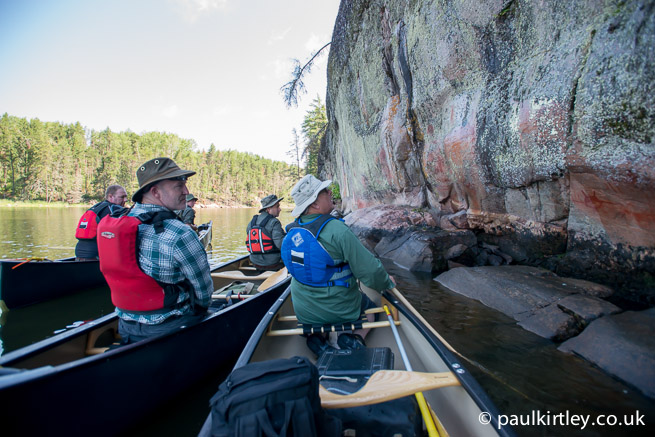 We spent some time observing the pictographs.
They set my mind racing.
You can only wonder at the meanings the painters intended, which parts of their culture it represented, how long this tradition was carried out and how much we may never know about the cultures that created them.
Heading Down The Bloodvein From Artery Lake
There is a small fishing lodge on Artery Lake. The patrons also fly in by float plane, attracted to world class fishing in the area. We'd seen a few pairs of fishermen out in aluminium boats fishing. We chatted to a couple who were from the USA.
Artery Lake is on two levels with a small rapid in between. To get the fishing boats over, there is a set of rollers over the rock to the side of the flow.
We decided to run the rapid. With heavily laden boats it was not the most refined effort from any of the three paddling pairs and as we bumped our way down the shallow water a pair of fishermen looked on with some amusement. We all waved and smiled from the eddy on the other side of the flow underneath the rapid and got the same in return from them.
The significant thing here is that unlike the UK where there seems to be a palpable animosity from fishermen towards canoeists, all the fishermen I've ever come across in Canada are very friendly. Indeed many of them were in boats themselves, accessing the best fishing. They understand that boats and fishing are not mutually exclusive.
The lack of friction could also be down to the fact there is so much more space of course. Manitoba alone has more than twice the area of the whole of the UK and only 1.3 million inhabitants.
Indeed, as we left the orbit of Jackson's Lodge Artery Lake fishing camp, we saw only two more people (also fishing) for the remainder of the 13 day trip.
Entering Atikaki Wilderness Park, we were welcomed by a torrential downpour. As we crossed a small lake we could see a very definite straight line drawn across the water ahead as a sheet of rain converged on us. The wind was picking up some waves and we worked hard to keep the bow into the wind and waves. The rain hit and it was incredible. The rain, then hail, was backlight by a brighter sky behind and it was exhilaratingly elemental. I wished I'd been able to capture it on camera. I hadn't yet fitted my GoPro to my helmet, which laid in front of me on top of my portage pack. That's a lesson for next time….
Shakedown
We didn't travel a great distance this first day. We were still in shake-down mode. Having a bit more time in camp was useful. Compared with later in the trip, setting up camp, getting the fire on, collecting firewood and organising cooking and washing up duties all took considerable time. It always does at the beginning of a trip. After a couple of days everyone gets to know the system of what needs to be done and how to do it efficiently. Also, as you get more tired during a trip, the motivation to get things done so you can rest increases.
Routine
We quickly got into a routine.
Get up at first light. Light fire and boil water. Have a brew. Have breakfast. Pack up. Paddle. Stop for lunch. Paddle some more. Find a great campsite. Collect firewood. Get a fire lit. Get the water on. Set up camp. Have a brew. Cook dinner. Relax. Sleep. Then repeat.
In essence a journey becomes this simple.
Of course there were many details. We stopped to consider rapids, ran some, lined others or portaged around. We took time to study more pictographs, observe eagles and look at beaver lodges. For efficiency we lunched on portage trails, when kit was already out of the boat. Here there were often many interesting trees and plants to study. As the trip progressed, the nights became colder and many fungi appeared. We had great sunsets, a full moon in the middle of the trip, clear starry nights and Aurora borealis shows (see photos below).
Camps
Every spot we chose to camp was wonderful, many of them a small enclave on the very margins of wild forest. Others showed signs of a little more use but still remained full of character, particularly as they often had spectacular views. We were thankful for breezy camps some nights, the wind keeping away surviving mosquitoes. Other nights, a smoky fire did the trick. Only one warm, still evening did mosquitoes provide any significant irritation. The colder nights we experienced in the latter stages of the trip put a stop to them anyway.
Food
We took all of our food with us – fresh for the first few days then dehydrated, freeze dried and long-life for the remainder. We ate well. I didn't lose any weight on the trip but I lost three belt notches off my waist (for which I was thankful).
The initial load meant the boats were low in the water and unmanoeuvrable; portage loads were heavy. As we became more conditioned to the journey and our packs became lighter, we were bounding along portage trails and moving the boats around the river much more easily.
Getting Ahead Of The Curve
Despite the initial heavy loads, in the first week we aimed to get some distance behind us. Time is an asset on wilderness trips. It gives you time to think, reduces pressure and provides the mental space to make good decisions.
We had contingency time built into the two-week trip schedule but we chewed into some of this initially due to some wet and windy weather. This made for some long, tiring days but it was worth it (and we slept well).
Later in the trip, we had good weather and water conditions, no physical problems or debilitating injuries and therefore had time spare. We enjoyed more time in camp, exploring the backwoods, nature watching, photography, writing journals and sketching.
You can see the above pattern in the data below.
Bloodvein River Trip Distances By Day
Date
Day
Distance (km)
Distance (mi)
01-Sept-14
1
10.8
6.7
02-Sept-14
2
16.1
10.0
03-Sept-14
3
16.4
10.2
04-Sept-14
4
16.1
10.0
05-Sept-14
5
22.5
14.0
06-Sept-14
6
27.4
17.0
07-Sept-14
7
27.4
17.0
08-Sept-14
8
20.9
13.0
09-Sept-14
9
16.1
10.0
10-Sept-14
10
14.5
9.0
11-Sept-14
11
8.9
5.5
12-Sept-14
12
22.5
14.0
13-Sept-14
13
7.0
4.3
TOTAL
226.6
140.8


The Journey – A Bloodvein Photoblog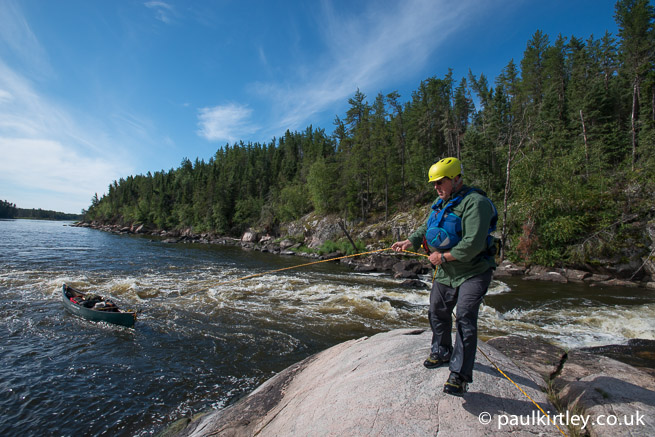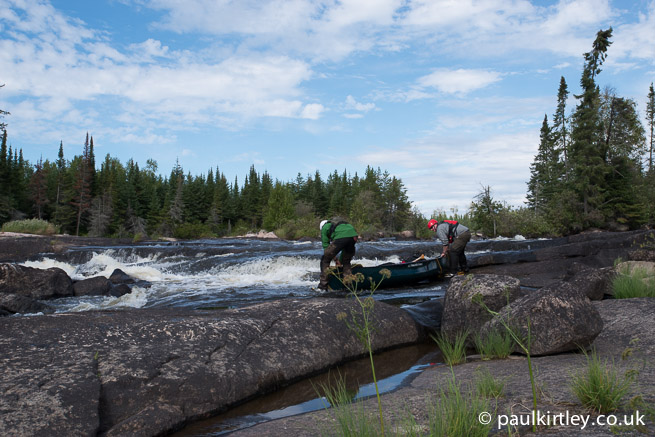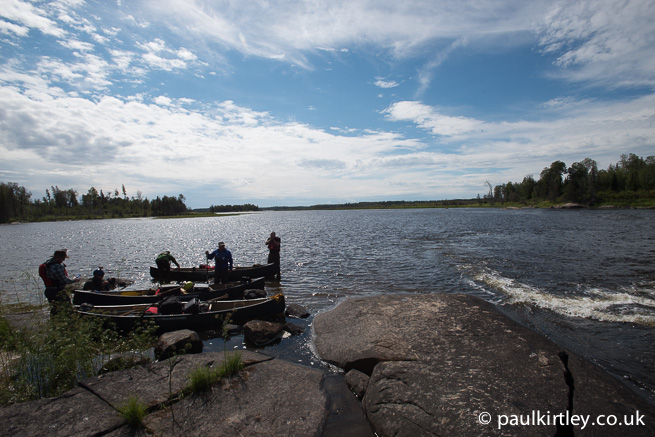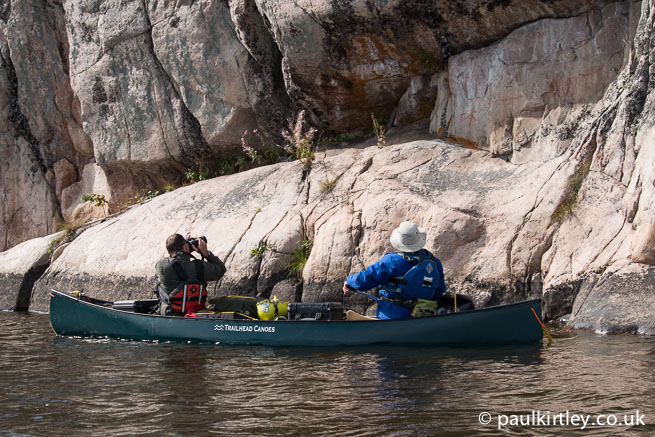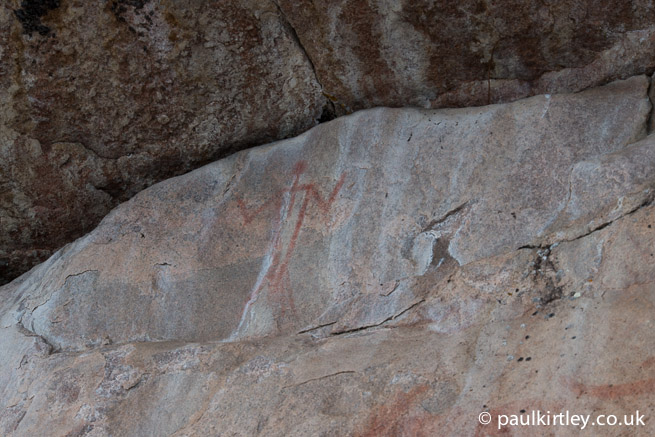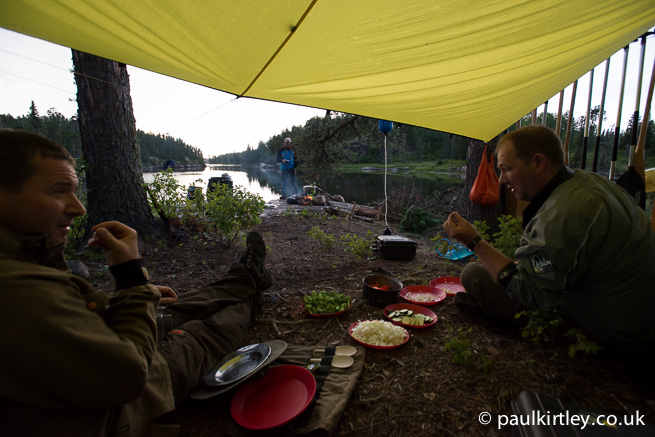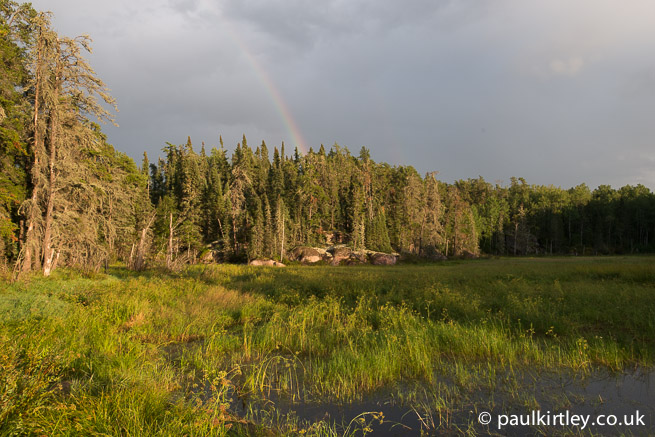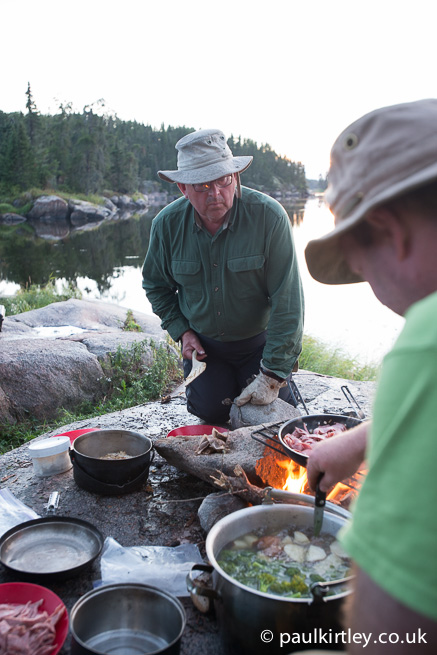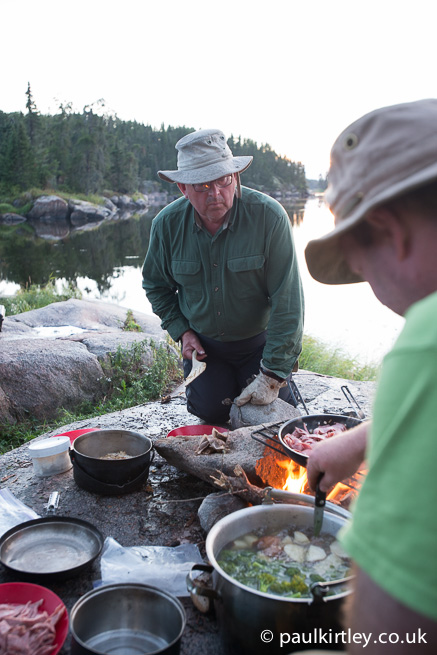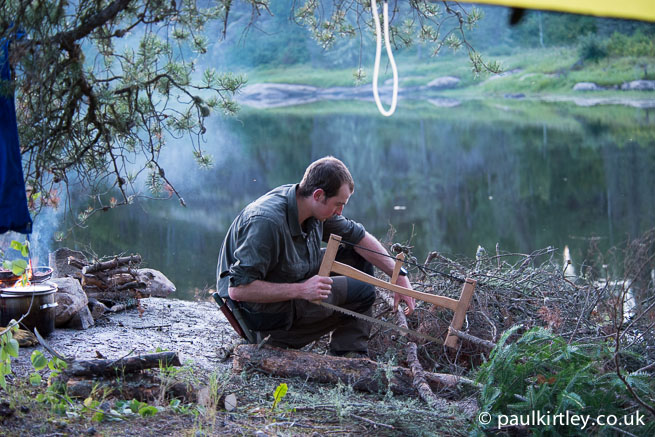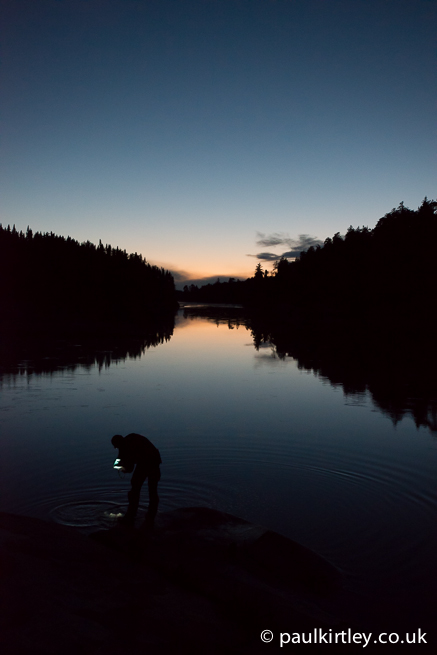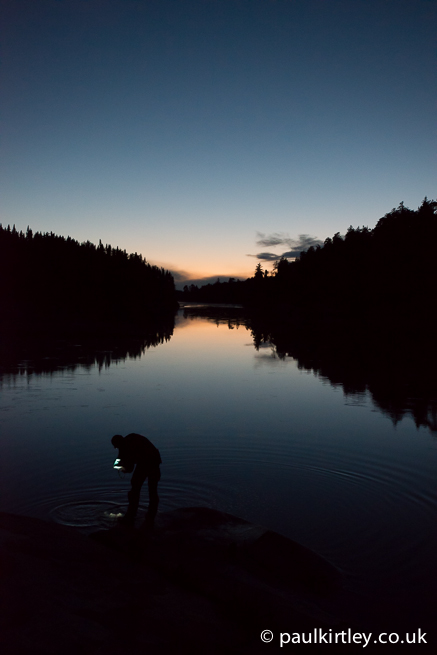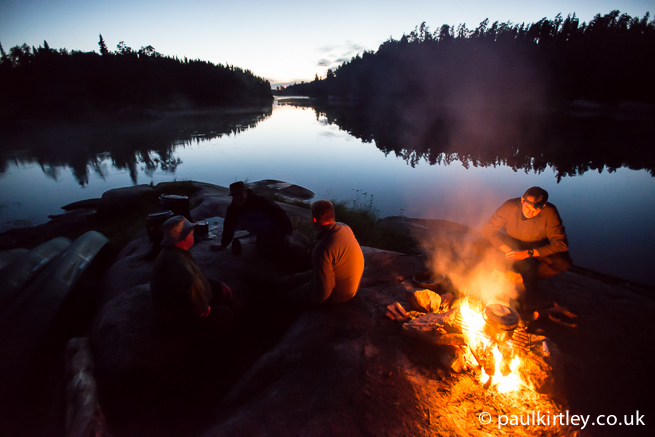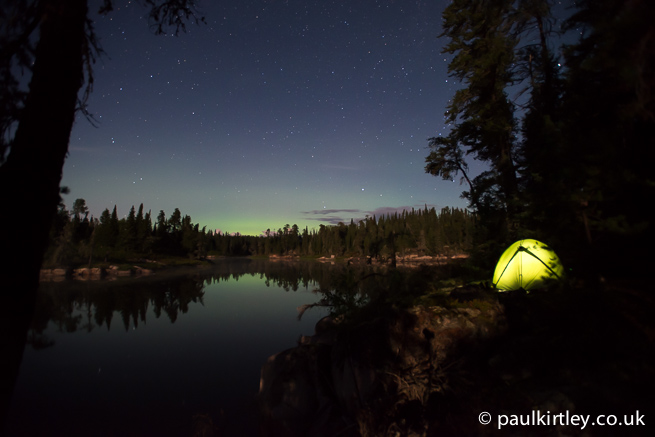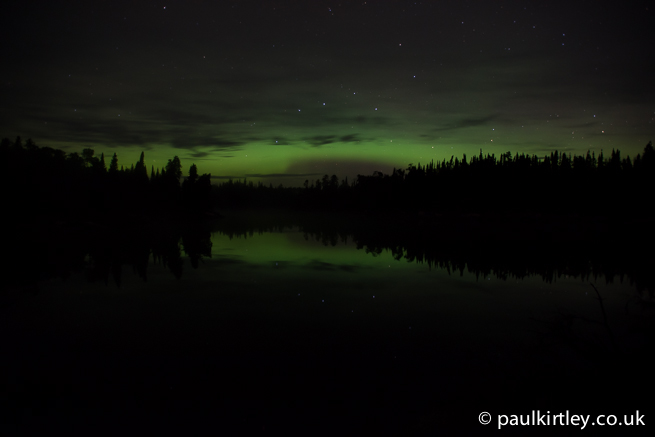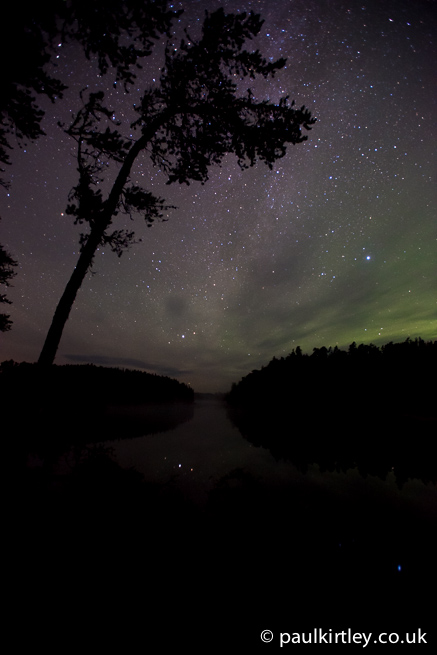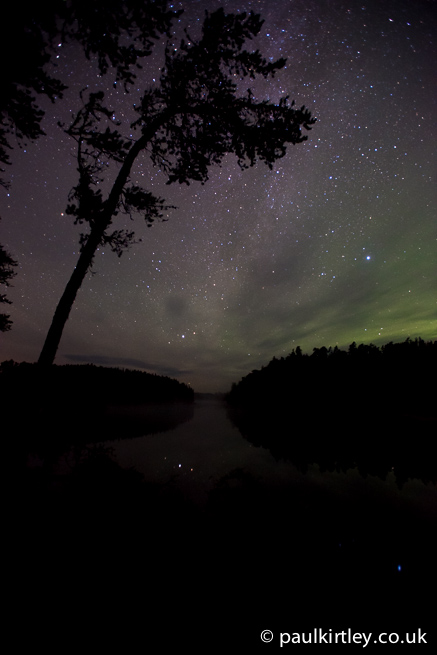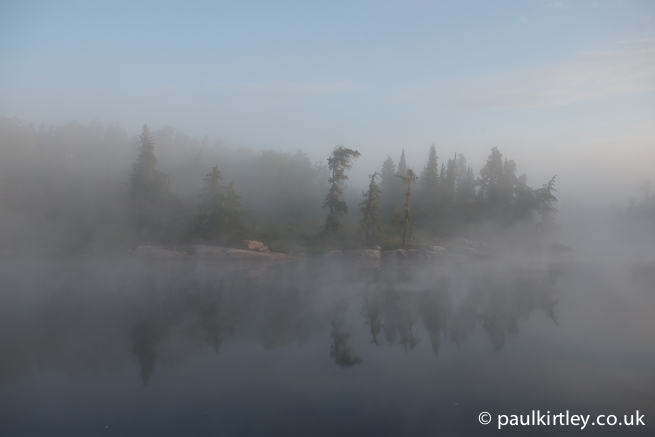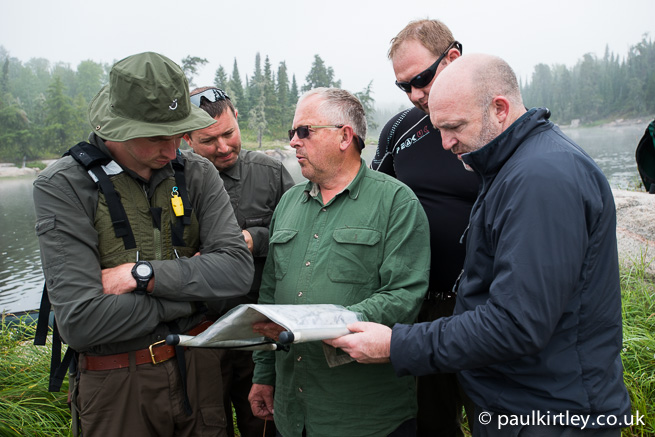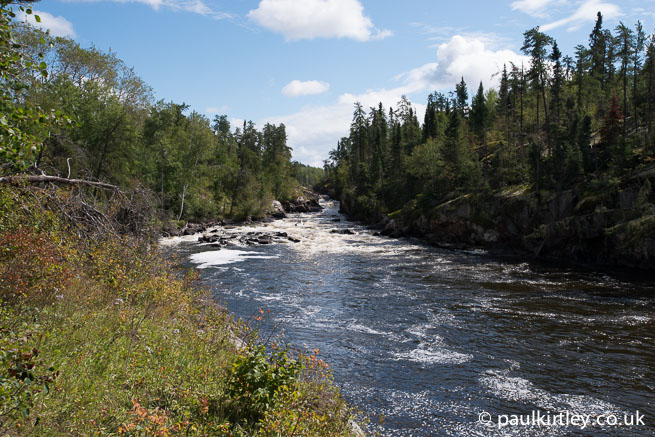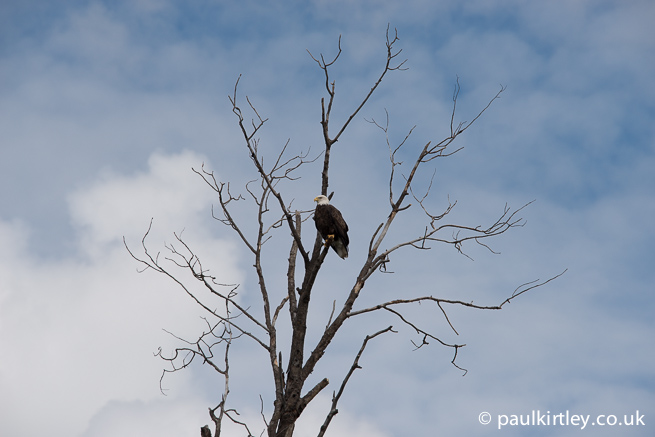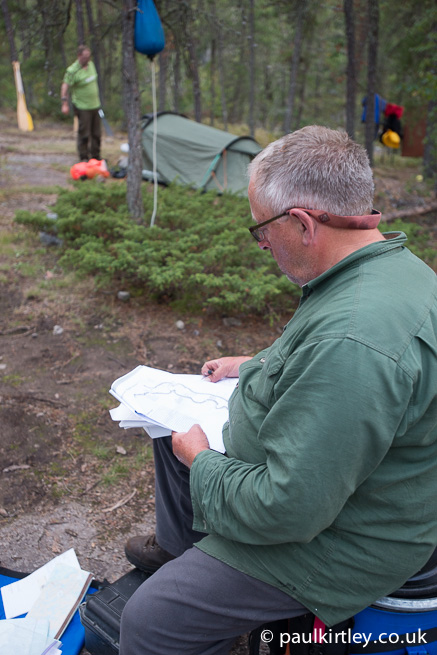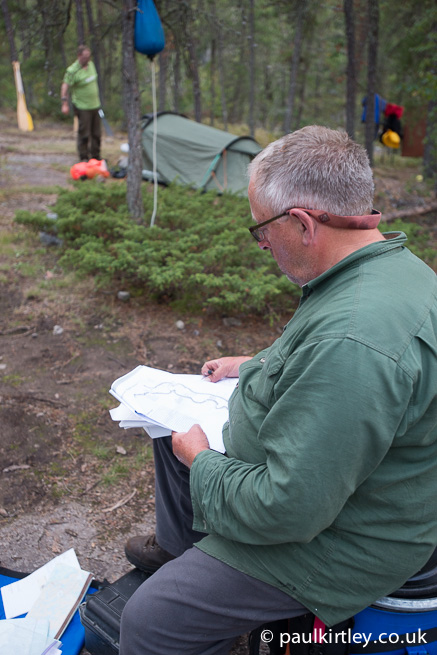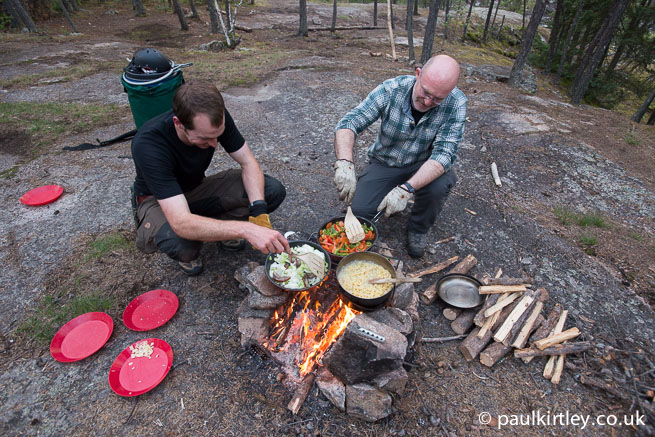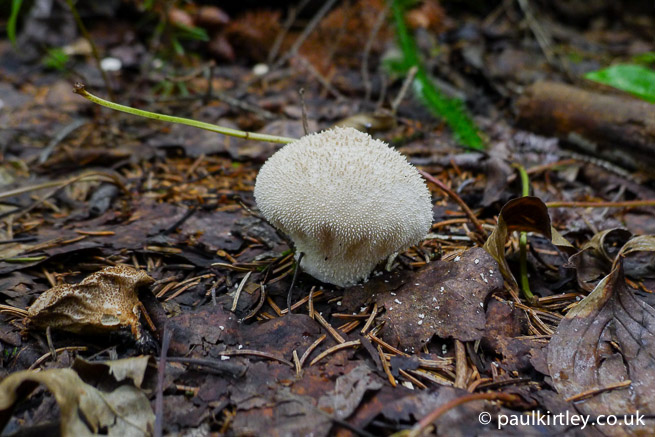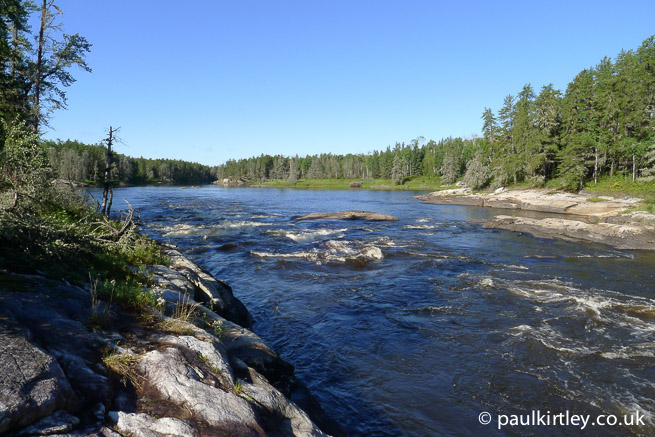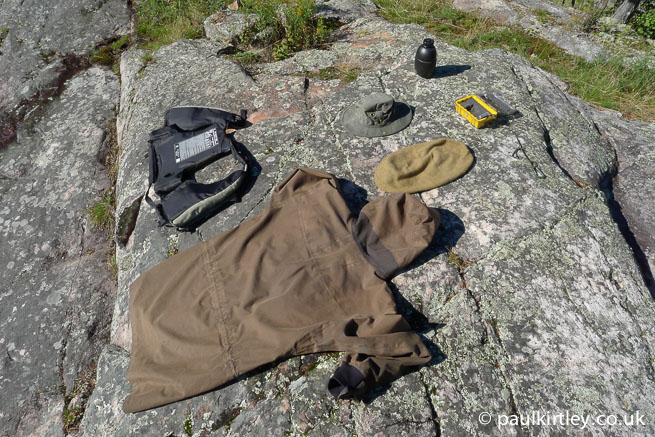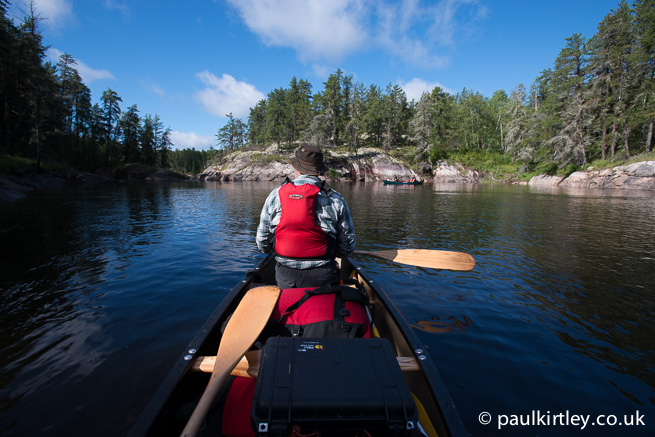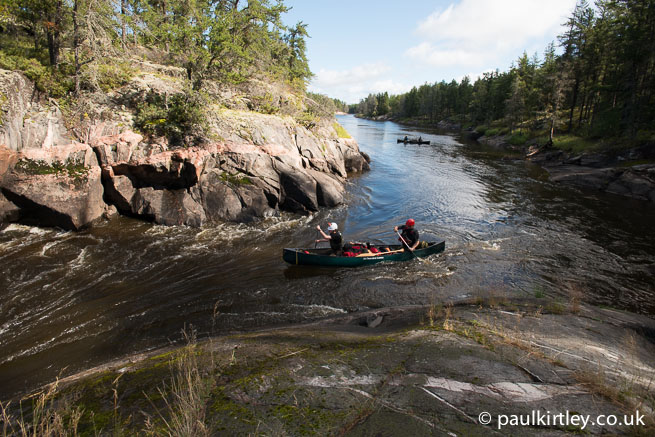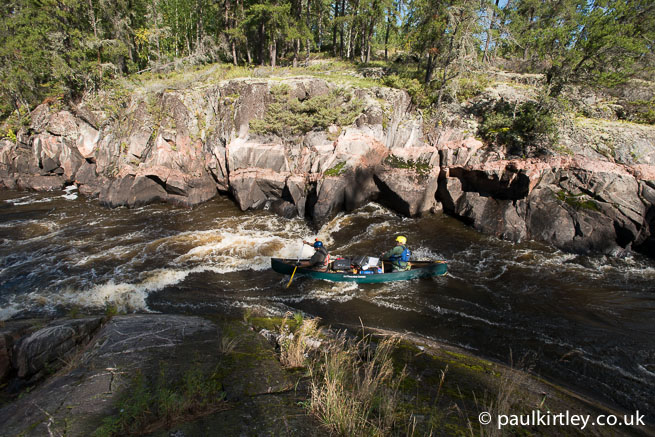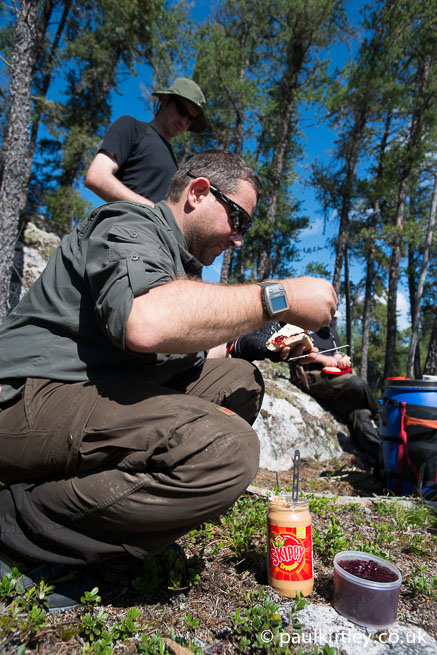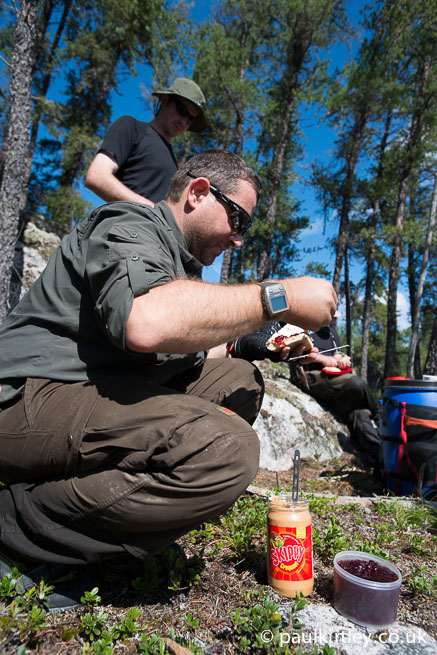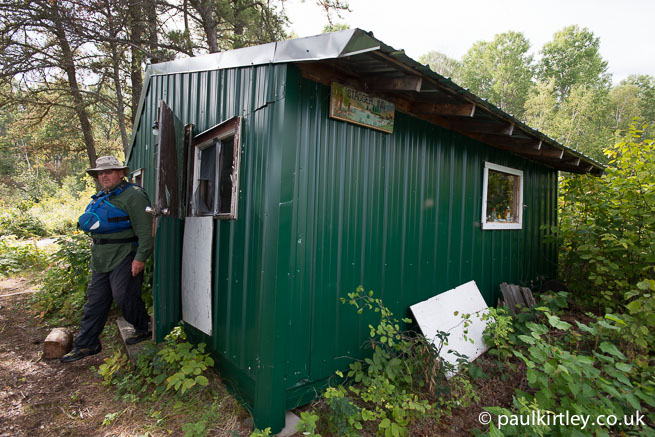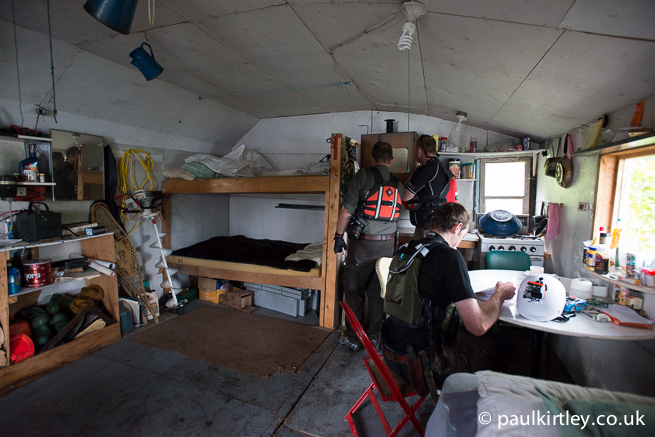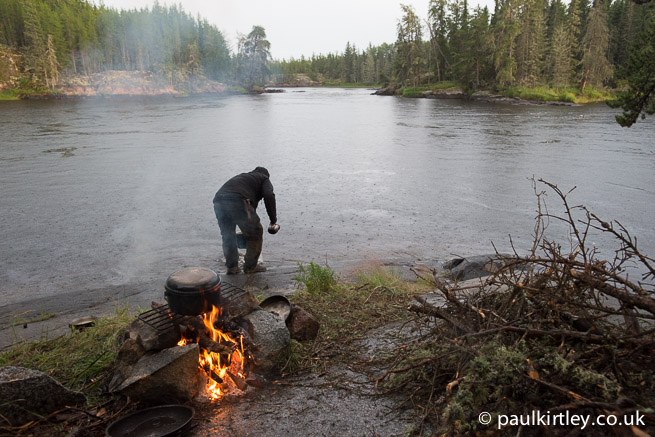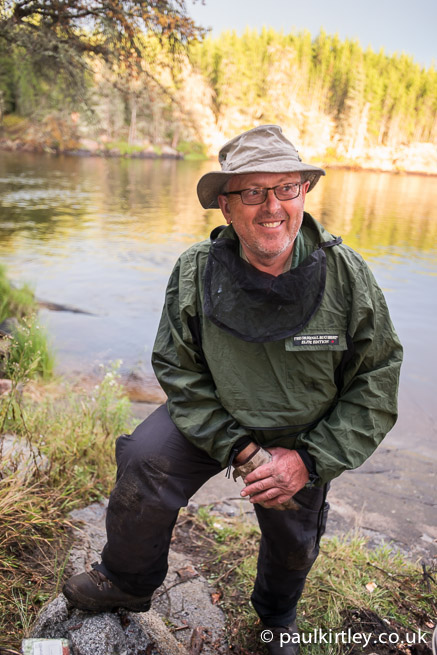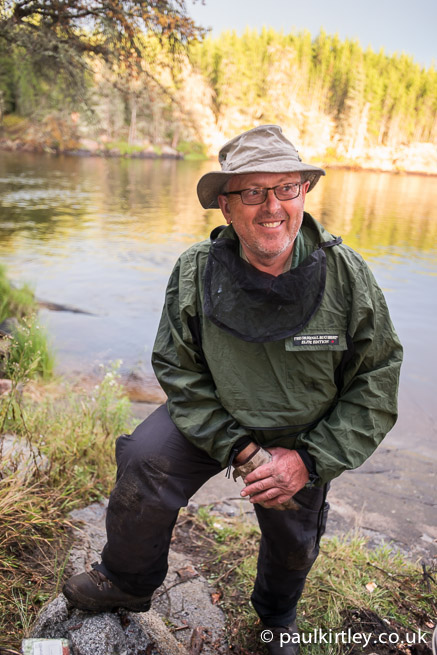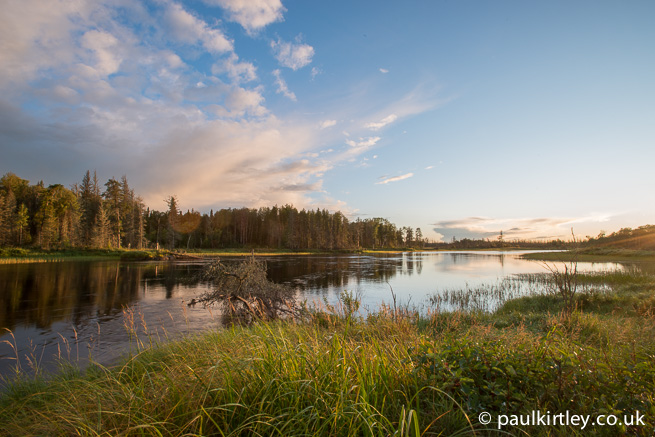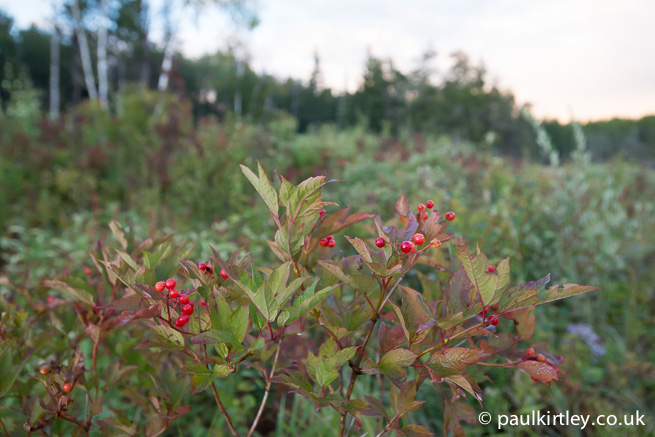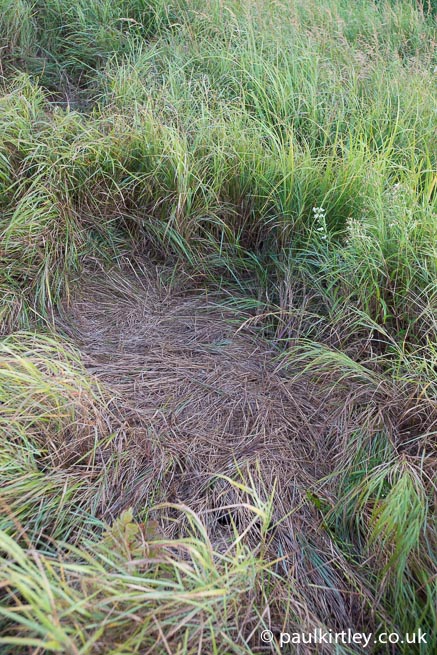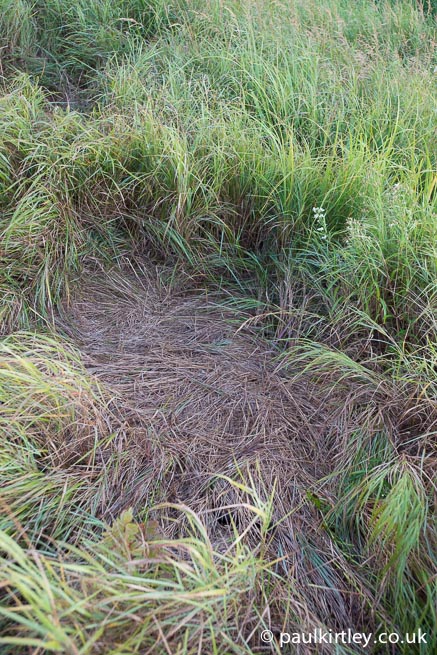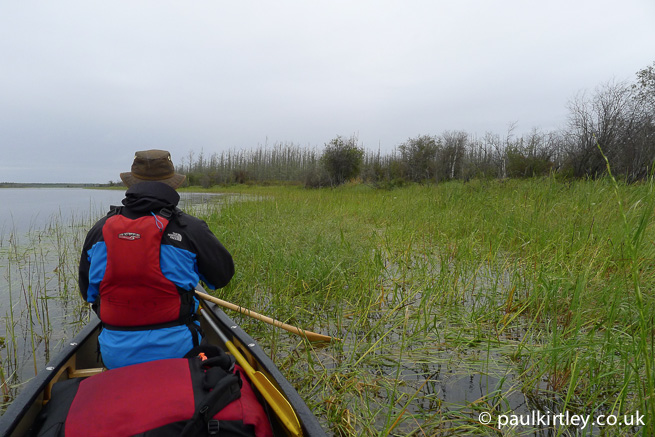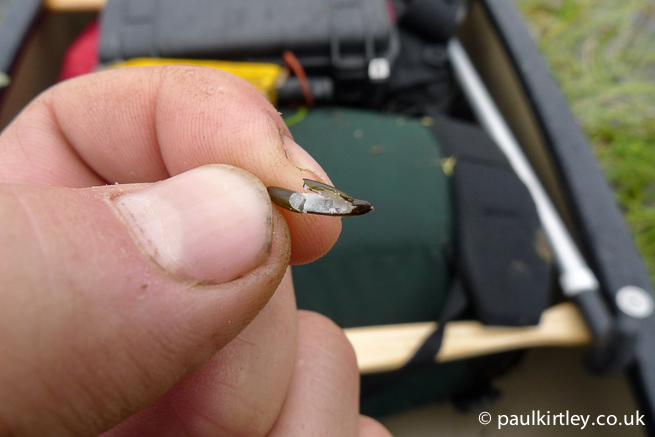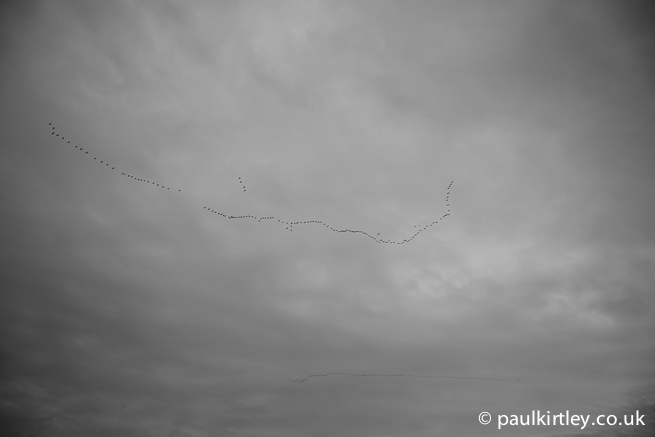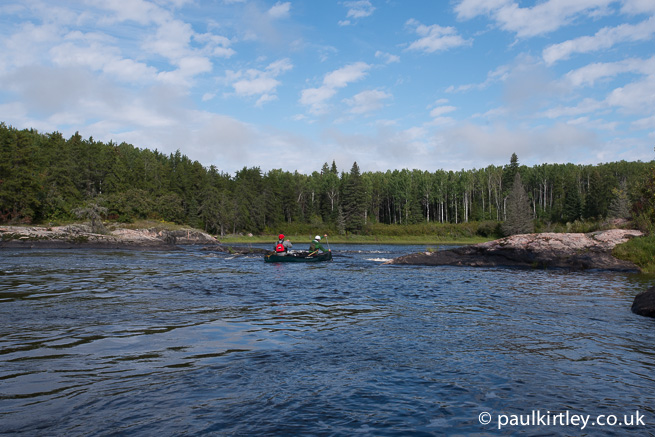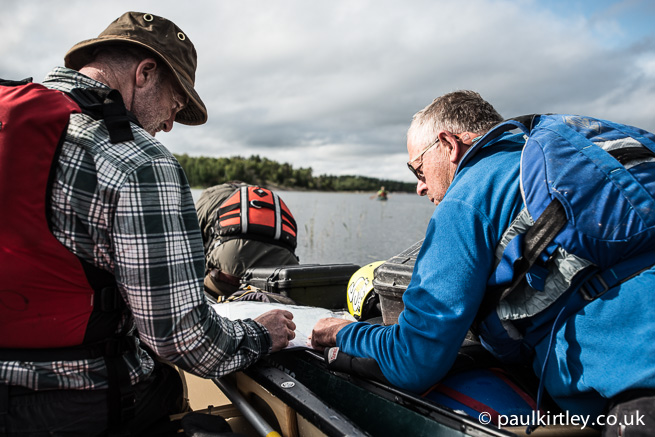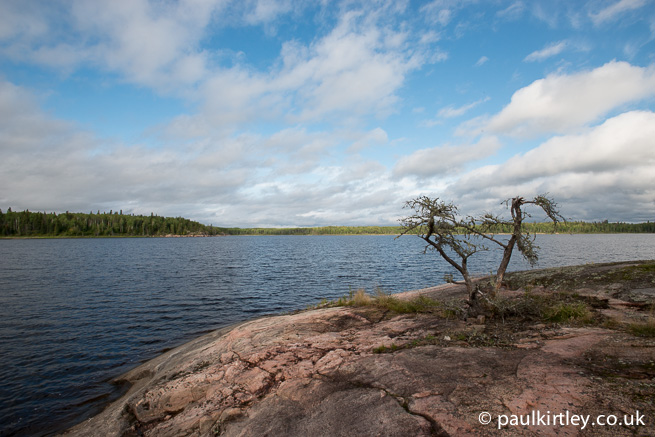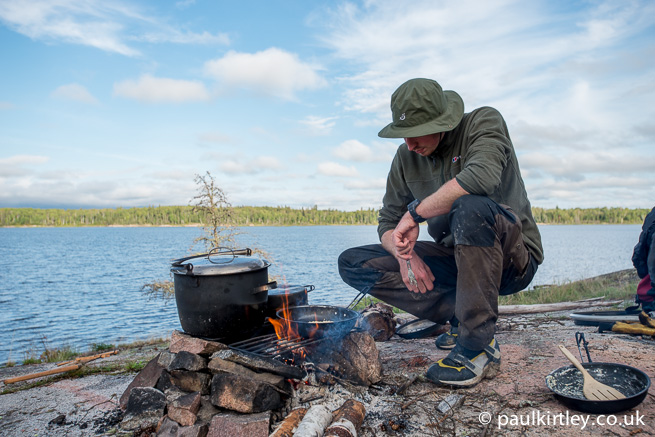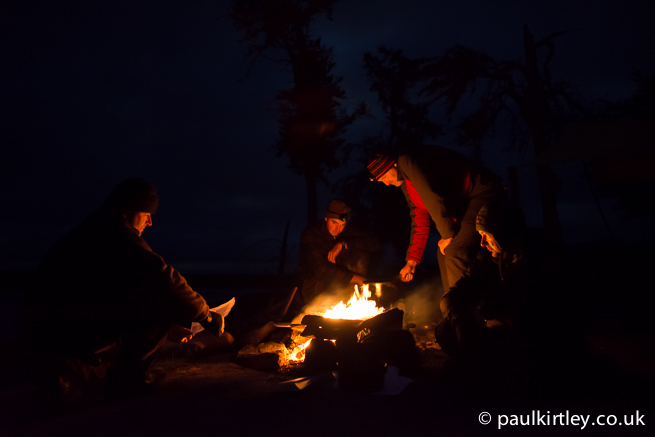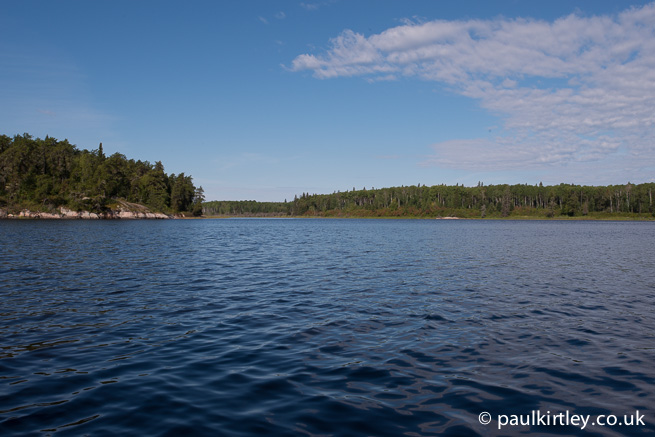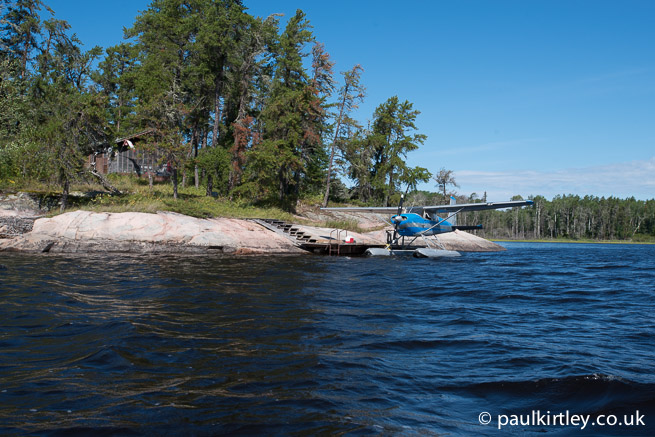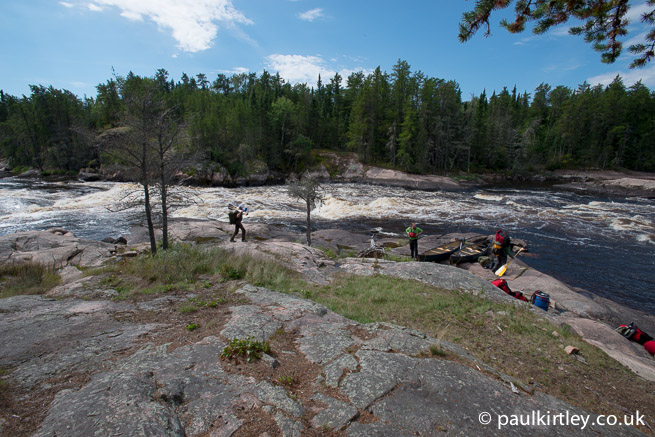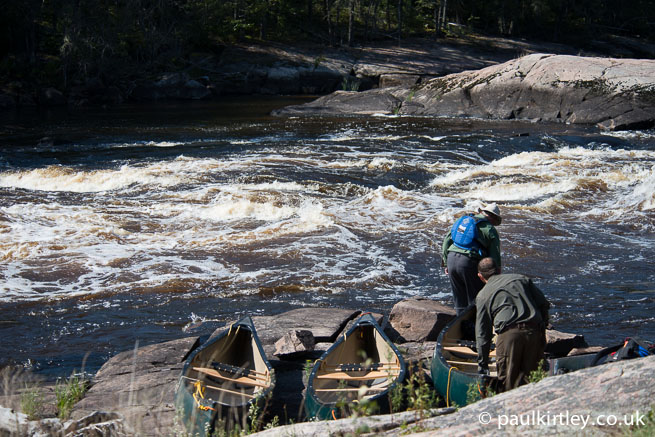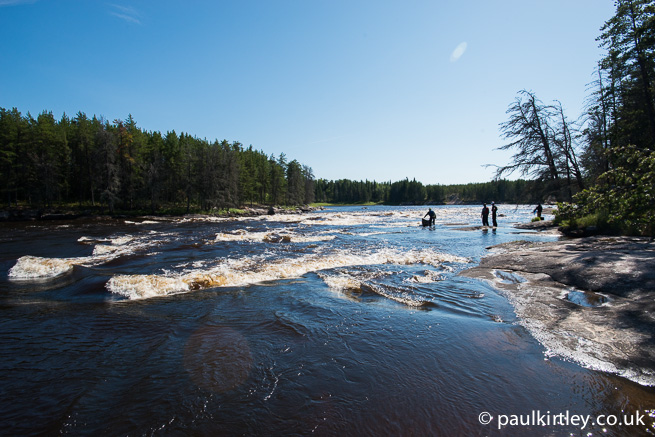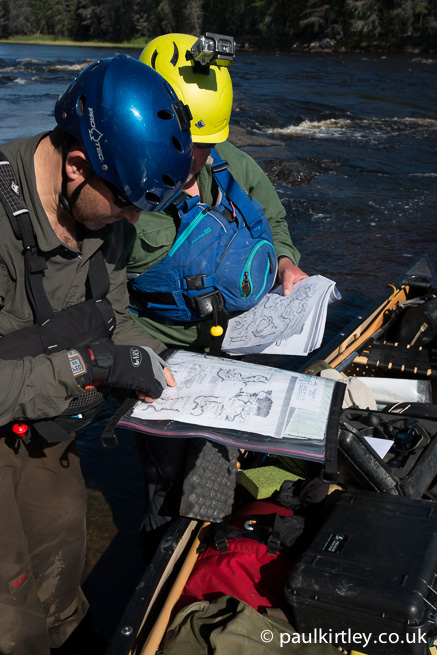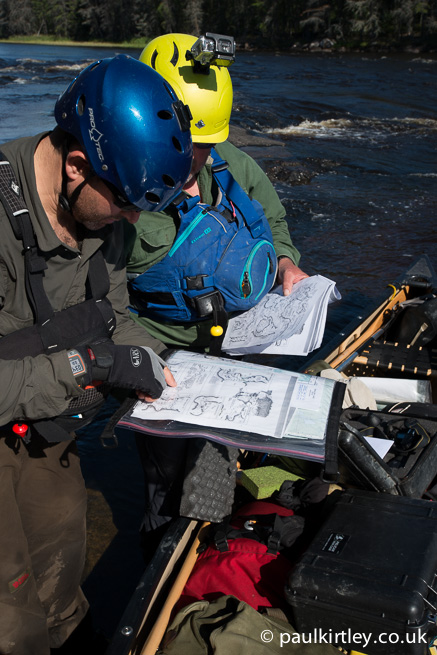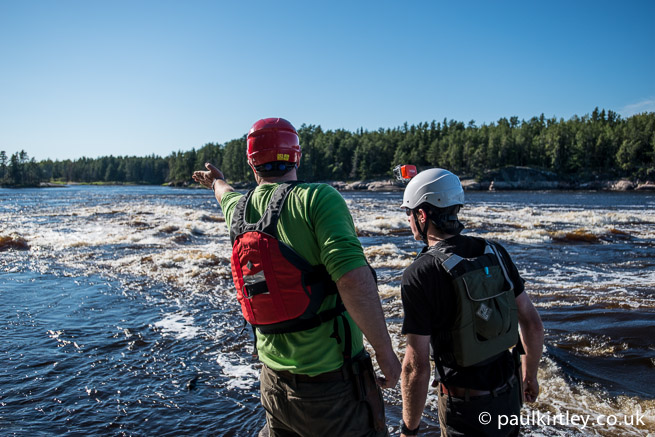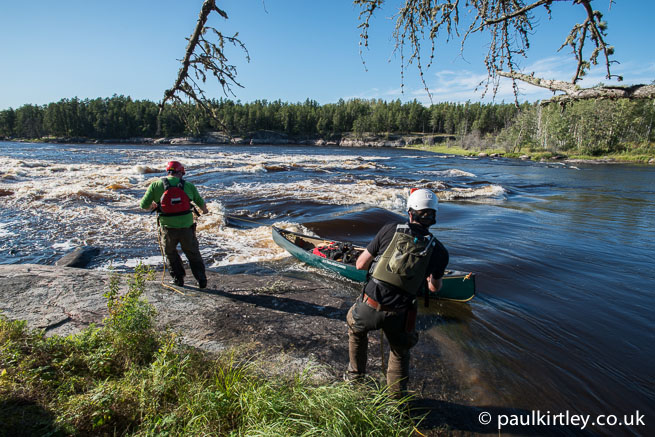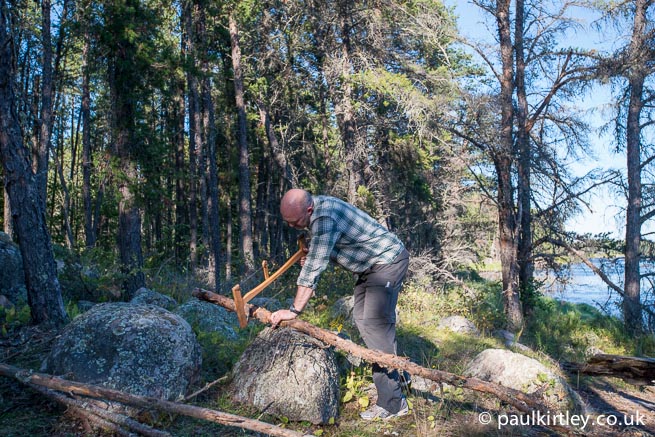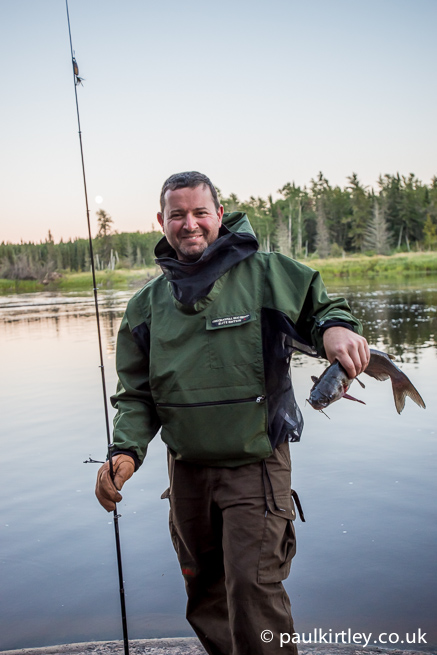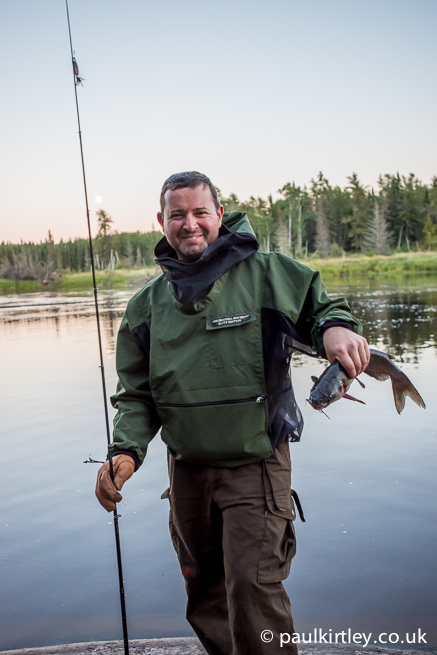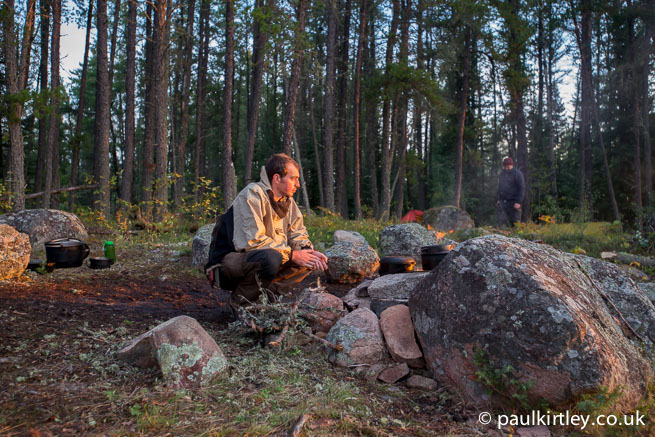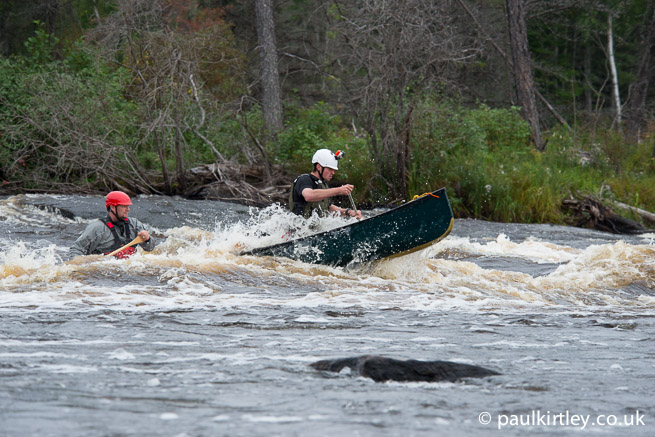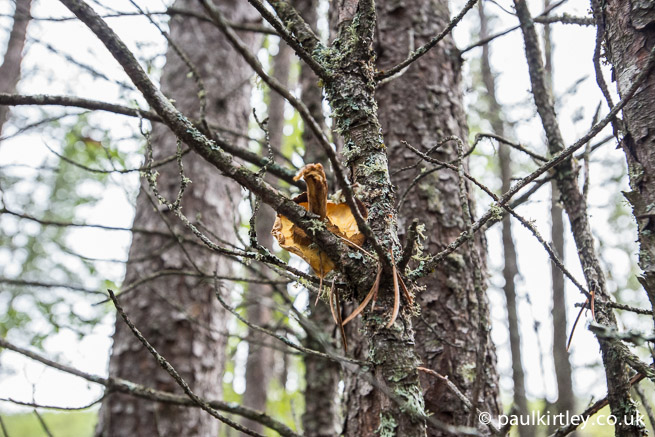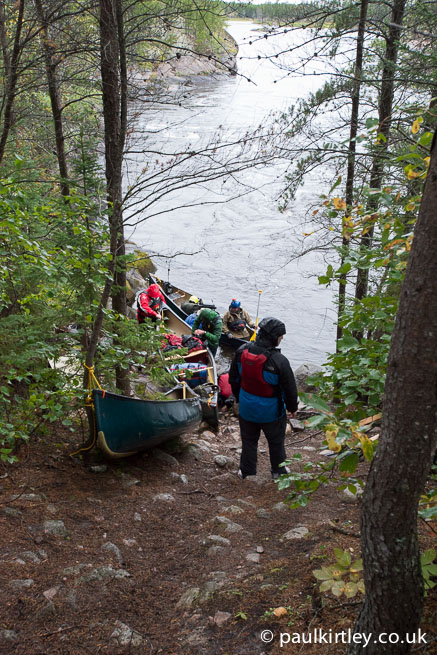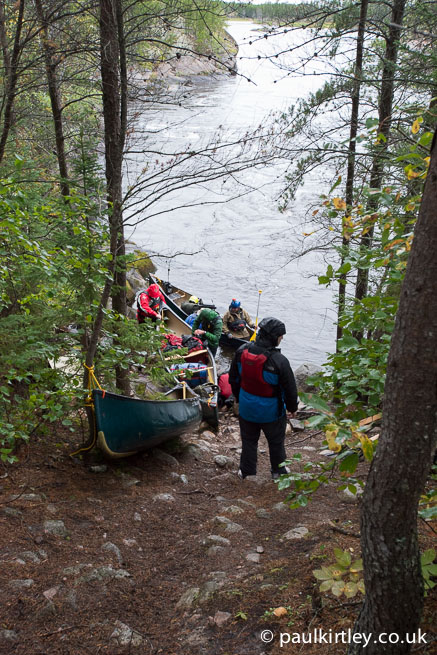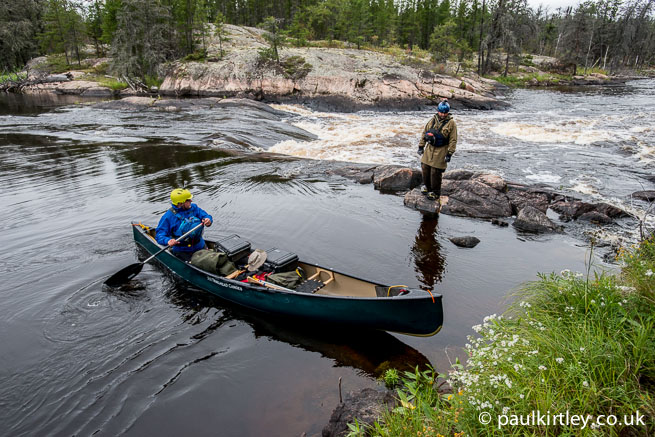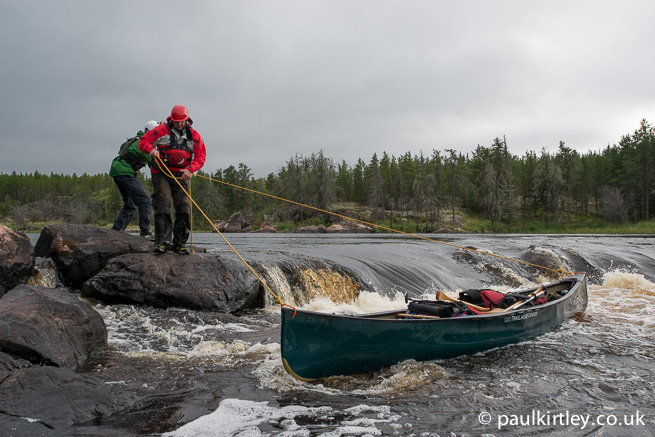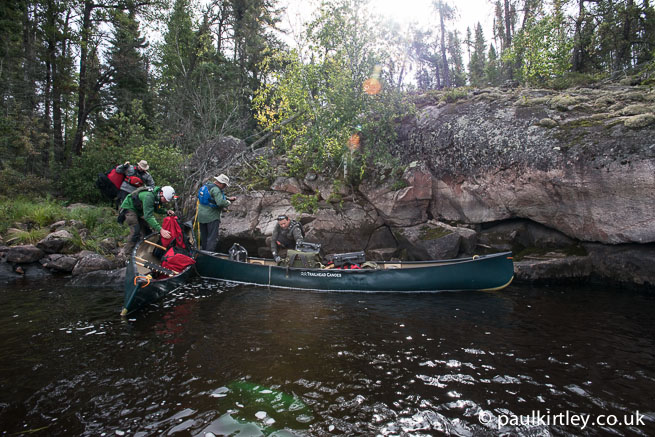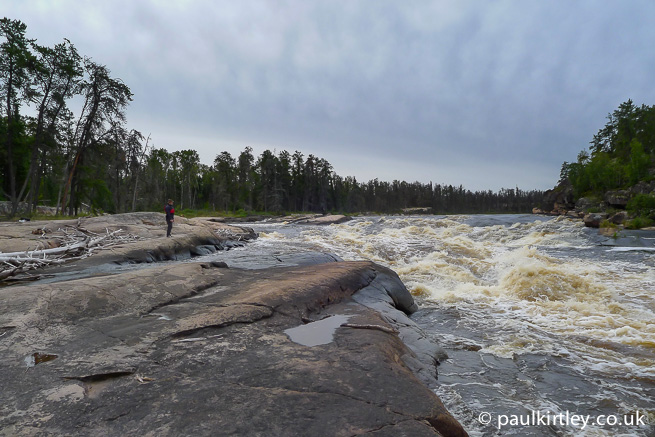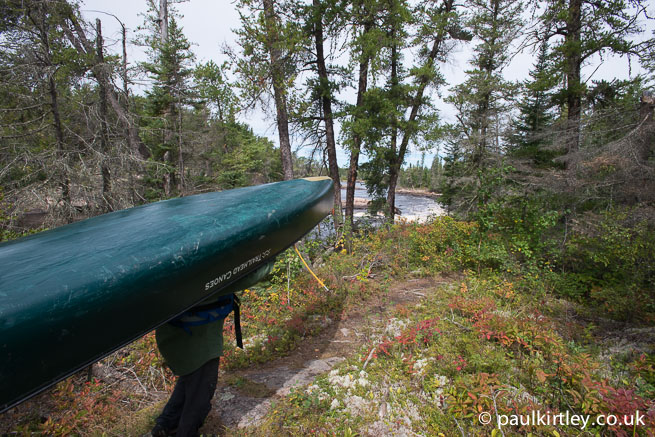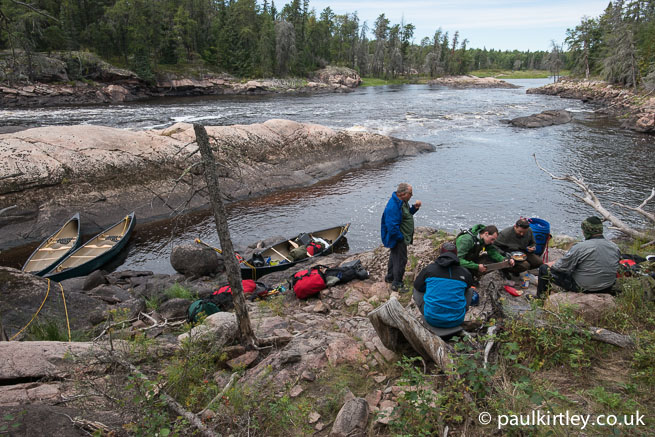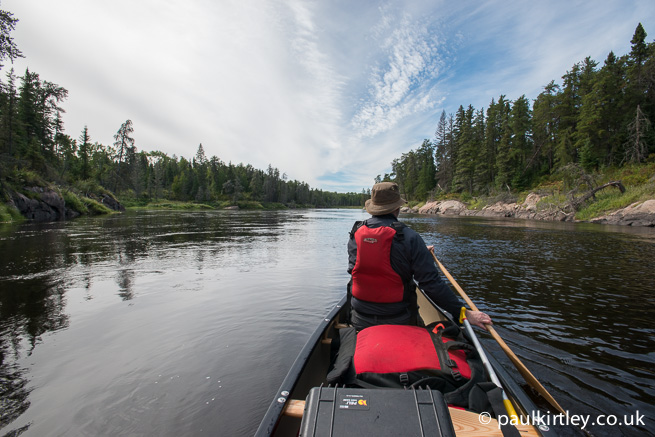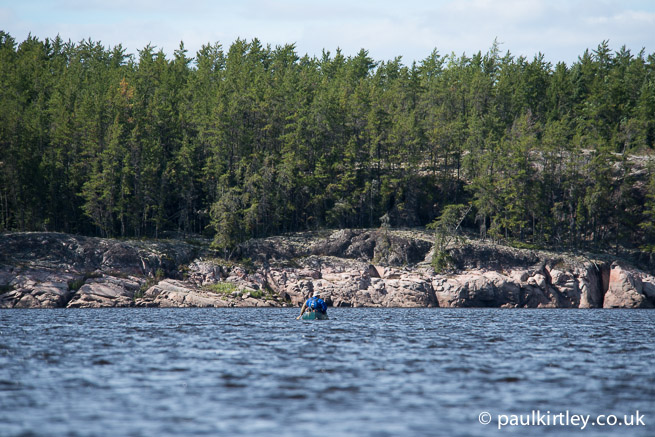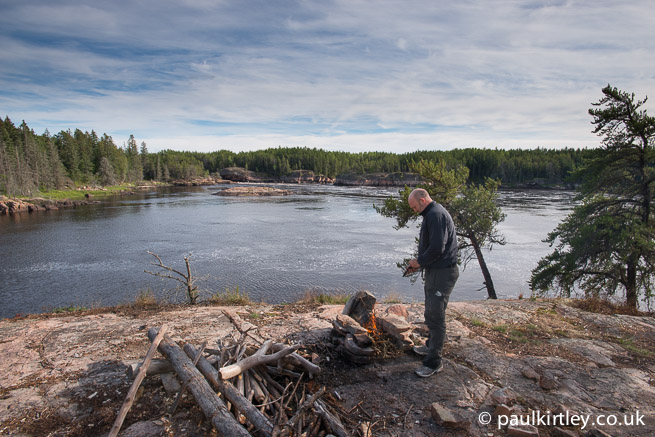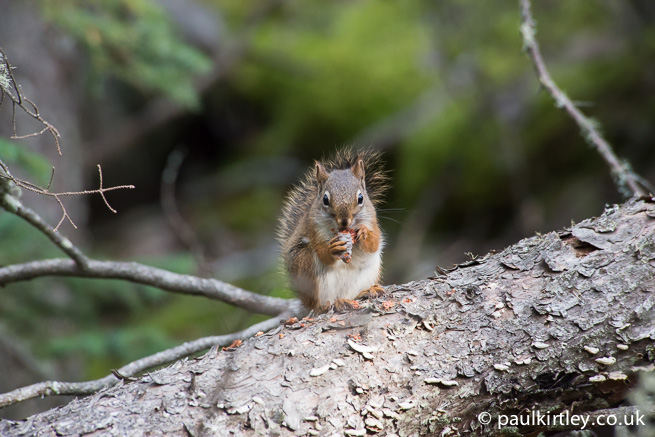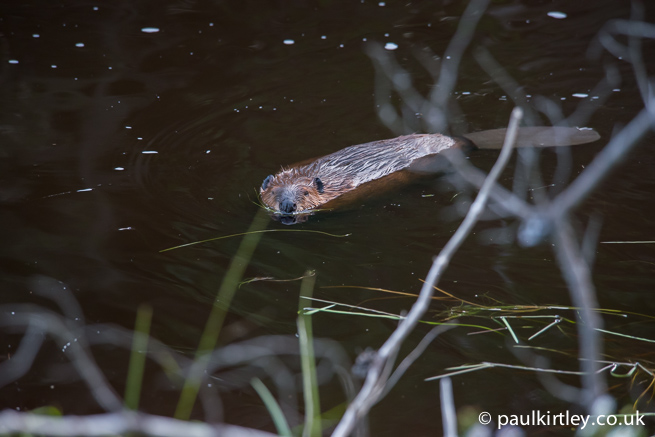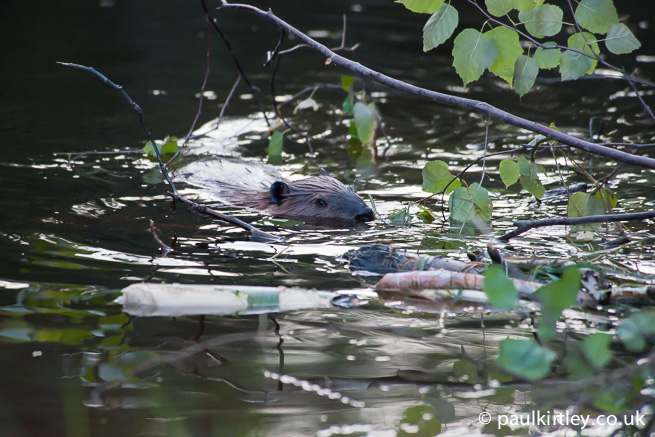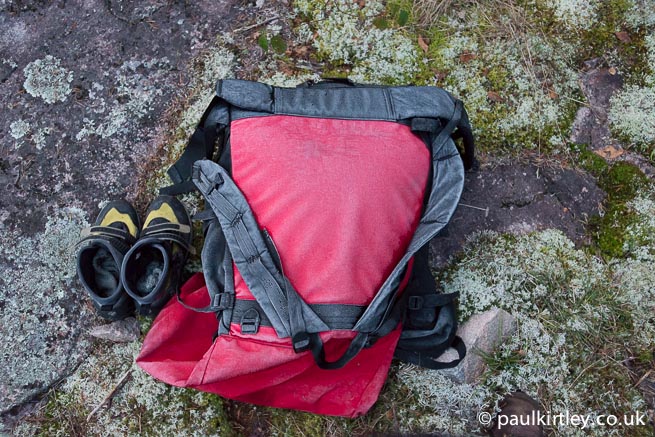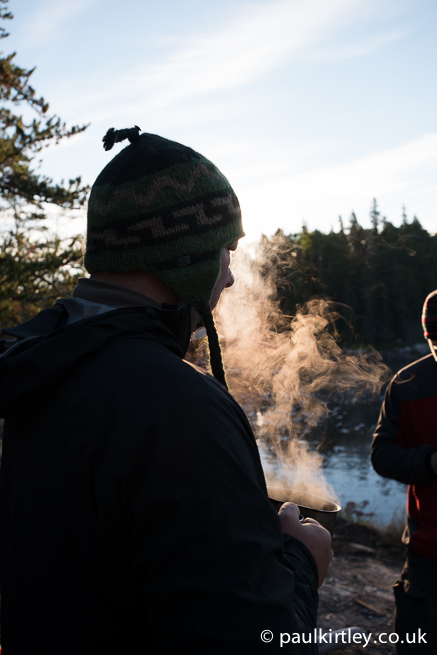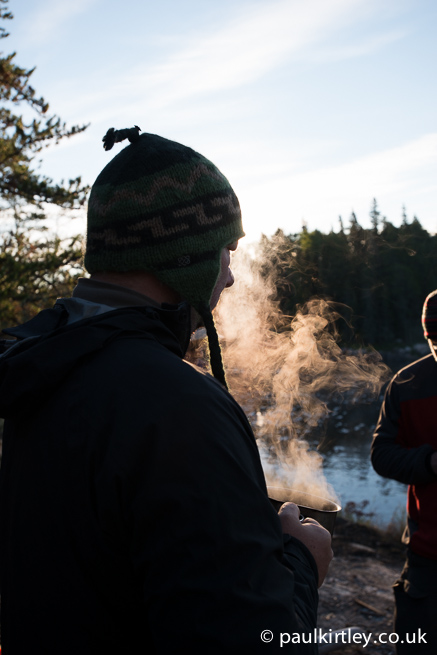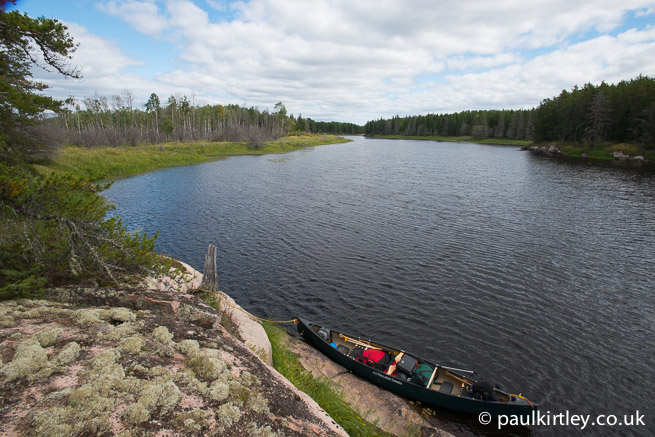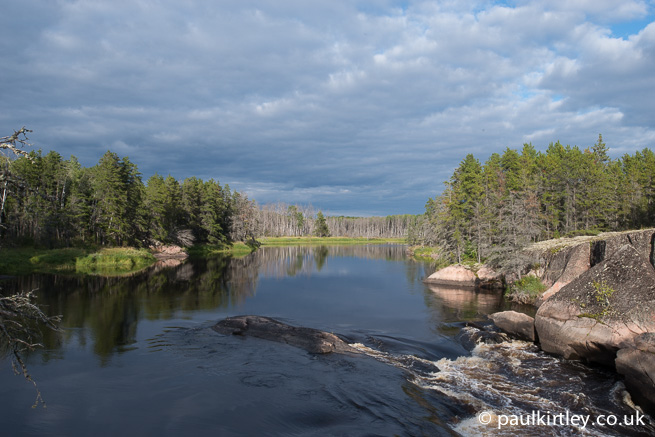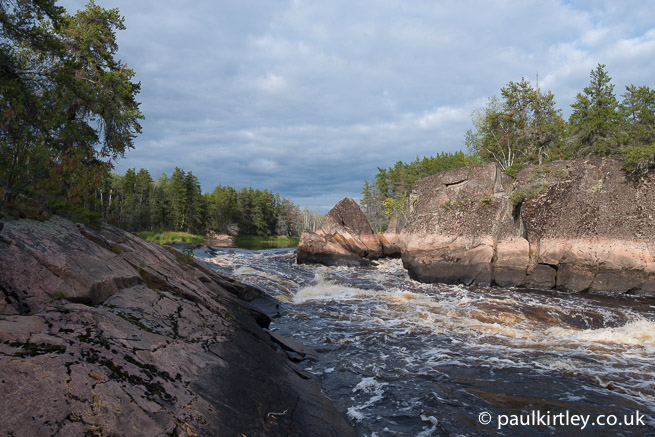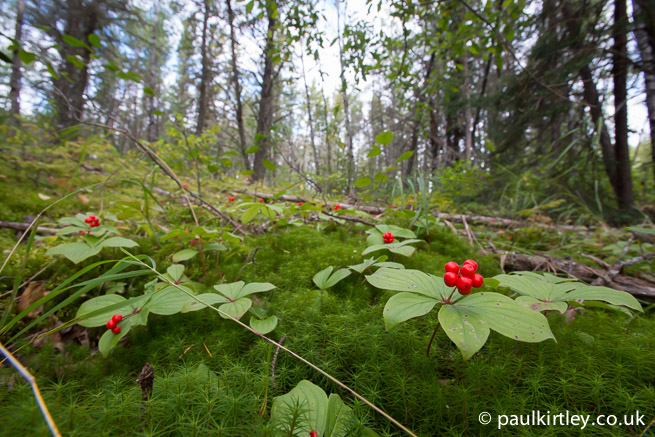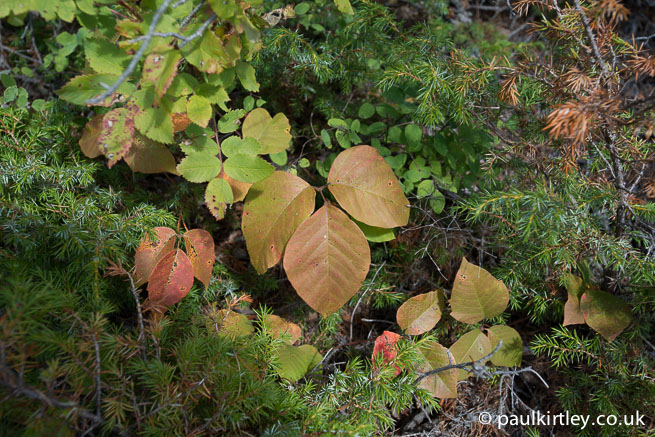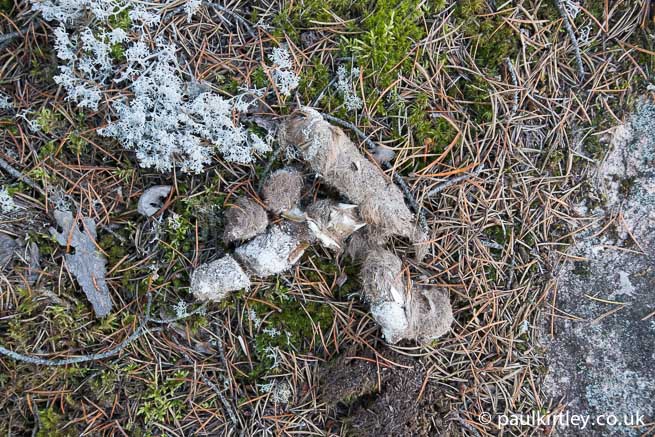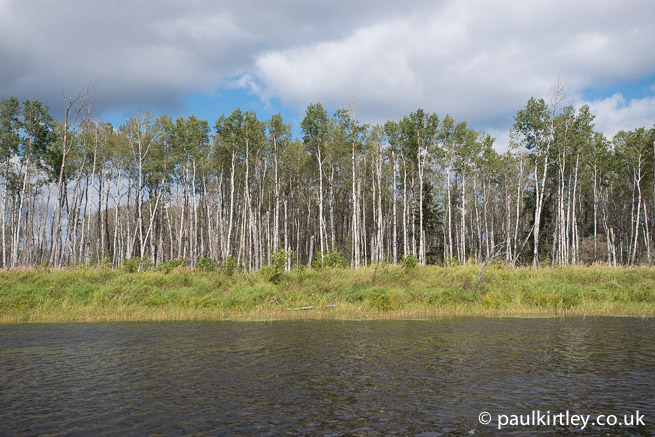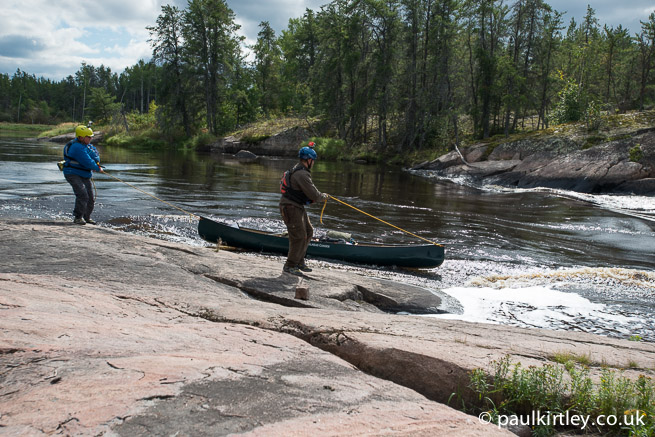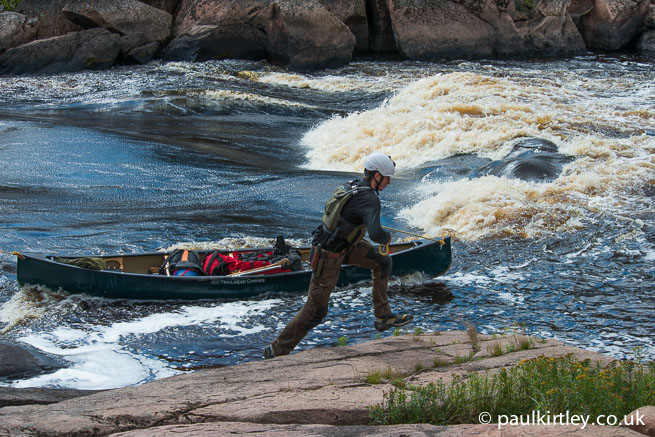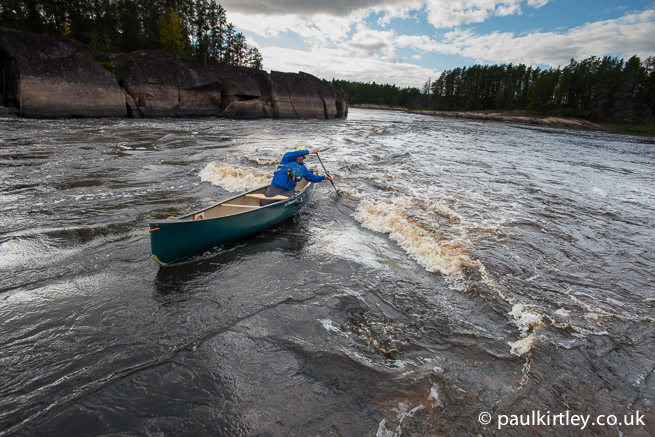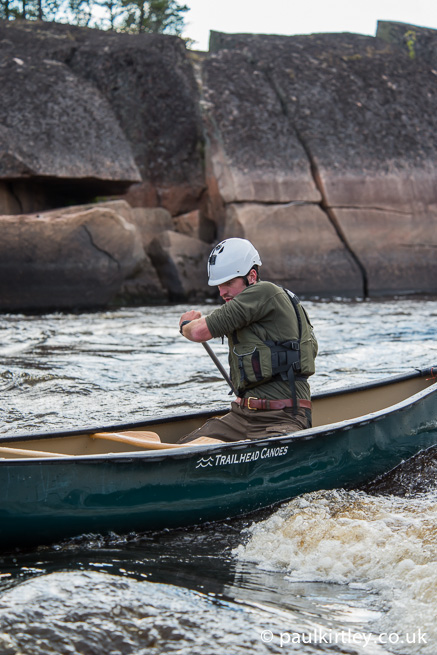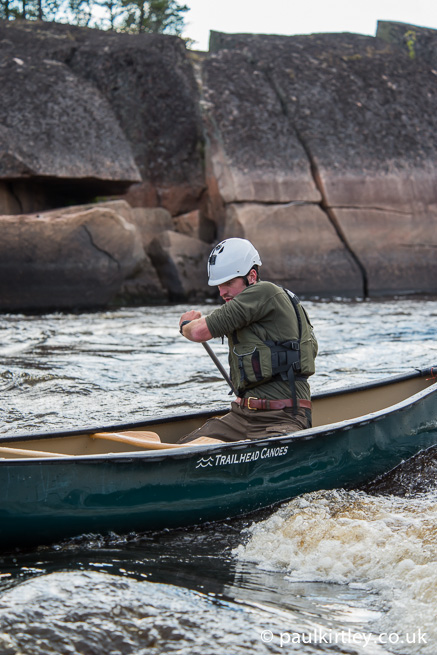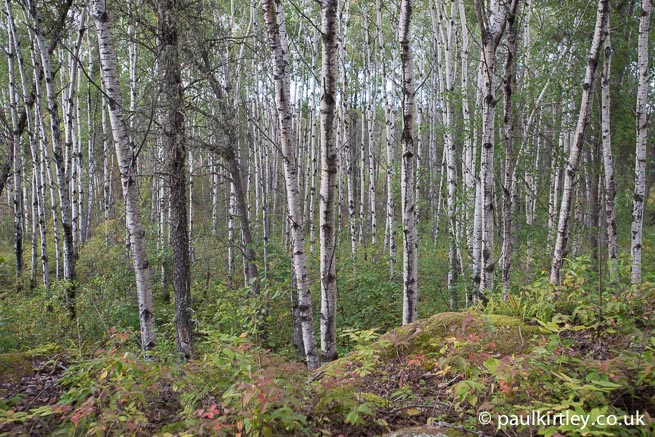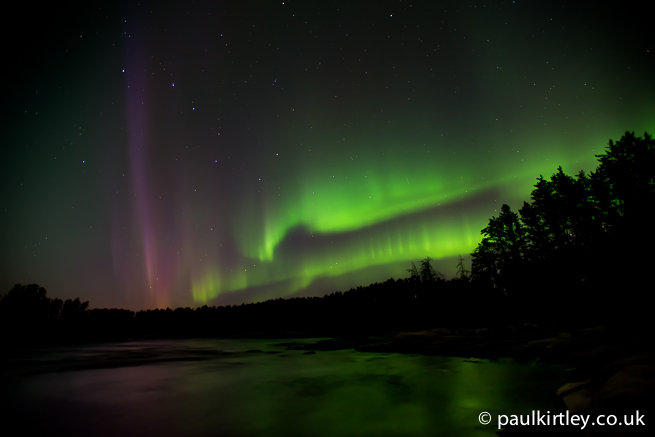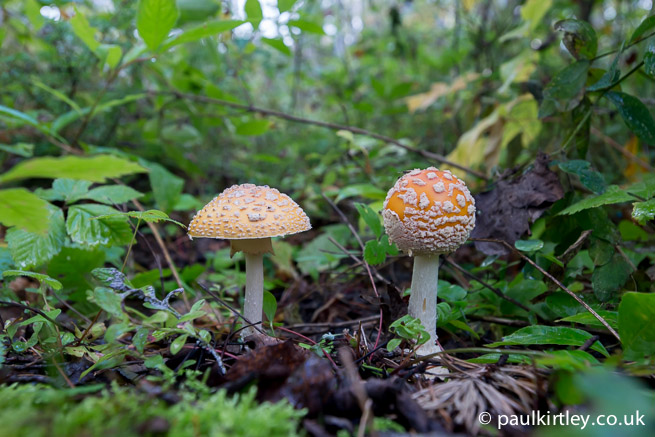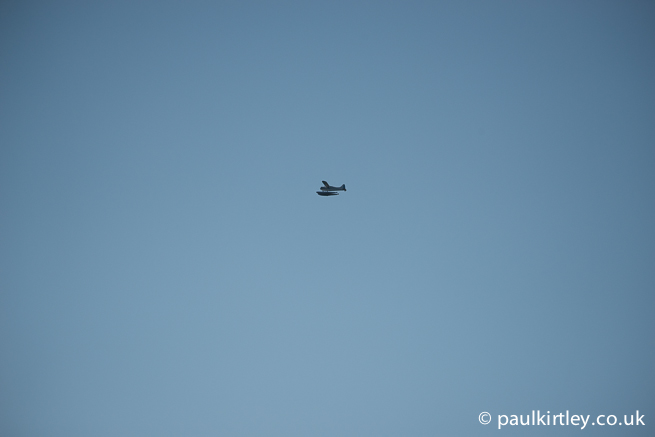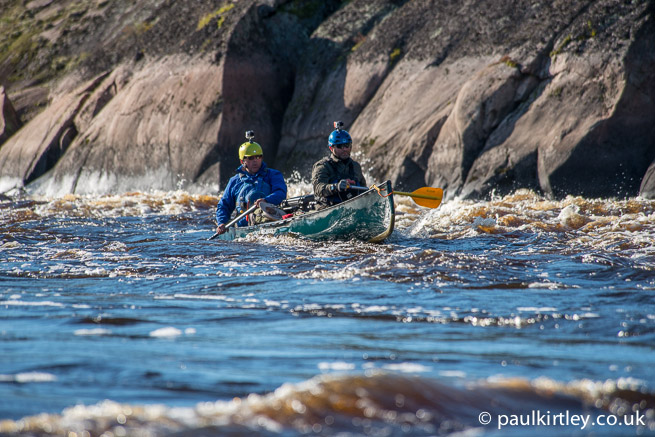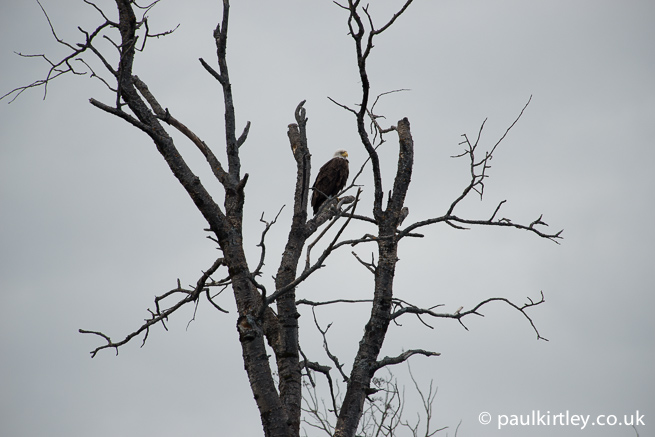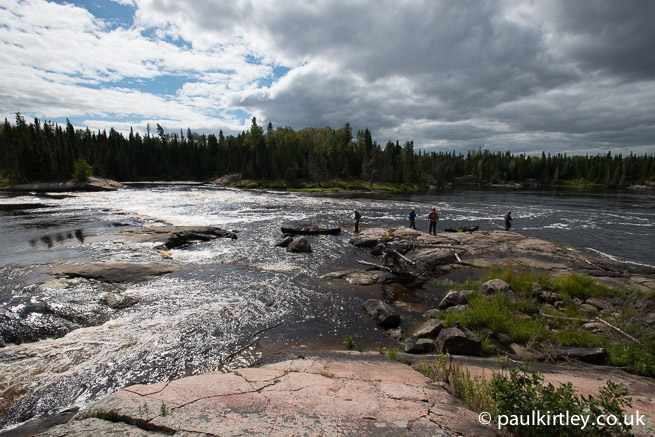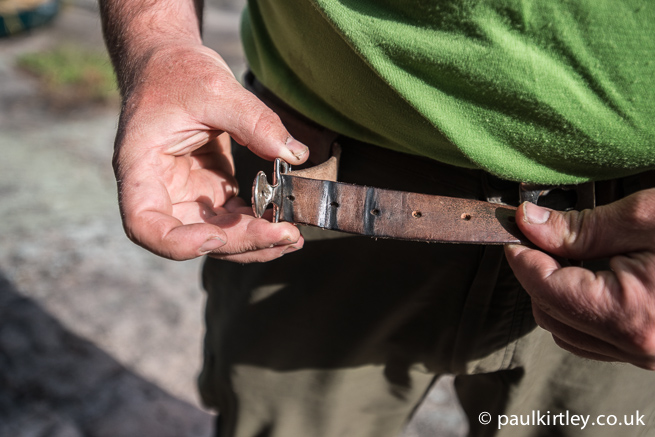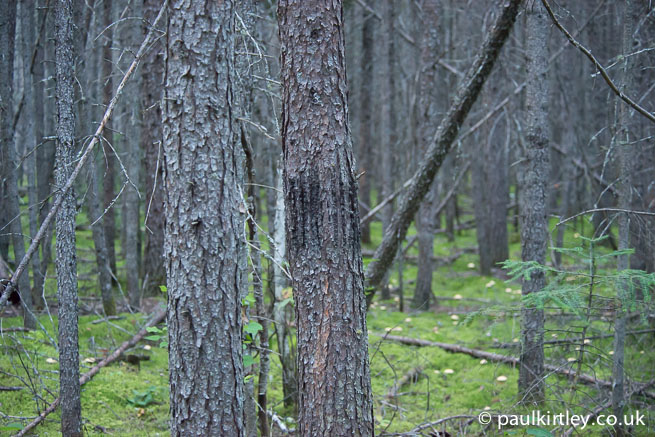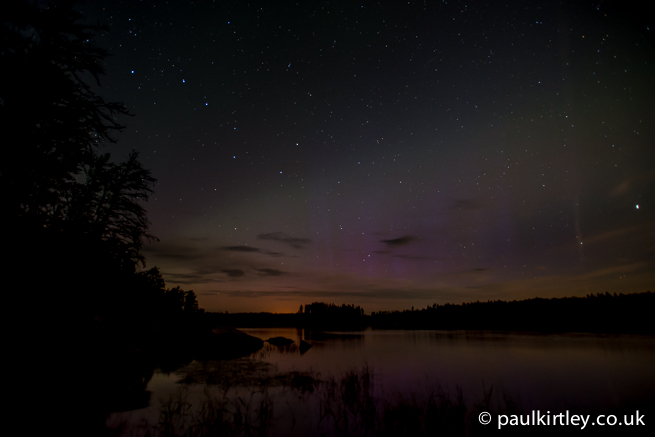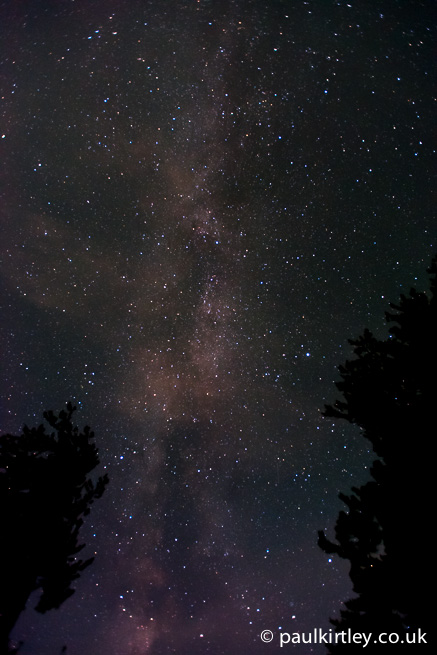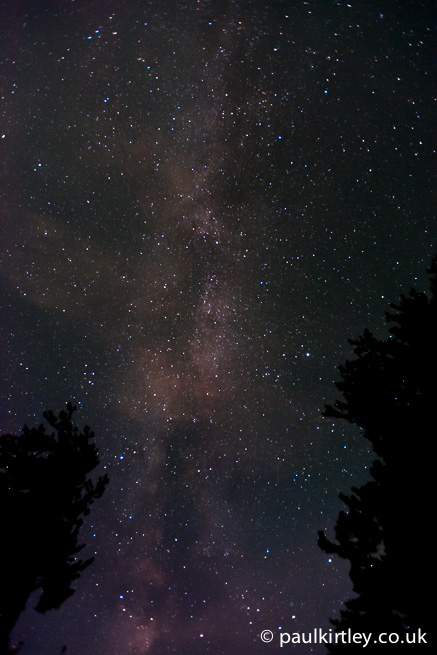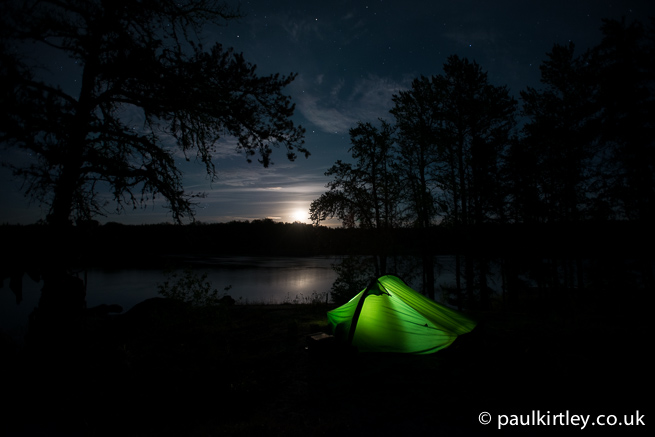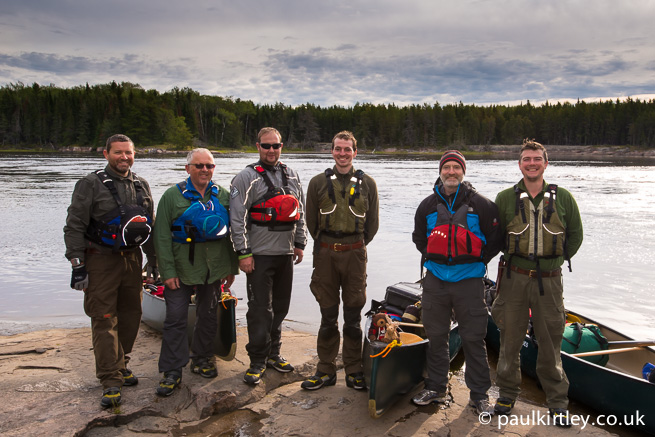 Final Thoughts
Paddling the Bloodvein was a great adventure.
A wilderness canoe trip such as this requires the combination of many skills.
Indeed, Ray Goodwin and I work very well together, in a way which we feel establishes an expedition ethos where canoeing and bushcraft skills go hand in hand and participants feel enabled to employ those skills in a real environment.
It is much more satisfying to apply your skills in this way than practice them in artificial or contrived ways closer to home.
That's not to say there is no value in practise of individual techniques in order to become skillful. On the contrary, close to home is where you should practise and build up experience; it's where you should make your bigger mistakes.
On a wilderness trip, you need to apply what you know and, if anything, pull back from working at the outer limits of your skills. Of course, nature sometimes puts unexpectedly heavy demands upon you but pushing the envelope 100% of the time should rarely be the central plan of attack. Damage to you or a boat sustained in a rapid, a turned ankle on a portage or an axe wound or scald in camp all have more serious ramifications in a remote setting where you are are largely dependent on your own physical function to get home again.
Operating in this way raises your game though, rather than diminishes it. Things have to work.
Whether you are a leader or participant – you come away from a successful wilderness trip feeling quietly confident in your own competence. It's well within your capabilities to repeat the journey or undertake another. You feel enabled, solid in your ability to move through and live in an environment.
But it's not just about personal skills, abilities and leadership. More than this we had a unique, shared experience with a great group of people.
We were immersed in nature for two weeks. We adopted a simple routine. There were no distractions or unwanted demands on our attention.
We lived in the moment. We took things as they came – weather, water levels, rapids, portages, campsites and so on – assessing each as we went.
There was boundless fresh air, plenty of physical exercise plus time for quality sleep.
We laughed a lot.
I came away from the trip feeling mentally and physically refreshed.
Not far after entering Atikaki, next to our first campsite on the river, a Canadian Heritage Rivers System blue plaque fixed to rock bears the following message:
"Over 100 rapids and falls, cryptic pictographs on silent rock faces and a profound sense of wilderness – these are the contributions of Manitoba's portion of the Bloodvein River in the Canadian Heritage Rivers System. The Bloodvein's unique natural values are enhanced by the opportunity its timeless setting provides to recreate the feelings and challenges which faced early Canadians long ago. The perspective gained through experiencing the natural forces of wind and rapid, and the gentler force of constancy within renewal, bring sharply into focus the priceless heritage the Bloodvein River holds in trust for the nation."
To my mind the importance of a true wilderness river such as the Bloodvein goes much wider than this. My view is the Bloodvein River heritage is priceless for all of us, Canadian national or otherwise. I'm glad and extremely grateful Canadians value it so highly and make it available for those of us who would wish to meet its challenges today.
Every time I come back from a great wilderness trip, I resolve I need more unadulterated wilderness experiences in my life. It doesn't always happen; "things" get in the way.
This time I'm already planning my next canoe adventure…
Let me know in the comments below if there are any aspects of this trip, or undertaking trips like this, that you'd like to know more about…
Further Reading:
Related Material On Paul Kirtley's Blog:
Bloodvein River Trip – My Personal Gear
Way Out North: A Boreal Forest Foray
Winter Magic: Return To The Northern Forest
Integrating Bushcraft With Modern Outdoor Life: Bushcraft Show 2014 Presentation