Bloodvein River Trip – My Personal Gear
Bloodvein River Trip – My Personal Gear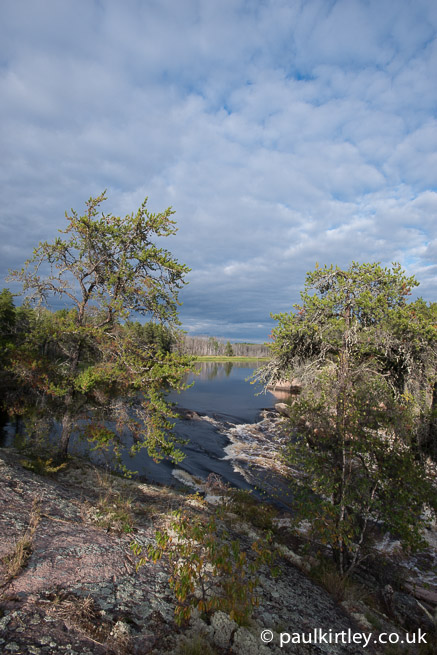 People are always interested in other people's gear.
It's certainly an area I'm asked a lot of questions about.
As I get older, I'm less and less interested in outdoor clothing and equipment for any reason other than function and reliability.
That said, I understand it can be instructive to compare and contrast with the experience of others.
Also, I hate having too much clobber with me on journeys. In this respect my decisions always come back to function.
Simple is good.
With this in mind, given the interest in our recent Bloodvein river trip, I thought I'd lay out the personal kit I took with me for this two-week journey.
Those who have followed this blog for some time (or have read many of the articles more recently) will notice that much of my gear does not vary – over the years, or from activity to activity.
Bloodvein River Trip Personal Gear – Main Components
I packed three main luggage components:
Portage pack
Daysack
Camera case
In addition I had the following items:
Buoyancy aid/Personal floatation device (and contents – see below)
Throw-bag
Helmet
On-person items (see below)
Shirt, trousers and river shoes (not shown in the photos)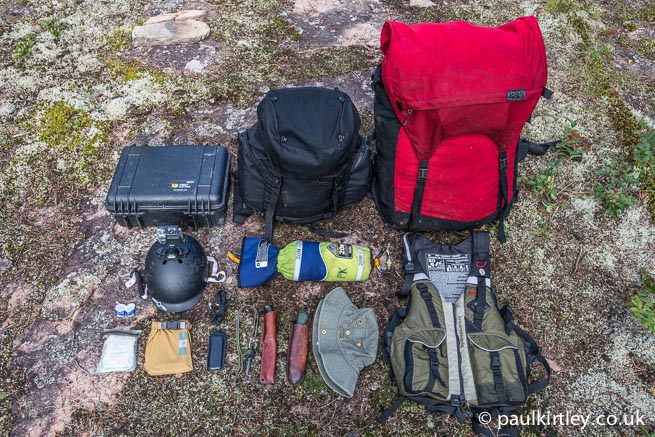 On-Person Items
Shirt
When canoeing in mild conditions I wear a Swedish military surplus M59 shirt. I also use these while teaching courses in the summer months. They are comfy and inexpensive.
Trousers
I use Fjallraven. The G1000 fabric is hard-wearing and dries quickly. For canoeing I'm still using Foresters but Fjallraven don't produce this model any longer. There are plenty of other good models to choose from though. I also use Fjallraven trousers (Vidda and Barents) generally, including while teaching courses in the UK.
Hat
I take a classic Tilley T3 hat for sun/glare protection.
I don't bother with specialist paddling clothing or separate clothes for camp. I spend 6 months of the year in this kind of get up and I find it comfy and functional.
Footwear
My river shoes are 5.10 Canyoneers. They are extremely grippy. They are also comfy with plenty of ankle support. I wear them for portage trails too. Inside I wear some old wool hiking socks (one pair lasts me two weeks).
Belt and Pockets
I wear a leather belt on my trousers and on this I hang a PK1 Wilderness Knife (I'm still using the prototype) and a Bahco Laplander saw
.
In my left pocket is a Swedish FireSteel 2.0 attached to my belt with a paracord lanyard.
In my thigh pockets I keep a Fallkniven DC4, a small cuts kit (as described here), a spare set of contact lenses, a hank of paracord and an XXS Exped drybag containing a thin Moleskine notebook (like this) and medical details (in an Aloksak), a small pen and a Mini-Sharpie.
With the exception of the river shoes, this is exactly the same on-person set up as I use when running wilderness bushcraft skills training programmes in the UK.
Or should I say, the on-person set up that I use while running wilderness bushcraft skills courses in the UK is what I actually wear on wilderness trips.
Canoeing Safety Gear
Buoyancy Aid
My buoyancy aid (PFD) is set up pretty much as I describe here but there have been a few changes:
a) the whistle is now inside the LHS pocket to reduce snag risk;
b) the old combat dressing has been replaced by an Israeli dressing;
c) I've added this Spyderco Paramilitary knife as a rescue knife/general folder;
Throwline
The throwline is a 20m Palm 'Alpine' with 11mm line. It's a heavy duty throwline that can also be used for unpinning boats (Ray had pulleys and karabiners on this trip so I didn't bring mine) as well as lining when the painter is not long enough or you need a bridle. Ray and Malcolm on the trip had lighter weight HF throwlines. This was by design, so that we had a range of options open to us.
Helmet
My helmet is by Pro-Tec and comfy. I also like the fact it is a low key matt black. I have fitted a GoPro mount on it (I use the Hero 3 Black Edition).
Main Portage Pack
The main portage pack I used on this trip was by Cooke Custom Sewing. This was supplied by our outfitter and I was very pleased with the design as well as the quality of materials and construction. These packs fit very well in our boat (two of these packs plus a barrel pack fit the length of a 16ft boat with little play for them to slide around). The packs were comfortable on the portage with good support from the substantial hip belt and shoulder straps. There are also some very well-thought-out design features, such as the lifting loops at the top and bottom of the bag for when the sack is lifted horizontally into or out of the boat.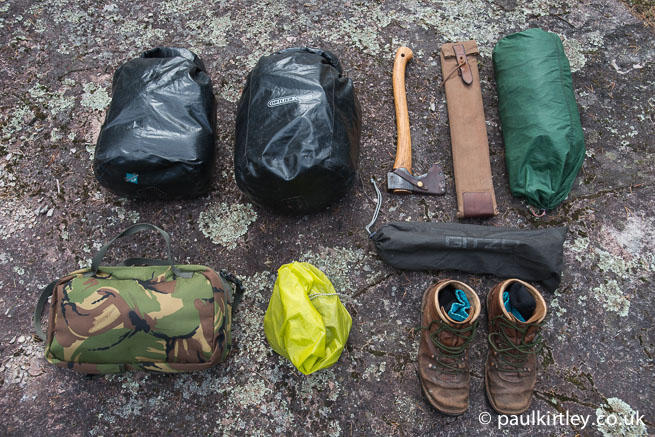 Ortleib Bag #1
A 32 litre (I think) Ortleib bag containing:
Sleeping Bag
Down sleeping bag by RAB. This is a 1997 vintage 2-3 season bag which is still going strong as my summer exped bag. On the frosty nights of the Bloodvein trip, I had to put on a merino top and wool beanie to stay cosy. These are things I would have with me anyway, even if I had a heavier sleeping bag. So this tactic is part of the plan to keep weight down.
Sleeping Mat
Thermarest Prolite sleeping mat. This is a three-quarter length Thermarest. It weighs very little and packs down very small. I find it very comfortable. My sleeping bag and sleeping mat combined weight not much more than 1kg (2.2lbs).
Chilly Pack
This is one of my standard packing 'modules' that I almost always pack wherever I'm headed. It consists of a Granite Gear stuffsac containing a few small, relatively light items which make a big difference if the temperature drops (as it did overnight a few times on the Bloodvein trip). The pack contains the following:
Merino base layer by Howies. A good quality, zip-necked merino wool baselayer. Similar can be had from Icebreaker.
Ulfrotte balaclava. A versatile item that can be used as a hat or neck-warmer as well as a balaclava.
Wool finger gloves.
Miscellaneous Tent Items
T-shirt for sleeping in.
Book for bedtime reading.
iPod, 160GB for music and podcasts.
Contact lenses.
Spectacles.
The above "tent bag" contains everything I need in the tent bar my head-torch, which I will have been using before I need the above kit. Hence I keep the latter in my daysack (see below) where it is easily accessed. Once I have set up my tent, I just put the tent bag inside my tent and that's me done. It takes 5 minutes. I unpack the tent bag only when I get into my tent for the evening.
Ortleib Bag #2
This is the same size Ortleib bag as bag #1, containing spare or less frequently used items:
Spare underwear and socks.
Spare shirt. Another Swedish M59 (see above)
Spare trousers. A second set of Fjallravens (see above)
Ditch kit, consisting of the following:
Merino base layer (identical to the one in my chilly pack above);
Wool beanie.
The ditch kit is used only if I get wet by falling into the water. It allows me to get highly effective warm layers onto my upper body quickly. I can then either keep my wet trousers on or use the above-listed spare set to change into. The plan also contemplates the possibility of my already having been wearing my waterproofs. Specifically, the Buffalo shirt is not only a great warm garment that does not depend upon layering, the Pertex outer also has a good degree of water repellancy and continues to perform well even with a wet Gore-tex jacket on top of it.
Heavy fleece for colder evenings and mornings. My faithful Swazi Back 40 fleece with hood. It pairs very well with my waterproof jacket (see below for more details).
Guide books, maps and field guides. If the guide book – such as Hap Wilson's Wilderness Rivers Of Manitoba – is sizeable, then I'll just take photocopies with me in order to save space and weight. Maps also live in the same place (in a 12″x12″ waterproof Aloksak pouch). I normally take a selection of relevant field guides with me, reflecting my interests and the season. On the Bloodvein trip I took books on trees, plants and berries. I wish I'd taken one on fungi too (note for next time).
Other Main Portage Pack Items
Tent
The Hilleberg Akto is generally my first port of call for a one-man tent. It is roomy and light weight. This tent has done many trips with me over the last 7 years, from the Brecon Beacons to the Bloodvein.
Wash Kit Bag (yellow Granite Gear sack) containing:
For more info on wash kits and hygiene in the bush, watch this video on my YouTube channel.
Group First Aid Kit. This was the only thing in my personal kit which was not just for me. As joint leader of the trip, I carried the group first aid kit. This is a PLCE side-pocket sized first responder kit which we put together at Frontier Bushcraft for our courses and expeditions. I'll cover the contents of this in a future article. I mention it here only for the sake of completeness in listing what was in my pack.
Axe Small Forest Axe by Gransfors Bruk. The best compromise between functionality and portability, this half-size axe deserves its popularlity.
Folding Bucksaw Lightweight and compact for the cutting power, this fits perfectly down the side of the CCS portage pack. Learn how to make one here.
Travel Tripod. The superb (and expensive) Gitzo 1541 Carbon Fibre tripod. Compact and lightweight yet fully functional as a solid support for my DSLR.
Camp boots. Rogue RB1 boots. These are years old and comfy as slippers around camp. Very grippy on bare rock. They are not waterproof, however, so I pair them with SealSkinz socks. Perfect.
Daysack
Day Pack and Contents
The pack itself is a Karrimor SF Sabre 35. This is paired with an Ortleib drybag, which is much larger than the main compartment of the bag. It's about 50 litres (I think) but like the other Ortleib bags I use, is not labelled in any way. Further it does not correspond to anything I can find on the Ortleib website, which I find confusing and at odds with what I regularly find in retail outlets (old stock?). The more time I spend in North America, the more I'm moving towards Sealline but I'll use the Ortleib bags as long as they last.
Anyway, the idea here is to have everything I need during the day to hand. Unless I need the ditch kit (see above), I should not need to go into my main portage pack from when I fasten it in the morning to when I set up camp in the evening. My daysack also tends to contain bits and pieces that are valuable or too small to fit in larger bags/compartments.
Waterproof jacket
The superlative Swazi Tahr. Good while in a boat or in the woods.
Waterproof Trousers
I use the old Swazi bib trousers which are no longer produced. Very comfy, warm and waterproof. Heard wearing knee patches too. I didn't use them at all on the Bloodvein trip. I expect, as usual I'll be wearing them continuously on the next River Spey trip.
Light fleece
I like a light fleece pullover for when there is a chill in the air or for wearing under a waterproof when I'm active on cooler, wet days. I use a Berghaus microfleece top like this. It's a pretty generic design but the quality of construction and materials is good.
Warm hat
Merino beanie.
Compass
Silver Expedition 15TDCL. My favourite fully featured compass, as discussed here.
Headtorch
Surefire Saint Headtorch. Bomb proof, bright, infinitely adjustable head-torch that will take 2xAA (alkaline or lithium) or 3x CR123 lithium. In a stuff sack with several sets of spare batteries; I've had this head torch for around four years and it is no longer produced. It is superb, however, but the world of headlamps keeps moving on! Check out the latest Surefire Headlamps here.
Personal First Aid Kit.
As described here, except that the First Field Dressing has been replaced with an Israeli Bandage.
Valuables
Small SealLine See-thru Drybag containing wallet, phone, passport.
Other Equipment
GoPro camera add-ons and spare batteries.
Daysack Side Pocket #1
Mug
I always like to have a metal mug (as discussed here). At present I'm using the BCB Crusader II mug, aluminium hard anodised and proving very good so far.
Water Bottle
In conjunction with the BCB Crusader 2, I'm still using the Nato water bottle, which fits inside the mug.
Cutlery
Generally the only cutlery I pack is a spoon. I have a folding knife too. The spoon I use for international trips is a Snowpeak titanium spoon.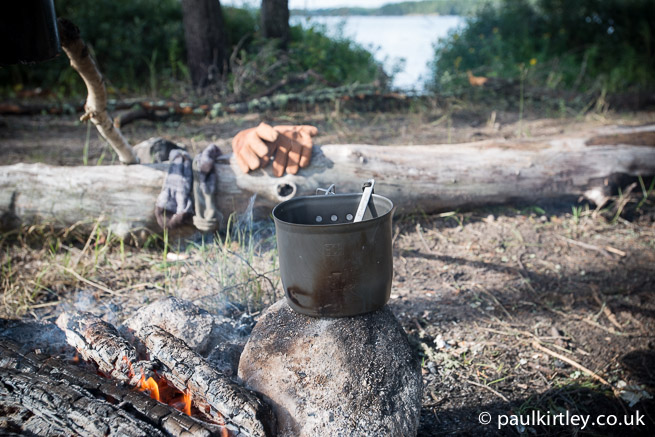 Daysack Side Pocket #2:
This pocket is perfecly sized for a Peli 1050 Micro Case with a home made insert to house my Leica D-lux 5 camera and a spare battery. While I had my DSLR on this trip, the Leica has a great macro function as well as shooting decent video on auto settings (good for capturing action at the drop of a hat).
Camera Case
For this trip I took my "big camera". I use a Pelican 1450 case to house it, the main lenses I need and the accessories.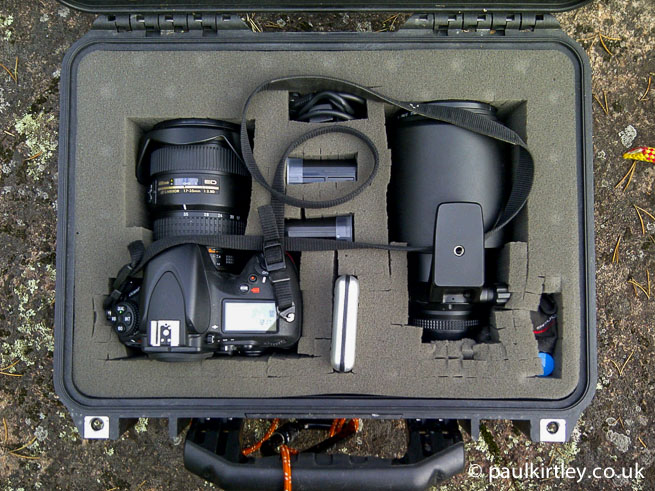 Main Photographic Camera Equipment
Camera Body
Nikon D800. This 36.3 megapixel full frame digital SLR is simply the best camera I've ever owned. Often these days taking a full size DSLR is a hindrance, particularly when there are so many good compact, travel and bridge cameras around. To my mind, however, a wilderness trip such as the Bloodvein River deserves the visual treatment this camera can provide.
General Lens
Nikon Nikkor AF-S 17-35mm f2.8 lens. This is a discontinued lens which I've owned since I used a F100 35mm camera. Still excellent quality and very good in low light, it makes for a very good general lens for travel and landscapes. I'm enjoying getting the most out of it again paired with the D800.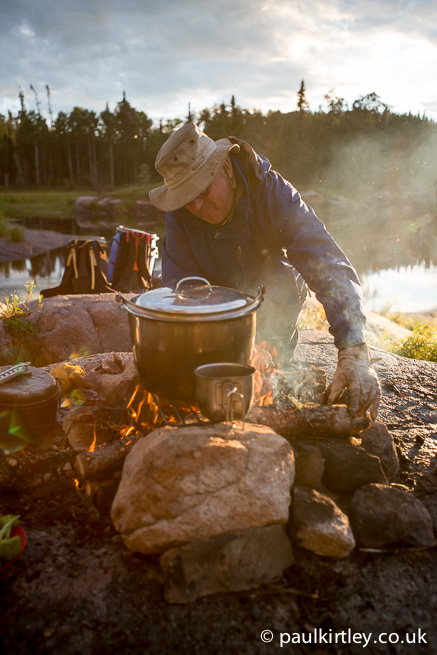 Long Lens
Nikon Nikkor 80-400mm VR lens. Another discontinued lens. Superseded by the newer, superior, AF-S version. Brought with me for long distance nature shots. While this is not a cheap lens by any standard, compared to the quality of the D800 and the 17-35 lens, this telephoto zoom is a little lacking in clarity. Wide open it's somewhat soft around the edges and it washes out colours generally (not so much of a problem if you shoot in RAW). Yet in the context of an expedition, an 80-400mm lens makes sense. You have a wide range of focal lengths available in a relatively compact package. Plus, most of the time, I was shooting with the general 17-35mm lens. In the right light, the longer lens delivers some superb shots. It needs plenty of light and a fast shutter speed but paired with the 17-35, I find I don't need any other lenses on a trip like this.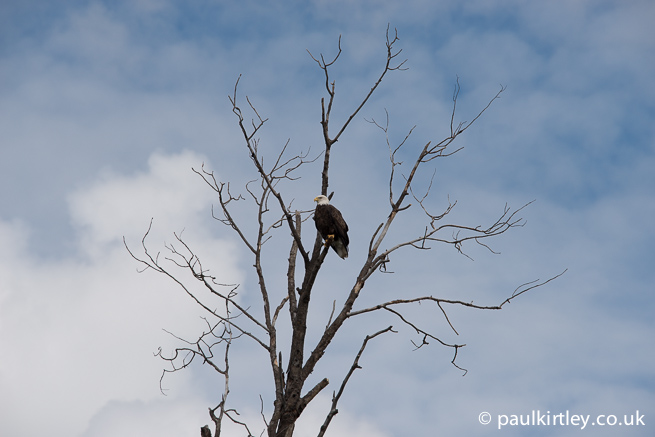 Spare Batteries
Four spare Nikon EN-EL15 batteries (plus one in the camera). Overkill if you are just taking stills but shooting video drains the batteries very rapidly.
Data Cards
I shoot in RAW and the 36.3MP sensor in the D800 produces 80MB files. You need big cards. I use 64GB Sandisk Extreme Compact Flash Cards. I also fit a 64GB Sandisk Extreme Pro SD card in the D800 (it has dual card slots) to capture any video I might want.
Other Accessories
In the Peli case I also indlude a Nikon cable release for use in conjunction with the tripod (see above) as well as lens cleaning items.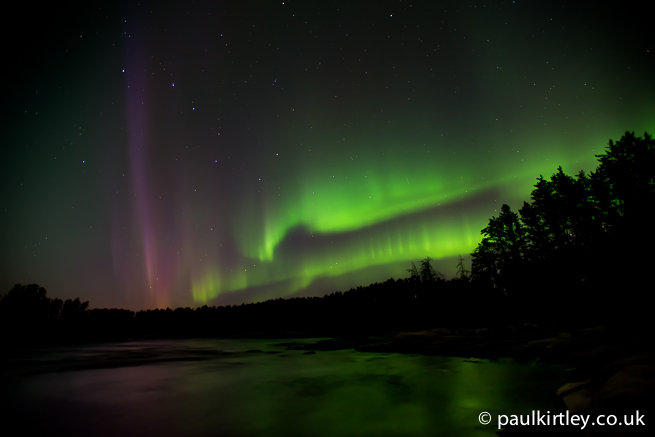 I hope this sheds some light on my thinking regards to my personal equipment for this trip as well as my rationale for choosing certain items over others.
I'm always interested to read your comments and opinions. Let me know what you think in the comments below.
Related Material On Paul Kirtley's Blog:
Six Men, Three Boats and The Bloodvein: Canoeing A Wilderness River
What Gear To Pack For A Day Hike In The Woods
A Personal Wilderness First Aid Kit: What To Include?
A Bushcraft Camping Outfit – Equipment For Living In The Woods
Cliff Jacobson and Camping's Top Secrets
Essential Wilderness Equipment – 7 Items I Never Leave Home Without
Featured Products From Amazon: