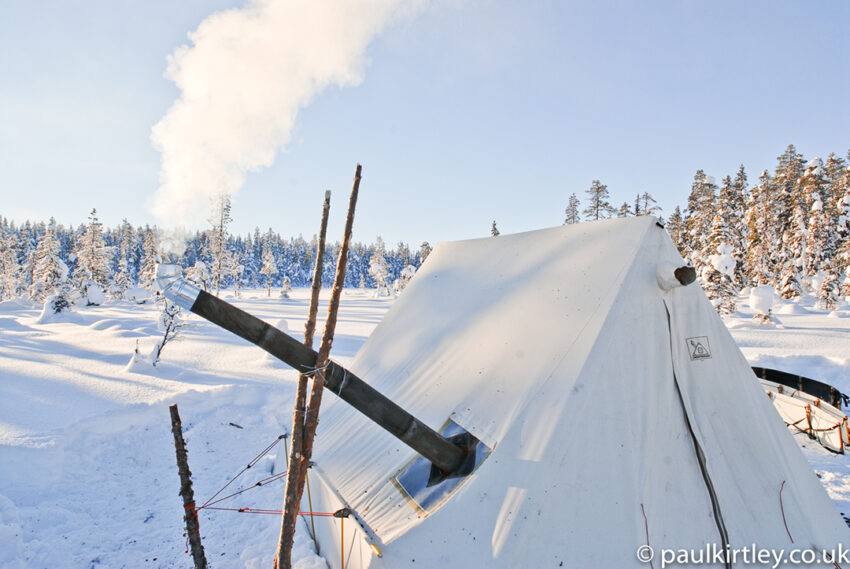 How To Live In A Heated Tent
How To Live In A Heated Tent
A heated tent is a fantastic way to spend the long, dark nights of winter outdoors, particularly in the deep cold of the far north.
While a modern four-season mountain tent – or even a bivvy – may be tolerable for a few nights out in sub-zero temperatures, when it comes to truly living outdoors for an extended period in a winter environment, nothing beats a heated tent.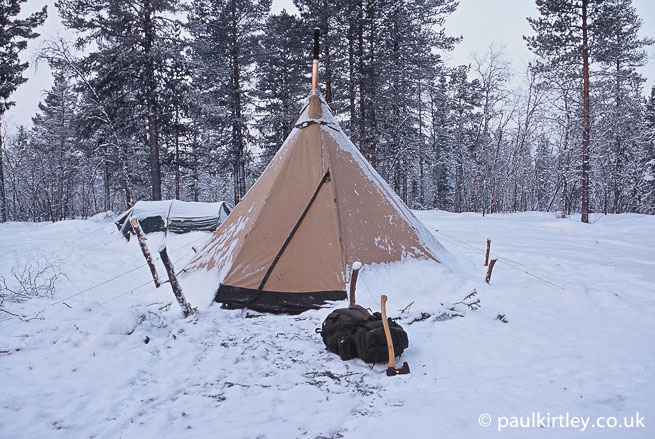 Hot tenting has a lot going for it. First – and very important in a cold environment – is that you can get your clothing and footwear dry and free of moisture on a regular basis. This means your clothing will perform up to its maximum potential while out and about during the day. A warm space also allows you to properly air out your sleeping bag on a daily basis. Moisture in your clothing and sleeping kit will significantly reduce their performance.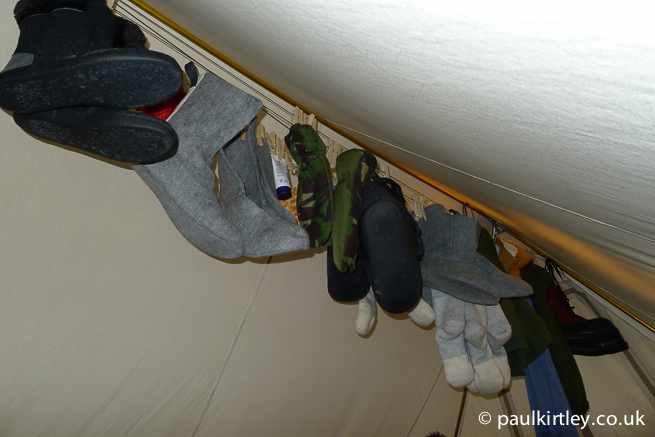 Having a warm space also means that you are warmed bodily. This saves calories, which you would otherwise be using to keep warm. A heated tent, properly sited and organised, provides a comfortable space in which to cook, eat and relax. It's not a sin to be comfortable while winter camping!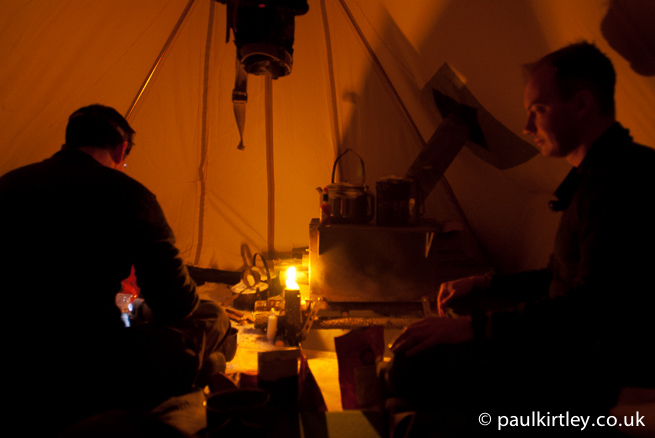 A tent stove isn't just for keeping you warm either. Your stove provides a heat source on which to cook, produce hot drinks and melt snow to produce water.
A tent heated by a wood-burning stove is a much more efficient way to keep warm and cook than an open fire outside. You will burn much less fuel, which means gathering less firewood. This saves time, effort and calories as well being kinder on the local environment. Even a relatively lightweight canvas tent containing an efficient wood stove can quickly create a comfortable atmosphere of +20-25 Celsius inside while it is minus 20 to 30 Celsius outside.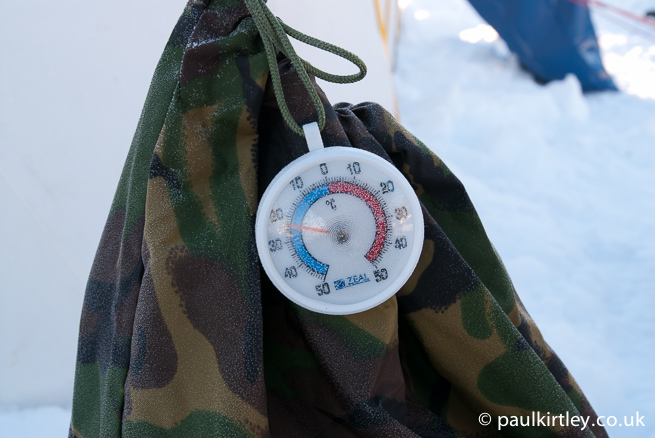 So, a heated tent has distinct advantages in winter. But there are some things you must know to get the most out of your tent.
Heated Tents: Safety First
There is a major risk factor inherent in heating a canvas tent with a wood-burning stove. You have a fire in a metal box, which becomes very hot, within the confined space in which you are living, surrounded by a material that is flammable.
This gives rise to specific dangers.
First, there is the danger of severe burns for anyone who comes into contact with the stove when it is up to operating temperature. Even a glancing touch can be enough to injure. Clothing can be easily damaged too.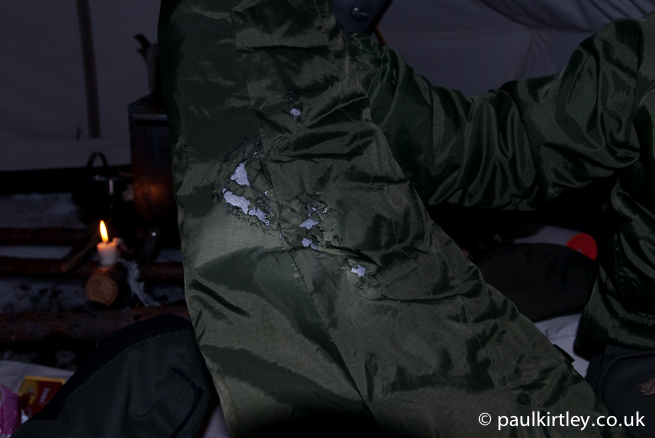 At all times you must be aware you are working upon a surface that is either uneven or purely compacted snow. A snow platform will, over time, soften with the internal warmth of the tent as well as with people moving around on it.
Softening of the snow platform will be most pronounced nearest to the stove. It is while moving in these areas that you need to take particular care. Putting your foot through the snow floor of the tent and falling towards the stove is to be avoided at all costs.
Second, there is the danger of carbon monoxide poisoning. While exhaust gases from the stove should be sent up the chimney, fumes can sometimes backup, even flowing in the opposite direction, coming out of the vents at the front of the stove and entering the tent interior. In particular, this can happen if there is a strong wind blowing towards the output of the chimney.
While carbon monoxide is both odourless and colourless, in the context of a wood burning stove it is also likely to be accompanied by a good deal of smoke. Hence, if the fire is burning overnight, you should always have a fire guard on duty. They will detect any smoke as soon as it enters the tent.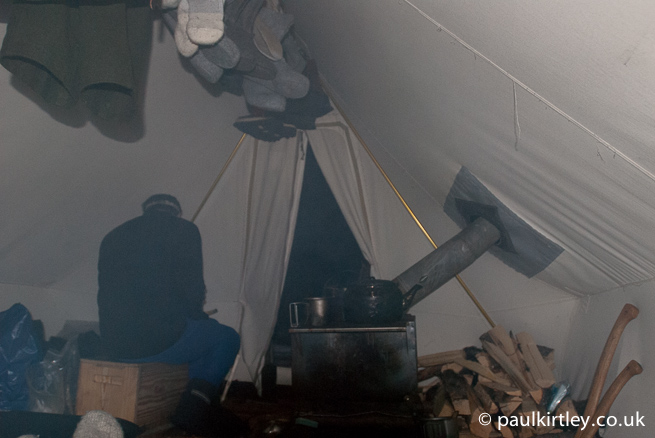 Third, there is the risk of a tent fire. One of the main considerations in avoiding tent fires is to make sure that the chimney pipe does not get too hot, certainly not red hot. Ideally the design of tent you are using incorporates protection or isolation of the tent from the hot stove chimney, which necessarily has to pass through to the outside of the tent somewhere. This can be a panel of flame-proof material or there may be some physical structure-such as a fire guard or grill material, either of which separates the chimney from the main body of tent material. Some chimneys also have spark-arrestors on the end. Also, check that the tent material has been treated to make it flame retardant.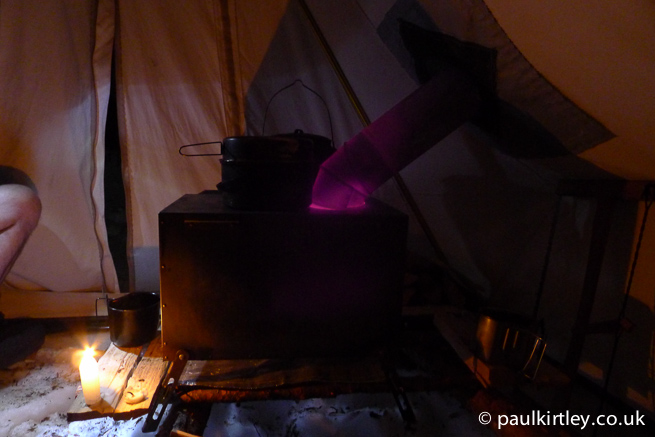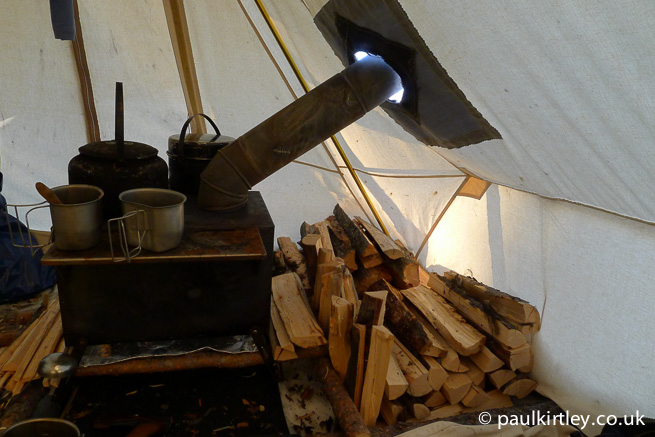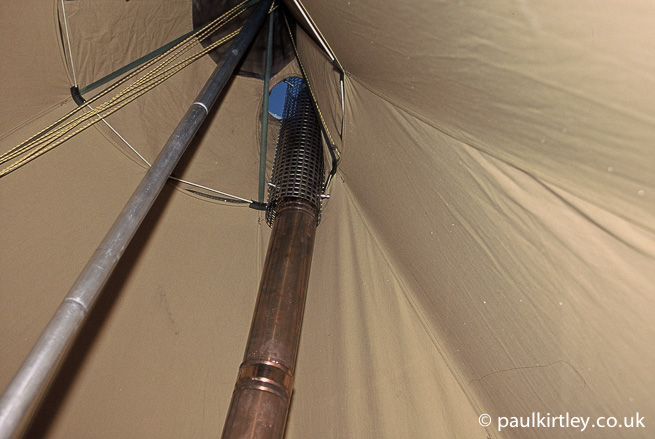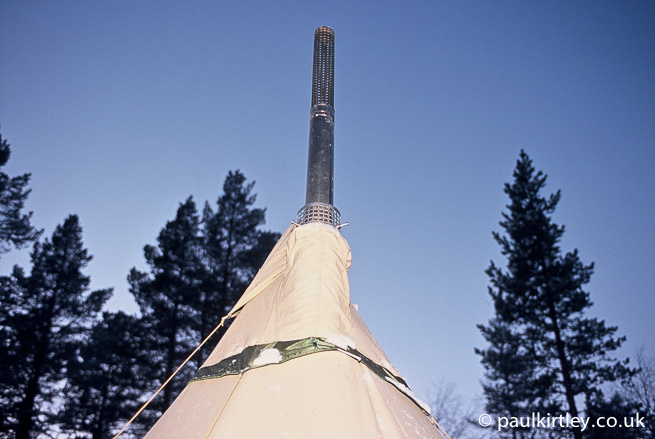 Another consideration is the materials that are stored near to the stove. In particular, firewood is often stacked nearby so it warms and is readily available to fuel the stove. While logs themselves are unlikely to spontaneously combust due to the radiant heat of the stove, slivers of birch bark and wisps of beard lichens on the wood can set alight this way.
Care must also be taken with the use of candles and other naked flames inside the tent.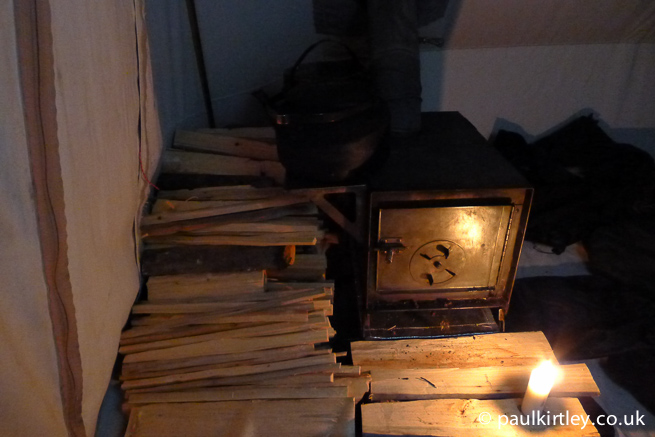 You should keep a knife to hand in case the tent does catch fire, in which case you can cut straight to the side of the tent and escape.
What To Do Overnight? To Heat Or Not To Heat?
One option to minimise the risk of fire and carbon monoxide poisoning overnight, while the tent occupants are sleeping, is to allow the stove to go out and sleep in an unheated space. This is one of the reasons why you should have full winter sleeping gear even if you have a heated tent.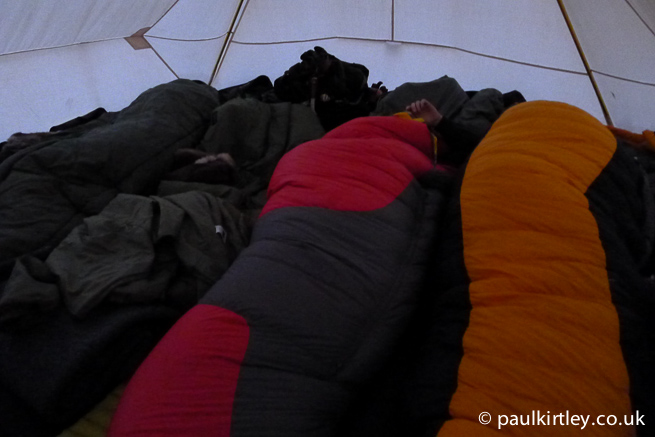 In this case it is definitely worth leaving some small fuel ready to go so that you can quickly and easily light the stove in the morning. It will be only a few degrees above the outside ambient temperature and you will want to get the tent interior warmed up as quickly as possible.
The other option is to maintain a fire watch, whereby at any given point in time one member of the tent party remains awake to both feed the stove as well as keeping watch for fire and smoke.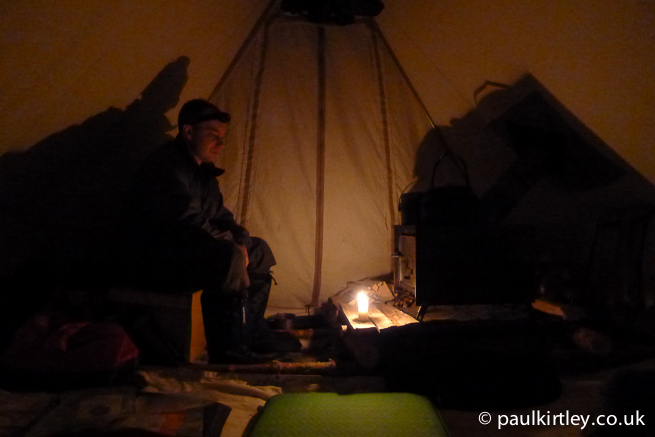 Obviously, most people will not want to stay awake all night. So, you need to have a rota system whereby each member of the group in the tent takes turns to have a stint on fire watch. In a tent of four, we typically take a shift of 2-2.5 hours each. Personally I find it good thinking time and an opportunity to write journal entries or notes.
If you sleep with the stove off, one person should rise a little early to light the stove and heat some water for breakfast. Everyone else can then get up into a warm tent. This duty of getting up first and lighting the stove can be rotated with a different person doing it every day so as to make it fair.
These latter points highlight a key element of making winter camping in a heated tent work. Even though the tent is quite large by mountain tent standards, it is still a very confined space. Therefore, it's important everybody does their share of the work and the group has agreed systems so everybody is aware of what needs to be done and how it should be done. This avoids confusion, resentment and unnecessary friction.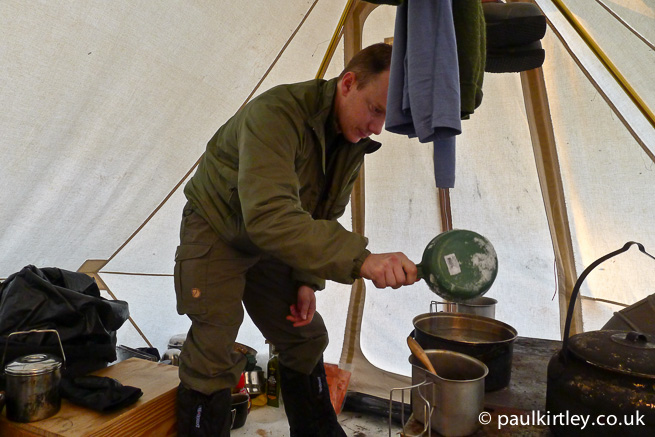 Get Organised For Top Notch Hot Tenting
As I have already suggested, an important part of living in a heated tent for an extended period of time is being organised.
This organisation starts right at the beginning of the trip. Take an organised approach to your packing- both personally and as a group.
When you get to the point where you are packing your gear, whether it is onto a toboggan, pulk, dogsled or snow machine trailer, make sure you have a system which allows you to know where everything is. When you arrive at the spot you are going to camp, you will be able to easily lay your hands on the things you need first. This is particularly important in winter. You may be tired, cold, hungry and the light may be limited (days are short in winter), so you are going to want to be efficient in your camp set up.
To ease into a trip, it can be good to make your first night out a shakedown night. This is when you get everything really tightened down. So, it is often good to have a short first day, allowing you more time in camp to set up your tent, get organised and fully up to speed. This is particularly useful if the group has not camped together before or it's been a while since you all last camped together. As the trip progresses, the camp set-up and breakdown process will become a well-oiled machine.
When you get to your camping spot it's important everybody knows the jobs that have to be done, which jobs they are to do themselves and with whom. While it may seem obvious what needs to be done, organisation and good communication at this stage saves a lot of time. Remember the aim is to be in the tent warm and with a full belly as quickly as possible.
Choosing and Preparing The Winter Camping Pitch
In choosing where to pitch your tent, there are a few major considerations.
Generally, the first thing that needs to be done is for the site of the tent to be prepared. As with any shelter, you are looking for an even, flat surface on which to sleep. You have two choices; the first being to dig out the snow and erect the tent directly on solid ground; the second choice is to create a platform of compacted snow on which to pitch the tent.
Achieving a flat surface is typically difficult when digging down to the ground, as you're never quite sure what lies beneath the snow. In my experience, you are unlikely to find a large enough area of flat ground for a tent of several people to live and sleep comfortably just by taking a chance and digging in an area that "looks good". You are just taking pot luck. And there is no way that you will dig multiple pits until you find the perfect one – you just don't have the time or the energy.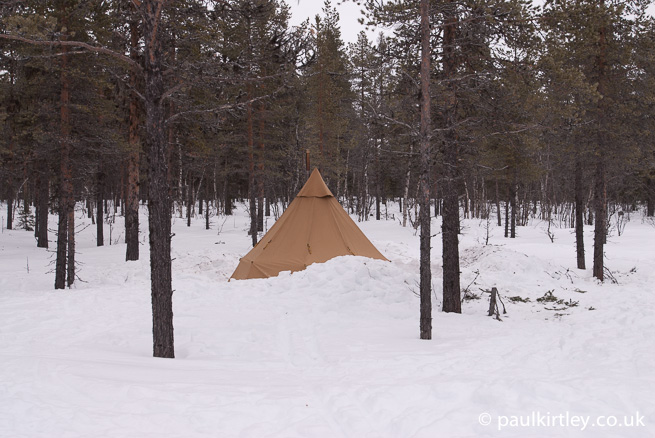 Our preference is to create the platform because we know it is going to be flat and comfortable for everybody to lie on. Digging down to the ground, by comparison, particularly in the boreal forest is likely to reveal uneven ground, logs, frozen features that are hard to change and potentially even frozen water, none of which makes for a comfortable surface on which to sleep. The downside of creating a platform is that over of the next few days the platform will slowly – and it is only slowly – start to melt a little and compact. This creates a surface that is no longer flat but somewhat saucer shaped. This convex surface tends to centre on the stove.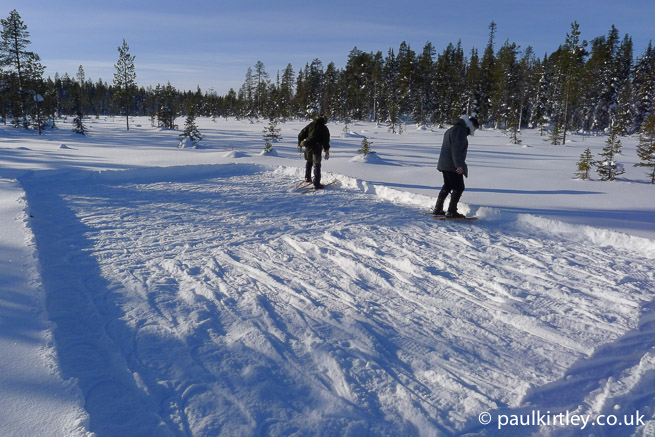 Certainly, if you are staying in an area for only a night, or even a few, tramping down a platform is the quickest and most certain way of achieving a comfortable living and sleeping surface.
Another issue with digging down to the ground is that you are sleeping at the lowest point of the tent. Whereas, if you create a platform, you can then dig a cold well in part of the area for the coldest air to drop into. Then, even on nights where you are not running the stove, you will not be sleeping at the same level as the coldest air in the tent. This makes a significant difference.
Camping in a tent that relies on a wood-burning stove, means you will need access to a ready source of firewood. Once you get to know your stove, you will know how much it will burn in a given time to keep your tent warm at different external temperatures. Efficiency with a saw and axe is what's required to process the dead-standing timber into useable pieces of fuel but having the raw material relatively close by makes a big difference. You should be keeping an eye out for potential fuel before you settle on a particular site to pitch your tent.
Winter Tent Organisation Starts Before Putting It Up
It should be fairly obvious that you cannot mount a heated stove directly on compacted snow or even frozen ground. The heat of the stove will melt the surface. Therefore, you must mount the stove on some sort of legs or framework so that it has a stable platform regardless of what the snow is doing around it.
Work this out before you put the tent up. It is often easier to set up the stove first. Another tip for this stage is to save space by digging the cold well under, or partly under, the stove.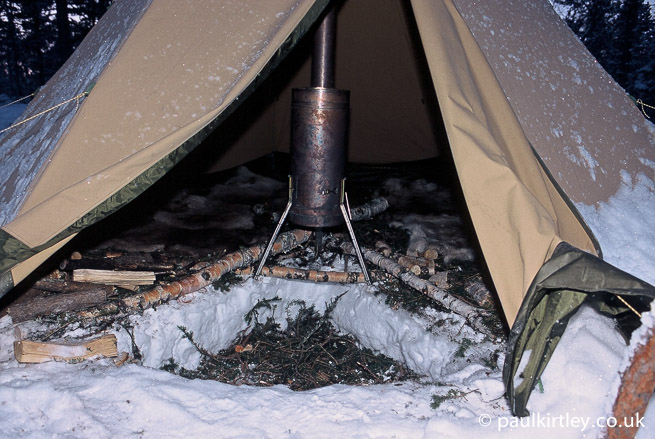 Organising Your Camp Around Your Tent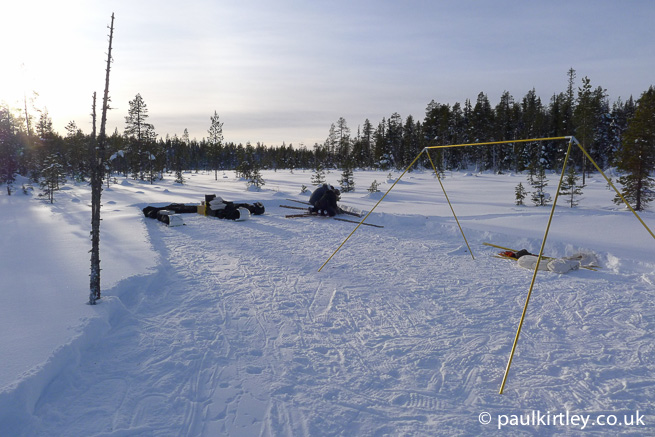 In addition to an area to pitch the tent itself, you are going to need to organise your camp around it.
Have an area near to your tent where you can keep spare logs, ready to section and spit as well as having the space to do this safely. We generally extend the tent platform to create this space.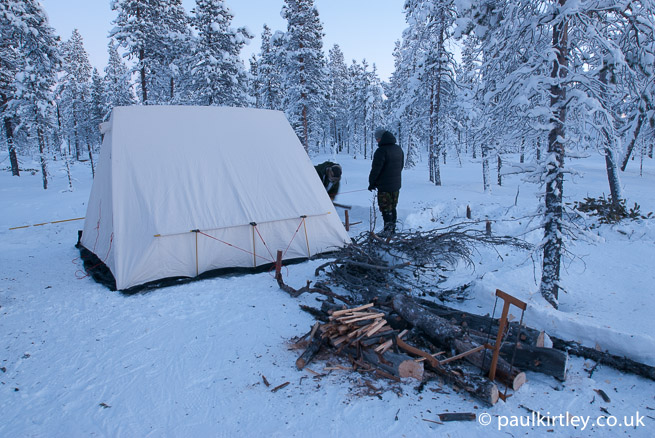 We also prepare an area of snow where we can store our toboggans and spare equipment duffels. Once the extended platform is frozen solid, we can process fuel, access equipment, go to the toilet, collect snow and generally move around directly outside the tent, without having to put on snowshoes.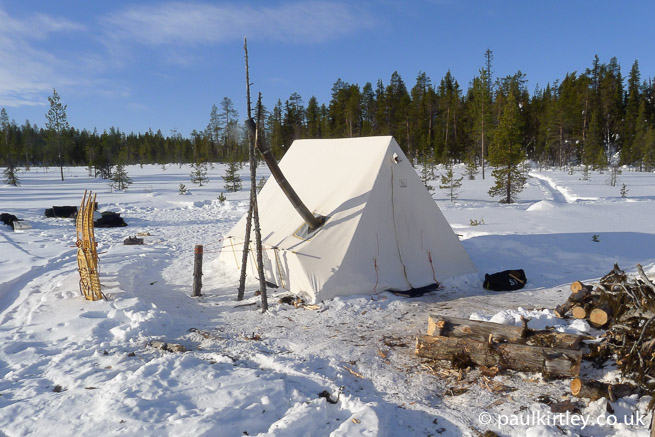 Around the perimeter of this area, you should also designate a place where people pee. This should be strictly adhered to. As the old saying goes, "don't eat the yellow snow". Yes, the yellow snow is obvious. Until it snows or drifts. Hence, the need to have a designated pee area.
You should also have an area for brushing teeth, which can be the same area as for peeing if you want. You don't want everyone spitting in your communal water supply.
Away from these areas, you should have an area that is designated for collecting snow for melting into drinking water. This area should not be used for anything else.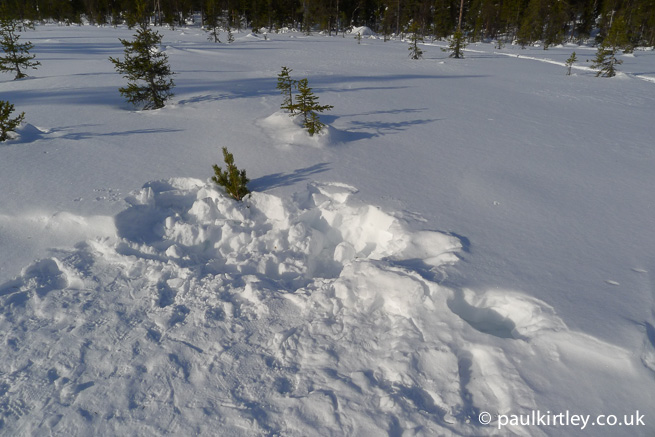 Some distance away from your camp should be your main latrine. This should be placed with as much careful consideration as you would give the position of a latrine in summer. In particular, you should consider what will happen to melt water in the spring. You should not place your latrine on top of or close to watercourses. Burn your toilet paper. Do not leave it buried in the snow.
Moving In To Your Heated Tent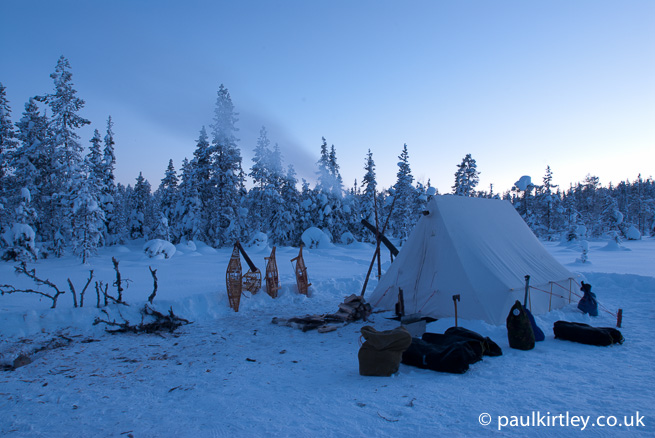 Once you have your platform established, stove installed and your tent set up, you can then get organised with your group kit and personal kit.
When we are camping in the winter, my groups all have a personal duffel bag, which we call a tent bag, containing our sleeping equipment, some spare clothing for inside the tent, wash kit and anything else we might want inside the tent such as a book. We organise ourselves so that each duffel fits at the top of our individual sleeping areas.
As soon as we have laid down the tent flooring – usually the canvas tarps from our toboggans – we lay out our sleeping mats too, which has several advantages. First it provides protection for the snow platform from feet, knees and hands breaking the crust as we move around inside the tent. It also provides insulation for us from the snow underneath.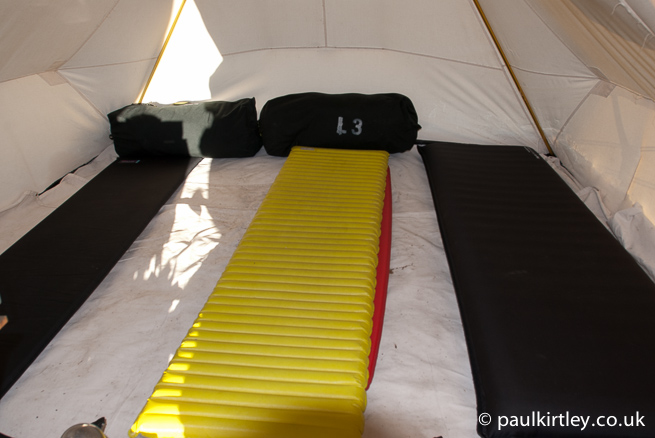 You will necessarily have to be wearing your boots while getting in and out of the tent, then removing your outdoor footwear before proceeding to the sleeping/living area. This means it's useful to have an area near the door that it is OK to stand on with boots. If you are only staying overnight you can just have the snow platform showing. We have found, however, that if we are staying in area for several days, then it is worth putting down what are effectively roughly hewn floorboards.
There are two issues, which are linked. The first one is that this area near the door is often where the stove is also situated, so the radiating heat from the stove is quite high in this area, causing a softening of the floor. The second issue is that this small area near the door is the area that gets most foot traffic. So the combination of heat from the stove softening the snow plus a lot of weight in one particular area means that if the floor platform is going to be damaged anywhere, this is the place it is most likely to happen.
We have found by making the simple addition of floorboards in this area means the floor stays in good condition for days rather than deteriorating steadily after day one. These boards are made from firewood offcuts. An alternative is to use spruce boughs.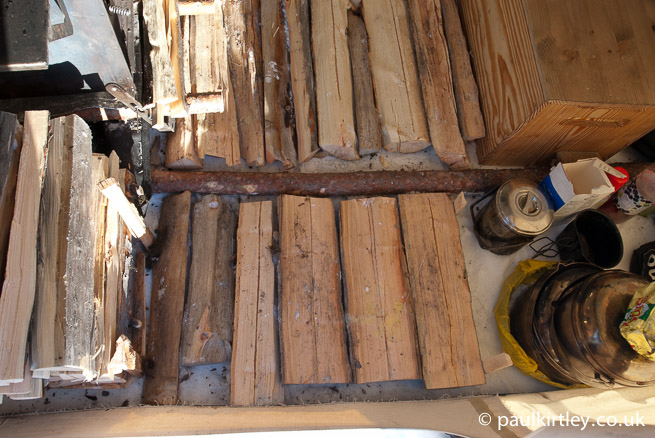 You can stack firewood inside the tent so you have ready access to fuel. Make sure you have split the wood down into the various sizes you will need, from kindling up to main fuel. You can also stack some spare, processed fuel outside the front door, in case you need to bring some more in.
As soon as the first firewood is available, we typically get our stove going and get some snow melting so that everything starts to warm up and we start producing water. It can be hard to stay well hydrated while trekking in the cold, dry conditions of the far north. Hydrating yourself once in camp is a priority.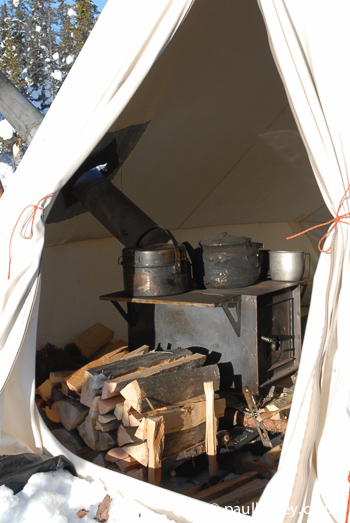 Arrange your group equipment inside the tent and have a system, so that everyone knows where things are. Only take kit – personal or group – into the tent that needs to be in the tent. This allows for maximum room inside as well as minimising time both unpacking and packing. Everything else can stay outside.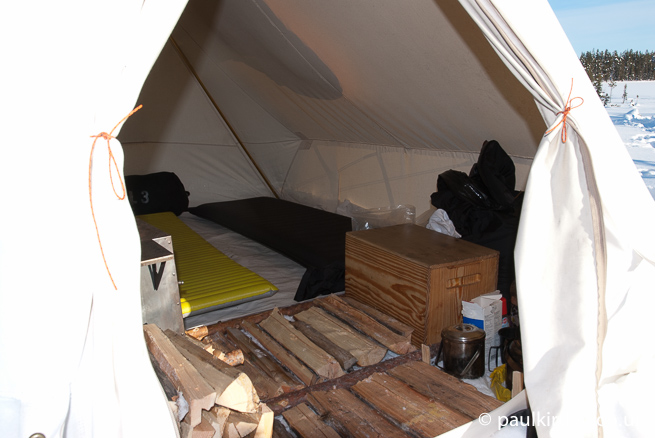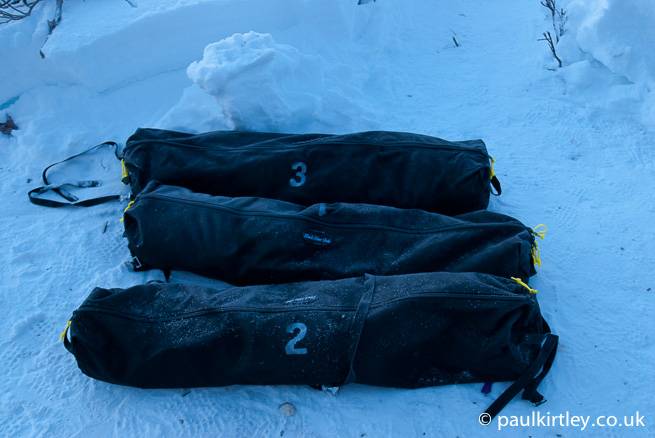 As the inside temperature of the tent increases above zero, you will want to make sure that when you do enter the tent, you have the minimum amount of snow on your clothing and equipment. Otherwise, the warmth will simply melt the snow and make your kit damp, which can then freeze into it if you go outside again. We position a brush outside the front door for removing snow.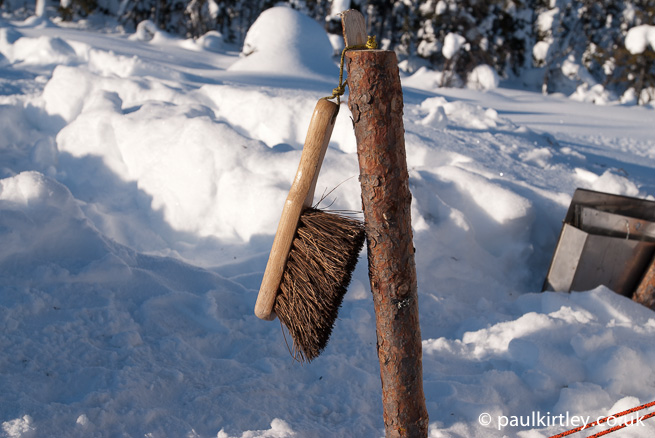 Enjoy Your Winter Camping Experience!
Winter camping done badly is a miserable experience. Winter camping done right is a wonderful experience. The devil is in the detail and it does take some practice.
It's worthwhile making the effort, though, as winter camping takes you to some amazing places and allows you to see some incredible aspects of nature.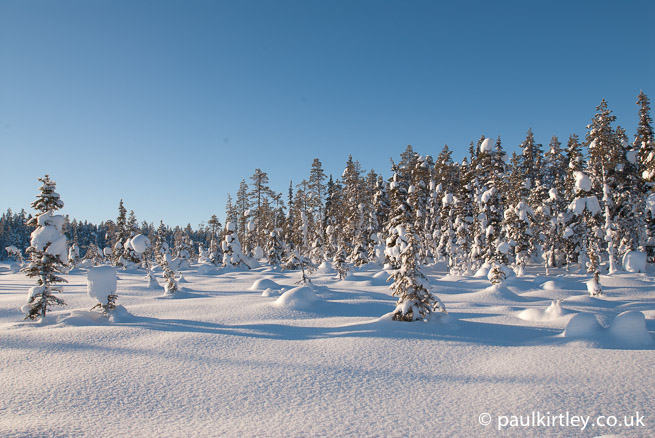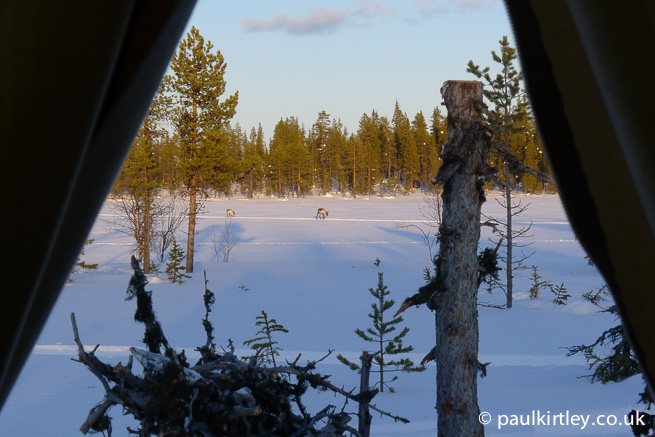 You can start hot-tenting before the snows come. It's a great experience to camp out in a warm tent during the damp and frosty nights of autumn. It's so cosy; you'll wonder why you've never done it before.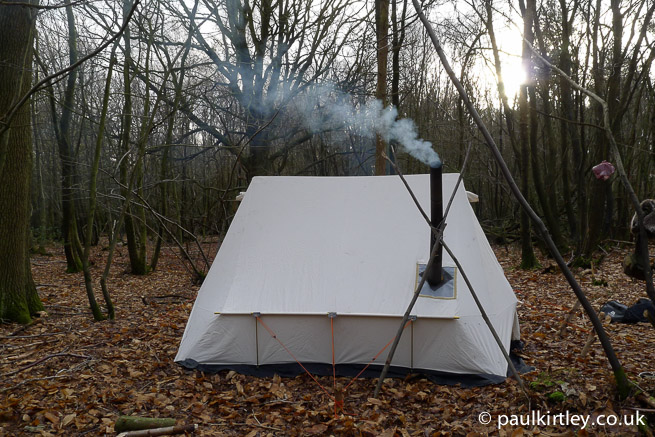 The forests in full winter conditions are quiet and empty – much wildlife migrates south and many people simply stay indoors or close to home. In contrast, the winter camper sees the best the season has to offer and literally extends their outdoor life to a world of year-round possibilities.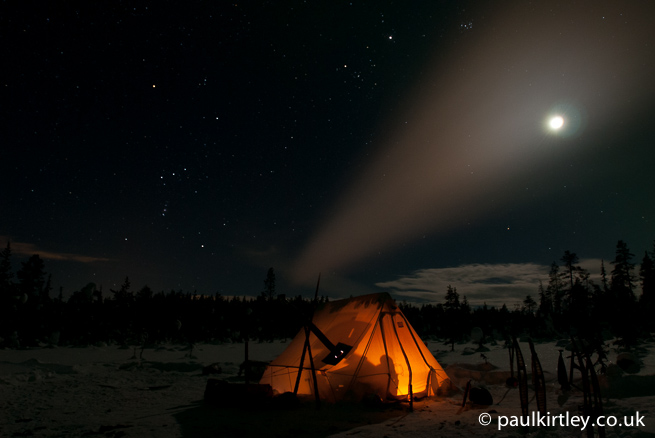 Do you use a heated tent? Or do you own a canvas tent but are yet to invest in a stove? Or do you prefer other means of winter camping – cold tenting or hammocking even? Let me and others know in the comments below…
Recommended Further Reading
Related Material On Paul Kirtley's Blog
A Winter Camping Trip In The Northern Forest
Winter Magic: Return To The Northern Forest
How To Split Firewood On Snow: Key Axe Techniques
Surviving A Winter's Night in the Northern Forest: How To Build An Arctic Lean-To