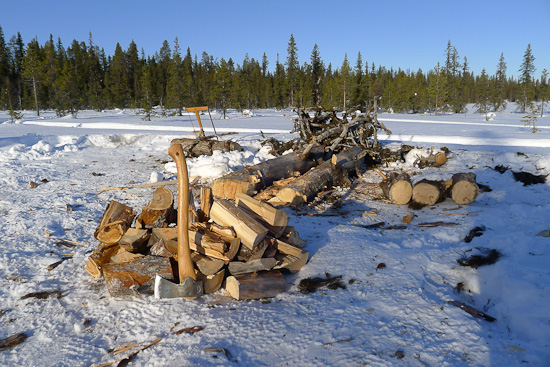 How To Split Firewood on Snow: Key Axe Techniques
How To Split Firewood on Snow: Key Axe Techniques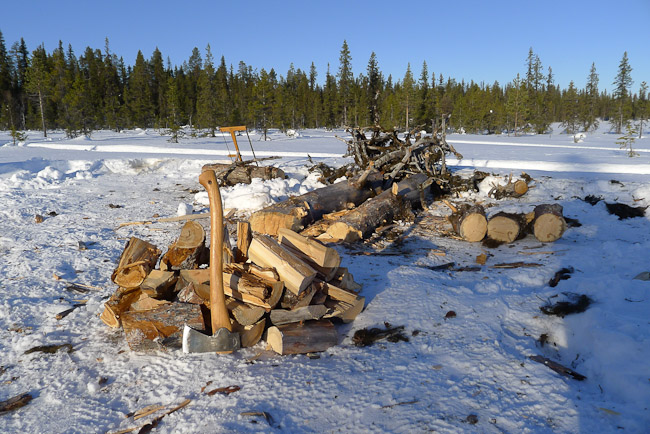 Winter Creates Additional Demands
The amount of firewood required in the northern forest in winter demands the use of an axe.
Using a wood-burning stove uses much less firewood than sleeping in the open or in an improvised shelter but the firewood you do use needs more processing.
To process firewood for a stove you need to be able to section logs into suitable lengths then split them into various sizes.
While you can get by with just an axe, the use of a decent bow saw or buck saw makes firewood production much more efficient and safe than using an axe alone. You can easily section logs to the length you want and you waste very little wood.
Then you must split the rounds to various sizes from main fuel down to kindling.
Unlike staying in a cabin, however, when staying out in the forest in a heated tent you are unlikely to have the use of a chopping block.
So, you need to have a repertoire of axe techniques that include being able to safely split logs on snow as well as easily produce kindling. The latter may seem simple but I've seen some frightening techniques where people are literally playing chicken with their own fingers.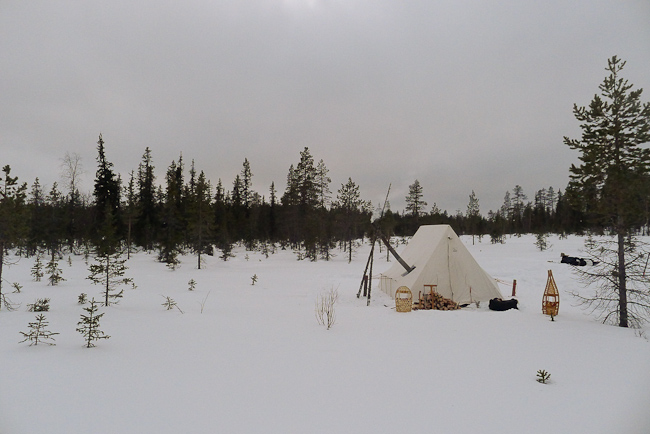 Winter Poses Additonal Risks
Injuries while in remote country are potentially much more serious than in your back yard and we should always take extra care.
An axe is a wonderful tool for the wilderness traveller but it is also one to be respected.
You should be mindful that even if you are used to using an axe on solid ground in warmer seasons, using an axe in winter poses extra risks.
Remember that the snow is not as solid as the earth underneath it and will not provide as safe a backstop for the axe. Moreover, using an axe while on skis or snowshoes takes some getting used to – be extra careful and take your time.
In winter, you may well be wearing gloves, which reduces sensitivity and possibly dexterity while wielding an axe. Also, beware the palm or fingers of your gloves becoming icy and making it easy for the axe to slip out of your hand.
Choice of Axe
Even when I'm travelling by snowshoe and toboggan – which enables a significant load to the hauled – I keep my equipment as light and simple as I can. The axe I have often carried is the well-known Small Forest Axe by Gransfors Bruks of Sweden. These axes are made to high standards, very wieldy and eminently portable.
The Small Forest Axe is large enough for two-handed felling while handy enough for small carving jobs and fine splitting. The Small Forest Axe is the axe used in this video and I wanted to show how this small axe can be put to great use for winter camping requirements.
The Small Forest Axe, however, is a little short for limbing and sectioning while on snow shoes. An axe with a longer handle and a heavier head is the Scandinavian Forest Axe. This has more reach, is great to use on snow shoes and has more chopping power for felling and sectioning the tight-grained wood of the northern forests. Unfortunately, the handle of the Scandi is too long to enable the technique demonstrated in this video.
So you have to choose an axe that suits the use you are going to put it to. An understanding of the range of axes available and the techniques achievable with each are the first steps to making an informed decision.
Key Axe Techniques for the Winter Camper
A relatively short-handled axe such as the SFA lends itself very well to splitting firewood safely in a winter camp.
I've produced the following short video to illustrate the main techniques I use for processing firewood in winter after a dead, standing tree is felled, limbed and sectioned.
I hope you found the video interesting and enjoyable. Please let me have your thoughts on the video in the comments section.
[You can also watch Axe Techniques: Firewood Splitting On Snow on YouTube].
Related Matierial
A Winter Camping Trip in the Northern Forest
Take Care When You Enter the Blue Zone.
How To Dress For Cold Weather: COLD or COLDER…
Winter Clothing for the Northern Wilderness part 1: Thermal Layers and Shell Clothing
Winter Clothing for the Northern Wilderness part 2: Footwear, Handwear and Headwear
My Wilderness Axe Skills And Campcraft Book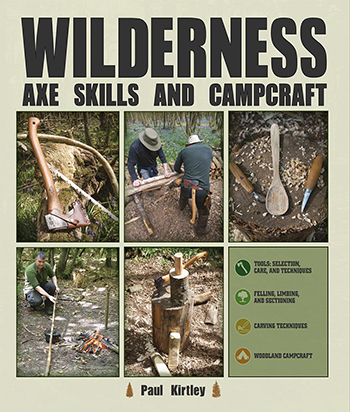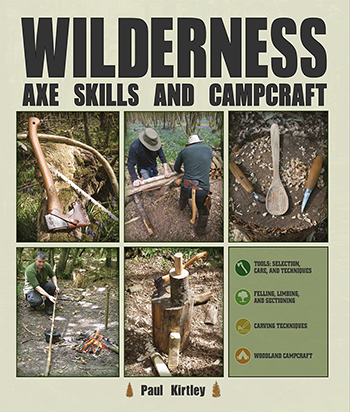 Find out more at wildernessaxeskills.com