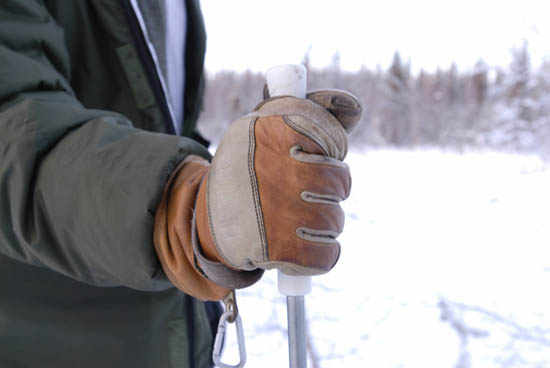 Winter Clothing for the Northern Wilderness part 2
Winter Clothing for the Northern Wilderness part 2
Footwear, Handwear and Headwear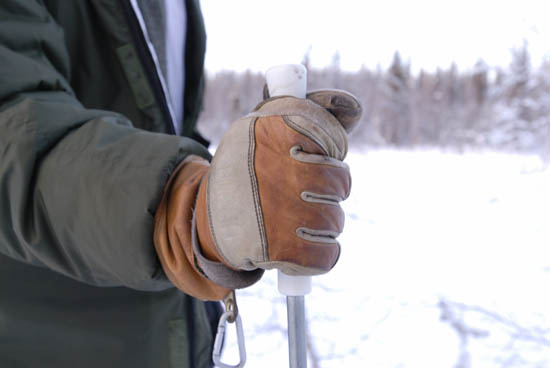 Clothing for winter in the northern wilderness must cope with a wide range of temperatures, from around freezing to -50oC (-58oF) or lower. While your body core must be kept warm to prevent hypothermia, your extremities are more likely to suffer cold injuries and your feet, hands and head need special consideration.
This is the second of two articles on clothing for the northern wilderness. The first covers thermal layers and shell clothing. This article covers footwear, handwear and headwear.
You'll get the most out of this article if you also read my articles on cold injuries and how to dress for cold weather. Don't worry, though, the current article makes perfect sense without them and you can read them later. I write my articles in a 'modular' way that dovetail and support each other but can be read as stand-alone pieces. I'll remind you about the other articles at the end…
At times, both in the northern forest and on the northern fells, you will be working hard and generating a lot of heat. At other times, you will be stationary and need a lot of protection from the winter environment.
Your clothing system therefore needs to be flexible and this extends to what you wear on head, your hands and your feet.
Your clothes must be able to minimise heat loss but they must also cope well with perspiration.
Outdoor life in winter is tough and your clothes need to be well-made and durable. Another feature of life in the north is fire and hot stoves and this must be taken into account, particularly when choosing handwear.
The Importance Of Protecting Your Head, Hands And Feet In Cold Environments
Your extremities need special care and attention in cold environments. Your hands and feet are particularly affected by vasoconstriction. This reduction of blood flow to the hands and feet can have serious consequences.
Lack of blood flow to your hands will stop them working properly, leading to a loss of manual dexterity. Think about some of the bushcraft or survival skills you might employ – using a fire-flash, preparing tinder or carving feather-sticks. How easy would they be if you could hardly move or feel your fingers?
Consider basic tasks such as opening a rucksac or zipping up a jacket? Even putting on gloves can become very difficult. In losing the use of your hands, you lose the ability to help yourself. In a wilderness setting, a loss of manual dexterity is potentially fatal.
In cold environments you must remain vigilant against frostbite. Frostbite is basically frozen flesh. Frostbite occurs most commonly in exposed skin, particularly superficial frostbite in the nose, cheeks and ears. Due to vasoconstriction lowering the temperature of the hands and feet, these extremities are also prone to frostbite.
The likelihood of frostbite isn't just a function of the ambient temperature and duration of exposure to cold. It also depends on factors such as wind chill, air humidity and whether or not the skin is wet. The probability of sustaining frostbite is therefore more a function of the overall heat loss experienced by the exposed skin.
Also if you touch cold materials there can be very rapid heat loss through conduction. Skin coming into contact with cold metal can freeze on contact. Therefore you should never touch cold metal but always wear gloves to protect your hands.
By inhibiting free circulation of the blood, restrictive clothing could also increase your risk of frostbite. Your gloves should not be tight or fastened tightly, your boots should not be laced too tightly. Even the straps of a heavy back-pack could reduce blood flow to your arms.
Protection For Your Hands: Gloves and Mittens.
Protection of your hands is vital. You simply cannot allow them to get too cold. At the same time, we also need to be able to work with a degree of dexterity and sensitivity. So we need a range of handwear to suit all circumstances.
A pair of mittens is essential. They should be highly insulative. Keeping your fingers nestled together within a mitten is the warmest way of housing them. Your mittens should not be tight around the hand or fingers.
Inner Mittens: There are various material options but wool remains a firm favourite for the northern wilderness. Wool becomes warmer when slightly damp from perspiration and releases moisture (and heat) slowly. Dachsteins are good but hand-knitted Scandinavian Lovikka are the best.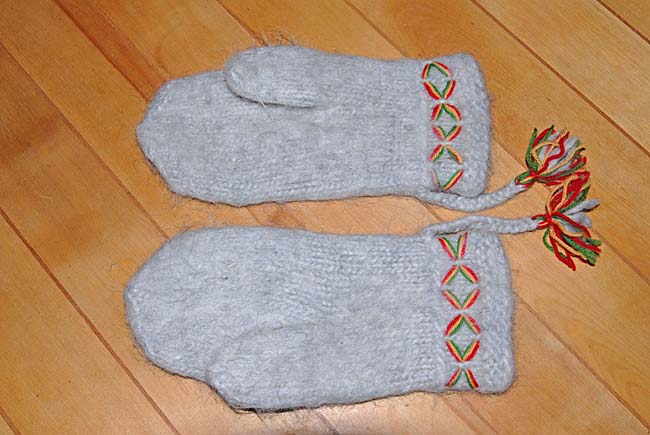 Outer Mittens: There are several reasons why you should have a protective outer mitten. Like the rest of our clothing system, as well as an insulating layer to trap air, your handwear needs a windproof outer layer to stop warm air being displaced from within by wind or body movement, causing convective heat loss. Snow sticks to wool easily so it is best to protect your inner handwear with some form of outer. Moreover, woollen inners are easily damaged by snags and other wear and tear, so need a protective outer layer for this reason too. There are three options: cotton/Ventile, synthetic or leather.
Synthetic materials for your outer mitts is not a good choice for the northern forest. Staying warm in winter normally involves the use of fire – either naked flame or a stove. Either way it is likely that at some stage you will have to handle hot or potentially hot objects. Synthetic materials melt too easily.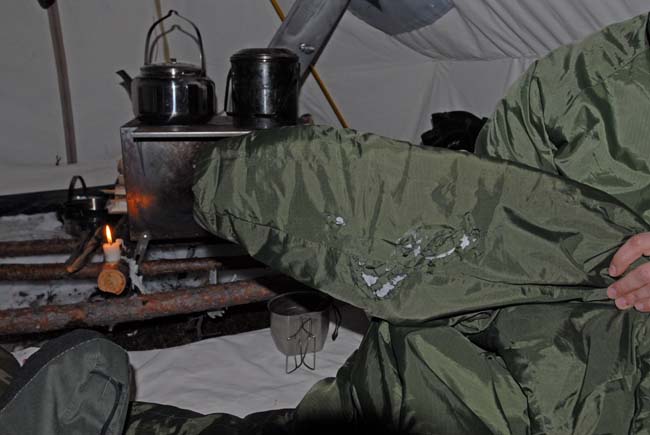 Ventile is good and windproof and much more heat-resistant than synthetic materials. Leather is windproof, extremely heat-resistant and very tough. Thus, leather is our first choice for an outer mitten for the northern forest.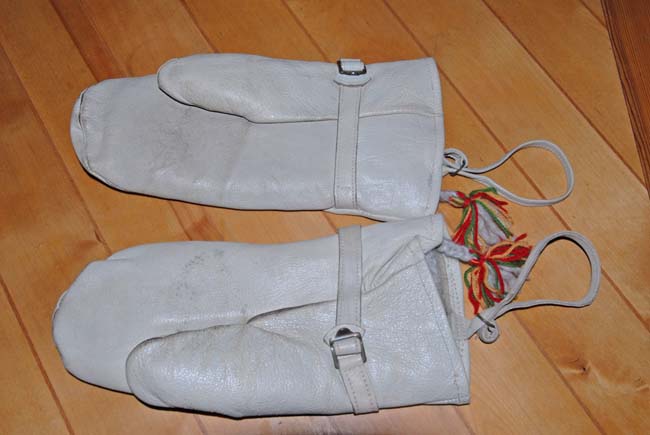 Mittens are not appropriate all of the time. Sometimes we need more sensitivity or to use our fingers. Even when we don't need to work with our fingers, mittens may be inappropriate. Some days it is not so cold and even on very cold days, when we work hard, we can generate a lot of heat. At these times, mittens can simply be too warm. And if we do overheat, we sweat excessively and this will make our clothing damp, contributing to us getting cold later on.
Finger gloves: Having some finger gloves with us allows us to have dexterity when we need it as well as a less thermal set of hand-wear than mittens. Again, leather is an excellent choice of outer material for all the reasons discussed above for mittens. Finger gloves are working gloves and will have to endure a lot of wear and tear. Just as with a general purpose work-glove, a good quality leather glove will last a long time. The Hestra Falt Guide glove is a long-standing favourite of many of us who like to head north in the winter.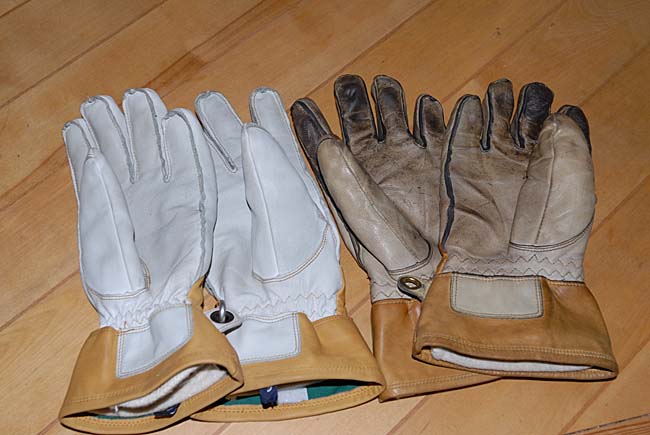 Avoid finger gloves which are too close-fitting. While you want to be able to work in your finger-gloves – and you certainly don't want them to be sloppy on your hands when using an axe, for example – they should not be tight. You do not want to restrict circulation. This is very important.
Of vital importance is being able to dry your gloves and mittens quickly. In a freeze-dried environment, this is more important than your gloves being waterproof. Perspiration builds up inside your handwear. Waterproof breathable membranes don't work well, if at all, below -18oC (0oF). Finger gloves with integral insulation and waterproof membranes dry very slowly and for this reason are to be avoided for use in the northern wilderness. Even if you have access to a warm environment such as a heated tent or cabin, you could struggle to dry integrated gloves for when you next need them. Your handwear will dry much more quickly if you can separate the inners from the outers.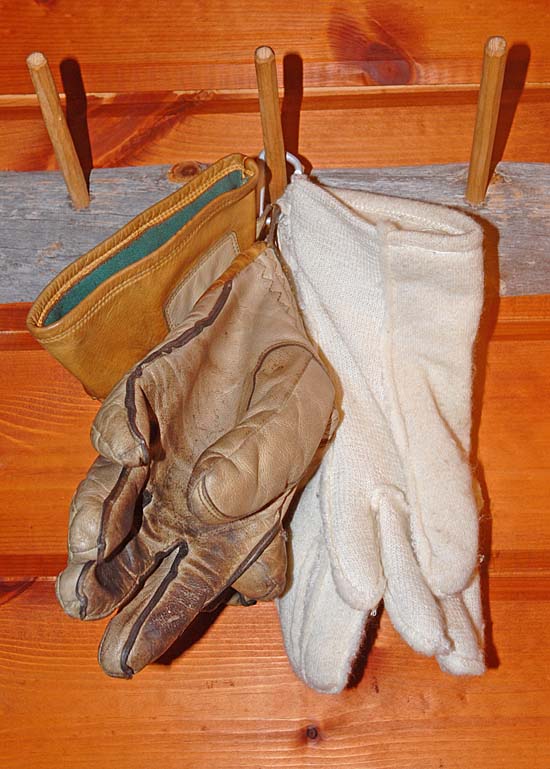 In using gloves with separate inners and outers, you can easily carry spare inners and change them half way through the day if necessary.
To avoid frostbite from touching cold objects you should always work with at least thin gloves when handling metal and other highly conductive materials in sub-zero (Celsius) temperatures. You can carry a separate set of thin working gloves or you can choose gloves with a removable inner and then use just the outer if you don't need both.
Due to the importance of protecting your hands in a winter environment, it is always wise to carry spare handwear. When travelling in frozen lands, I always carry a back-up set of mittens and I recommend you do too – your life could depend on it.
Protection for Your Feet: Boots, Liners, Gaiters and Socks
In selecting your footwear you must bear in mind two important principles:
Footwear must allow space for insulation (and air to be trapped);
Footwear must not be tight or restrict circulation;
Further consideration must be given to whether your footwear is required to integrate with ski-bindings or snowshoes or both.
You should also think about how much protection your feet need from environmental moisture/water.
Socks and Liners: As with handwear, wool is the first choice for keeping your feet warm: A couple of pairs of good wool socks and or a combination of socks and felt boot liners.
Good winter boots will come with felt liners and insoles and have the room to accommodate them. If you are adding extra-insulation to boots, however, either by way of multiple pairs of socks or felt boot liners, you will likely need the boots to be several sizes bigger than your usual size. Remember, your boots must not be tight. Even when trying footwear with felt liners included, make sure there is plenty of room in the boots. You should feel no pressure on your toes at all.
An extra note about liners – some supposed winter boots come with liners that are abysmal. They are cheap facsimiles of what good boots contain. They have little or no insulation and often are made of synthetic materials that trap moisture and make your feet cold. Good quality wool felt liners and insoles are what you should seek out.
The liners and insoles of your boots should be removable. Like your handwear, you should be able to change liners if damp and being able to separate the outer from the inner allows much faster drying. Carry spare liners and insoles.
What about breathable membranes? As with gloves, breathable membranes are a waste of time in footwear for the northern wilderness. In fact they are a liability. Such membranes do not function at low temperatures and the membrane, in combination with other lining materials, traps and holds moisture within the footwear. In the worst cases I've seen, this means the footwear becomes dangerously cold and very difficult to dry. Boots that – even in a warm cabin – take at least 24hours to dry out are, frankly, totally useless. Avoid breathable membranes.
What about protection from water? If you want to protect from environmental moisture and water, then a good quality leather boot will do the job. At times, crossing frozen water courses and lakes, or when ice fishing, your footwear may come into contact with surface water. A means gaining some additional protection against this is using a boot that has the foot section of the upper made from rubber with leather from the ankle upwards. Both Lundhags and Sorel make boots like this.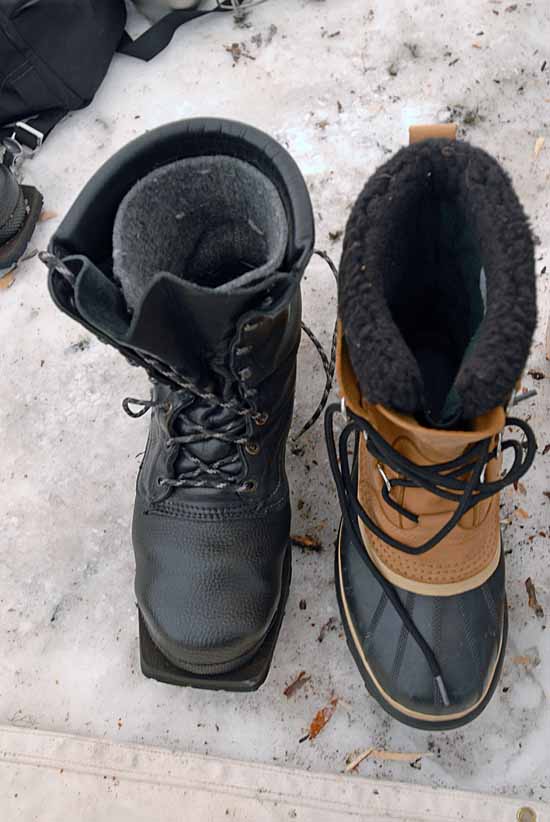 If your lower legs become immersed in water, with water entering your boot and wetting your socks and insulating liners, you have a couple of options. As long as your feet remain warm, it does not matter so much if they are wet. In this scenario, people have used plastic bags over their feet to create a vapour barrier and avoid frostbite. An example of a possible layering would be foot/spare dry sock/plastic bag/wet liner/wet boot. Another would be foot/spare dry sock/plastic bag/spare dry liner/plastic bag/wet boot. An alternative to plastic bags is to carry very large (i.e. not tight) breathable, waterproof socks that will fit over a pair of dry wool socks. These can be worn inside wet boots until you can get everything dry.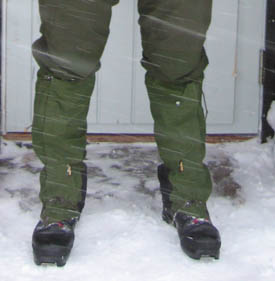 Finally, some means of sealing your boots at the top to prevent snow getting into them is important. Velcro fastenings at the bottom of trousers is not sufficient. These can come undone. Putting your foot down into deep snow, then lifting it up and filling the top of your boot with snow is not a nice feeling. In the warmth of your boot, this snow quickly melts and introduces water into your footwear. This must be avoided. There are some traditional methods using a similar method to the puttee that are very effective but these are hard to obtain. An easily obtained and flexible method is to use a set of modern gaiters. When selecting your gaiters, make sure they fit over your (large) winter boots without too much difficulty. They should be easy to put on and take off your finger gloves on. If they are fiddly even with bare hands, they are not suitable for a cold environment.
Protection for Your Head: Hats, Balaclavas, Scarves/Head-overs and Eye-Protection
Unlike the hands and feet which are subject to the effects of vasoconstriction, blood vessels serving the head remain open. Our brains need a constant supply of oxygen and energy. This has a couple of important consequences:
For a given ambient temperature, we are less likely to suffer a cold injury on our head than we are on our hands or feet;
We can be losing a large amount of heat from our heads even when our body cannot afford to loose it;
The converse of the last point – when we need to lose heat quickly our headwear has a disproportionate effect on our temperature regulation.
Light Hat: A light hat or 'beanie' is always a good item to have in your jacket whatever time of year it is. In winter a light woolen hat is great for when you are working hard – too hard for anything heavier on your head. You may feel like working with nothing on your head but be warned: In low temperatures, the cooling effect on your head (and brain) can make you feel a little out of it, to the extent it can impair your judgement. Better to wear a thin hat and adjust clothing elsewhere if you are still too warm.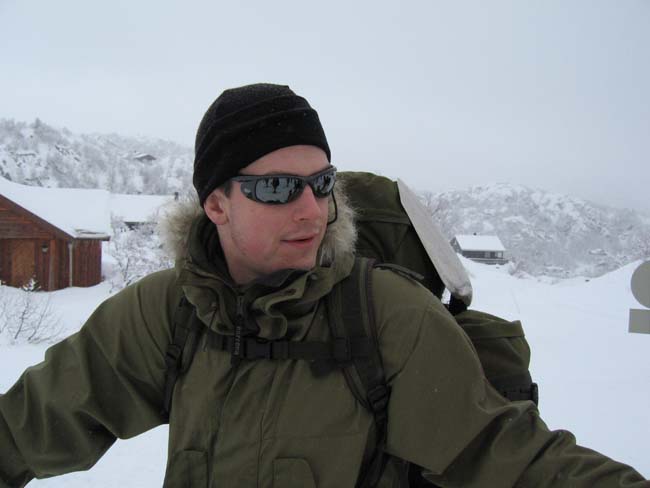 Sunglasses: In the northern forest, snow-blindness is not a concern; there is not much light in mid-winter and later in the winter there is still plenty of shade in the forest. It is when you go above the treeline, in altitude or latitude that sunglasses become necessary.
Medium-weight Hat: Sometimes when you are working but it is very cold, you need something more protective than a light wool hat. Particularly if there is some wind-chill, you may need some protection for your ears. A fleece-lined windproof hat with ear protection is very good for this situation. If the hat has a smooth outer that easily sheds snow, it will also provide good protection when digging out snow shelters.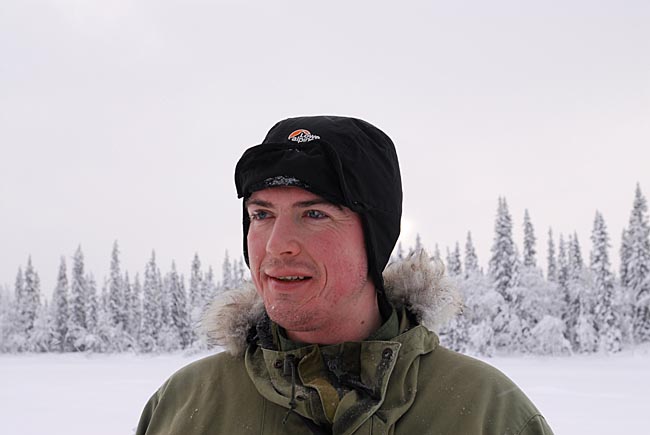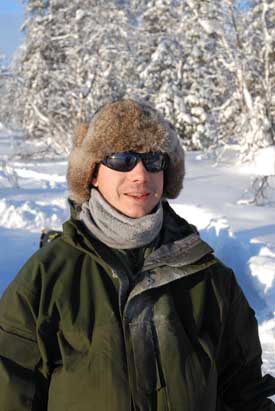 Warm Hat: A larger, very warm hat should be carried for times when you are not active, it is very cold or you are travelling by snow-machine. Heat loss from the head can form a large percentage of total heat loss and your heaviest hat should be both insulating and windproof. A hat that has flaps that can fasten under the chin, over the ears or above the ears is the most flexible design.
Head-over: A knitted wool head-over is a great item of clothing. Designed to go over the head and around the neck, it provides good insulation of the neck (where blood vessels run close to the surface) and personally I find the effect of wearing one similar to adding an extra layer of clothing to my upper body. A head-over can also be made into a hat as well as arranged into an ear-protector/semi-balaclava type of arrangement. Alternatively, some people prefer to carry a traditional scarf.
Hood: Don't forget about your hood! The hood of your windproof outer layer forms an added level of protection and flexibility to your headwear. Pulling up a good, deep hood is like encapsulating yourself into your own personal micro-climate. A good hood keeps warm air trapped around your head and near to your face, reducing convective heat loss significantly. A deep hood will also protect your face from the uncomfortable and potentially detrimental effects of wind-chill. You can pop up a hood much more quickly than changing hats. A hood shouldn't be forgotten for the speed and flexibility it provides in adjusting your temperature and comfort.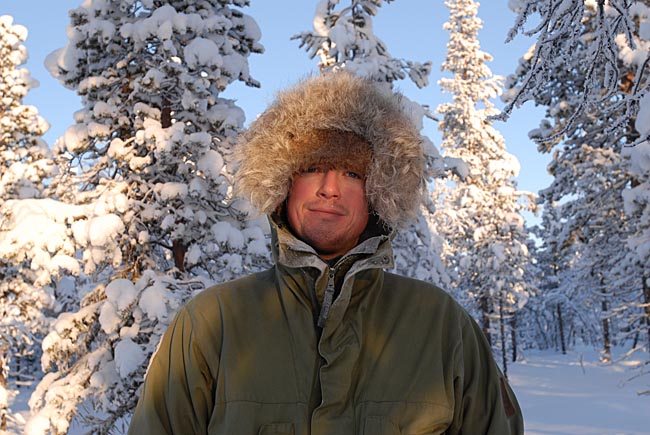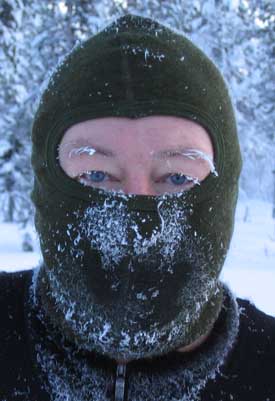 Balaclava: The comfort and protection provided by a balaclava make it an essential piece of clothing for cold environments. For seriously cold or unpleasant conditions a balaclava is extremely welcome yet it weighs virtually nothing. They are also very useful for keeping your head and face warm when bivvying in cold conditions or riding on snow-machines. Is use the 200g/sqm Ulfrotte balaclava. Containing merino wool, it is both warm and comfortable.
Goggles: Full ski-goggles are useful (particularly in combination with a balaclava) in blizzards, particularly above the treeline. When driving snow-machines they provide great wind-protection for a good portion of your face as well as protecting your eyes from branches while driving in the forest.
Bringing It All Together
While this article (and part 1) will help you in selecting winter clothing for the north, articles can only go so far in explaining the nuances of how this equipment should be best used. We are all different and conditions vary from time to time and place to place. Much of the performance of your clothing comes from you managing and adjusting it correctly. You must adjust your clothing to suit your temperature, your work rate and the weather conditions. This is very important yet only comes with experience.
In his book Alone
, Richard E. Byrd sums up this notion nicely: "Cold was nothing new to me; and experience had taught me that the secret of protection is not so much the quantity or weight of the clothes as it is the size and quality and, above all, the way they are worn and cared for."
Experience is something that comes with time but I hope this article will help you in avoiding some of the pitfalls along the way to putting together a flexible and well thought-out clothing outfit.
---
Picture credits – the author owns the copyright for all images in this article.
This article is the second of two. The first, Winter Clothing for the Northern Wilderness part 1, covers clothing for your trunk and legs, how to layer this clothing and how to manage it properly.
To get the most out of these two articles, you should also read:
The Four Horsemen of Heat Loss
How to Dress for the Cold: COLD or COLDER…
Related Articles On Paul Kirtley's Blog:
Take Care When you Enter the Blue Zone