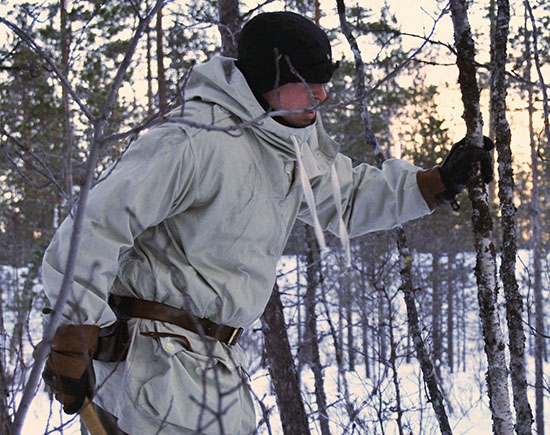 How to Dress for the Far North on a Budget
How to Dress for the Far North on a Budget
Introducing Barry Smith: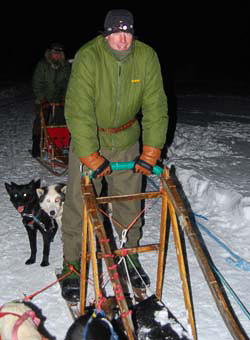 Barry Smith is a student of mine and we first met while he was attending a course in Sweden. Barry is a keen outdoorsman and a Scout Leader. He has a passion for adventure and spending time in wild places.
In 2001 Barry completed his first bushcraft course and since then he has been honing his skills in his own time as well as attending more advanced training courses. He is well travelled having joined expeditions to Africa, lived in India and completed a number of Arctic survival skills courses in Norway and Sweden. Barry now likes to help other people by passing on his skills and enthusiasm for the great outdoors.
Having written quite a few articles on cold injuries and cold weather clothing, I've had a lot of people ask about clothing on a tighter budget than I allow myself as a professional instructor.
I happened to have a conversation about this with Barry; he offered to jot down his thoughts as he had budgeted in this way more recently than I had. Once I received Barry's notes, I thought they could easily be transformed into a useful article from which others could benefit.
This is Barry's first guest article for my blog. Over to Barry:
---
How to Dress for the Far North on a Budget
I decided to put this blog article together after reading Paul's previous articles on dressing for cold environments and the subsequent comments, particularly the comment from Chris Davies, who raised the topic of lower cost clothing for those on a budget.
Many people want to make a journey to the Far North and some are put off by the anticipated cost of specialist clothing and equipment that they will need for this harsh but amazing environment.
I write this article based on my own experience of outfitting for trips into the Arctic Circle in Sweden and Norway and everything listed, bar one item, I have used in these environments. I'll explain the one item included but not proven by me personally later.
On my first trip, I wasn't sure if I'd be going back so I didn't want to spend the earth on expensive clothing that I would have no further use for so, as far as possible, I sought out robust, reliable clothing at a good price.
Inevitably much of the clothing is army surplus which is fine by me as it is well built and low cost. As with all things, though, there are good and great options but, with all due respect, the guy who runs the local surplus store or an eBay shop won't necessarily have any hands-on experience of using cold weather clothing in its intended environment.
With that in mind, I have written this article to pass on my experience and advice on low cost extreme cold weather clothing. I won't be discussing the theory behind such clothing systems as Paul has already covered this in previous articles. What I will reiterate though is that natural fibres work best. Wool, cotton and leather breath better, are tougher and survive better around stoves and fires that will melt synthetic fabric in a flash.
Headwear
British army balaclava
A balaclava is a great bit of clothing for really cold conditions, on snow machines where wind chill is a serious concern or at night if your face is cold poking out of your sleeping bag then you'll be grateful for the extra cover that a balaclava provides. A great budget option is an ex British army wool balaclava. It's thick and warm but some people think they are a bit itchy. I paid about £3 for mine on eBay.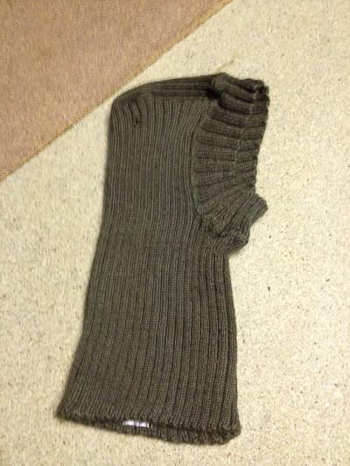 Swedish M59 winter field cap
This is a great budget hat, designed as part of the Swedish army uniform used between 1959 and 1990 it is well made and purpose built for Scandinavian winters. The hat has flaps that come down to cover the ears and secure under the chin keeping this area warm as well. You can pick these hats up for as little as £3 if you shop around.
Trapper hat
This is a Finnish made fake fur trapper's hat, great for really cold days or periods of inactivity. I used this in Norway a few years ago and it was just too hot most of the time! This one came from a market stall in the UK selling Finnish handicrafts and similar versions are widely available for less than £10 in the high street.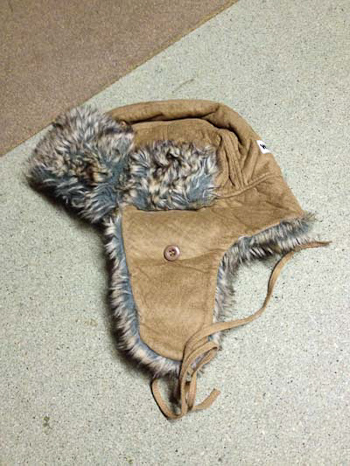 British army head-over
Paul has talked about the benefits of a head-over in extreme cold. It protects the neck and can be pulled up higher to cover the face and ears if required. The British army head-over is wool and great value from surplus shops.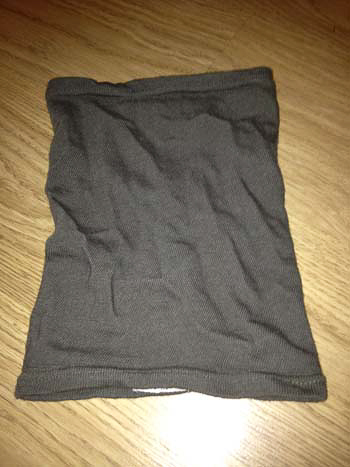 Hands
I use two different protective systems for my hands, gloves or mitts, depending on how much dexterity I need and how cold I expect to be getting. Mitts keep your hands warmer than gloves as the warm air pocket in the mitt is larger than with each finger wrapped in its own glove. I would strongly suggest spending a bit more on hand protection if you can afford it. The Hestra Falt gloves are excellent but if you really need to budget in this area then the options below are workable.
Mittens
British army Gore-Tex mitts – These are designed to go over an inner mitt but the version I own do have a thin layer of padding inside so you can wear just the outer for really warm work such as digging snow shelters.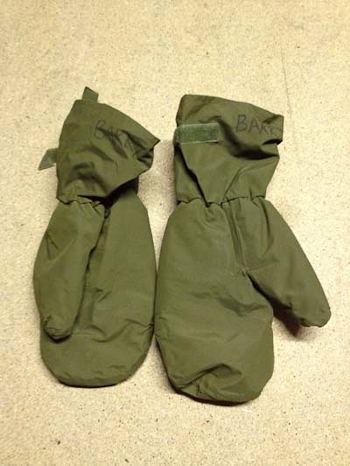 I don't personally like the British army inner mitt, they are too thick and made of a nasty synthetic material. Instead I use Finnish army mitts which are made of wool. They are amazingly warm and I only paid a few pounds for them on eBay.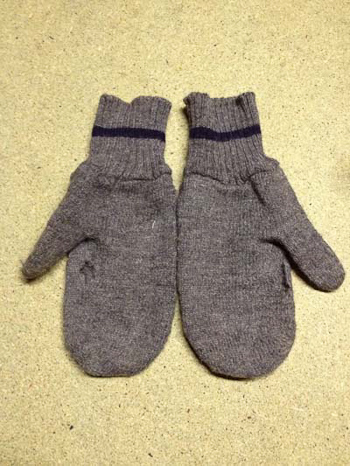 Gloves
The budget option for gloves is a pair of British army Solider 95 leather gloves. They are a good solid work glove with a Gore-Tex membrane. I think that the membrane probably doesn't aid these gloves in extreme cold and they can be a challenge to get dry inside as the liners don't come out but they are just about workable.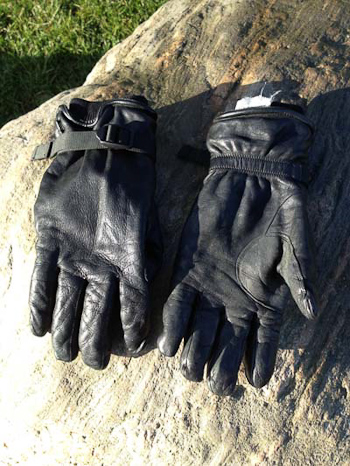 I have used these gloves with a pair of silk liners to boost the insulation and got by OK. All of that said, the Hestra's win massively and now I own a pair I wouldn't go North without them…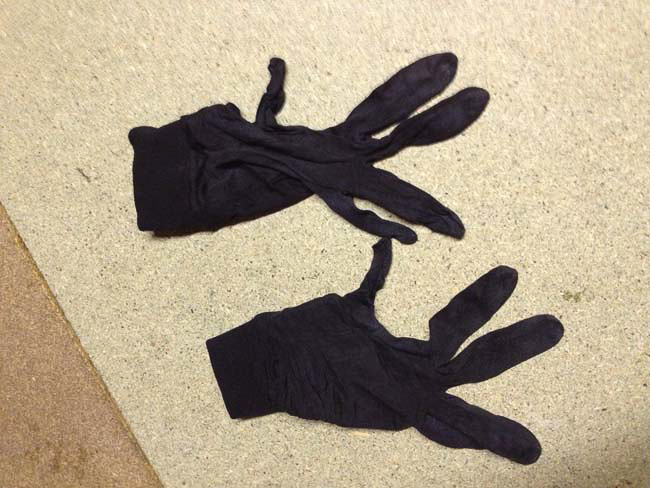 Feet
British army arctic socks.
Paul has talked about the importance of dressing your feet well in the Far North in previous blog articles and recommends wool as the first choice for socks. The British army Arctic socks have a high wool content are hard wearing and cheap. You can get them from surplus stores or from eBay. Last time I bought some I paid £10 for 3 pairs in Grade 1 (used but good condition). In fact I can't praise these socks enough. The MOD did well with these and I wear them year round when I have boots on. In the Far North I wear two pairs at a time and have loads of spares with me.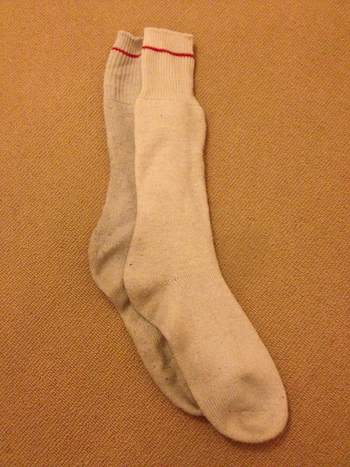 Swedish army ski march boots.
I said in the introduction that there was one item in the article that I hadn't personally used and this is it. These are army surplus, used for many years by the Swedish army as a combined combat boot/ski boot. With sufficient insulation inside they will work well below freezing. I'll be testing mine on my next trip with two pairs of thick wool socks and a felt insole.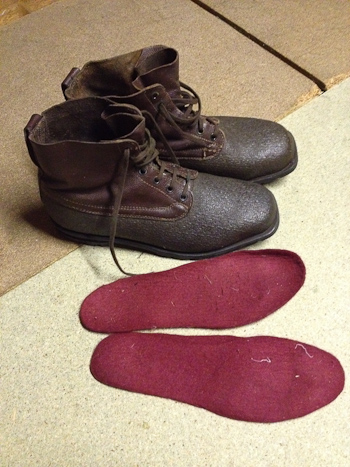 The surplus market has been flooded with these boots recently as the Swedes release stockpiles of old equipment. I picked up two pairs for £9 each and have been really impressed with the build quality. If you wanted to buy a modern day 'commercial' equivalent of this boot you would be looking at a pair of £250 Lundhags so I think the old Swedish army boots win out as bargain of the year…
Homemade felt insoles.
The hard sole of a pair of boots will conduct heat away from you quickly leaving you with cold feet. Using sufficient socks, boot liners or insoles is important to prevent cold injuries and importantly you need to be able to remove the liners or insoles to dry out any sweat built up during use. I make my insoles from sheets of 10mm Wool Felt. You can pick up sheets online or from craft shops at a reasonable cost.
Gaiters
Gaiters are a good way of keeping snow out of your boots and the British army snow gaiters perform this task well. They are well made, not too fiddly (important with gloves on) and cheap from surplus stores. Equally you can use pretty much any pair of gaiters that you might use for walking in temperate climates so make use of what you already have.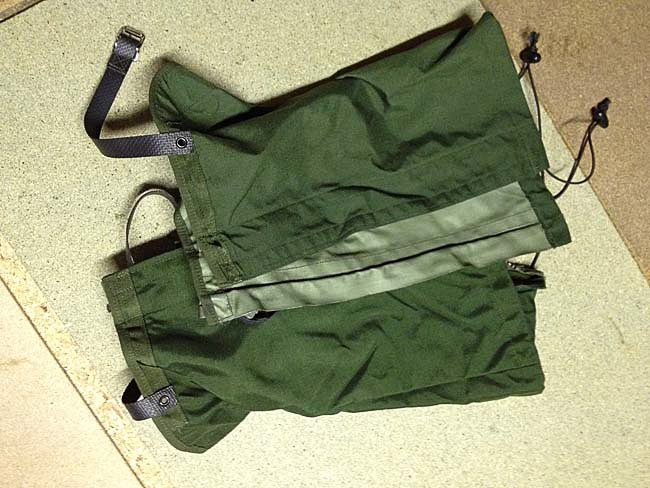 Base layers
Dutch army half wool top.
I have heard these called "Poor Man's Ullfrotte"! They are a good base layer with a 50% wool content. Non itchy, hard wearing and very warm. Highly recommended and available from surplus stores if you shop around. I bought mine from Endicott's army surplus in Exeter for less than £10.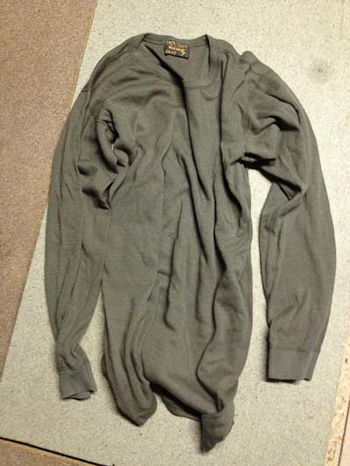 Merino wool long johns.
I wear these under a pair of Filson wool trousers that are really heavy and don't need a lot of additional insulation. They are reasonably well made and were on offer at Aldi a few winters back for about £12. A good budget option for lower body base layers.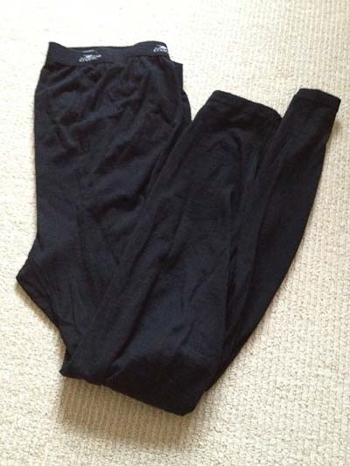 Insulating layers
Thick wool jumper.
Most people have a thick wool jumper and, if not, check out the charity shops for something chunky. Mine was a present from my wife and is too hot for the UK but ideal in the Arctic. It is 100% thick wool, super warm and isn't scared of flames!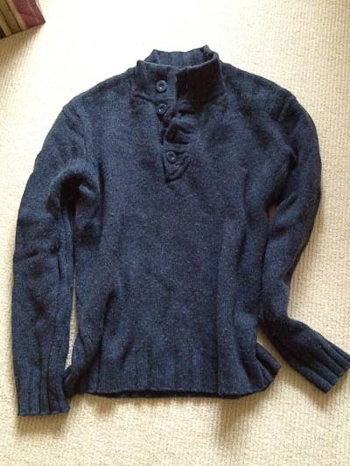 Trakker Arctic jacket.
Paul uses the term 'Mothership Jacket' which I quite like. For my top thermal layer I use this jacket made by Trakker A company who aim most of their kit at the UK fishing market. This jacket is outstanding. Its like wearing a radiator when it warms up and holds your body heat. It has a Pertex-like outer so is windproof and has decent pockets that keep your hands warm when you don't have gloves on. Trakker don't make this jacket any longer but they do come up on eBay from time to time.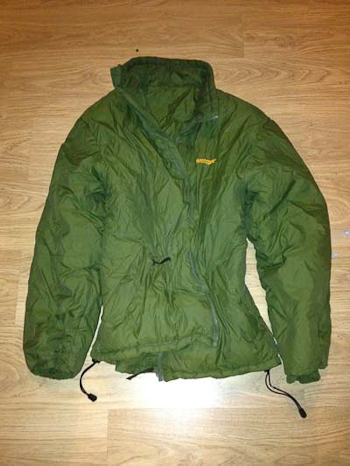 The only downside of this jacket is that it doesn't like fires. I burnt mine loading wood into a stove and its repair patch reminds me to be more careful in future… Another option here is a surplus British army softie jacket which has similar characteristics but I can't guarantee it will be as warm.
Shell layer
For my outer shell I use a Swedish army Snow Smock which is tough, wind proof and has massive pockets to keep big mittens in. I have made a number of improvements to my smock but I'll save the details of that for a future article when the job is finished.
On my lower half I wear the matching Swedish army Windproof trousers which are made of the same tough breathable cotton, keep the wind at bay and protect my wool layers underneath. I picked up my smock for around £20 and the trousers for about £6.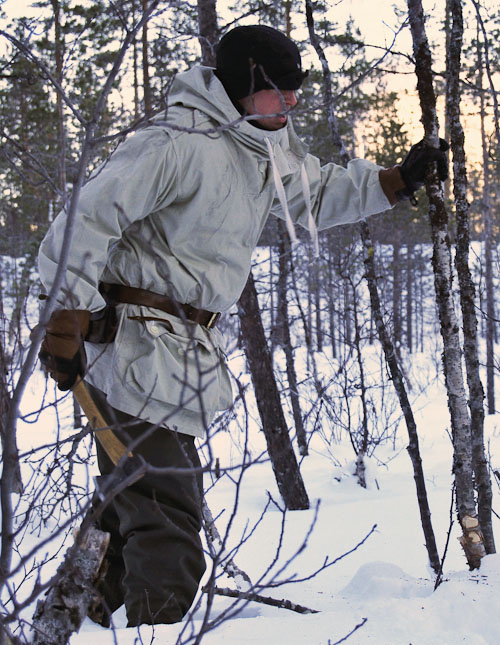 Summary
If you shop around and don't mind used or surplus kit then you can pick up some real bargains that will work as well if not better that much of what you might find in a specialist mountaineering shop.
I wish you well on your adventures.
Barry
P.S. Let us know what you think of the above clothing suggestions in the comments.
Related Articles
How To Dress For Cold Weather: COLD or COLDER…
Winter Clothing for the Northern Wilderness part 1: Thermal Layers and Shell Clothing
Winter Clothing for the Northern Wilderness part 2: Footwear, Handwear and Headwear
Take Care When You Enter the Blue Zone.