Hestra Bivak Meets Lovikka: My Quest For Perfect Winter Handwear
Hestra Bivak Meets Lovikka: My Quest For Perfect Winter Handwear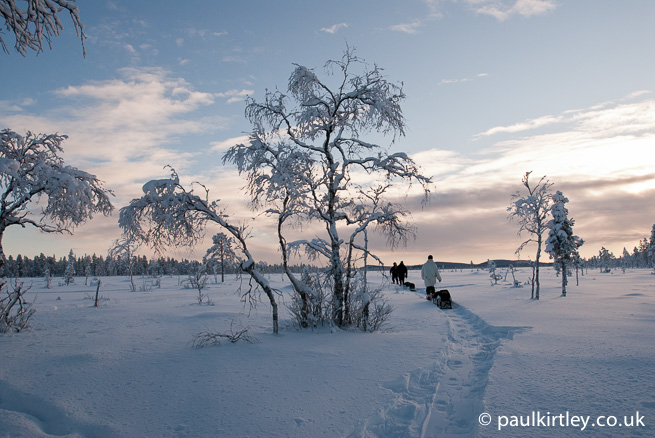 In cold environments, a very good set of mittens is essential.
A truly good set of mittens is hard to find, though.
There's a lot of tat on the market.
Plus mittens that are ideal for one type of environment or activity are not necessarily ideal for another.
For a long time I was looking for my ideal set of mittens for winter trips in the boreal forest.
Over the years I've tried a fair few different models of gloves and mittens, combinations of liners and outers and different materials – leather, nylon, Ventile, Gore-Tex and other breathable membranes, wool (Dachsteins, Lovikka, Ulfrotte and other terry/pile stitches), synthetic pile and Primaloft.
I've never quite found any combination perfect for my needs.
In the Hestra Bivak Mitts, however, I think I've found the perfect set of mitts.
Well, almost.
In the Bivaks I've found a component of the nearest I've come to a perfect set of mitts for my winter camping trips and work with clients in the northern forest.
This arrival required the combination of two products.
But before I tell you more, let me explain a little more about what I was looking for and why.
Mitten Criteria
The particular criteria I was looking for this set of mittens to fulfil was determined to a significant extent both by the conditions of the environment and by the activities undertaken there. Specifically, I needed a mitten for winter use in the forests of northern Sweden while undertaking winter camping trips. This would primarily be on foot with snow shoes and toboggan, staying in heated tents but it might also involve skiing and staying in bivouacs or cabins. My time in the north also sometimes involves driving a snow machine/skidoo or dog sledding.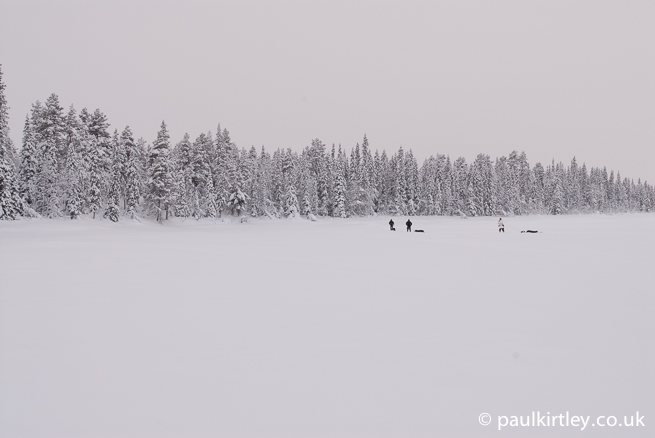 The mitts needed to have excellent performance in the low winter temperatures of the arctic forest. This would mean excellent thermal performance in terms of insulation as well as their fit. Restrictive clothing reduces circulation and this effect is particularly observable in the extremities. Loosening a bootlace which is a little too tight can make the difference between warm and alarmingly cold toes. Well-adjusted, good fitting mittens can also make the difference between warm digits and losing feeling in them.
Performance in severe cold also means good breathability, so that perspiration can escape. Many people think this means the glove must have a modern breathable membrane. In extreme cold, modern breathable membranes are actually a hindrance. The great benefit of these fabrics is that they are highly resistant to atmospheric moisture coming in from the outside while being able to allow water vapour out from the inside. This doesn't mean they are as efficient at letting moisture out as no membrane at all. They certainly aren't.
Moreover, if water does not remain as vapour before it can pass the membrane, it won't. This leads to a build up of moisture inside the garment. In really cold environments – when it gets down to around the temperature of your home freezer – breathable membranes don't really work very well at all. Water condenses or even freezes on the inside of the membrane and the moisture stays inside. Also, in really cold environments, the environment is effectively freeze dried. You are not going to get wet from precipitation and snow on the ground is not wet. So, you are better off without a modern breathable membrane. Ventile or leather are much better for example.
You also need to be able to rid mittens of any retained moisture on a daily basis while out on a trip. A build up of moisture within handwear with multiple, integrated, inseparable layers can be a serious issue in very low temperatures, as moisture becomes trapped within the structure of the glove. You must be able to easily dry out any glove when the opportunity arises. The most efficient way of doing this is being able to take the glove apart – i.e. separate the component parts. The same principle applies to your footwear – the liners as well as the insoles should all come out and be separable from the shell.
The other allied benefit of being able to separate liners from a shell – whether boots or mittens – is that you can carry spare sets of liners.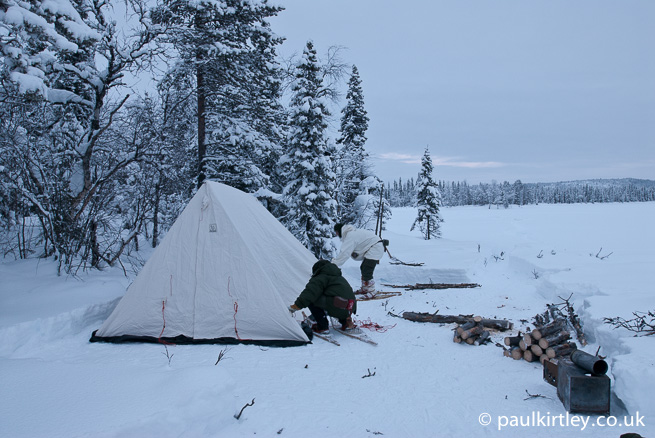 Handwear for winter camping trips in the northern forest also needs to be durable. Winter camping trips necessarily involve handling equipment such as stoves and canvas tents in cold conditions while setting up camp. Logs need to be transported and processed into firewood. Toboggans need to be hauled. Wear and tear on gloves can be significant. So any handwear needs to be suitably durable.
I don't make a habit of handling hot objects while winter camping. There is a risk of personal injury, as there is anywhere else. In a cold environment, burning yourself, particularly if it causes a blister, also leaves you more susceptible to cold injuries in that area. That said, winter camping seems to involve quite a lot of hot objects, not least stoves. Being able to put on a glove and nudge a stove door handle that is a little too hot for bare hands is a useful extra piece of functionality.
Furthermore, if you are bivvying and using a fire for warmth, for cooking, etc., then you will necessarily have your handwear on most of the time as it's cold out there. Your gloves and mitts become your second skin and you get used to doing everything around fires wearing your gloves in the same way you would in warmer climes without gloves on. I don't like plastic gloves for winter trips for this reason alone. They are too easily damaged by heat. A significant amount of leather on at least the fingers and palms is a solution which is much more resistant to heat.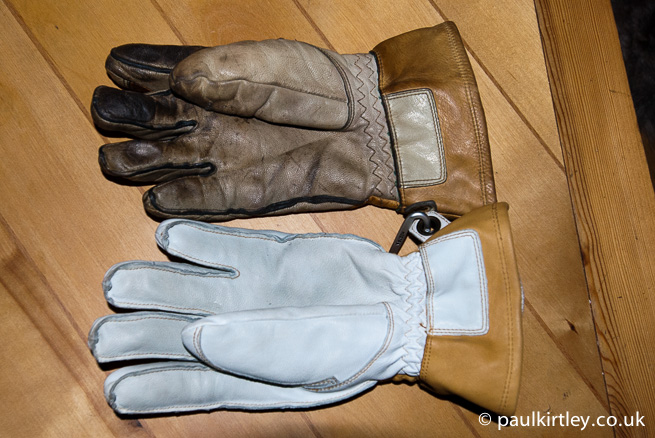 The Problem With Buying Winter Gloves In The UK
UK winter conditions which require gloves are typically wet and/or windy. Even when it is snowing, it's often quite wet snow that we receive here. If you get your hands in the snow – such as during winter mountaineering activities – gloves need to be highly resistant to moisture. Good quality gloves and mittens sufficient for such conditions are often not best suited or to the dry, severe cold of the arctic. The nearest I have to something that would be suitable for the northern forest in winter are a set of Dachsteins housed by an old set of late 90s/early-2000s vintage Extremities mitten shells made of a tough polyester material. These, along with two pairs of Mountain Equipment Guide gloves form the mainstay of my winter hillwalking/mountaineering handwear outfit. Something different is needed for the arctic forest, though.
Old Favourites; Just Not Mine
The mittens I have been using in the north are a pair of surplus Swedish military leather mitts with Lovikka inside.
Lovikka are traditional, hand-knitted wool inner mittens.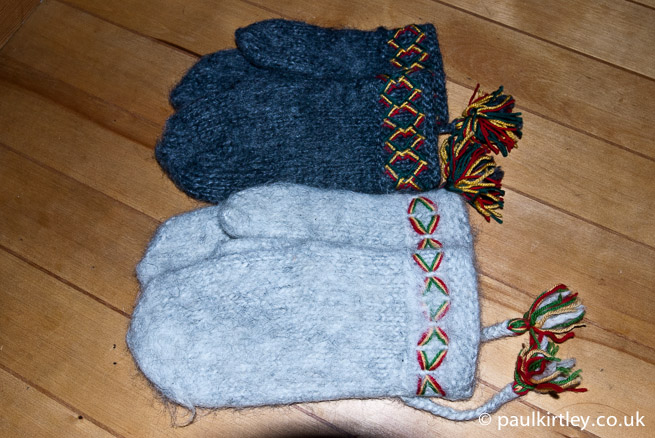 Lars Fält loved his old set of leather mittens and Lovikka, which fit like a pair of old slippers.
Working with Lars provided a perfect opportunity to model what he did and used in that environment.
So, I persevered with my army surplus leather mittens.
I loved the warmth of the Lovikka I'd put inside but there were several things I disliked about the set of leather outers I had. One was the stiffness of the leather – I felt like my hands were turned to flippers whenever I wore them. I had virtually zero dexterity while wearing them.
The second issue was the interface with my jacket sleeves. With the Lovikka inside, it was hard to get my jacket sleeves over the cuff of the mitten and sealed. I could manage it on one hand by taking off the other mitten but even employing my teeth, I couldn't manage it with the other one. Part of the issue here was the first problem – dexterity – the other was the shapeless mass of leather.
Third, the gloves are quite short, which means even when they were inside my jacket sleeve, they would often come out when I extended my arms in certain directions. If the mittens had some sort of snow-lock cuff, I could have worn this on the outside of my jacket sleeve and sealed it by closing the snow lock but alas they didn't have one.
Finally, there is an attempt at an adjuster at the wrist but it doesn't really do anything.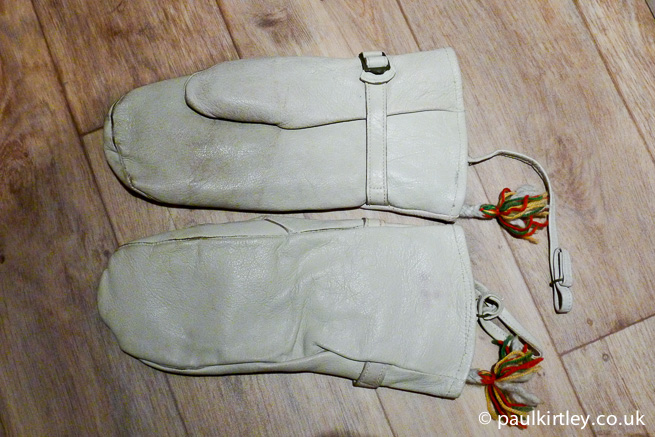 This design is from the 1960s/70s and people who grew up with them no doubt accepted them (anything is better than frostbite) but I guess I'm of the generation which started with basic outdoor gear but has grown to expect more technical solutions as clothing manufacturers have innovated.
I persevered with these mittens on and off for eight winters, interspersed with trying other solutions. Every time I came back to these mittens, I loved the Lovikka but the leather outers just frustrated the hell out of me.
Hestra
Hestra is a Swedish company named after the town where it is headquartered and has been manufacturing gloves since 1936. Hestra is one of the world's leading glove brands. The majority of its sales are in Scandinavia, Alpine countries, the United States and Japan.
I was introduced to Hestra gloves while working in Sweden with the doyen of Swedish survival training, Lars Fält, after whom Hestra's Fält Guide Glove is named.
Hestra definitely understands handwear. The company understands different gloves are needed for different activities and even for different levels of performance within a particular activity. For example, novice skiers make different demands on their gloves than do national ski teams. Hestra also understands different materials have different properties, which are better suited to differing demands. Some are more resilient, some are more supple, some are more breathable, some are more resistant to moisture.
So, Hestra manufactures a lot of different models of gloves to suit different needs. In fact all Hestra makes is gloves, producing over 2 million pairs per year. All of them are very good quality.
This is great for anyone who wants gloves.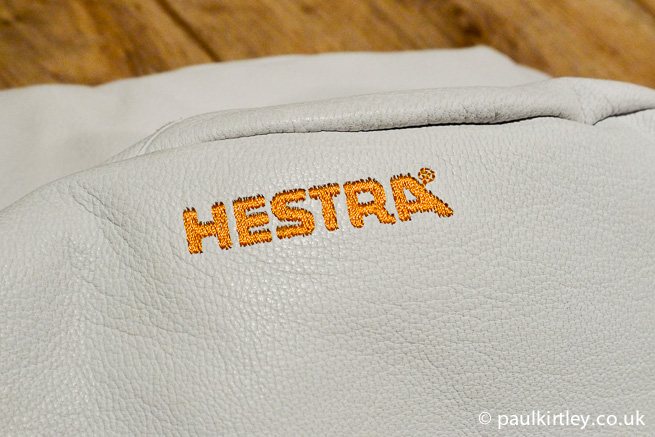 If there is a difficulty with Hestra gloves, though, it's knowing where to start. Hestra's website and print catalogues do a nice job of dividing up the product lines into areas such as 'Alpine', 'Alpine Pro', 'Cross Country', 'Mountaineering' and 'Horse Riding', for example. Moving away from these more specialist areas, the gloves and mittens that many readers of this blog might be interested in all fall under the more general heading of 'Outdoors'.
The second difficulty – which is related to the first – is that it is very hard to find a store that stocks a wide range of Hestra gloves. Add to this the fact that the gloves come in a range of European glove sizes (typically 6,7,8,9,10,11 and 12) and the upshot is that going into a store and being able to try on a particular model in a particular size is quite difficult. I'm not talking about outdoor stores in the UK either, I mean outdoor clothing and equipment stores in Scandinavia. You can understand why though, several hundred lines in 6 or 7 sizes, some of them in multiple colour ways is a hell of a lot of merchandise…
Aladdin's Glove Compartment
After one of our winter trips in the north of Sweden, we stayed in Stockholm before travelling back to the UK. Just off the eastern end of the lengthy Kungsgatan, in one of the main shopping areas of the city is Norrlandsgatan. Located here is the Hestra Concept Store.
If you want to survey Hestra's product line-up, this is the place to come. 300+ models of gloves in a wide variety of colours and sizes. It's like an Aladdin's Cave of gloves. If you had a glove fetish, you might never leave.
Here I was able to inspect, handle and try on all of the mitts I was interested in. In particular I was able to check out the Ecocuir Ventile Mitt, the Kebnekaise Mountain Mitt and the Bivak Mitt.
The Ecocuir Ventile Mitts are lovely. In a rugged kind of way. I like Ventile and I like the durability and heat-resistance of leather gloves and mitts. There is something very traditional about the combination of leather and Ventile. I've used 100% Ventile mittens before but didn't like how they gripped on the fingers/palm (a little slippery) and the particular model I was using was a little restrictive around the thumb once I had a decent sized liner inside. The Ecocuir chrome-free cowhide palms are soft, supple and ooze quality. These are modern mittens that have a classic feel of yesteryear. The one thing that put me off was the leather. As nice as it is (and it's very nice), it isn't the toughest leather that Hestra produce; my concern was that if I was to be handling metal stoves, carrying logs, etc., then I wanted something as robust as possible.
Some of Hestra's gloves feature what they call "Army Leather". About it, Hestra say "Army Leather is Hestra's most durable leather. It is a specially treated goatskin that works great for gloves made for rough conditions. The leather has good impregnation and structural properties that provides effective protection against moisture."
Next up in the mitten parade, then, was the Kebnekaise Mountain Mitt. These mountain mitts are named after Sweden's highest mountain. They are good quality mountaineering mitts with an army leather palm and a durable nylon back and cuff. The leather is not as supple as the Ecocuir but it is much more supple than my old 1970s Swedish army mitts. While the Kebnekaise mitts don't invoke the same sepia-tinted romanticism as the Ecocuir Ventile Mitts, they were a very practical potential solution. They were also less expensive.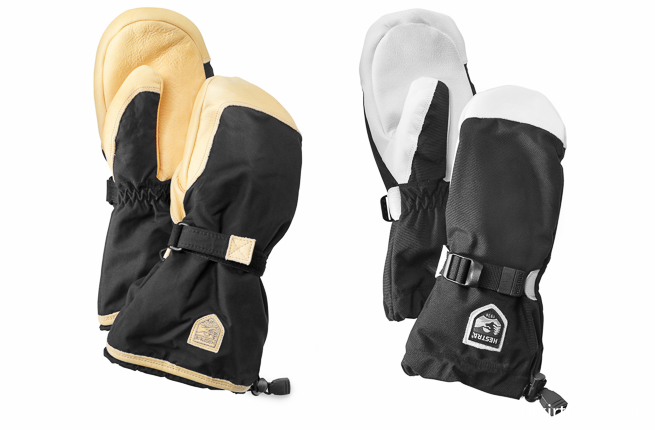 Third, I tried the Bivak Mitt. These immediately impressed me with their seeming acres of white Army Leather that make up the majority of the mitten. Apart from the nylon snow cuffs, the entire gloves are made up from Hestra's toughest leather. While I had liked the practicality of the Kebnekaise gloves, the thing that I was worried about with them was the polyamide material on the back of the glove – while the leather would be pretty resilient to heat, the synthetic material would be no good if it came into contact with hot stove parts or flames. The Bivak Mitts instantly won out over the Kebnekaise Mitts on this front.
So it came down to a choice between the Ecocuirs and the Bivaks – both well made of high quality materials. In the end, the Bivaks won on the toughness of the leather.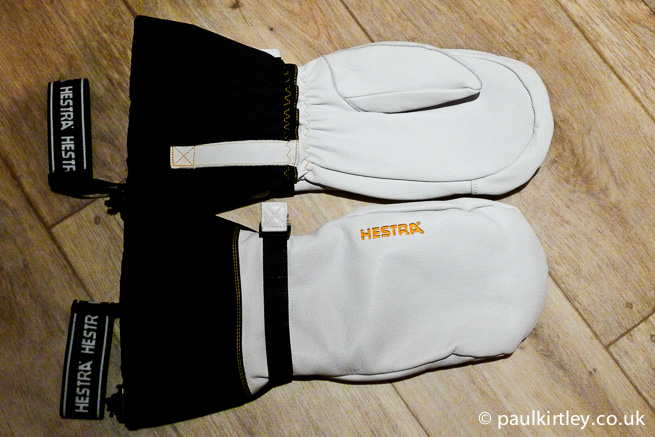 In terms of sizing I went for 11. I'm normally a 10 in gloves but I wanted a bit more room in these, not least so I could pop in some thicker liners.
All of the above three gloves come with removable Hestra liners. These liners are made of wool pile and wool terry cloth. Compared to Dachsteins or Lovikka, they are quite thin. I believe this is so you can wear the mitts as a shell layer over your normal gloves – what Hestra call "base gloves".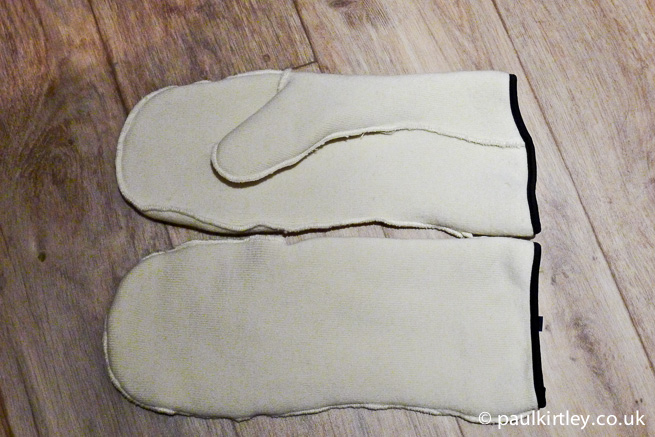 I didn't want to use this system, however, for a number of reasons. First, my normal winter camping finger gloves for dry, cold conditions are the Falt Guide Glove, which are quite bulky. They are also often a bit sooty/dirty after handling the stove and chimney assembly for the heated tent when setting up camp. Dirt reduces the performance of insulating layers so I didn't want to be introducing significant amounts of soot inside my mitten liners. At other times, the Falt Gloves can be a bit iced up on the outside and I don't want to be putting moisture inside my mittens either.
More important, though, I want a mitten system which is independent of my finger gloves. There is more redundancy in such a system.
So, I wanted my mittens to be a complete solution – as they had been before. Falt Guide Gloves would come off and the mittens would go on. Hence I wanted to have a decent thickness liner inside the mitt, without it being compressed or my hands being restricted.
The plan was to remove the Hestra liners and add some hand-knitted Lovikka, which I've used for many years and found excellent for very cold conditions.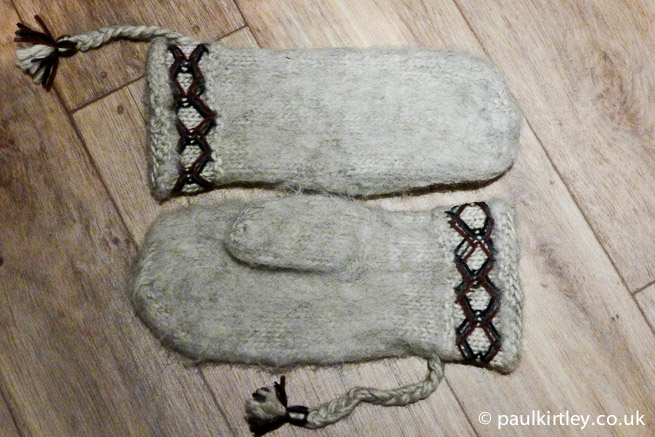 So, in exchange for the Bivak Mitts, I parted with a wad of Swedish Kronor notes, equating to around £100 of my hard-earned British Pounds.
Adding the hand-knitted Lovikka for around £45, the total cost of this solution was approximately £150.
Anyway, so much for theory. My new combo mitts still had to prove themselves…
Performance
I bought the mittens in early 2012; only now am I writing this review, nearly two years later. I don't believe in "reviews" of brand new products that have never been tried by the author.
You have to go out and use things. Try them in different conditions and make them part of your outfit, your routine, your set-up. You have to get to know an item and its strengths and weaknesses.
So far, this combination of items – Hestra Bivak Mitt outers + Lovikka – has served me very well.
When new, the gloves certainly look well-made, with quality materials and good, tidy stitching. So, far I have had no trouble with this aspect of the mitts – no fraying or loose threads or similar.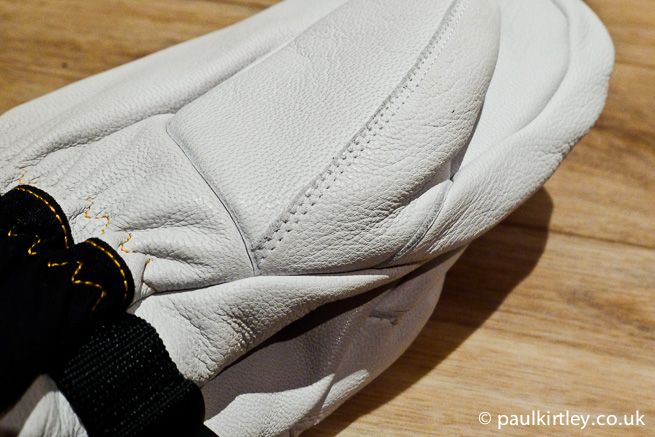 The leather itself is tough yet supple. Mittens are obviously an important piece of winter clothing on which the ability to use one's hands and, therefore, to stay alive in cold environments depend. So, I haven't abused these mitts but I have used them as and when I've needed to in not too precious a fashion. I always had my old mittens with me on trips as back-up anyway.
The treated goat leather is effective in repelling moisture, for example from wet snow and water when ice fishing.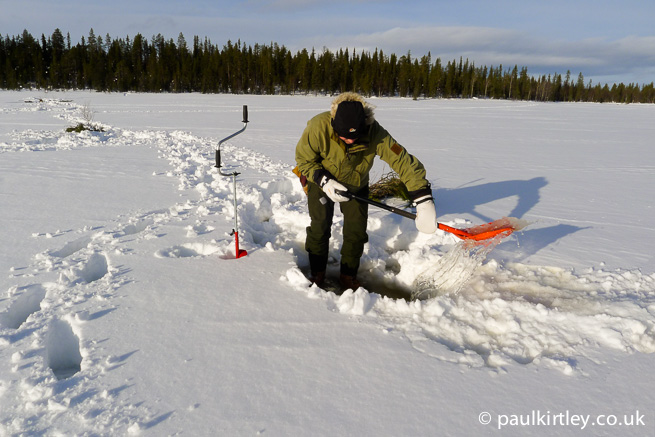 The suppleness of the leather allows for much greater dexterity than with my old leather mitts. One quibble here is that, in retrospect, I think I probably would have been OK with the size 10 mitts. The 11s sometimes feel like there is a little too much "real estate" around my fingers when I'm trying to do things with the mitts on. Overall though, I'm happy as I've never had cold hands in these mitts and if my fingers have been a bit chilly while wearing finger gloves, switching to the mitts has soon allowed my digits to warm up. That's the power of the Lovikka in particular.
I've had no issues with moisture build-up on the inside of the mittens. In fact there is very little sign of any moisture after using them. Of course the wool inner mittens help with this too.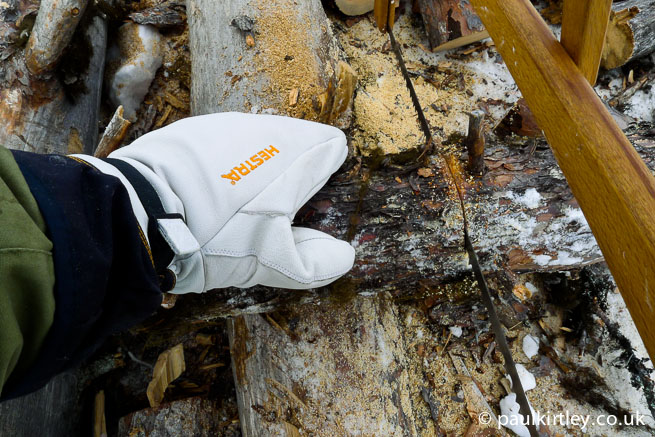 The snow lock is a dream to use. I can slip the mitten onto my hand, easily pull the cuff over my jacket sleeve then tighten it with the shock cord to seal it, thus allowing snow or spindrift no easy way in. They are very cosy.
My only negative point about the Bivak outers is that the quick-release buckle which secures the strap adjusting the fit at the wrist does not always stay fastened. I find it a little strange that each of the three Hestra mitten designs mentioned in this article – Ecocuir Ventile, Kebnekaise and Bivak – all have different fastening/buckle systems on the wrist adjustment. I would prefer the fastener of the type on either of the other two mitts compared to what is on the Bivak mitt. That said, I don't use this adjustment very much as the wrists are a little elasticated plus the Lovikka are quite fat, so there is not much excess to take in.
Value
To some people a mitten solution costing £150 might seem expensive. I think most of us would, however, put a much greater value on our hands than £150.
The question, then, is not whether it is worth spending £150 on protecting your hands but whether you could protect them just as well for less.
You can certainly find cheaper solutions. The old military mitts of the type I used can still be picked up for around £10 (try EBay). Some Dachsteins will set you back around £24. So for about £35 you can get a budget solution that works very well.
A subsidiary question is whether the cheaper solution is the optimal solution given how much time you spend in the environment.
Long ago I upgraded to Lovikka. I find them more comfortable and warmer than Dachsteins (although they are not as tough or impermeable to snow and must be worn inside an outer shell). The whole point of this quest, which ended up in my purchasing the Bivak Mitts, was a desire to upgrade away from the shortcomings and personal irritations of the old 1960s Swedish military mitt design.
In working with clients in the North, I need to be always in a position where I'm able to help people I'm there to guide and look after. The cold is a hazard to everyone in a group. I need my gear to be utterly dependable. 5 or 10 per cent difference in performance could make the difference between me being preoccupied with my own wellbeing rather than being 100% present, aware and available for helping my clients stay safe in an environment they are unfamiliar with.
For my purposes the Hestra Bivak Mitts with added Lovikka is a highly effective pairing of top quality products that is ideally suited to my needs. My desire was to have a solution which not only performed well in a dependable way but also one that is durable and promises consistent performance for a long time to come. So far these mittens have proven to be the solution I needed. I'm confident, based on their performance so far, they will continue to be. I spend enough time in seriously cold environments every winter – both professionally and for leisure – for this investment to be a no-brainer.
For the time being I have found as perfect a set of mittens for me as I can.
I do still like the look of those Ecocuir Ventiles though…
I'd love to know about your preferred winter hand-wear. Let me and other readers know in the comments section below…
Related Material On Paul Kirtley's Blog
Cold Injuries: Take Care In The Blue Zone
How To Dress For The Cold: COLD or COLDER
Winter Clothing For The Northern Wilderness part 1