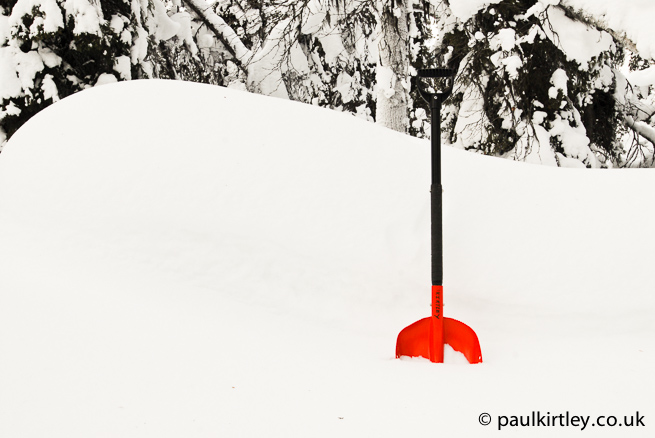 Choosing And Using A Snow Shovel For Winter Camping And Travel
Choosing And Using A Snow Shovel For Winter Camping And Travel
[You can also view Choosing And Using A Snow Shovel on YouTube.]
If you ask people to draw up a list of the equipment they think important to take with them on a winter journey or on a winter camping trip, particularly in the northern forest, they might state an axe for felling dead standing wood for firewood. They might also state a saw for sawing up that firewood into manageable lengths, particularly if they are using a stove in combination with a heated tent.
They might also list an ice auger or an ice chisel for cutting through the ice on frozen lakes and frozen rivers, either for accessing drinking water or for fishing.
Fewer people, though, will say a snow shovel is high up on the list. In fact, a shovel is probably one of the most important pieces of equipment you can take with you. Yet is seems to be one of the most undervalued.
In the above video I talk about this important winter tool that is often overlooked or undervalued for winter camping and winter travel. I also discuss several features I think are worth looking for in a good snow shovel.
A snow shovel provides utility and safety
When you are winter camping, you find yourself using a snow shovel for all sorts of daily tasks. When you are setting up camp, you may be digging out a cold well, you may be putting snow on the snow valances of your tent to seal it, you may be digging out a latrine. You may be collecting snow so that you can melt it for your water supply. All these things are made easier, or possible even, with a snow shovel.
When you go down to a river or lake for ice fishing, first you need to remove snow that's on the surface in the area that you are going to be fishing, before you start drilling through the ice.
A snow shovel allows you to move significant amounts of snow quickly and efficiently. This ability to move snow is always useful. You could be stopped for lunch, you might want to clear an area quickly so that you can have a fire and stay warm or, maybe, cook a bit of food. That's always pleasant, particularly in the Spring.
You may, however, face more difficult circumstances. For example, your snow scooter may have become stuck and need you need to dig it out. In more extreme circumstances – perhaps in which you are lost or stranded – you might need to dig down to the ground for an emergency bivouac or you might need to pile up snow to create an emergency snow shelter. Without a snow shovel, all of these things become extremely difficult.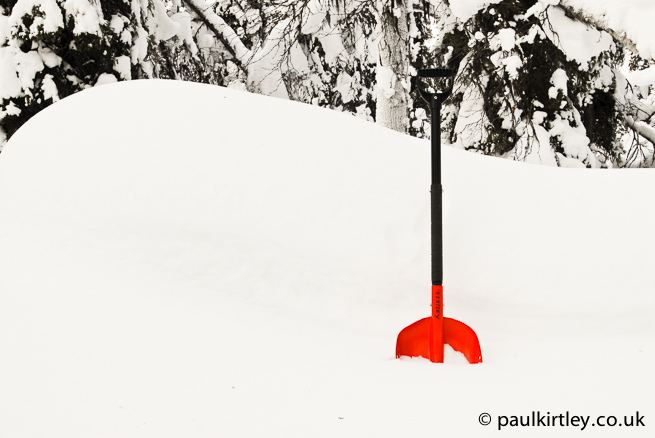 So, what to look for in a good snow shovel?
First off, an extendable handle is very important. This gives you extra reach and allows you to move snow much more efficiently. There is a real knack to moving soft snow quickly and efficiently – it's more scooping and less digging. As you can see, with a long handle, that scooping motion is made much easier. And it's much easier on your back!
Of course, you might be thinking, why not just take a long-handled shovel? First, this would be harder to pack. Also, if you did need to dig out a quinzee or snow cave, it's a much harder job digging out the shelter with a long handled shovel, as it will be very awkward to work with in such a confined space.
What else do I look for in a good shovel?
Well, a good, strong metal blade. That's going to last you a lot longer. Plastic blades may be lighter but in cold conditions, they become more brittle. I've certainly seen a fair few plastic shovel blades break over the years.
Next, a good strong handle, a good strong shaft, and a D-shaped handle if possible. Handles of this type are becoming harder to find these days. You see a lot with a T-grip but the D-grip is really good because you can use them not just with gloves but also with mittens.
Another useful feature to look for in any snow shovel is a removable head, so that you can separate the handle and shaft from the head. That makes it much easier to pack. Whether you are packing it in a backpack or on top of a pulk or a toboggan, a shovel which breaks down in this way makes it much easier to stow.
The downside of course is that you have to be careful not to lose any parts, particularly the spring-clips which typically hold the parts together when joined.
A final snow shovel tip…
As a final tip – and this may require a little bit of customisation on your part – think about points of contact between you and the shovel. Metal conducts heat away much faster than plastic or wood.
A lot of metal shovels are made from aluminium alloy, which is very conductive. In cold conditions, even with gloves on, you don't really want to be handling metal because it will sap heat away from your extremities much more quickly than touching something less conductive.
Most modern shovels have a metal shaft. Even if this is painted it will feel very cold. As you can see in the video, what I have done is wrapped some tape around the shaft of the snow shovel. I used hockey tape – the type of tape you wrap around ice hockey stick handles.
You can buy hockey tape in many sports shops. It's quite easy to get hold of. It is quite insulating and stops the heat being sapped from your hands. So, this is an excellent addition to make to your snow shovel. Again in the video, you can see that I've added it all the way along the area where my hands might be gripping the shovel.
I hope this article and video highlights why a snow shovel is one of the most important tools you can take with you on a winter camping trip or winter journey.
I also hope I have provided some useful pointers in what to look for in a good snow shovel.
What type of shovel do you use and why? What do you like/dislike about it? Let me and other readers know in the comments section below…
Related Material On Paul Kirtley's Blog
Axe Choice For The Northern Forest
A Winter Camping Trip In The Northern Forest