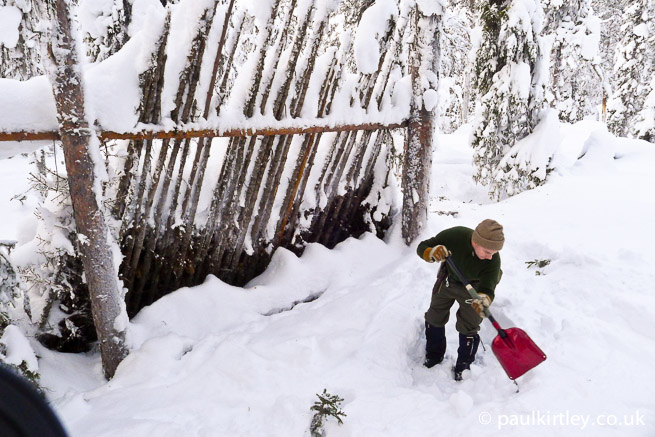 Arctic Lean-To Revisited
Arctic Lean-To Revisited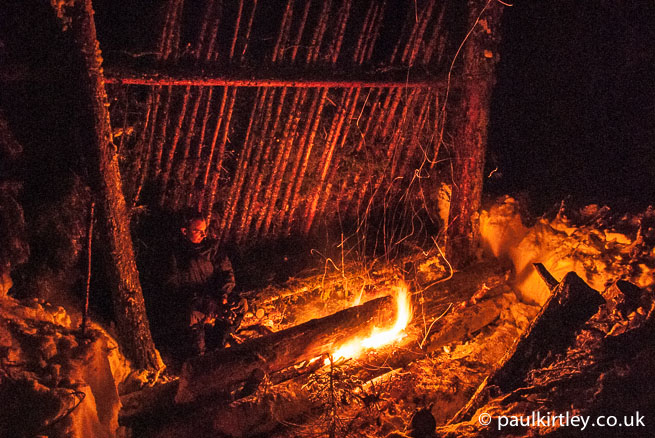 Lean-to shelters have become one of the touchstones of bushcraft, particularly northern forest bushcraft. They are often held up as superb survival shelter – in combination with a long log fire – ideal for surviving cold conditions with limited or no sleeping equipment. This combination is indeed very effective in keeping you warm through the night. It is entirely possible to comfortably sleep outside in ambient temperatures significantly lower than inside a domestic freezer.
It's worth bearing in mind, however, that this type of shelter takes some time to construct. Particularly when working on snow. You can't just rock up and create one like pitching a tent or tarp. You need the right tools too, preferably a snow shovel and a suitable axe as well as a folding saw.
You could, at a push get away with using only a folding saw for shelter construction but it would be an even more time consuming affair to prepare the materials – particularly removing all the branches from the small spruce or pine trees. You could excavate the area needed with a snow shoe and your gloved hands but it would be inefficient compared to using a snow shovel. It would be impossible, though, to fell the size of dead-standing timber you need for an effective long-log fire without an axe.
Anyone who has ever built a half decent shelter in temperate conditions knows it requires a significant amount of time and energy. It requires more in the northern forest in winter.
A lean-to is a resource-heavy construction too. You will need to fell scores of small trees to construct one properly. Even the shelter depicted in my previous article on lean-to shelters for the northern forest had the uprights spaced as far apart as practically possible so as to minimise the number of trees culled. This is in an environment where trees grow very slowly.
A long-log fire is not a leave-no-trace way of keeping a bivouac warm either. It will take one dead-standing tree per night to keep you warm and burning it will leave a scar on the fragile ground. When you use this shelter combination, you have a significant impact on the local environment.
There are survival shelters you can construct in a snow-filled winter forest which are quicker and require fewer tools than a lean-to. It seems to me that where the lean-to comes into its own is as a shelter to which you will return. It makes the initial effort much more worthwhile and the use of materials more justifiable (and sustainable). A well-constructed lean-to is also a robust structure which will last for many years.
It was with this in mind that my winter camping friends and I returned to a lean-to built a year earlier. In particular, Stuart was keen to sleep out in a lean-to with a long-log fire in arctic winter conditions.
Returning To The Old Lean-To
We set up camp, pitching the heated tent and collecting some firewood. The old lean-to from the previous year was nearby, at most a few hundred metres away, up on a spur between a swamp and a lake. We just had to find it.
That's easier said than done. You're looking for a wooden structure made of the very type of trees is set amongst. Also, it would be covered with snow, on one side at least. On this trip there was a lot more snow than the previous year, getting on for a metre (3 feet) more.
So, we waded up through deep powder onto the higher ground. It didn't take too long before we were in the right area. But we didn't see the shelter at first. We'd approached it from one of the rear corners. It was, as expected, largely covered in snow on the back side.
Going around the front, we stood atop the snow, on our snowshoes almost looking down on the shelter. Snow had drifted inside and it looked smaller than I remembered, half-buried in the snow…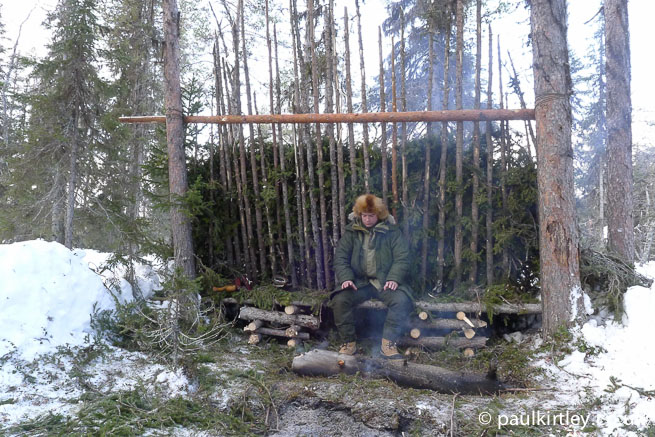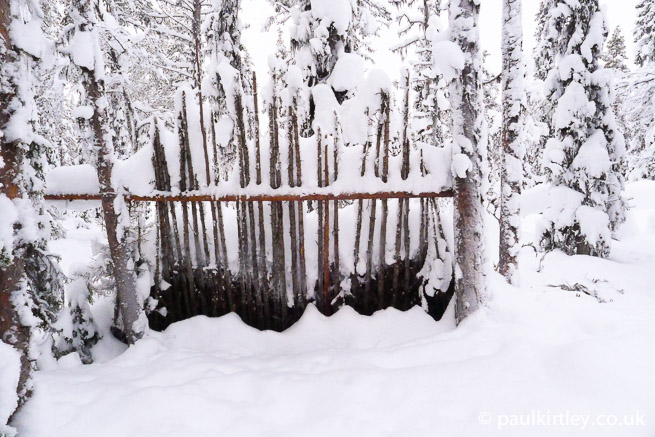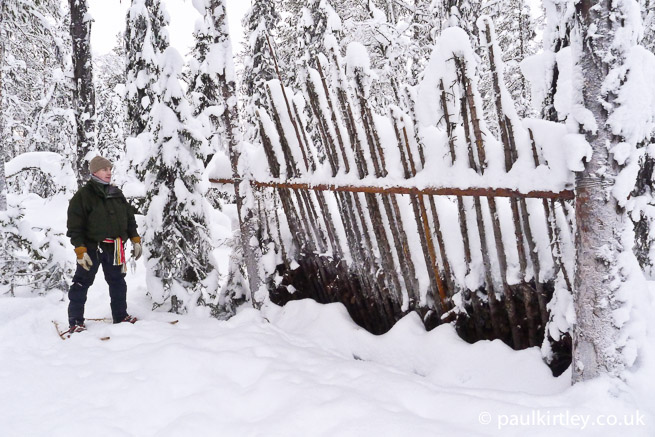 Reviving The Old Lean-To
To get this lean-to back to being a functioning shelter which would keep Stuart warm and safe through the night, would require some work. First a large enough area to house a long-log fire had to be cleared in front of the shelter. The sleeping platform had to be cleared and bedding later put down. The old thatching had slipped down the angle of the shelter. So, snow on the back of the shelter, sitting above the level of the sleeping platform would have to be removed so it wouldn't melt and drip onto the occupant. Once the snow had been removed, new thatching had to be added. Oh, and we needed to find a dead-standing pine tree to provide Stuart with his fuel for the night.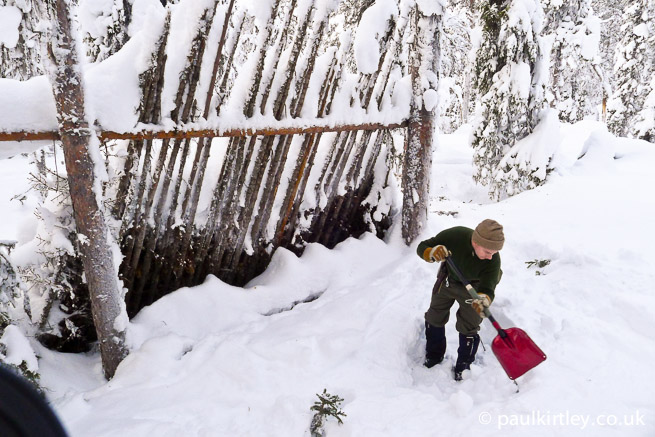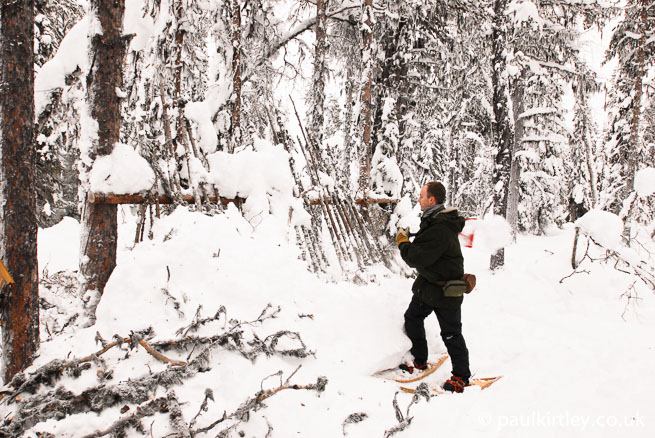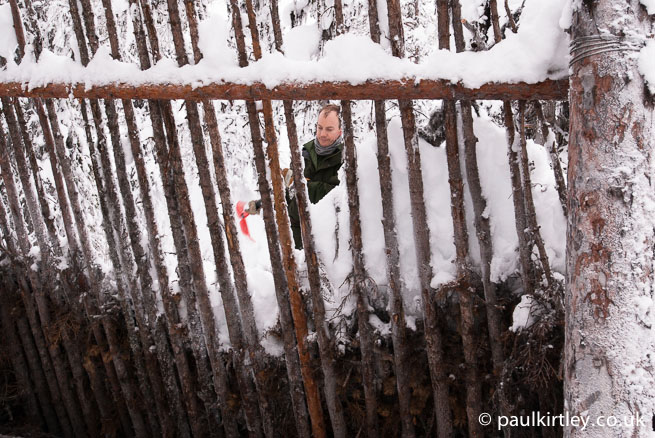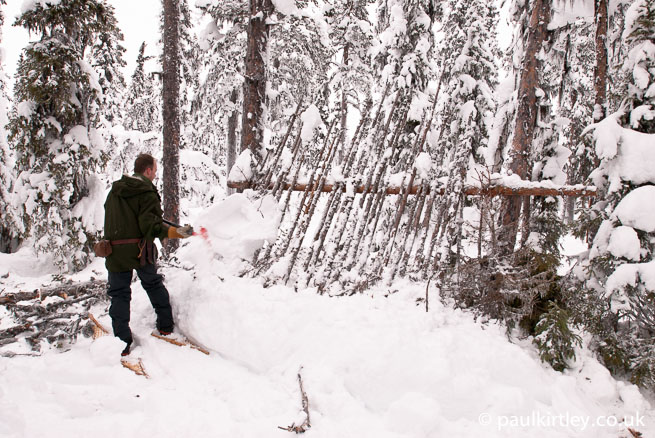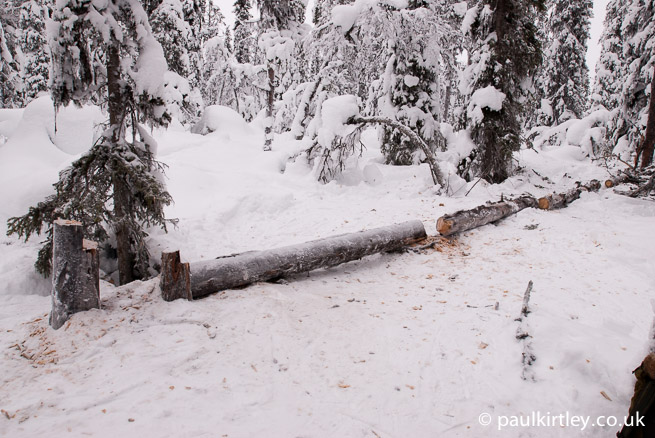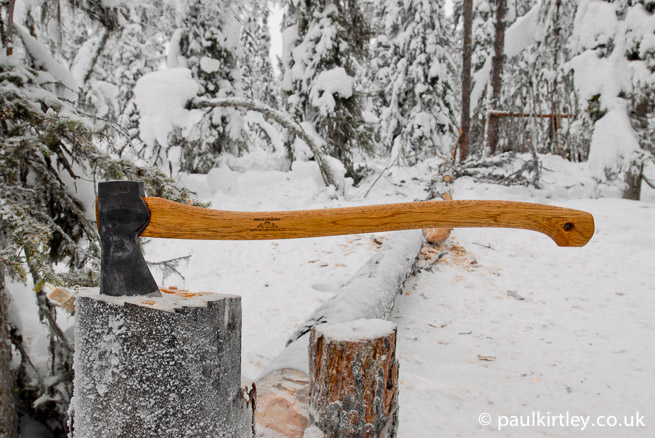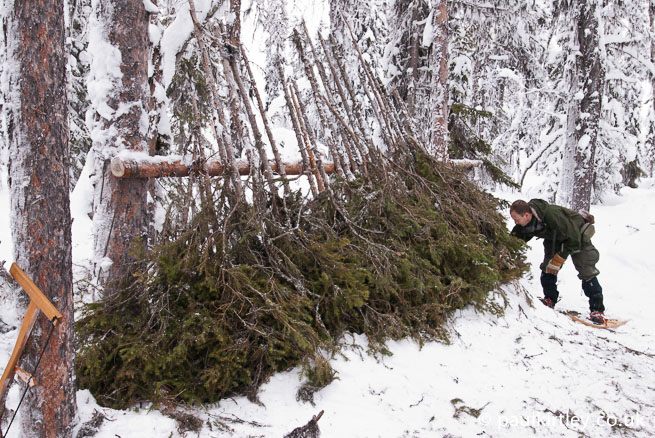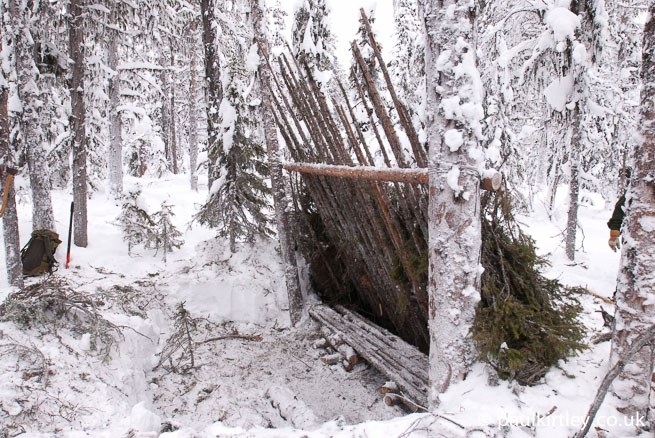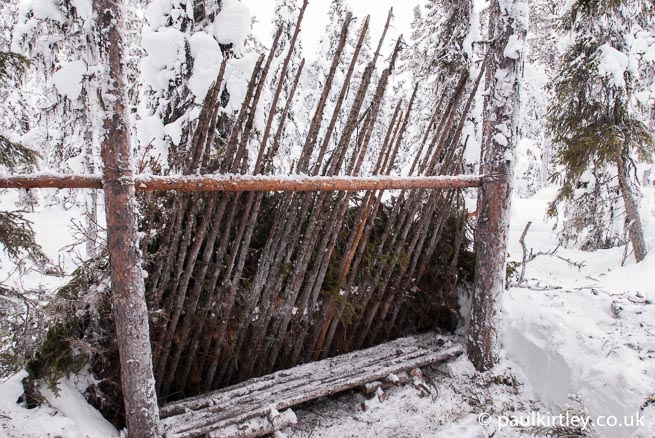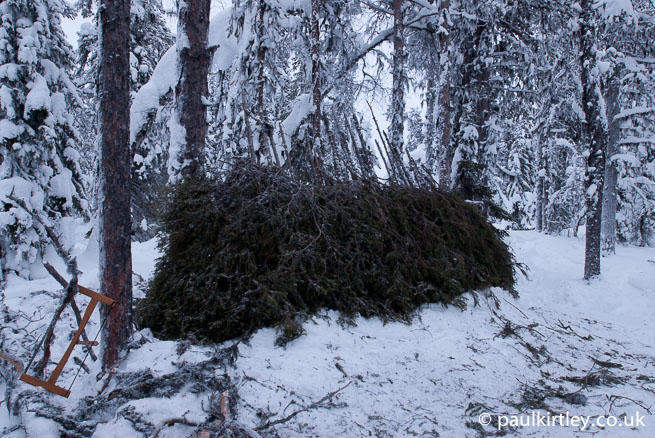 Heating The Lean-To Shelter: Building A Long Log Fire
It had taken all afternoon to renovate the shelter. Gathering new thatching and bedding material was one of the most time-consuming aspects. We were fortunate in that there was a good dead-standing pine close by. We had made our own luck though. When the shelter had been built originally, the availability of a good amount of firewood in the area was a factor in its location. This resource was particularly important as we were not using the shelter just as a one-off.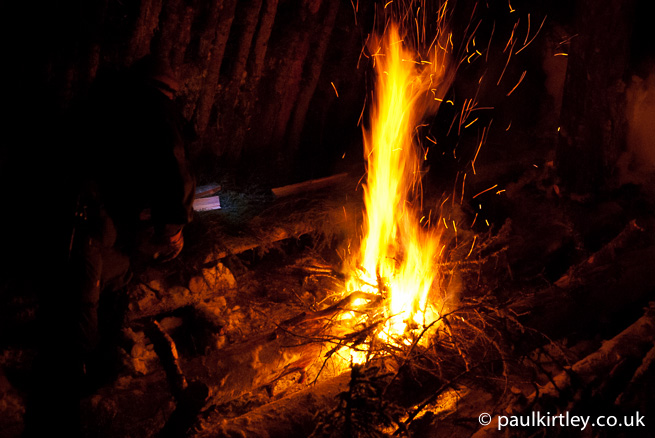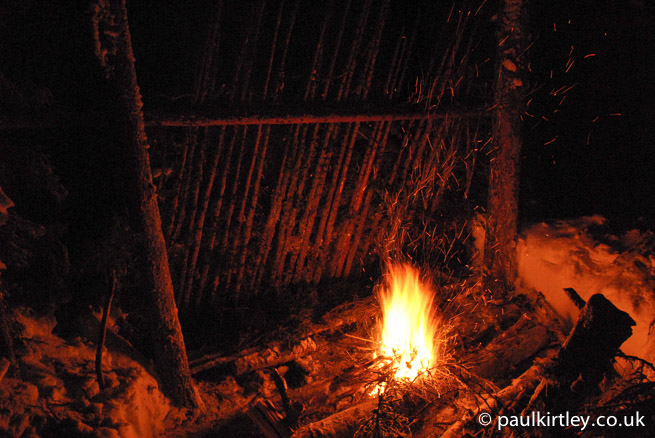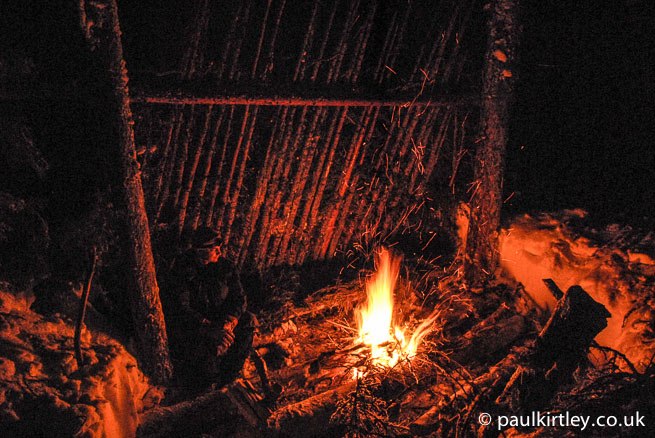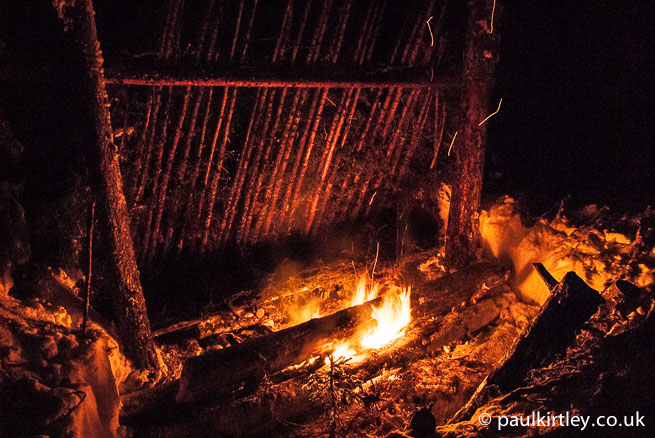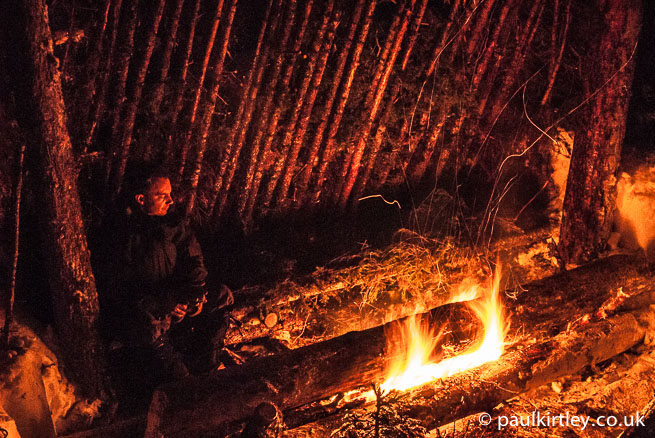 Feeling The Benefit Of The Long-Log Fire
One of our other winter camping buddies, Iain, who had been off doing his own thing during the day, came up to the shelter to visit and enjoy the warmth of the fire. He was soon relaxing in its generous heat…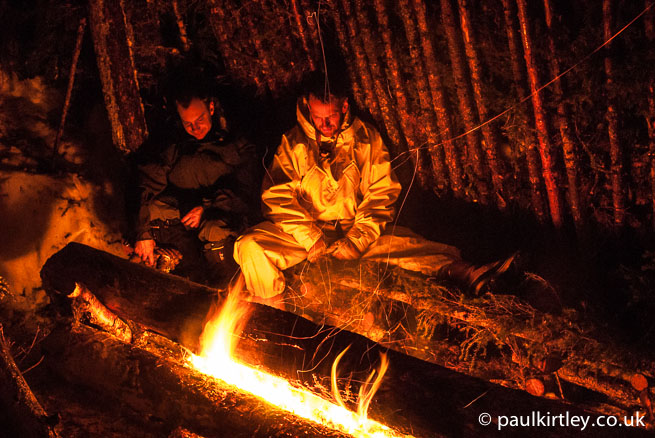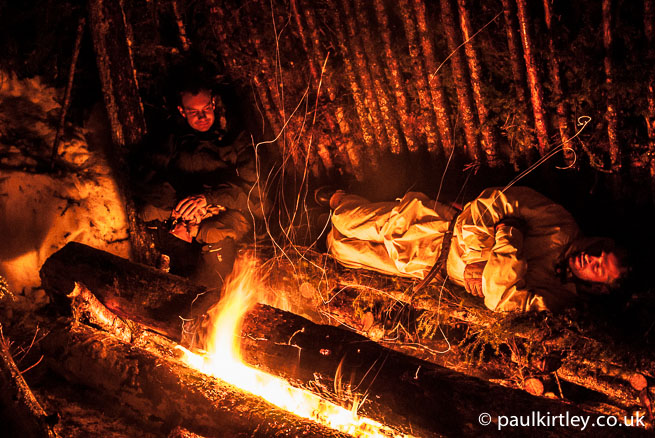 The Full Value Of A Lean-To
Now that the lean-to had been revived, it could be used night after night. All that was needed was a supply of firewood each day. Having this shelter available for multiple nights, made the effort of renovation worthwhile.
Moreover, using the shelter for a second year made the original effort to build it more worthwhile. It also made the use of the materials required to construct it more justifiable. We had created – an ultimately biodegradeable – bolthole in the arctic forest on a route that we had taken in the past and were likely to take again in the future.
To my mind, this illustrates the fullest realised value of a lean-to in the arctic forest.
I'd be interested to hear if you have used this type of shelter for winter camps or if you have used other more rudimentary survival shelters, either in training or in practice. Let me and other readers know in the comments below.
Related Material On Paul Kirtley's Blog
Surviving A Winter's Night In The Northern Forest: How To Build An Arctic Lean-To
Axe Choice For The Northern Forest
Tree Felling For Winter Firewood
Winter Magic: Return To The Northern Forest