Lightening The Load pt 1 – Tarp & Bivvy Sleep Systems
Lightening The Load pt 1 – Tarp & Bivvy Sleep Systems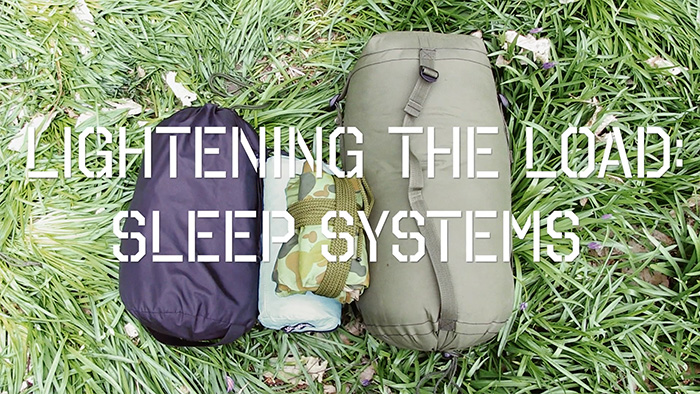 I'm asked a lot of questions about kit, which is a little bit ironic because bushcraft, fundamentally, is about knowledge of nature and what you can use from nature.
Most of us go out with at least basic equipment, most of the time.
We typically don't go out in just our underpants, building a natural shelter every time we go out camping.
We're going to take some equipment with us, particularly if the purpose of our trip is to move from A to B.
We're going to take a tarp. We're going to take a sleeping bag, or a hammock, or a tent.
We're going to take those things with us so we've got a shelter ready to go, and we can erect it quickly at the end of the day.
While hiking, canoeing, or any other trip where the main aim is to cover some ground and make a journey, we're typically going to take sleeping equipment with us.
The video below is the first in a series that I'm going to make about how to lighten your load, because that's really the question people are asking a lot of the time when they ask about kit.
They've seen my video about packing kit. It shows how to pack things relatively compactly.
They've seen my article about what to take for a basic bushcraft-style camp in the woods.
But the question keeps coming up, along the lines of "How do I lighten the load? Whenever I go to the woods, I've got a lot of stuff on my back. It weighs a lot, and I can't pack things in the same way as you do. I can't quite get them into my rucksack. How do I reduce the weight and bulk of my pack?"
So, what I want to do in this series of videos is to share ideas and options that will help you lighten your load while maintaining the functionality of your kit.
And the place to start, with the kit you need for going beyond a day hike, is with the items that you're almost always going to have – unless you decide to go out and build a shelter and sleep out in that way – that is sleeping kit.
So we're going to look at sleeping systems first. I'm concentrating on tarp and bivvy set ups here as this is the classic woodland camping option. You can really make some significant savings to weight and bulk by utilising well chosen, well designed sleeping systems.
Watch the video below for full details…
You can also watch this video on YouTube here.
Transcript
For those who have difficulty hearing, there is a full transcript of the video available via the link below.
Click here for a PDF of the full transcript of the video
Your Top Tip?
What's your top tip for keeping the weight of your sleeping kit down? Let me and other readers know in the comments below…
Related Material On Paul Kirtley's Blog:
A Bushcraft Camping Outfit: Equipment For Living In The Woods
How To Pack Enough Food For A Week In A PLCE Side Pocket
How To Pack A Bushcraft Camping Outfit