Five Survival Plants Every Forager Should Know
Five Survival Plants Every Forager Should Know
In a previous article I outlined a realistic approach to survival foraging.
In such a situation, you would have nothing stored or preserved from previous seasons, little or no gathering or processing equipment (such as baskets, bags or grinding vessels), limited experience and possibly little or no familiarity with the geographic area.
In short, if you do find yourself needing to keep yourself alive from only what you can forage, you are starting from a tough position.
Types Of Plants To Identify For Survival
What we need to learn first, so that we can stand on our own two feet and feed ourselves (at least for a little while), are plants that are:
Easily Identified
Widely Distributed
Relatively Common
Easily Processed
Available (for a good portion of the year)
Providers (of a favourable return on energy invested)
** Remember EWREAP (pronounced "You reap")
Studies have shown that taking on only 500 calories of starchy, carbohydrate-filled plant food per day will maintain your digestive functions and provide enough energy to significantly reduce muscle loss compared to eating nothing. So this consideration should also inform the types of plant foods we prioritise when living off the land.
Five Plant Foods To Look Out For
Four of the five foods featured in this article are roots, tubers or rhizomes. All of these are underground storage organs or USOs. While different, they all serve a similar purpose, the storage of energy so the plant can grow and complete its lifecycle. This energy, preferably stored in the form of starch or other digestible carbohydrate, is what we want to get at.
You Must Follow This Simple Rule
Because USOs are not visible above ground, we need to take some care to make sure we have collected the correct one, not some underground part of another plant growing nearby:
a) Since you can see only the aerial parts of the plant – the parts which are above ground – you need to become familiar with these parts and be able to positively identify the plant from them;
b) When digging up the underground parts, you should keep the aerial parts of the plant attached. This way, you definitely have the underground parts of the plant you have positively identified, nothing else.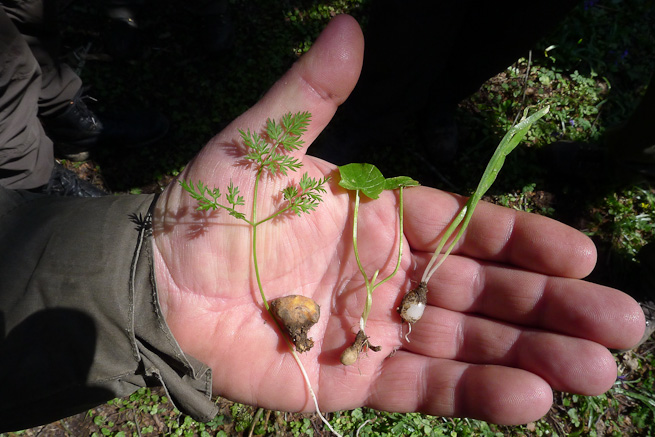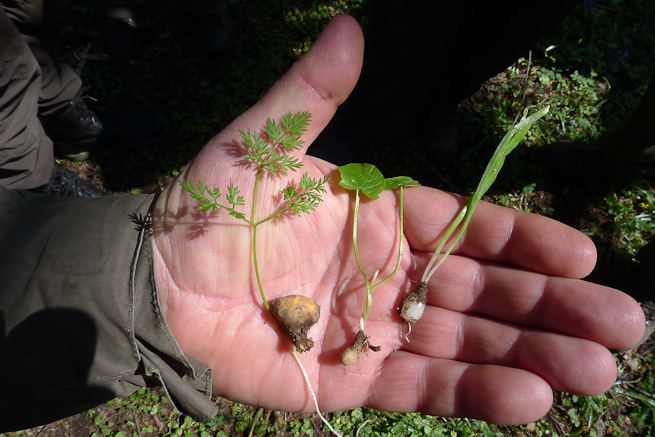 Cat-tail
Greater reedmace, Typha latifolia, and lesser reedmace, Typha angustifolia, are both wetland plants that look very similar. They are commonly referred to as cat-tails due to the shape of their flowers/seed-heads. Cat-tails are widely distributed around the Northern Hemisphere. They also occur in South America and parts of Africa, as well as having been introduced to many other territories, where they are often considered an invasive weed.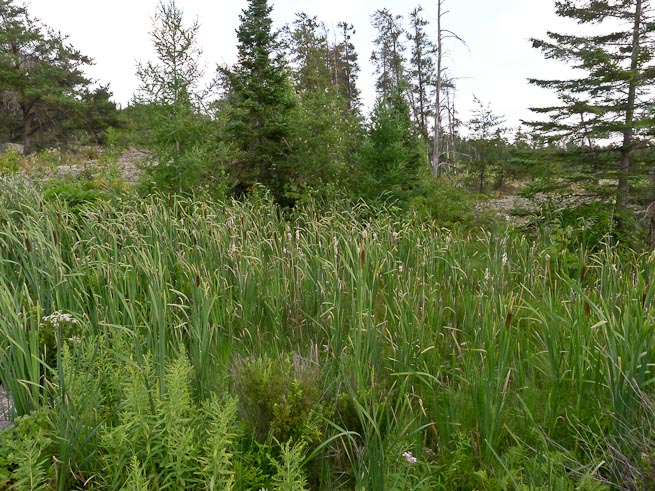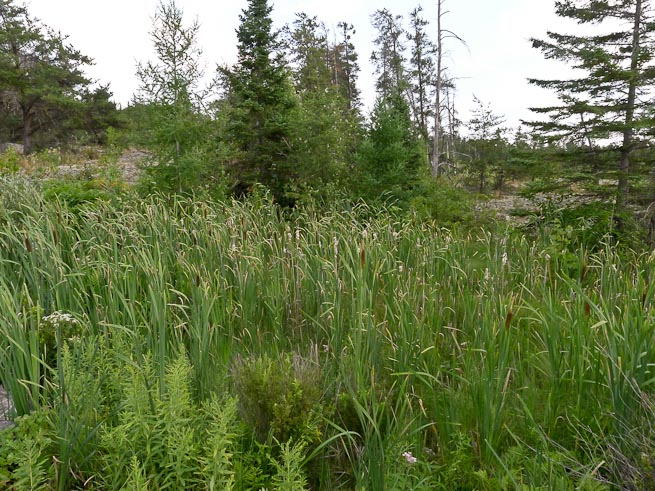 The plants grow in shallow water and wet mud at the margins between land and bodies of water. They will grow in slightly salty water but are predominantly freshwater plants. Greater reedmace in particular tends to out-compete other species and can grow to dominate an area with a large stand. This might not be great for your garden pond but it is fantastic if you are relying on them for food.
When mature, they are tall plants, reaching over 2 metres (6 feet), with long, green strap-like leaves. They form a distinctive brown structure (the female flowers) towards the top of a long, straight central stem. Some people see a resemblance to cigars, others to sausages. Later, these are filled with a mass of downy seeds.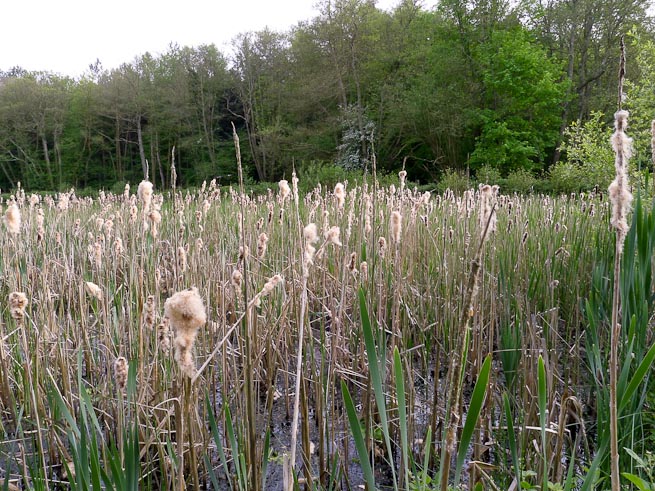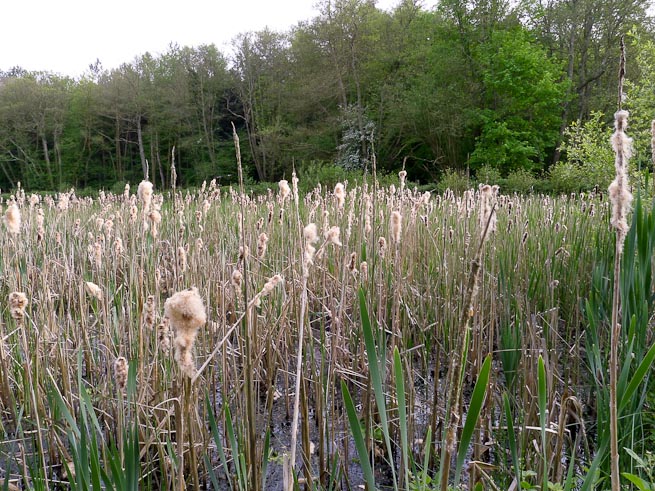 Cat-tails have many uses and several parts the plants are edible. The parts we are primarily interested in for survival food are the ropey rhizomes at the base of the plant. These rhizomes grow horizontally from the base of the plant and eventually allow new shoots to grow upwards. The energy required for this new growth is stored as starch in amongst the fibres at the core of each rhizome. For us, they also have the advantage of providing a source of food year-round.
There is archaeological evidence that cat-tail rhizomes were processed a long way back into pre-history, possibly for flour. Analysis shows that when the rhizomes are processed into flour, around 52% is available carbohydrate and 9% protein. This flour provides around 266 kcal per 100g. Cat-tail rhizomes are therefore a highly valuable source of carbohydrates and energy.
You don't, however, need to process them into flour to obtain their energy benefit. The starch is at the fibrous core of the rhizomes and this is surrounded by a spongy layer with a skin on the outside. Simply place the rhizomes on a bed of embers and cook them until they are blackened and the spongy layer has withered. This takes around 15-20 minutes.
Once cooked, break open the rhizome with your fingers, exposing the fibres in the centre and suck the starch from them. It is somewhat sweet, with the taste like a cross between sweet potato and roasted chestnut.
To absolutely positively identify cat-tail plants, you must look at the cross-section of the leaf. It should be a shallow crescent shape, like a new moon. If it is any other shape, it is not cat-tail.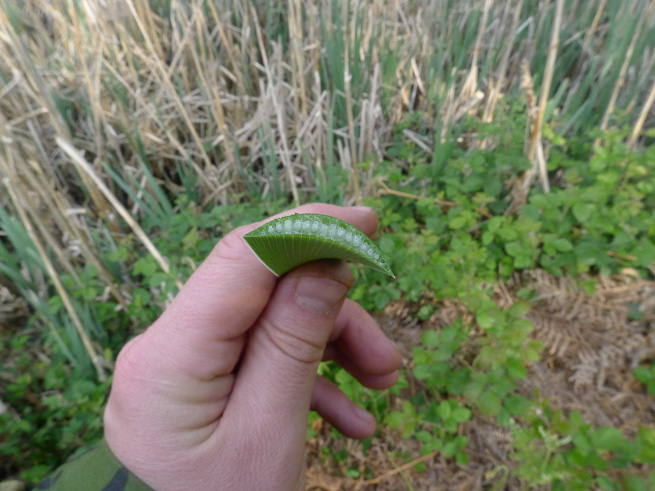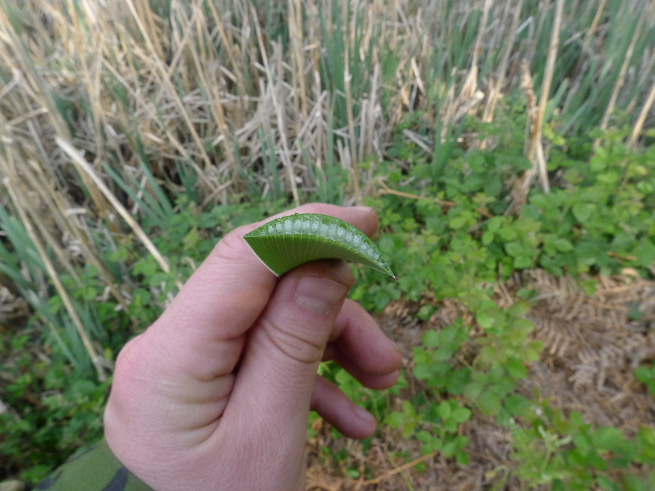 Another plant species with leaves that look similar to cat-tail are Iris pseudacorus, or yellow flag, which also shares a similar ecological niche to cat-tail. It grows in shallow water and damp or swampy ground, often alongside cat-tail. Yellow flag also has rhizomes. To the experienced, the rhizomes of each plant are very different but to the inexperienced there is the potential to make a mistake; like the rest of the plant, yellow flag rhizomes are poisonous. The sap of the plant can also cause skin irritation.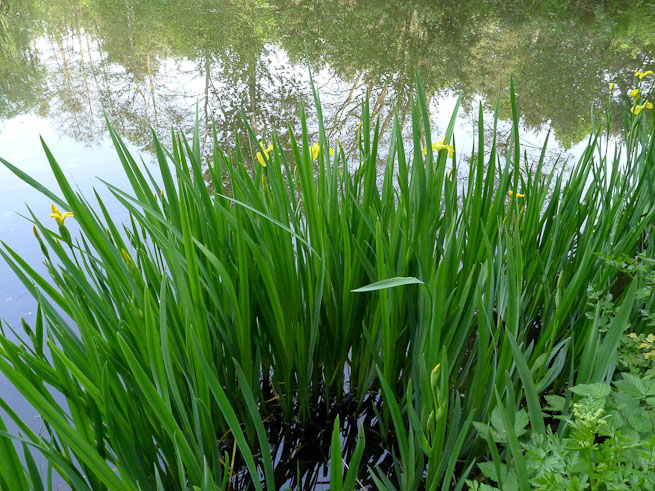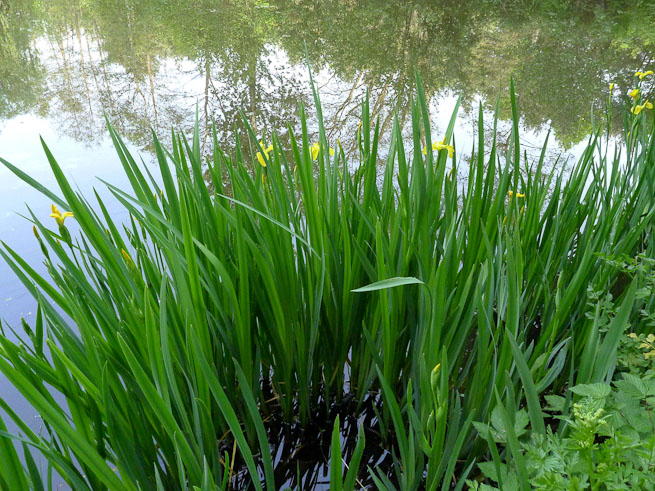 When a yellow flag plant is in flower, it is quite obviously not a cat-tail but this particular distinction is only clear for a short period of the year. We need a more widely-applied way of telling the plants apart. Looking at the cross section of a yellow flag leaf, you will see it is quite different to that of a cat-tail leaf. The yellow flag leaves have a cross section that has a central diamond-shaped rib with a very thin leaf structure either side.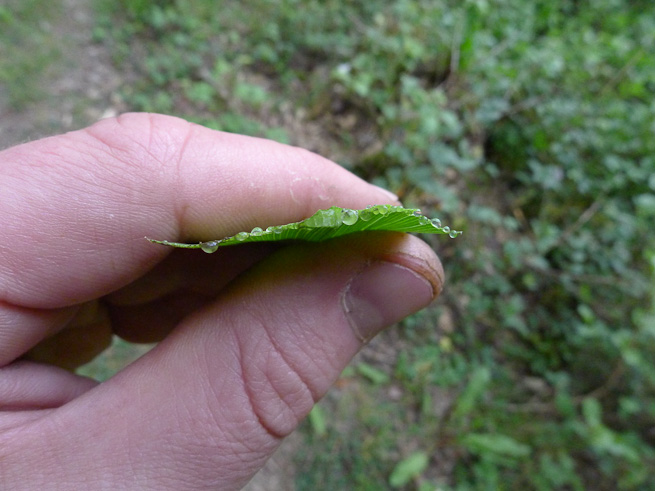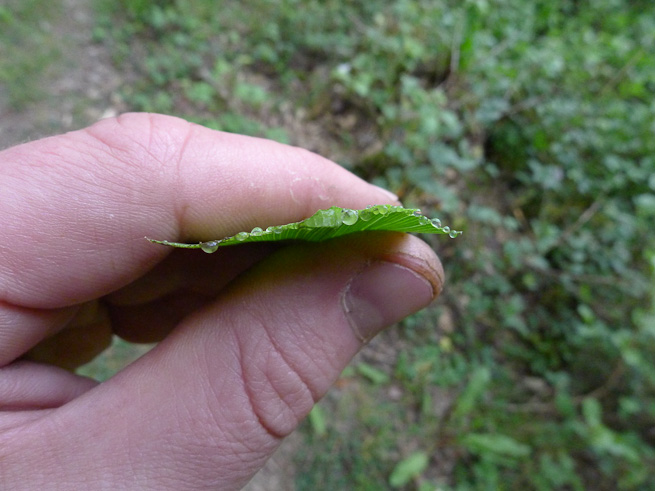 Comparing the leaf cross-section is a highly reliable way to tell the two plants apart. And remember, you must recover the cat-tail rhizomes while they are still attached to rest of the plant, including the leaves you have positively identified. You absolutely must not reach down and pull out of the water or mud any structures that you think are off the cat-tail plants. Not only could there be yellow flag rhizomes down there, there could also be the roots of hemlock water-dropwort, Oenanthe crocata, which has been the cause of many fatal plant poisonings.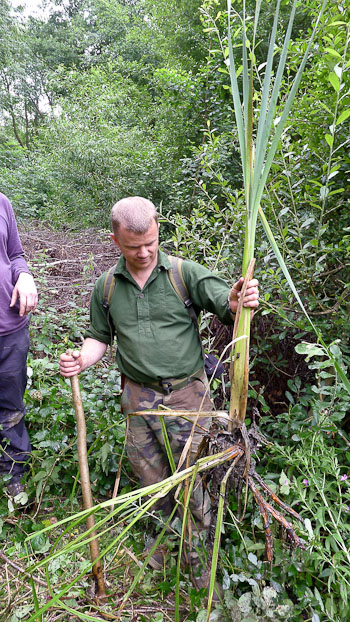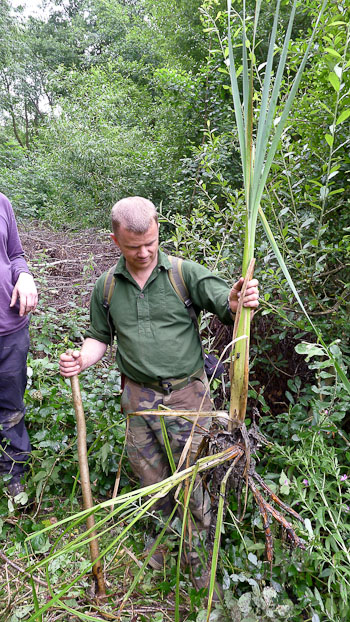 While the potential proximity to poisonous plants may put you off cat-tails, it shouldn't. They are easily identifiable, widely distributed, common, easily processed, available year-round and provide a very favourable return on energy invested.
Cat-tails are the single most important plant-based survival food in the Northern Hemisphere. You should get to know these plants.
Burdock
Like cat-tails, there are two burdock species we should consider. For the purposes of survival food, we can treat them as one. Greater burdock, Arctium lappa, and lesser burdock, A. minus are quite closely related to thistles. This familiar relationship is most easily seen in the flowers.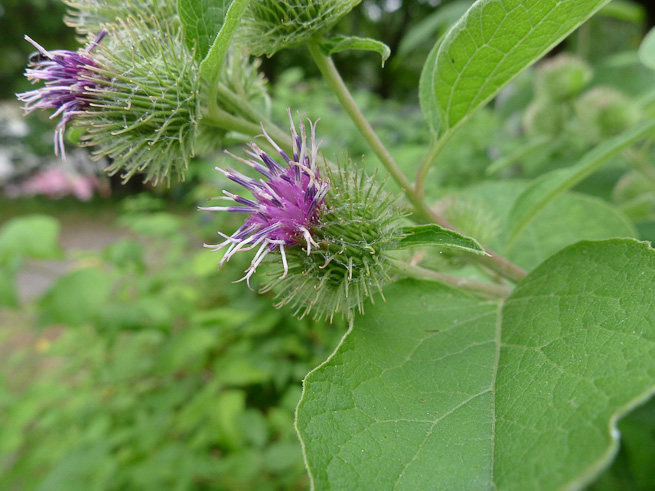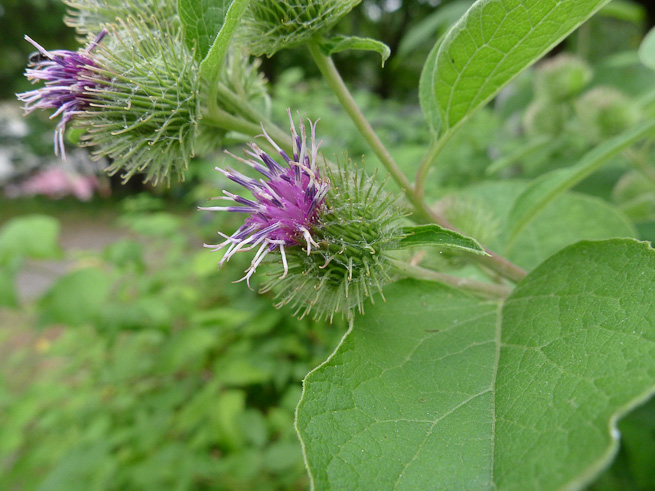 The leaves of burdock on the other hand are quite different to those of thistles. Burdock leaves are large, quite flat and heart-shaped, with wavy edges. They more resemble rhubarb than thistles.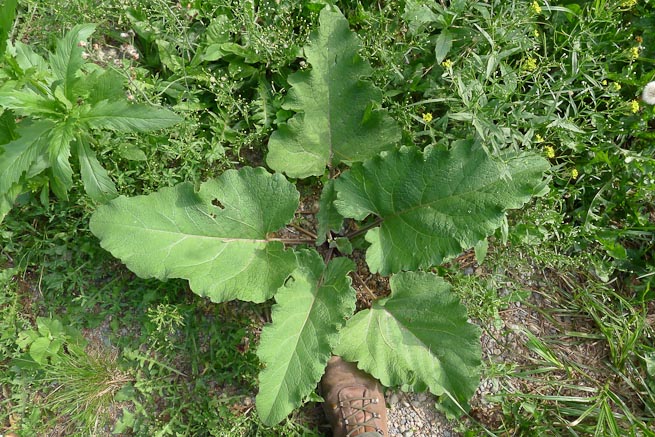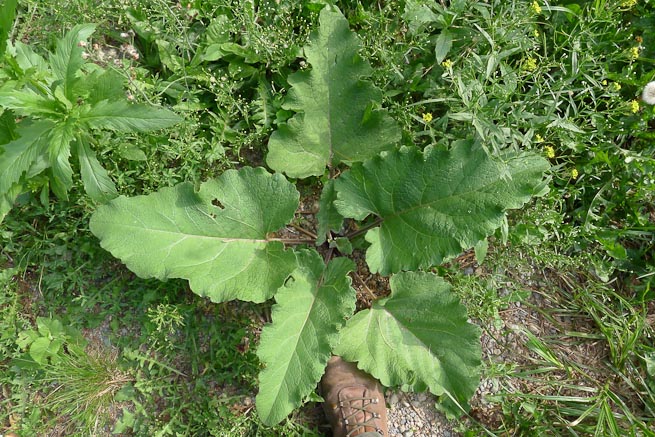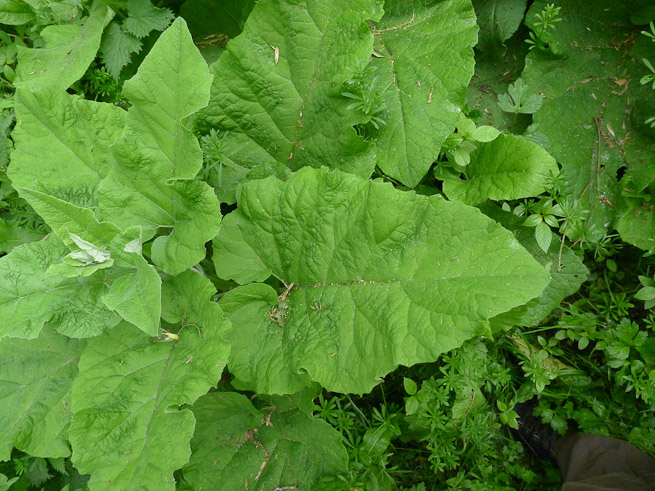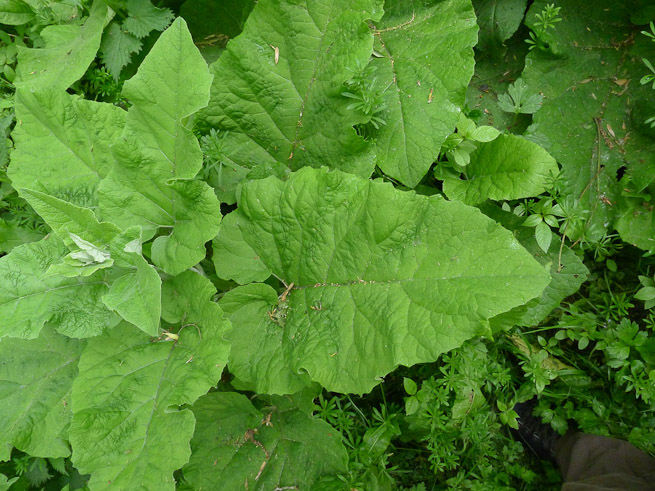 Burdock has a wide geographical distribution in temperate parts of the world with these species being found throughout Europe to Russia, the Middle East and Asia. Burdock is popular in Asian cuisine. Both lesser- and greater burdock are thought to have been introduced to North America from Europe. Lesser burdock is by far the more common of the two in North America, where it is known as common burdock.
One of the most important things to understand about burdock is that it is a biennial. This means the plants complete their life cycle over two years. In the first year they put out big leaves that act like solar panels, collecting energy from the sun by photosynthesis. This energy is stored as starch in a large root. The plant's leaves die back over winter but in the second year of life, the plant uses the energy in its root to send up a tall flowering stem, on which will be the plant's prickly seeds. These seeds are then spread and the two-year process is repeated by new plants.
It is the root that we are interested in as food. This USO is a good source of the carbohydrates we are looking for. It will have most energy in it from towards the end of the first summer through to the beginning of the second spring. Plants with flowering stems – either developing or developed will be in the second year, so we will ignore these. Plants with broad rosettes of large leaves – and no flowering stem – are in their first year of growth and the ones we are looking for.
The one downside of seeking out burdock as a source of food is that it can take a bit of effort to dig up. The plants typically like to grow in ground that is reasonably hard and the tap root tends to be long and very well fixed. You certainly cannot just pull it up! In the absence of a shovel, you should make and employ a digging stick. Break up the ground with the stick then scoop out the loose earth with your hands.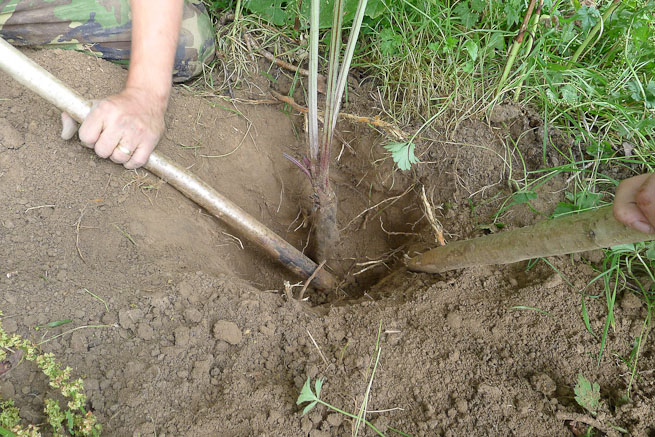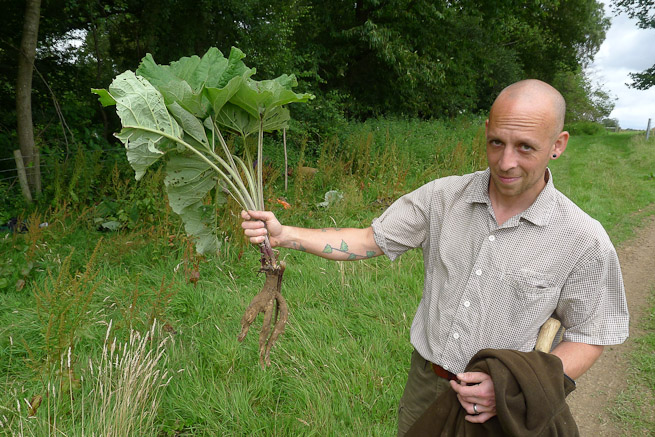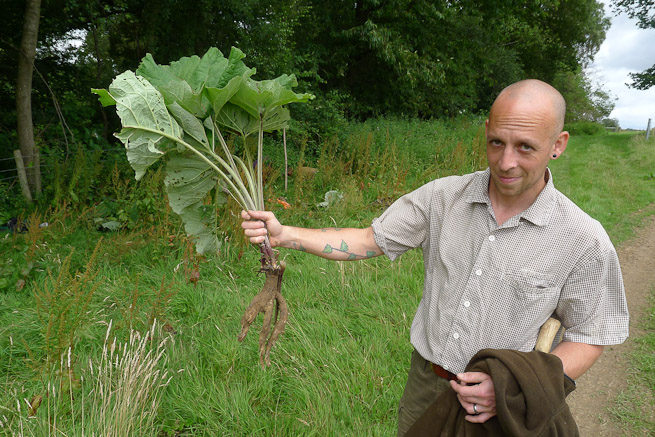 Burdock roots contain a significant proportion of inulin – a form of plant energy that is indigestible by humans. But the roots also contain accessible energy and the roots provide around 72 kcal per 100g (raw, not dried), with 17 g of carbohydrate and 1.5g of protein. This is a very similar profile to the potato.
You can eat burdock roots raw (like a carrot) but where they are used in cuisine, they are typically cooked. Cut them into batons then stir fry them or slice thin then add to a stew or soup. If you are without cooking apparatus, you can cook them whole under the fire but it takes several hours for them to cook through.
Pignut
The pignut, Conopodium majus, is common in many parts of Europe and its range extends to North Africa. Pignuts grow in open woods and in well-established (and ungrazed) grassland. In the woods they like to grow in areas that receive a reasonable amount of sunlight. On bright spring days you'll spot pignut leaves in areas of dappled sunlight, often right beside the trail you are walking along. The plant likes well-drained soil.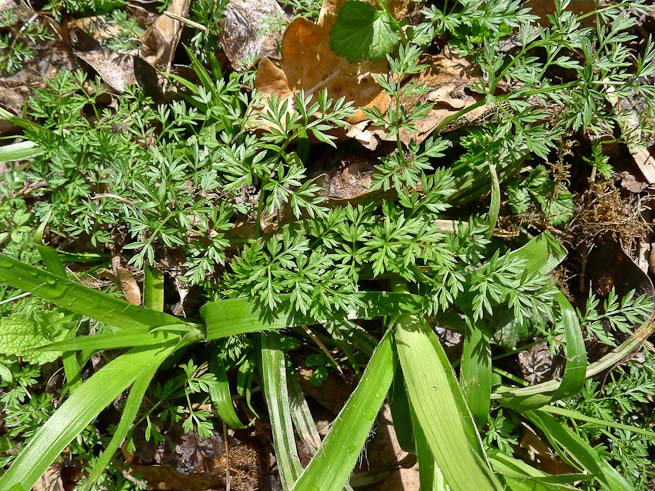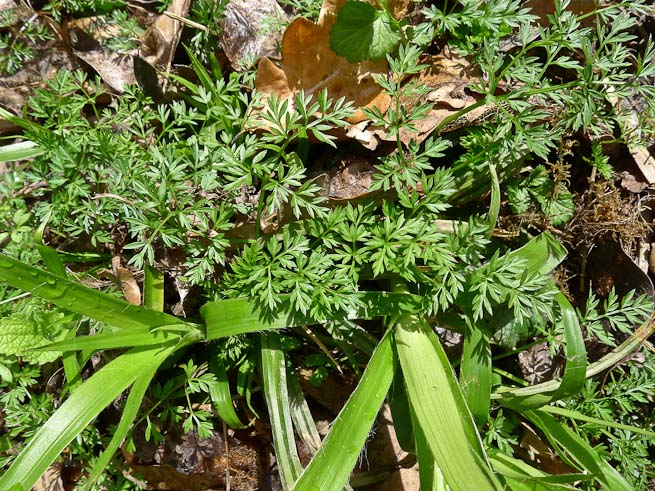 Again, it is the underground part of the plant, specifically the tuber, we are most interested in. The tuber is edible all year round. Pignuts are one of the more palatable wild foods. The tuber can be eaten raw and is very tasty. In flavour and consistency pignuts are something like celery heart crossed with raw hazelnut or sweet chestnut and sometimes have a spicy aftertaste of the sort you get from radishes or watercress. Pignuts can also be added to soups and stews to increase carbohydrate content.
Pignuts have been found at archaeological sites dating back to the Mesolithic and these have mainly been interpreted as a potential food resource. There are also accounts of pignuts being utilised for food in times of famine during the eighteenth century.
The first opportunity you'll have to gather pignuts is in the early spring when you see the leaves appearing. As the plant flowers in late spring/early summer, location and identification continues to be easy until the flowering stem dies back. After this time, however, there is no above-ground sign of the plant unless you leave markers.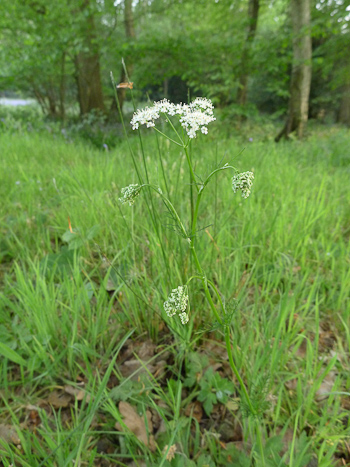 The pignut is in the carrot family, or Apiaceae, and the leaves do bear some resemblance to carrot, at least in structure. As a general rule you should be wary of this family of plants as it contains some very poisonous plants such as Hemlock, Conium maculatum, and Hemlock Water Dropwort, Oenanthe crocata. The pignut is relatively easy to recognise from its aerial parts, partly due to their small size compared to other members of the carrot family. The leaves are finely divided, delicate and lacy.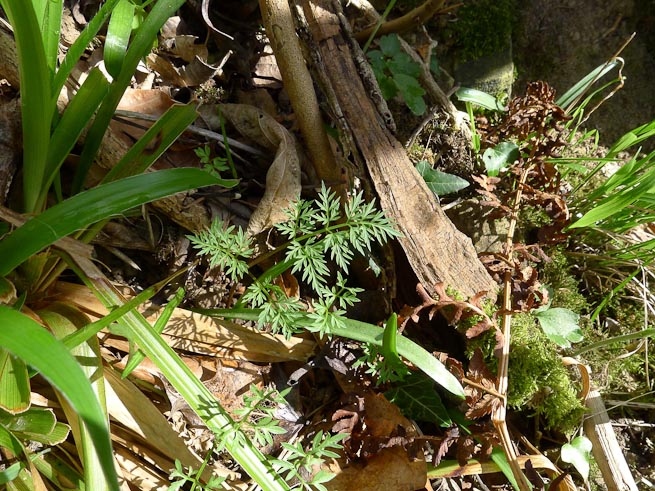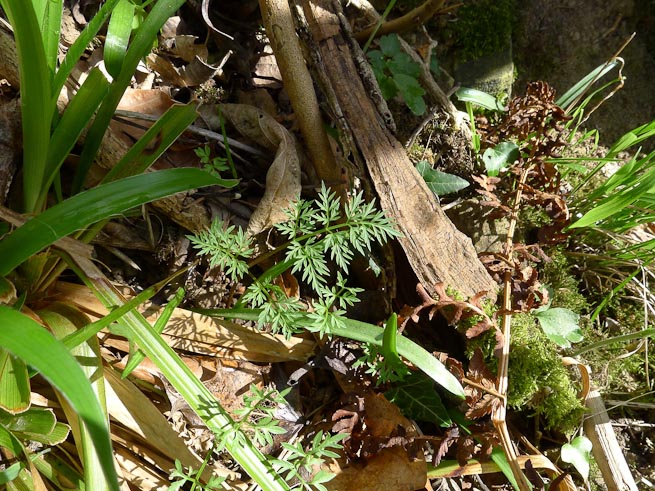 Also, in terms of distinguishing a pignut from its relatives, the tuber is unlike other members of the family. Pignuts are very un-carrot-like, typically being roughly spherical in shape. Generally, the tubers are around the size of a hazelnut or a little larger but can be found to be around 3cm (1.25 inches) in diameter.
If you keep the leafy shoot of the pignut connected with the tuber then you have a positive identification. Achieving this, however, is quite fiddly. The tuber is typically 10-20cm under ground and the shoot gets thinner and thinner as you get closer to the tuber. It is very easy to break it and detach one from the other. Pulling the nut out of the ground by the shoot is out of the question. Also, the shoot usually comes out of the side of the tuber then bends at right angles to continue its journey upwards and out of the ground. So as you follow the shoot down to the tuber, this makes it harder to identify the tuber itself as it is rarely where you think it might be.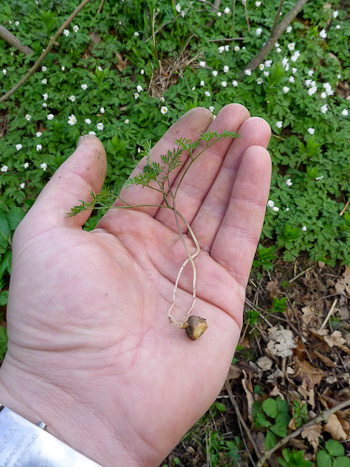 Even though getting a pignut out of the ground can be a little fiddly, it doesn't take much energy. You also often find many plants growing in close proximity, so you can gather quite a few in a small area. To get the tuber out of the ground, carefully dig down next to the stem with a pencil-sized stick until you locate the tuber. The outer surface of the tuber is a maroon colour, although it will be covered in soil when first removed from the ground. This outer skin is easily removed, revealing the creamy inner flesh. If you do this properly, you don't need to wash the pignut or employ any other cleaning. You can then just eat it straight away.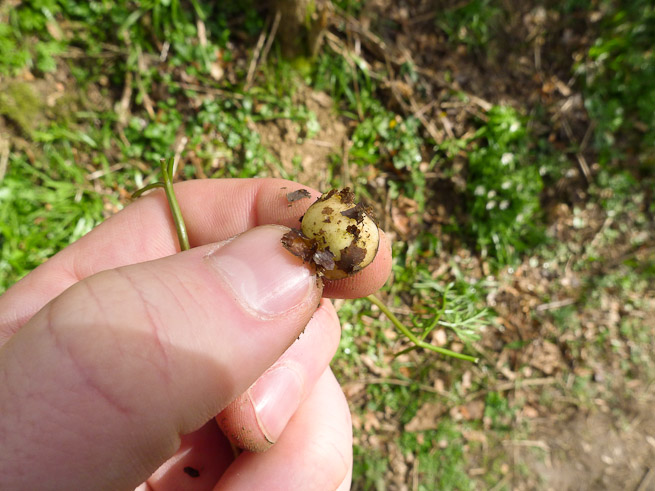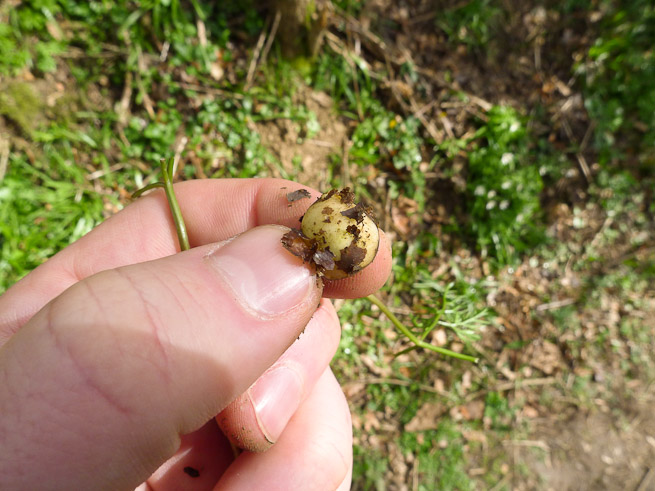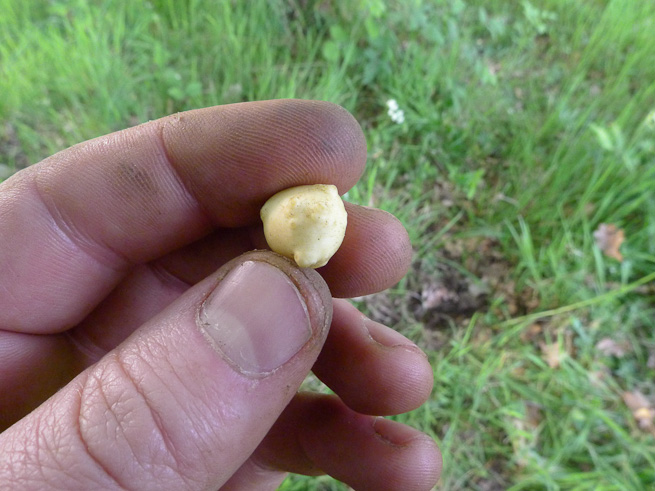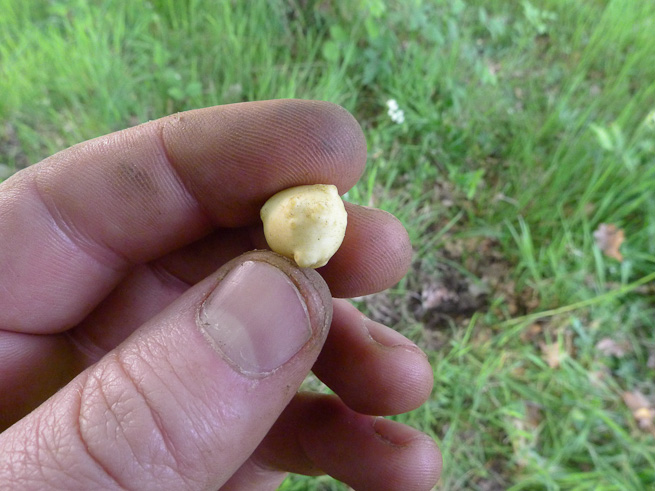 Silverweed
Silverweed, Potentilla anserina, is native right around the temperate Northern Hemisphere. It is a low-growing member of the rose family with a five-petalled yellow flower similar to many other cinquefoils. The plant has long, creeping stems and the leaves are divided into as many as a dozen pairs of leaflets. The leaflets are serrated around their edges.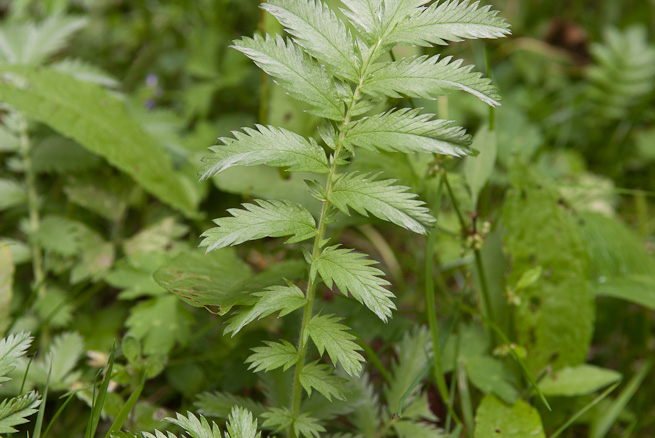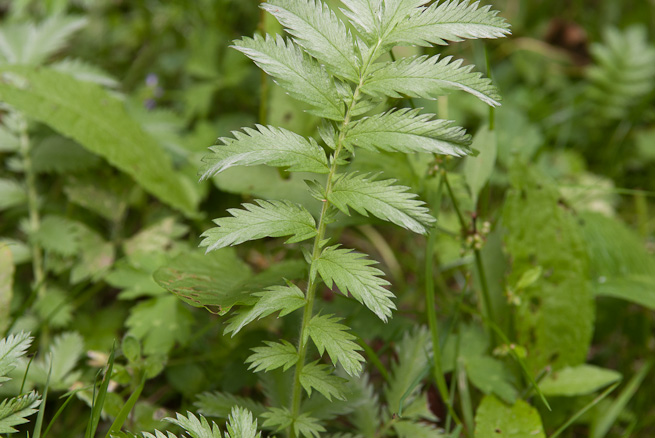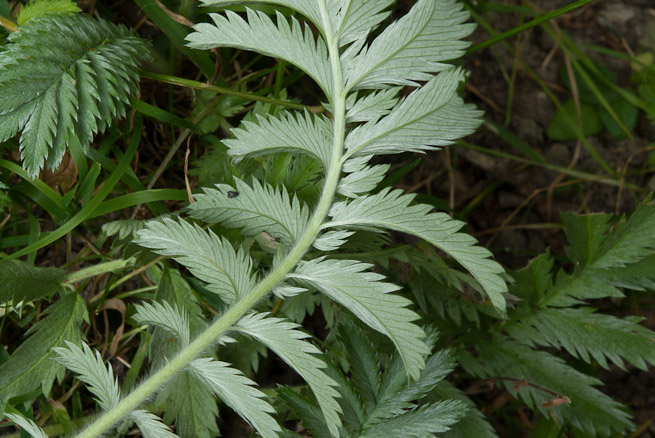 Silverweed's leaves are what give rise to this plant's name, being a silver-green on the topside while underneath, where they have a silky fur of fine hairs, they are grey-silver. This makes the leaves very easy to spot when the breeze catches and turns them over.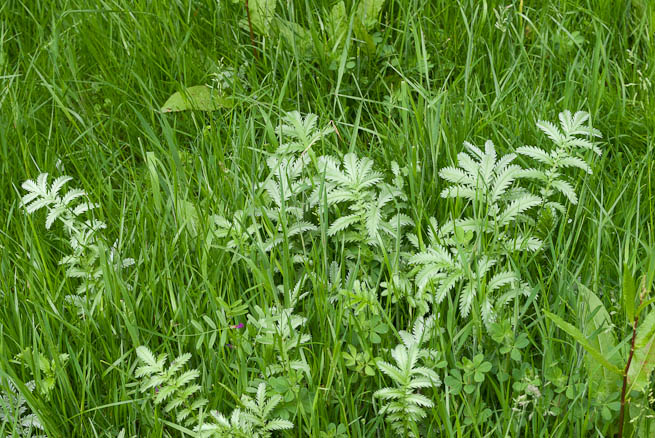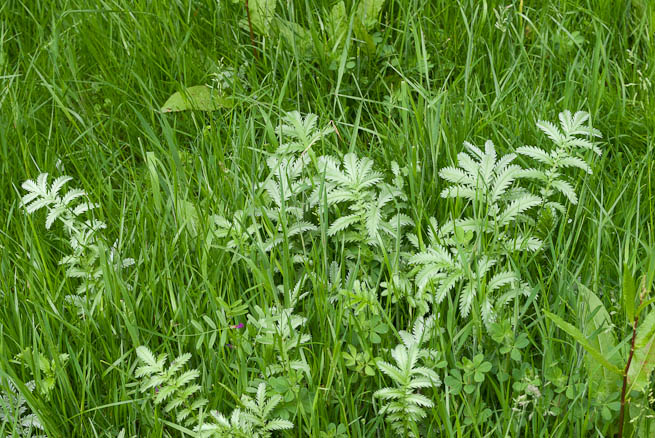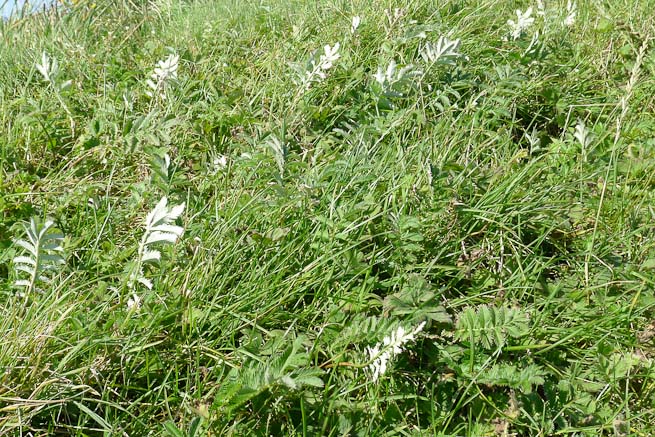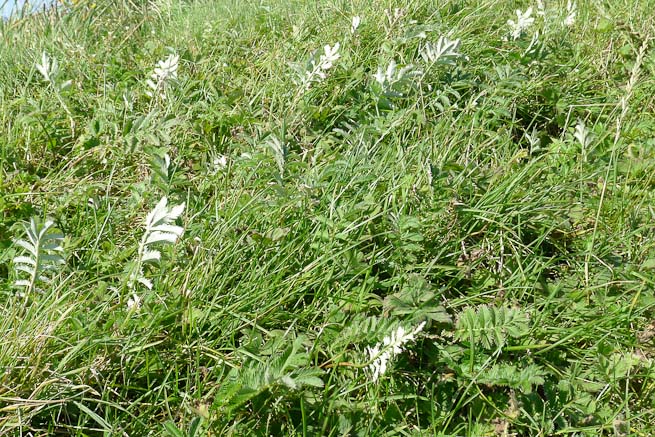 Silverweed is both widespread and common, often forming extensive carpets. Usefully it can grow in relatively poor soils where other plants struggle. Again it is the underground storage organs of the plant that contain valuable starch.
Like pignuts they are small but not particularly difficult to dig up – although harder to separate from soil than pignut – and also grow together with many other plants of the same species.
The method of excavation is different to pignuts too. Using a larger digging stick, loosen a whole area of soil and separate the plants from the soil. In sandy or shale soil, where the plant often likes to grow, this isn't so difficult. In heavier soils it can be harder to separate the roots from clumps of mud.
The plant forms one or more storage roots containing starch. These roots are individually quite small, averaging around 5mm in diameter and 1 to 3 cm in length. Raw they are quite crunchy. Cooked they have a taste of their own that resembles parsnip blended with sweet potato. The best time to collect the roots is at the end of the summer/beginning of autumn as the leaves start to turn brown and wither. The roots are still available through the winter but with the plant leaving no above-ground indication of their presence, they are hard to find.
Records indicate silverweed was until relatively recently a very important source of food from as far east as Yakutia to as far west as the Pacific coast of North America.
Silverweed was noted as an important food for Tibetans by travellers in the early twentieth century, observing that the plant was often dug up and eaten or dried and stored for later use.
Silverweed was a staple food for the coastal peoples of what is now British Columbia, Canada. Small amounts were steamed in a box while large amounts were roasted in a pit. The roots were also dried then pounded into flour. While not farmers as per the modern understanding of the word, these people cultivated pristine swathes of silverweed.
Closer to home, in the Hebrides and elsewhere in northern Britain, silverweed was cultivated until the introduction of the potato. It was later fallen back upon as a food source during famines caused by potato blight.
History has proven these diminutive USOs can indeed provide an important survival food.
Stinging Nettle
For most people stinging nettle, Urtica dioica, needs no introduction. Personally, my earliest definite memory of the stinging power of nettles is from when I was about 7 and falling off my bike into a large patch of the plants. I'm sure I had been stung by nettles before this point, but this incident has really stuck in my mind!
Urtica dioica is native to Europe, North Africa and Asia and was introduced to North America by colonists. The plant likes nitrogen rich soils. You may have noticed old derelict cottages and farm houses surrounded by a sea of nettles. This is due to urination increasing the nitrogen levels in the soil in the area around the habitation. This means that you don't see stinging nettles as much the further away from habitation you get. But it is still a common and widespread plant.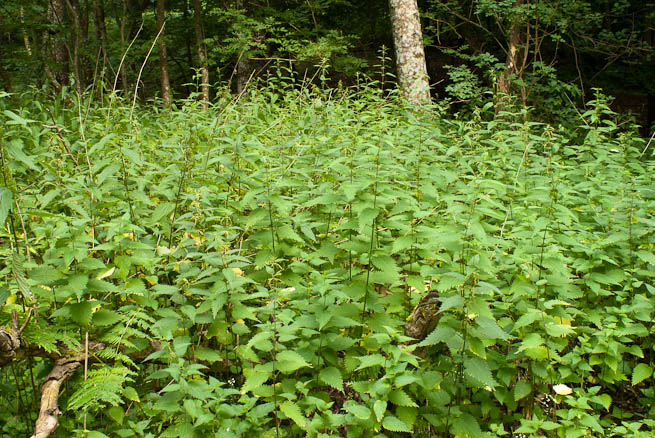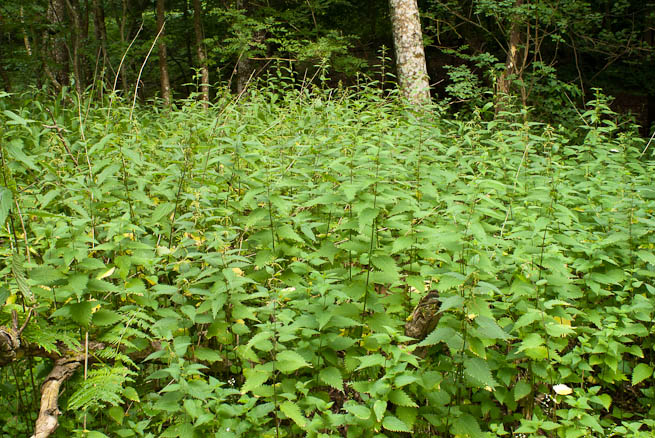 This is the only plant of the five in this article that we are not interested in for an underground storage organ. Nettles are high in protein for a green plant. Dried, the leaves can be up to 25% protein by weight. Nettles also contain a whole host of other nutrients, including iron. They are easy to collect, easy to prepare, filling and highly nutritious.
It is the fine hypodermic-like hairs on the plant's leaves and stem that allow histamine and formic acid to be injected into your skin and cause irritation. All it takes is a small time boiling or exposed to flame to wilt the hairs and disable the stings.
To render the leaves edible, then, all you need to do is add them to boiling water for a minute or two, longer if you wish although they eventually turn to a green sludge. The taste of the leaves is somewhat like spinach although the texture is rougher. You can also add the leaves to soups and stews. The best leaves are the tender young shoots in spring which supply a welcome dose of greens at this time of year.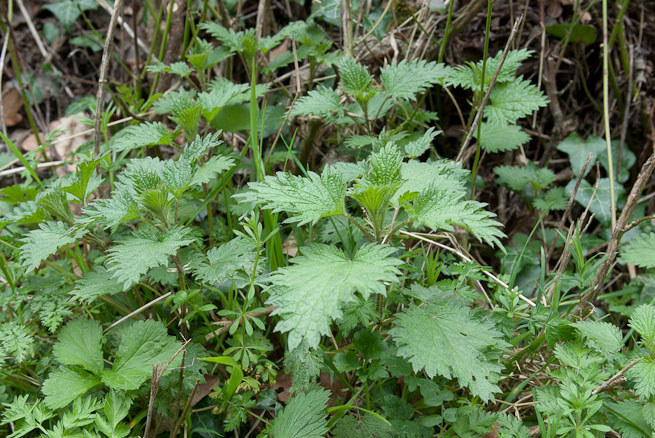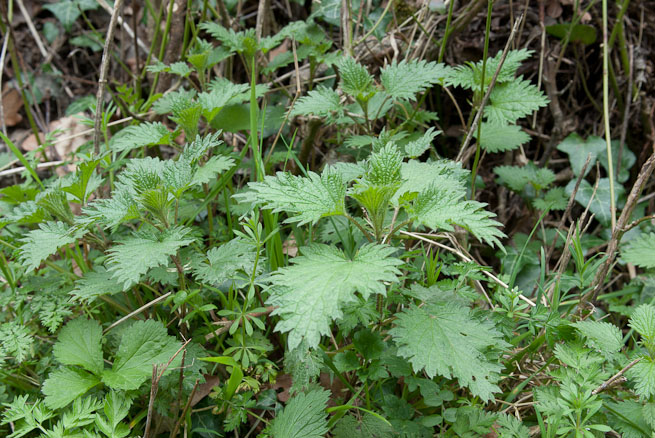 Later in the year, when plants are more mature, take the top four or six leaves. If you boil the leaves on their own, the water makes a good tea, which contains iron and other nutrients from the nettles. Beware as plants become older – particularly after they flower – they become gritty, containing particles that can cause urinary tract irritation.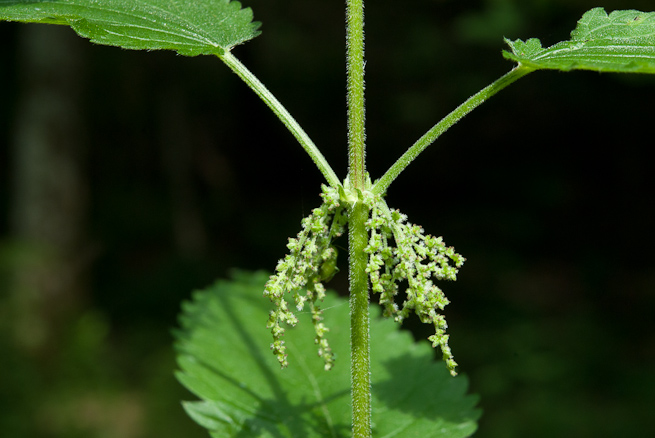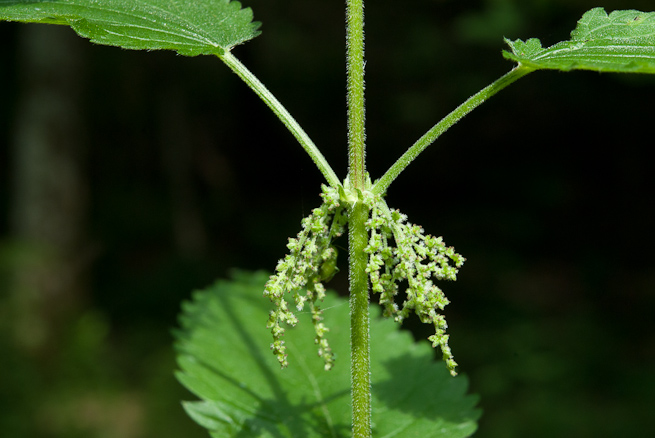 If you don't have a cooking pot, you can simply wilt the nettles over a fire. Take plants that have stems long enough to hold them over the fire without burning yourself. Wilt the leaves over the fire then pick them off the stem. I find they are most tasty when a little crispy. The flavour is quite different to when the leaves are boiled. Even if you do have a cooking pot, nettles wilted like this can make a nice change from boiled leaves.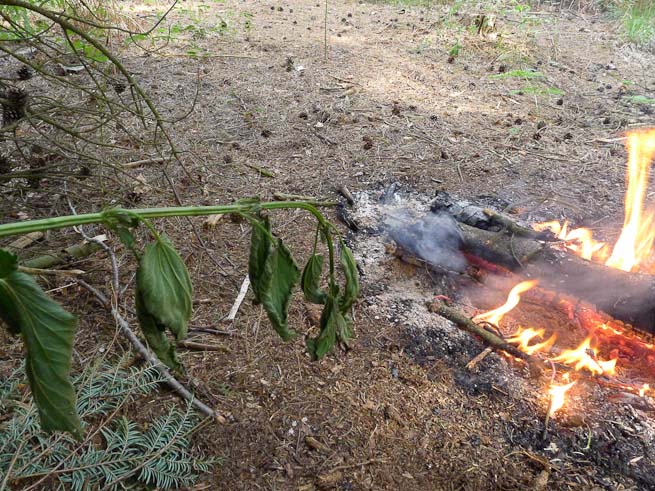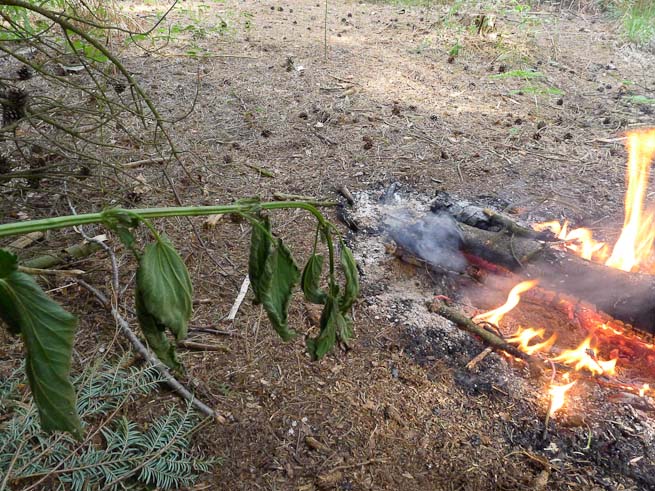 Five Plants To Get To Know
The five plants in this article are easily identifiable, widely distributed, relatively common, easily processed, between them represent available food year-round and provide a very favourable return on energy invested.
From a survival perspective, they should be at the top of your list of plants to learn.
But before you put this article down and head out to forage, please make sure you follow local laws. In the UK, unlike picking leaves from a plant, under the Wildlife and Countryside Act, 1981 uprooting a plant is illegal without landowner's permission, even if you are collecting for personal consumption. This means for four of the five plants above you need to have landowner's permission if you are to practice your foraging skills.
I would also recommend anyone involved or interested in collecting wild foods in the UK to read and understand the BSBI's Code of Conduct for the Conservation and Enjoyment of Wild Plants which gives a good overview not only of the relevant legislation but also ethical considerations.
Please note: This article is not a complete treatment of all edible plants. Nor is it a complete treatment of all poisonous plants. If you want to learn more about plant identification you should invest in some good field guides. The safest way to learn about wild edibles is for someone who already has the knowledge to show you in person. Any foraging you do on your own is at your own risk.
The most important thing to remember when identifying wild foods is:
IF IN DOUBT, LEAVE IT OUT!
Recommended Field Guides:
Improve Your Tree and Plant Identification Skills
Would you like to improve your ability to identify useful trees and plants? I offer an online tree and plant identification course, which flows through the seasons. Find out more about the next available course by clicking the following link: Paul Kirtley's Tree and Plant Identification Masterclass
Related Articles on Paul Kirtley's Blog:
Conopodium majus: Pignuts and How to Forage for them
Foraging For Spring Greens: Some To Eat, Some To Avoid