PK Podcast 011: Andy Chadderton On Life As A Professional Deer Stalker
PK Podcast 011: Andy Chadderton On Life As A Professional Deer Stalker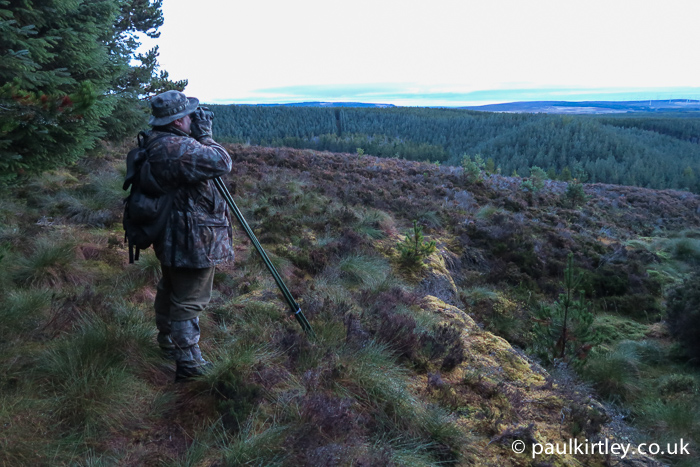 Andy Chadderton is a professional deer stalker and firearms instructor, based in Scotland, where he lives in a low key and relatively self sufficient manner.
Andy started shooting when he was a boy and has been a pistol and rifle instructor for decades. He's also a qualified range conducting officer. Andy loves to help people shoot to their best ability.
As a deer stalker, Andy holds the Deer Stalking Certificate Level 1 and Level 2, as well as being an approved witness for others wishing to undertake assessment for DSC Level 2. Along with his colleagues, Andy also regularly teaches DSC Level 1 courses.
He is part of the small but highly experienced team at the Stalking School, which is located in the North East of Scotland.
I've known Andy for a number of years and we have always got along very well together. I like to visit Andy at least once per year, normally in October, after the River Spey canoe trips I do with clients.
So, it was that I was staying with Andy for a number of days and, during that time we sat down to record this podcast.
I was keen for him to explain what his work entailed, particularly for the benefit of a wider audience who aren't so familiar with deer stalking, deer management or shooting in the UK.
Our conversation forms Episode 11 of the Paul Kirtley Podcast…
How To Listen To This Podcast
You can listen to this podcast here on my website by using the player above. Just press the play button on the right of the player.
You can download the podcast episode .mp3 file by right-clicking on the download icon just to the left of the play button to save the .mp3 file down to your local machine/device.
You can also subscribe on iTunes and on Stitcher or via my podcast-only RSS feed.
TRANSCRIPT
Click here to read or download the transcript of Paul Kirtley Podcast episode 011.
Links
Sako
Swarovski Optik
Moray Outfitting
Thanks For Listening!
Thanks for joining me on this podcast. If you have any comments about this episode, please leave them in the comments section below.
If you enjoyed this episode, please share it using the social media buttons at the top of this page. Thanks!
And Finally… May I Ask A Favour?
If you haven't done already, please, please leave an honest review & rating on iTunes or on Stitcher.
Ratings and reviews are extremely helpful and greatly appreciated! They do matter in the rankings of this podcast, they help get this content in front of other people who would benefit from what it contains. AND I read each and every one of them.
Related Material On Paul Kirtley's Blog
Bushcraft Take-Aways From The Manitoba Museum
Favourite Films: Cree Hunters Of Mistassini
The Difference Between Foraging and Living Off The Land: Bushcraft Show 2013 Presentation