How To Make Garlic Pan Bread On A Campfire
How To Make Garlic Pan Bread On A Campfire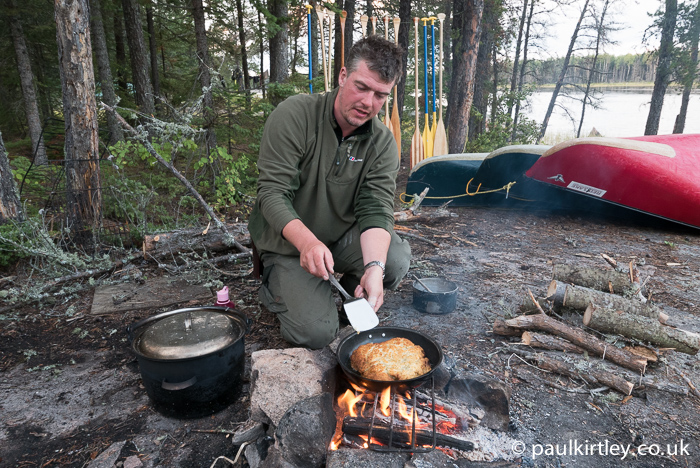 How to make garlic pan bread on a campfire was something I needed to find the answer to. Or, at least, I wanted to work out how to make a good garlic pan bread on the campfire.
I was working from first principles and had only basic ingredients available.
When we undertook a journey on the Bloodvein river in 2014, we had a number of pre-packed fry pan bread mixes from Cache Lake amongst the food packed for the 14-day journey.
In 2015, we returned to Canada for another journey on this wonderful river system. We were disappointed to discover, however, that the Cache Lake fry pan breads were no longer available from the outfitter. Something to do with import or food regulations he told us.
The previous year, these pan breads had become a firm favourite and part of our daily routine. We'd set up camp, get a fire going, get the kettle on and, while the kettle was boiling, make up a mix of pan bread. This would then be cooked off and we'd have a piece of tasty, somewhat greasy, pan bread with our pint mugs of tea before cooking dinner proper.
At the end of a day's paddling, this combo of bread and tea was a good way to perk ourselves up. It started the process of getting fluid, carbs and fat back into our bodies. It became part of our daily routine. On the days when we were particularly weary – after a long distance or working into a headwind for most of the day – the pep up our brew and bread provided was significant.
With renewed energy, we could then get on with sourcing and splitting more firewood, preparing ingredients and cooking dinner, discussing the plans for the next day, and so on.
So, with the absence of the pan bread mixes but plenty of flour, baking powder and a variety of herbs and spices in our wanigan, I set about making an equivalent to our favourite from scratch.
After a few goes, not all of which proved as successful as I would have hoped, I arrived at a formula for making a garlic pan bread that worked. And it worked consistently. Some might even call it a recipe.
This quickly became a favourite and the speed of production decreased dramatically. We most often had it as a snack, not long after arriving at our camp but sometimes it was saved to accompany our main evening meal.
Below is my recipe for garlic pan bread over a campfire. The photos were taken one evening during the 2015 Bloodvein river trip.
Making A Garlic Pan Bread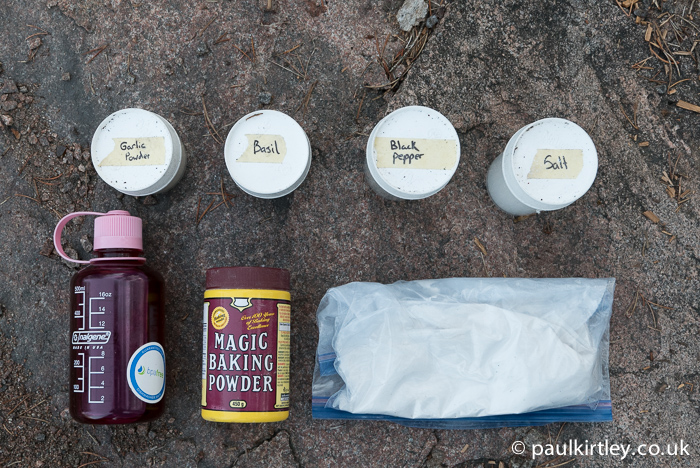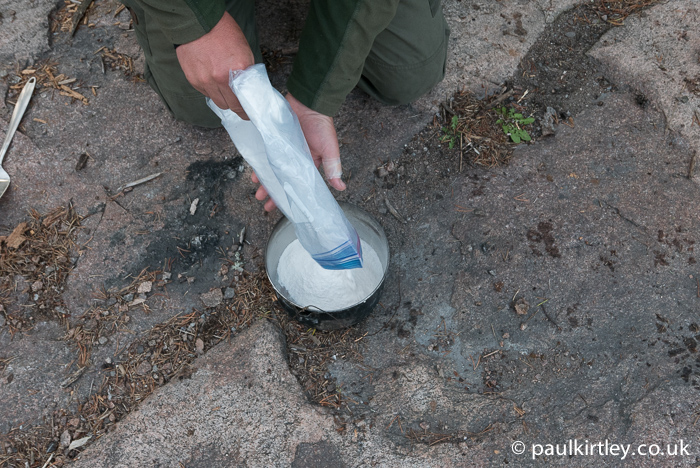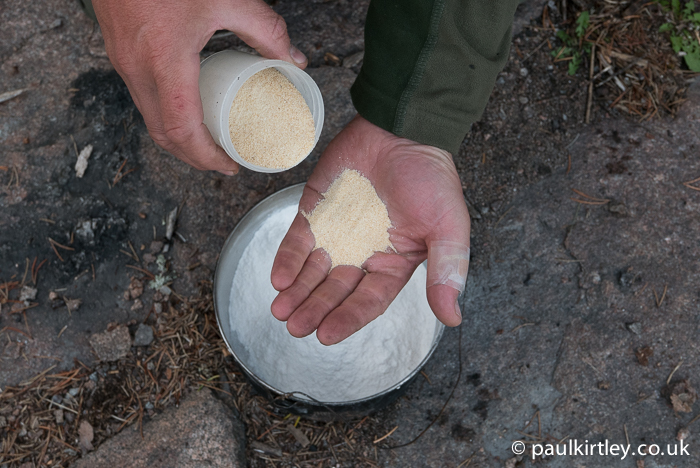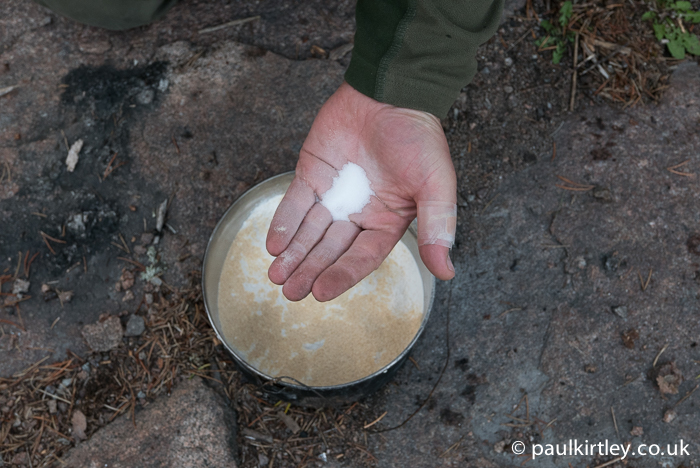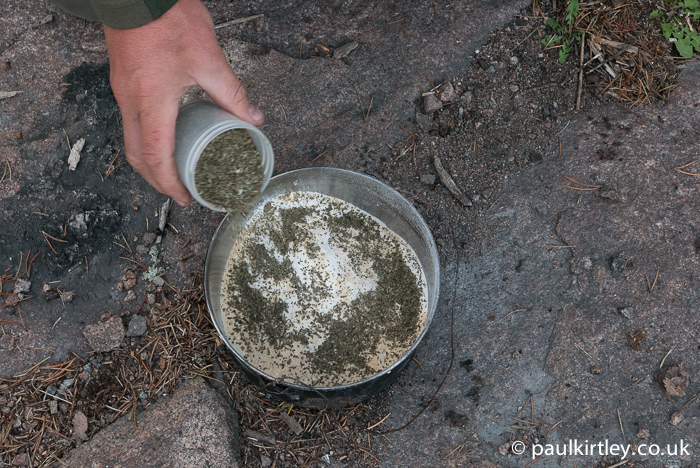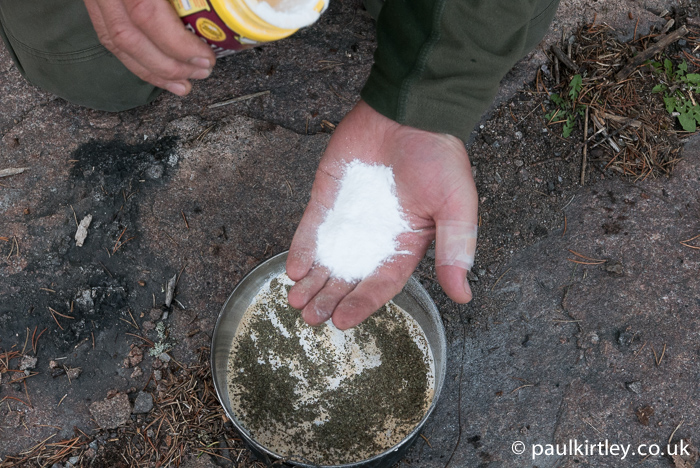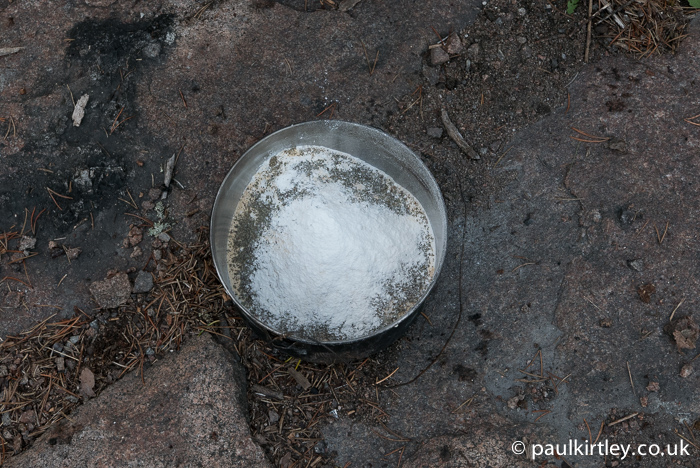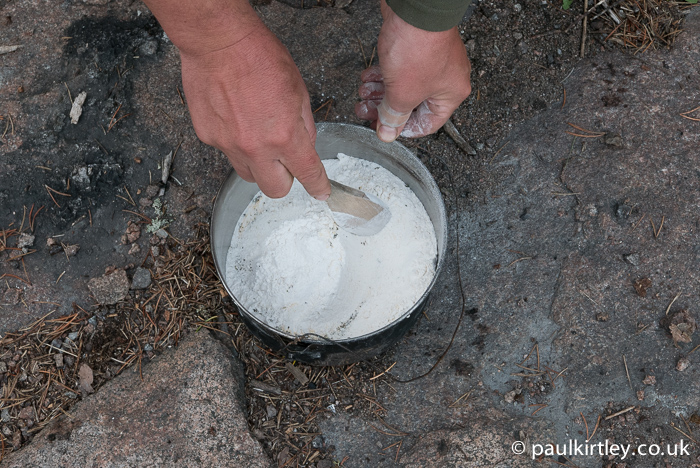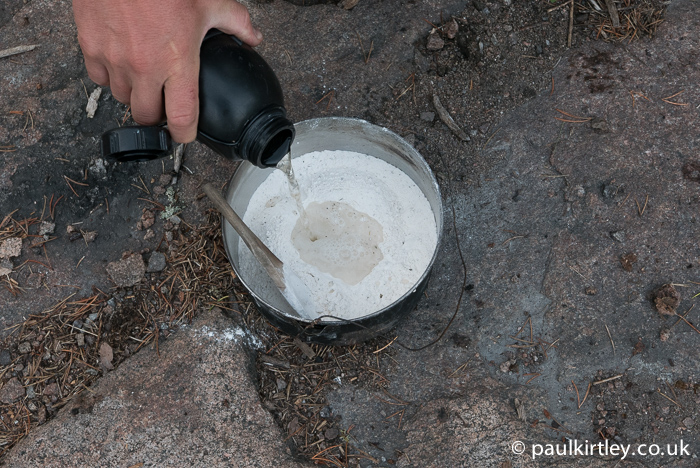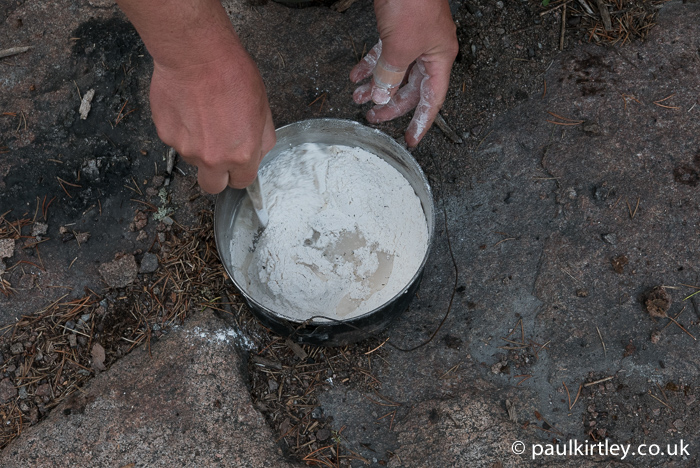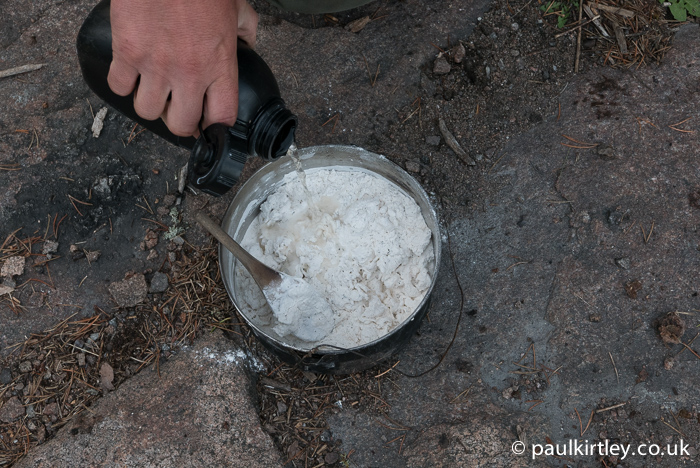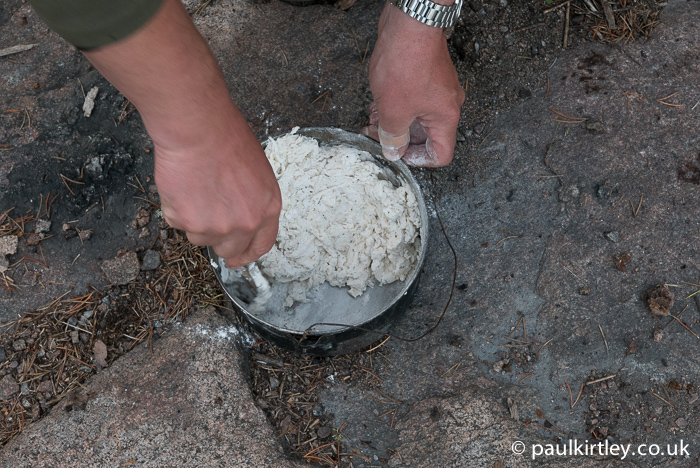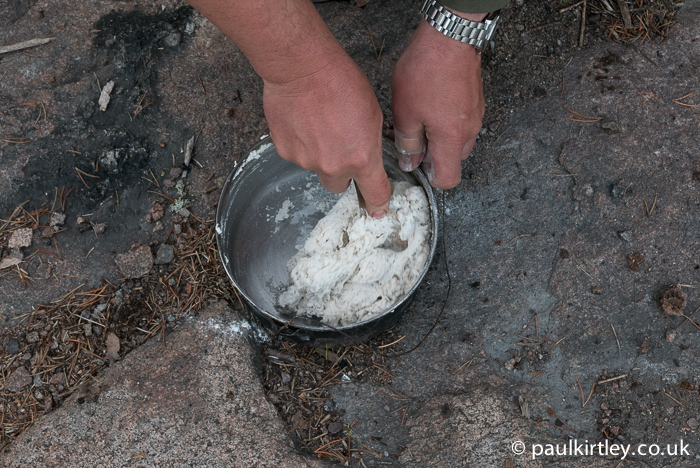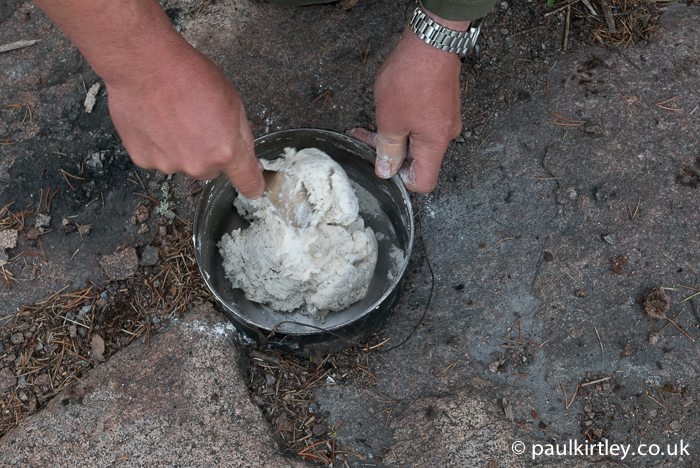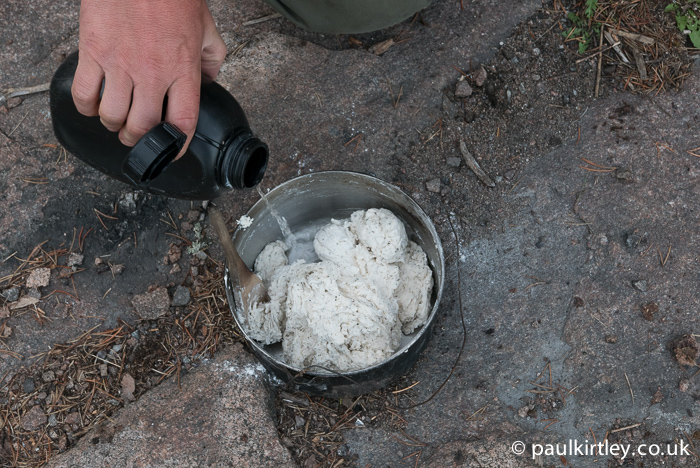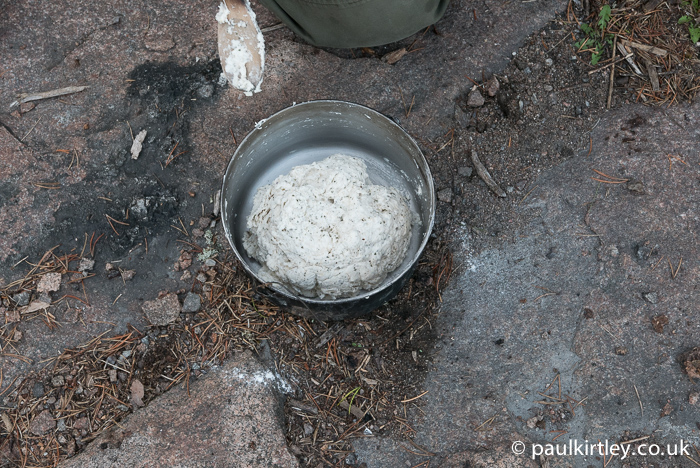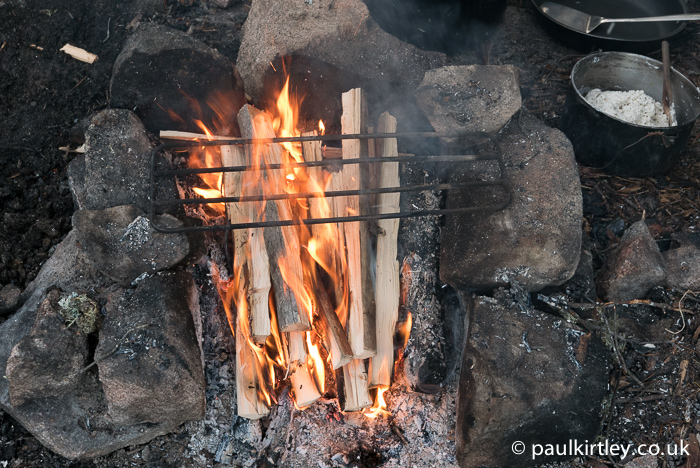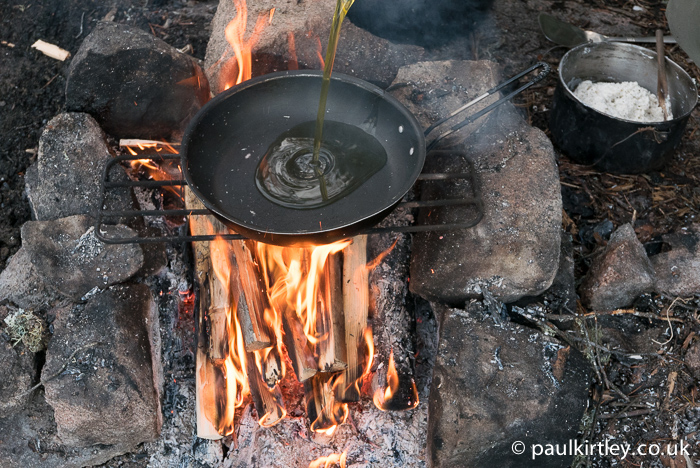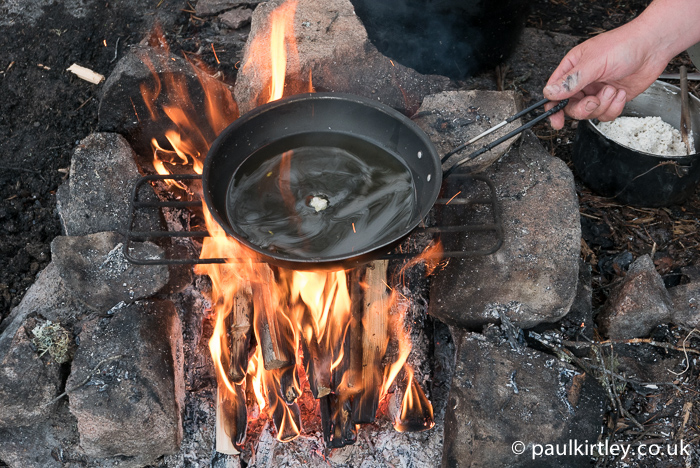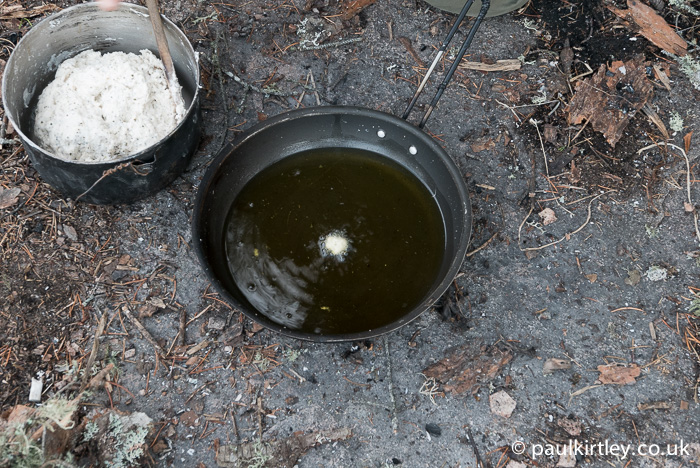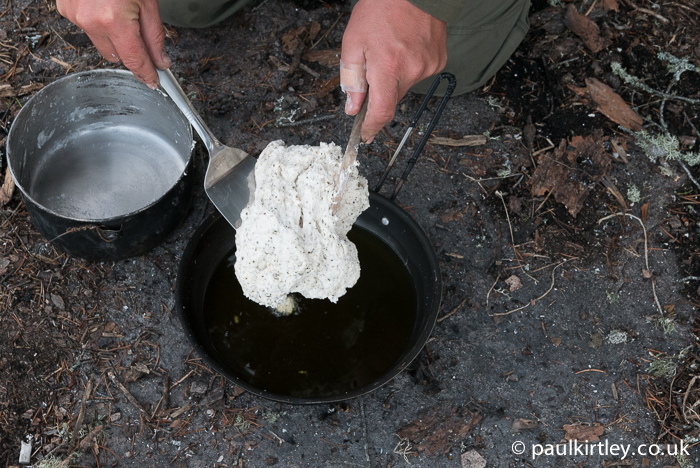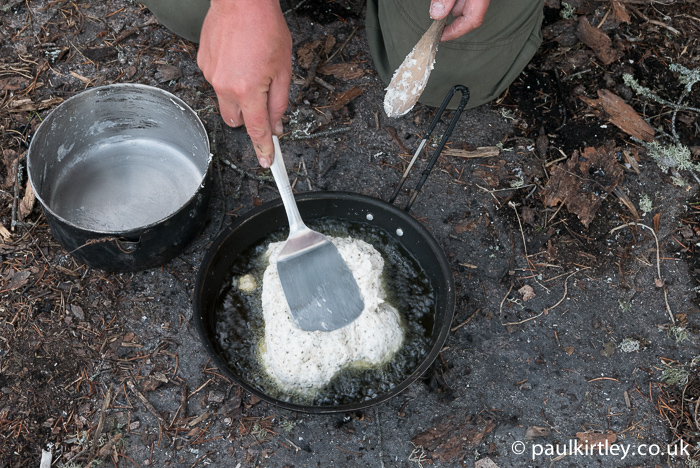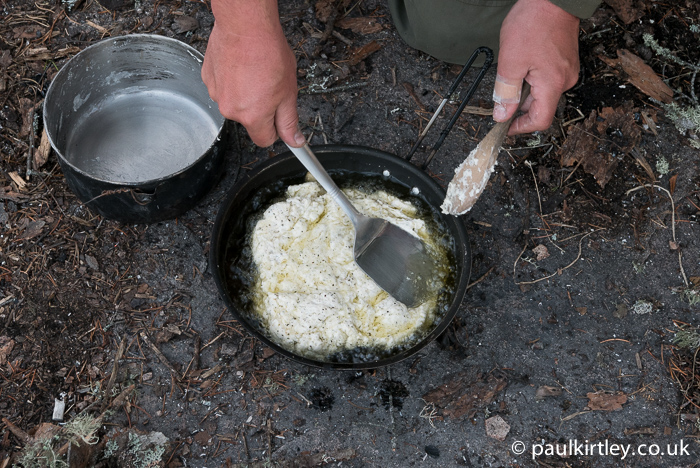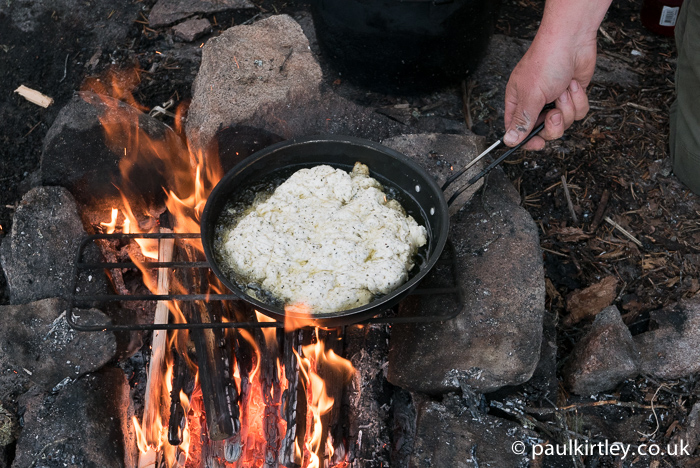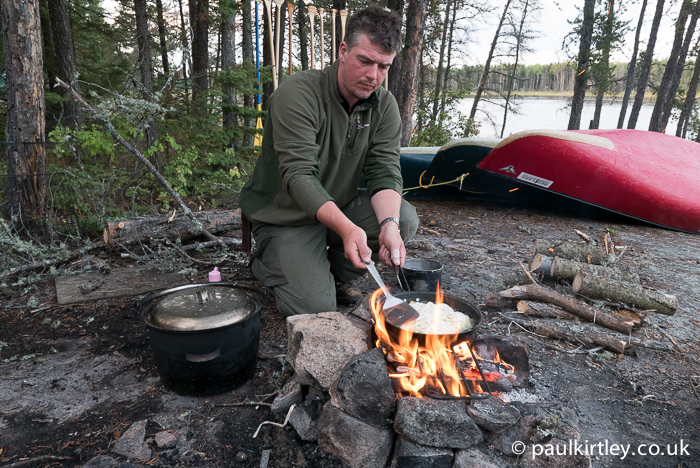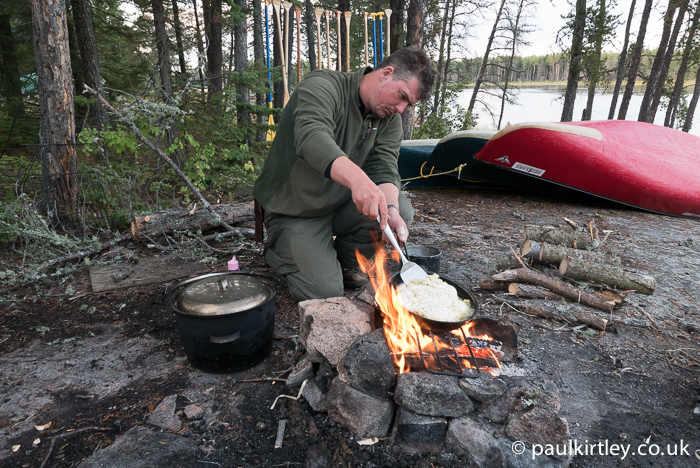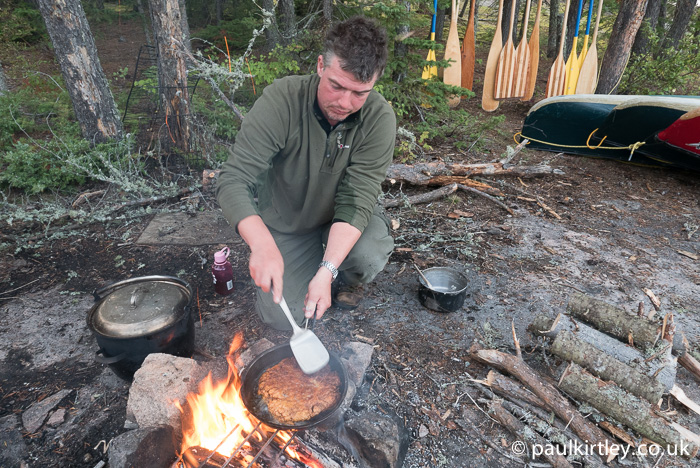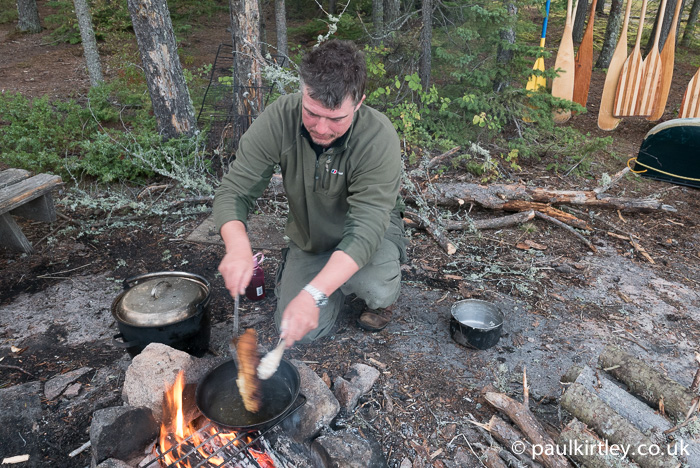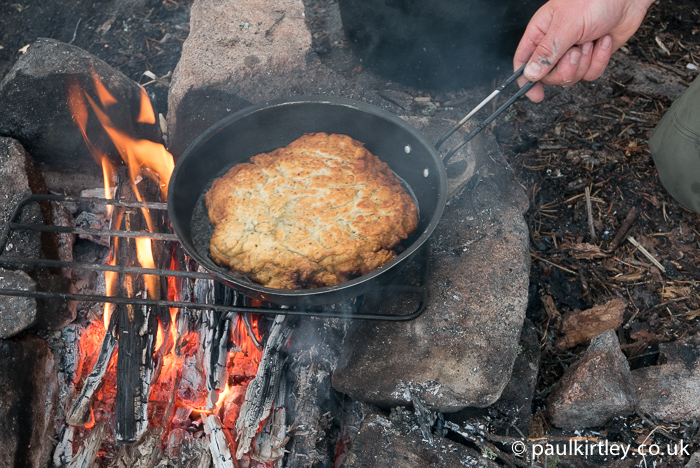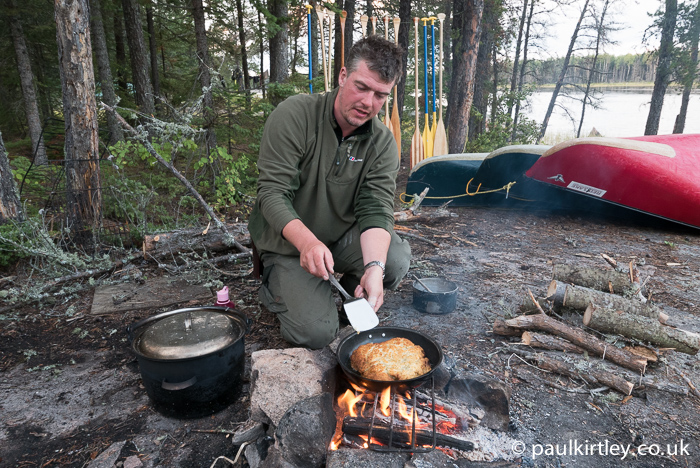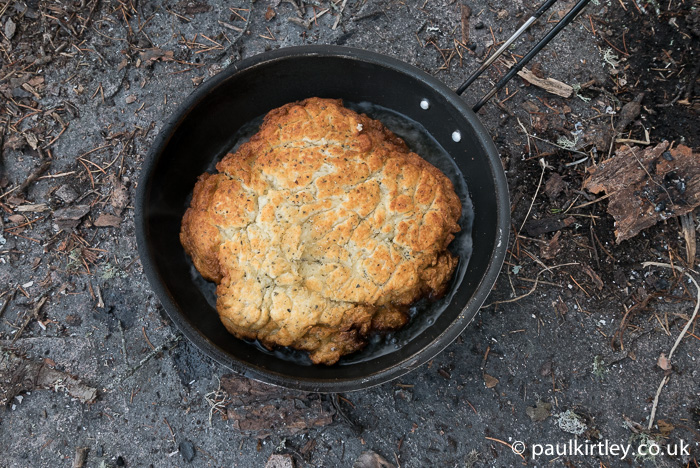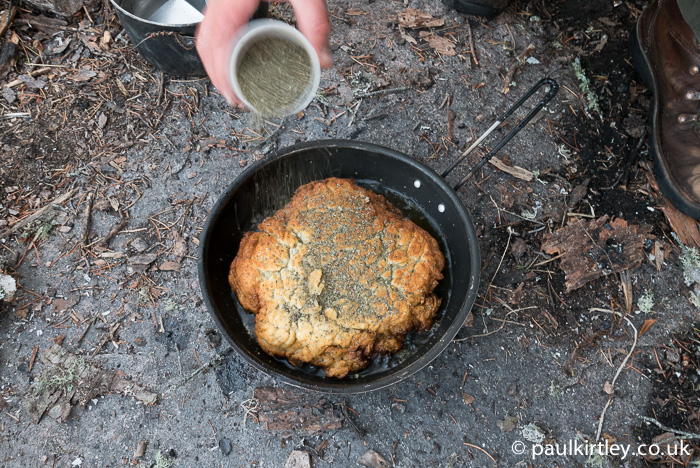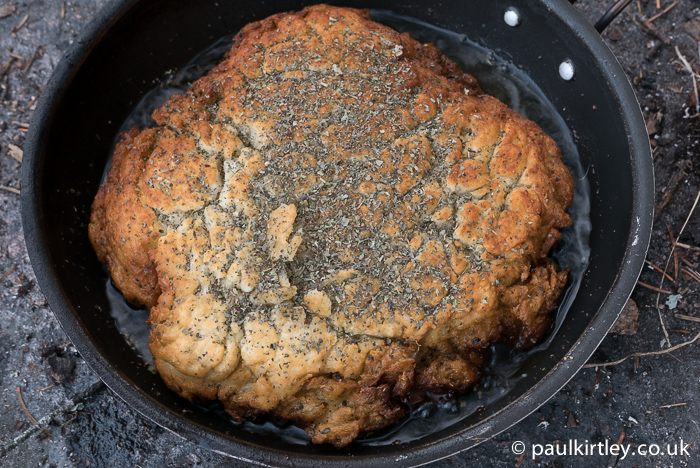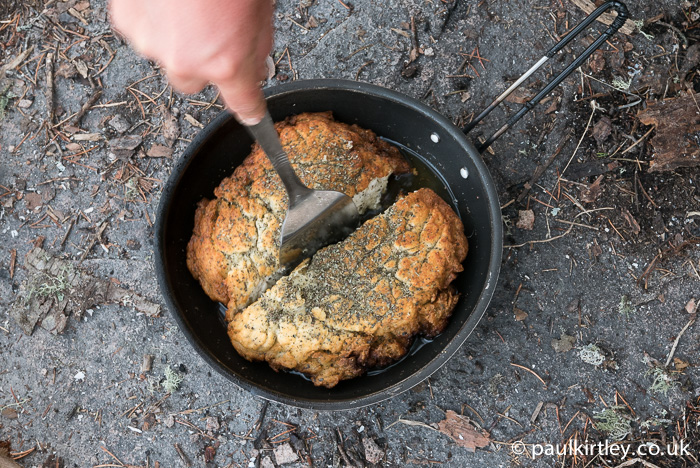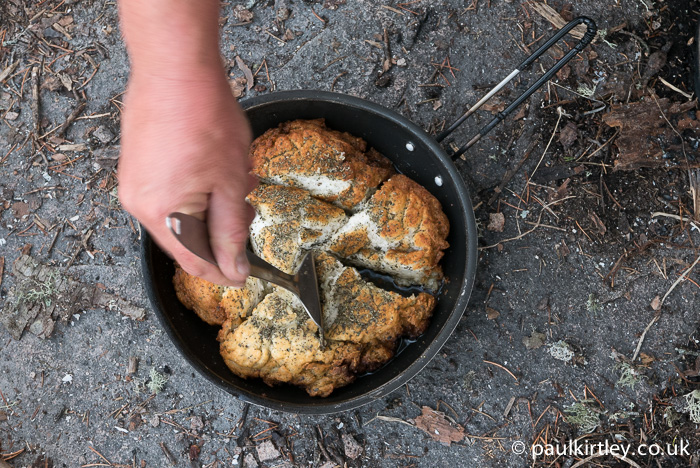 Pan Breads – Quick, Easy and Tasty
Pan breads of this type are quick and easy to make, adding a great element to your camping menus. The are delicious, punching above their weight in terms of flavour. They are also both filling and calorific, providing not just carbohydrates but also fats, as well as replacing salt.
The garlic pan bread proved a firm favourite on our canoe journey. I'll definitely be making them again on future trips.
Let me and other readers know about your most memorable improvised culinary creation while on a trip in the comments below…
Related Material On Paul Kirtley's Blog:
Medicinal Use Of Balsam Fir For Cuts, Grazes & Sores
Six Men, Three Boats and The Bloodvein: Canoeing A Wilderness River