Medicinal Use Of Balsam Fir For Cuts, Grazes & Sores
Medicinal Use Of Balsam Fir For Cuts, Grazes & Sores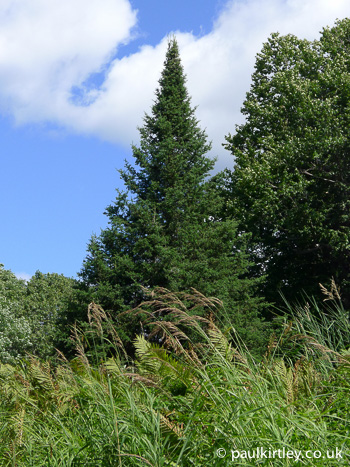 On a Bloodvein River canoe trip, Amanda and I capsized our canoe on a little rock shelf drop-off.
The bow of the boat went a little too far left, into slower water, turning the boat. Consequently we ended somewhat side-on to the flow in a small recirculation. This was enough to turn the boat over and we swam.
I kept hold of my paddle, as any good paddler does. In maintaining the fist of my left hand around the shaft of the paddle, though, at some stage in coming out of the boat or getting to shore, I took a chunk out of the top of my thumb knuckle.
It was not issue at the time. A little blood but nothing serious. I didn't even put a plaster on it. It quickly stopped bleeding.
It was right on the crease of my knuckle, however, so over the following days, it refused to stay closed. Whether I held the paddle on my left or right, my grip on the paddle meant that I had to bend my thumb. So, the little scab cracked several times per day.
The scab got bigger and then I started catching or knocking it on things, particularly while packing or unpacking canoe packs.
In the interests of keeping it protected as well as hygiene, I put a plaster and Transpore tape on it.
This stopped me knocking it and kept out dirt but the more moist atmosphere under the tape also softened up the scab, which to an extent stopped it cracking but didn't seem to help it heal.
What was initially slightly more than a minor graze was turning into an significant irritation.
It bothered me that the area of soreness was actually increasing. On inspection, the area around the scab was somewhat swollen and inflamed.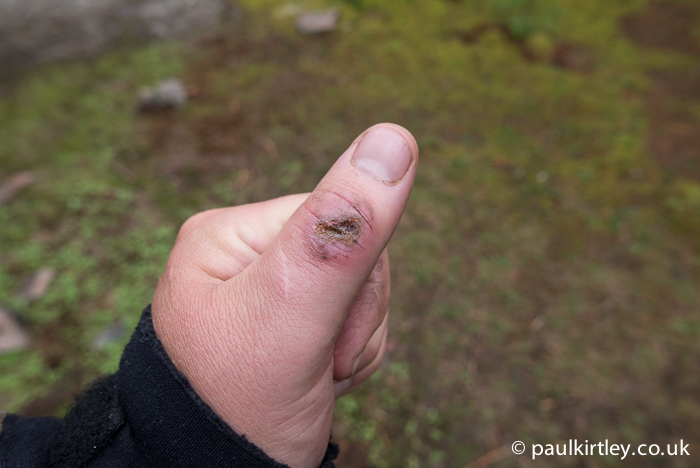 I was concerned it was possibly infected.
It was at this stage, at a camp which had a number of balsam firs on the edge of a clearing, that I thought to employ a traditional treatment.
Balsam Fir, A Traditional Medicinal Treatment
Balsam fir, Abies balsamea, is a species native to eastern North America. It occurs from Labrador westwards to Alberta and south as far as West Virginia. It has also been cultivated in Europe.
Balsam fir was one of the most used medicinal plants by eastern First Nations. In particular, the Penobscot used the resin as an antiseptic for burns, sores and wounds.
The sap has both antiseptic and analgesic properties.
Due to its antiseptic qualities, as well as being a useful topical salve, it has beneficial effects on sore throats.
In fact the consistency of the sap is a little bit like the inside of a cough sweet such as Lockets.
A tea of the green needles was also widely used for colds and coughs.
In addition to the medicinal use of balsam fir for cuts, grazes and sores, there were many other traditional medicinal applications of this tree, both in isolation and combined with other ingredients.
Additionally, there was an important modern scientific use of the resin to produce Canada balsam, a turpentine made from the resin and used in the preparation of microscope slides.
Collecting The Resin Of Balsam Fir, Abies Balsamea
Resin can be easily harvested in small quantities from blisters on the main trunk of small to medium sized trees.
On piercing a blister the sap is quite free flowing. You don't typically need to squeeze the blister.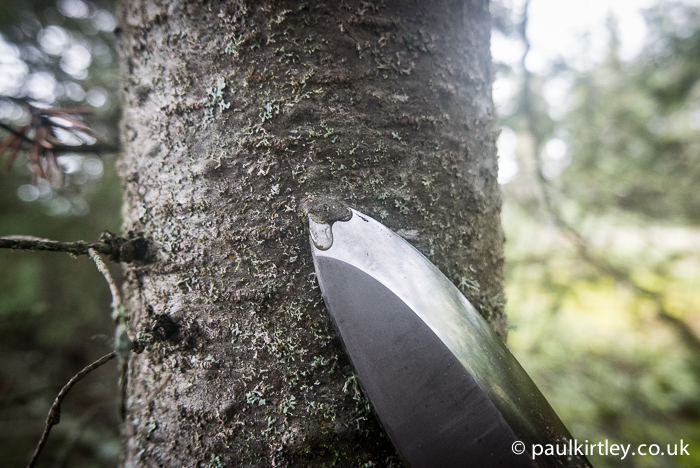 The sap is of a consistency that means it will flow downwards under the effect of gravity. It's quite a light sap, quite liquid and free-flowing.
It's this I used on my sore thumb. And it worked a treat. Not only did it help the soreness, it stopped the skin/scab from cracking any further.
It did seem to promote healing directly too.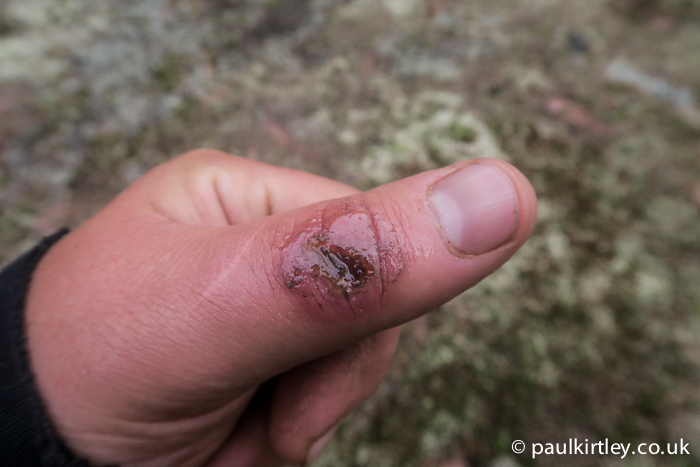 I applied balsam fir sap for a number of days and this was enough to get my thumb well under way to healing properly, all the while still on the trip. This was after it becoming gradually worse over the course of 4 or 5 days.
It should be noted that the resin has been recorded as causing dermatitis in some individuals.
Identifying Balsam Fir, Abies Balsamea
The tree is quite conical and spire-shaped (see the photo at the top of this article).
It is a fir, Abies, and so shares some of the common features of this genus.
Needles emanate individually and are attached to twigs with what look like little green suction cups as opposed to a woody peg (spruces) or in a fascicle (pines).
The top of the needles are glossy and green and each has a clear groove, while the undersides of the needles have two clear whitish bands of stomata.
And of course, the bark is silvery grey with numerous obvious resin blisters.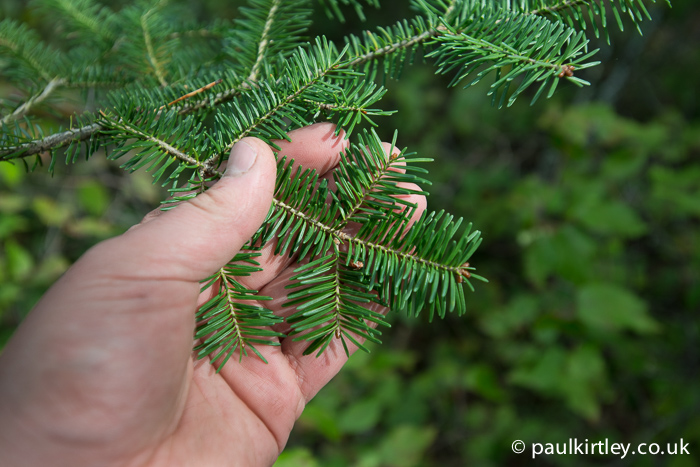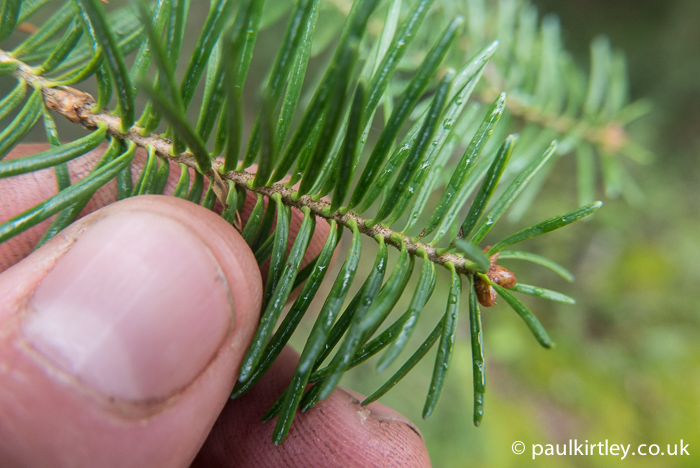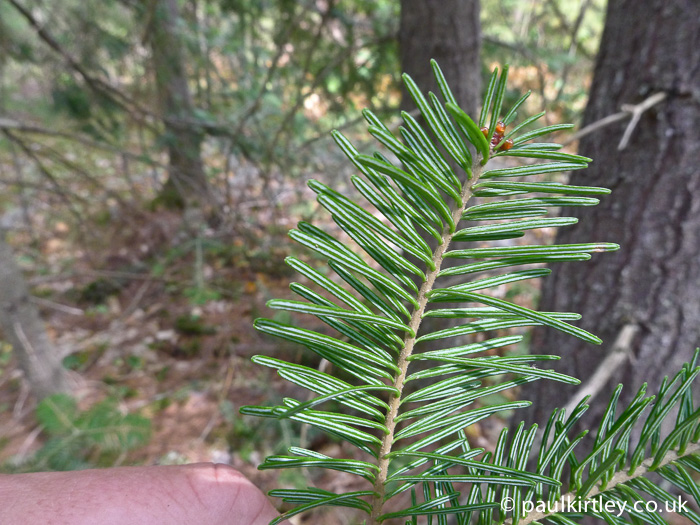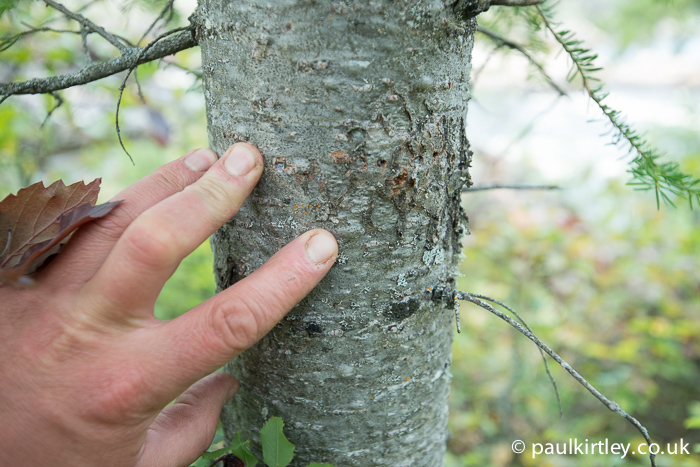 I'd always liked this fragrant, conical epitome of the Christmas tree. Unlike the spiky spruces and scraggy Jack Pines it rubs shoulders with, it has class and refinement. It's also a veritable traditional medicine cabinet. What pleased me even more on this trip was that balsam fir sap proved to be the most effective treatment I had access to. I now appreciate this tree even more.
Related Material On Paul Kirtley's Blog:
A Personal Wilderness First Aid Kit: What To Include
Six Men, Three Boats and The Bloodvein: Canoeing A Wilderness River
Integrating Bushcraft With Modern Outdoor Life: Bushcraft Show 2014 Presentation