Why I Stopped Using Petzl Headlamps
Why I Stopped Using Petzl Headlamps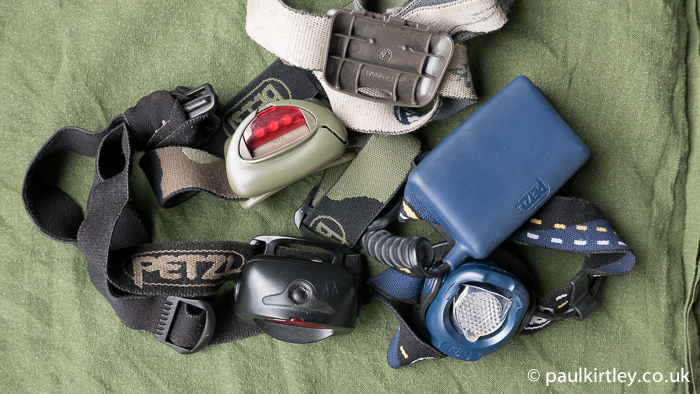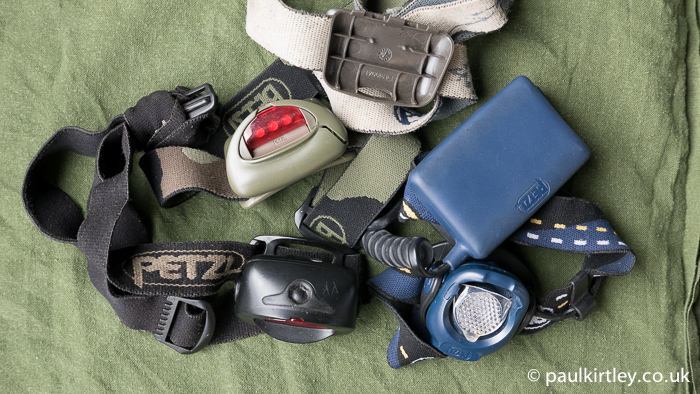 The quick answer is that I started using a Surefire Minimus. The longer answer is why.
I'm Careful With My Gear
Generally, I look after my belongings, outdoor kit or otherwise. My critics might say not to be so precious, "it's only stuff".
But I've always been careful to look after things. Fundamentally, I hate breaking things.
I hate waste.
I like material possessions to last as long as possible.
It is less about frugality and more about reliability. This is particularly the case when it comes to outdoor equipment.
My Expectations Of Outdoor Equipment
I have moderately high expectations of outdoor equipment. I expect that it will be reliable under regular and continuous use, under various conditions over the course of various seasons, for at least a year.
Let's face it, there is a lot of cheap rubbish out there.
Most people who enjoy outdoor life are limited by their holidays/vacations as to how many weeks or even days per year they spend pursuing their outdoor leisure pursuits.
This allows some outdoor equipment manufacturers to sell equipment that doesn't last very long.
For the average outdoor user, it takes a while to wear out gear, because infrequent use is spread out over an extended period.
I Was A Faithful Petzl Headlamp User
My first decent quality outdoors lamp was a Mini Maglite. This was great for the time (1991). Solidly built, reliable.
The warm glow of its single bulb was comfortingly homely but it wasn't very bright. I also became a little tired of dribbling spit on myself, and sometime even gagging, while holding it in my mouth to keep both hands free, particularly when packing/unpacking my rucksack, preparing food, operating stoves, etc., in the dark.
A Nite Ize headstrap eventually solved the latter problem but not the former.
The advent of LED headtorches quickly supplanted by liking of the Mini Maglite.
I bought a Petzl Tikka. It was a revelation. Lightweight, comfortable and powerfully bright in comparison to old bulb torches.
The first one I had lasted a reasonable time. I don't recall exactly but it was over a year. It did eventually disintegrate, however. All that remains of it in my box of Petzl bits is the strap and backplate.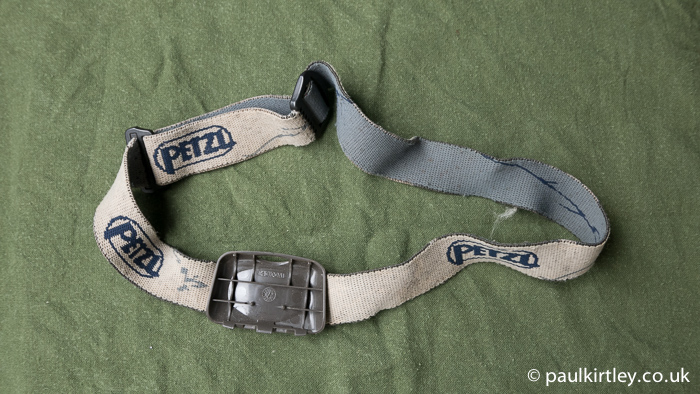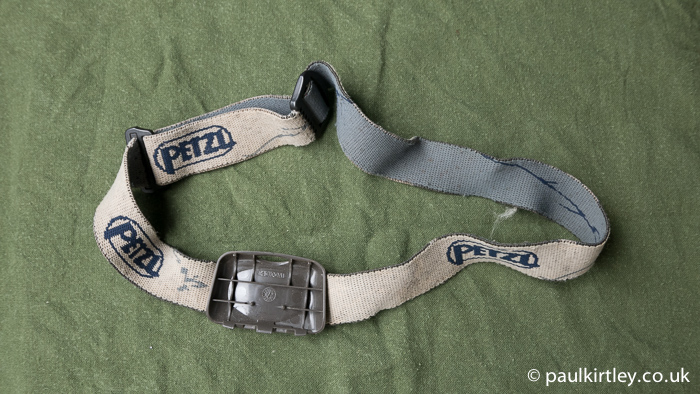 Next I bought a TakTikka. This Petzl headlamp had a hinged red filter "for night use". Great for night navigation, I thought. Apart from the fact that Ordnance Survey maps have contours shown in brown and are very, very hard to see in red light.
But that wasn't the main issue with the TakTikka headlamp. The plastic body cracked due to some mysterious rucksack event. It went into my bag whole. It came out cracked, seemingly due to my having had the lid closed all day (the lamp was in the inside mesh pocket of the rucksack lid – my standard place for stowing my headlamp).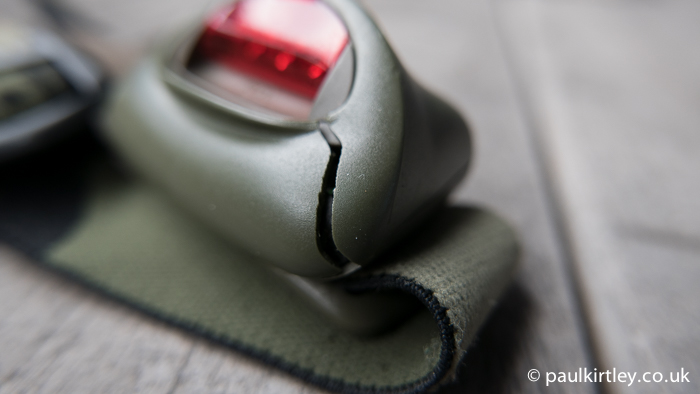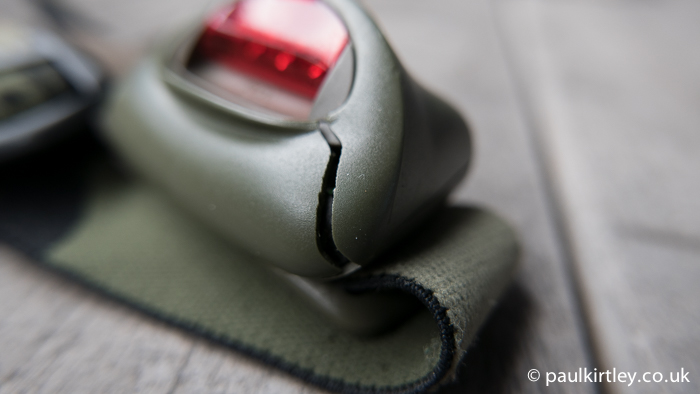 It still works but only if you squeeze the crack closed, which in turn puts enough pressure on the battery contacts.
I blamed myself for carelessness and bought another TakTikka. This time in black.
It had a new, improved rubberised pushbutton switch, which was almost impossible to find, let alone successfully depress whilst wearing gloves.
Despite the shortcomings of the improvements, this lamp lasted a reasonable while – at least a year and a half. Maybe more, actually.
What happened in the end was that I went to put the torch on my head one Winter evening in the woods but the head strap did't grip my cranium.
The elastic had gone.
To be more precise it had gone limp. It had gone sticky. It seemed to be biodegrading before my eyes…
The immediate solution was to tie an overhand knot in the head band so it would sit on my head.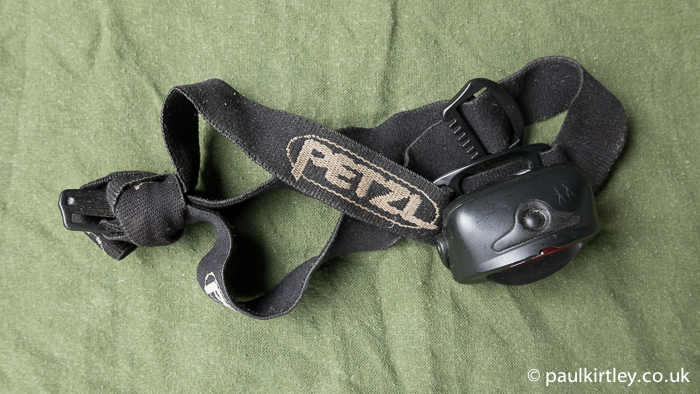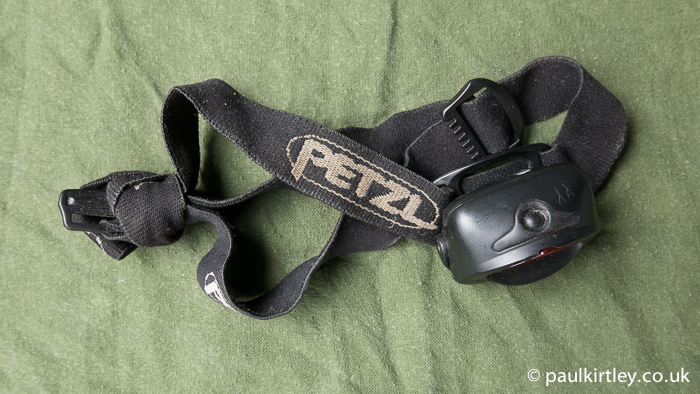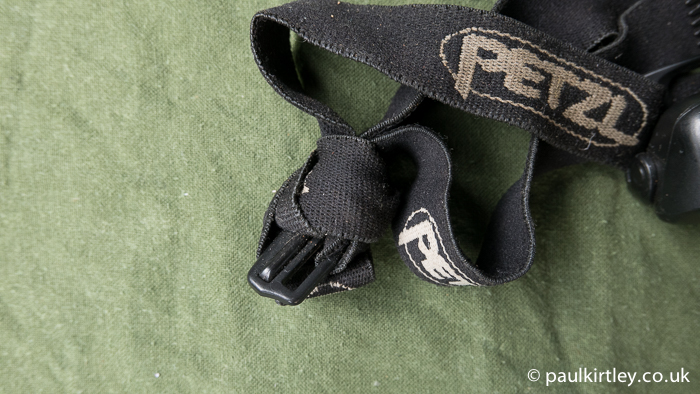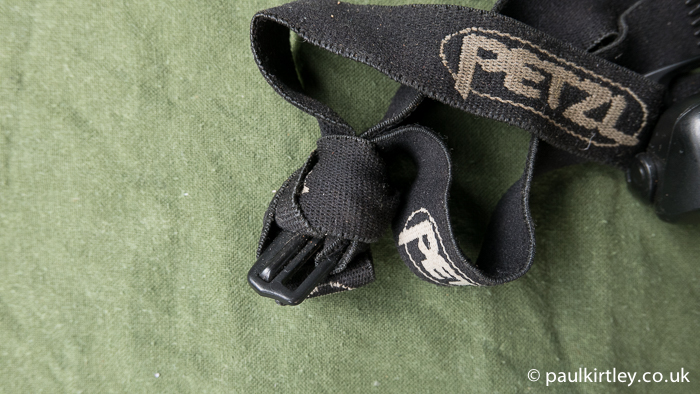 Myo Myopia
The Petzl Tikka headlamps had been bright enough for general use and certainly illuminated the immediate area. Travelling by night was a bit more difficult though as these torches did not cast a strong beam particularly far into the distance
So, I had bought a Petzl Myo XP for serious winter use, where night navigation was more likely and more critical.
This was used for winter walking in the UK as well as in northern Sweden.
It had a bright beam, which was more directional than the Tikkas. If you needed something more diffuse, then there was a diffuser on the front, which could be flipped up. The downside of this was it still used as much battery power as throwing the beam a good distance.
There was, however, the extra power of an external battery pack, which sat on the back of the head strap. This made the lamp feel balanced on the head, rather than heavy.
After using the Myo in the winter, I liked its utility more than the Tikka so, despite the extra weight, I started taking it for more regular use in the UK.
The next winter I was working in Sweden again for a couple of weeks in February, so I took the Myo.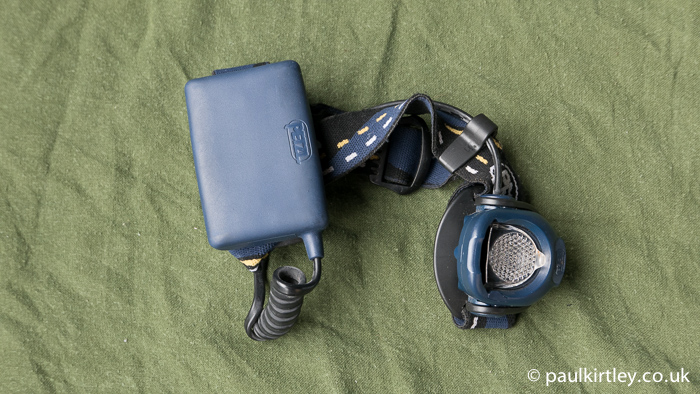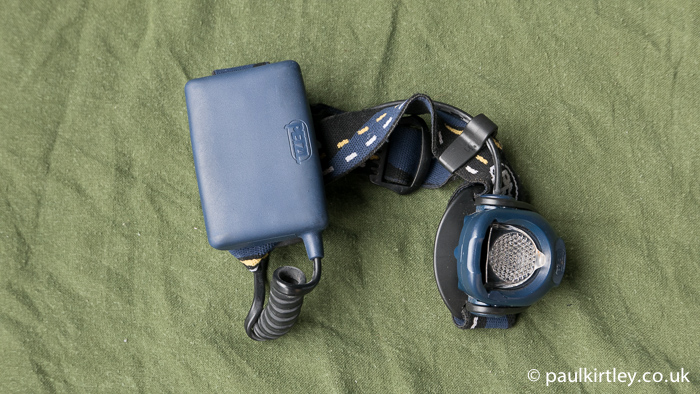 The lamp was fine when I arrived but the next evening I took the lamp out of my pack and I noticed the battery pack was very hot. The lamp would not turn on. It seemed the unit had somehow shorted out the batteries. On putting in fresh batteries, the same happened.
This resulted in me having to borrow cheap LED headlamp made of cheap plastic, with a flimsy bracket (the sort sold on special offer in roadside service stations).
Somewhat ironically, this "crappy" headlamp actually worked flawlessly for the rest of the 2-week trip.
It hadn't been really bright enough though and I had been concerned that I would break the flimsy bracket or housing.
I'd had enough. I thought there must be a more robust, reliable, high performance headlamp solution than the ones I'd been using to date.
Saved By The Saint
The Myo had me sold on the idea of a more powerful LED headlamp with an external battery pack. It's just the Myo failed to live up to the idea. Well, it just failed.
I liked the idea of being able to have increased power over and above what the space constraints of internal batteries allowed.
I liked the balance provided by lamp at the front and battery pack at the back.
I wanted something more robust than the plastic Petzl headlamps though.
My other bugbear with Petzl torches was that all but one of them I had owned specifically stated that lithium batteries should not be used with them. The one exception I had come across was the eLite, which I carried in my first aid pouch.
Lithium batteries have a couple of advantages for wilderness use – they are lighter in weight than alkaline batteries, much longer lasting and they also work better in cold conditions.
So, I was looking for a robust, powerful, headtorch, which could be run on lithium batteries.
I found it in the form of the Surefire Saint.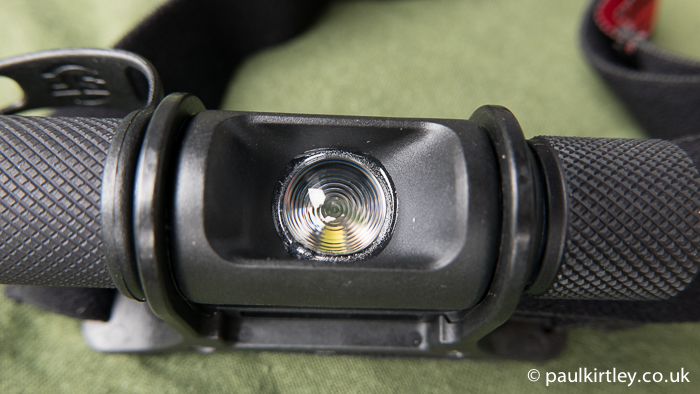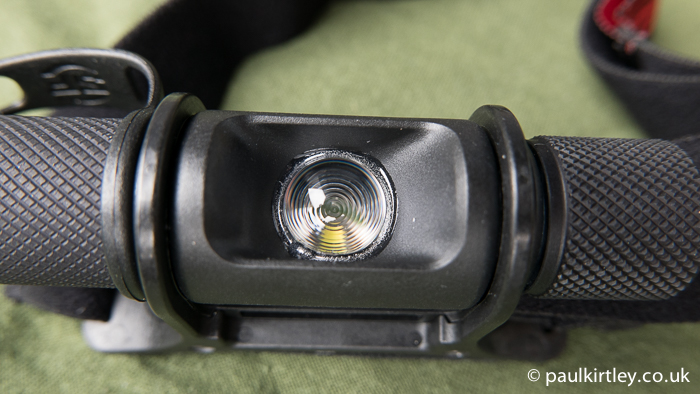 This is a model of head torch with an external battery pack which plugs into what used to be called the Surefire Saint Minimus. This standalone headlamp is now known as the Minimus.
I was a fan of Surefire torches in general, being a user or their E2L and E1L Outdoorsman flashlights.
The standalone Saint unit runs on one CR123 lithium battery. This is a common camera battery and relatively easy to get hold of in developed countries.
I liked the flexibility of this approach. A smaller, lighter minimal unit for when size and weight needed to be optimised with the option of creating a larger unit with external battery pack for darker, colder trips, where more longevity was needed.
Moreover, through some well-thought-out design, the external battery pack takes both CR123 (three of them arranged vertically) or AA batteries (two arranged horizontally). This gives the traveller maximum flexibility in obtaining batteries, AA batteries being one of the most common battery sizes worldwide.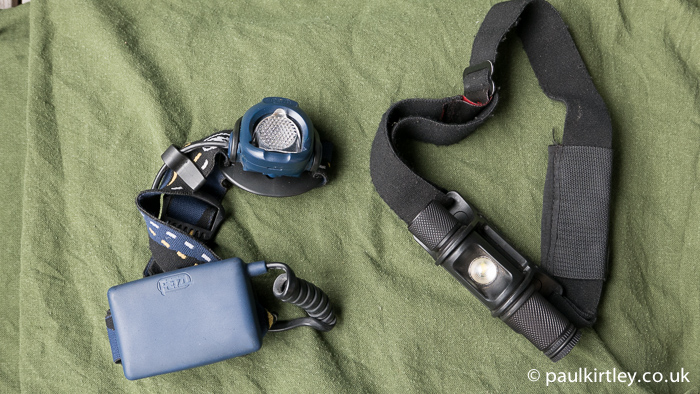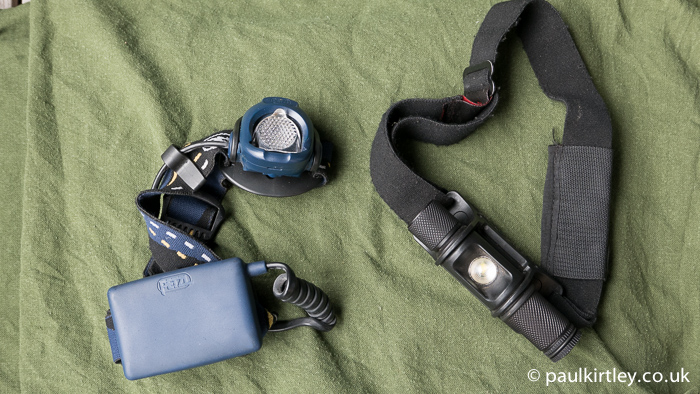 Unfortunately the model with external battery pack is no longer available. But, frankly, I have come to use the stripped down model most of the time anyway.
Other features I like are that is bright. Very bright.
Unlike other torches, however, the brightness is almost infinitely adjustable due to a neat rotating barrel control, which smoothly takes the lamp from a barely on power of 1 lumen through to full 100 lumens.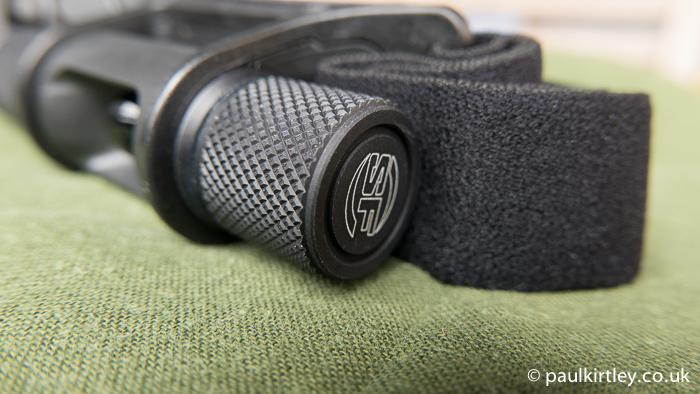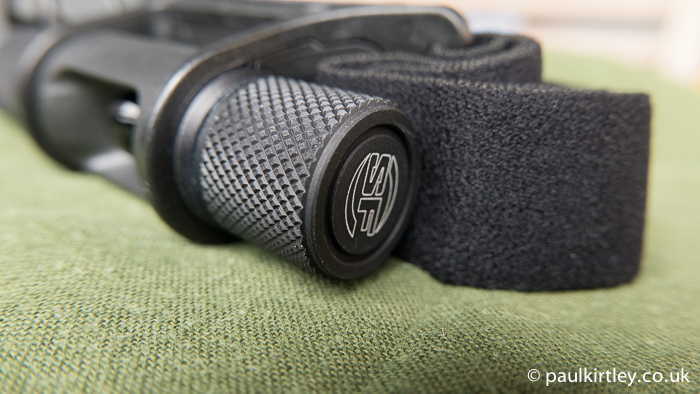 Many other headlamps have only a low/high setting or maybe a low, medium and high setting.
This means with the Saint, I can choose the exact brightness that suits for everything from reading in my sleeping bag at the end of the day through to cooking to working with tools to finding my way through a pitch black woodland with a powerful beam.
This makes efficient use of the battery and is comfortable on the eye.
By contrast, many headlamps are dazzling when used for reading or too diffuse for wayfinding.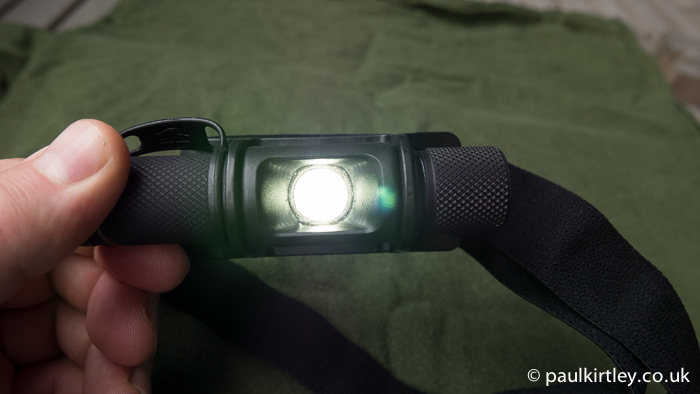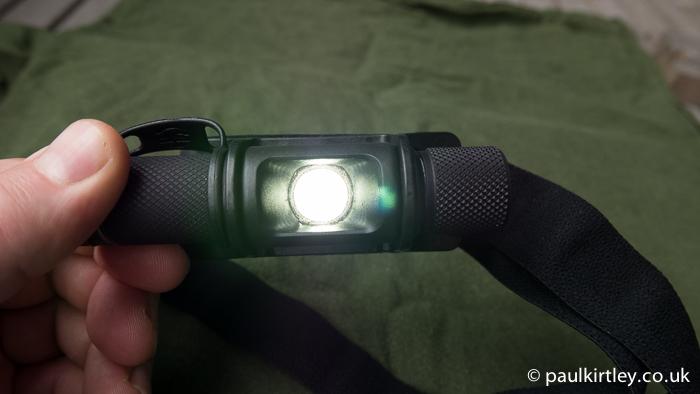 The main barrel of the map rotates in its mount so that you can set the beam at the exact angle that suits you. This arrangement is far superior to any flimsy plastic bracket arrangement.
I love the flexibility of this lamp and have been using it for 5 years with no trouble.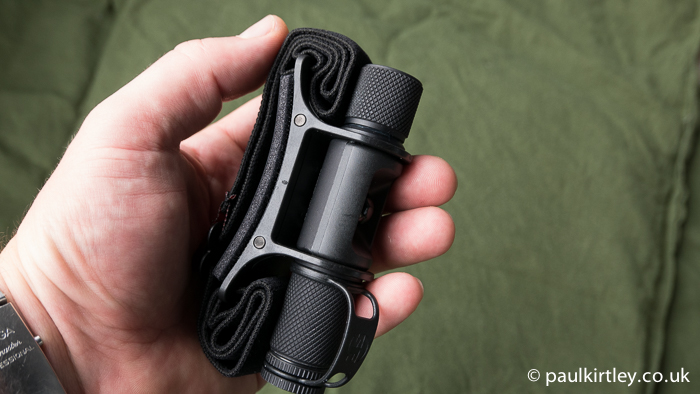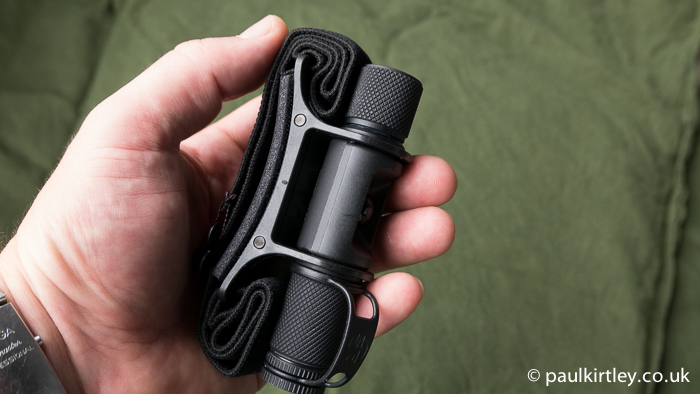 The current model comes with a clip-on red filter and has a setting for a long-running flashing SOS signal.
The Minimus has a tough aluminium body, rubber seals on the battery compartment. Other parts are made of a tough polymer.
Mine has been 100% reliable from hot summer evenings to the depths of winter in the boreal forest. It has been subjected to snow, rain, canoe capsizes (the manufacturer states the lamp is submersible to 3 feet for up to 3 minutes), long hikes in the mountains, weeks in the woods and it is unaffected.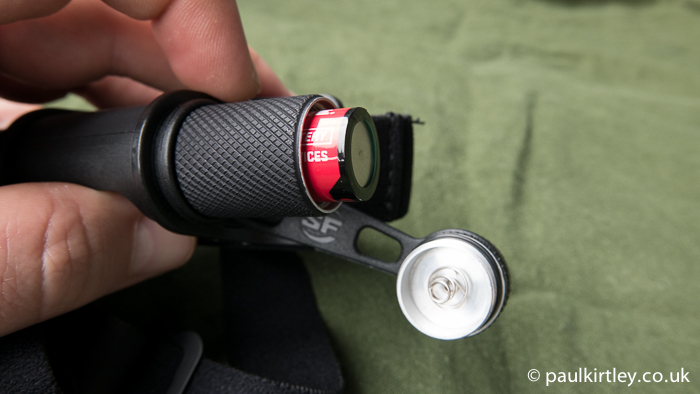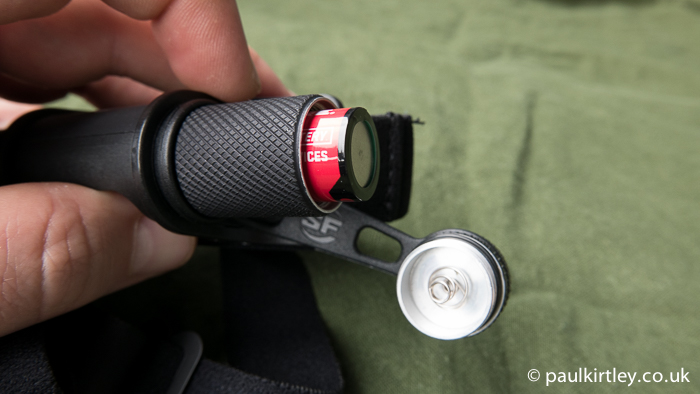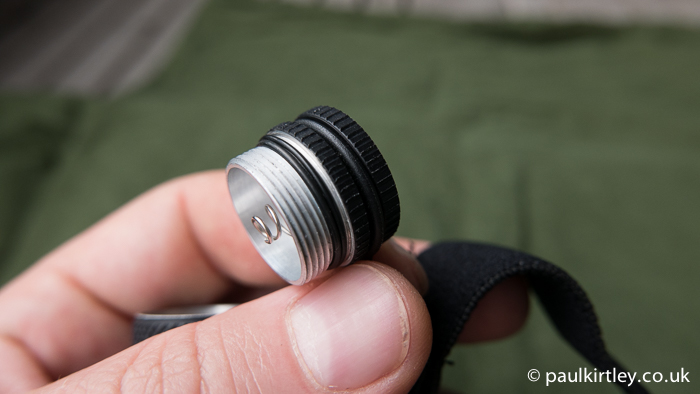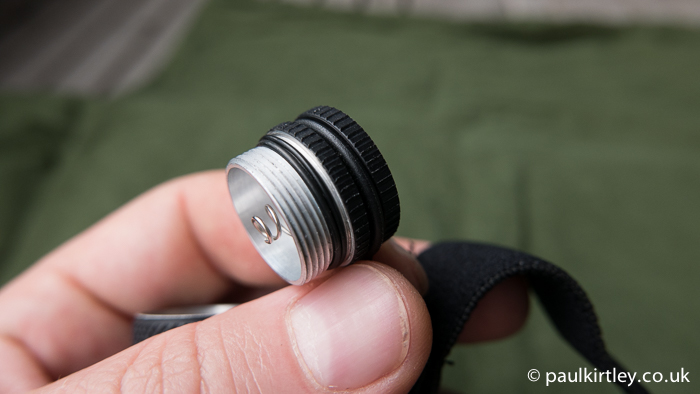 Colleagues and regular clients have bought this lamp as they have seen how mine has performed on courses and trips.
Recently, on my recommendation, another friend bought a new Minimus and I thought it was about time I wrote about my experience with this lamp.
It was also a good opportunity to look at the wear and tear inflicted by 5 years of heavy use, which you can see in the photographs below.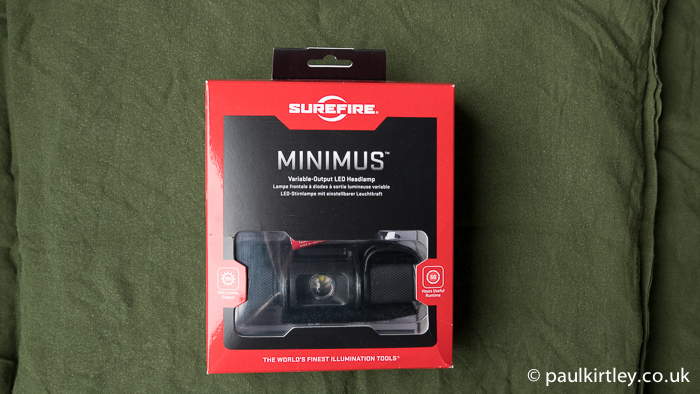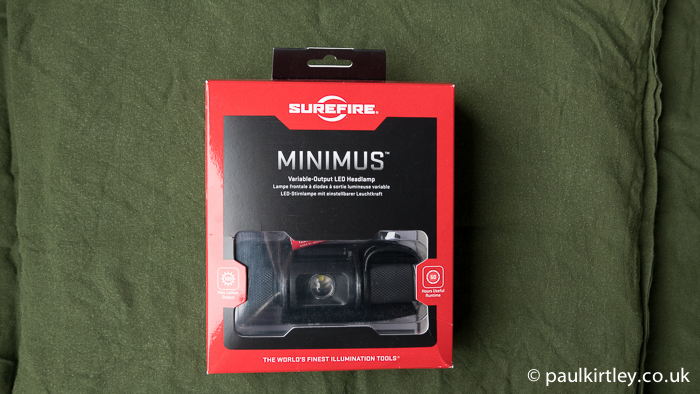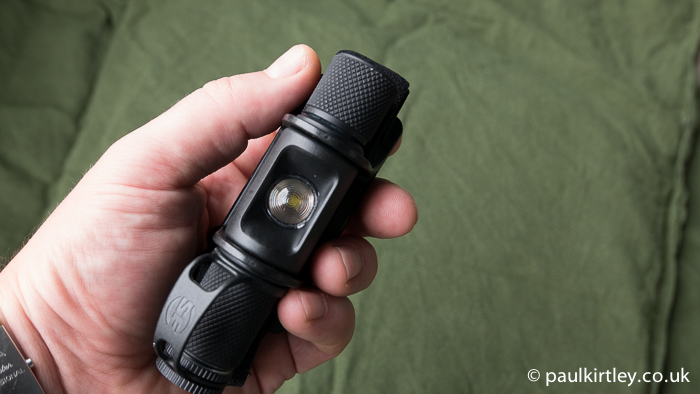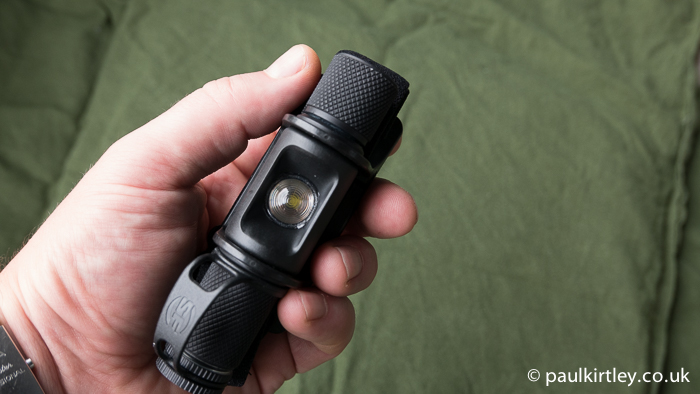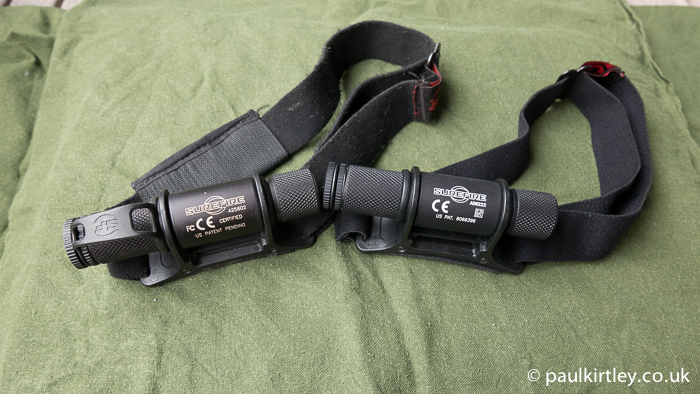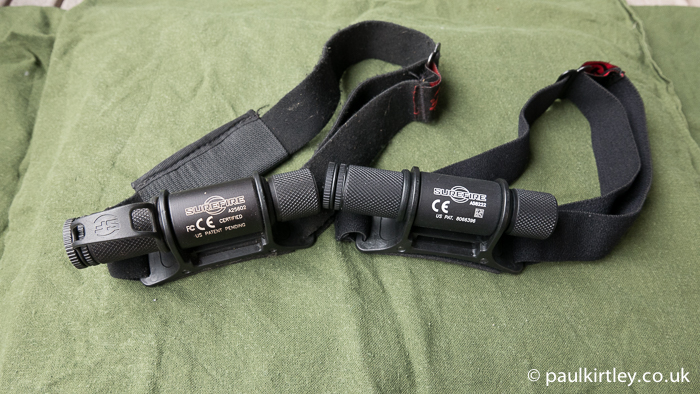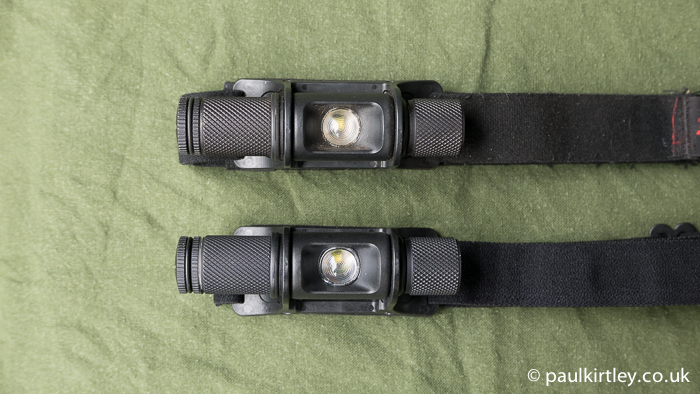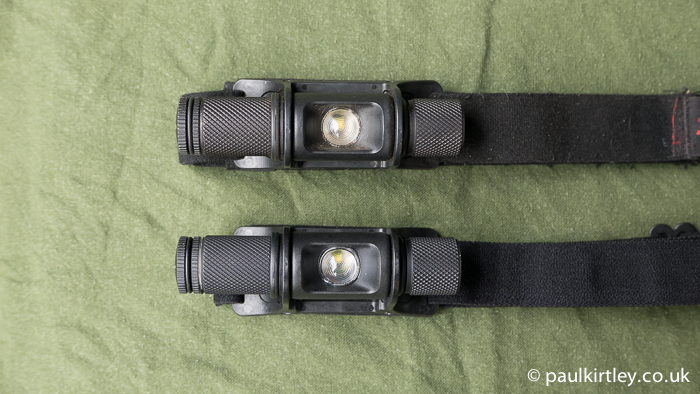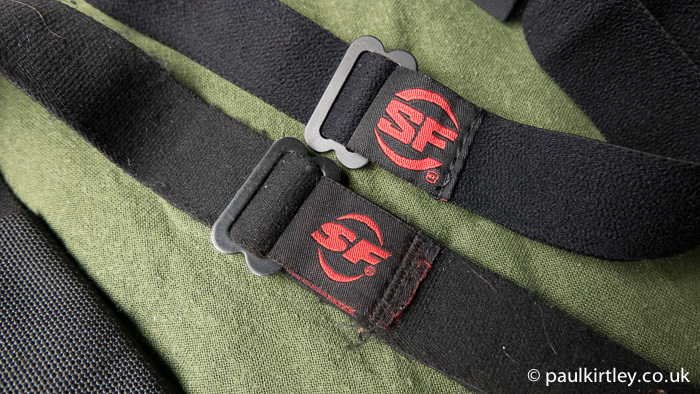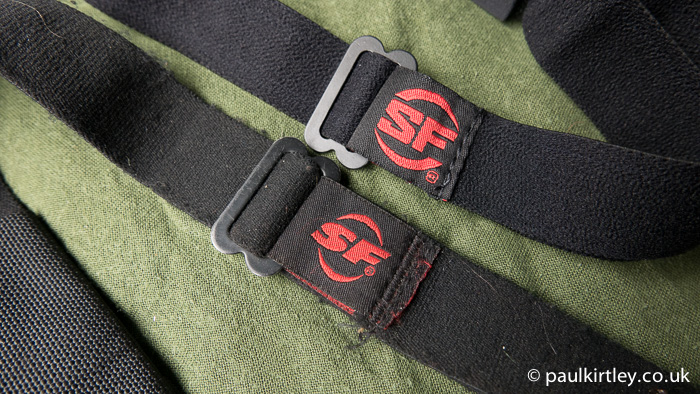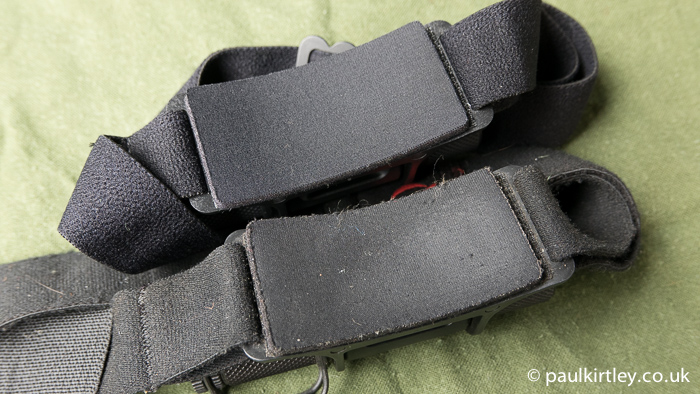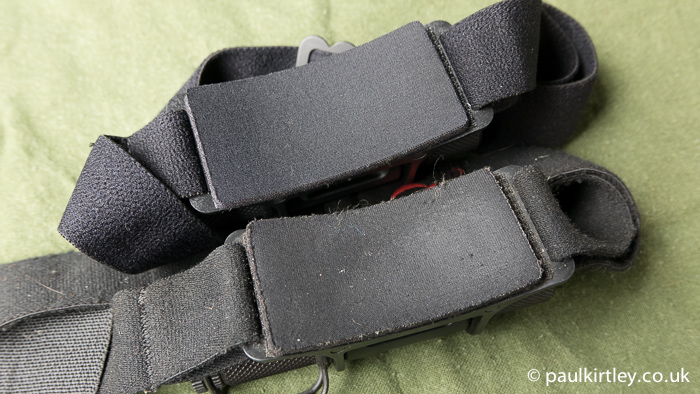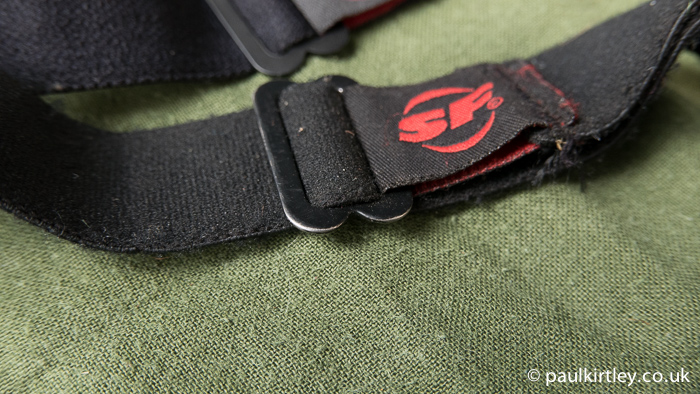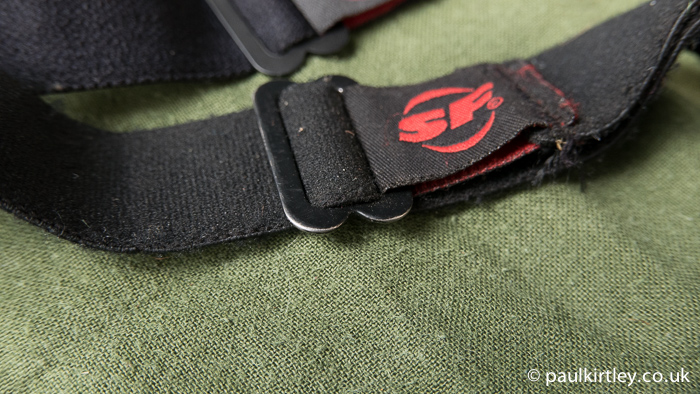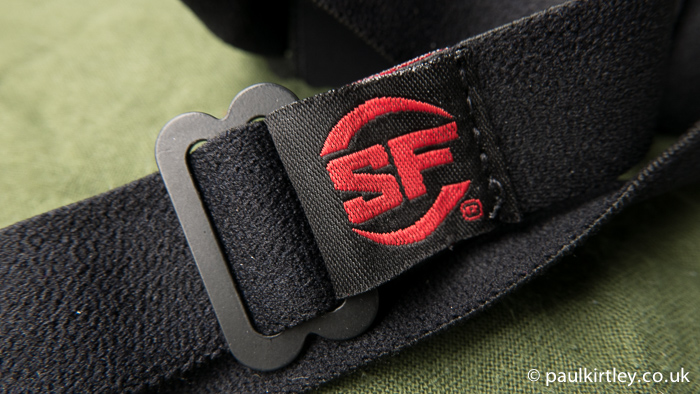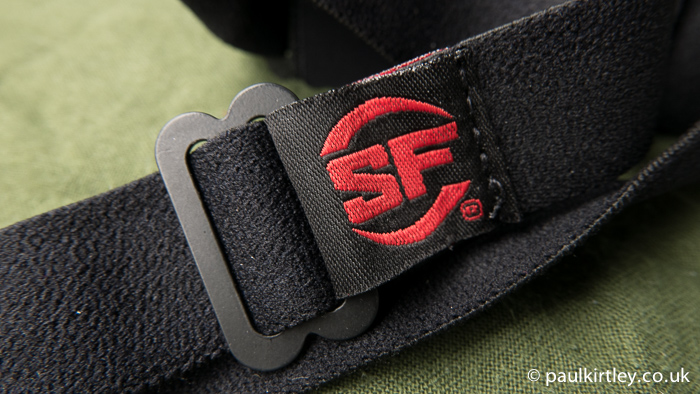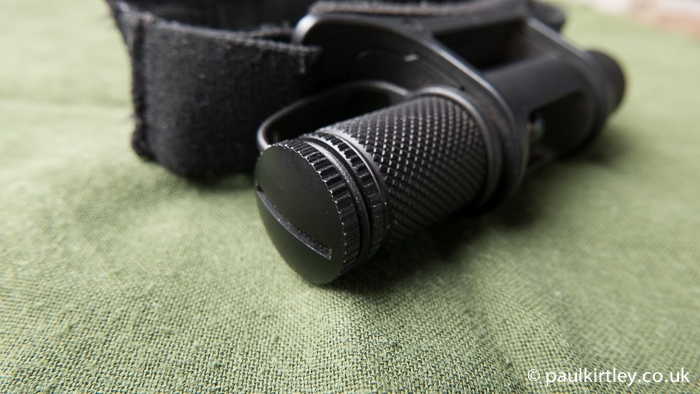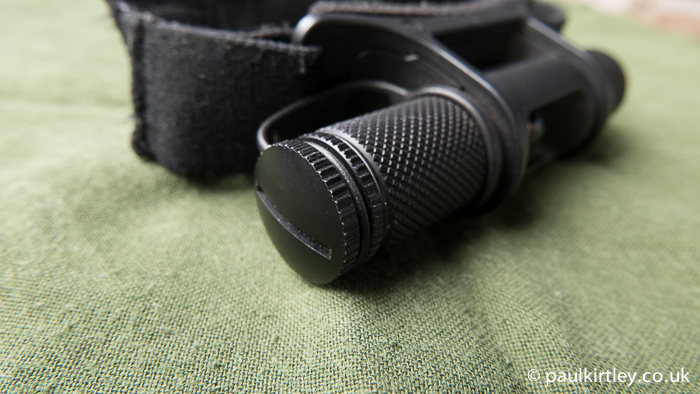 I Do Still Recommend Petzl Torches (Albeit With A Big Caveat)
Yes. Despite what I've said above about Petzl lamps, I do still recommend them.
I recommend whatever is the current model of Petzl Tikka to people who don't have a huge budget for a headlamp but want one that will be bright and will most probably work for a single camping trip or a week in the woods on one of our courses at Frontier Bushcraft.
Also, the current version of the Tikka weighs 84g. That's hard to beat when low weight is most important parameter.
If you want a headlamp that will reliably last multiple trips or months in the woods, and you don't mind it weighing 60g more than the Tikka, then I recommend the Surefire Minimus.
This clearly reflects my choice. This is based partly on the desire for 100% reliability in my wilderness equipment, partly on economics. Three or four Petzl Tikka XPs will pay for a Surefire Minimus.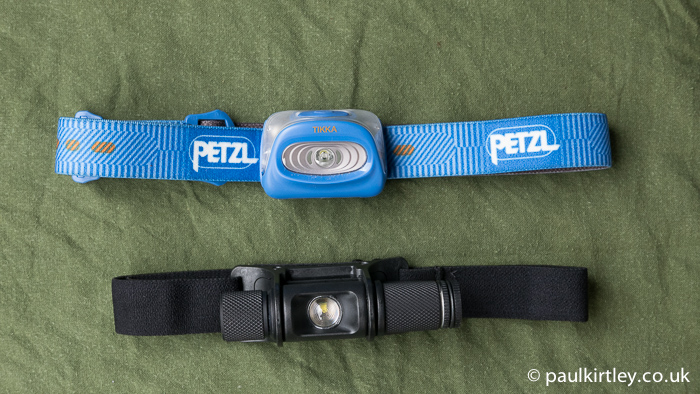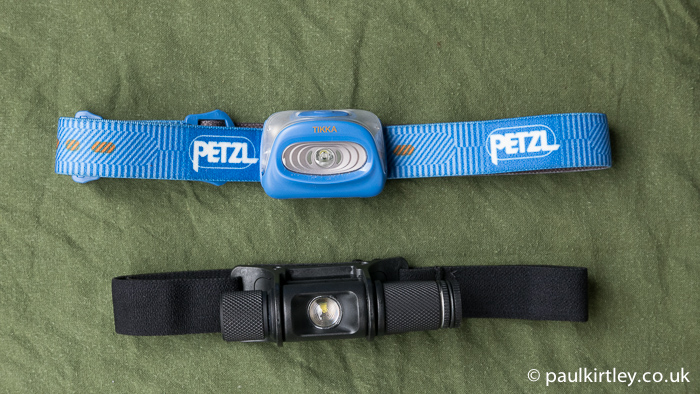 Let me know in the comments below about your experience with the durability of your headlamps. Be honest about longevity though. If you've used the lamp for one week of camping last year and one week of camping this year, then by my metric, so far it's lasted a couple of weeks, not a couple of years.
Lamps And Accessories Mentioned In This Article
;
Related Material On Paul Kirtley's Blog:
A Personal Wilderness First Aid Kit: What To Include
How To Build A Survival Kit On Bushcraft Principles
How To Make An Improvised Candle Holder
A Broken Cigarette Lighter: A Reminder Of The Importance Of Habit