#AskPaulKirtley Episode 14: Toxic Firewood, Down Bags, What To Do If Lost, Minimum Bushcrafter Knowledge and Rewilding Britain
#AskPaulKirtley Episode 14: Toxic Firewood, Down Bags, What To Do If Lost, Minimum Bushcrafter Knowledge and Rewilding Britain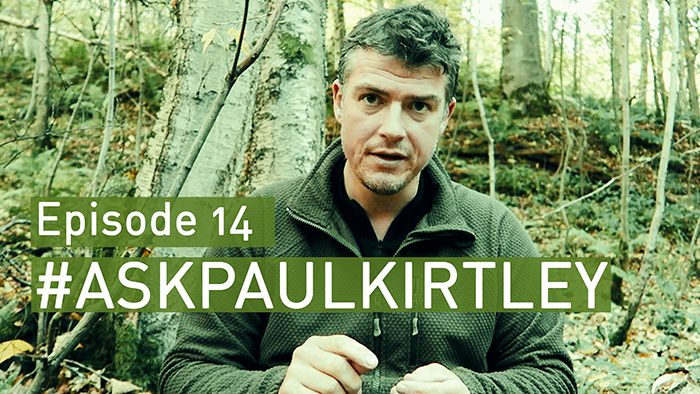 In this episode of #AskPaulKirtley I answer questions on toxic firewood, down sleeping bag cost vs weight, what to do if lost in the woods, what knife to carry, sharpening knives on coffee mugs, using contact lenses outdoors for extended periods, the minimum knowledge to be a bushcrafter and rewilding Britain.
What Is #AskPaulKirtley?
#AskPaulKirtley is my Q&A video and podcast series that aims to answer your questions about bushcraft, survival skills and outdoor life.
The idea here is partly to take the strain off my email inbox and get answers out to people in a more timely fashion.
Rather than send an answer to just that one person, I'd like others to benefit from the answers too. So, just in the same way I'd previously write an email answer, here I'm going to speak the answer (which is much quicker than me typing out an answer, so I'll get more questions answered as well as benefiting more people).
Click here to find out the different ways you can ask me a question.
Watch #AskPaulKirtley
Click on the four arrows bottom right for full screen view. Click on "HD" to stream the full HD version. Toggle HD off by clicking "HD" again.
#AskPaulKirtley videos are also available to view on my YouTube channel.
Listen To #AskPaulKirtley
Use the following Soundcloud controls to listen to the audio podcast right here or download the .mp3 to your device…
Links For This Episode of #AskPaulKirtley
What To Do If You Get Lost Outdoors: STOP (Video)
STOP What You Are Doing! (Short article)
PLAN: A Framework For Prioritising In A Survival Situation
The Importance of Leaving Word Before Heading Into the Wild
Portable Sharpening Stones: Keeping Your Edge On The Trail
Bushcraft Knife Sharpening: Achieving The Correct Bevel Angle (Video)
#AskPaulKirtley Episode 10: Knife Lanyards, Dromedary Bags, Hammocks vs Tarps, Tinder Boxes And NGB Awards For Bushcraft
The Swedish Right Of Public Access
How Wolves Change Rivers (video)
How To Watch #AskPaulKirtley On Other Platforms
The videos will be uploaded to my YouTube channel and embedded in the Facebook Page associated with this blog as well as embedded here on my blog.
How To Listen To #AskPaulKirtley On Other Platforms
Podcast RSS Feed: You can subscribe via the #AskPaulKirtley Podcast RSS Feed
iTunes: You can subscribe to #AskPaulKirtley via iTunes
Soundcloud: Follow me on here on Soundcloud
Leave A Comment…
Leave me a comment below. Let me know what you think of this episode. I read every one.
But remember if you want to ask a question for a future episode, don't do this in the comments below, do it in one of the ways explained HERE.
Related Material On Paul Kirtley's Blog:
A Framework For Preparing Yourself For A Survival Situation
PK Podcast 001: Survival Psychology With Dr Sarita Robinson
How To Sharpen A Bushcraft Knife