Rosebay Willowherb: Taking The Pith
Rosebay Willowherb: Taking The Pith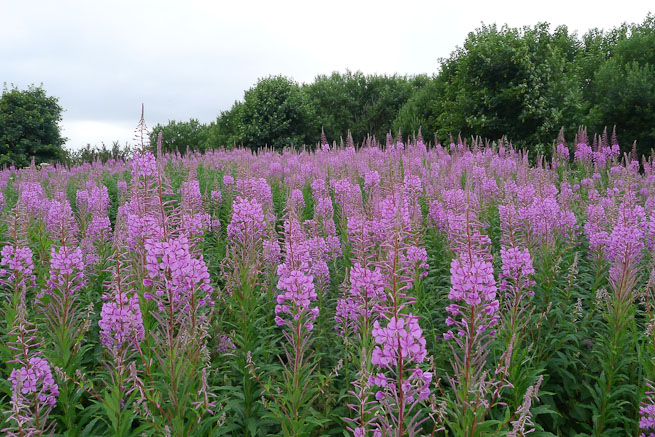 Rosebay willowherb, Chamerion angustifolium (also known as Epilobium angustifolium) is a widespread plant of the Northern Hemisphere.
Known as Fireweed to many, particularly in North America, this name reflects the plant's appearance following forest fires and other events which leave the earth scorched. With greater light on the earth again, C. angustifolium seeds then germinate and grow in the cleared areas until competition crowds them out.
This tendency to appear from scorched earth also gave rise to the name Bombweed in the UK during the Second World War, when the plant quickly populated derelict bomb sites.
Rosebay Willowherb – Habit and Habitat
The plant is an upright perennial, with an unbranched stem growing to around 1.5 metres (4.5 feet), sometimes taller, with pink or purple four-petalled flowers. The leaves are alternate and resemble those of some Willows, Salix sp.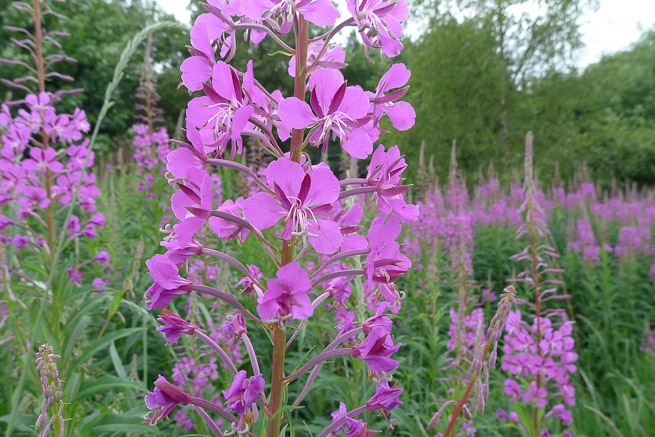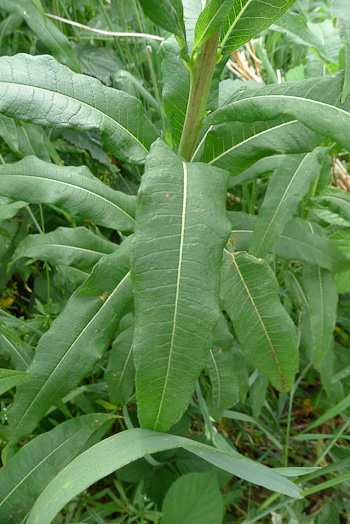 Rosebay willowherb flowers from June to September. Long seed pods form containing masses of hairy/fluffy seeds which are carried on the wind. There can be around 80,000 seeds per plant.
Rosebay likes to grow in dry, relatively open areas. You typically find it in forest clearings, beside tracks and trails, on well-drained banks of rivers and on recently disturbed ground.
Rosebay willowherb has become more common and widespread in areas disturbed by man. In the UK it was at one time considered rare but during the last 100-150 years rosebay has spread dramatically, thought to be due initially to its spread along corridors of suitable habitat created by new railways in the 19th Century.
Rosebay Willowherb – A Plant of Many Uses
The uses of this plant are multiple – from natural cordage to fire-lighting to clothing to edible roots, shoots, leaves and flowers as well as numerous medicinal applications, some of which are still being investigated.
Many of these uses were well-known to native peoples from Alaska to Siberia.
One use which was familiar to North American First Nations as well as to Kamchatkan reindeer herders, was consuming the pith from inside the stems – raw, cooked or fermented.
Taking the pith from fireweed is something which is easy to do. Very little processing is required to ready it for consumption. It's also pretty tasty.
Accessing Rosebay Willowherb Pith
You need to locate a stand of rosebay willowherb which is mature and – typically – starting to flower but not gone to seed.
The plant flowers over an extended period and it is quite possible for flowers lower down the stem to have finished while flowers in the middle-top are in full bloom with buds above them towards the top of the flowering spike. Once the plant has gone completely to seed the stem is often woody and dry, with the pith becoming less attractive and more difficult to access.
Cut the stem low down. You'll see the pith in the centre of the stem.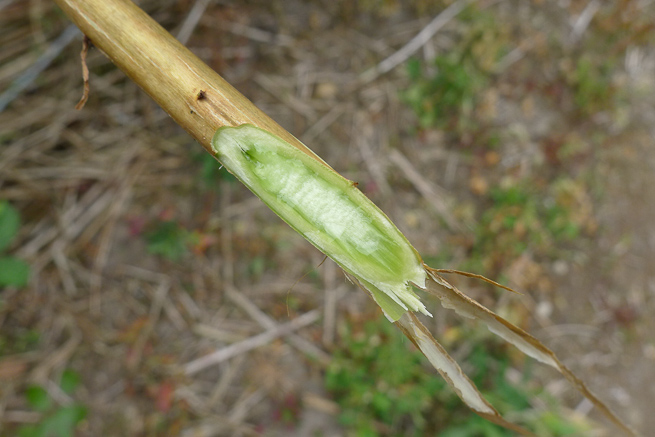 Now you need to split the stem.
You can use your thumbnails to do this, starting at the base of the stem and working as far as you can towards the top. Or you can use a knife. It's easier to split the stem with a small blade such as a pocket knife.
You should take care not to cut yourself, however, as again the split is best started at the base of the stem, where you'll have to hold the stem very close to where you are creating the split. It's safer to place the stem down onto a log and start the split with the tip of your knife.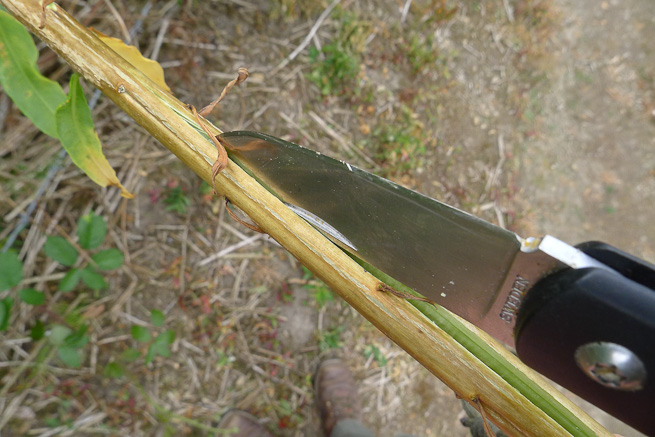 Whichever way you start the split, continue it up the stem as far as you can manage. Now use your fingers to open out the stem. It will probably break into two halves.
In the centre is the pith. This can be scraped out of the half-stems with the tip of your knife. Better still for this job is a small stick with the end shaped like a screw-driver but only as wide as the pith. This will scrape out the pith very efficiently – more efficiently than the tip of your knife – so it is worth producing this little tool if you want anything more than a wayside nibble.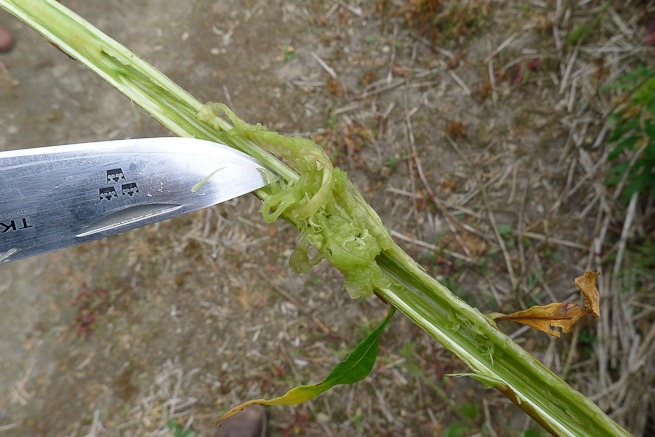 The pith is somewhere between cucumber and unripe cantaloupe both in terms of texture and taste. It has some sweetness to it but sometimes also a slightly hot, peppery aftertaste. When collected up, the pith becomes more gelatinous and slimy and browns quite quickly.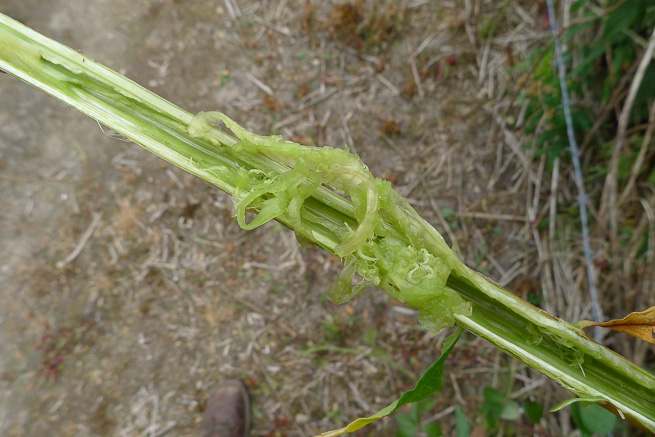 Rosebay Willowherb Pith: Food Value
The collected pith can be added to soups and broths both to thicken them and add extra carbohydrate content. It can also add a little flavour to otherwise bland concoctions.
I can attest to having felt the value of even the raw pith of rosebay as a wayside pick-me-up. I have eaten it while undertaking exercises where we lived off the land; you certainly feel the benefit to your blood sugar levels not long after taking on a few mouthfuls of the fresh pith. It's surprising.
Rosebay willowherb is one of the more useful wilderness plants and taking the pith is one of the simplest ways of obtaining food from it.
Let us know in the comments below if you've tried the pith of rosebay willowherb – raw, cooked or otherwise.
Recommended Field Guides and Plant Books
Related Articles on Paul Kirtley's Blog:
Five Survival Plants Every Forager Should Know
The Difference Between Foraging and Living Off The Land
Survival Foraging: A Realistic Approach
The following two tabs change content below.
Paul Kirtley is an award-winning professional bushcraft instructor, qualified canoe leader and mountain leader. He is passionate about nature and wilderness travel. In addition to writing this blog Paul owns and runs
Frontier Bushcraft
, a wilderness bushcraft school, offering bushcraft courses and wilderness expeditions.
Latest posts by Paul Kirtley (see all)