#AskPaulKirtley Episode 44 – Choosing Companions For Trips, Food For Expeditions, Foraging For Calories, Hydration On Hikes, Tree and Plant ID Guides
#AskPaulKirtley Episode 44 – Choosing Companions For Trips, Food For Expeditions, Foraging For Calories, Hydration On Hikes, Tree and Plant ID Guides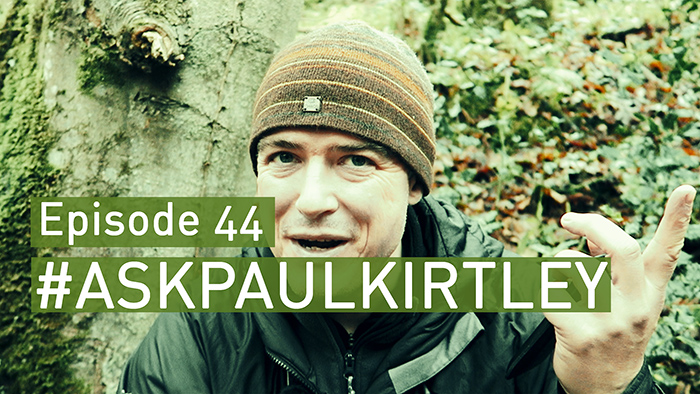 In this episode of #AskPaulKirtley I answer questions about food for longer trips and expeditions, choosing expedition companions, foraging for calories, valuable lessons and learning from mistakes, tarp and bivvy for colder months, drinking while tramping in dry areas, tree and plant ID guides.
Watch #AskPaulKirtley
Click on the four arrows bottom right for full screen view. This video is available in full HD. Click on "HD" to choose the quality level you want to stream.
#AskPaulKirtley videos are also available to view on my YouTube channel.
Listen To #AskPaulKirtley
Use the following controls to listen to the audio podcast right here or download the .mp3 to your device…
Links For This Episode of #AskPaulKirtley
Follow me on Instagram here.
Canoeing The River Spey With Kevin Callan, Ray Goodwin and Justine Curgenven – part 1
PK Podcast 008: Chris Townsend, Backpacking Legend
How To Make Garlic Pan Bread On A Campfire
Winter Woodland Wildcamping: 21 Tips & Tricks
Winter Bivvying – How To Stay Warm In A World Of Cold
How To Live In A Heated Tent
How To Watch #AskPaulKirtley On Other Platforms
The videos will be uploaded to my YouTube channel and embedded in the Facebook Page associated with this blog as well as embedded here on my blog.
How To Listen To #AskPaulKirtley On Other Platforms
Podcast RSS Feed: You can subscribe via the #AskPaulKirtley Podcast RSS Feed
iTunes: You can subscribe to #AskPaulKirtley via iTunes
Soundcloud: Follow me on here on Soundcloud
Leave A Comment…
Leave me a comment below. Let me know what you think of this episode. I read every one.
But remember if you want to ask a question for a future episode, don't do this in the comments below, do it in one of the ways explained HERE.
What Is #AskPaulKirtley?
#AskPaulKirtley is my Q&A video and podcast series that aims to answer your questions about bushcraft, survival skills and outdoor life.
The idea here is partly to take the strain off my email inbox and get answers out to people in a more timely fashion.
Rather than send an answer to just that one person, I'd like others to benefit from the answers too. So, just in the same way I'd previously write an email answer, here I'm going to speak the answer (which is much quicker than me typing out an answer, so I'll get more questions answered as well as benefiting more people).
Click here to find out the different ways you can ask me a question.
Related Material On Paul Kirtley's Blog:
How To Pack Enough Food For A Week In A PLCE Side Pocket
Nutritional Breakdown of the PLCE Side Pocket Menu
Survival Foraging: A Realistic Approach
Five Survival Plants Every Forager Should Know
#AskPaulKirtley Episode 43 – Traditional Crafts In Modern Outdoor Trips, Cheaper Full-Tang Knives, Places To Camp In The Woods