Canoeing The Spey With Kevin, Ray & Justine part 12 – Battle To The Sea
Canoeing The Spey With Kevin, Ray & Justine part 12 – Battle To The Sea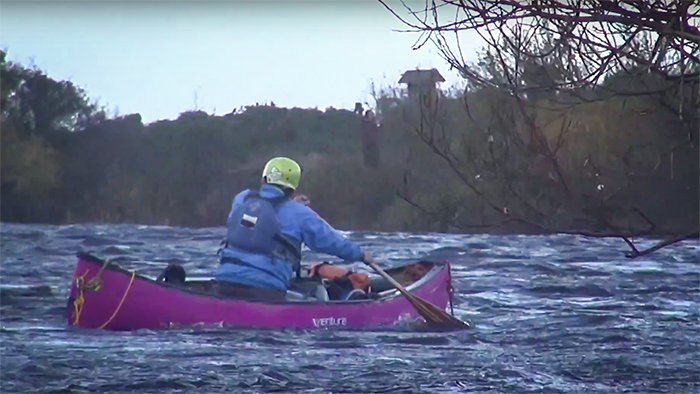 The River Spey remains interesting right until its end. From Grantown it's a relatively steep river. Rather than running into an extensive estuary like many rivers do, the river flows abruptly into tidal waters about 700m before it reaches the open sea.
From the last road bridge at Fochabers down to Spey Bay, where the river meets the sea, the Spey becomes unconstrained and, in places unchannelised, reminiscent of an outwash plain, with the river braiding. This means the river changes over time, from one year to the next and even between trips. In addition, this is an area where flood debris, such as trees, from further up the river are deposited. So, the last section is no easy final day yahoo to the ocean. It's one where you have to keep your wits about you.
On our last night in camp, following the campfire whisky tasting, it rained heavily overnight. The river had come up significantly and was moving with pace. We expected a quick run down to the sea at Spey Bay but there was also a headwind. This slowed us somewhat initially but in the last stages, as we became more exposed, it provided a real challenge, with us having to fight every inch of the last few miles to the end…
Scotland's Spey River Paddle & Whisky Tour – Part 12 – Paddle To The Sea
Click on the box bottom right for full screen view. This video is available in full HD. Click on gear/cog symbol to choose the quality level you want to stream.
I hope you enjoyed the above film. Let me know what you think below. Episode 12 is the last episode in this series but if you've missed any of the previous installments, they are all linked below. Thanks for watching!
Previous Sections Of This Series
Watch part 1 here: Watch Canoeing The River Spey With Kevin, Ray & Justine Curgenven – part 1
Watch part 2 here: Canoeing The Spey With Kevin, Ray & Justine part 2 – A Few Campfire Tricks
Watch part 3 here: Canoeing The Spey With Kevin, Ray & Justine part 3 – River Safety
Watch part 4 here: Canoeing The Spey With Kevin, Ray & Justine part 4 – Setting Camp In The Dark
Watch parts 5 and 6 here: Canoeing The Spey With Kevin, Ray & Justine parts 5 and 6 – Where Does The Whisky Come From?
Watch part 7 here: Canoeing The Spey With Kevin, Ray & Justine part 7 – More Whisky, Little Water
Watch part 8 here: Canoeing The Spey With Kevin, Ray & Justine part 8 – The Washing Machine
Watch part 9 here: Canoeing The Spey With Kevin, Ray & Justine part 9 – Teaching Kevin To Make Campfire Coffee
Watch part 10 here: Canoeing The Spey With Kevin, Ray & Justine part 10 – Special Guests Come To Our Wild Camp
Watch part 11 here: Canoeing The Spey With Kevin, Ray & Justine part 11 – The Final Day Starts With Poignant Reflection
Related Material On Paul Kirtley's Blog
PK Podcast 019: Post-Trip Post-Script With Kevin Callan, Justine Curgenven and Ray Goodwin
PK Podcast 003: Kevin Callan, The Happy Camper
PK Podcast 013: Ray Goodwin On Continually Evolving Adventures By Canoe
PK Podcast 005: Justine Curgenven And An Aleutian Adventure
White Water Safety & Rescue Training Provides Useful Survival Skills
Six Men, Three Boats and The Bloodvein: Canoeing A Wilderness River