Thumbing The Map: How To Keep Track Of Where You Are
Thumbing The Map: How To Keep Track Of Where You Are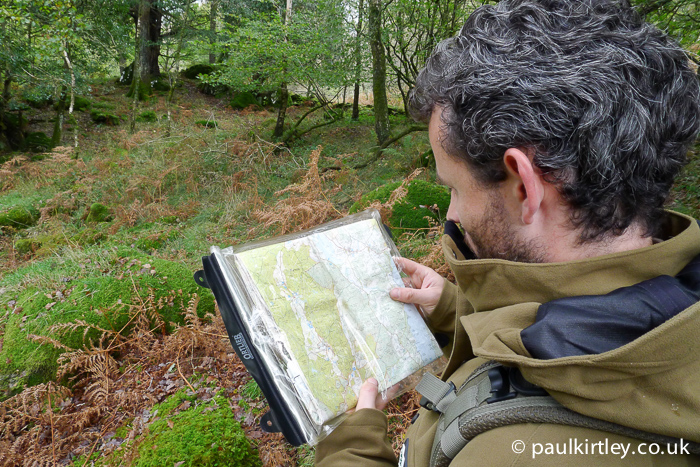 We've all had the situation where we know where we are on the ground but keep losing track of where this is on the map.
It's different to being lost – where you have no idea where you are and any thread back to a place where you did know where you were has been severed.
So, I'm not talking about being lost.
Neither is the situation I'm talking about the same as not being able to work out where you are on the map.
It's just that annoying situation where you look away from the map for a while, come back to it a while later and have to go through the rigmarole of relating what you can see on the ground to what you can see on the map. Again.
Where was it on the map again?
Going out for a hike isn't much fun if you just have your head stuck in a map the whole time.
You want to be able to look around, whether it is to take in the scene, the view, the landscape, spot birds, check out animal tracks or sign or whatever interests you on a given day.
You also want to be able to look where you are going. Walking along with your nose buried in the map means you are more likely to trip up and fall flat on your face.
You want to be able to cover distance. It's impossible to stride out into your full walking pace when you are looking down at the map.
Besides, the map won't tell you where you are. The landscape around you tells you where you are.
The map helps you keep track of where you are and work out where you are going.
So there is an interplay between looking down at the map and looking up at the landscape.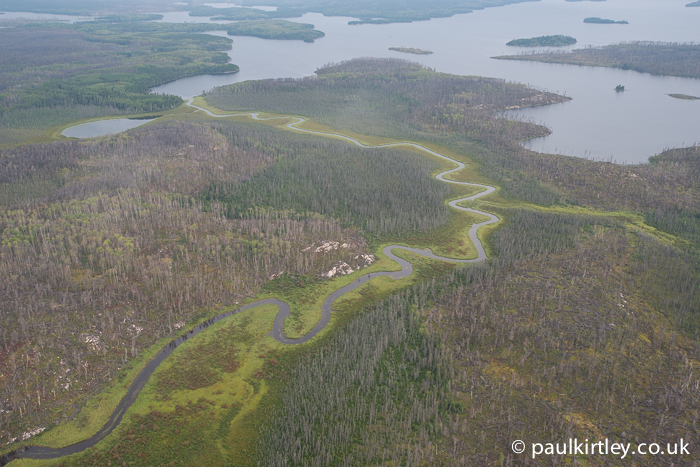 Using A Map Marker
The simple solution is to put a temporary marker on the map where you last were. Then as you move along, move the marker. When you look away from the map then back again, you can immediately locate the last known point on the map without having to zoom in on this spot again. It means you are less likely to make a mistake in doing this too – particularly important when you are in a landscape with repeating features for example.
The temporary marker I like to use is my thumb.
I'm holding the map anyway, so I just hold it in a way where my thumb is over the last place I knew I was.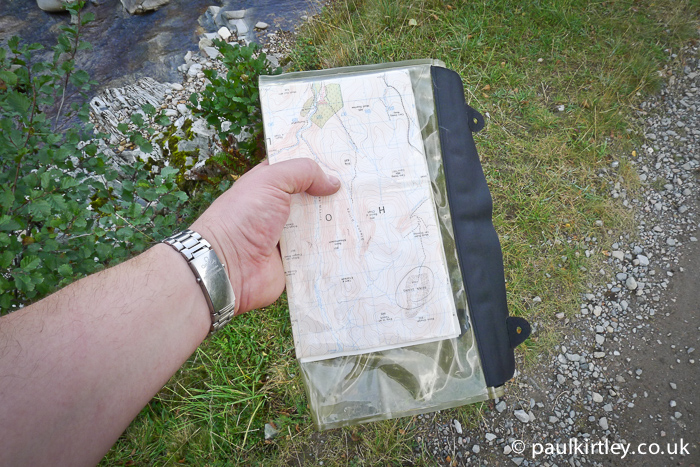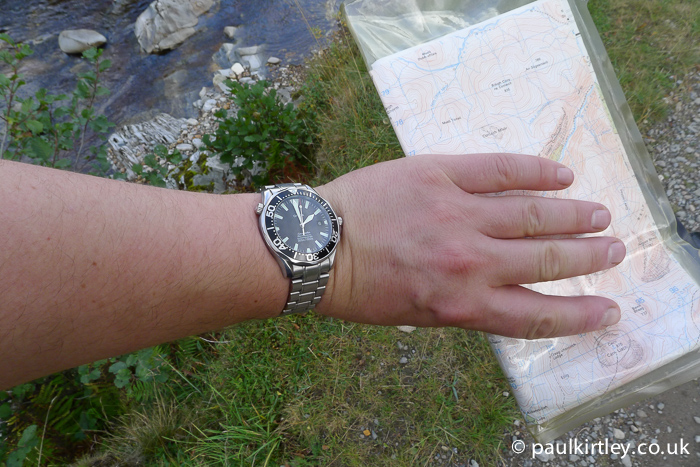 Combine Thumbing With Tick-Off Features
When I teach navigation, a methodology I share is to look at your proposed route, noting features you will pass on the route – examples might include crossing a fence or other boundary, crossing a stream, reaching a fork in the trail, passing a hut, or something more subtle such as a change in gradient.
On the map you can follow the route with your eye and, as you pass over these features represented on paper, envisage them on the ground. You then have an idea of what to expect on your route. As you walk it in reality, you can mentally tick them off. This has a few advantages, which I won't go into fully here but among them is confidence.
In addition, you might want to add a back-stop or collecting feature – that is, something which alerts you if you overshoot your intended target on a given navigational leg.
But back to thumbing the map. If you have a series of tick-off features in mind, then as you reach them, just move your thumb forwards and carry on. This way you move down the trail quickly and efficiently, confirming and keeping track of where you are without having to check and re-check on the map all the time.
Thumbing The Map – It's Not Just My Whacky Idea
Thumbing the map is a technique I use regularly when I am hiking a trail I don't know. I primarily use it when hiking. I don't, for example, use it while canoeing (hard to hold a paddle in the water at the same time).
It certainly wasn't my idea though. It's widely used, particularly by competitive orienteers.
Thumbing the map, does, however, translate over to other activities, sometimes surprising. One which I noticed while on various trips in Canada was that it works well while flying a float plane.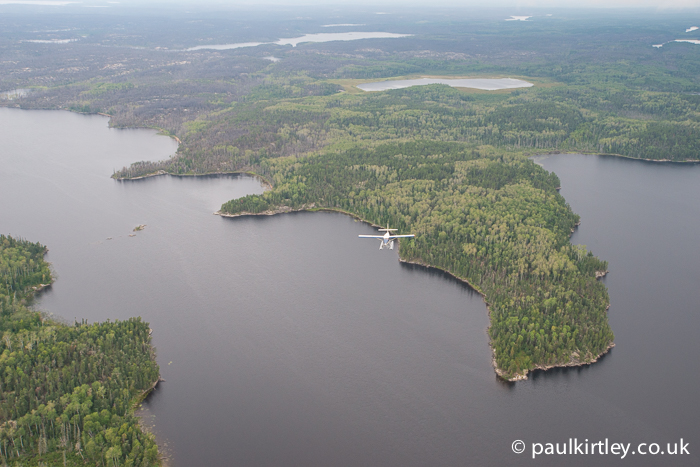 It wasn't me flying the plane of course.
For those who may not have had the experience, these planes fly relatively low and do not have particularly sophisticated navigational technologies.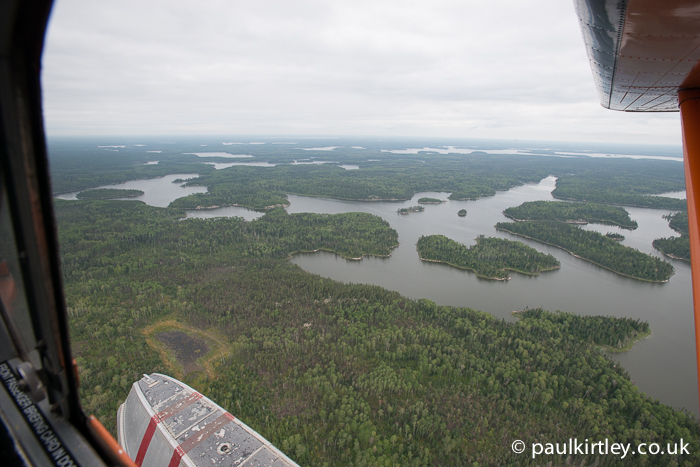 While they do fly with GPS, in my experience, the pilots will fly with a topographic map on their lap and navigate the wilderness by lakes, watercourses and other visible features until they reach their desired landing place.
So, it brings a smile to the face of my inner navigation geek when I see the pilots also thumbing the map as they go.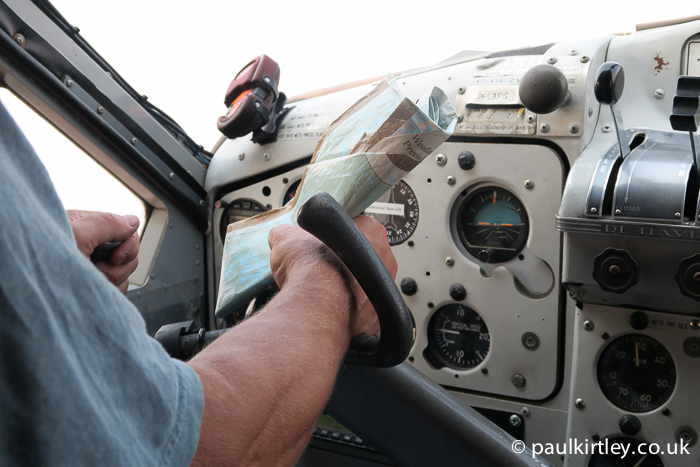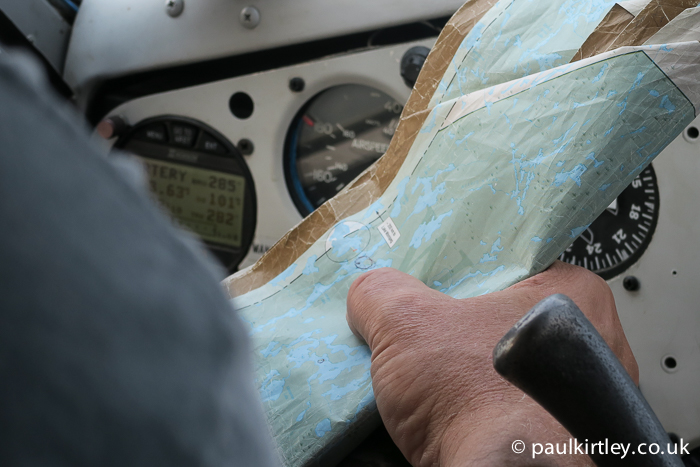 Thumbing The Map: Give It A Go
If it works for a bush plane pilot, then maybe it'll work for your next trail hike. Give it a go if you don't use it already.
If you do already use this technique, let me and other readers know in the comments below.
Final Word – Thumbs, Yes. Fat Fingers, No.
While using your thumb is useful to keep track of where you are on the map, using your digits to point features out to others is vague. A pudgy finger covers hundreds of square metres on a 1:50,000 map. Better to use something more precise…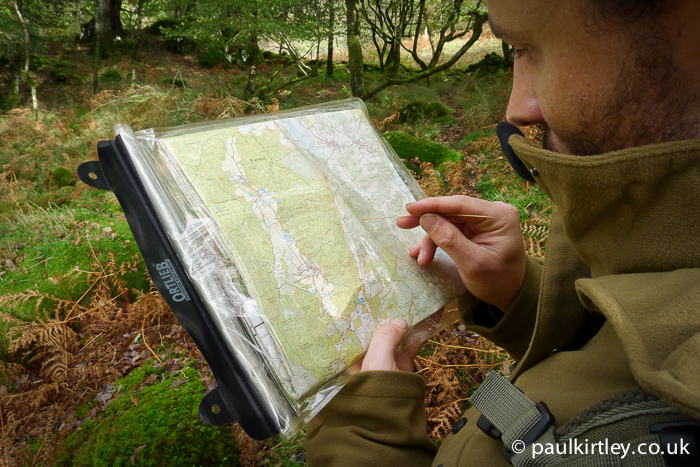 Related Material On Paul Kirtley's Blog
PK Podcast 004: Tristan Gooley And The Beauty Of Natural Navigation
Six Men, Three Boats and The Bloodvein: Canoeing A Wilderness River