Canoeing The Spey With Kevin, Ray & Justine part 11 – The Final Day Starts With Poignant Reflection
Canoeing The Spey With Kevin, Ray & Justine part 11 – The Final Day Starts With Poignant Reflection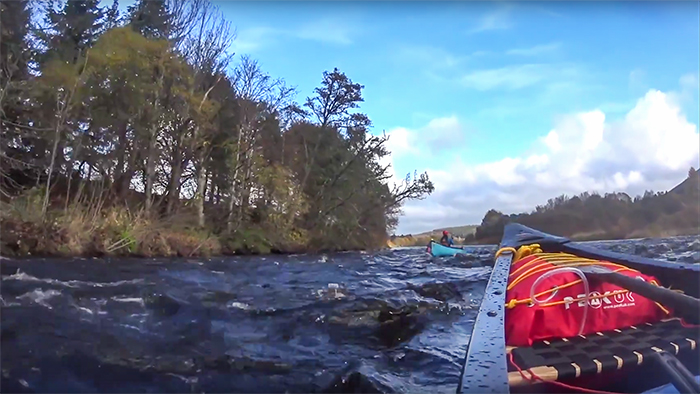 It's the morning after the night before. Kevin is a little bleary eyed and reluctant to emerge from his tent. Besides it's cold out and has been raining all night. All in all, a damp, cold November morning. Justine warms herself by the fire as I make proper porridge over it. Also, it's her birthday so she gets special dispensation to warm her pants over the fire. She also tells about what her priorities are for the coming year. Justine has clearly reflected on this quite deeply.
It's also time for Kevin to reflect. This is the last day of the trip and he talks about what the trip has meant to him, the importance of friends and the significance of nature. For someone who is so upbeat, outgoing and fun much of the time, the contrast of Kevin speaking seriously and with emotion, is all the more powerful. I'm very happy to be one of his friends and I'm happy this trip gave him the succour he needed.
The journey, however, was not over yet. With all the rain overnight, the river had risen significantly and was moving at pace. But the best barometer of the seriousness of a waterbourne situation is Ray's facial expression. Knowing Ray as well as I do, I explain to the others that we remain on the side of the spectrum of Ray's expressions which is reassuring. It doesn't stop us trying to wind-up Kevin though. We know the river is up, we know there is a north wind, which will be a cold headwind for much of the day. We're positive and keen to get going though…
Scotland's Spey River Paddle & Whisky Tour – Part 11 – Water Has Risen
Click on the box bottom right for full screen view. This video is available in full HD. Click on gear/cog symbol to choose the quality level you want to stream.
I hope you enjoyed the above films. Let me know what you think below. The next episode, Episode 12, will be the final epsiode, so don't miss that. Despite the relatively benign beginnings as seen in Episode 11 above, the day got a lot, lot harder before it was over…
Previous Sections Of This Series
Watch part 1 here: Watch Canoeing The River Spey With Kevin, Ray & Justine Curgenven – part 1
Watch part 2 here: Canoeing The Spey With Kevin, Ray & Justine part 2 – A Few Campfire Tricks
Watch part 3 here: Canoeing The Spey With Kevin, Ray & Justine part 3 – River Safety
Watch part 4 here: Canoeing The Spey With Kevin, Ray & Justine part 4 – Setting Camp In The Dark
Watch parts 5 and 6 here: Canoeing The Spey With Kevin, Ray & Justine parts 5 and 6 – Where Does The Whisky Come From?
Watch part 7 here: Canoeing The Spey With Kevin, Ray & Justine part 7 – More Whisky, Little Water
Watch part 8 here: Canoeing The Spey With Kevin, Ray & Justine part 8 – The Washing Machine
Watch part 9 here: Canoeing The Spey With Kevin, Ray & Justine part 9 – Teaching Kevin To Make Campfire Coffee
Watch part 10 here: Canoeing The Spey With Kevin, Ray & Justine part 10 – Special Guests Come To Our Wild Camp
Related Material On Paul Kirtley's Blog
PK Podcast 019: Post-Trip Post-Script With Kevin Callan, Justine Curgenven and Ray Goodwin
PK Podcast 003: Kevin Callan, The Happy Camper
PK Podcast 013: Ray Goodwin On Continually Evolving Adventures By Canoe
PK Podcast 005: Justine Curgenven And An Aleutian Adventure
White Water Safety & Rescue Training Provides Useful Survival Skills
Six Men, Three Boats and The Bloodvein: Canoeing A Wilderness River