PK Podcast 003: Kevin Callan, The Happy Camper
PK Podcast 003: Kevin Callan, The Happy Camper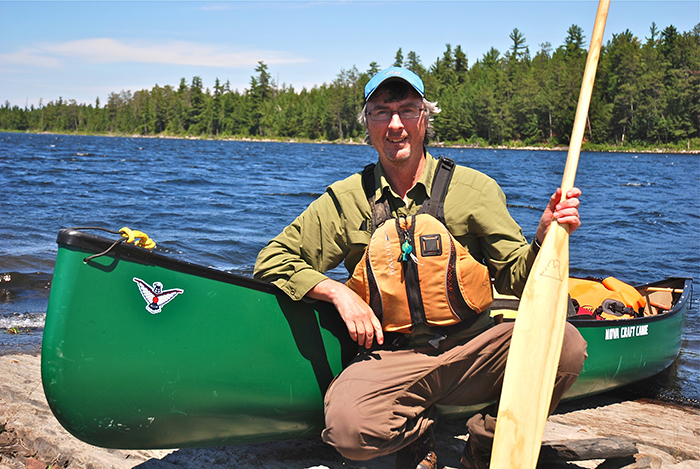 Listen To Episode 3 Of The Paul Kirtley Podcast
In this episode of my podcast I talk with Kevin Callan, Canadian outdoorsman, speaker and author of 15 books, including a popular range of guidebooks. He's won awards for his writing as well as his film-making, including the the "Best of" category at the prestigious Waterwalker Film Festival. Kevin is a regular on Canadian TV and radio. He's a great guy and fantastic advocate for the vast benefits of getting outdoors. The conversation we have on this podcast is wide-ranging and a lot of fun too…
Kevin describes how he came to start writing canoe route guidebooks through to expanding on some of his most recent adventures including following The Meanest Link in Algonquin Provincial Park and why that was a crazy tough trip, not least because someone stole his whisky. What was even more surprising was the incredibly generous response from other paddlers when they heard about the incident on the radio.
People know Kevin primarily as a canoe enthusiast and guidebook writer who appears on TV and radio talking about canoeing, camping skills and related gear. There's another side to the man though, and I found out more about this in our conversation. Kevin talks about his long involvement in environmental education and teaching college courses, including youth at risk – not always easy but very rewarding.
We go on to discuss our mutual love of winter hot-tent camping
Kevin also explains the dangers of Yuk Yuk Man.
Towards the end of the podcast we set an unusual challenge for one of Kevin's neighbours and long time paddling chum, which involves some listeners sending me some questionable items of clothing.
We also float the idea of a future joint venture – "Once Around The World In A Whisky Glass" is the working title…
How To Listen To This Podcast
You can listen to this podcast here on my website by using the player above. Just press the play button.
You can download the podcast episode .mp3 file by right-clicking on the download link to save the .mp3 file down to your local machine/device.
You can also subscribe on iTunes and on Stitcher or via my podcast-only RSS feed.
TRANSCRIPT
Click here to read or download the transcript of Paul Kirtley Podcast episode 003.
People Mentioned In This Podcast
Kirk Whipper
Bill Mason
Cliff Jacobson
Grey Owl
Kevin Callan's Videos Mentioned In This Podcast
Once Around Algonquin
College Students Hiking Trip In Algonquin
A Canoe Trip Around Killarney – Family Style
Address To Send Items For Speedo Man
I'll pack what we receive and send them over to Kevin. Please send them to me at the following address.
Paul Kirtley
Frontier Bushcraft Ltd.
PO Box 68161
London
N1 2DB
United Kingdom
Connect With Kevin Callan
Don't forget to say thanks to Kevin in person. Here's some of the places he inhabits online….
Kevin on Facebook
Kevin on Twitter (@kchappycamper)
Kevin on YouTube
www.kevincallan.com
Thanks For Listening!
Thanks for joining me on this podcast. If you have any tips, suggestions or comments about this episode, please leave them in the comments section below.
If you enjoyed this episode, please share it using the social media buttons at the top of this page. Thanks!
And Finally…
Finally don't forget to leave an honest review & rating on iTunes or on Stitcher. Ratings and reviews are extremely helpful and greatly appreciated! They do matter in the rankings of this podcast and I read each and every one of them.
Browse Kevin's Books
Related Material On Paul Kirtley's Blog:
Enter A Virtuous Circle: Take Your Bushcraft Skills On An Adventure
Six Men, Three Boats and The Bloodvein: Canoeing A Wilderness River
Cliff Jacobson and Camping's Top Secrets