Canoeing The River Tees – One Day Tandem, One Day Solo
Canoeing The River Tees – One Day Tandem, One Day Solo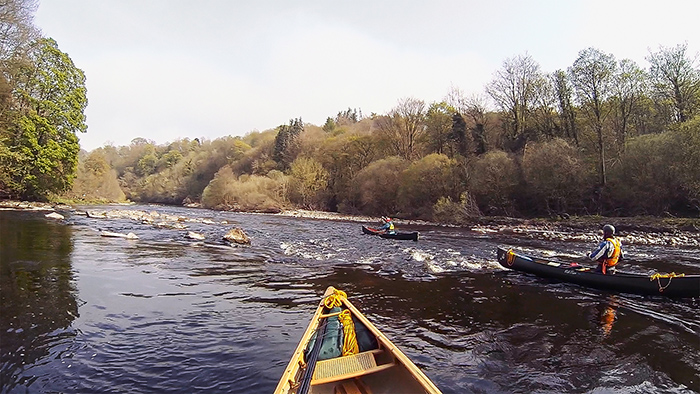 Canoeing the River Tees is not something I did when I was younger. Even though I grew up in the north east of England and the Tees was local to where I lived until I was 18 years old, it was only later in my life I began paddling.
I know sections of the Tees very well from the bank, having walked and cycled extensively in Teesdale. When I was in Scouts we built rafts and floated them on a section of the river near Barnard Castle. The summer after my A-levels we floated down a section below Cotherstone in an inflatable dinghy.
These days when I revisit the area, I like to try to canoe on the river if I can. Recently I was able to spend a couple of days paddling on the Tees. The first day I paddled tandem with Amanda from Cotherstone to Barnard Castle, a run I have done multiple times before but the water levels are always different so there is no lack of variety. It's also a very picturesque section of river.
About a week later I went out solo with some friends from the north east. We paddled the section below Barnard Castle, from just past Abbey bridge to be precise, down to Winston. While I was familiar with many of the features along the river – such as the rock steps at Whorlton Lido, I had never paddled this section of river.
Water levels were again low but it was nonetheless a fun day out with a variety of features to make the most of and several obstacles to negotiate. There are some unusual "fun slide" features on this section of river too. All this, combined with lovely tree-lined river banks and spring sunshine made for a very fulfilling day on the river.
Also, I fell out of the boat once on each trip. Both times were somewhat comedic 🙂
These videos form the first two of a series of video blogs, or vlogs, probably irregular but aimed to share some of my fun or otherwise interesting times outdoors around the UK and further afield. These will be published on my YouTube channel (please subscribe here) as well as embedded here.
Paul Kirtley's Outdoor Vlog 001 – River Tees, Cotherstone To Barnard Castle
Paul Kirtley's Outdoor Vlog 002 – River Tees, Egglestone Abbey to Winston
Let Me Know What You Think
Please leave a comment below to let me know if you enjoyed this format, if you found value in the contents of the videos and if you'd like to see more of this type of video blog/video diary style of video… As always I'll read every comment and reply to as many as I can.
Related Material On Paul Kirtley's Blog:
White Water Safety & Rescue Training Provides Useful Survival Skills
PK Podcast 013: Ray Goodwin On Continually Evolving Adventures By Canoe
Switching Out Of An Expedition Mindset: Two Days Of Paddling At The English Canoe Symposium