The Best Clothing For Digging Out Snow Shelters
The Best Clothing For Digging Out Snow Shelters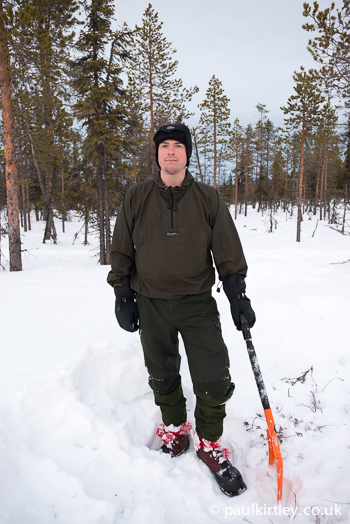 Snow shelters take different forms but have many commonalities.
They are a remarkably effective way of reducing heat loss to a cold environment.
In exposed, treeless environments, consolidated wind-blown snow allows us to cut blocks. This forms the basis of the classic igloo.
In the mountains we can dig into compacted snow to create snow caves and snow palaces (such as 27 mins 50 secs into this video).
In the forest, snow remains lighter and we need to transform and compact the snow ourselves before digging out a shelter. This forms the basis of another classic snow shelter, the quinzhee.
These days if I'm hiking or skiing in the mountains in winter, I'll be wearing a Gore-Tex, eVent or similar hard shell on both my upper and lower body. This type of breathable yet water proof shell also forms a good outer layer for digging snow shelters.
In the boreal forest in winter I tend to wear a larger more roomy double-layer Ventile smock.
Digging Snow Shelters Can Be A Warm And Damp Business
You get warm and somewhat wet digging snow holes or quinzhees. It's not solely due to the physical action of digging either. As soon as you are out of the wind, heat loss reduces and you start to warm up. This is compounded once you are into a small enclosed space. If you are not careful, you can get sweaty and this puts moisture into your thermal layers of clothing which will later make you cold.
Equally, getting right into the snow, particularly when digging quinzhees, can get you covered in snow and damp from the outside.
If all you have is a hard shell then it can be useful to strip off excess warm layers as necessary, maybe even wearing only the shell and a thin thermal base layer.
I have found over the years, though, utilising some well chosen items of clothing for digging snow shelters can make all the difference between being damp and chilly afterwards or being warm and comfortable…
Gloves For Digging Out Snow Shelters
You'll probably dig the snow shelter wearing gloves, rather than mittens but if you have mittens with separable outers, these can be worn over your gloves to keep them dry. In the boreal forest, my main mittens are leather but I also carry spare mittens with a breathable outer shell. As well as a second set of mittens being potential hand-savers if not life-savers, a breathable outer can be worn over finger gloves. I find this works really well for keeping my gloves dry when digging quinzhees as well as forming a great overlapping seal between my handwear and my shell layer.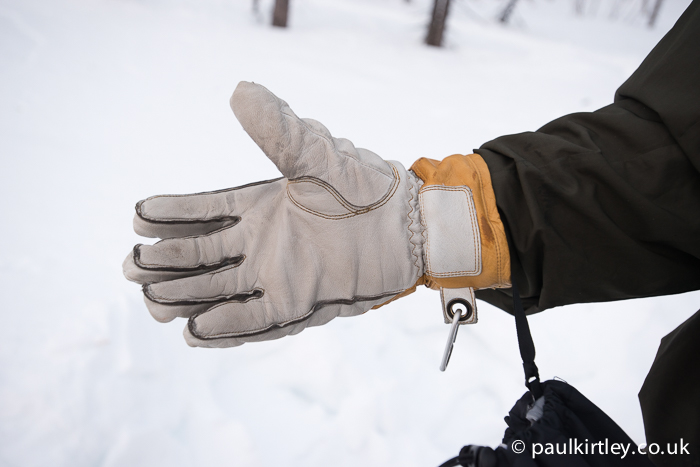 Shell Layer For Digging Out Snow Shelters
When using my snow-walker style Ventile smock in the boreal, I also like to carry a small unlined windproof top, with highly snow-shedding material. The best I have found is the Paramo Fuera smock. It is light, relatively robust, provides good upper body coverage and does not ride up on the waist, sheds snow very well, dries rapidly and packs very small. This smock combines well with the Norrona Recon trousers I typically wear to provide a very functional, snow-proof shell.
Hat For Digging Out Snow Shelters
On any winter trip, from winter hillwalking in the UK to ski touring to snowshoeing in the boreal, I carry the very un-sexy but very comfortable Lowe Alpine Mountain Cap. The hard shell outer sheds snow well. The close fitting nature of the hat keeps snow out (great in howling blizzards too) and the fleecy lining is both warm and comfortable. It's a very adjustable hat as well, being pulled right down to cover the ears and back of the head or worn higher up, releasing more heat when you are working hard.
A Great Combo Of Clothing For Digging Out Snow Holes and Quinzhees
Stripping down warm layers and donning the above items, provides a very snow-proof shell that also allows you not to get too warm. When you have finished, you can put back on your warmer layers and larger smock and your gloves are still dry.
Below are some clips from a detailed video on digging a quinzhee (yet to be released), which I've edited together to show this combination of garments in action….
In the video you can also see my friend Iain, wearing one of the Ventile Boreal Forest smocks, the fabrication of which was largely down to his efforts in trialling various designs and prototypes and our conversations with a respected manufacturer of Ventile clothing, who ultimately produced the finished garments for us. Wearing the Paramo smock while digging in the snow keeps this main, protective garment dry and free of snow.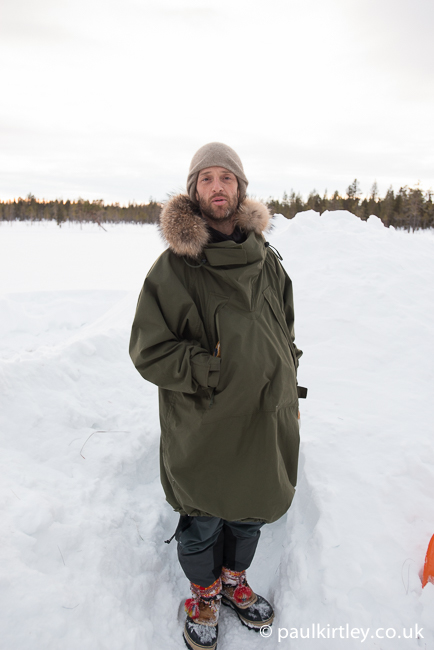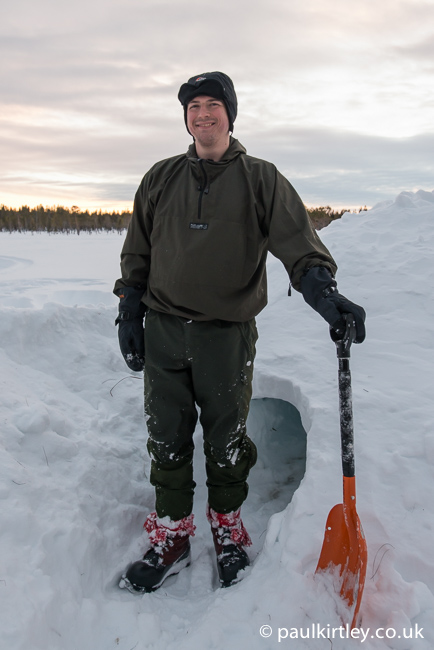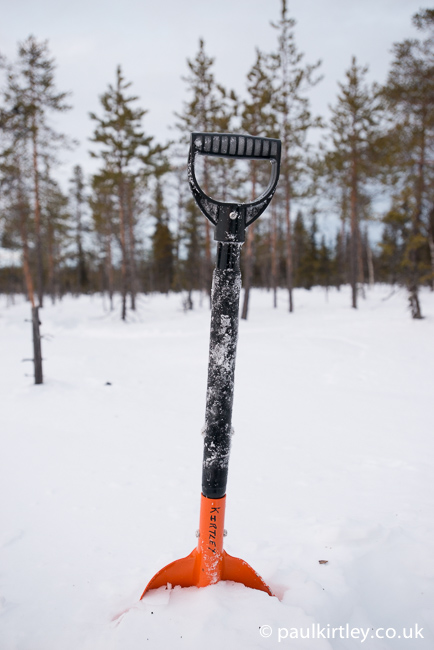 These three items – Lowe Alpine Mountain Cap, Paramo Fuera Windproof Smock and Hestra Seam Sealed Shell Mittens weigh very little and take up hardly any space. Particularly in the context of a winter snow walking trip, they add marginal extra weight and take up very, very little room. Yet the utility they provide is large. They are multi purpose garments which come into their own for digging out snow shelters. They allow me to keep my thermal layers, gloves and main smock completely dry, which alone makes them worth carrying. Over years of trying different combinations, these are the best clothes I've found for digging snow shelters such as snow caves and quinzhees.
Related Material On Paul Kirtley's Blog:
Winter Magic: Return To The Northern Forest
Fjelltur: A Norwegian Adventure